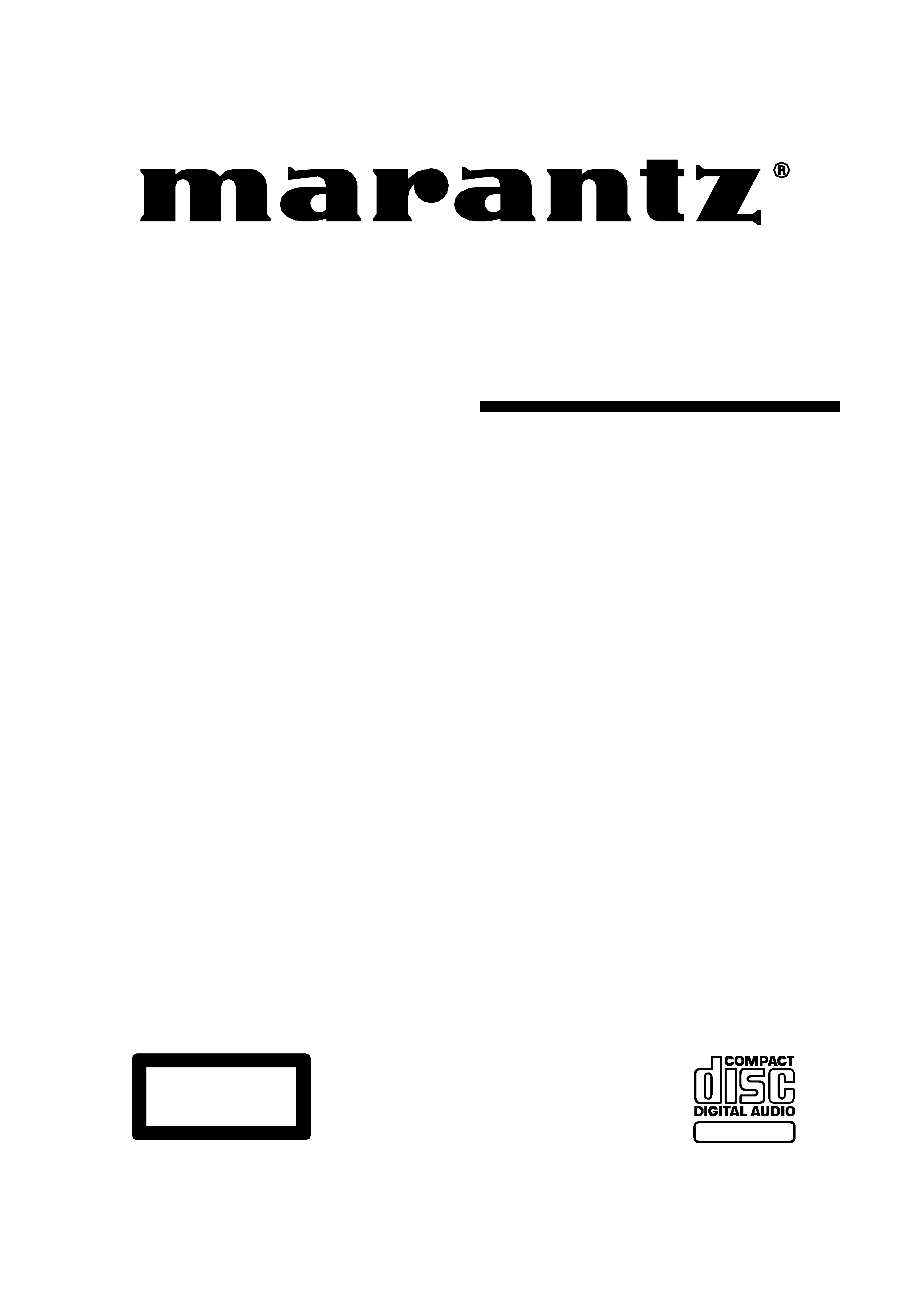 Model CD5001/CD5001OSE User Guide
---

For warranty information, contact your local Marantz distributor.
RETAIN YOUR PURCHASE RECEIPT
Your purchase receipt is your permanent record of a valuable purchase. It should be
kept in a safe place to be referred to as necessary for insurance purposes or when
corresponding with Marantz.
When seeking warranty service, it is the responsibility of the consumer to establish
proof and date of purchase. Your purchase receipt or invoice is adequate for such
This undertaking is in addition to a consumer's statutory rights and does not affect
Pour des informations sur la garantie, contacter le distributeur local Marantz.
CONSERVER L'ATTESTATION D'ACHAT
L'attestation d'achat est la preuve permanente d'un achat de valeur. La conserver en
lieu sur pour s'y reporter aux fins d'obtention d'une couverture d'assurance ou dans
le cadre de correspondances avec Marantz.
Pour l'obtention d'un service couvert par la garantie, il incombe au client d'établir la
preuve de l'achat et d'en corroborer la date. Le reçu ou la facture constituent des
Bei Garantiefragen wenden Sie sich bitte an Ihren Marantz-Händler.
HEBEN SIE IHRE QUITTING GUT AUF
Die Quittung dient Ihnen als bleibende Unterlage für Ihren wertvollen Einkauf Das
Aufbewahren der Quittung ist wichtig, da die darin enthaltenen Angaben für
Versicherungswecke oder bei Korrespondenz mit Marantz angeführt werden müssen.
Bei Garantiefragen muß der Kunde eine Kaufunterlage mit Kaufdatum vorlegen. Ihren
Quittung oder Rechnung ist als Unterlage ausreichend.
Voor inlichtingen omtrent garantie dient u zich tot uw plaatselijke Marantz.
UW KWITANTIE, KASSABON E.D. BEWAREN
Uw kwitantie, kassabon e.d. vormen uw bewijs van aankoop van een waardevol artikel
en dienen op een veilige plaats bewaard te worden voor evt, verwijzing bijv, in verbend
met verzekering of bij correspondentie met Marantz.
Bij een evt, beroep op de garantie is het de verantwoordelijkheid van de consument
een gedateerd bewijs van aankoop te tonen. Uw kassabon of factuurzijn voldoende
Para obtener información acerca de la garantia póngase en contacto con su distribuidor
GUARDE SU RECIBO DE COMPRA
Su recibo de compra es su prueba permanente de haber adquirido un aparato de
valor, Este recibo deberá guardarlo en un lugar seguro y utilizarlo como referencia
cuando tenga que hacer uso del seguro o se ponga en contacto con Marantz.
Cuando solicite el servicio otorgado por la garantia el usuario tiene la responsabilidad
de demonstrar cuándo efectuó la compra. En este caso, su recibo de compra será la
L'apparecchio è coperto da una garanzia di buon funzionamento della durata di un
anno, o del periodo previsto dalla legge, a partire dalla data di acquisto comprovata
da un documento attestante il nominativo del Rivenditore e la data di vendita. La
garanzia sarà prestata con la sostituzione o la riparazione gratuita delle parti difettose.
Non sono coperti da garanzia difetti derivanti da uso improprio, errata installazione,
manutenzione effettuata da personale non autorizzato o, comunque, da circostanze
che non possano riferirsi a difetti di funzionamento dell'apparecchio. Sono inoltre esclusi
dalla garanzia gli interventi inerenti l'installazione e l'allacciamento agli impianti di
Gli apparecchi verranno riparati presso i nostri Centri di Assistenza Autorizzati. Le
spese ed i rischi di trasporto sono a carico del cliente.
La casa costruttrice declina ogni responsabilità per danni diretti o indiretti provocati
dalla inosservanza delle prescrizioni di installazione, uso e manutenzione dettagliate
nel presente manuale o per guasti dovuti ad uso continuato a fini professionali.
För information om garantin, kontakta Marantz lokalagent.
Kvittot är ett inköpsbevis på en värdefull vara. Det skall förvaras säkert och hänvisas
till vid försäkringsfall eller vidkorrespondens mod Marantz.
Fö att garantin skall gälla är det kundens sak att framställa bevis och datum om köpet.
Kvitto eller faktura är tillräokligt bevis fö detta.
---

- Do not expose the equipment to rain or moisture.
- Do not remove the cover from the equipment.
- Do not insert anything into the equipment through the ventilation
- Do not handle the mains cord with wet hands.
- Do not cover the ventilation with any items such as tablecloths,
newspapers, curtains, etc.
- No naked flame sources, such as lighted candles, should be placed
- When disposing of used batteries, please comply with
governmental regulations or environmental public instruction's
rules that apply in your country or area.
- Make a space of about 0.1 meter around the unit.
- No objects filled with liquids, such as vases, shall be placed on
- When the switch is in the OFF position, the equipment is not
completely switched off from MAINS.
- Ne pas exposer l'appareil à la pluie ni à l'humidité.
- Ne pas essayer de retirer le boîtier de l'appareil.
- Ne rien insérer dans l'appareil par les orifices de ventilation.
- Ne manipulez pas le cordon d'alimentation avec des mains
- Ne pas recouvrir les ouïes de ventilation avec un objet
quelconque comme une nappe, un journal, un rideau, etc.
- Ne placer aucune source de flamme nue, comme une bougie
- Pour mettre au rebut les piles usées, respecter les lois
gouvernementales ou les règlements officiels concernant
l'environnement qui s'appliquent à votre pays ou région.
- Veiller à ce qu'aucun objet ne soit à moins de 0,1 mètre des côtés
- Aucun objet rempli de liquide, un vase par exemple, ne doit être
- Lorsque l'interrupteur est sur la position OFF, l'appareil n'est pas
complètement déconnecté du SECTEUR (MAINS).
- Das Gerät nicht Regen oder Feuchtigkeit aussetzen.
- Die Abdeckung nicht vom Gerät abnehmen.
- Keine Gegenstände durch die Belüftungsschlitze stecken.
- Fassen Sie niemals das Netzkabel mit nassen Händen an.
- Decken Sie die Lüftungsöffnungen nicht mit einem Tischtuch,
einer Zeitung, einem Vorhang usw. ab.
- Es dürfen keine Gegenstände mit offener Flamme, wie etwa
brennende Kerzen, auf dem Gerät aufgestellt werden.
- Beachten Sie bei der Entsorgung der verbrauchten Batterien alle
geltenden lokalen und überregionalen Regelungen.
- Auf allen Geräteseiten muß ein Zwischenraum von ungefähr 0,1
- Auf das Gerät dürfen keine mit Flüssigkeiten gefüllte Behälter,
wie etwa eine Vase, gestellt werden.
- Wenn der Schalter ausgeschaltet ist (OFF-Position), ist das
Gerät nicht vollständig vom Stromnetz (MAINS) abgetrennt.
- Stel het apparaat niet bloot aan regen of vocht.
- Verwijder de afdekplaat van het apparaat niet.
- Duw niets door de ventilatieopeningen in het apparaat.
- Hanteer het netsnoer in geen geval met natte handen.
- Bedek de ventilatieopeningen niet met enige voorwerpen, zoals
tafelkleden, kranten, gordijnen, enz.
- Plaats geen brandende voorwerpen, zoals kaarsen, op het
- Volg bij het weggooien van verbruikte batterijen de
overheidswetgeving of milieuvoorschriften op die van kracht zijn
in het land of de regio waarin u zich bevindt.
- Zorg dat er 0,1 meter vrije ruimte rond het toestel is.
- Plaats geen voorwerpen met een vloeistof erin, zoals een
bloemenvaas, op het apparaat.
- Als de schakelaar op OFF staat, is het apparaat niet volledig
losgekoppeld van de netspanning (MAINS).
The CD5001/CD5001OSE is in conformity with the EMC directive and low-voltage directive.
Le CD5001/CD5001OSE est conforme à la directive EMC et à la directive sur les basses tensions.
Das Modell CD5001/CD5001OSE entspricht den EMC-Richtlinien und den Richtlinien für Niederspannungsgeräte.
De CD5001/CD5001OSE voldoet aan de EMC eisen en de vereisten voor laag-voltage.
El CD5001/CD5001OSE está de acuerdo con las normas EMC y las relacionadas con baja tensión.
Il CD5001/CD5001OSE è conforme alle direttive CEE ed a quelle per i bassi voltaggi.
CD5001/CD5001OSE är tillverkad i enlighet med EMC direktiven och direktiven för lågvoltsutrusning.
---

- No exponga el equipo a la lluvia ni a la humedad.
- No extraiga la tapa del equipo.
- No introduzca nada en el interior del equipo a través de los
orificios de ventilación.
- No maneje el cable de la alimentación con las manos mojadas.
- No cubra la ventilación con objetos como manteles, periódicos,
- No deben colocarse sobre el equipo elementos con fuego, por
ejemplo velas encendidas.
- Cuando se eliminen baterías usadas, deben cumplirse las
reglamentaciones oficiales o las normas de protección
medioambiental aplicables en su país o en su zona.
- Deje un espacio de unos 0,1 metro alrededor de la unidad.
- No se deben colocar sobre el aparato recipientes que contengan
líquidos, como por ejemplo jarrones.
- Cuando el interruptor está en la posición OFF, el equipo no está
completamente desconectado de la alimentación MAINS.
- Non esporre l'apparecchio alla pioggia o all'umidità.
- Non rimuovere il coperchio dell'apparecchio.
- Non introdurre oggetti all'interno dell'apparecchio attraverso i fori
- Non toccare il cavo di alimentazione con le mani bagnate.
- Non coprire le fessure di ventilazione con tovaglie, giornali, tende
- Non posare sull'apparecchio sorgenti di fiamme scoperte quali
- Smaltire le pile usate in conformità alle norme governative o
disposizioni ambientali vigenti nel proprio paese o zona.
- Lasciare 0,1 metro liberi tutto intorno l'unità.
- Non mettere sull'apparecchiatura alcun contenitore di liquido,
come ad esempio dei vasi.
- Quando l'interruttore è nella posizione OFF, l'apparecchiatura
non è completamente scollegata da MAINS.
- Utsätt inte utrustningen för regn eller fukt.
- Ta inte bort utrustningens hölje.
- För inte in föremål i utrustningen genom ventilationshålen.
- Hantera inte nätkabeln med våta händer.
-Täck inte för ventilationsöppningarna med några föremål som till
exempel bordsdukar, dagstidningar, gardiner e.d.
- Inga föremål med öppen låga, som till exempel tända stearinljus,
bör placeras på utrustningen.
-Följ de lagar och miljöskyddsråd som gäller i det land eller
område där du bor när du gör dig av med batterier.
- Se till att det finns omkring 0,1 meter fri plats runt omkring
- Inga objekt som är fyllda med någon vätska, till exempel
blomstervaser, bör placeras på apparaten.
- Även om strömbrytaren står i det avstängda läget OFF, så är
utrustningen inte helt bortkopplad från det elektriska nätet
---

This section must be read before any connection is made to the
EQUIPMENT MAINS WORKING SETTING
Your Marantz product complies with the household power and safety
requirements in your area.
This product can be powered by 230 V AC only.
Recording and playback of any material may require consent. For
further information refer to the following:
-- Dramatic and Musical Performers Act 1958
-- Performers Protection Acts 1963 and 1972
-- any subsequent statutory enactments and orders
Thank you for selecting the Marantz CD5001 CD Player for your A / V
This Compact Disc Player incorporates a number of features de-
signed to enhance the listening of your favorite audio sources.
Please read these operating instructions carefully. We recommend
that you read the entire user guide before you attempt to connect or
After you have reviewed the contents of this manual,we suggest that
you make all system connections before you attempt to operate the
Remember the following important points when installing the player:
· Do not expose the player to rain or moisture, as this may cause
· All players produce some heat during operation and this heat must
be allowed to disperes freely. Do not close any ventilation openings
and insure that there is adequate ventilation space behind, beside
· Prevent extra heat from reaching the unit. Never put the player in the
full glare of the sun or near a heat source.
The following precautions should be taken when operating the equip-
When installing the equipment ensure that:
­ the ventilation holes are not covered.
­ air is allowed to circulate freely around the equipment.
­ it is placed on a vibration-free surface.
­ it will not be exposed to excessive heat, cold, moisture or dust.
­ it will not be exposed to direct sunlight.
­ it will not be exposed to electrostatic discharges.
In addition, never place heavy objects on the equipment.
If a foreign object or water does enter the equipment, contact your
nearest dealer or service center.
Do not pull out the plug by pulling on the mains lead; grasp the plug.
It is advisable when leaving the house for an extended period, or
during a thunderstorm, to disconnect the equipment from the mains
PRECAUTIONS IN CONNECTION
· Be sure to unplug the power cable from the AC outlet or turn off
the POWER switch before proceeding with any connection.
· Connect one cable at a time observing the "input" and "output".
This will avoid any cross connection between channels and signal
· Insert the plugs securely. Incomplete connection may result in
· Prior to connecting other audio equipment to the CD5001, please
read their owner's manuals.
This product's packaging materials are recyclable and can be
reused. This product and the accessories packed together
are the applicable product to the WEEE directive except
Please dispose of any materials in accordance with your local
When discarding the unit, comply with your local rules or
Batteries should never be thrown away or incinerated but
disposed of in accordance with your local regulations
concerning chemical wastes.
---