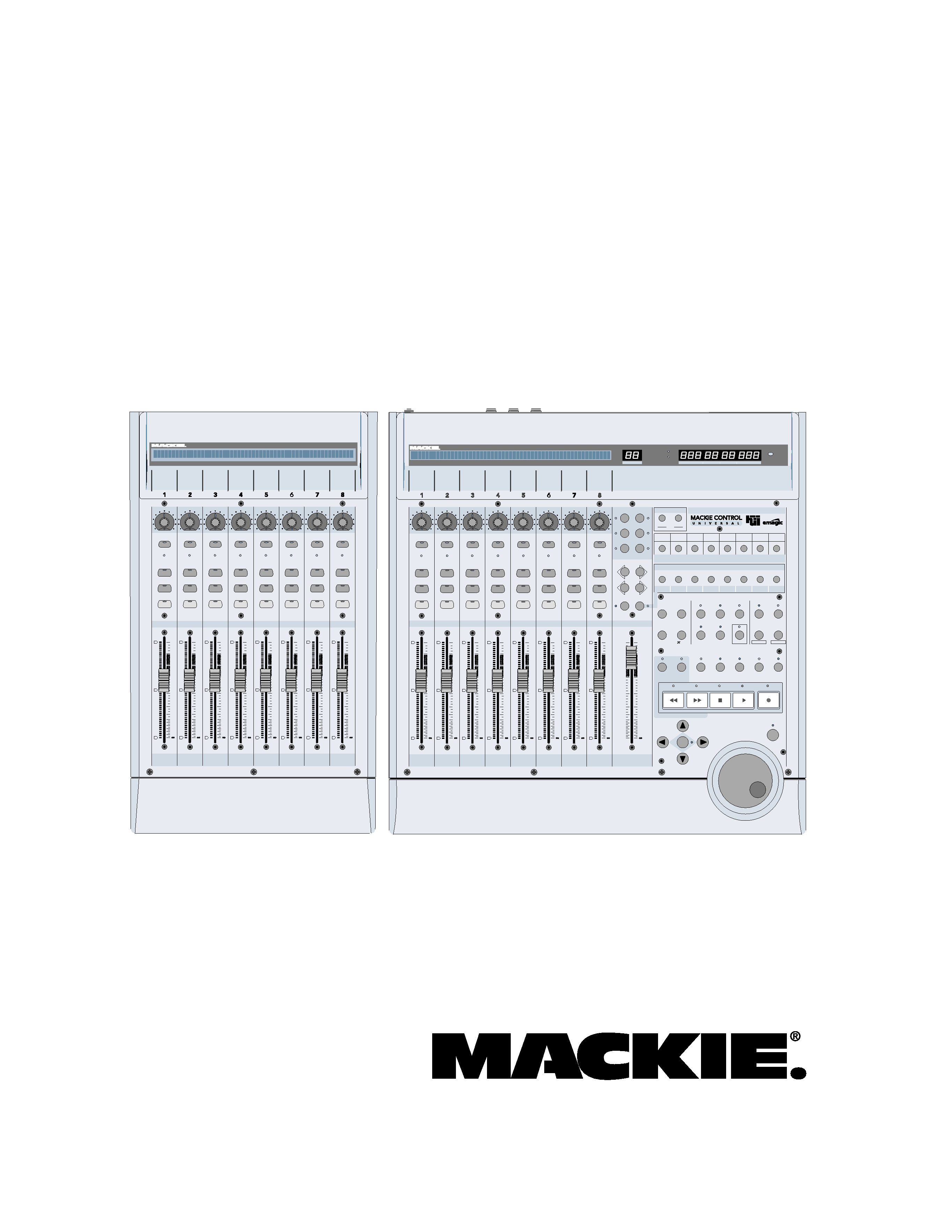 Eight Channel Master Control Surface
and Eight Channel Extender for Digital Audio Workstations
MACKIE FADER PACK VERSION 1.0
MACKIE FADER PACK VERSION 1.0
---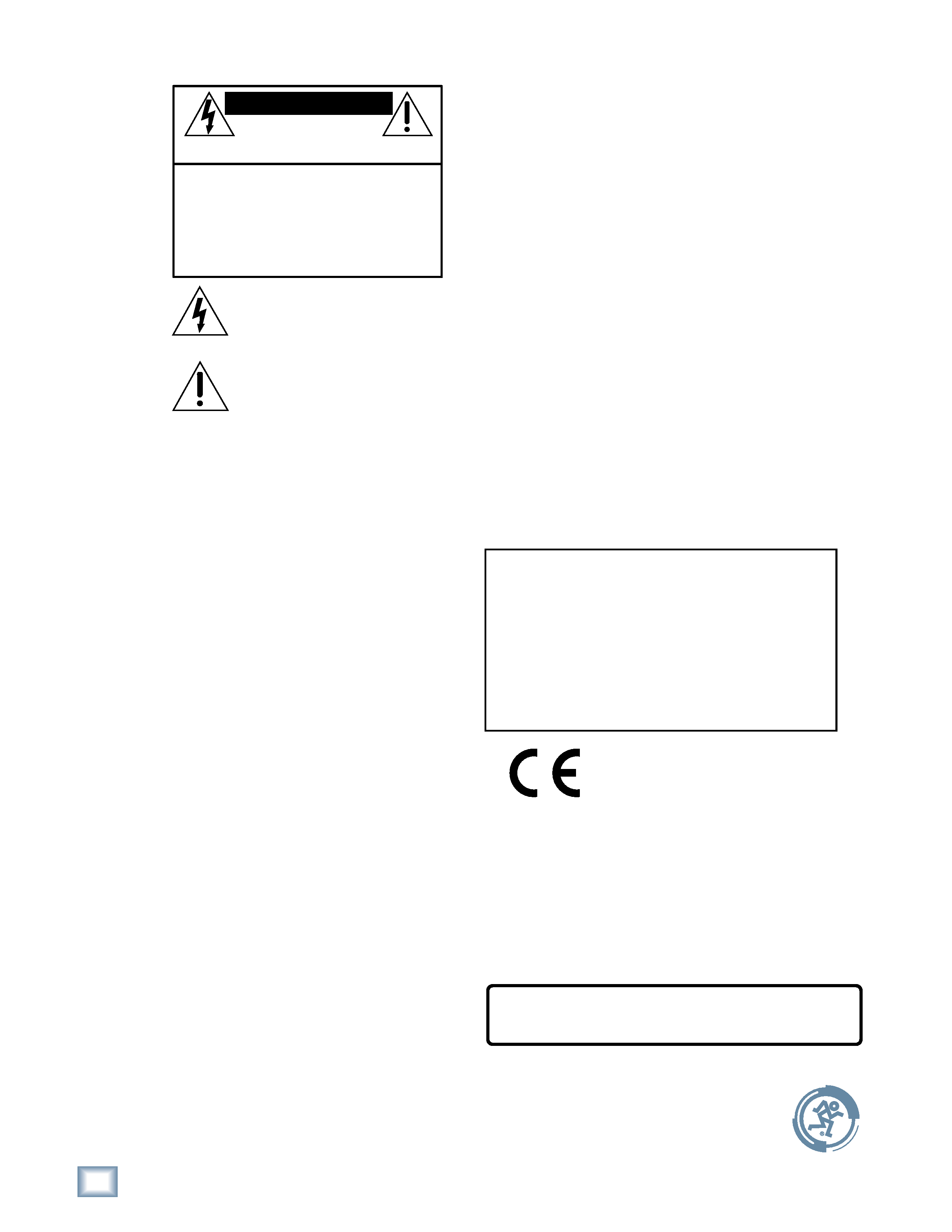 Part No. 0003943-90 Rev. B 10/03
© 2003 LOUD Technologies Inc. All Rights Reserved.
1. Read instuctions -- Read, understand and follow all safety and
operating instructions before using this Mackie product.
2. Retain Instructions -- Keep these safety and operating
instructions for future reference.
3. Heed Warnings -- Follow all warnings on this Mackie product
and in these operating instructions.
4. Water and Moisture -- Do not use this Mackie product near
water ­ for example, near a bathtub, kitchen sink, garden hose,
incontinent poodle, sweaty drummer, etc. ­ or when condensa-
tion has formed on the unit.
5. Cleaning -- Clean only with a dry cloth.
6. Heat and Ventilation -- Locate this Mackie product away from
heat sources such as radiators, campfires, compost pits, heliarc
welders, magma flows, etc. Do not block the ventilation
openings or install in spaces that prevent adequate air circulation
7. Power Sources -- Connect this Mackie product only to a power
source of the type described in these operating instructions or as
8. Power Cord Protection -- Route power supply cords so that they
are not likely to be walked upon, tripped over, or abraded by
items placed upon or against them. Pay particular attention to
cords at plugs, convenience receptacles, and the point where
9. Object and Liquid Entry -- Do not drop objects or spill liquids
into this Mackie product. Clean only with a damp cloth; do not
clean with liquid or aerosol cleaners.
10. Attachments -- Use this Mackie product with only the
accessories specified in this manual.
11. Damage Requiring Service -- This Mackie product should be
serviced only by qualified service personnel when:
A. The power supply cord or the plug has been damaged; or
B. Objects have fallen onto, or liquid has spilled into the unit; or
C. The unit has been exposed to rain or water; or
D. The unit does not appear to operate normally or exhibits a
marked change in performance; or
E. The unit has been dropped, or its chassis damaged.
12. Servicing -- Do not attempt to service this Mackie product. All
servicing should be referred to the Mackie Service Department.
13. Lightning -- Unplug the product during lightning storms or
when unused for long periods of time. Note that this Mackie
product is not completely disconnected from the AC mains
service when the power switch is in the OFF position.
14. Grounding and Polarization -- To prevent electric shock, do not
use the polarized plug with an extension cord, receptacle or
other outlet unless the blades can be fully inserted to prevent
blade exposure. Do not defeat the grounding by plugging into an
ungrounded receptacle or ground lift adapter.
This apparatus does not exceed the Class A/Class B (whichever is
applicable) limits for radio noise emissions from digital apparatus as
set out in the radio interference regulations of the Canadian
Department of Communications.
ATTENTION -- Le présent appareil numérique n'émet pas de bruits
radioélectriques dépassant las limites applicables aux appareils
numériques de class A/de class B (selon le cas) prescrites dans le
réglement sur le brouillage radioélectrique édicté par les ministere
des communications du Canada.
This product has been tested and complies
with the following standards and directives
as set forth by the European Union:
* EN 55022 Radiated and Conducted Emissions
* EN 55024 Electromagnetic Immunity
* EN 61000-4-2 Electrostatic Discharge Immunity
* EN 61000-4-3 RF Electromagnetic Fields Immunity
* EN 61000-4-4 Electrical Fast Transient/Burst Immunity
* EN 60950/IEC 950 Electrical Safety Requirements
RISQUE DE CHOC ELECTRIQUE
CAUTION: TO REDUCE THE RISK OF ELECTRIC SHOCK
DO NOT REMOVE COVER (OR BACK)
NO USER-SERVICEABLE PARTS INSIDE
REFER SERVICING TO QUALIFIED PERSONNEL
ATTENTION: POUR EVITER LES RISQUES DE CHOC
ELECTRIQUE, NE PAS ENLEVER LE COUVERCLE. AUCUN
ENTRETIEN DE PIECES INTERIEURES PAR L'USAGER. CONFIER
L'ENTRETIEN AU PERSONNEL QUALIFIE.
AVIS: POUR EVITER LES RISQUES D'INCENDIE OU
D'ELECTROCUTION, N'EXPOSEZ PAS CET ARTICLE
A LA PLUIE OU A L'HUMIDITE
The lightning flash with arrowhead symbol within an equilateral
triangle is intended to alert the user to the presence of uninsulated
"dangerous voltage" within the product's enclosure, that may be
of sufficient magnitude to constitute a risk of electric shock to persons.
Le symbole clair avec point de fl che l'int rieur d'un triangle
quilat ral est utilis pour alerter l'utilisateur de la pr sence
l'int rieur du coffret de "voltage dangereux" non isol d'ampleur
suffisante pour constituer un risque d' l ctrocution.
The exclamation point within an equilateral triangle is intended to
alert the user of the presence of important operating and maintenance
(servicing) instructions in the literature accompanying the appliance.
Le point d'exclamation l'int rieur d'un triangle quilat ral est
employ pour alerter les utilisateurs de la pr sence d'instructions
importantes pour le fonctionnement et l'entretien (service) dans le
livret d'instruction accompagnant l'appareil.
Important Safety Instructions
WARNING -- To reduce the risk of fire or electric shock, do
not expose this appliance to rain or moisture.
NOTE: This equipment has been tested and found to comply
with the limits for Class B digital devices, pursuant to Part 15 of
the FCC Rules. These limits are designed to provide reasonable
protection against harmful interference when the equipment is
operated in a commercial installation. This equipment generates,
uses, and can radiate radio frequency energy and, if not installed
and used in accordance with the instruction manual, may cause
harmful interference to radio communications. Operation of this
equipment in a residential area is likely to cause harmful
interference in which case the user will be required to correct
the interference at his own expense.
---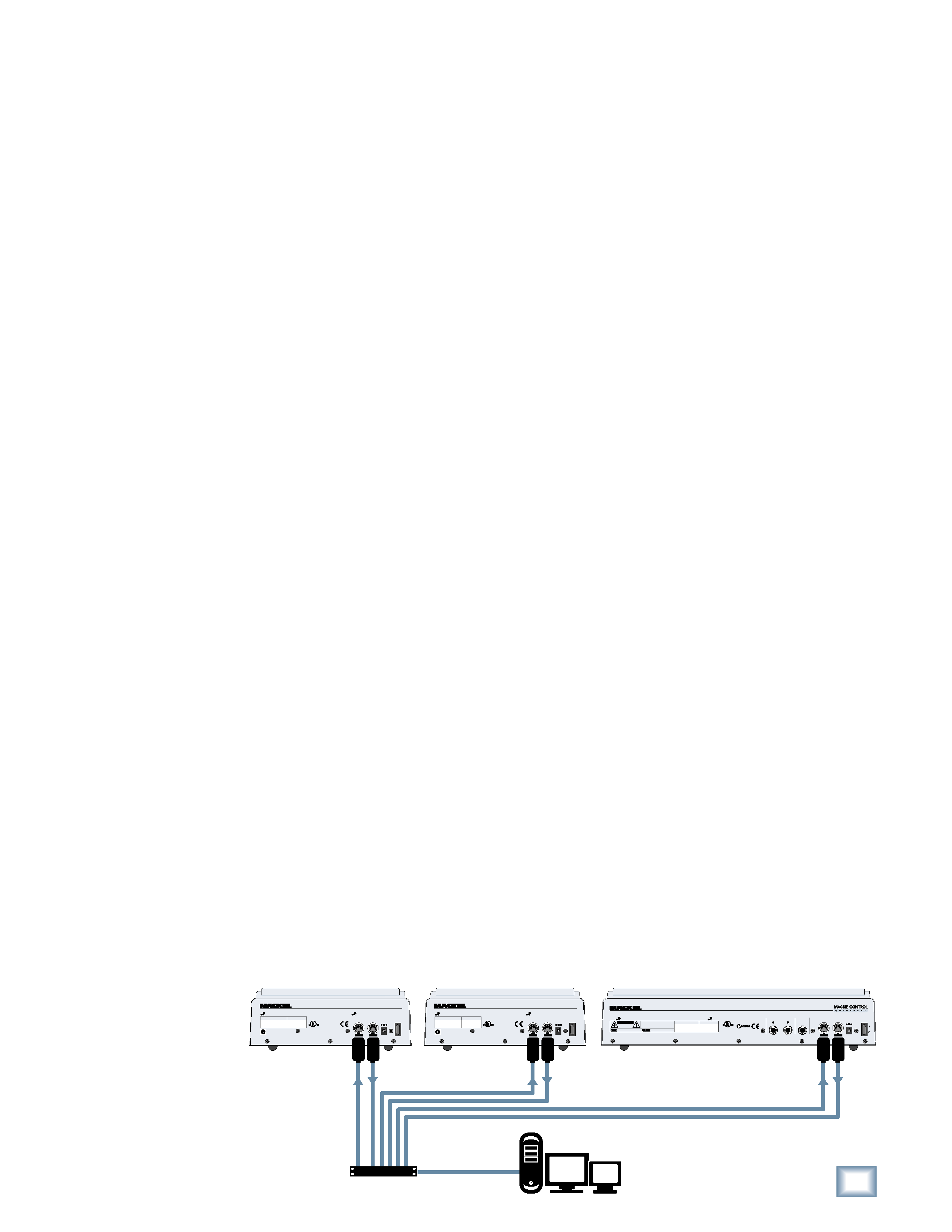 Thank you for choosing Mackie Designs for your
Digital Audio Workstation (DAW) control solution.
Mackie Control Universal and Mackie Control
Extender provide the familiar feel of analog-style
mixing to your DAW environment. But they also
deliver the most complete feature set and software
compatibility of any control surface available today.
The labels for the buttons and controls are
specific to Emagic Logic. Custom lexan overlays are
available for other supported DAWs (see the Overlay
Request Card included in the box). These overlays fit
over the right-hand side of the control surface and
correctly label the buttons for the functionality
supported by the DAW you are using.
Consult the CD included in the box with your
Mackie Control Universal, which contains additional
manuals in PDF file format for all the currently
supported platforms. Be sure to visit our website at
www.mackie.com to obtain the latest manuals and
marketing literature for all your Mackie products.
Mackie Control Universal has three different
1. Mackie Control (use with APB Tools TH-S,
Cakewalk Sonar, Magix Samplitude and
Sequoia, MOTU Digital Performer, RML Labs
Saw Studio, Steinberg Nuendo and Cubase SX,
and Adobe Audition [previously Syntrillium
2. Logic Control (use with Emagic Logic).
3. HUI (use with Digidesign Pro Tools).
When you first turn on Mackie Control Universal,
the display prompts you to select a mode of
· Press Ch. 1 V-Pot to select Mackie Control.
· Press Ch. 4 V-Pot to select HUI.
· Press Ch. 8 V-Pot to select Logic Control.
Once you've made your selection, Mackie Control
Universal will automatically boot into your selected
mode each time you turn it on.
To change the mode of operation:
3. The display once again
Connect the Mackie Control Universal to your
MIDI interface via two MIDI cables (IN and OUT).
Connect one end of the external power supply
to the Mackie Control Universal, and the other
end to an AC power source between 90 VAC
Turn on the Mackie Control Universal POWER
Launch your software program of choice.
Select your software's console or surface
Select the Mackie Control MIDI Mapping. If it is
not included in the version of software you are
using, go to the software company's website or to
www.mackie.com/mackiecontrol and download
the MIDI map for your particular application.
Once the appropriate MIDI map is selected
within your software's preferences, the unit(s)
will be recognized automatically.
Mackie Control Universal/Mackie Control
Extender units can function as a single large
console -- a "Control Surface Group."
Each Control Surface Group can be configured
independently. As an example, you can control
volume and pan settings with one unit while
editing plug-in settings with the second unit
(if the software that you are running will
accept these parameters).
To connect one or more Mackie Control Universal and
Mackie Control Extenders:
1. Connect the MIDI OUT jack on your computer's
MIDI interface to the MIDI IN jack of the Mackie
Control Universal or Mackie Control Extender.
2. Connect the MIDI IN jack on your computer's
MIDI interface to the MIDI OUT jack of the
Mackie Control Universal or Mackie Control
3. You need to have separate MIDI IN and OUT
jacks on the MIDI interface for each Mackie
Control Universal and Mackie Control
Extender (see illustration below).
THE FOLLOWING ARE TRADEMARKS OR REGISTERED TRADEMARKS OF MACKIE DESIGNS INC "MACKIE" AND THE "RUNNING MAN" FIGURE
DESIGNED BY MACKOIDS IN WOODINVILLE, WA · USA · COPYRIGHT ©2001
THE FOLLOWING ARE TRADEMARKS OR REGISTERED TRADEMARKS OF MACKIE DESIGNS INC "MACKIE" AND THE "RUNNING MAN" FIGURE
DESIGNED BY MACKOIDS IN WOODINVILLE, WA · USA · COPYRIGHT ©2001
REPLACE WITH THE SAME TYPE FUSE AND RATING.
DISCONNECT SUPPLY CORD BEFORE CHANGING FUSE
UTILISE UN FUSIBLE DE RECHANGE DE MÊME TYPE.
DEBRANCHER AVANT DE REMPLACER LE FUSIBLE
WARNING: TO REDUCE THE RISK OF FIRE OR ELECTRIC SHOCK, DO NOT
EXPOSE THIS EQUIPMENT TO RAIN OR MOISTURE. DO NOT REMOVE COVER.
NO USER SERVICEABLE PARTS INSIDE. REFER SERVICING TO QUALIFIED PERSONNEL.
AVIS: RISQUE DE CHOC ELECTRIQUE -- NE PAS OUVRIR
THE FOLLOWING ARE TRADEMARKS OR REGISTERED TRADEMARKS OF MACKIE DESIGNS INC "MACKIE" AND THE "RUNNING MAN" FIGURE
DESIGNED BY MACKOIDS IN WOODINVILLE, WA · USA · COPYRIGHT ©2001
Digital Audio Workstation
---

From time to time, software updates for the
Mackie Control Universal may become available to
download from our website. Register your product to
be notified when updates are available, or check our
website at www.mackie.com. You can register online
at www.mackie.com (click on Product Registration).
To install a software update:
1. Download the software update from our
website at www.mackie.com. This is delivered
in the form of a MIDI file.
2. Make sure your Mackie Control Universal is
plugged into the computer via MIDI and
communicating with your preferred audio
software application (DAW).
3. Disable the Mackie Control as a MIDI
controller device in the control surface setup
section of your audio software application.
4. Disable MTC, MMC, MIDI Clock, MIDI
Metronome, or any other MIDI signals being
5. Import the MIDI file you just downloaded
from the Mackie web site into your audio
software application, and make sure the
Mackie Control is the target MIDI device on
6. Turn off the power on the Mackie Control.
7. Hold down the REC RDY buttons on channels
1 and 2 and the SELECT button on channel 1
as you turn the power on. This will put the
Mackie Control into the Boot Loader Mode.
8. Once in the Boot Loader Mode, simply play
back the MIDI file in its entirety from your
audio software application. While the MIDI
file is playing, you should see a series of dots
parade across the display. If you do not see
the dancing dots, restart at step 1.
9. Once the MIDI file has played through to the
end (you'll know when), hit STOP in your
audio software application. The controller will
10. Select the desired mode of operation (Mackie
Control, Logic Control, or HUI), as described
in the "Changing Modes" section on page 3.
11. Re-enable the controllers and MIDI options
that you disabled in steps 3 and 4.
12. Apply the appropriate overlay to the master
If you think your Mackie Control Universal or
Mackie Control Extender has a problem, please do
everything you can to confirm it before calling for
service. If the problem is related to setting up and using
Mackie Control with your DAW software, contact your
software manufacturer's technical support.
If you are absolutely, positively sure it is a
hardware related problem, then go to the repair
section next for further instructions.
Service for Mackie Control Universal and Mackie
Control Extender units purchased in the USA is
available only from one of our authorized domestic
service stations. It is also available at the factory,
located in sunny Woodinville, Washington. (Service
for Mackie products living outside the United States
can be obtained through local dealers or
distributors.) If your Mackie Control needs service,
and it lives in the United States, follow these
1. Call Tech Support at 1-800-258-6883, 7 AM to
5 PM PST, to explain the problem and request
an RA (Return Authorization) number. Have
your Mackie Control's serial number ready.
You must have an RA number before you can
obtain service at the factory or an authorized
2. Keep this quick-start guide. We don't need it
to repair the controller.
3. Pack the controller in its original package,
including endcaps and box. This is very
When you call for the RA number,
please let Tech Support know if you need new
packaging. Mackie is not responsible for any
damage that occurs due to non-factory
4. Include a legible note stating your name,
shipping address (no P.O. boxes), daytime
phone number, RA number, and a detailed
description of the problem, including how we
Contact our Technical Support staff at 1-800-258-6883, Monday to Friday, from
7 AM to 5 PM PST. After hours, visit www.mackie.com and look under Support,
---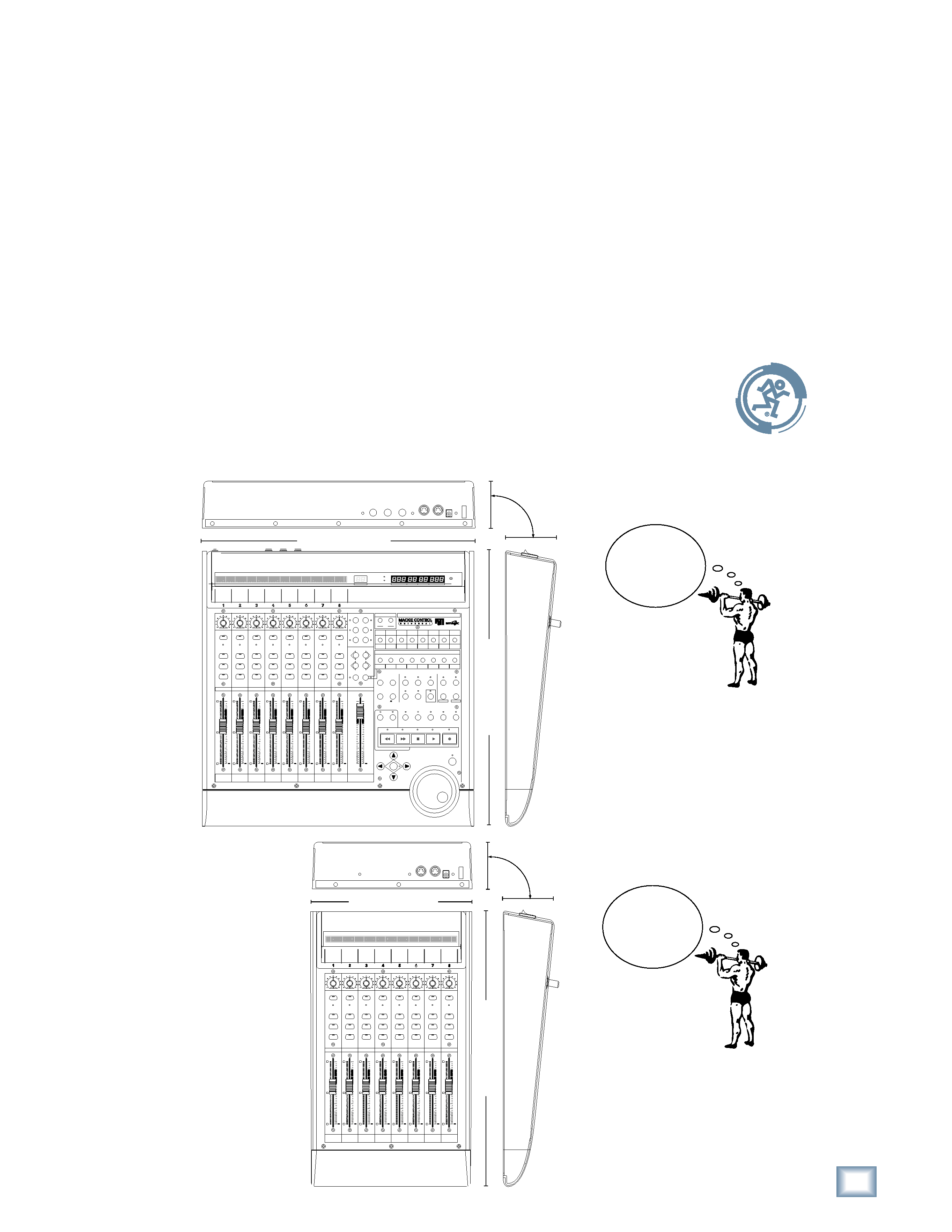 5. Write the RA number in BIG PRINT on top of
6. Ship the controller to us. We suggest insurance
for all forms of cartage. Ship to this address:
7. We'll try to fix the controller within five
business days. Ask Tech Support for current
turn-around times when you call for your RA
number. We normally send everything back
prepaid using three-day air. However, if you
rush your controller to us by next day air,
we'll treat it in kind by shipping it back to you
the same way in which it was received. This
paragraph does not necessarily apply to non-
Please read the warranty information on page 7,
then either register online at www.mackie.com or
complete and return the Product Registration card
included with your Mackie Control or Mackie
"Mackie.," the "Running Man" figure, "Mackie
Control Universal," and "Mackie Control Extender"
are trademarks or registered trademarks of LOUD
Technologies Inc. All other brand names mentioned
are trademarks or registered trademarks of their
respective holders, and are hereby acknowledged.
© 2003 LOUD Technologies Inc.
MACKIE FADER PACK VERSION 1.0
MACKIE FADER PACK VERSION 1.0
---