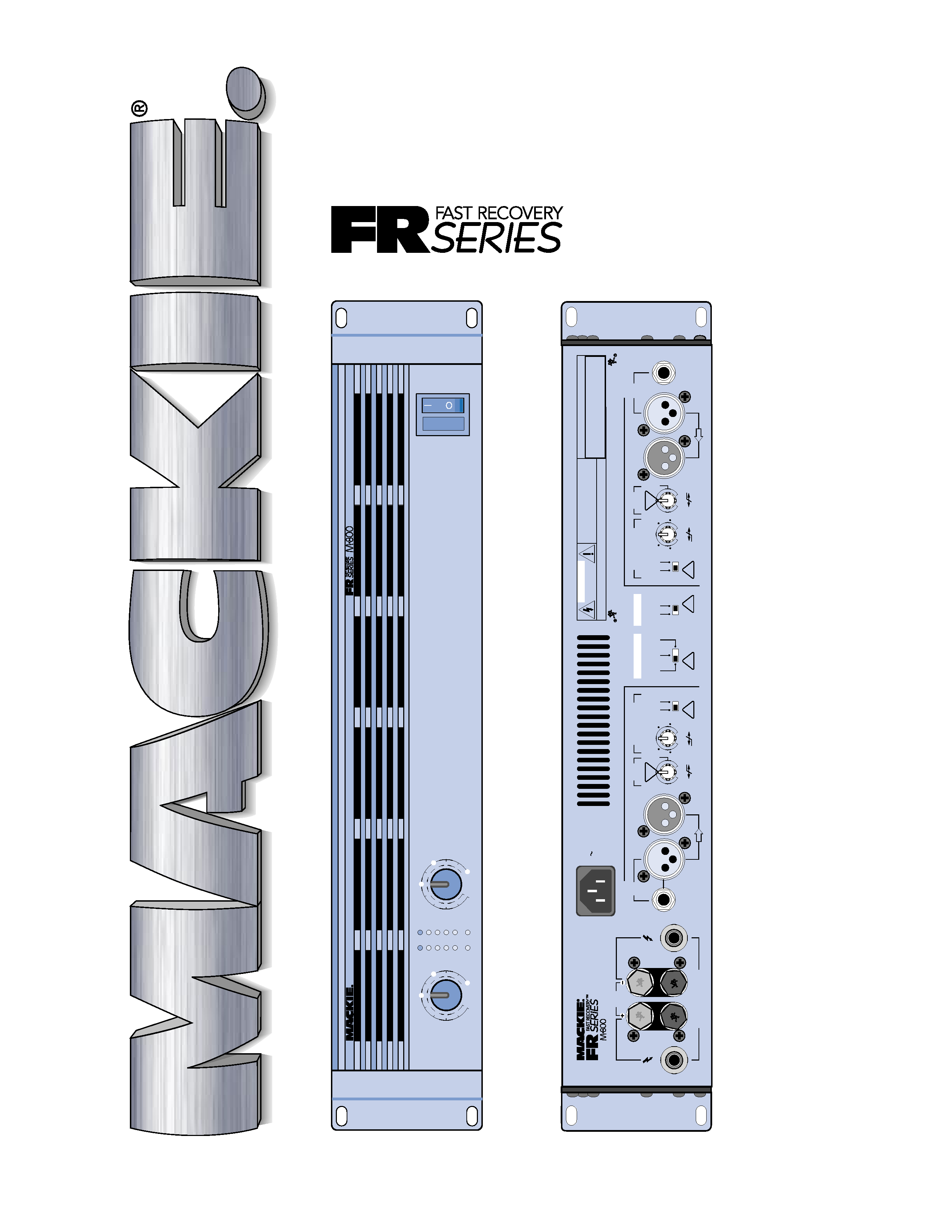 HIGH-CURRENT POWER AMPLIFIER
AND WARRANTY REGISTRATION
---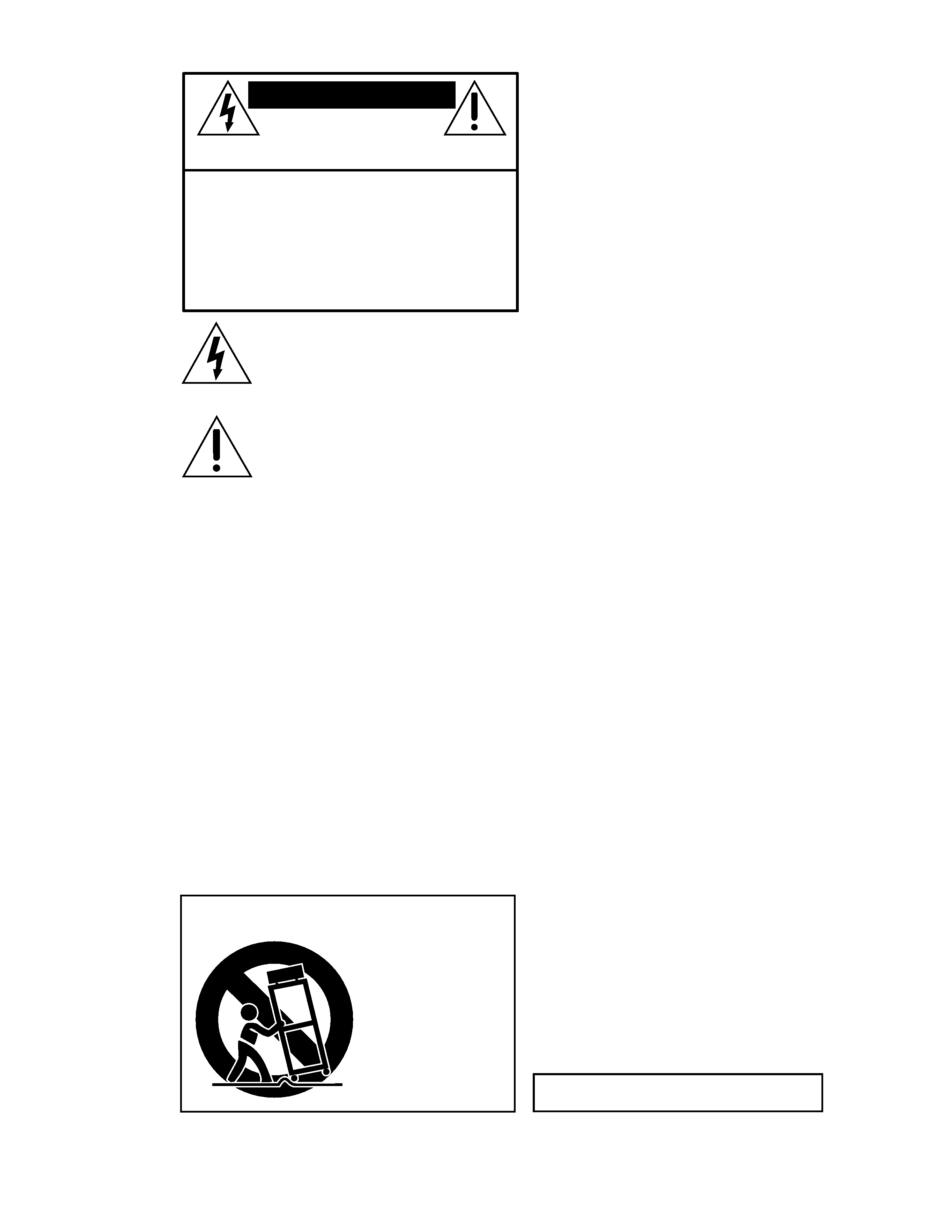 RISQUE DE CHOC ELECTRIQUE
CAUTION: TO REDUCE THE RISK OF ELECTRIC SHOCK
DO NOT REMOVE COVER (OR BACK)
NO USER-SERVICEABLE PARTS INSIDE
REFER SERVICING TO QUALIFIED PERSONNEL
ATTENTION: POUR EVITER LES RISQUES DE CHOC
ELECTRIQUE, NE PAS ENLEVER LE COUVERCLE. AUCUN
ENTRETIEN DE PIECES INTERIEURES PAR L'USAGER. CONFIER
L'ENTRETIEN AU PERSONNEL QUALIFIE.
AVIS: POUR EVITER LES RISQUES D'INCENDIE OU
D'ELECTROCUTION, N'EXPOSEZ PAS CET ARTICLE
A LA PLUIE OU A L'HUMIDITE
The lightning flash with arrowhead symbol within an equilateral
triangle is intended to alert the user to the presence of uninsulated
"dangerous voltage" within the product's enclosure, that may be
of sufficient magnitude to constitute a risk of electric shock to persons.
Le symbole éclair avec point de flèche à l'intérieur d'un triangle
équilatéral est utilisé pour alerter l'utilisateur de la présence à
l'intérieur du coffret de "voltage dangereux" non isolé d'ampleur
suffisante pour constituer un risque d'éléctrocution.
The exclamation point within an equilateral triangle is intended to
alert the user of the presence of important operating and maintenance
(servicing) instructions in the literature accompanying the appliance.
Le point d'exclamation à l'intérieur d'un triangle équilatéral est
employé pour alerter les utilisateurs de la présence d'instructions
importantes pour le fonctionnement et l'entretien (service) dans le
livret d'instruction accompagnant l'appareil.
7. Heat -- This Mackie product should be situated away from heat
sources such as radiators, or other devices which produce heat.
8. Power Sources -- This Mackie product should be connected to a
power supply only of the type described in these operation
instructions or as marked on this Mackie product.
9. Power Cord Protection -- Power supply cords should be routed
so that they are not likely to be walked upon or pinched by items
placed upon or against them, paying particular attention to cords at
plugs, convenience receptacles, and the point where they exit this
10. Object and Liquid Entry -- Care should be taken so that
objects do not fall into and liquids are not spilled into this Mackie
11. Damage Requiring Service -- This Mackie product should be
serviced only by qualified service personnel when:
A. The power-supply cord or the plug has been
B. Objects have fallen, or liquid has spilled into this
C. This Mackie product has been exposed to rain; or
D. This Mackie product does not appear to operate
normally or exhibits a marked change in performance;
E. This Mackie product has been dropped, or its chassis
12. Servicing -- The user should not attempt to service this
Mackie product beyond those means described in this operating
manual. All other servicing should be referred to the Mackie Service
13. To prevent electric shock, do not use this polarized plug with an
extension cord, receptacle or other outlet unless the blades can be
fully inserted to prevent blade exposure.
Pour préevenir les chocs électriques ne pas utiliser cette fiche
polariseé avec un prolongateur, un prise de courant ou une autre
sortie de courant, sauf si les lames peuvent être insérées à fond
sans laisser aucune pariie à découvert.
14. Grounding or Polarization -- Precautions should be taken so
that the grounding or polarization means of this Mackie product is
15. This apparatus does not exceed the Class A/Class B (whichever
is applicable) limits for radio noise emissions from digital apparatus
as set out in the radio interference regulations of the Canadian
Department of Communications.
ATTENTION --Le présent appareil numérique n'émet pas de bruits
radioélectriques dépassant las limites applicables aux appareils
numériques de class A/de class B (selon le cas) prescrites dans le
règlement sur le brouillage radioélectrique édicté par les ministere
des communications du Canada.
1. Read Instructions -- All the safety and operation instructions
should be read before this Mackie product is operated.
2. Retain Instructions -- The safety and operating instructions
should be kept for future reference.
3. Heed Warnings -- All warnings on this Mackie product and in
these operating instructions should be followed.
4. Follow Instructions -- All operating and other instructions
5. Water and Moisture -- This Mackie product should not be used
near water ­ for example, near a bathtub, washbowl, kitchen sink,
laundry tub, in a wet basement, near a swimming pool, swamp or
salivating St. Bernard dog, etc.
6. Ventilation -- This Mackie product should be situated so
that its location or position does not interfere with its proper
ventilation. For example, the Component should not be situated
on a bed, sofa, rug, or similar surface that may block any
ventilation openings, or placed in a built-in installation such as a
bookcase or cabinet that may impede the flow of air through
only with a cart or stand
stops, excessive force, and
uneven surfaces may cause
WARNING -- To reduce the risk of fire or electric shock, do
not expose this appliance to rain or moisture.
---

The technical writer responsible for the M·800 owner's manual has been slapped silly with a rolled up newspaper and had his face
pushed into the spec sheet. Bad Technical Writer! Bad Boy!
Not only that, he has been made to tidy it all up by writing this addendum sheet.
Please read the following corrections carefully:
Bridge Mode (pages 4, 8 and 16)
The amplifier can accept inputs from Channel 1 and from Channel 2. If you do this, the two inputs will be summed and the
result sent to your single speaker. Only Channel 1's gain control will work, but you must adjust the CD-EQ and Low-Cut Filter
correctly on each input used.
The meters indicate the power level referenced to the clipping point of the amplifier, not to the rated power.
AC Power Considerations (page 18)
The amplifier will continue to operate down to 65% of the rated line voltage, and will mute if the line drops lower than this.
The average currents table on page 18 should read like this:
Mackie Designs Inc. · 16220 Wood-Red Road N.E.
Woodinville · WA · 98072 · 800/258-6883 · www.mackie.com
Outside the U.S. call 425/487-4333 · Fax 425/487-4337
2 ohms per side or 4 ohms bridged
4 ohms per side or 8 ohms bridged
8 ohms per side or 16 ohms bridged
©1999, Mackie Designs Inc. All rights reserved
Part No. 820-079-02 Rev A 8/99
Please note the following corrections to
the specifications on pages 23 and 24:
175 watts per channel into 8 ohms
275 watts per channel into 4 ohms
400 watts per channel into 2 ohms
550 watts into 8 ohms bridged
800 watts into 4 ohms bridged
Note: Power ratings are specified at 120VAC line
Continuous sine wave average output
power, both channels driven:
150 watts per channel into 8 ohms from 40Hz to
20kHz, with no more than 0.025 % THD
225 watts per channel into 4 ohms from 40Hz to
20kHz, with no more than 0.05 % THD
280 watts per channel into 2 ohms from 40Hz to
20kHz, with no more than 0.1 % THD
450 watts into 8 ohms from 40Hz to 20kHz, with no
560 watts into 4 ohms from 40Hz to 20kHz, with no
SMPTE IMD, TIM (250mW to rated power)
> 104 dB below rated power into 4 ohms
2kHz to 5.5kHz (+3 dB points)
6 dB/octave high-frequency shelving filter,
(shelving occurs at approximately 30kHz)
with musical program fully loaded
(4 ohms per side, or 8 ohms bridged)
with musical program fully loaded
(2 ohms per side, or 4 ohms bridged)
at rated power into 8 ohms
at rated power into 4 ohms
at rated power into 2 ohms
At approximately 65% of rated line voltage
---

Part No. 820-079-00 Rev. A 3/3/99
©1999 Mackie Designs Inc., All Rights Reserved. Printed in the U.S.A.
amplifier to handle is clipping. Conventional
designs use lots of negative feedback to provide
stability and lower distortion. When clipping
occurs, this "feedback" causes high-frequency
sticking, keeping the amplifier "latched" in the
clipping state longer than necessary. This re-
sults in painfully audible distortion. Our Fast
Recovery design eliminates this high-frequency
sticking and allows the amplifier to remain
stable when powering highly reactive loads at
You may wonder why a power amp even
needs an owner's manual. After all, you just
plug in a few cables and power it up. Well, it's
almost that simple. There's just a few things
that we'd like you to be aware of, and we'll dis-
cuss those right away -- please see the Quick
Then go ahead and read the entire manual. The
M·800 amplifier has a wealth of useful features,
and each of them is explained in loving detail.
Please write your serial number here for
future reference (i.e., insurance claims, tech
support, return authorization, etc.):
Thank you for choosing a Mackie Designs
power amplifier! We appreciate your vote of
confidence for the folks in Woodinville who
specialize in awesome and affordable audio.
The Mackie Designs M·800 power amplifier is
designed to fulfill the amplification needs of al-
most any type of application. It boasts a wealth
of features you'd expect to pay extra for -- like
low cut filtering, constant directivity equaliza-
tion, speaker-protecting limiter, and
ultra-clean power, to name a few.
Perhaps the most important feature of the
FR SeriesTM power amplifiers is the attention
to detail in every aspect of the design. At Mackie,
we know what it takes to be roadworthy. After
all, our equipment has traveled all over the
world under the worst of conditions, and we've
applied what we've learned to the mechanical
design of our amplifiers.
Roadworthiness is only part of the picture.
We know that reliability is paramount to sound
reinforcement. That's why we use double-sided
thru-hole-plated fiberglass printed circuit boards.
That's why our engineers have subjected the ampli-
fier to the most rigorous and fiendish tests
imaginable, to fine-tune the design and extend
its limits beyond those of ordinary amplifiers.
Fast Recovery -- where the "FR" comes
from -- is more than a buzzword. It is based on
real, proven design principles. The result is an
amplifier that performs better than conventional
designs when presented with adverse conditions.
One of the most difficult things for a power
Exposure to extremely high
noise levels may cause per-
Individuals vary considerably
in susceptibility to noise-induced hearing loss, but
nearly everyone will lose some hearing if exposed
ministration (OSHA) has specified the permissible
noise level exposures shown in this chart.
According to OSHA, any exposure in excess of
these permissible limits could result in some hear-
ing loss. To ensure against potentially dangerous
exposure to high sound pressure levels, it is recom-
mended that all persons exposed to equipment
capable of producing high sound pressure levels
when operating this amplification system in order
to prevent a permanent hearing loss if exposure is
in excess of the limits set forth here.
Very loud classical music
Patrice screaming about deadlines
Loudest parts at a rock concert
---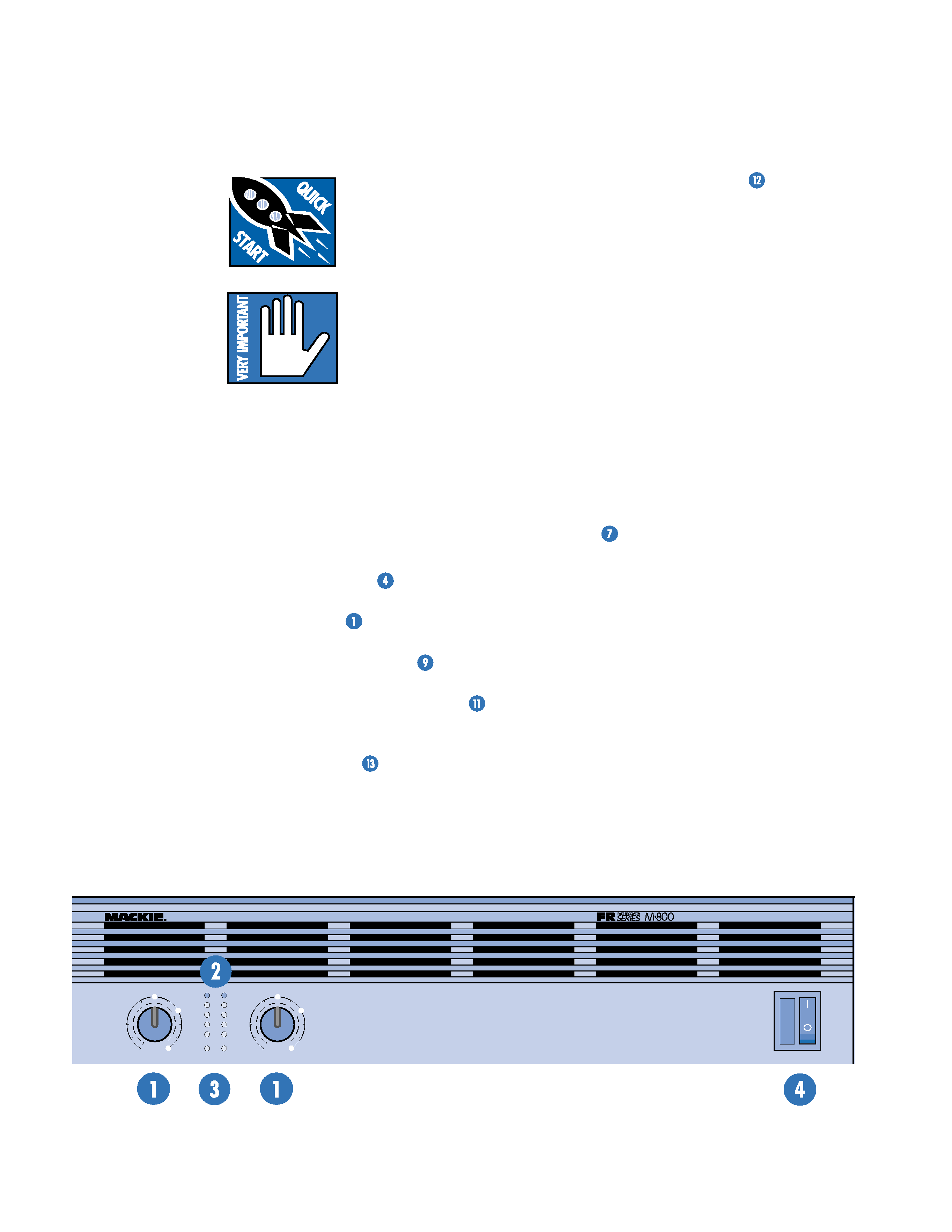 STEREO mode (separate left and right
inputs, separate left and right outputs) is the
typical setup for amplifying stereo signals.
MONO mode (sometimes called Dual-
Mono mode -- one or two inputs, two
mono outputs) is for sending the same
signal to two different speakers, with
separately-adjustable level controls.
BRIDGE mode (sometimes called
Bridged-Mono -- one mono input, one
mono output) uses both sides of the amp to
power one speaker. An M·800 power
STEREO mode, connect line-level cables
from your mixer or preamplifier to the
jacks, either XLR or TRS:
· The balanced XLR inputs are wired
· The 1/4" TRS inputs are wired
They can accept either balanced (TRS) or
· The XLR and TRS inputs for each
channel are internally wired in parallel.
BRIDGE mode, connect an input cable
CH 1's INPUT only. You could plug into
CH 2's input but it won't do anything.
place it horizontally on a
Note: 4 ohms is the mini-
should connect to the am-
If you connect lower impedance speakers, the
amplifier may overheat and shutdown.
DO NOT BLOCK THE VENTILATION PORTS.
The M·800 draws its ventilation air in from the
front and out through the side panels. It needs
plenty of fresh air to stay cool.
(counterclockwise) for now.
OFF (unless you're using constant
directivity horns with compression drivers).
protection against clipping.
PROFESSIONAL POWER AMPLIFIER
FULL SYMMETRY DUAL DIFFERENTIAL HIGH CURRENT DESIGN
---