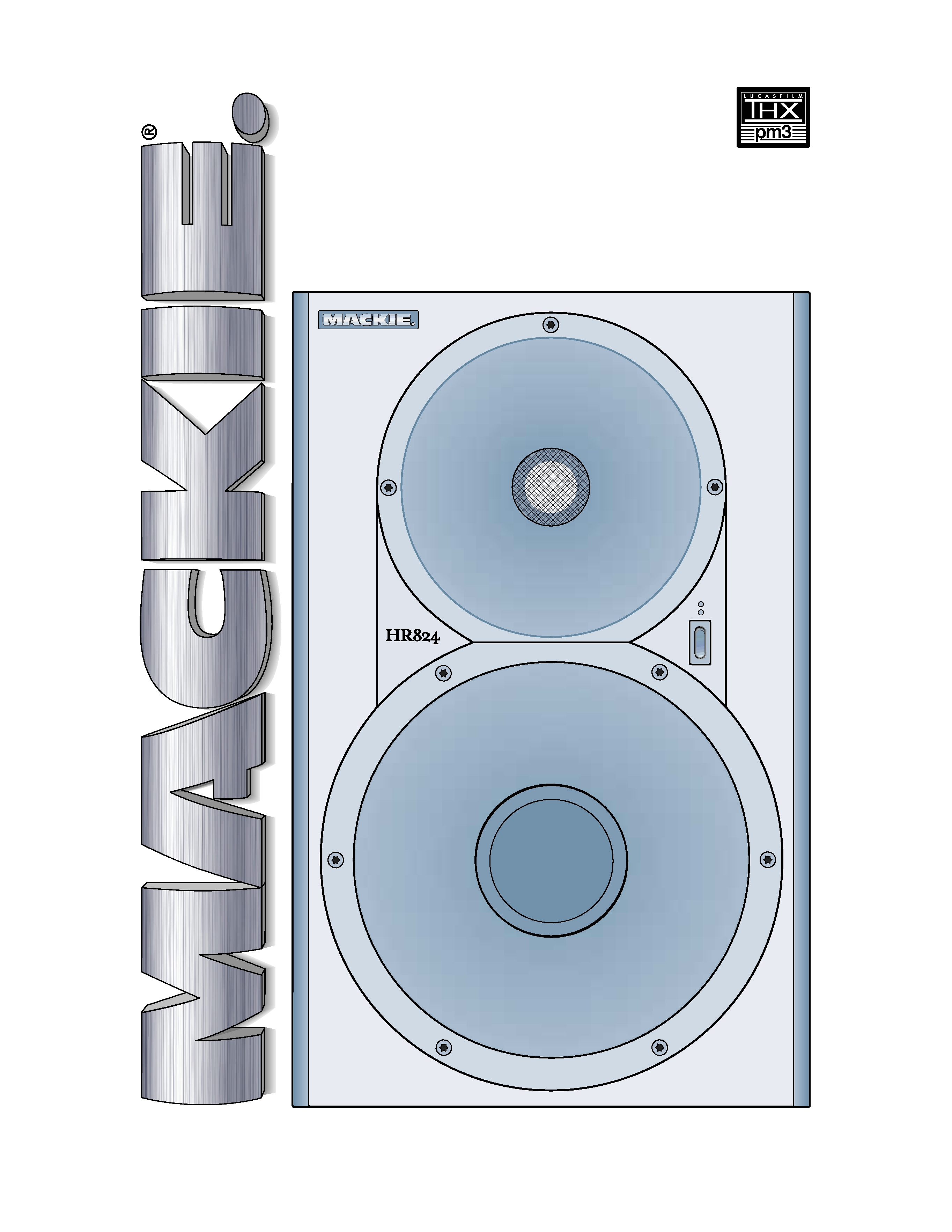 ---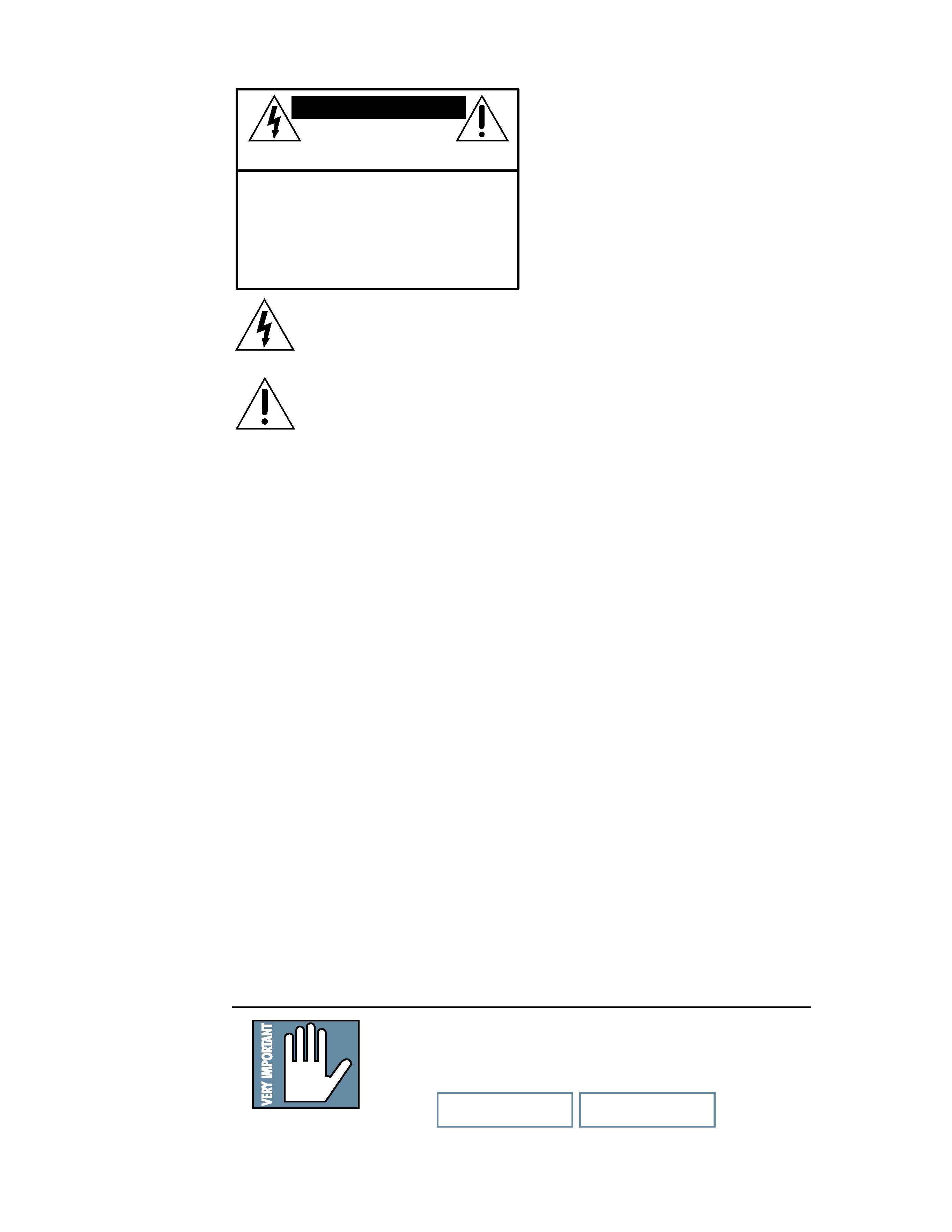 RISQUE DE
CHOC
ELECTRIQUE
CAUTION: TO REDUCE THE RISK OF ELECTRIC SHOCK
DO NOT REMOVE COVER (OR BACK)
NO USER-SERVICEABLE PARTS INSIDE
REFER SERVICING TO QUALIFIED PERSONNEL
ATTENTION: POUR EVITER LES RISQUES DE CHOC
ELECTRIQUE, NE PAS ENLEVER LE COUVERCLE. AUCUN
ENTRETIEN DE PIECES INTERIEURES PAR L'USAGER. CONFIER
L'ENTRETIEN AU PERSONNEL QUALIFIE.
AVIS: POUR EVITER LES RISQUES D'INCENDIE OU
D'ELECTROCUTION, N'EXPOSEZ PAS CET ARTICLE
A LA PLUIE OU A L'HUMIDITE
The lightning flash with arrowhead symbol within an equilateral
triangle is intended to alert the user to the presence of uninsulated
"dangerous voltage" within the product's enclosure, that may be
of sufficient magnitude to constitute a risk of electric shock to persons.
Le symbole éclair avec point de flèche à l'intérieur d'un triangle
équilatéral est utilisé pour alerter l'utilisateur de la présence à
l'intérieur du coffret de "voltage dangereux" non isolé d'ampleur
suffisante pour constituer un risque d'éléctrocution.
The exclamation point within an equilateral triangle is intended to
alert the user of the presence of important operating and maintenance
(servicing) instructions in the literature accompanying the appliance.
Le point d'exclamation à l'intérieur d'un triangle équilatéral est
employé pour alerter les utilisateurs de la présence d'instructions
importantes pour le fonctionnement et l'entretien (service) dans le
livret d'instruction accompagnant l'appareil.
9. Power Cord Protection -- Power supply cords should be
routed so that they are not likely to be walked upon or
pinched by items placed upon or against them, paying
particular attention to cords at plugs, convenience receptacles,
and the point where they exit this Mackie product.
10. Object and Liquid Entry -- Care should be taken so that
objects do not fall into and liquids are not spilled into this
11. Damage Requiring Service -- This Mackie product
should be serviced only by qualified service personnel when:
A. The power-supply cord or the plug has been
B. Objects have fallen, or liquid has spilled into
C. This Mackie product has been exposed to rain;
D. This Mackie product does not appear to operate
normally or exhibits a marked change in
E. This Mackie product has been dropped, or its
12. Servicing -- The user should not attempt to service this
Mackie product beyond those means described in this
operating manual. All other servicing should be referred to the
Mackie Service Department.
13. To prevent electric shock, do not use this polarized plug
with an extension cord, receptacle or other outlet unless the
blades can be fully inserted to prevent blade exposure.
Pour préevenir les chocs électriques ne pas utiliser cette fiche
polariseé avec un prolongateur, un prise de courant ou une
autre sortie de courant, sauf si les lames peuvent être insérées
à fond sans laisser aucune pariie à découvert.
14. Grounding or Polarization -- Precautions should be
taken so that the grounding or polarization means of this
Mackie product is not defeated.
15. This apparatus does not exceed the Class A/Class B
(whichever is applicable) limits for radio noise emissions from
digital apparatus as set out in the radio interference
regulations of the Canadian Department of Communications.
ATTENTION --Le présent appareil numérique n'émet pas de
bruits radioélectriques dépassant las limites applicables aux
appareils numériques de class A/de class B (selon le cas)
prescrites dans le règlement sur le brouillage radioélectrique
édicté par les ministere des communications du Canada.
WARNING -- To reduce the risk of fire or
electric shock, do not expose this appliance to
1. Read Instructions -- All the safety and operation
instructions should be read before this Mackie product is
2. Retain Instructions -- The safety and operating
instructions should be kept for future reference.
3. Heed Warnings -- All warnings on this Mackie product and
in these operating instructions should be followed.
4. Follow Instructions -- All operating and other instructions
5. Water and Moisture -- Do not place water, hot or chilled
drinks on top of this Mackie Product as it may case a shock
hazard. This Mackie product should not be used near water ­
for example, near a bathtub, washbowl, kitchen sink, laundry
tub, in a wet basement, near a swimming pool, swamp, or
salivating St. Bernard dog, etc.
6. Ventilation -- This Mackie product should be situated so
that its location or position does not interfere with its proper
ventilation. For example, the Component should not be
situated on a bed, sofa, rug, or similar surface that may block
any ventilation openings, or placed in a built-in installation
such as a bookcase or cabinet that may impede the flow of air
through ventilation openings.
7. Heat -- This Mackie product should be situated away
from heat sources such as radiators or other devices which
8. Power Sources -- This Mackie product should be connected
to a power supply only of the type described in these
operation instructions or as marked on this Mackie product.
· Please write the serial number for your studio monitor here
(both studio monitors if you have two) for future reference
(i.e., insurance claims, tech support, return authorization, etc.):
Purchased at:_____________________________ Date of Purchase:_____________
---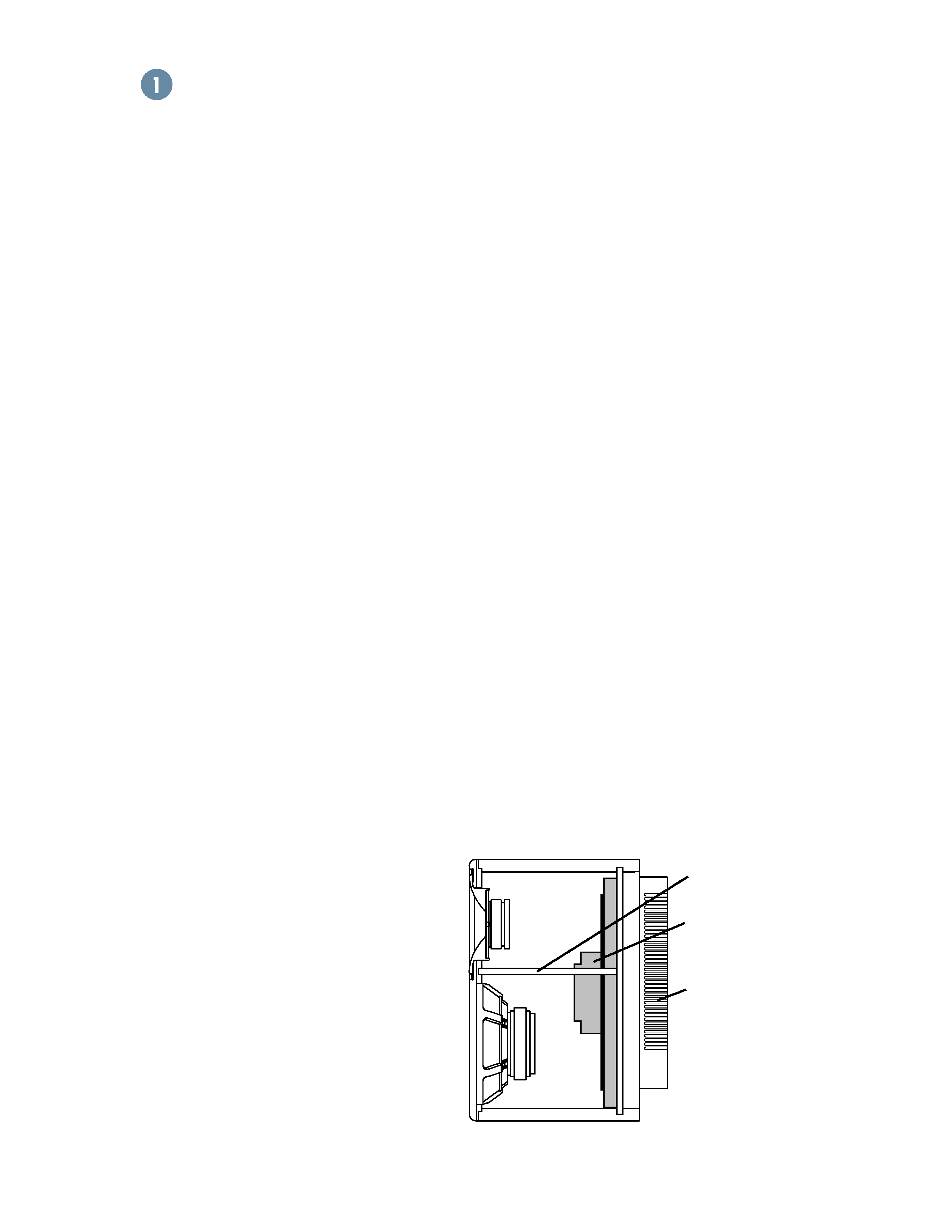 In short, all the complex interconnected
components in the system are designed to work
in harmony with each other to produce the best
The monitors feature an 8.75-inch die-cast
magnesium frame woofer and a 1-inch viscous
edge-damped aluminum-alloy dome tweeter on
the front, and a 6-inch x 12-inch elliptical flat
piston passive radiator in the back.
The high-frequency driver is mounted on a
massive, acoustically non-resonant die-cast zinc
exponential waveguide which results in wide,
controlled dispersion of high-frequency sounds.
The unique passive radiator design provides a
smooth response down to 39Hz -- an astounding
accomplishment for a cabinet of this size! And
since the radiator is producing most of the sound at
the lowest frequencies, there is very little distortion
from the woofer because its cone movement is
minimal at those frequencies.
The cabinet is made of high-density MDF wood.
An internal "H" brace further increases the strength
and rigidity (stiffness) of the box. An open-cell
adiabatic foam material fills the inside of the
box to absorb internal reflections and dampen
FR Series Power Amplifiers...
What better way to power the loudspeakers
than with our acclaimed FR Series "Fast Recovery"
power amplifiers. Our Fast Recovery design uses
low negative feedback, yet allows the amplifiers
to maintain low distortion and stability even
when driven into clipping.
The low-frequency amplifier produces up to
150 watts continuous (350 watts peak) before
clipping, while the high-frequency amplifier produces
up to 100 watts continuous (210 watts peak).
Thank you for choosing Mackie Designs'
HR824 Studio Monitors. We realize that monitors
are a critically important tool whether your appli-
cation is studio recording, audio/video post
production, hi-fi, or home theater. Knowing this,
Greg Mackie had a simple mandate: Design a refer-
ence monitor with a degree of accuracy and
versatility unmatched by any other in its size and
price category -- or any size and price category
for that matter. The mandate was simple, but
accomplishing it was another story!
Investments in Excellence...
To accomplish the task at hand, Greg and the
New Product Development team realized that a
commitment was required in terms of new resources
and new equipment. So we recruited some of the
best speaker and acoustic engineers in the indus-
try to assist in the design of the HR824. And we
invested in some advanced (and need we say
expensive) measurement and analysis tools for
The result? The HR824 Studio Monitors are
extremely accurate and versatile, loaded with
unique controls that allow you to fine-tune the
sound to match your individual environment
precisely. You're gonna love these!
What are they? The Advantages...
The HR824 Studio Monitors are high-resolution,
two-way, bi-amplified, active monitors employing
a 6th-order Butterworth system with a built-in
rear-firing mass-loaded passive radiator. Whew!
There are many benefits to integrating an active
crossover, power amplifiers, and drivers into a
single cabinet, and we've taken full advantage of
these benefits in the design of the HR824.
· The crossover point is designed so that the
high and low frequency drivers are fed only
the frequencies they are best able to reproduce.
· The amplifiers are designed to provide
maximum acoustic output from the speakers,
yet minimize the danger of speaker damage
· In addition, the amplifiers' gain and fre-
quency responses are individually
hand-trimmed to compensate for typical
manufacturing tolerances between the
drivers and produce a smooth frequency
response from 39Hz to 20kHz (
· The connecting wire between the amplifier
outputs and the drivers are kept to an
absolute minimum, so the damping factor of
the amplifier isn't compromised by the
resistance of long speaker cables.
· The acoustic sum of the outputs from the two
drivers are optimized electronically, as well as
physically, so the amplitude response is unity
and the phase difference is minimal.
Figure 1. HR824 Cutaway side view
---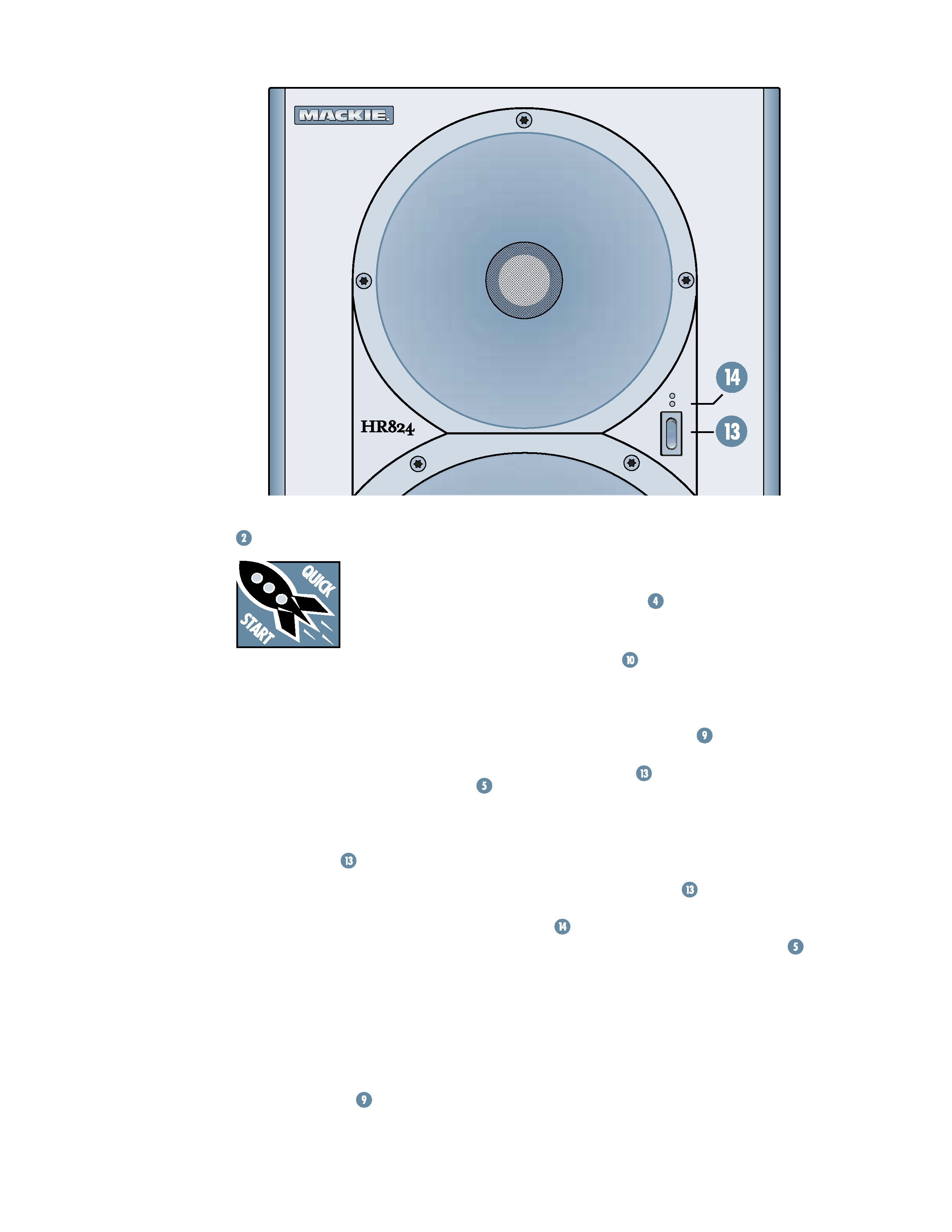 1. Connect the line-level monitor signal from
your mixer (or other signal source) to the
Studio Monitor (
1
/
4
-inch TRS, XLR, or RCA).
2. Connect the supplied AC power cord to the
on the back of the monitor.
Plug the other end into an AC outlet properly
configured with the correct voltage for your
on the front panel in the
down position, the power amplifier is in
4. Start your signal source (tape deck, CD,
DAW, or whatever), but leave the master
level control on your mixer down.
control on the back of the monitor to its
7. Adjust the master volume on your mixer to
a comfortably loud listening level. Enjoy the
silky smooth highs and authoritative,
commanding lows of the HR824. Then read
the rest of this manual...especially the
We realize that you can't
Monitors and try them out.
Nevertheless, please take the time to read this
page NOW, and the rest can wait until you're
Each of the HR824 cabinets has its own built-
in power amplifiers. That's right, two amplifiers
per speaker cabinet; one for the high-frequency
tweeter and one for the low-frequency woofer.
control on the back of the cabinet down (fully
counterclockwise) before turning on the Studio
Monitors for the first time. Also be sure to set
on the front panel to its
standby position (down). This will prevent you
from accidentally connecting a hot signal source
to the monitors and getting a rude surprise.
There are a number of other settings you
can make on the back of the HR824, and you
can look at the graphic instructions relating to
each of them on the back of the cabinet (or
wait until you read about them later on in this
manual so you really know what they do). For
now, just leave them at the factory default set-
ACOUSTIC SPACE = WHOLE; LOW
FREQ = 37Hz; HIGH FREQ = 0), except for
switch. Be sure it is set
---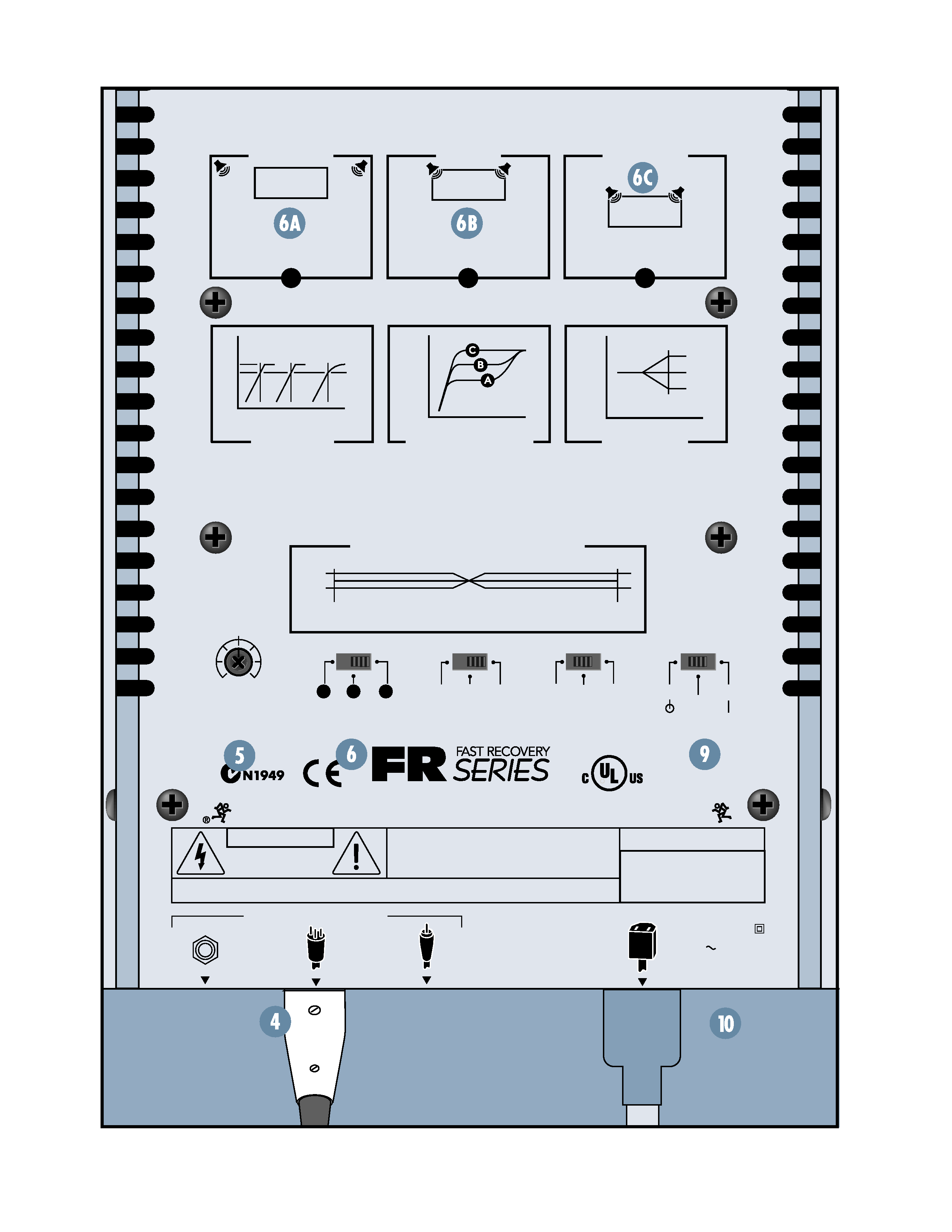 ACOUSTIC SPACE APPLICATIONS
· 0dB (START HERE) GUARANTEED FLAT
USE FOR MOST APPLICATIONS
· +2dB: USE IF YOUR MIXES TRANSLATE BRIGHT
­
2dB: USE IF YOUR MIXES TRANSLATE DULL
· USE 80Hz TO EMULATE SMALL SPEAKER
· USE 47Hz FOR NORMAL LF PERFORMANCE
· USE 37Hz FOR NORMAL EXTENDED
FREE FIELD ACOUSTIC RESPONSE
INTERNAL BI·AMPLIFICATION
WARNING:
TO REDUCE THE RISK OF FIRE OR ELECTRIC SHOCK, DO NOT
EXPOSE THIS EQUIPMENT TO RAIN OR MOISTURE. DO NOT REMOVE COVER.
NO USER SERVICEABLE PARTS INSIDE. REFER SERVICING TO QUALIFIED PERSONNEL.
AVIS:
RISCQUE DE CHOC ÉLECTRIQUE -- NE PAS OUVRIR
CONCEIVED, DESIGNED, AND MANUFACTURED BY MACKIE DESIGNS INC · WOODINVILLE · WA · USA
MADE IN USA · PATENTS PENDING · © 1997 MACKIE DESIGNS INC. ALL RIGHTS RESERVED
"MACKIE", "FR SERIES", AND THE "RUNNING MAN" FIGURE ARE REGISTERED TRADEMARKS OF MACKIE DESIGN INC.
---