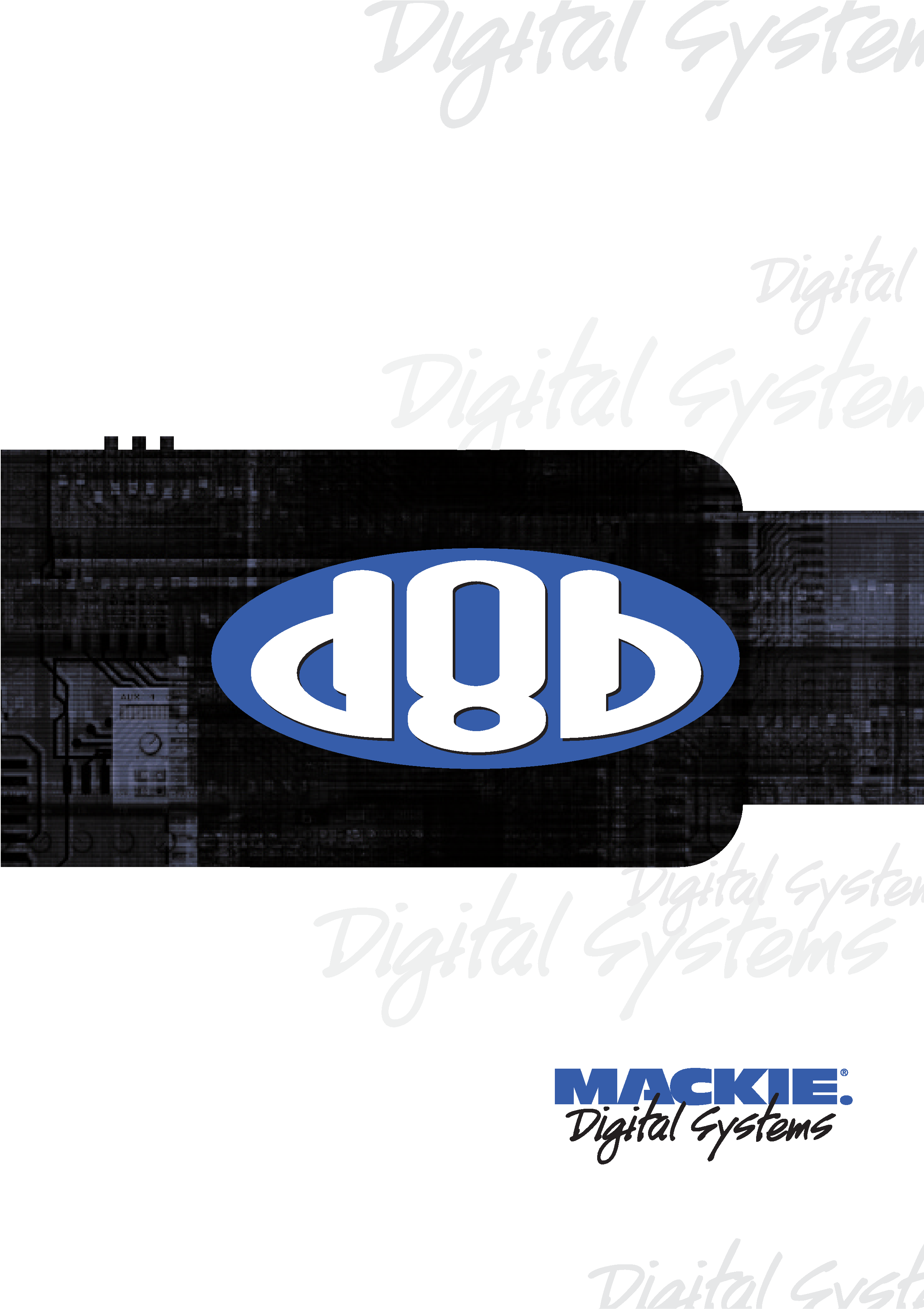 MACKIE'S 56-INPUT, 72-CHANNEL, FULLY AUTOMATED DIGITAL AUDIO MIXING CONSOLE
---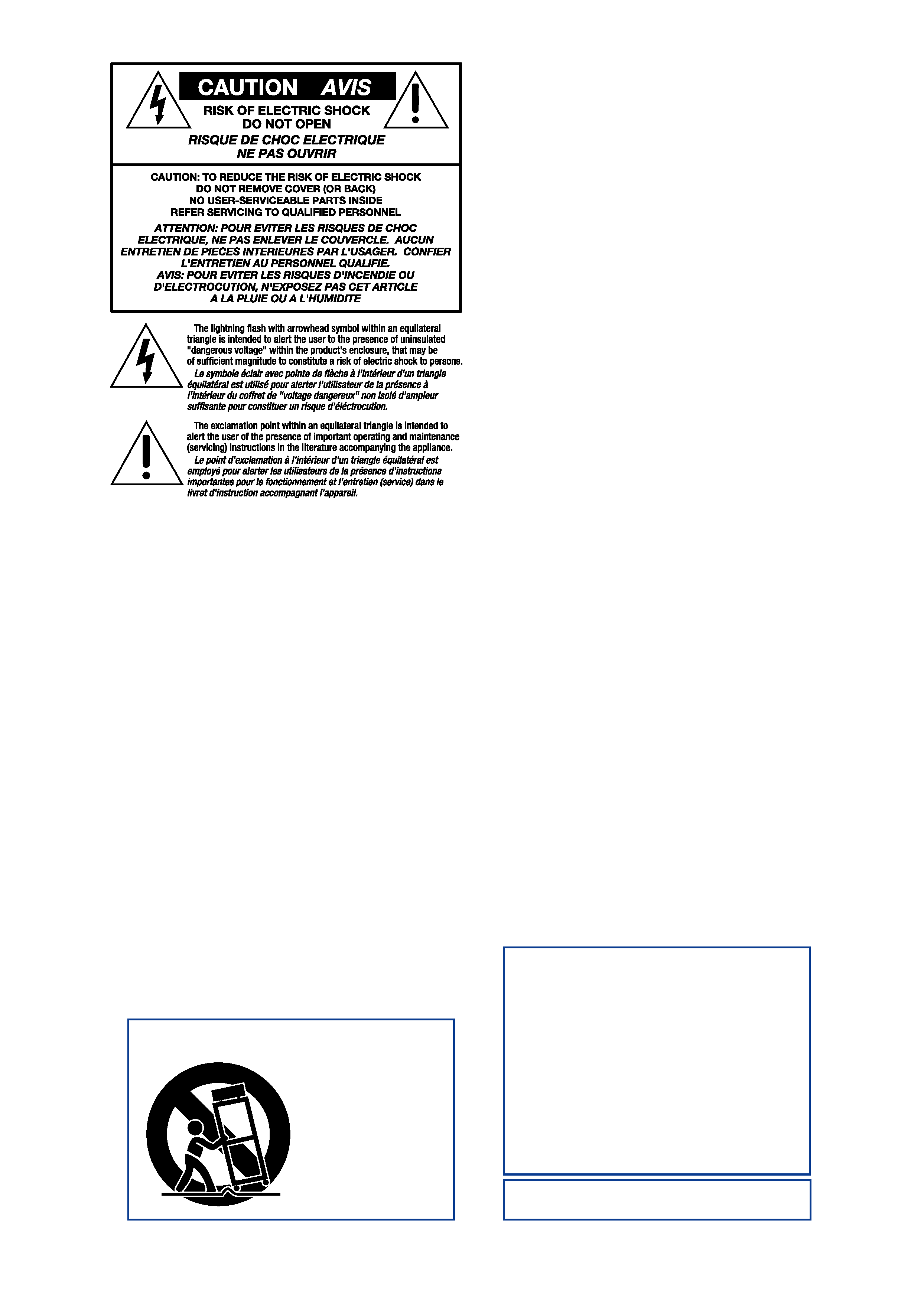 NOTE: This equipment has been tested and found to comply
with the limits for a Class A digital device, pursuant to Part 15
of the FCC Rules. These limits are designed to provide
reasonable protection against harmful interference when the
equipment is operated in a commercial installation. This
equipment generates, uses, and can radiate radio frequency
energy and, if not installed and used in accordance with the
instruction manual, may cause harmful interference to radio
communications. Operation of this equipment in a residential
area is likely to cause harmful interference in which case the
user will be required to correct the interference at his own
only with a cart or stand
stops, excessive force, and
uneven surfaces may cause
WARNING -- To reduce the risk of fire or electric shock, do
not expose this appliance to rain or moisture.
1. Read Instructions -- All the safety and operation instructions should be
read before this Mackie product is operated.
2. Retain Instructions -- The safety and operating instructions should be
kept for future reference.
3. Heed Warnings -- All warnings on this Mackie product and in these
operating instructions should be followed.
4. Follow Instructions -- All operating and other instructions should be
5. Water and Moisture -- This Mackie product should not be used near
water ­ for example, near a bathtub, washbowl, kitchen sink, laundry tub, in
a wet basement, near a swimming pool, swamp or salivating St. Bernard
6. Ventilation -- This Mackie product should be situated so that its
location or position does not interfere with its proper ventilation. For
example, the Component should not be situated on a bed, sofa, rug, or
similar surface that may block any ventilation openings, or placed in a
built-in installation such as a bookcase or cabinet that may impede the
flow of air through ventilation openings.
7. Heat -- This Mackie product should be situated away from heat sources
such as radiators, or other devices which produce heat.
8. Power Sources -- This Mackie product should be connected to a power
supply only of the type described in these operation instructions or as marked
9. Power Cord Protection -- Power supply cords should be routed so that
they are not likely to be walked upon or pinched by items placed upon or
against them, paying particular attention to cords at plugs, convenience
receptacles, and the point where they exit this Mackie product.
10. Object and Liquid Entry -- Care should be taken so that objects do not
fall into and liquids are not spilled into this Mackie product.
11. Damage Requiring Service -- This Mackie product should be serviced
only by qualified service personnel when:
A. The power-supply cord or the plug has been damaged; or
B. Objects have fallen, or liquid has spilled into this Mackie
C. This Mackie product has been exposed to rain; or
D. This Mackie product does not appear to operate normally or
exhibits a marked change in performance; or
E. This Mackie product has been dropped, or its chassis
12. Servicing -- The user should not attempt to service this Mackie product
beyond those means described in this operating manual. All other servicing
should be referred to the Mackie Service Department.
13. Do not remove the cover on the console. It is permissible to remove the
outer cover on the Remote CPU to install accessory cards. Do not remove the
inner power supply cover.
14. To prevent electric shock, do not use this polarized plug with an
extension cord, receptacle or other outlet unless the blades can be fully
inserted to prevent blade exposure.
Pour préevenir les chocs électriques ne pas utiliser cette fiche polariseé avec
un prolongateur, un prise de courant ou une autre sortie de courant, sauf si
les lames peuvent être insérées à fond sans laisser aucune pariie à découvert.
15. Grounding or Polarization -- Precautions should be taken so that the
grounding or polarization means of this Mackie product is not defeated.
16. This apparatus does not exceed the Class A/Class B (whichever is
applicable) limits for radio noise emissions from digital apparatus as set out
in the radio interference regulations of the Canadian Department of
ATTENTION --Le présent appareil numérique n'émet pas de bruits
radioélectriques dépassant las limites applicables aux appareils numériques de
class A/de class B (selon le cas) prescrites dans le règlement sur le brouillage
radioélectrique édicté par les ministere des communications du Canada.
---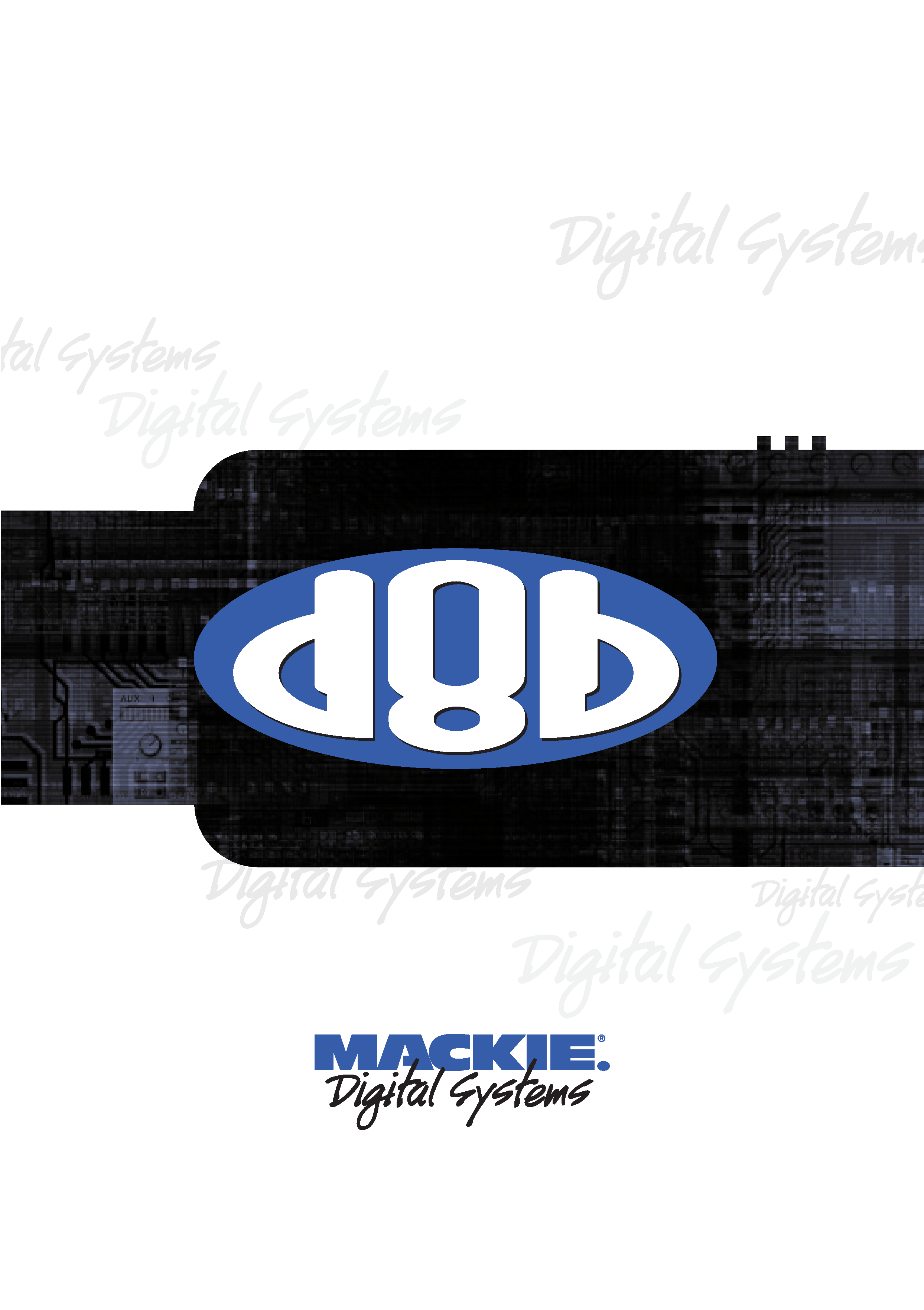 16220 Wood-Red Rd. NE · Woodinville, WA 98072 · USA
800/898-3211 · Outside the US: 425/487-4333
Fax: 425/487-4337 · www.mackie.com
©1998 Mackie Designs Inc. All rights reserved. #820-076-00
---

Digital 8·Bus Owner's Manual
About the Digital 8·Bus .............................................................. 1-1
The Digital Advantage .......................................................... 1-1
Digital 8·Bus Unique Features .................................................... 1-3
D8B Console ......................................................................... 1-3
V-PotsTM ......................................................................... 1-3
Fat Channel .................................................................... 1-3
DSP Plug-ins .................................................................. 1-3
Motorized 100mm Faders ............................................... 1-3
Automation ..................................................................... 1-3
The Remote CPU .................................................................. 1-3
Built-In Hard Drive and Floppy Drive ............................. 1-3
SVGA Monitor, Keyboard and Mouse ............................. 1-3
How to Use This Manual ...................................................... 1-4
How to Use Help ................................................................... 1-5
The Split-Console Approach ........................................................ 1-5
2. Digital 8·Bus Description
Channel Strip Description ............................................................ 2-1
Master Section Description ......................................................... 2-3
Master Fader/Bank Select Section ....................................... 2-3
Master V-Pot Section ............................................................ 2-3
V-Pot Select Section ............................................................. 2-4
Fat Channel Section ............................................................. 2-5
Studio/Solo Section .............................................................. 2-6
Phones/Cue Mix Section ...................................................... 2-7
Control Room Section ........................................................... 2-7
Clipboard Section ................................................................. 2-8
Master L-R Section .............................................................. 2-8
Shortcuts Section ................................................................. 2-8
Bus Assignment Section ...................................................... 2-8
Automation Section .............................................................. 2-9
Session Setup Section .......................................................... 2-9
Transport Section ............................................................... 2-10
Rear Panel Description .............................................................. 2-12
Remote CPU/Power Supply Description .................................... 2-15
Top Panel Drawing with Callouts .............................................. 2-17
Rear Panel Drawing with Callouts ............................................ 2-18
Initial Power Up ........................................................................... 3-1
Returning to Factory Default Settings ......................................... 3-1
Power Down ................................................................................ 3-2
Re-booting after Power Failure: ................................................... 3-2
General Setup .............................................................................. 3-2
Selecting a Language ........................................................... 3-2
Setting the Surround Mode .................................................. 3-3
Configuring MIDI Parameters .............................................. 3-4
Configuring Auto Save .......................................................... 3-7
Setting Aux Sends Pre or Post Fader ................................... 3-8
Setting the Display Intensity ................................................ 3-9
Determining the Operating System Version ....................... 3-10
Digital I/O Setup ........................................................................ 3-11
Configuring Digital I/O ....................................................... 3-11
Setting the Console's Sample Rate ..................................... 3-13
Downloading Plug-ins to the FX Cards ............................... 3-14
Setting the Date and Time .................................................. 3-15
Setting Channel Phase ....................................................... 3-15
---

4. Making the Connections
Analog Metering vs. Digital Metering .......................................... 4-1
Connecting Microphones and Line-Level Signals ................. 4-1
Phantom Power .............................................................. 4-1
Connecting Recording Devices ............................................. 4-2
TO TAPE Connections (Channels 1-24 Tape Outs) ......... 4-2
FROM TAPE Connections (Channels 25-48 Tape Returns) ... 4-2
BUS OUT 1-8 Connections (Surround Outputs) .............. 4-2
Connecting External Effects Devices ................................... 4-2
Channel Inserts .............................................................. 4-3
Aux Buses ...................................................................... 4-4
Connecting Control Room Monitors ..................................... 4-4
Connecting Studio Monitors ................................................. 4-5
Connecting Headphones ....................................................... 4-5
Connecting Your Final Mix Deck .......................................... 4-5
Digital Audio Connections ........................................................... 4-6
AES/EBU .............................................................................. 4-6
S/PDIF ................................................................................. 4-6
MIDI Connections ........................................................................ 4-6
Connecting a MIDI Time Code Source for Synchronization .. 4-6
Using MMC (MIDI Machine Control): .................................. 4-6
Connections for External MIDI Effects Processors .............. 4-6
Other Connections ....................................................................... 4-7
Using an SVGA Monitor ....................................................... 4-7
Using a Mouse ...................................................................... 4-7
Using a QWERTY Keyboard ................................................. 4-7
The Ethernet Connection ...................................................... 4-7
5. Preparing for a Session
Saving and Retrieving Files from the Internal Hard Drive ............... 5-1
File Structure Hierarchy .............................................................. 5-1
Sessions ............................................................................... 5-1
Patches ................................................................................ 5-1
Bin ........................................................................................ 5-1
Creating a New Folder ................................................................. 5-2
Using the Disk Manager .............................................................. 5-4
Copying Files to a Floppy Disk ............................................. 5-4
Copying Files from One Folder to Another ........................... 5-4
Creating a Session ................................................................ 5-5
Saving a Session .......................................................................... 5-6
Saving a Session Under a New Name ........................................... 5-7
Recalling a Session ...................................................................... 5-8
Saving Sessions to Floppy Disk ................................................... 5-9
Creating and Storing Snapshots ..................................................... 5-11
Creating Snapshots .................................................................... 5-11
Recalling Snapshots .................................................................. 5-12
Creating Locate Points ................................................................... 5-13
Recalling Locate Points .................................................................. 5-15
Looping Between Two Locate Points .............................................. 5-16
Clipboard ........................................................................................ 5-17
Cutting ....................................................................................... 5-17
Copying ...................................................................................... 5-18
Pasting ...................................................................................... 5-18
Undoing ..................................................................................... 5-19
---