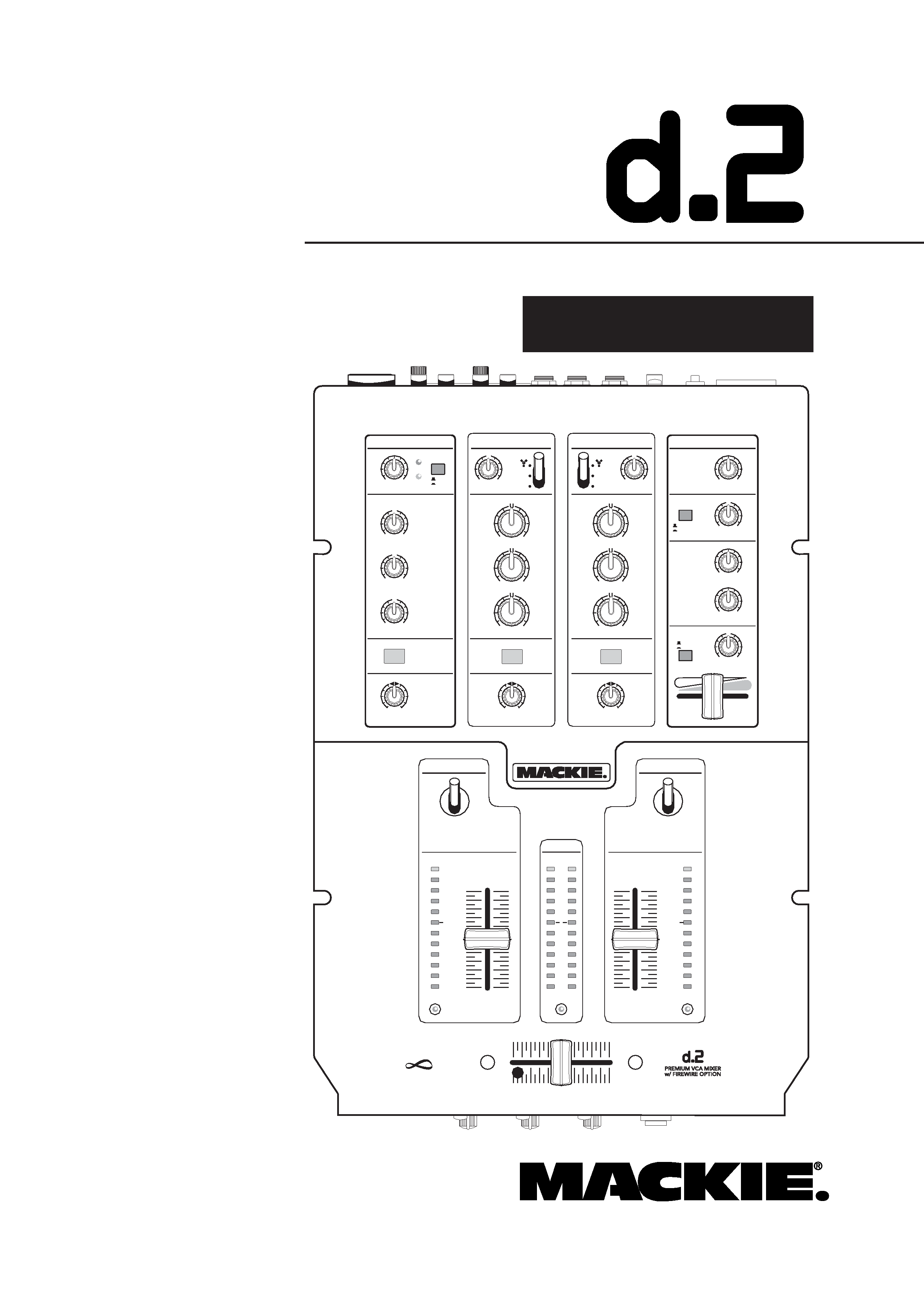 2-Channel DJ Mixer with FireWire Option
---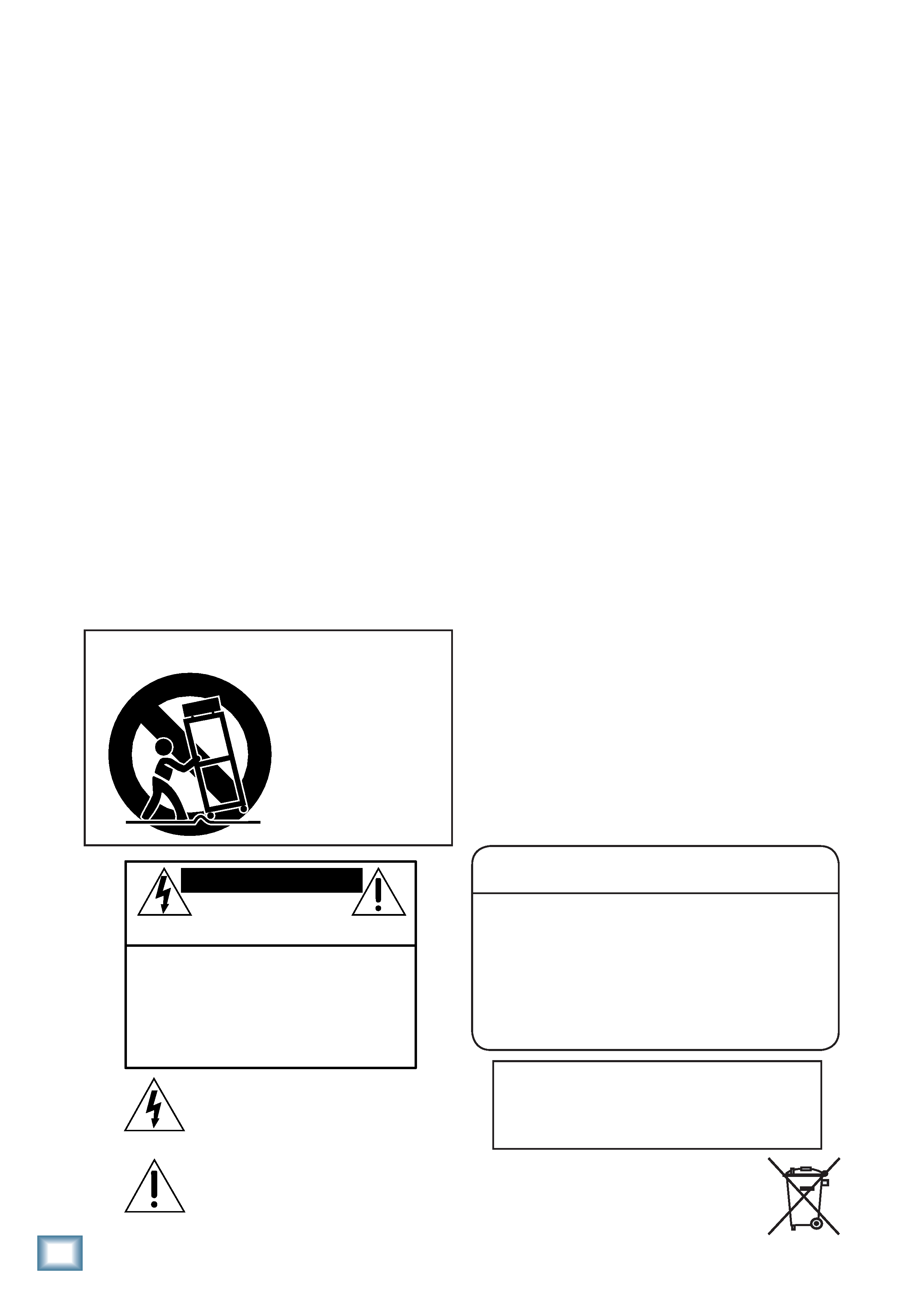 1. Read these instructions.
2. Keep these instructions.
4. Follow all instructions.
5. Do not use this apparatus near water.
6. Clean only with dry cloth.
7. Do not block any ventilation openings. Install in accordance with the
manufacturer's instructions.
8. Do not install near any heat sources such as radiators, heat registers,
stoves, or other apparatus (including amplifiers) that produce heat.
9. Do not defeat the safety purpose of the polarized or grounding-type
plug. A polarized plug has two blades with one wider than the other.
A grounding-type plug has two blades and a third grounding prong.
The wide blade or the third prong are provided for your safety. If the
provided plug does not fit into your outlet, consult an electrician for
replacement of the obsolete outlet.
10. Protect the power cord from being walked on or pinched particularly at
plugs, convenience receptacles, and the point where they exit from the
11. Only use attachments/accessories specified by the manufacturer.
12. Use only with a cart, stand, tripod, bracket, or table specified by the
manufacturer, or sold with the apparatus. When a cart is used, use
caution when moving the cart/apparatus combination to avoid injury
13. Unplug this apparatus during lightning storms or when unused for long
14. Refer all servicing to qualified service personnel. Servicing is required
when the apparatus has been damaged in any way, such as power-
supply cord or plug is damaged, liquid has been spilled or objects have
fallen into the apparatus, the apparatus has been exposed to rain or
moisture, does not operate normally, or has been dropped.
15. This apparatus shall not be exposed to dripping or splashing, and no
object filled with liquids, such as vases or beer glasses, shall be placed
16. This apparatus has been designed with Class-I construction and must
be connected to a mains socket outlet with a protective earthing con-
nection (the third grounding prong).
17. This apparatus has been equipped with an all-pole, rocker-style AC
mains power switch. This switch is located on the rear panel and
should remain readily accessible to the user.
18. This apparatus does not exceed the Class A/Class B (whichever is
applicable) limits for radio noise emissions from digital apparatus as
set out in the radio interference regulations of the Canadian Department
ATTENTION -- Le présent appareil numérique n'émet pas de bruits
radioélectriques dépassant las limites applicables aux appareils numériques de
class A/de class B (selon le cas) prescrites dans le réglement sur le brouillage
radioélectrique édicté par les ministere des communications du Canada.
19. Exposure to extremely high noise levels may cause permanent hearing
loss. Individuals vary considerably in susceptibility to noise-induced
hearing loss, but nearly everyone will lose some hearing if exposed to
sufficiently intense noise for a period of time. The U.S. Government's
Occupational Safety and Health Administration (OSHA) has specified
the permissible noise level exposures shown in the following chart.
According to OSHA, any exposure in excess of these permissible limits
could result in some hearing loss. To ensure against potentially danger-
ous exposure to high sound pressure levels, it is recommended that all
persons exposed to equipment capable of producing high sound pres-
sure levels use hearing protectors while the equipment is in operation.
Ear plugs or protectors in the ear canals or over the ears must be worn
when operating the equipment in order to prevent permanent hearing
loss if exposure is in excess of the limits set forth here.
Important Safety Instructions
Very loud classical music
Dave screaming at Steve about deadlines
Loudest parts at a rock concert
WARNING -- To reduce the risk of fire or
electric shock, do not expose this apparatus
only with a cart or stand
stops, excessive force, and
uneven surfaces may cause
RISQUE DE CHOC ELECTRIQUE
CAUTION: TO REDUCE THE RISK OF ELECTRIC SHOCK
DO NOT REMOVE COVER (OR BACK)
NO USER-SERVICEABLE PARTS INSIDE
REFER SERVICING TO QUALIFIED PERSONNEL
ATTENTION: POUR EVITER LES RISQUES DE CHOC
ELECTRIQUE, NE PAS ENLEVER LE COUVERCLE. AUCUN
ENTRETIEN DE PIECES INTERIEURES PAR L'USAGER. CONFIER
L'ENTRETIEN AU PERSONNEL QUALIFIE.
AVIS: POUR EVITER LES RISQUES D'INCENDIE OU
D'ELECTROCUTION, N'EXPOSEZ PAS CET ARTICLE
A LA PLUIE OU A L'HUMIDITE
The lightning flash with arrowhead symbol within an equilateral
triangle is intended to alert the user to the presence of uninsulated
"dangerous voltage" within the product's enclosure, that may be
of sufficient magnitude to constitute a risk of electric shock to persons.
Le symbole éclair avec point de flèche à l'intérieur d'un triangle
équilatéral est utilisé pour alerter l'utilisateur de la présence à
l'intérieur du coffret de "voltage dangereux" non isolé d'ampleur
suffisante pour constituer un risque d'éléctrocution.
The exclamation point within an equilateral triangle is intended to
alert the user of the presence of important operating and maintenance
(servicing) instructions in the literature accompanying the appliance.
Le point d'exclamation à l'intérieur d'un triangle équilatéral est
employé pour alerter les utilisateurs de la présence d'instructions
importantes pour le fonctionnement et l'entretien (service) dans le
livret d'instruction accompagnant l'appareil.
---

Part No. 0014096 Rev. A 7/05
©2005 LOUD Technologies Inc. All Rights Reserved. Printed in China.
Don't forget to visit our website at www.mackie.com for more
information about this and other Mackie products.
Safety Instructions................................... 2
Introduction...............................................4
Getting Started ......................................... 5
READ THIS PAGE!!....................................................5
Hookup Diagrams.....................................6
Rear Panel Features................................ 10
Top Panel Features...................................12
Microphone Input Section .................................12
Program Input Section......................................... 13
Control Section......................................................14
Program Output Section..................................... 15
Front Panel Features ...............................17
Appendix A: Service Information....... 18
Warranty Service...................................................18
Troubleshooting ....................................................18
Repair .......................................................................19
Appendix B: Connections .....................20
Appendix C: Technical Info ...................21
Specifications.........................................................21
Block Diagram........................................................23
Gain Structure Diagram...................................... 24
Appendix D: Transform Switch
Rotation and Fader Replacement...... 25
Limited Warranty ...................................27
---

Thank you for choosing a Mackie d.2 Premium VCA
Mixer for scratch and club DJs. It contains all your fa-
vorite features in a scratch mixer, along with significant
extras that you will come to appreciate.
The d.2 is the first DJ mixer made by Mackie. We were
able to apply our extensive knowledge of mixer design
to the d.2, making it a truly professional product with
the high-end performance you've come to expect from
Mackie. Features like our "built like a tank" construc-
tion, premium analog circuitry, infinium
TM
contact-free
crossfader, optional FireWire
TM
connectivity, and "Planet
Earth" power supply add value to the d.2 not found in
any other scratch mixer in its class.
Mighty strong construction to withstand the
Integrated rack ears (Odyssey Battle Bridge
TM
Removable top panel provides access to the
rotatable transform switches and to the
Premium VCA-based design offers extremely
smooth fades and cross fades with very low
distortion characteristics for warm, hearty
Mackie mic preamp with 3-band EQ for pro-
quality vocals through the d.2.
XLR main outputs with Mic/Line switch (mic
position allows stage connections with no D.I.
RCA main outs with Live/Record switch
(Record position delivers a pre-main out).
Endless-life optical crossfader from the UK-
based Infinium, with adjustable mechanical
tension accessible from the top panel.
Optional user-installable FireWire card receives
four program channels from PC/Mac and sends
a stereo L-R recording stream to PC/Mac.
Program faders and Crossfader have variable
contour curves and reverse switches.
Ultra bright blue/white main meters plus
individual program meters for cueing and beat
Separate mono/stereo switchable booth output
on balanced TRS connectors.
Stereo FX loop for outboard effects.
"Planet Earth" power-supply operates on volt-
ages between 100 and 240 VAC.
Standard IEC power receptacle and power cord.
We know that many of you can't wait to get your new
mixer hooked up, and you're probably not going to read
the manual first (sigh!). So the first section after this
Introduction is a Getting Started guide to help you get
the mixer set up fast so you can start using it right away.
Right after that are the ever popular hook-up diagrams
that show you some typical setups.
Then, when you have time, read the Features Descrip-
tion section. This describes every knob, button, and
connection point on the d.2, roughly following the signal
flow through the mixer from top to bottom.
Throughout this section you'll find illustrations with
each feature numbered. If you want to know more about
a feature, simply locate it on the appropriate illustra-
tion, notice the number attached to it, and find that
number in the nearby paragraphs.
This icon marks information that is critically
important or unique to the d.2. For your own
good, read them and remember them. They
will be on the final test.
This icon leads you to in-depth explanations
of features and practical tips. While not
mandatory, they usually have some valuable
Appendix B is a section on connectors: XLR connec-
tors, TRS balanced connectors, TS unbalanced connec-
tors, and RCA unbalanced connectors.
Appendix C shows the d.2 specifications, a block dia-
gram, and a gain structure diagram.
Appendix D shows how to adjust the position of the
transform switches, and how to replace the faders if you
Please write your serial number here for future
reference (i.e., insurance claims, tech support,
return authorization, etc.)
---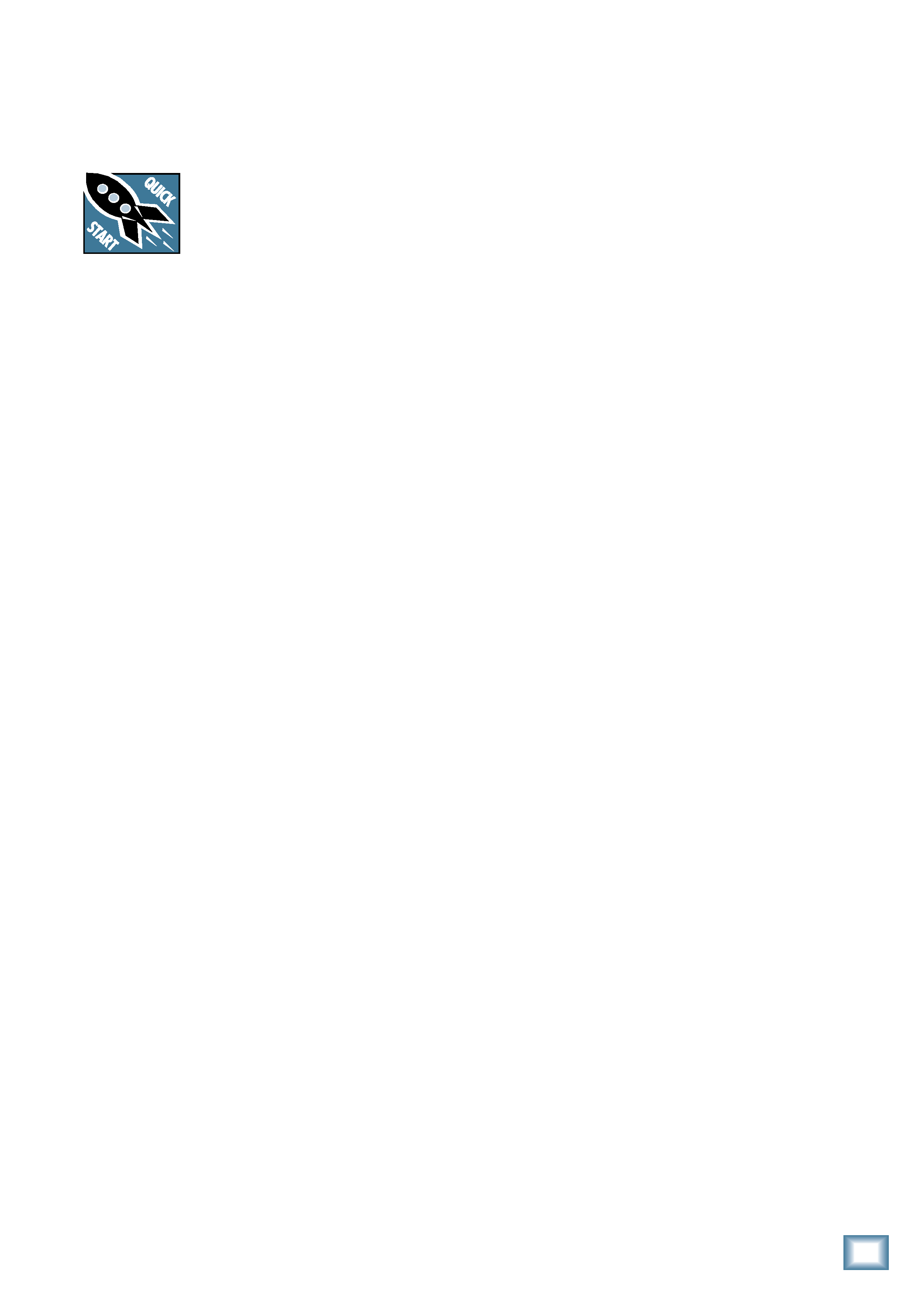 Even if you never reads manuals, please
read and digest the safety instructions
on page 2, and this page before you
begin using the d.2 mixer.
Turn the rear panel POWER switch off.
Turn down the LEVEL controls for MIC, PGM 1 and
PGM 2, and center all EQ, PAN, and BAL controls.
Set all push button switches to their "out" positions.
In the CONTROL section (right hand side), turn all
the rotary knobs down, and the switches out.
Set the PROGRAM Faders fully down.
On the front panel, set the REVERSE switches out.
If you already know how you want to connect the d.2,
go ahead and connect the inputs and outputs the way
you want them. If you just want to get sound through
the d.2 mixer, follow these steps:
Plug a signal source to the d.2. This could be a:
Microphone into the MIC input
Turntable into a PHONO input (push in the
rear panel LINE/PHONO switch)
Line-level source such as a CD player into the
PHONO input (push out the LINE/PHONO
Line-level source such as a CD player into a CD
If you are using the PHONO input, make sure you
set the LINE/PHONO switch correctly.
Connect cords from the d.2's MAIN OUTs (XLR or
RCA connectors on the rear panel) to your powered
Plug in the detachable linecord, connect it to a live
AC outlet, and turn on the d.2's POWER switch.
If you have powered speakers, turn them on. Other-
wise, hook up your speakers to the amp and turn it
on. Adjust your powered speaker or amplifier level
controls to however the manufacturer recommends.
(This is usually all the way up.)
To set the LEVEL controls, it's not even necessary
to hear what you're doing at the outputs of the mixer.
If you want to listen while you work, plug headphones
into the PHONES jack on the front panel, then set the
Select the input using the SOURCE switch.
Play something into the selected input. Be sure
that the volume of the input source is the same as
it would be during normal use. If it isn't, you might
have to readjust these levels during the middle of a
Center the TRANSFORM switch. There will be no
output, but the PROGRAM METER will still work.
Adjust the channel's rotary LEVEL control so that
the LEDs on the PROGRAM meter stay around "0"
and +4, and never go higher than "+7."
Apply some EQ if needed, (return to step 4 if you
do, just to check the levels are still OK).
Repeat for the other channel (if you want to).
To level the microphone input, keep the ON button
off, and talk or sing at your highest expected level.
Adjust the MIC LEVEL until the OL LED next to it
only comes on occasionally.
To get sound out of the speakers, press the TRANS-
FORM switch up (the latched position), turn up the
PROGRAM fader, and slowly rotate the MAIN control
to a comfortable listening level.
Sing and play. You're a star! Bring in the other
channel, play with the CROSSFADER, and generally
Always turn down the MAIN, BOOTH, and PHONE
knobs before making any connections.
When you shut down your equipment, turn off the
amplifiers first. When powering up, turn on the
Never listen to loud music for prolonged periods.
Please see the Safety Instructions on page 2 for
information on hearing protection.
---