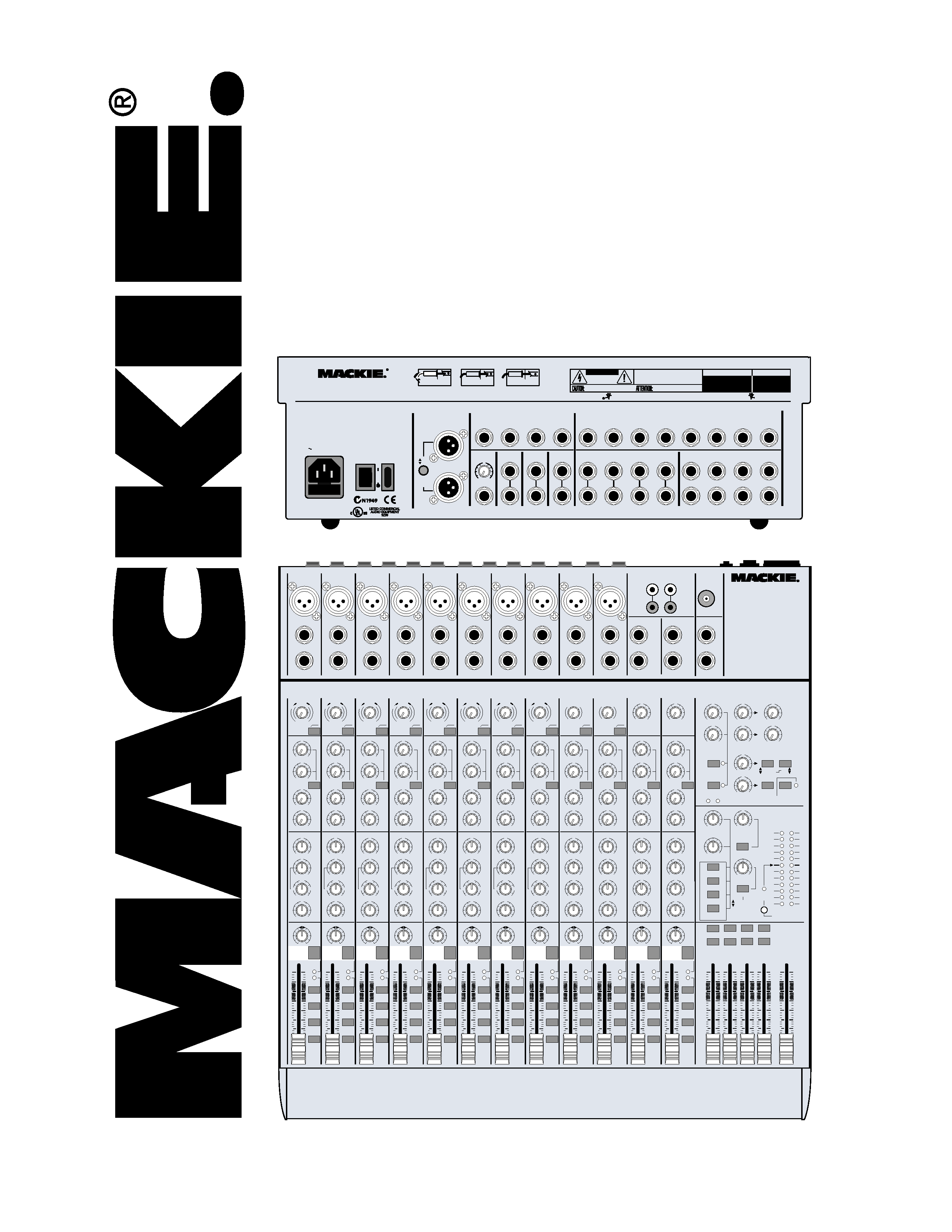 16-CHANNEL MIC/LINE MIXER
WITH PREMIUM XDR
TM
MIC PREAMPLIFIERS
DESIGNED BY MACKOIDS IN WOODINVILLE, WA, USA
COPYRIGHT ©1998 · THE FOLLOWING ARE REGISTERED TRADEMARKS OF
MACKIE DESIGN INC.: "MACKIE", "XDR", AND THE "RUNNING MAN" FIGURE
16-CHANNEL MIC /LINE MIXER
WITH PREMIUM XDR
TM
MIC PREAMPLIFIERS
TIP OUT TO EFFECTS DEVICE
FOR USE AS AN EFFECTS LOOP
(TIP= SEND, RING = RETURN)
XDR
TM
EXTENDED DYNAMIC RANGE MIC PREAMPLIFIERS ARE PROPRIETARY TO MACKIE DESIGNS, INC.
REPLACE WITH THE SAME TYPE FUSE AND RATING.
DISCONNECT SUPPLY CORD BEFORE CHANGING FUSE
UTILISE UN FUSIBLE DE RECHANGE DE MÊME TYPE.
DEBRANCHER AVANT DE REMPLACER LE FUSIBLE
WARNING:
TO REDUCE THE RISK OF FIRE OR ELECTRIC SHOCK, DO NOT
EXPOSE THIS EQUIPMENT TO RAIN OR MOISTURE. DO NOT REMOVE COVER.
NO USER SERVICEABLE PARTS INSIDE. REFER SERVICING TO QUALIFIED PERSONNEL.
AVIS:
RISQUE DE CHOC ELECTRIQUE -- NE PAS OUVRIR
DIRECT OUT WITH NO SIGNAL
---

RISQUE DE CHOC ELECTRIQUE
CAUTION: TO REDUCE THE RISK OF ELECTRIC SHOCK
DO NOT REMOVE COVER (OR BACK)
NO USER-SERVICEABLE PARTS INSIDE
REFER SERVICING TO QUALIFIED PERSONNEL
ATTENTION: POUR EVITER LES RISQUES DE CHOC
ELECTRIQUE, NE PAS ENLEVER LE COUVERCLE. AUCUN
ENTRETIEN DE PIECES INTERIEURES PAR L'USAGER. CONFIER
L'ENTRETIEN AU PERSONNEL QUALIFIE.
AVIS: POUR EVITER LES RISQUES D'INCENDIE OU
D'ELECTROCUTION, N'EXPOSEZ PAS CET ARTICLE
A LA PLUIE OU A L'HUMIDITE
The lightning flash with arrowhead symbol within an equilateral
triangle is intended to alert the user to the presence of uninsulated
"dangerous voltage" within the product's enclosure, that may be
of sufficient magnitude to constitute a risk of electric shock to persons.
Le symbole éclair avec point de flèche à l'intérieur d'un triangle
équilatéral est utilisé pour alerter l'utilisateur de la présence à
l'intérieur du coffret de "voltage dangereux" non isolé d'ampleur
suffisante pour constituer un risque d'éléctrocution.
The exclamation point within an equilateral triangle is intended to
alert the user of the presence of important operating and maintenance
(servicing) instructions in the literature accompanying the appliance.
Le point d'exclamation à l'intérieur d'un triangle équilatéral est
employé pour alerter les utilisateurs de la présence d'instructions
importantes pour le fonctionnement et l'entretien (service) dans le
livret d'instruction accompagnant l'appareil.
Very loud classical music
Tami screaming at Adrian about deadlines
Loudest parts at a rock concert
WARNING -- To reduce the risk of fire or electric shock,
do not expose this appliance to rain or moisture.
12. Damage Requiring Service -- This Mackie product should be serviced
only by qualified service personnel when:
A. The power-supply cord or the plug has been damaged; or
B. Objects have fallen, or liquid has spilled into this Mackie
C. This Mackie product has been exposed to rain; or
D. This Mackie product does not appear to operate normally or
exhibits a marked change in performance; or
E. This Mackie product has been dropped, or its chassis damaged.
13. Servicing -- The user should not attempt to service this Mackie product
beyond those means described in this operating manual. All other servicing
should be referred to the Mackie Service Department.
14. To prevent electric shock, do not use this polarized plug with an
extension cord, receptacle or other outlet unless the blades can be fully
inserted to prevent blade exposure.
Pour prévenir les chocs électriques ne pas utiliser cette fiche polariseé avec un
prolongateur, un prise de courant ou une autre sortie de courant, sauf si les
lames peuvent être insérées à fond sans laisser aucune pariie à découvert.
15. Grounding or Polarization -- Precautions should be taken so that the
grounding or polarization means of this Mackie product is not defeated.
16. Power Precautions -- Unplug this Mackie product during lightning storms
or when unused for long periods of time. Note that this Mackie product is not
completely disconnected from the AC mains service when the power switch is
17. This apparatus does not exceed the Class A/Class B (whichever is
applicable) limits for radio noise emissions from digital apparatus as set out in the
radio interference regulations of the Canadian Department of Communications.
ATTENTION --Le présent appareil numérique n'émet pas de bruits
radioélectriques dépassant las limites applicables aux appareils numériques de
class A/de class B (selon le cas) prescrites dans le règlement sur le brouillage
radioélectrique édicté par les ministere des communications du Canada.
18. Exposure to extremely high noise levels may cause permanent hearing
loss. Individuals vary considerably in susceptibility to noise-induced hearing loss,
but nearly everyone will lose some hearing if exposed to sufficiently intense
noise for a period of time. The U.S. Government's Occupational Safety and
Health Administration (OSHA) has specified the permissible noise level exposures
shown in the following chart.
According to OSHA, any exposure in excess of these permissible limits could
result in some hearing loss. To ensure against potentially dangerous exposure to
high sound pressure levels, it is recommended that all persons exposed to equip-
ment capable of producing high sound pressure levels use hearing protectors
while the equipment is in operation. Ear plugs or protectors in the ear canals or
over the ears must be worn when operating the equipment in order to prevent
a permanent hearing loss if exposure is in excess of the limits set forth here.
1. Read Instructions -- All the safety and operation instructions should be
read before this Mackie product is operated.
2. Retain Instructions -- The safety and operating instructions should be kept
3. Heed Warnings -- All warnings on this Mackie product and in these operating
instructions should be followed.
4. Follow Instructions -- All operating and other instructions should be
5. Water and Moisture -- This Mackie product should not be used near water
­ for example, near a bathtub, washbowl, kitchen sink, laundry tub, in a wet
basement, near a swimming pool, swamp or salivating St. Bernard dog, etc.
6. Cleaning -- Clean only with a dry cloth.
7. Ventilation -- This Mackie product should be situated so that its
location or position does not interfere with its proper ventilation. For
example, the Component should not be situated on a bed, sofa, rug, or
similar surface that may block any ventilation openings, or placed in a
built-in installation such as a bookcase or cabinet that may impede the
flow of air through ventilation openings.
8. Heat -- This Mackie product should be situated away from heat sources
such as radiators, or other devices which produce heat.
9. Power Sources -- This Mackie product should be connected to a power
supply only of the type described in these operation instructions or as marked
10. Power Cord Protection -- Power supply cords should be routed so that
they are not likely to be walked upon or pinched by items placed upon or
against them, paying particular attention to cords at plugs, convenience
receptacles, and the point where they exit this Mackie product.
11. Object and Liquid Entry -- Care should be taken so that objects do not
fall on, and liquids are not spilled into, this Mackie product.
---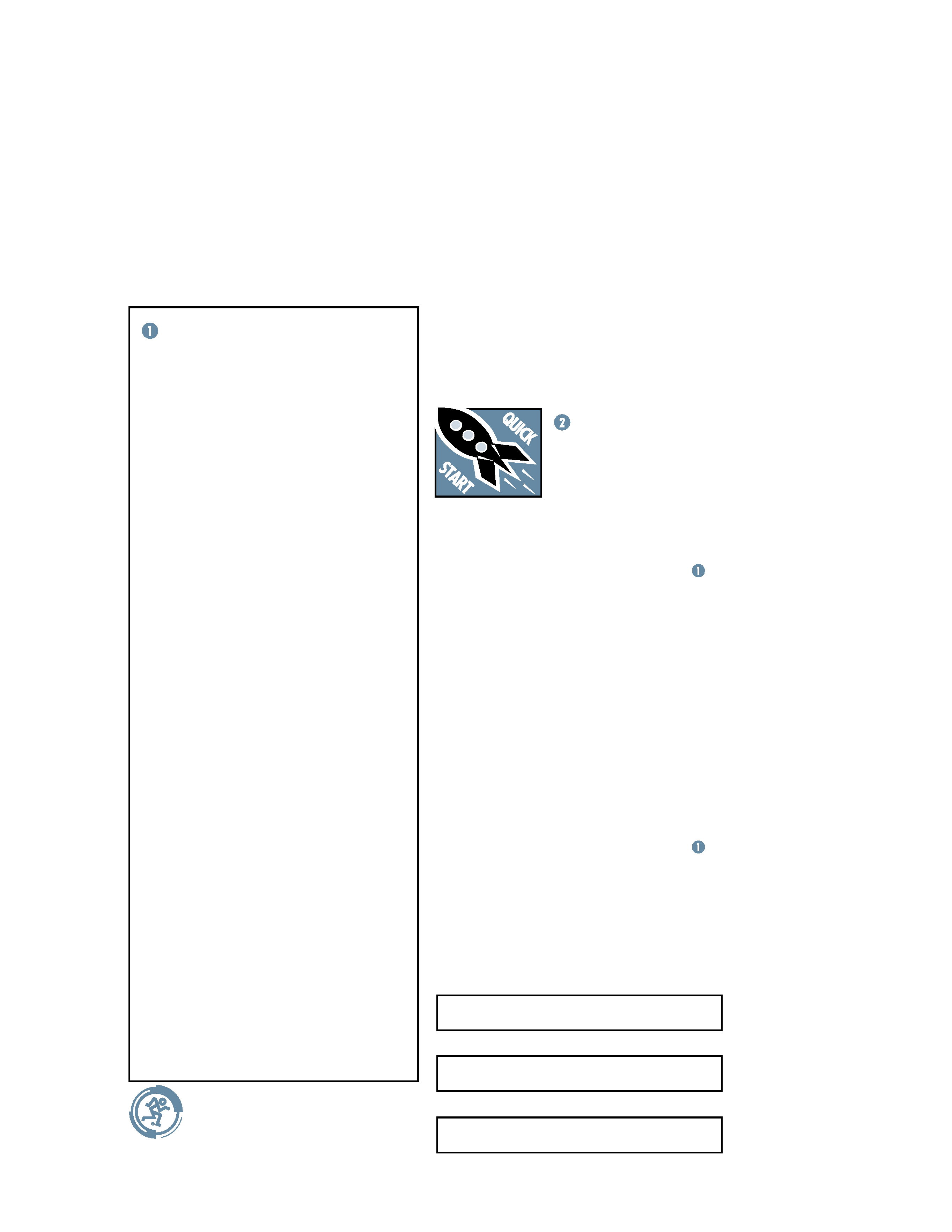 Part No. 0006983-90 Rev. A1 06/03
©2003 Mackie Designs Inc. All Rights Reserved.
We realize that you must have a powerful
hankerin' to try out your new 1642-VLZ PRO.
Or you might be one of those people who
never reads manuals. Either way, all we ask
is that you read this page NOW, and the rest
can wait until you're good and ready. But do
read it -- you'll be glad you did.
For optimum sonic performance, the channel
MAIN MIX fader should be set
U" (unity gain) markings.
CONTROL ROOM and PHONES knobs before
making connections to your 1642-VLZ PRO.
If you shut down your equipment, turn off
your amplifiers first. When powering up, turn
Save the shipping box! You may need it
someday, and you don't want to have to pay for
right away, assuming you own
a microphone and a keyboard:
1. Plug your microphone into Channel 1's
2. Turn on the 1642-VLZ PRO.
3. Perform the Level-Setting Procedure
4. Connect cords from the
5. Hook up speakers to the amp and turn it on.
6. Set channel 1's fader to the "
7. Engage (push in) Channel 1's
MAIN MIX fader one-quarter of
10. Plug your keyboard into channels 3 and 4.
12. Set those faders to the "
13. Perform the Level-Setting Procedure
L/R switch on these channels.
15. Play like a madman and sing like a canary!
Please write your serial number here for
future reference (i.e., insurance claims,
tech support, return authorization, etc.):
Message to seasoned pros:
using the old "Turn the trim up until the clip
lightcomeson,thenbackoffahair"trick. When a
Mackie Designs mixer clip light comes on, you
really are about to clip.
This procedure really works -- it assures
low noise and high headroom. Please read on.
It's not even necessary to hear what you're do-
ing to set optimal levels. But if you'd like to: Plug
PHONES knob about one-quar-
The following steps must be performed
assignmentswitchesarealldisengaged.
EQknobsatthecenterdetents.
4. Connectthesignalsourcetothe
5. Engage(pushin)thechannel's
LEVEL SET (PFL) mode) -- the
LEVEL SET LED will light.
7. Playsomethingintotheselectedinput,at
display on the meter stays around "0."
(Onlytheleftmeterisactiveinthe
9. If you'd like to apply some
nowand returntothepreviousstep.
10. Disengagethatchannel's
11. Repeat for each channel.
---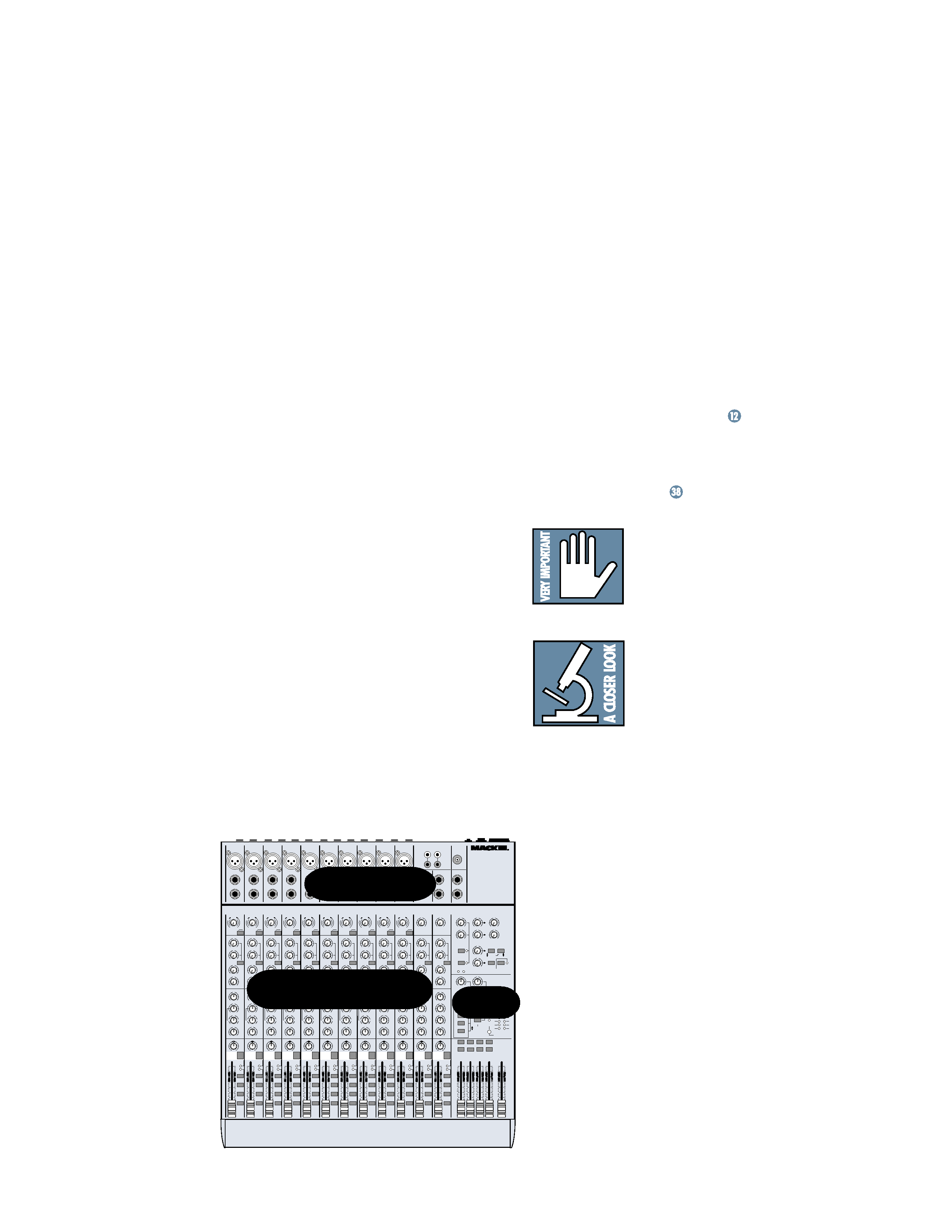 16-CHANNEL MIC/LINE MIXER
WITH PREMIUM XDRTM MIC PREAMPLIFIERS
Thank you for choosing a Mackie Designs
professional compact mixer. The 1642-VLZ PRO
is equipped with our new precision-engineered
XDR
TM
Extended Dynamic Range premium mic
· Full gain range from 0 to 60dB
· +22 dBu line signal handling capability
· Distortion less than 0.0007%, 20Hz to 20kHz
· Bullet-proof RF rejection using DC pulse
Now that you have your 1642-VLZ PRO, find
out how to get the most from it. That's where
Since many of you folks will want to hook up
your 1642-VLZ PRO immediately, the first pages
you will encounter after the table of contents are
the ever popular hookup diagrams. These show
typical mixer setups for Record/Mixdown, Video,
Stereo PA and a fixed installation. After this sec-
tion is a detailed tour of the entire mixer.
Every feature of the 1642-VLZ PRO will be
described "geographically;" in other words, in
order of where it is physically placed on the
mixer's top or rear panel. These descriptions are
divided into the first three manual chapters, just
as your mixer is organized into three distinct
1. PATCHBAY: The zillion jacks along on the
top edge and the rear panel
2. CHANNEL STRIP: The channel strips on
3. OUTPUT SECTION: The output section on
Whenever a specific 1642-VLZ PRO compo-
nent is mentioned, it'll be in all capital letters
sans-serif type. That can help you find refer-
ences to specific controls much faster, without
slowing you down as you read normally. For ex-
ample: The quick brown fader jumped over the
Throughout these chapters you'll find illus-
trations, with each feature numbered. If you're
curious about a feature, simply locate it on the
appropriate illustration, note the number at-
tached to it, and find that number in the nearby
paragraphs or refer to the table of contents.
You'll also find cross-references to these num-
bered features within a paragraph. For instance, if
that number in the manual and you've found your
answer. (These are not page numbers.)
You'll also notice feature numbers just float-
direct you to relevant information.
This icon marks information
that is critically important or
unique to the 1642-VLZ PRO.
For your own good, read them
and remember them. They will
This icon will lead you to in-
depth explanations of features
and practical tips. While not
mandatory, they'll have some
A PLUG FOR THE CONNECTORS SECTION
The Appendix gives details about connectors:
XLR connectors, balanced connectors, unbal-
anced connectors and special hybrid
Optional rack ears are available which allow
the 1642-VLZ PRO to be fitted in a standard 19"
rack. This will take up a height of 12 rack
spaces (including enough room to make the
connections). Contact your Mackie dealer for
--- OUTPUT SECTION DESCRIPTION ..................... 22
MAIN MIX FADER .................................. 22
VLZ MIX ARCHITECTURE ........................ 22
SUB FADERS .......................................... 22
ASSIGN TO MAIN MIX ........................... 22
TAPE IN (LEVEL) ..................................... 23
TAPE TO MAIN MIX ............................... 23
CR SOURCE ........................................... 23
CONTROL ROOM AND PHONES CONTROLS . 23
MODE (NORMAL (AFL)/LEVEL SET (PFL)).. 24
LEVEL SET LED ....................................... 24
SOLO (LEVEL) ........................................ 24
RUDE SOLO LIGHT ................................. 24
METERS ................................................. 25
AUX DISCUSSION .................................. 25
AUX SEND (MASTER) ............................. 25
AUX SENDS SOLO .................................. 26
AUX RETURNS (LEVEL) ........................... 26
EFFECTS TO MONITORS .......................... 26
MAIN MIX TO SUBS (AUX RET 3) ........... 26
1-2/3-4 (AUX RET 3) ............................ 26
C-R/PHNS ONLY (AUX RET 4) ................ 27
RETURNS SOLO ..................................... 27
1642-VLZ PRO BLOCK DIAGRAM .......................... 28
GAIN STRUCTURE DIAGRAM ................................. 29
SPECIFICATIONS ................................................... 30
SERVICE INFO....................................................... 31
APPENDIX A: CONNECTIONS ................................. 32
TRACK SHEET ....................................................... 36
COLOPHON .......................................................... 38
1642-VLZ PRO LIMITED WARRANTY ..................... 39
LEVEL-SETTING PROCEDURE ............................ 3
INSTANT MIXING ............................................ 3
HOOKUP DIAGRAMS ....................................... 6
PATCHBAY DESCRIPTION ............................... 10
E-Z INTERFACING .................................. 10
MIC/LINE INPUT FLEXIBILITY ................. 10
MIC INPUTS .......................................... 10
PHANTOM POWER DISCUSSION ............. 10
LINE INPUTS .......................................... 11
TRIM ..................................................... 11
INSERT .................................................. 11
DIRECT OUT ........................................... 12
RECORDING .......................................... 12
AUX SEND OUTPUTS .............................. 12
EFFECTS: SERIAL OR PARALLEL? ............. 13
AUX RETURN INPUTS ............................. 13
SUB OUTS ............................................. 13
C-R OUTS (CONTROL ROOM OUTPUTS) .. 14
PHONES OUTPUT ................................... 14
TAPE OUTPUT ........................................ 14
TAPE INPUT ........................................... 14
MAIN INSERT ........................................ 14
MAIN OUTS ........................................... 14
MONO OUTPUT ..................................... 15
MONO LEVEL ......................................... 15
POWER CONNECTION ............................ 15
FUSE ..................................................... 15
POWER SWITCH .................................... 15
POWER LED ........................................... 16
PHANTOM SWITCH ................................ 16
PHANTOM LED ...................................... 16
BNC LAMP SOCKET ................................ 16
CHANNEL STRIP DESCRIPTION ....................... 17
"U" LIKE UNITY GAIN ............................ 17
FADER ................................................... 17
ASSIGN (1-2, 3-4, L/R) ......................... 17
SOLO .................................................... 18
­20 (SOLO) LED ..................................... 18
OL (MUTE) LED ...................................... 18
MUTE .................................................... 19
PAN ...................................................... 19
3-BAND MID-SWEEP EQ ......................... 19
4-BAND FIXED FREQUENCY EQ ............... 20
LOW CUT............................................... 20
AUX 1, 2, 3, 4 ....................................... 21
PRE ....................................................... 21
---