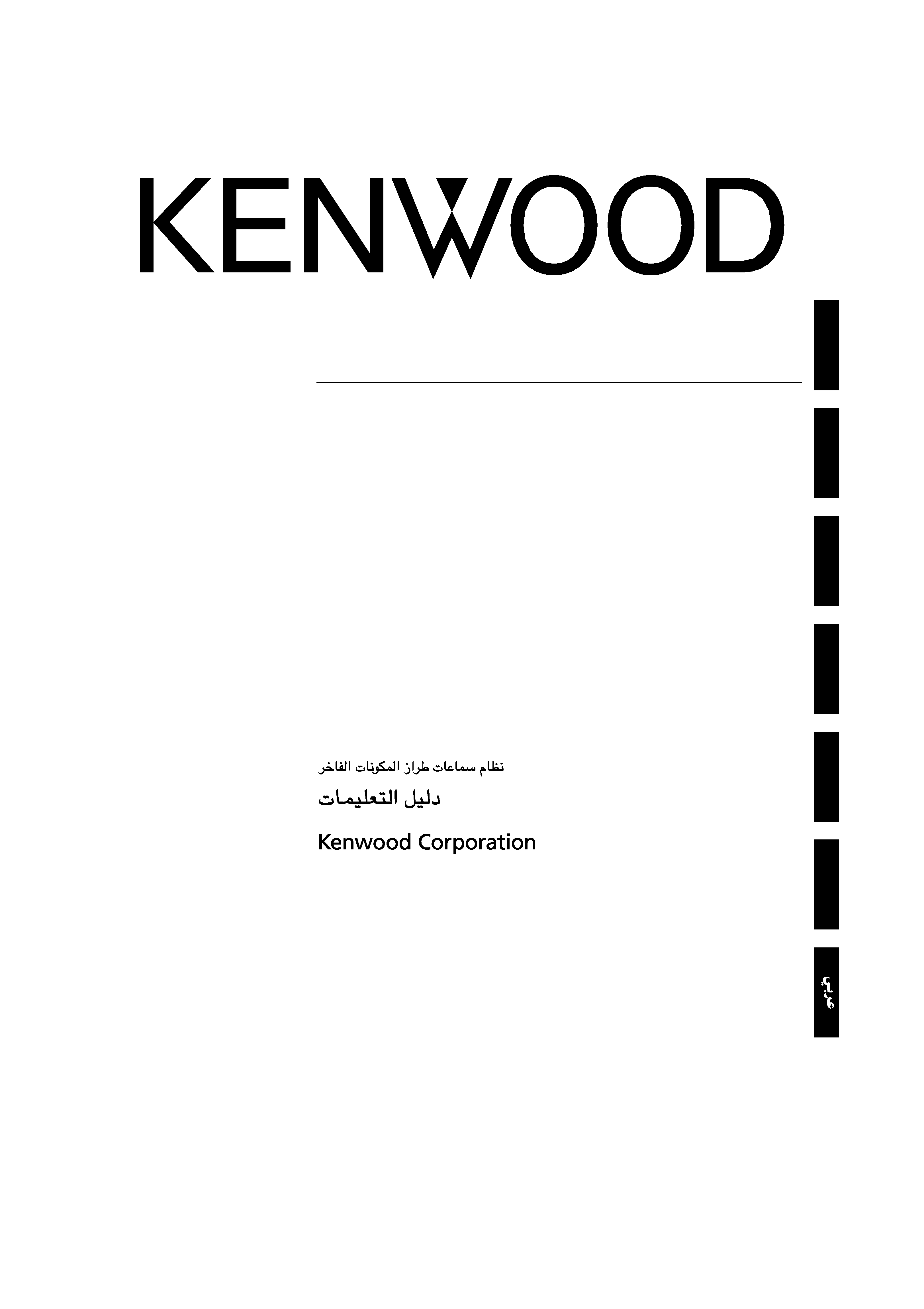 FLAG-SHIP COMPONENT SPEAKER
HIGH-END COMPONENT LUIDSPREKERSSET
HIGH END KOMPONENTENSYSTEM
HAUT-PARLEURS HAUT-DE-GAMME
ALTAVOZ REFERENCIA TIPO COMPONENTE
SISTEMA D'ECCELLENZA A COMPONENTI SEPARATI
This Product is not installed by the manufacturer of a vehicle on the production line, nor by the
professional importer of a vehicle into an EU Member State.
Ce produit n'est pas installé par le constructeur d'un véhicule sur le site de production, ni par
l'importateur professionnel d'un véhicule dans un Etat membre de l'UE.
Dieses Produkt wird weder vom Hersteller eines Fahrzeugs während der Produktion noch von
einem professionellen Importeur eines Fahrzeugs in einen EU-Mitgliedsstaat eingebaut.
Dit product wordt niet geïnstalleerd door de fabrikant van een voertuig op de productielijn, noch
door de professionele invoerder van een voertuig in EU-lidstaten.
Questo prodotto non è installato dal produttore di un veicolo della linea di produzione, nemmeno
dall'importatore professionale di un veicolo negli stati membro della UE.
Este producto no ha sido instalado en la línea de producción por el fabricante de un vehículo, ni
tampoco por el importador profesional de un vehículo dentro del estado miembro de la UE.
---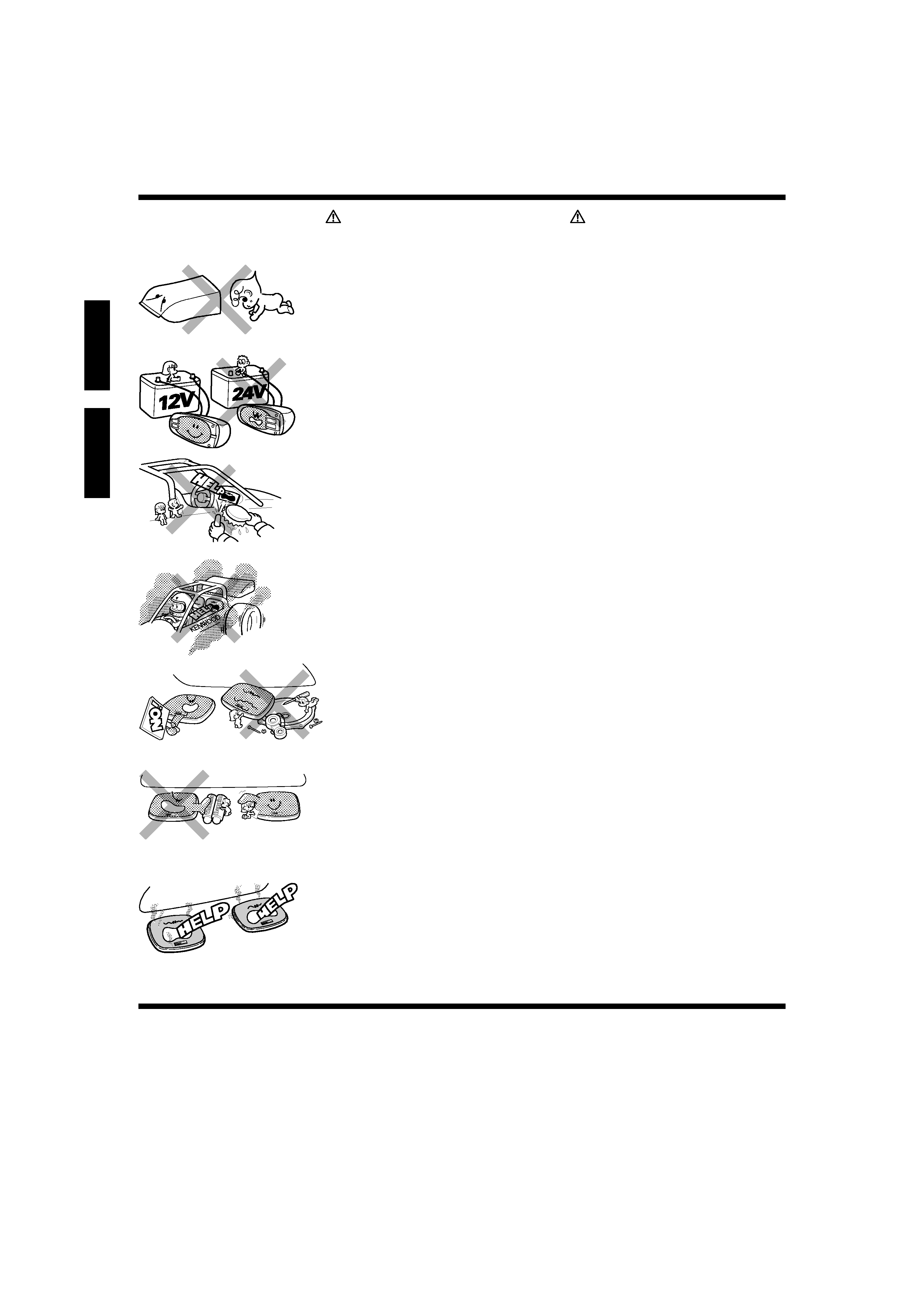 Precautions / Précautions
· Always wear protective eyewear during instllation.
· To prevent noise pick-up, keep the wiring of this unit away
from motors, high-voltage leads and other possible noise
· To prevent short-circuit, keep all wiring away from moving
parts, sharp edges, cut metal, etc.
· Portez toujours de protections oculaires pendant l'installation.
· Afin de supprimer les bruits, placer le câblage de cet appareil
loin des moteurs, câbles conducteurs de haute tension et
autres sources possibles de bruit.
· Afin d'éviter la création de courts-circuits, éloigner le câblage
des pièces mobiles, arêtes vives, métal découpé, etc.
Read this page carefully to keep
After taking the unit out of the polyethylene bag,
be sure to dispose of the polyethylene bag out
of the reach of children. Otherwise, they may
play with the bag, which could cause hazard of
Connect the illumination lamp-equipped speak-
ers to DC 12V, negative ground.
Do not install the speakers in locations which
may be subject to water or moisture.
4. Dust and unstable locations
Do not install the speakers in unstable loca-
tions or locations subject to dust.
Do not attempt to open or modify the unit, for
this could cause fire hazard or malfunction.
Do not use gasoline, naphtha, or any type of
solvent to clean the speakers. Clean by wiping
In the event the unit generates smoke or ab-
normal smell or no sound comes out from the
speaker, immediately switch the power OFF. Af-
ter this, please contact your dealer or nearest
service station as soon as possible.
IMPORTANT SAFEGUARDS / AVERTISSEMENTS IMPORTANTS
Après avoir retiré l'appareil du sac de
polyéthylène, bien placer ce dernier hors de la
portée des enfants. S'ils jouent avec ce sac,
un risque d'étouffement est possible.
2. Tension d'alimentation
Raccorder les haut-parleurs munis d'in
éclairage sur 12 V CC, mise à la terre négative.
Ne pas installer les haut-parleurs dans des
endroits où ils peuvent être exposés à de l'eau
4. Poussière et endroits instables
Ne pas installer les haut-parleurs dans des
endroits instables ou exposés à de la poussière.
Ne pas essayer de démonter ni de modifier
l'appareil car ceci risque de provoquer un ris-
que d'incendie ou un fonctionnement incorrect.
Ne pas utiliser d'essence, de naphte ni de
diluant pour nettoyer les haut-parleurs. Les
nettoyer avec un chiffon doux et sec.
7. Mauvais fonctionnement
Dans le cas où l'appareil dégage de la fumée
ou une odeur anormale, ou si aucun son ne
pro vient du haut-parleur , couper
immédiatement l'alimentation. Contacter
ensuite votre concessionnaire ou centre de
service le plus proche le plus rapidement pos-
Lire attentivement cette page pour
---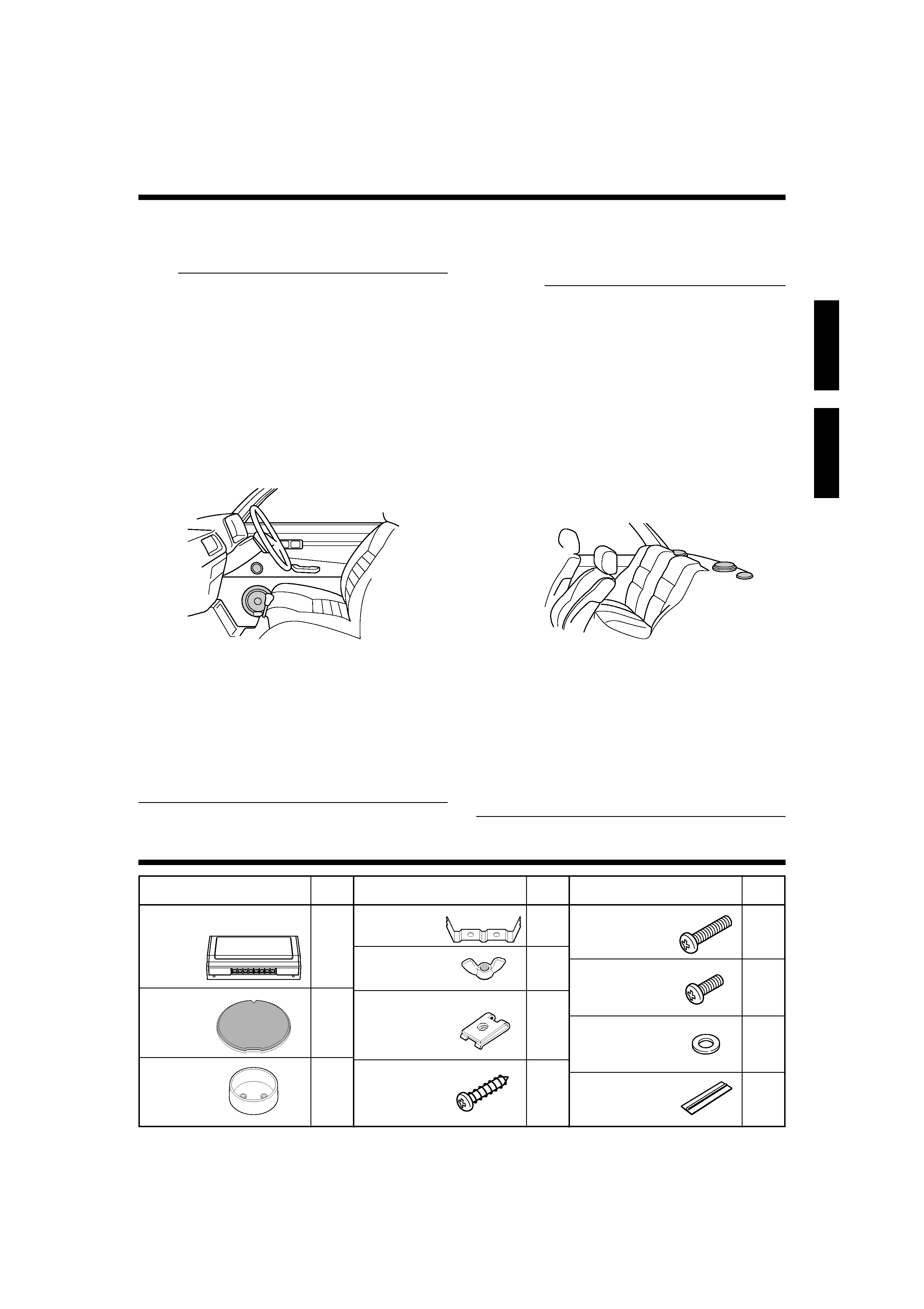 Precautions / Précautions
· When removing or installing the grille, be careful not to brush
the unit with the edge of the grille.
· Do not switch ON power until wiring is completed.
For mounting location, do not select the following places.
· When the door window glass is lowered (opened), the unit
· When the window crank handle is rotated, it comes into con-
· When the unit comes into contact with the boot lid spring
(trunk lid spring) or shock absorbers (shock towers).
· When the unit damages the gas tank or fuel hose.
· When the unit comes into contact with the rear window glass,
· Faire attention, au cours de la dépose ou pose de la grille,
de ne pas toucher l'appareil avec les bords de la grille.
· Ne pas mettre l'appareil en route tant que le câblage n'est
pas complètement terminé.
Ne pas choisir les emplacements suivants pour effectuer
· Lorsque le fait d'abaisser la vitre risque d'endommager
· Lorsque le fait de tourner la poignée d'ouverture de la vitre
la met en contact avec l'appareil.
· Lorsque l'appareil vient en contact avec l'amortisseur arrière
ou le renfort du pare-choc.
· Lorsque l'appareil risque d'endommager le réservoir à gaz
ou la tuyauterie souple de carburant.
· Lorsque l'appareil entre en contact avec la vitre de la lu-
nette arrière, les parois de la voiture, etc.
Observe the following cautions to prevent damage to the
· You cannot input the same power as "peak power" continu-
· When the volume is set too high, the sound may be distorted
or abnormal. Reduce the volume promptly in case of such
· While the listening volume is set to a high level, do not load
or eject a disc or cassette tape or operate the selector and
power switches of the amplifier.
Respecter les consignes suivantes pour éviter que les haut
- parleurs ne soient endommagés.
· Vous ne pouvez pas régler une puissance identique à la "puis-
sance crête" de façon continue.
· Si le niveau de sortie est trop puissant, les sons peuvent
étre déformés ou anormaux. Réduire le niveau de sortie
aussitôt que l'on constate ce phénomène.
· Si le niveau de sortie a été réglé à une valeur élevée, ne pas
mettre en place ou éjecter un disque ou une cassette, ne
pas agir sur les sélecteurs ou l'interrupteur d'alimentation de
Parts included / Fournitures
Passive crossover network
---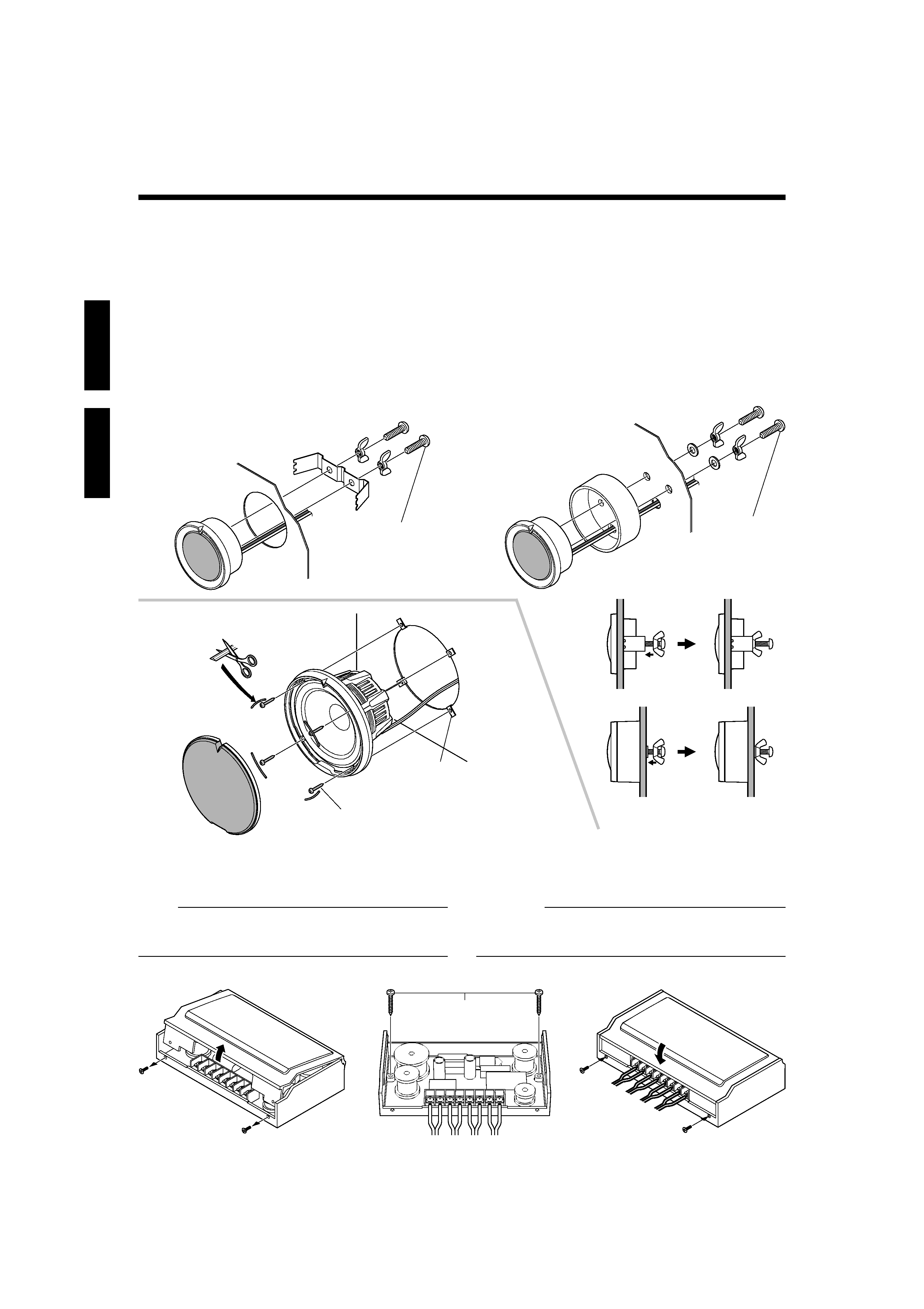 Installation / Installation
This unit can be installed in the door panels, rear deck, etc, of
most vehicles. (Fig. 1, Fig. 2 on page 3)
1. Select the mounting position, referring to "Precautions".
2. Place the supplied template on the door panel or the rear
deck and mark the hole positions.
3. Cut off a large hole and make screw holes.
4. Install the unit as shown in Fig. 3 .
Cet appareil peut être installé sur le panneaux de porte, dans
la plage arrière, etc. de la plupart des véhicules. (Fig. 1, Fig. 2,
1. Déterminer la position de montage en se référant aux in-
structions intitulées "Précautions".
2. Placer la gabarit fourni sur la plage arrière et repérer la po-
sition des trous de montage.
3. Découper un trou de grande dimension et percer trous pour
4. Installer l'appareil de la manière indiquée à la Fig. 3.
Passive crossover network
Remove the panel, connect the speaker cords, and install the
passive crossover network as shown in Fig. 4.
· Do not install in places under direct sunlight.
· Do not touch the electronic parts inside the crossover net-
Retirez le panneau, raccordez les cordons de haut-parleur et
installez le réseau séparateur passif comme indiqué sur la Fig. 4.
· N'installez pas en plein soleil.
· Ne touchez pas les pièces électroniques à l'intérieur du
---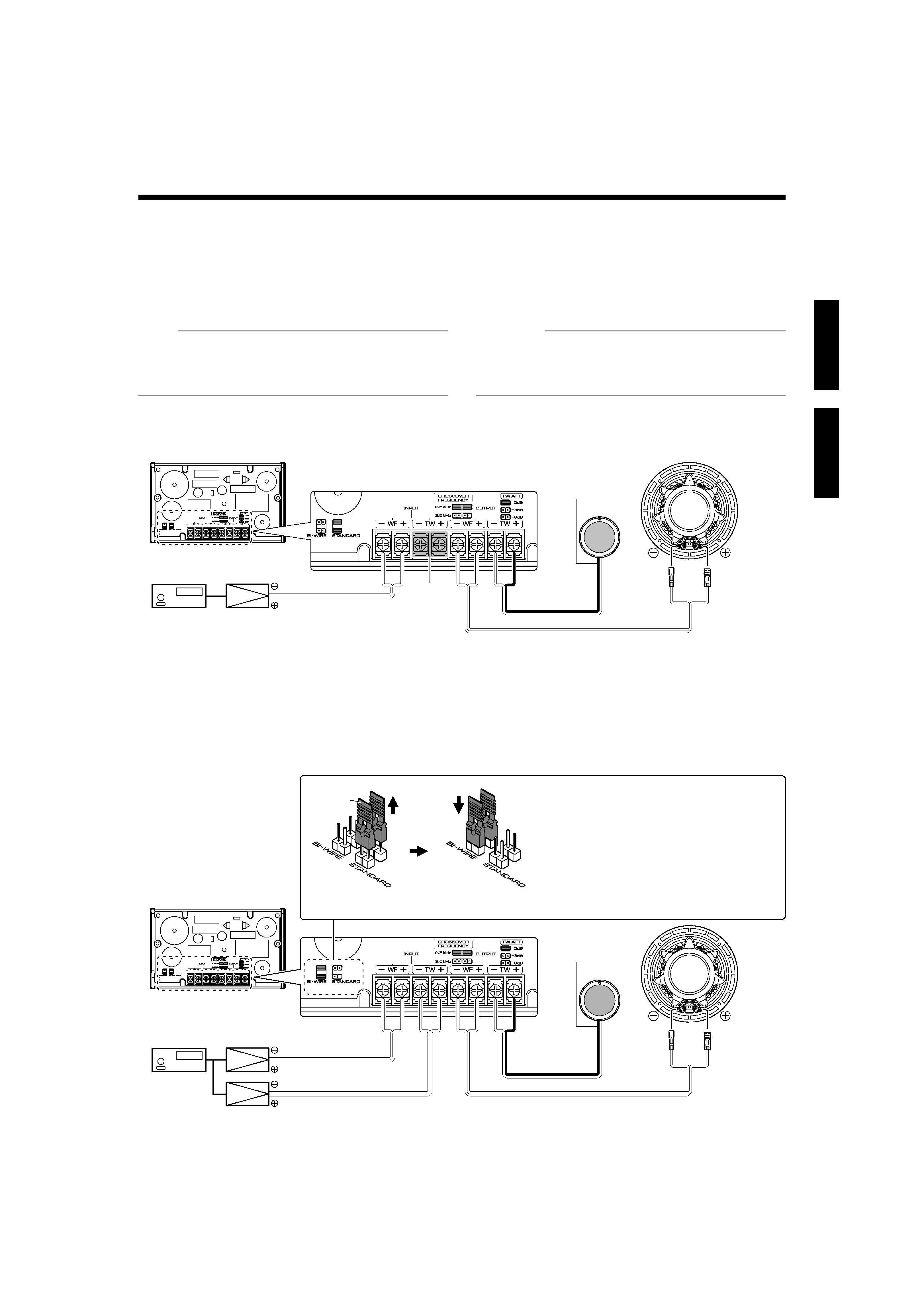 System connections / Connexions du système
With this unit, the speaker cords are not supplied. Obtain the
audio speaker cords with the required length. To connect the
speaker cords to the unit, terminate the wires with female spade
Connecting the tweeter in normal phase is recommended. How-
ever, depending on the mounting location of the speaker, the
overall response and sound stage will change. Please choose
either connection for optimum sound.
Be sure to use the supplied passive crossover network.
If the supplied passive crossover network is not used, large
energy of the low frequencies is applied to the tweeters and
Avec cet appareil, les câbles des enceintes ne sont pas fournis.
Se procurer des câbles d'enceinte de la longueur requise. Pour
connecter les câbles à l'appareil, les équiper à leur extremité
d'une prise femelle à cosse.
Il est recommandé de raccorder le haut-parleur d'aigus en
phase normale. Cependant, selon l'emplacement du montage
du haut-parleur, la réponse générale et l'étage sonore
changeront. Choisissez la connexion offrant le meilleur son.
Il est indispensable d'utiliser le réseau séparateur passif.
Si vous n'utilisez pas le réseau séparateur passif fourni, la forte
énergie des basses fréquences est appliquée aux haut-parleurs
d'aigus et elle peut les détruire.
Passive crossover network
Amplificateur de puissance
Connection using multi-amp system
When using multi-amplifier system, it is necessary to change
the jumper setting to "BI-WIRE".
Raccordement dans un montage à
Si vous utilisez un montage à amplificateurs multiples, vous
devrez régler le cavalier sur " BI-WIRE".
Passive crossover network
Amplificateur de puissance (Basses)
Power amplifier (Tweeter)
Amplificateur de puissance (Aigus)
Switch to "STANDARD" when using only one ampli-
Switch to "BI-WIRE" when using two amplifiers.
Réglez sur "STANDARD" si vous n'utilisez qu'un seul
Réglez sur "BI-WIRE" si vous utilisez deux
These terminals are not used.
Ces bornes ne sont pas utilisées.
---