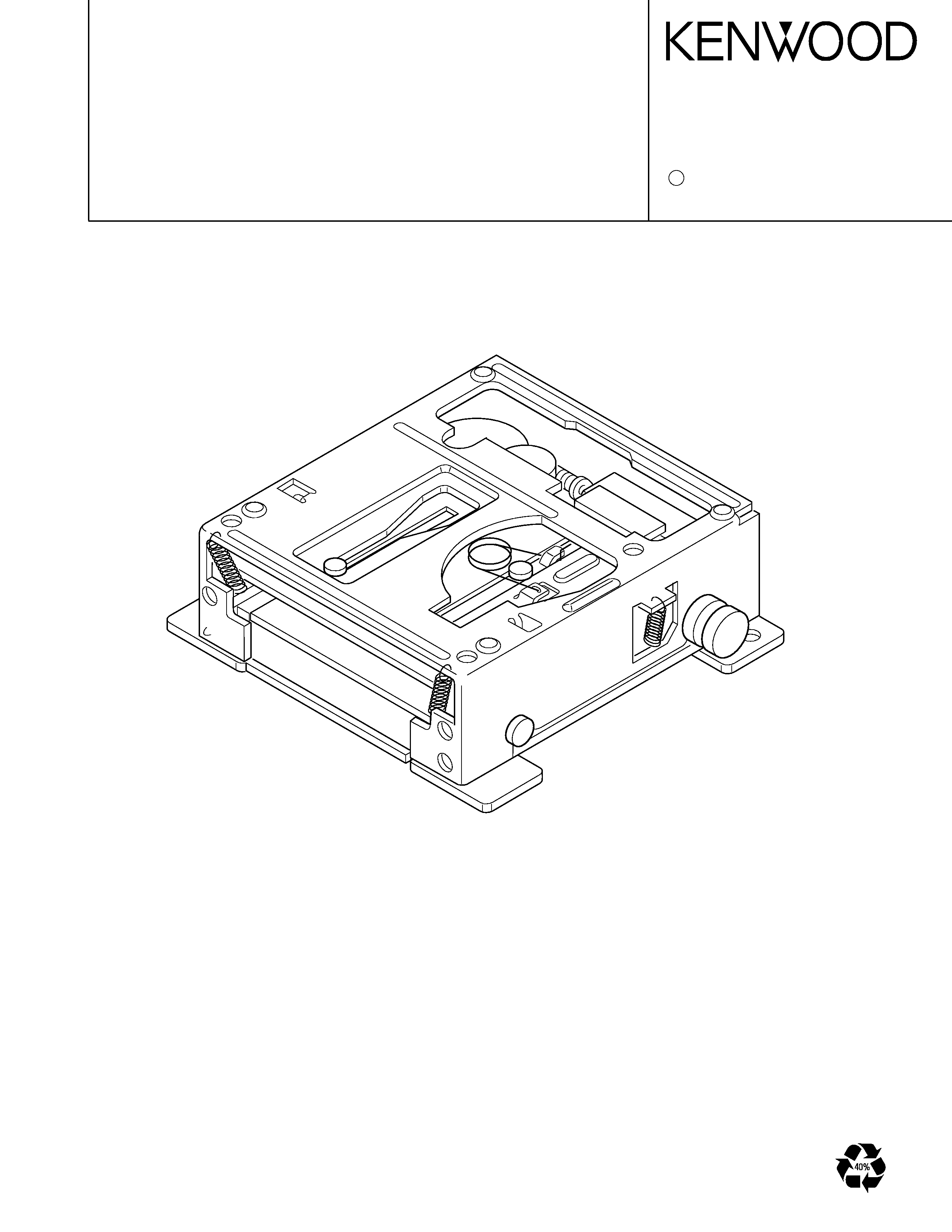 BLOCK DIAGRAM .............................................................. 2
COMPONENT DESCRIPTION ........................................... 3
MICROCOMPUTER'S TERMINAL DESCRIPTION ........... 3
ADJUSTMENT .................................................................... 5
MECHANISM OPERATION DESCRIPTION ..................... 7
PC BOARD ....................................................................... 24
EXPLODED VIEW ............................................................ 26
SCHEMATIC DIAGRAM ................................................... 27
PARTS LIST ..................................................................... 29
---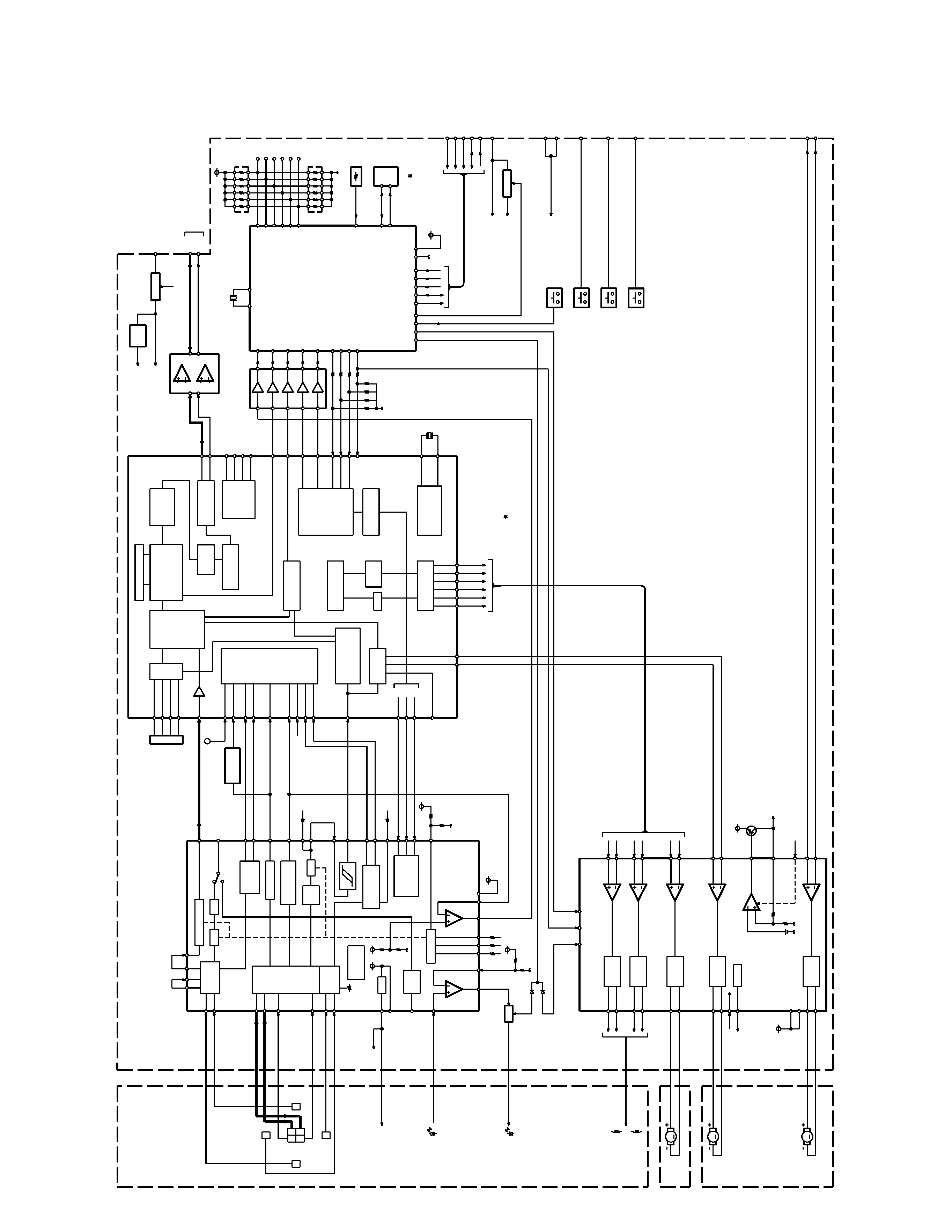 X92-3770-00,0-01/X92-3780-00,0-01
---

MICROCOMPUTER'S TERMINAL DESCRIPTION
X92-3770-00,0-01/X92-3780-00,0-01
Disc reflection detection
RF amplifier (pit and groove switching, AGC, EQ), gain switching
Amplification of the light intensity signal output, peak hold output,
bottom hold output, FE output, TE output, SE output, ADIP binary
output, VREF output and APC PD
EFM decording, EFM digital PLL, ACIRC decording, auto link pro-
Digital servos (focusing, tracking, sled, spindle CLV).
ATRAC decording, 1bit D/A, analog post-filtering, memory control.
Drives actuators and motors, +3.3V REGULATOR
Level shifting from 3.3V to 5.0V
Servo control, memory control, system control and interfacing
Servo coefficients and servo adjustment data backup memory
On at base"L" while laser is OFF.
On when focusing point is passed during upward search.
Operation/Condition/Compatibility
MD PLAYER UNIT (X33-3040-00/0-01)
"H" turns normal test mode ON.
"L": 2655R, 2652AR, "H": 2655BR, 2654R
"H" turns special test mode ON.
"H" turns external input mode ON.
75% or more remains at "H"
IVR-TBAL auto align bus at "H"
AGC auto align bus at "H"
Error count mode at "H"(When it's in text mode)
"H" turns 16M bit operation (fixed on RESET)
"L" when innermost limit is detected.
During 2652AR : ON at "H", during 2654R : ON at "L"
Groove area jump time selection input
E2PROM external input test mode
Test mode memory remainder output
C1 error count mode input
Internal status input from DSP LSI
DAC output polarity reversal input
DRAM size selection input
Pickup innermost limit detection
De-emphasis output to external DAC
Reset output to DSP LSI and servo driver IC
Microprocessor : 78015FYGC-R08 (X33 : IC11)
---

X92-3770-00,0-01/X92-3780-00,0-01
MICROCOMPUTER'S TERMINAL DESCRIPTION
"H"for interrupt request generation
"L"for interrupt status generation
Vth On : 3.87V, Vth Off : 3.74V, Vth Low : 0.43V
Jitter input during FBAL alignment
"H"with AVREF reference voltage
"H"for manual adjustment mode
"L": 2655R, 2655BR, "H": 2652AR, 2654R
Unit internal system power control output
FZC interrupt request input
Standby control input from system
Interrupt request from DSP LSI
Sub-code Q sync or ADIP sync input
Connect crystal oscillator as main system
Connect crystal oscillator as main system
(not used : BU5V connection)
Temperature detection input
AUX1 input durring 2654R mode/
AVREF terminal control output
Connected to AVCON terminal
Serial data input from DSP LSI
Serial data output to DSP LSI
Shift clock output to DSP LSI
Manual adjustment mode input
Serial data line with system
Serial clock line with system
---

X92-3770-00,0-01/X92-3780-00,0-01
Service Test Mode (Manual Adjustment Mode) of the MDS-2200
The focusing bias (balance) adjustment of the MDS-2200 has been subjected to automatic adjustment at the factory and the
obtained bias value has been written in the E2PROM, and the set performs adjustment by reading the E2PROM data.
Consequently, after the pickup has been replaced in servicing, it is required to adjust the focusing bias again. This can be done
automatically if the dedicated commander for the MDS-2200 and a jitter meter are available, but the set also incorporates a
service test mode (manual adjustment mode) for use in case these instruments are not available.
· Adjustment procedure (Be sure to begin setup while the power of the set is off.)
1. Pull up pin 60 (LADJ1 (check land 1)) of lC11 in the X33-unit to BU5V (check land BU5).
2. Lead wires from check land ARF and check land SAG (servo GND) in the X33-unit so that they an be monitored with an
3. Turn the set on and perform the reset power-ON operation.
The adjustment includes three modes ; the Iow-reflection pit and groove modes for recordable discs and the high-reflection
pit mode for premastered discs.
4. Load a disc to enter the adjustment mode.
5. The low-reflection pit play mode starts when TNo.1 is displayed.
The time code display shows "50".
6. While monitoring ARF with an oscilloscope, vary the focusing bias using the Track UP and DOWN keys.
7. The optimum values can be obtained by varying the bias in the UP and DOWN directions, locating the upper and lower values
at which the ARF waveform is disturbed or the 3T waveform level drop, and calculating the center value of the two values.
For example, when the value located in the UP direction is 58 and that located in the DOWN direction is 46, the optimum value
is their center value, i. e. 52.
8. When the optimum value is obtained, set the focusing bias to that value and press the ManuaI UP or DOWN key to enter the
(With normal sets, press and hold the Track UP or DOWN key.)
9. After the low-reflection pit adjustment in step 8, the pickup automatically moves to the groove area.
10. The groove play mode starts when TNo.2 is displayed.
11. Perform the same operations as steps 6, 7 and 8.
12. The disc stops after the groove area adjustment .
Eject the disc and complete adjustment.
Since the low-reflection pits are present only in the TOC area, their total play time is about 40 seconds. When the pit area
is over, the retry operation starts and the adjustment is invalid in this period.
<With a premastered disc>
13. When the high-reflection play mode starts, perform operations in steps 5, 6, 7 and 8.
14. The disc stops after the adjustment. Eject the disc and complete adjustment.
The coarse adjustment of the EF balance is also performed during this test mode.
However, it is an automatic adjustment and does not require external poeration.
---