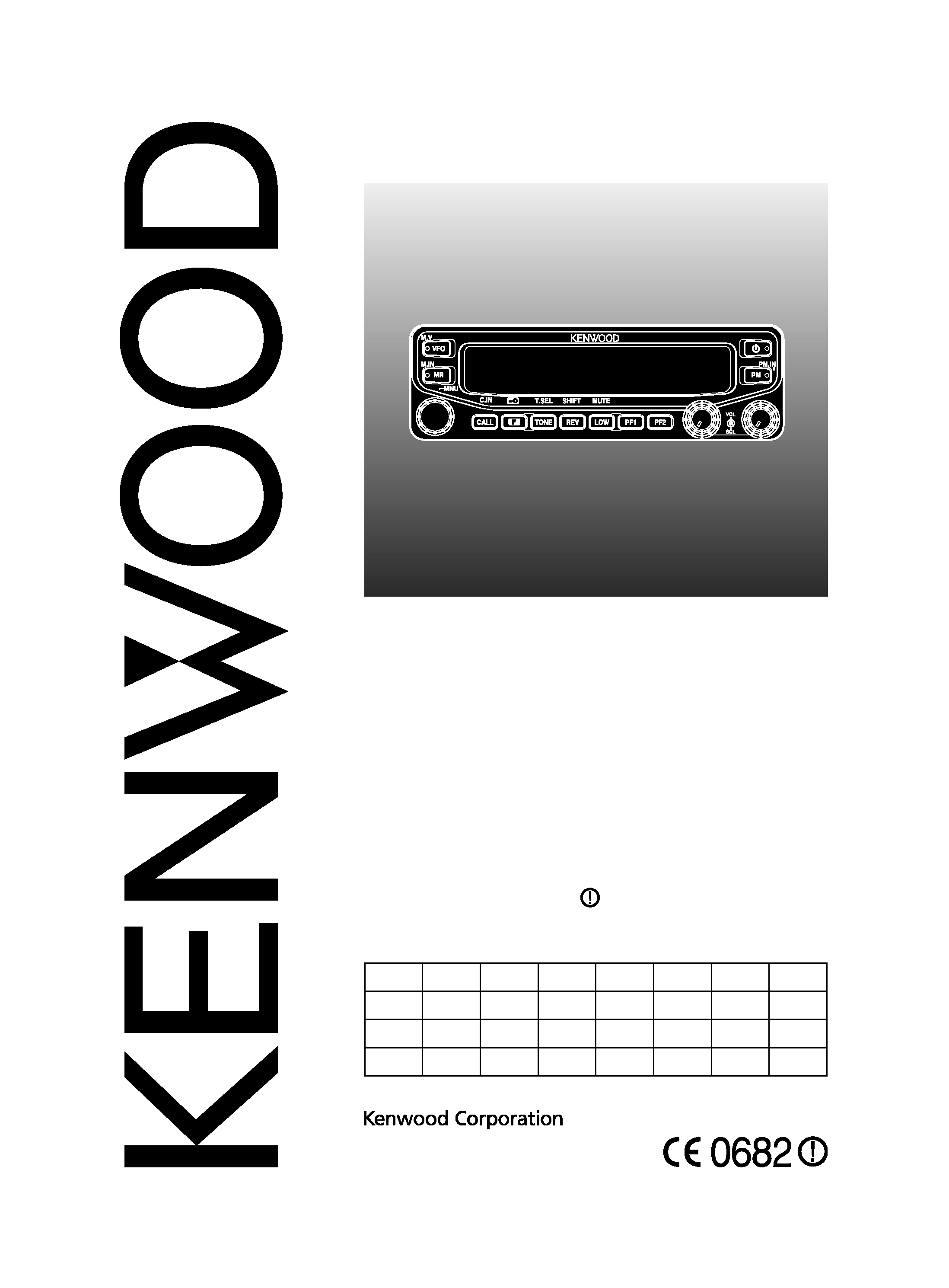 144/440 MHz FM DUAL BANDER
144/430 MHz FM DUAL BANDER
09 08 07 06 05 04 03 02 01
This equipment complies with the essential requirements of
The use of the warning symbol
means the equipment is subject
to restrictions of use in certain countries.
This equipment is requires a licence and is intended for use in the
---

We are grateful you decided to purchase this
Kenwood always provides Amateur Radio products which surprise and excite
serious hobbyists. This transceiver is no exception.
Kenwood believes that this
product will satisfy your requirements for both voice and data communications.
This transceiver has the following main features:
· Enhanced Programmable Memory (PM) channels store virtually entire current operating
environments for your quick recall.
· Contains a total of 1000 Memory channels to program frequencies and other various
data. Allows each Memory channel to be named using up to 6 alphanumeric
· Continuous Tone Coded Squelch System (CTCSS) or Digital Code Squelch (DCS)
rejects unwanted calls from other stations.
WriTing ConvenTions FolloWed in This Manual
The writing conventions described below have been followed to simplify
instructions and avoid unnecessary repetition.
Press and hold KEY for 1 second or longer.
Press KEY1 momentarily, release KEY1, then press
Press the F key to enter Function mode, then press
KEY to access its secondary function.
With the transceiver power OFF, press and hold
KEY while turning the transceiver power ON.
Information on Disposal of Old Electrical and Electronic Equipment (applicable for EU
countries that have adopted separate waste collection systems)
Products with the symbol (crossed-out wheeled bin) cannot be disposed as household waste.
Old electrical and electronic equipment should be recycled at a facility capable of handling these items
and their waste byproducts. Contact your local authority for details in locating a recycle facility nearest
to you. Proper recycling and waste disposal will help conserve resources whilst preventing detrimental
effects on our health and the environment.
---

One or more of the followng statements may be applcable:
Ths equpment generates or uses rado frequency energy. Changes or modfcatons to ths
equpment may cause harmful nterference unless the modfcatons are expressly approved n the
nstructon manual. The user could lose the authorty to operate ths equpment f an unauthorzed
change or modfcaton s made.
INFORMATION TO THE DIGITAL DEVICE USER REQUIRED BY THE FCC
Ths equpment has been tested and found to comply wth the lmts for a Class B dgtal devce,
pursuant to Part 15 of the FCC Rules. These lmts are desgned to provde reasonable protecton
aganst harmful nterference n a resdental nstallaton.
Ths equpment generates, uses and can generate rado frequency energy and, f not nstalled and
used n accordance wth the nstructons, may cause harmful nterference to rado communcatons.
However, there s no guarantee that the nterference wll not occur n a partcular nstallaton. If
ths equpment does cause harmful nterference to rado or televson recepton, whch can be
determned by turnng the equpment off and on, the user s encouraged to try to correct the
nterference by one or more of the followng measures:
Reorent or relocate the recevng antenna.
Increase the separaton between the equpment and recever.
Connect the equpment to an outlet on a crcut dfferent from that to whch the recever s
Consult the dealer for techncal assstance.
WHEN CONDENSATION OCCURS INSIDE THE TRANSCEIVER
Condensaton may occur nsde the transcever n such a case where the room s warmed usng a
heater on cold days or where the transcever s quckly moved from a cold room to a warm room.
When condensaton occurs, the mcrocomputer and/or the transmt/receve crcuts may become
unstable, resultng n transcever malfuncton. If ths happens, turn OFF the transcever and just
wat for a whle. When the condensaton droplets dsappear, the transcever wll functon normally.
EXPLOSIVE ATMOSPHERES (GASES, DUST, FUMES, etc.)
Turn OFF your transcever whle takng on fuel or whle parked n gasolne servce statons. Do
not carry spare fuel contaners n the trunk of your vehcle f your transcever s mounted n the
INJURY FROM RADIO FREQUENCY TRANSMISSIONS
Do not operate your transcever when somebody s ether standng near to or touchng the
antenna, to avod the possblty of rado frequency burns or related physcal njury.
Operatng the transcever wthn 150 m (500 feet) of dynamte blastng caps may cause them
to explode. Turn OFF your transcever when n an area where blastng s n progress, or where
"TURN OFF TWO-WAY RADIO" sgns have been posted. If you are transportng blastng caps
n your vehcle, make sure they are carred n a closed metal box wth a padded nteror. Do not
transmt whle the caps are beng placed nto or removed from the contaner.
---

Observe the followng precautons to prevent fre, personal njury, and transcever
· When operatng moble, do not attempt to confgure the transcever whle drvng; t s
· Do not transmt wth hgh output power for extended perods. The transcever may
· Do not dsassemble or modfy the transcever for any reason, unless nstructed by ths
· Do not expose the transcever to long perods of drect sunlght, nor place t near heatng
· Do not place the transcever n excessvely dusty, humd, or wet areas, nor on unstable
· If an abnormal odor or smoke s detected comng from the transcever, swtch the
transcever power off mmedately, and contact a
Kenwood servce staton or your
· Use of the transcever whle you are drvng may be aganst traffc laws. Please check
and observe the vehcle regulatons n your area.
· Do not use optons not specfed by
The transcever s desgned for a 13.8 V DC (±15%) power source! Never use a 24 V battery
to power the transcever. Check the battery polarty and voltage of the vehcle before nstallng
Use only the suppled DC power cable or a Kenwood optonal DC power cable.
Do not nsert metal objects nto the coolng fan.
Do not cut and/or remove the fuse holder on the DC power cable. Improper connectons and/or
current surges may cause smoke or fre.
For passenger safety, nstall the transcever securely usng the suppled mountng bracket and
screw set so the transcever wll not break loose n the event of a collson.
Varous electronc equpment n your vehcle may malfuncton f they are not properly protected
from the rado frequency energy whch s present whle transmttng. Electronc fuel njecton,
ant-skd brakng, and cruse control systems are typcal examples of equpment that may
malfuncton. If your vehcle contans such equpment, consult the dealer for the make of
vehcle and enlst hs/her ad n determnng f they wll perform normally whle transmttng.
---

PREPARATION ...................................................................................1
SUPPLIED ACCESSORIES ...........................................................1
MOBILE INSTALLATION ...............................................................1
POWER CABLE CONNECTION ....................................................2
ANTENNA CONNECTION..............................................................5
FRONT PANEL ORIENTATION .....................................................6
ACCESSORY CONNECTIONS ......................................................7
GETTING ACQUAINTED.....................................................................8
FRONT PANEL...............................................................................8
DISPLAY.......................................................................................10
REAR PANEL ...............................................................................12
SUB-PANEL .................................................................................12
MICROPHONE (MC-59) ...............................................................13
BASIC OPERATIONS........................................................................14
SWITCHING THE POWER ON/ OFF ...........................................14
ADjUSTING THE VOLUME .........................................................14
ADjUSTING THE SQUELCH.......................................................15
SELECTING A BAND...................................................................15
SELECTING DUAL BAND MODE/ SINGLE BAND MODE .........16
SELECTING A FREQUENCY BAND ...........................................17
SELECTING AN OPERATING MODE .........................................18
TRANSMITTING ...........................................................................19
MENU MODE .....................................................................................20
MENU ACCESS............................................................................20
MENU CONFIGURATION ............................................................20
CHARACTER ENTRY ..................................................................24
OPERATING THROUGH REPEATERS ............................................26
REPEATER ACCESS...................................................................26
TRANSMITTING A 1750 Hz TONE ..............................................30
REVERSE FUNCTION..................................................................30
AUTOMATIC SIMPLEx CHECKER (ASC) ..................................30
TONE FREQUENCY ID ................................................................31
---