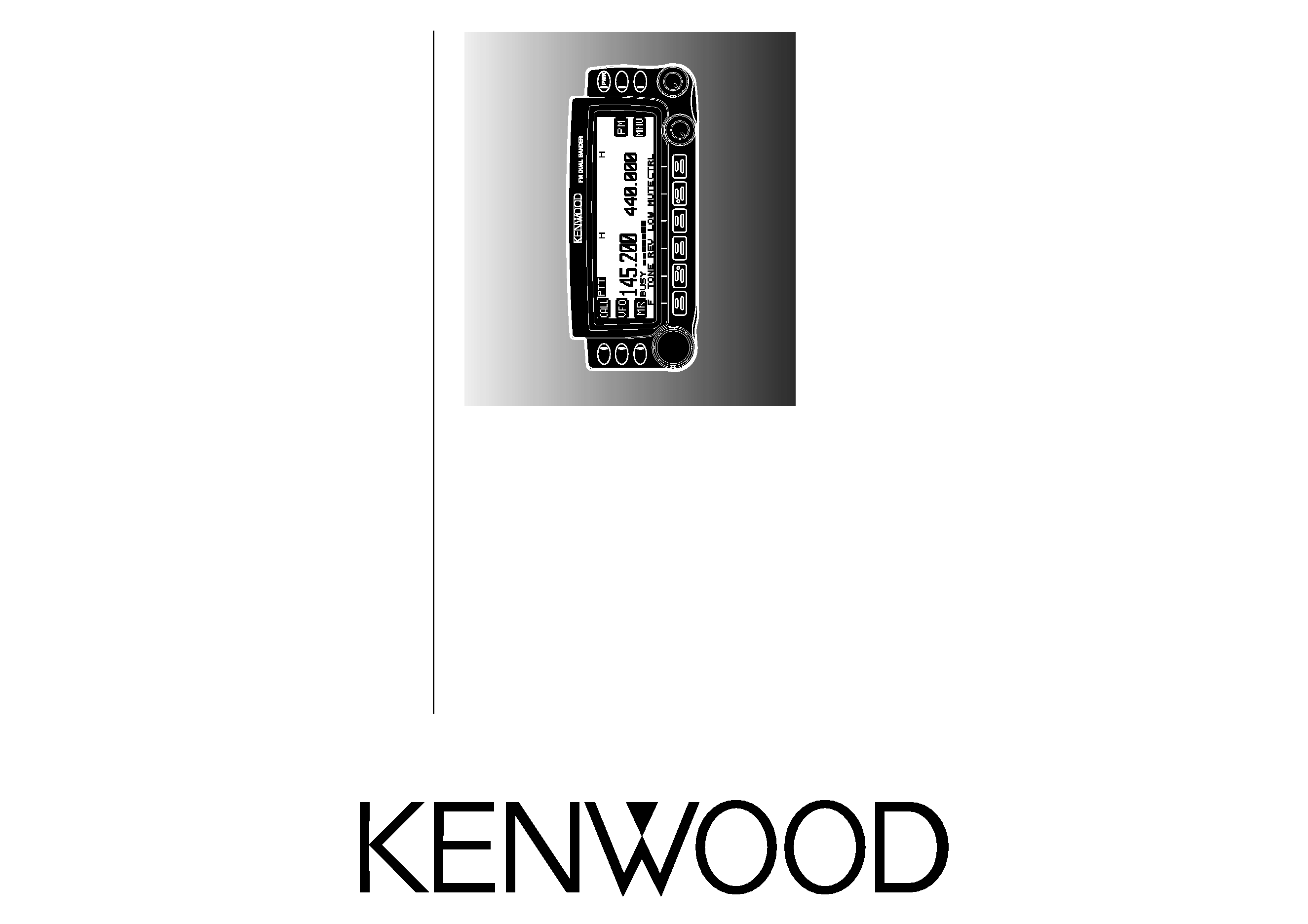 09 08 07 06 05 04 03 02 01 00
144/440 MHz FM DUAL BANDER
---

We are grateful you decided to purchase this
KENWOOD FM transceiver. KENWOOD always
provides Amateur Radio products which surprise and
excite serious hobbyists. This transceiver is no
This transceiver has the following main features:
Enhanced Programmable Memory (PM) channels
store virtually entire current operating environments
Contains a total of 200 memory channels to program
frequencies and other various data. Allows each
memory channel to be named using up to 8
alphanumeric and special ASCII characters.
·"Visual Scan" graphically and simultaneously shows
the conditions of up to 181 frequency channels.
Continuous Tone Coded Squelch System (CTCSS) or
Digital Code Squelch (DCS) rejects unwanted calls
The front panel can be mounted in a convenient
location, separate from the main unit.
Equipped with an easy-to-read large LCD with
alphanumeric display capability.
This model has a separate remote control head.
We suggest you remove the control head from your
automobile when unattended. Removing the control
head from the vehicle will reduce the risk of equipment
We also suggest that you check with your home or car
insurance for additional coverage. The American Radio
Relay League (ARRL) also has an insurance plan to
In the event theft or damage should occur, there are no
replacement control head units available from Kenwood.
---

Please observe the following precautions to prevent
fire, personal injury, and transceiver damage:
When operating mobile, do not attempt to configure
your transceiver while driving; it is too dangerous.
Be aware of local laws pertaining to the use of
headphones/headsets while driving on public
roads. If in doubt, do not wear headphones while
Do not transmit with high output power for an
extended duration; the transceiver may overheat.
Do not modify the transceiver unless instructed by
this manual or by KENWOOD documentation.
Do not expose the transceiver to long periods of
direct sunlight, nor place it close to heating
Do not place the transceiver in excessively dusty,
humid, or wet areas, nor on unstable surfaces.
If an abnormal odor or smoke is detected coming
from the transceiver, turn the power OFF
immediately. Contact a KENWOOD service station
The transceiver is designed for a 13.8 V power
source. Never use a 24 V battery to power the
One or more of the following statements may be applicable:
This equipment generates or uses radio frequency energy. Changes
or modifications to this equipment may cause harmful interference
unless the modifications are expressly approved in the instruction
manual. The user could lose the authority to operate this equipment if
an unauthorized change or modification is made.
INFORMATION TO THE DIGITAL DEVICE USER REQUIRED BY
This equipment has been tested and found to comply with the limits
for a Class B digital device, pursuant to Part 15 of the FCC Rules.
These limits are designed to provide reasonable protection against
harmful interference in a residential installation.
This equipment generates, uses and can generate radio frequency
energy and, if not installed and used in accordance with the
instructions, may cause harmful interference to radio communications.
However, there is no guarantee that the interference will not occur in a
particular installation. If this equipment does cause harmful
interference to radio or television reception, which can be determined
by turning the equipment off and on, the user is encouraged to try to
correct the interference by one or more of the following measures:
Reorient or relocate the receiving antenna.
Increase the separation between the equipment and receiver.
Connect the equipment to an outlet on a circuit different from that
to which the receiver is connected.
Consult the dealer for technical assistance.
When condensation occurs inside the transceiver:
Condensation may occur inside the transceiver in such cases where
the room is warmed using a heater on cold days or where the
transceiver is quickly moved from a cold room to a warm room. When
condensation occurs, the microcomputer and/or the transmit/receive
circuits may become unstable, resulting in transceiver malfunction. If
this happens, turn the transceiver power OFF and wait for a while.
When the condensed droplets disappear, the transceiver will function
---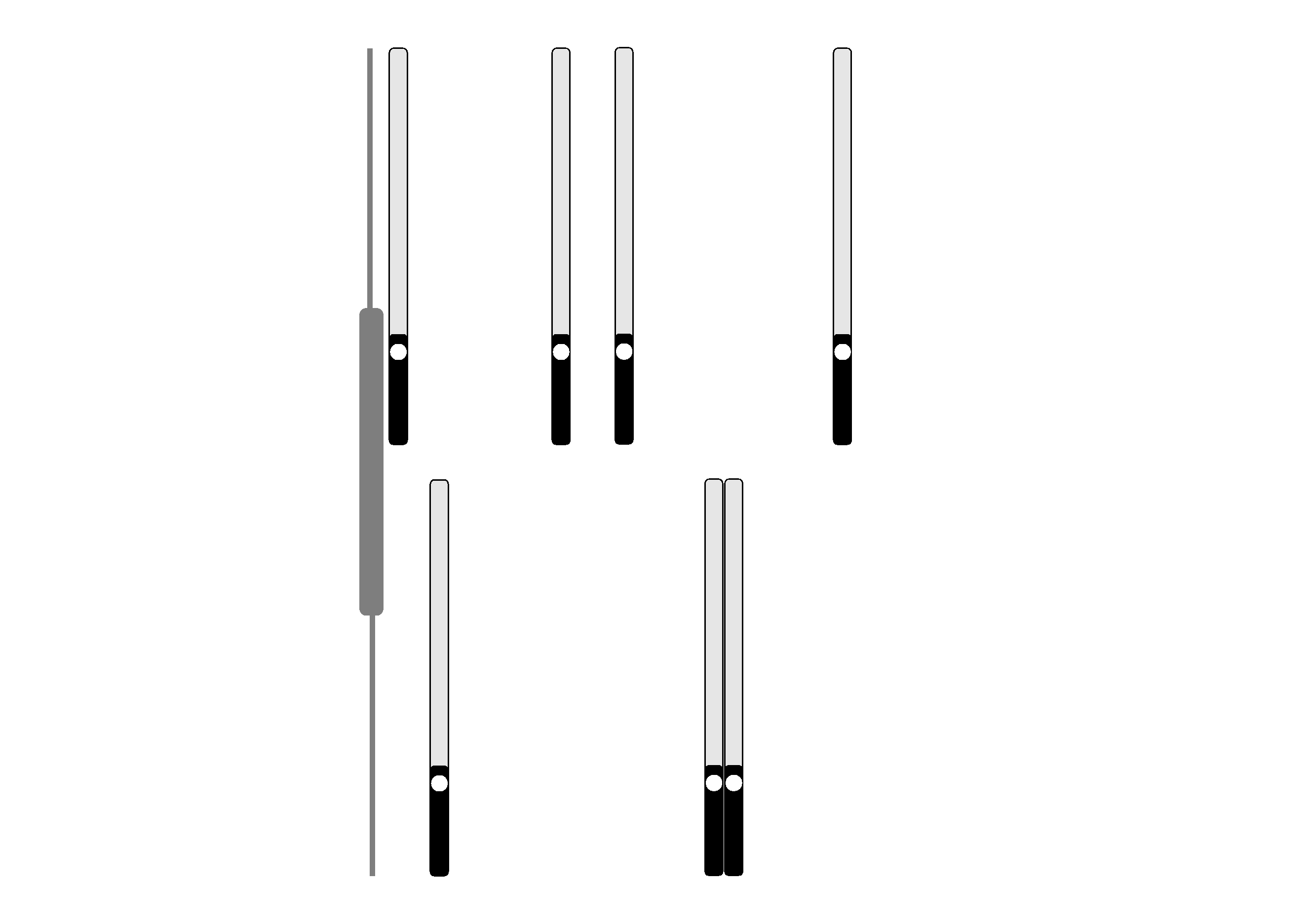 SWITCHING THE POWER ON/OFF ....................... 19
ADJUSTING THE VOLUME .................................... 19
SELECTING A BAND .............................................. 19
SELECTING A FREQUENCY .................................. 20
ADJUSTING THE SQUELCH .................................. 20
TRANSMITTING ...................................................... 21
Selecting Output Power ...................................... 21
MENU ACCESS ...................................................... 22
MENU CONFIGURATION ....................................... 23
OPERATING THROUGH REPEATERS
PROGRAMMING OFFSET ...................................... 27
Selecting Offset Direction .................................... 27
Selecting Offset Frequency ................................. 27
Activating Tone Function ..................................... 28
Selecting a Tone Frequency ................................ 28
AUTOMATIC REPEATER OFFSET ......................... 29
TRANSMITTING A 1750 Hz TONE .......................... 30
REVERSE FUNCTION ............................................ 31
AUTOMATIC SIMPLEX CHECK (ASC) .................... 31
TONE FREQUENCY ID ........................................... 32
SIMPLEX & REPEATER OR ODD-SPLIT
MEMORY CHANNEL? ............................................. 33
STORING SIMPLEX FREQUENCIES OR
STANDARD REPEATER FREQUENCIES ............... 34
SUPPLIED ACCESSORIES ...................................... 1
CONVENTIONS FOLLOWED IN THIS MANUAL ....... 1
MOBILE INSTALLATION ........................................... 2
Main Unit Installation ............................................. 2
Front Panel Installation ......................................... 3
FIXED STATION INSTALLATION ............................... 4
MODULAR PLUG CABLE CONNECTION ................. 4
DC POWER CABLE CONNECTION .......................... 5
Mobile Operation .................................................. 5
Fixed Station Operation ........................................ 6
Replacing Fuses ................................................... 7
ANTENNA CONNECTION ......................................... 7
ACCESSORY CONNECTIONS ................................. 8
External Speakers ................................................ 8
Microphone ........................................................... 8
FRONT PANEL ........................................................ 10
MAIN UNIT -- FRONT ............................................. 12
MAIN UNIT -- REAR ............................................... 12
MICROPHONE ........................................................ 13
INDICATORS ........................................................... 14
BASIC TRANSCEIVER MODES .............................. 15
KEY FUNCTION DISPLAY ...................................... 16
BAND A & B ............................................................. 17
TX BAND AND CONTROL BAND ............................ 17
MIC KEYPAD DIRECT ENTRY (MC-58DM ONLY) ...... 18
---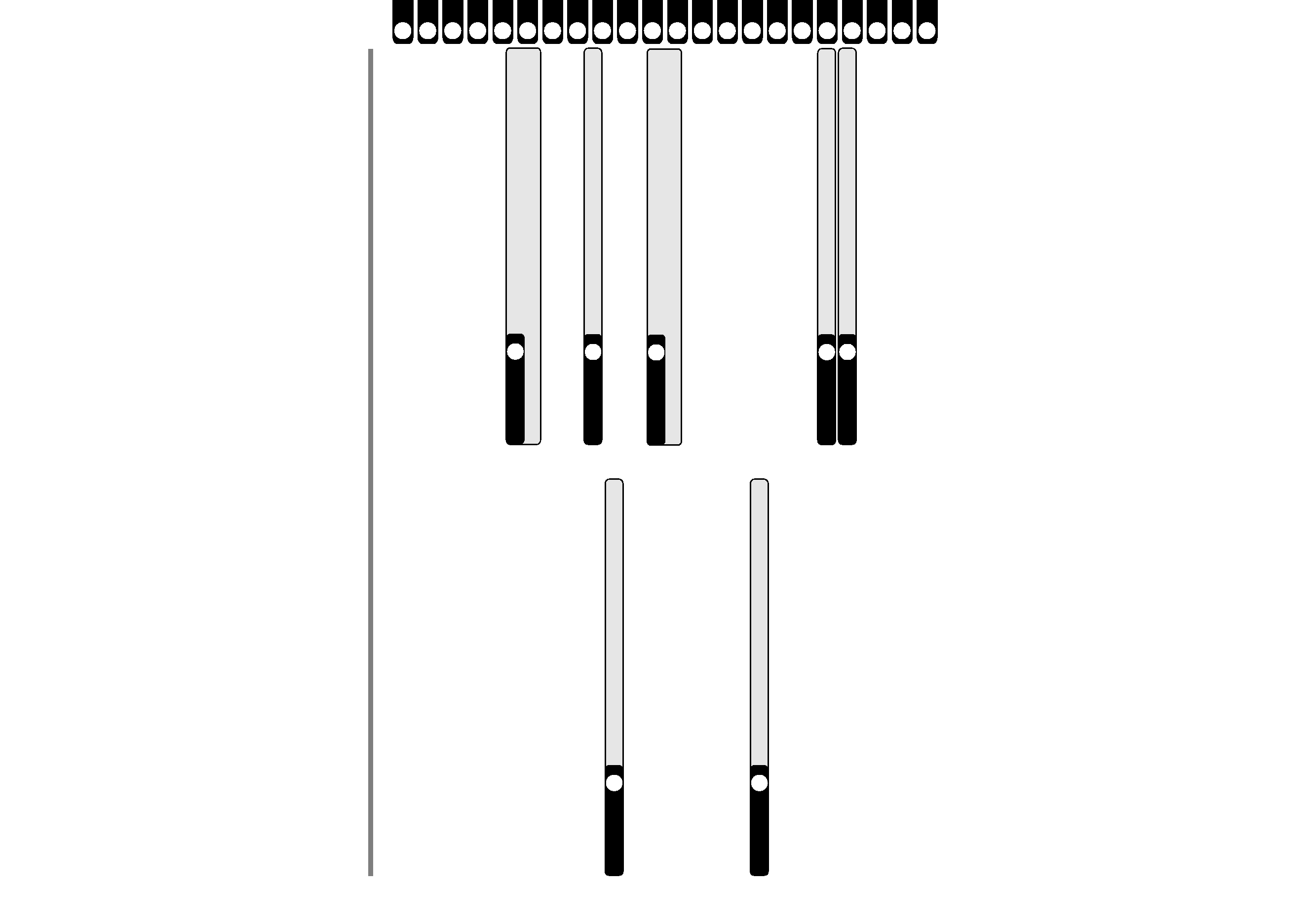 PROGRAM SCAN ................................................... 50
Setting Scan Limits ............................................. 50
Using Program Scan ........................................... 51
MHz SCAN .............................................................. 51
CALL/VFO SCAN .................................................... 52
CALL/MEMORY SCAN ............................................ 52
CONTINUOUS TONE CODED SQUELCH
USING CTCSS ........................................................ 53
CTCSS FREQUENCY ID ......................................... 54
DIGITAL CODE SQUELCH (DCS)
USING DCS ............................................................ 55
DCS CODE ID ......................................................... 56
DUAL TONE MULTI-FREQUENCY (DTMF)
FUNCTIONS (WITH MC-58DM ONLY)
MANUAL DIALING .................................................. 57
DTMF Monitor ..................................................... 57
AUTOMATIC DIALER .............................................. 58
Storing a DTMF Number in Memory .................... 58
Transmitting a Stored DTMF Number .................. 59
Selecting TX Speed ............................................ 59
Selecting Pause Duration .................................... 59
PROGRAMMABLE FUNCTION (PF) KEYS
(WITH MC-58DM ONLY) ......................................... 61
CHANGING FREQUENCY STEP SIZE ................... 62
PROGRAMMABLE VFO .......................................... 62
STORING ODD-SPLIT REPEATER
FREQUENCIES ....................................................... 34
RECALLING A MEMORY CHANNEL ....................... 35
CLEARING A MEMORY CHANNEL ......................... 35
NAMING A MEMORY CHANNEL ............................. 36
CALL CHANNEL ...................................................... 37
Recalling the Call Channel .................................. 37
Reprogramming the Call Channel ....................... 37
MEMORY-TO-VFO TRANSFER .............................. 38
CHANNEL DISPLAY ................................................ 38
PARTIAL OR FULL RESET? .................................... 39
PROGRAMMABLE INFORMATION ......................... 40
APPLICATION EXAMPLES ..................................... 41
STORING IN PM CHANNELS ................................. 42
RECALLING A PM CHANNEL ................................. 42
AUTO PM CHANNEL STORE ................................. 43
PM CHANNEL RESET ............................................ 43
VISUAL SCAN ......................................................... 45
Selecting the Number of Channels ...................... 45
Using Visual Scan ............................................... 46
SELECTING SCAN RESUME METHOD ................. 47
VFO SCAN ............................................................. 48
MEMORY SCAN ...................................................... 48
Locking Out a Memory Channel .......................... 49
GROUP SCAN ........................................................ 49
---