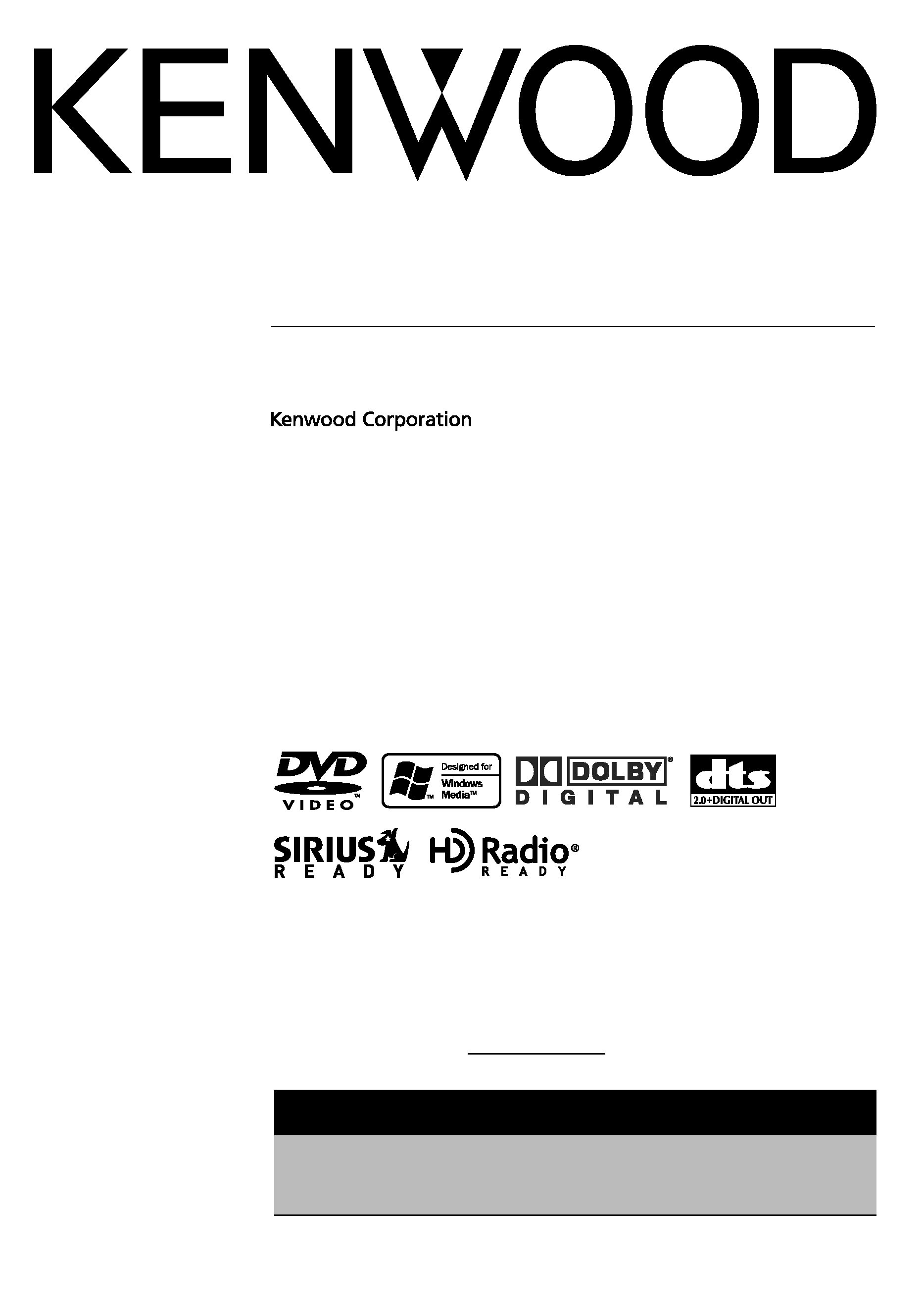 Take the time to read through this instruction manual.
Familiarity with installation and operation procedures will help you obtain the best
performance from your new DVD-receiver.
Record the serial number, found on the back of the unit, in the spaces designated on the
warranty card, and in the space provided below. Refer to the model and serial numbers
whenever you call upon your Kenwood dealer for information or service on the product.
Model KDV-412 Serial number
Register your Kenwood product at
---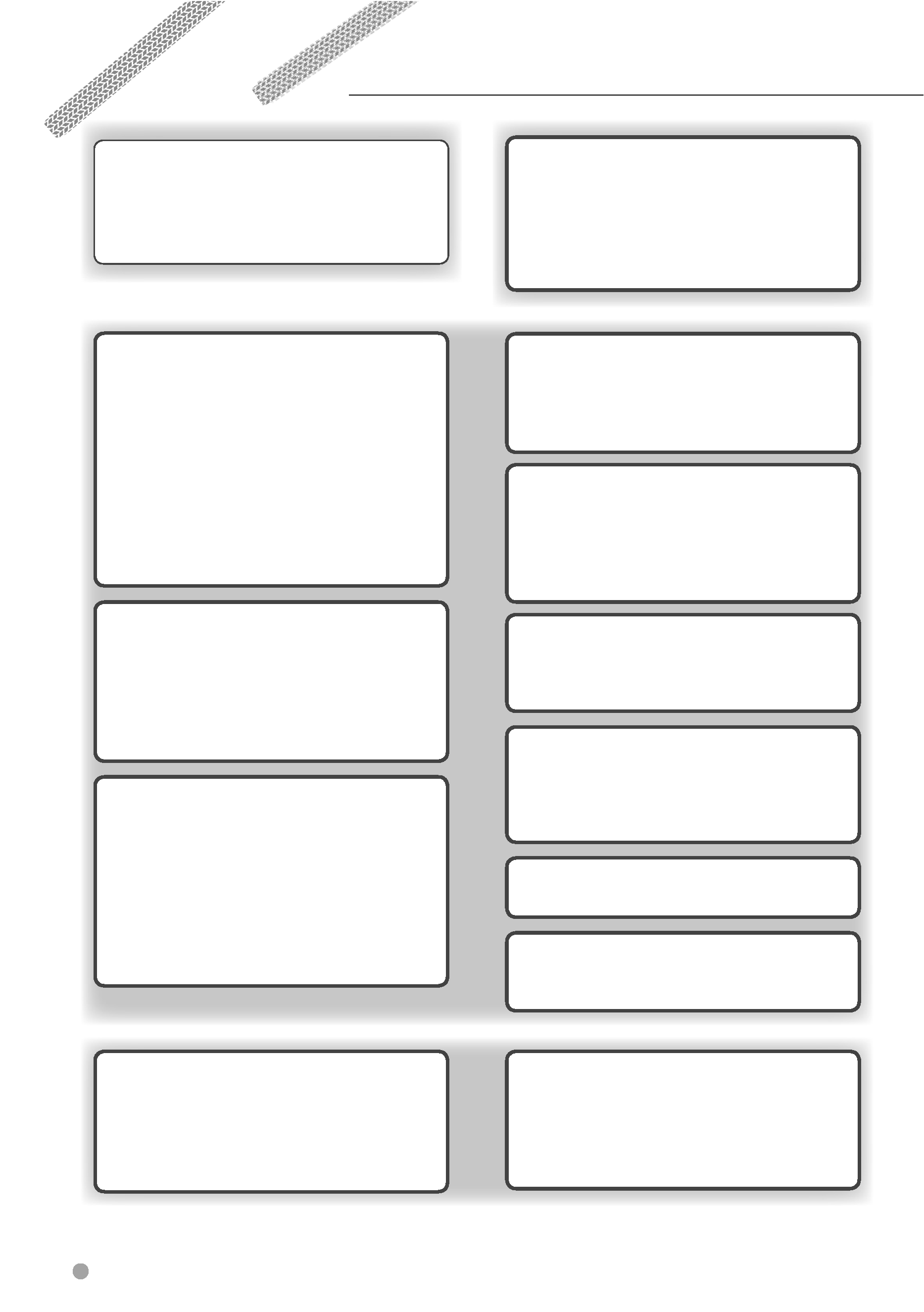 Watching DVD/VCD (video CD)/
Listening to CDs and audio files
Viewing picture (JPEG) files
Selecting display information
Monitor information display &
Installing operation panel
Watching DVD/VCD/Video files
Changing audio channel (Only for VCD)
Changing sound track language
Changing subtitle language
Changing viewing angle (Only for DVD)
Parental level setup/change
Listening to Music Discs &
(Only for audio files and disc changers) 30
Registration of a station as a PTY
---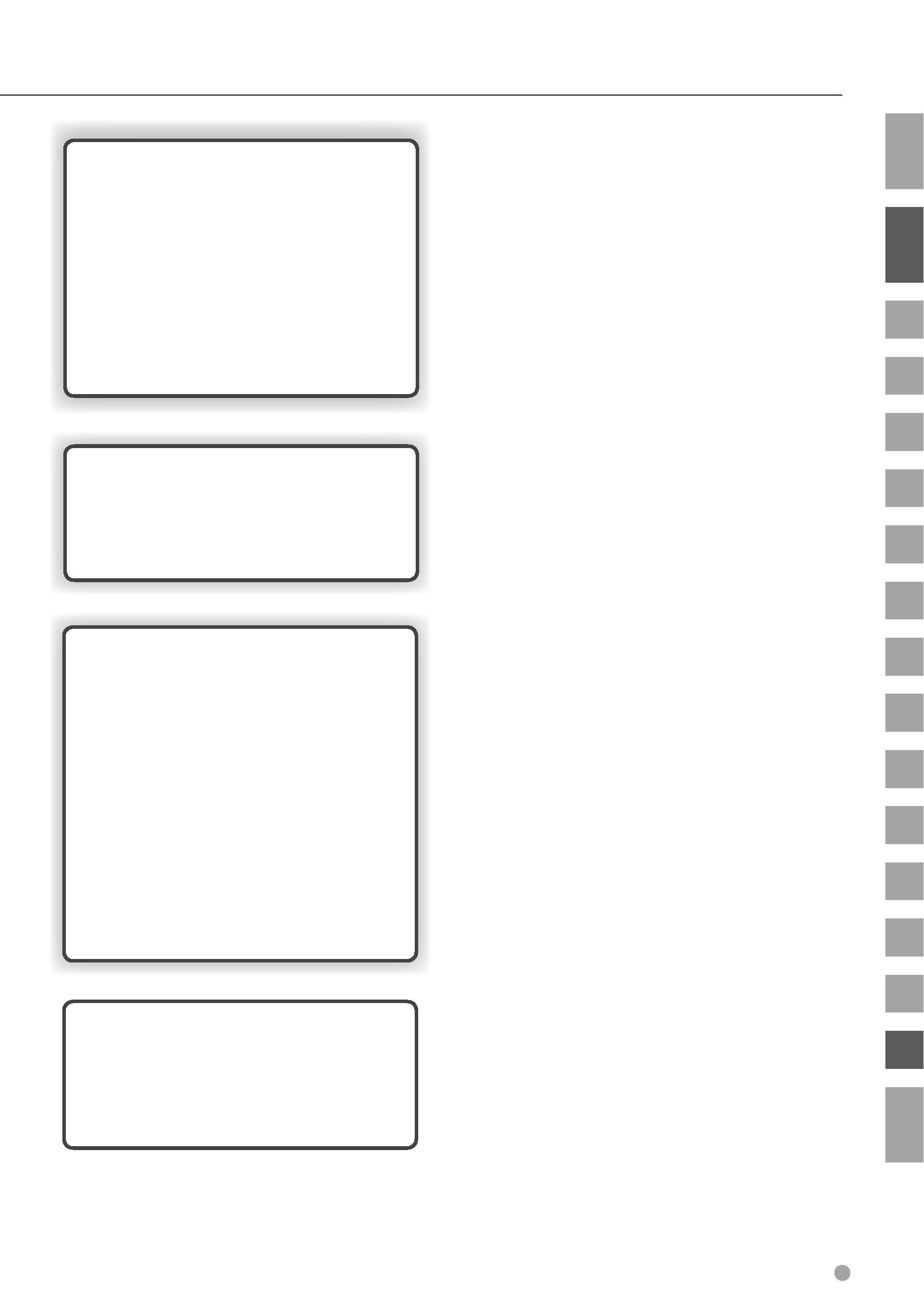 HD Radio Receive mode setting
Recalling audio preset values
T.I (Traffic Information)
Accessories/ Installation Procedure
Watching DVD/VCD/Video files
Listening to Music Discs & Audio Files
Remote Controller mode switch
Common operations (AUD mode)
DVD/VCD/CD/Audio files (DVD mode)
---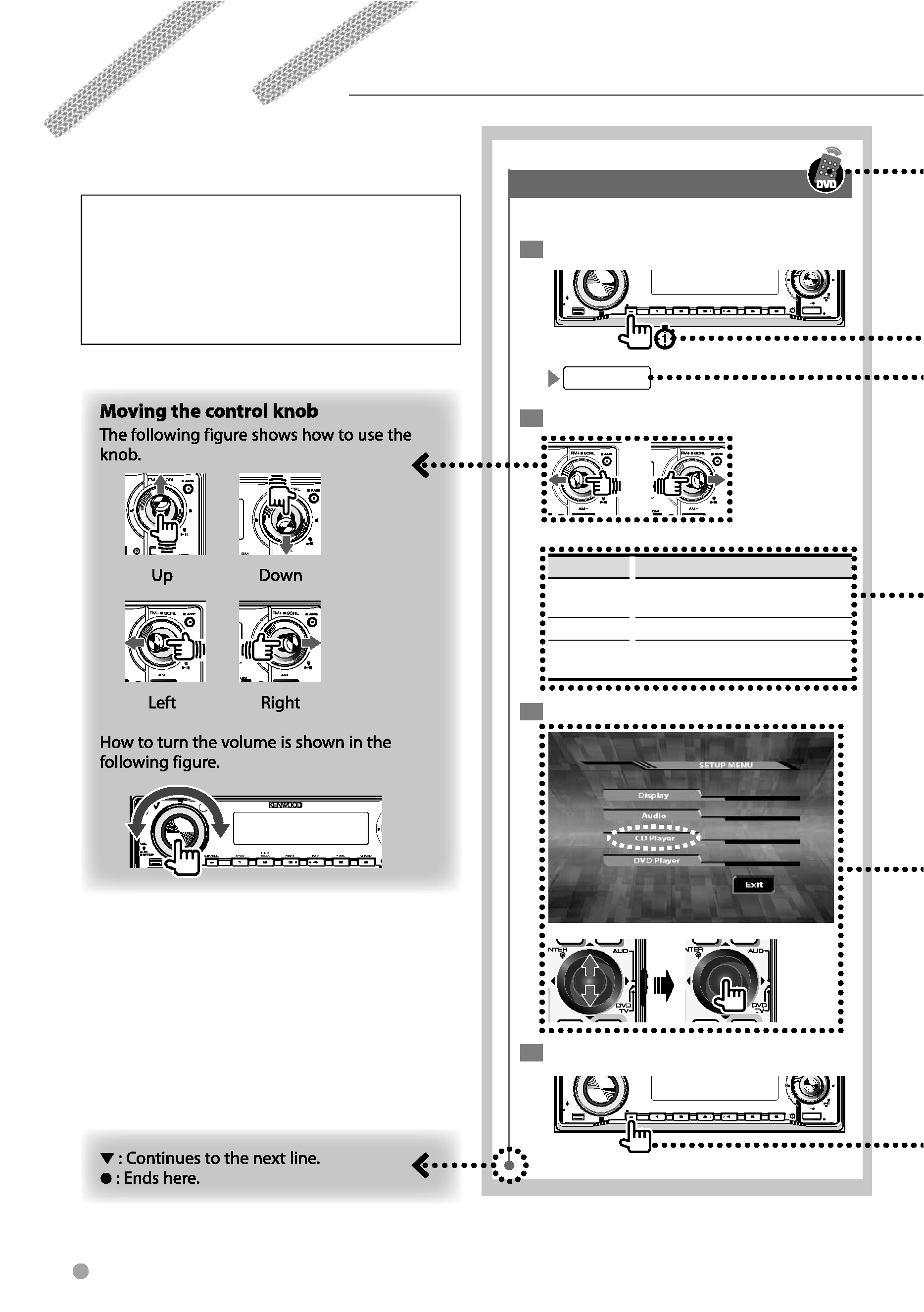 This manual uses illustrations to explain its
The displays and panels shown in this manual
are examples used to provide clear explanations
For this reason, they may be different from the
actual displays or panels used, or some display
patterns may be different.
The above operation example with the mark
differs from the actual operation.
Sets a tuning mode for selecting stations.
There are three types in the tuning mode.
Receives stations with the best reception.
Receives the stations memorized. (Auto 2)
Switches the receiving frequencies up and
down at a step at a time. (Manual)
3
Display the CD player menu
---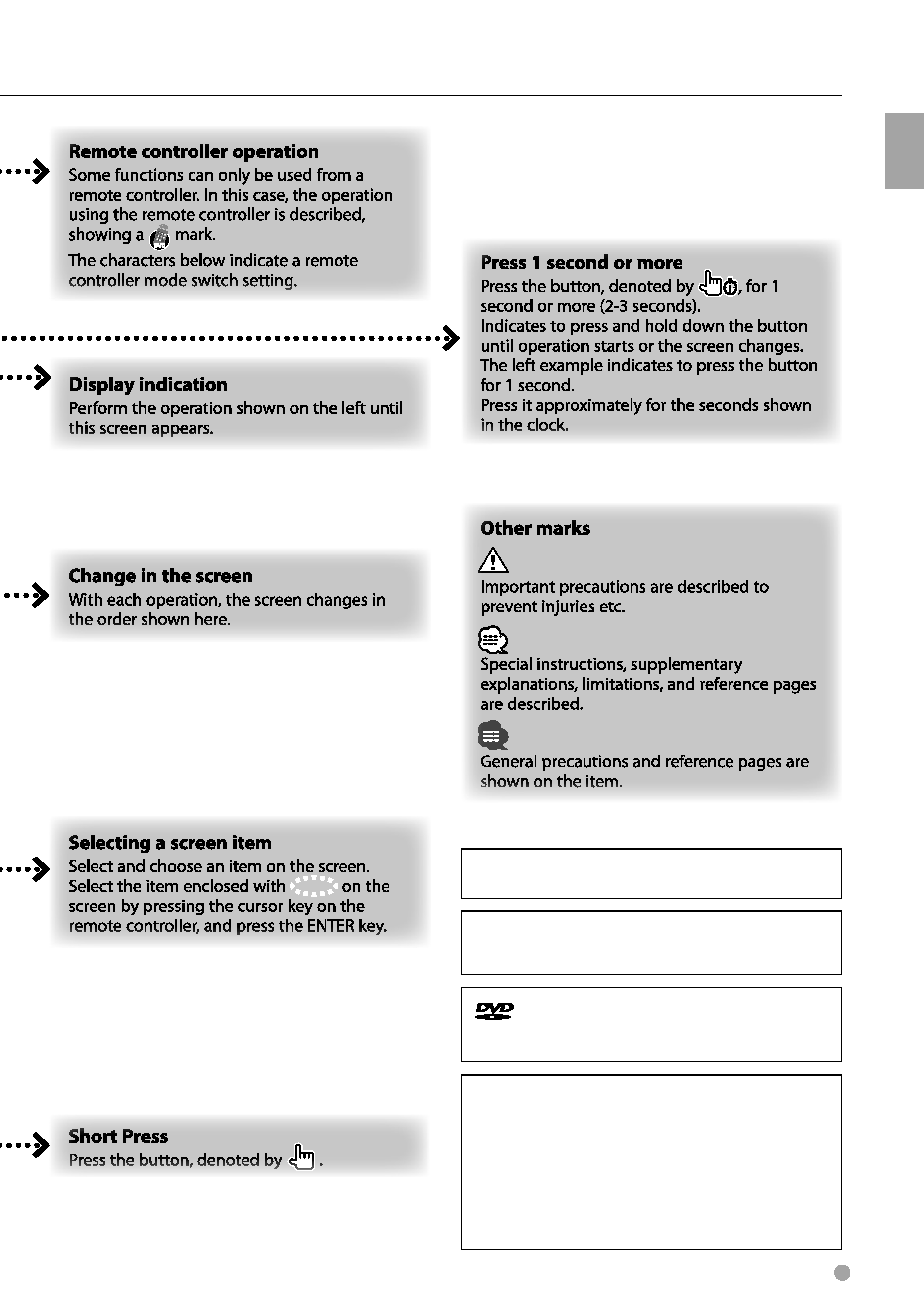 is a trademark of DVD Format/Logo Licensing
Corporation registered in the U.S., Japan and other
This product incorporates copyright protection
technology that is protected by U.S. patents and other
intellectual property rights. Use of this copyright
protection technology must be authorized by
Macrovision, and is intended for home and other
limited viewing uses only unless otherwise authorized
by Macrovision. Reverse engineering or disassembly is
"DTS" and "DTS 2.0 + Digital Out" are trademarks of
Digital Theater Systems, Inc.
Manufactured under license from Dolby Laboratories.
"Dolby" and the double-D symbol are trademarks of
---