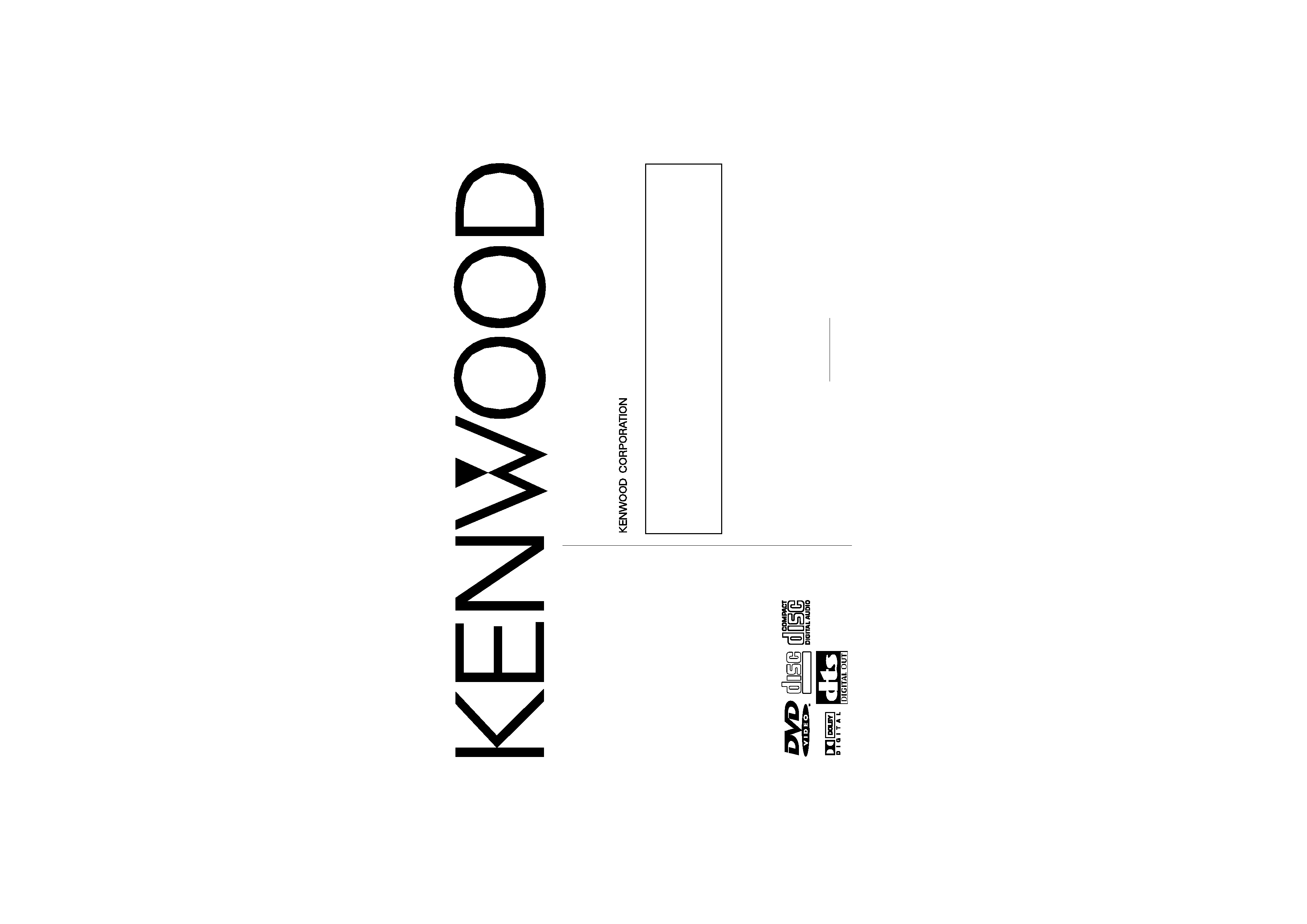 Take the time to read through this instruction manual.
Familiarity with installation and operation procedures will help you obtain the
best performance from your new DVD/CD-MP3 auto changer.
Record the serial number, found on the back of the unit, in the spaces designated on
the warranty card, and in the space provided below. Refer to the model and serial
numbers whenever you call upon your KENWOOD dealer for information or service
© B64-2291-00/03 (K/E/M/X/C)
This player has been designed to play back the DVD
software which has been encoded for specific region areas.
It cannot play back the DVD software encoded for other
region areas than the region areas for which it has been
---

Warning .......................................3
Safety precautions......................4
About Discs.................................6
Notes on playing MP3 ................7
Glossary.......................................8
Loading discs ..............................9
Operations of remote control ..10
Loading and Replacing the battery
Pausing and Restarting Disc Play (DVD,
Stopping playback (DVD, VCD, CD-DA)
Forward / Reverse Search (DVD, VCD,
Frame-by-frame playback (DVD, VCD)
Random Play (VCD, CD-DA, MP3)
Direct Track/Chapter Search
GOTO - Direct Search (DVD, VCD, CD-
PBC function On/Off (VCD)
Switching the Viewing Angle (DVD)
Selecting the Sub Title Language (DVD)
Selecting the Audio Language (DVD)
Switching the Vocal sound (DVD, VCD,
Switching the Time display
Track List Screen (CD-DA)
Preferences ...............................19
Setting the Priority Language
Setting the Rating Level (parental lock)
Operations of center unit .........25
Pausing and Restarting Disc Play (DVD,
Fast Forwarding and Reversing (DVD,
Direct Disc Search (Function of remote)
Direct Track/Chapter Search (Function of
Random Play (VCD, CD-DA, MP3)
Accessories ...............................29
Installation Procedure ..............29
Connecting Wires to Terminals 30
Installation ................................33
Troubleshooting Guide .............36
Region codes in the world .......39
Specifications ...........................40
---

Use of controls or adjustments or performance
of procedures other than those specified
herein may result in hazardous radiation
In compliance with Federal Regulations,
following are reproductions of labels on, or
inside the product relating to laser product
This equipment may generate or use radio
frequency energy. Changes or modifications to
this equipment may cause harmful
interference unless the modifications are
expressly approved in the instruction manual.
The user could lose the authority to operate
this equipment if an unauthorized change or
KENWOOD CORP. CERTIFIES THIS EQUIPMENT
CONFORMS TO DHHS REGULATIONS N0.21 CFR
1040. 10, CHAPTER 1, SUBCHAPTER J.
This equipment has been tested and found to
comply with the limits for a Class B digital
device, pursuant to Part 15 of the FCC Rules.
These limits are designed to provide
reasonable protection against harmful
interference in a residential installation. This
equipment may cause harmful interference to
radio communications, if it is not installed and
used in accordance with the instructions.
However, there is no guarantee that
interference will not occur in a particular
installation. If this equipment does cause
harmful interference to radio or television
reception, which can be determined by turning
the equipment off and on, the user is
encouraged to try to correct the interference
by one or more of the following measures:
· Reorient or relocate the receiving antenna.
· Increase the separation between the
· Connect the equipment into an outlet on a
circuit different from that to which the
· Consult the dealer or an experienced
radio/TV technician for help.
This Class B digital apparatus complies with
---

To prevent injury or fire, take the
· When extending the ignition, battery, or
ground wires, make sure to use automotive-
grade wires or other wires with a 0.75mm
2
(AWG18) or more to prevent wire
deterioration and damage to the wire
·To prevent a short circuit, never put or leave
any metallic objects (such as coins or metal
· If the unit starts to emit smoke or strange
smells, turn off the power immediately and
consult your Kenwood dealer.
To prevent damage to the unit, take
the following precautions:
· Make sure to ground the unit to a negative
· Do not open the top or bottom covers of the
· Do not install the unit in a spot exposed to
direct sunlight or excessive heat or humidity.
Also avoid places with too much dust or the
possibility of water splashing.
· When replacing a fuse, only use a new one
with the prescribed rating. Using a fuse with
the wrong rating may cause your unit to
·To prevent a short circuit when replacing a
fuse, first disconnect the wiring harness.
· Do not use your own screws. Use only the
screws provided. If you use the wrong
screws, you could damage the unit.
· If you experience problems during
installation, consult your Kenwood dealer.
· The illustrations of the display and the panel
appearing in this manual are examples used
to explain more clearly how the controls are
used. Therefore, what appears on the display
in the illustrations may differ from what
appears on the display on the actual
equipment, and some of the illustrations on
the display may represent something
impossible in actual operation.
The marking of products using lasers
The label is attached to the chassis/case and
says that the component uses laser beams
that have been classified as Class 1. It
means that the unit is utilizing laser beams
that are of a weaker class. There is no
danger of hazardous radiation outside the
You can enjoy a DVD with this unit alone when
connecting it to an external monitor or audio
Also, you can operate this unit connected to a
center unit made by Kenwood to output
A Kenwood-made center unit that can be
connected to this unit is called "Center Unit".
About a center unit that can be
If a center unit (such as CD receivers) has
capability for "N" of <"O-N" switch>, this unit
can be connected to this unit.
According to the operating instructions of a
center unit, the setting of <"O-N" switch> is
"N". This unit is, however, exclusive to "N".
Therefore, <"O-N" switch> is unnecessary.
If using a separate CD/MD changer switching
unit "KCA-S210A", AUX audio input is enabled
also on a disc changer control equipped center
unit not compatible with "N". In this case, this
unit cannot be operated on the center unit.
For connections to this unit, refer to "When
your car audio has RCA input" (page 32).
For details of connection, refer to the
operating instructions attached to KCA-S210A.
The functions available and/or information
displayable may depend on types of units to
---

Do Not Load 3-in.(8cm) Discs
If you try to load a 3 in.(8cm) Disc with its
adapter into the unit, the adapter might
separate from the Disc and damage the unit.
If the front panel is dirty, wipe it clean with a
silicon cloth or soft dry cloth with the power
Applying spray cleaner directly to the unit may
affect its mechanical parts. Wiping the
faceplate with a hard cloth or using a volatile
liquid such as thinner or alcohol may scratch
the surface or erases characters.
Right after you turn on the car heater in cold
weather, dew or condensation may form on
the lens in the Disc player of the unit. Called
lens fogging, Discs may be impossible to play.
In such a situation, remove the disc and wait
for the condensation to evaporate. If the unit
still does not operate normally after a while,
consult your Kenwood dealer.
This player has been designed to play
back the DVD software which has
been encoded for specific region
areas. It cannot play back the DVD
software encoded for other region
areas than the region areas for which
it has been designed. (page 39)
The KDV-C810 will playback any disc
The KDV-C820 will playback any disc
The KDV-C830 will playback any disc
The KDV-C840 will playback any disc
The KDV-C860 will playback any disc
Restrictions due to difference between
Some DVD and VCD discs can be played only
in certain playback modes according to the
intentions of the software producers. As this
player plays discs according to their
intentions, some functions may not work as
intended by you. Please be sure to read the
instructions provided with each disc. When
an inhibition icon is displayed on the monitor,
it indicates that the disc being played is under
the restriction as described above.
This player cannot play back any of the
· DVD-R/DVD-RW/DVD-RAM discs
· CDV discs (Only the audio part can be
· CD-G/CD-EG/CD-EXTRA discs (Only the
audio can be reproduced.)
· Photo CD discs (Never attempt to play
This product incorporates copyright
protection technology that is protected by
method claims of certain U.S. patents and
other intellectual property rights owned by
Macrovision Corporation and other rights
owners. Use of this copyright protection
technology must be authorized by
Macrovision Corporation, and is intended for
home and other limited viewing uses only
unless otherwise authorized by Macrovision
Corporation. Reverse engineering or
disassembly is prohibited.
Manufactured under license from Dolby
" Dolby " and the double-D symbol are
trademarks of Dolby Laboratories.
Confidential Unpublished Works. ©1992-
1997 Dolby Laboratories, Inc. All rights
"DTS" and "DTS Digital Out" are
trademarks of Digital Theater Systems, inc.
---