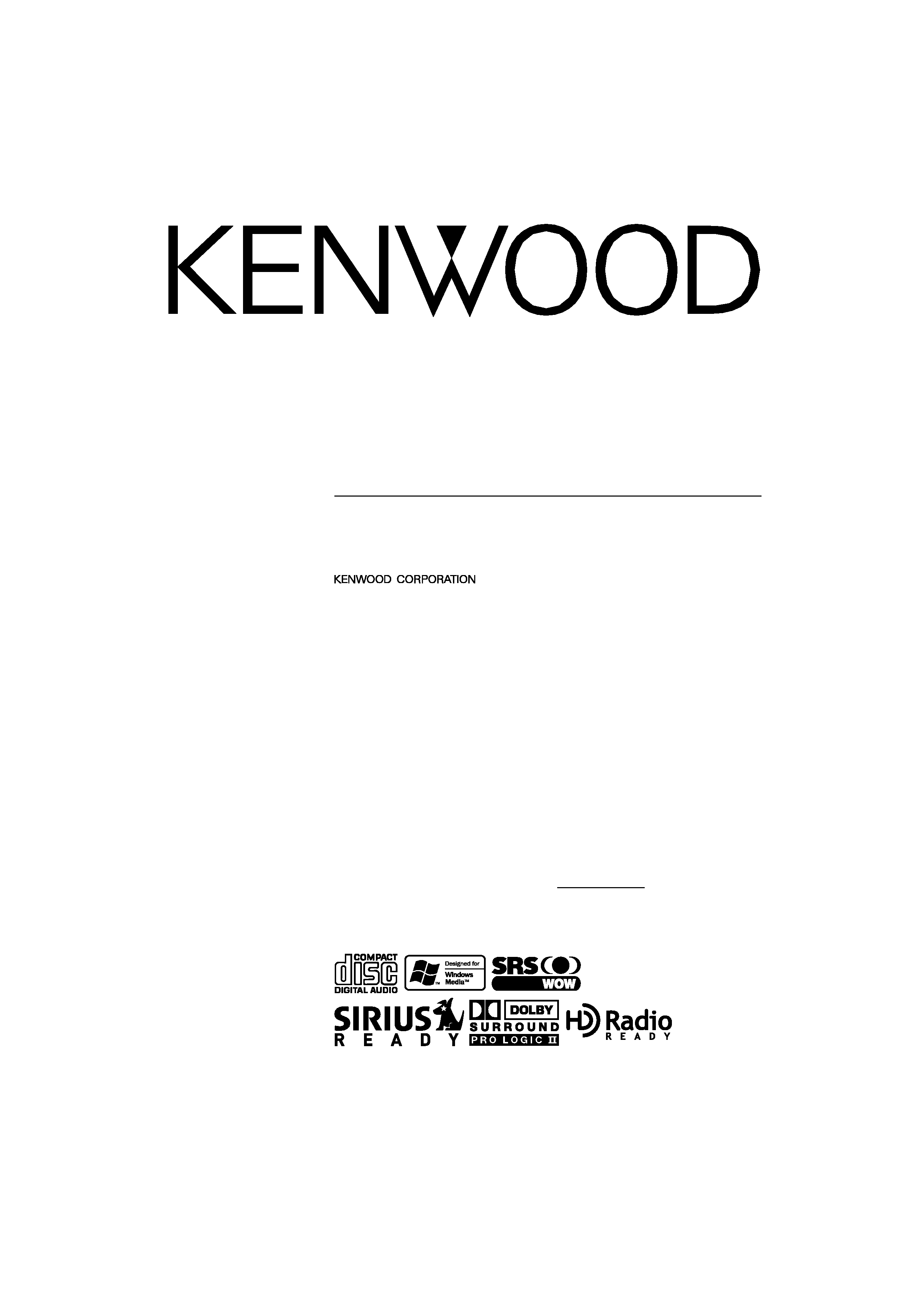 Take the time to read through this instruction manual.
Familiarity with installation and operation procedures will help you
obtain the best performance from your new CD-receiver.
Record the serial number, found on the back of the unit, in the spaces
designated on the warranty card, and in the space provided below. Refer to the
model and serial numbers whenever you call upon your KENWOOD dealer for
information or service on the product.
Model KDC-X979/MP925/X879 Serial number
---

Notes on Sound Management
Rotary Volume knob operation mode select
Side Graphic Display Switching
Graphic part/ Spectrum Analyzer Display
Station/Disc Naming (SNPS/DNPS)
Auxiliary Input Display Setting
Audio Control (KDC-MP925/KDC-X879)
System Q (KDC-MP925/KDC-X879)
Speaker Setting (KDC-MP925/KDC-X879)
Sound management features
Audio Setup Memory (PRO mode)
Audio Setup memory Recall
SNPP (Station Name Preset Play)
Registration of a station as a PTY
Fast Forwarding and Reversing
Disc Search/Folder Search
Track/File/Disc/Folder Repeat
DNPP (Disc Name Preset Play)
SIRIUS tuner control features
Select SIRIUS Satellite Radio Mode
Selecting the Preset Band
Text Scroll for SIRIUS tuner source
HD Radio control features
---

DSI (Disabled System Indicator)
Triangle indicator setting
System Q Setting (KDC-X879)
Built-in Amp Mute Setting
B.M.S. (Bass Management System)
B.M.S. Frequency Offset (KDC-X979/KDC-X879)
CRSC (Clean Reception System Circuit)
Built-in Auxiliary input Setting
Picture downloading (KDC-X979)
AMP Control (KDC-X979/KDC-X879)
Rotary volume operation select
Basic Operations of remote
Loading and Replacing the battery
Connecting Wires to Terminals
---

Use of controls or adjustments or performance of
procedures other than those specified herein may
result in hazardous radiation exposure.
In compliance with Federal Regulations, following
are reproductions of labels on, or inside the product
relating to laser product safety.
KENWOOD CORP. CERTIFIES THIS EQUIPMENT
CONFORMS TO DHHS REGULATIONS N0.21 CFR
1040. 10, CHAPTER 1, SUBCHAPTER J.
This equipment may generate or use radio
frequency energy. Changes or modifications to
this equipment may cause harmful interference
unless the modifications are expressly approved
in the instruction manual. The user could lose
the authority to operate this equipment if an
unauthorized change or modification is made.
This equipment has been tested and found to
comply with the limits for a Class B digital device,
pursuant to Part 15 of the FCC Rules. These limits
are designed to provide reasonable protection
against harmful interference in a residential
installation. This equipment may cause harmful
interference to radio communications, if it is
not installed and used in accordance with the
instructions. However, there is no guarantee
that interference will not occur in a particular
installation. If this equipment does cause harmful
interference to radio or television reception, which
can be determined by turning the equipment off
and on, the user is encouraged to try to correct
the interference by one or more of the following
· Reorient or relocate the receiving antenna.
· Increase the separation between the equipment
· Connect the equipment into an outlet on a
circuit different from that to which the receiver is
· Consult the dealer or an experienced radio/TV
---

To prevent damage to the machine, take
the following precautions:
· Make sure to ground the unit to a negative 12V
· Do not open the top or bottom covers of the unit.
· Do not install the unit in a spot exposed to direct
sunlight or excessive heat or humidity. Also avoid
places with too much dust or the possibility of
· Do not set the removed faceplate or the faceplate
case in areas exposed to direct sunlight, excessive
heat or humidity. Also avoid places with too much
dust or the possibility of water splashing.
· To prevent deterioration, do not touch the
terminals of the unit or faceplate with your
· Do not subject the faceplate to excessive shock,
as it is a piece of precision equipment.
· When replacing a fuse, only use a new one with
the prescribed rating. Using a fuse with the wrong
rating may cause your unit to malfunction.
· To prevent a short circuit when replacing a fuse,
first disconnect the wiring harness.
· Do not place any object between the faceplate
· Do not apply excessive force to the moving
faceplate. Doing so will cause damage or
· Do not apply excessive force to the open
faceplate or place objects on it. Doing so will
cause damage or breakdown.
· Do not use your own screws. Use only the screws
provided. If you use the wrong screws, you could
To prevent injury or fire, take the
· Insert the unit all the way in until it is fully locked
in place. Otherwise it may fall out of place when
· When extending the ignition, battery, or ground
wires, make sure to use automotive-grade wires
or other wires with a 0.75mm² (AWG18) or more
to prevent wire deterioration and damage to the
· To prevent a short circuit, never put or leave any
metallic objects (such as coins or metal tools)
· If the unit starts to emit smoke or strange smells,
turn off the power immediately and consult your
· Make sure not to get your fingers caught between
the faceplate and the unit.
· Be careful not to drop the unit or subject it to
The unit may break or crack because it contains
---