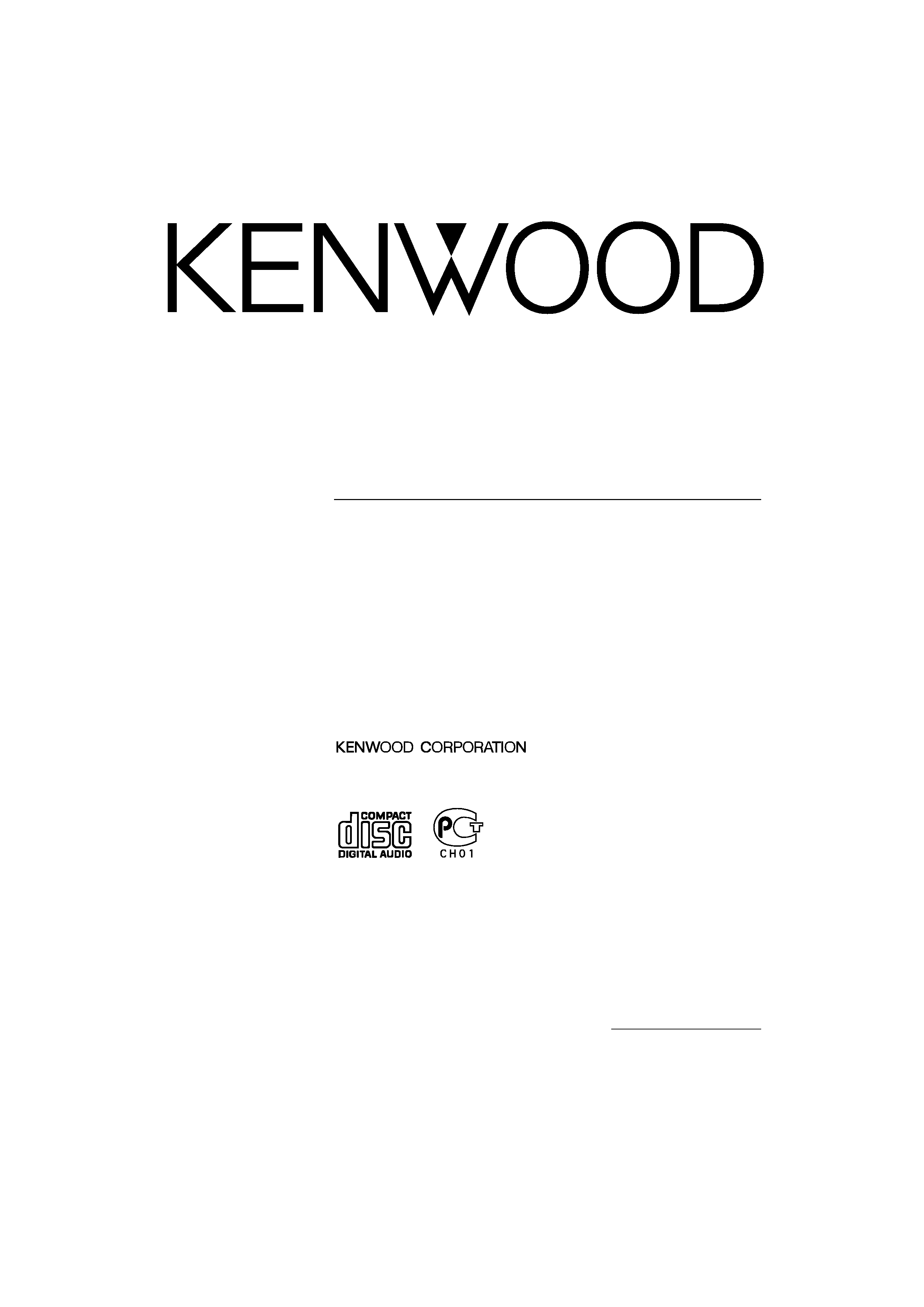 COMPACT DISC AUTO CHANGER
CHANGEUR AUTOMATIQUE DE DISQUES COMPACTS
CAMBIADOR AUTOMATICO DE DISCOS COMPACTOS
CHANGER AUTOMÁTICO DE CDs
Take the time to read through this instruction manual.
Familiarity with installation and operation procedures will help
you obtain the best performance from your new compact disc
Record the serial number, found on the back of the unit, in the spaces
designated on the warranty card, and in the space provided below.
Refer to the model and serial numbers whenever you call upon your
KENWOOD dealer for information or service on the product.
Model KDC-C719/C669/C469 Serial number
---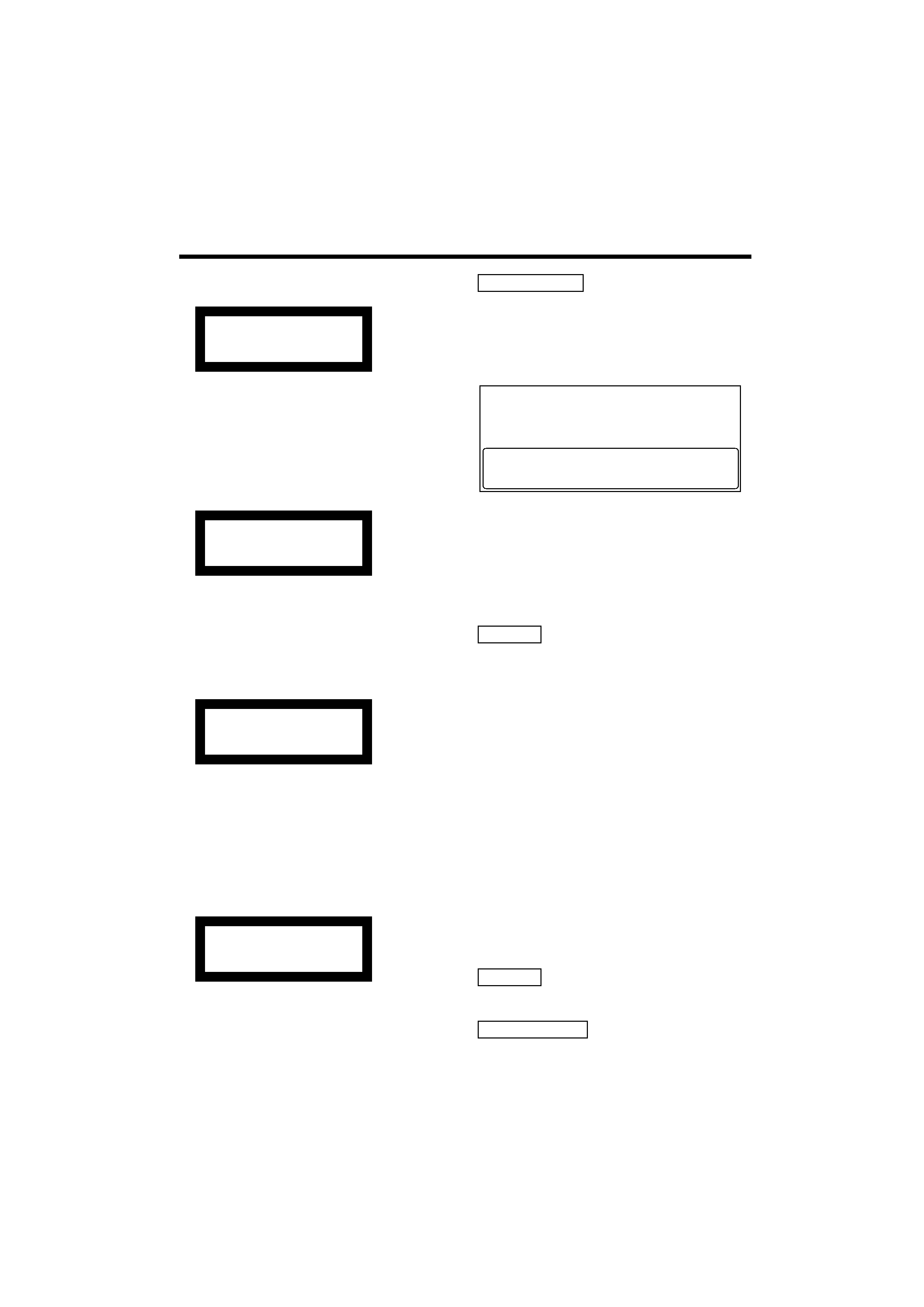 Warning /Avertissement /Advertencia /Advertência
The marking of products using lasers
The label is attached to the chassis/case and
says that the component uses laser beams that
have been classified as Class 1. It means that
the unit is using laser beams that are of a
weaker class. There is no danger of hazardous
radiation outside the unit.
Marquage des produits utilisant un
laser (Sauf pour certaines régions)
L'étiquette est attachée au chassis/boîtier de
l'appareil et indique que l'appareil utiliser des
rayons laser de classe 1. Cela signifie que
l'appareil utilise des rayons laser d'une classe
faible. Il n'y a pas de danger de radiation
accidentelle hors de l'appareil.
La marca del producto láser
Esta etiqueta está colocada al chasis/a la caja e
indica que el componente funciona con rayos
Esto significa que el aparato utiliza rayos láser
considerados como de clase débie. No existe
el peligro de que este aparato emita al exterior
A marca dos produtos usando laser
(exceto para algumas áreas)
A etiqueta é presa no chassis/estojo e indica
que o componente utiliza raios laser,
classificados como sendo de Classe 1. Isto
significa que o aparelho está usando raios laser
que são de uma classe mais fraca. Não há
perigo de radiação maléfica fora do aparelho.
Use of controls or adjustments or performance
of procedures other than those specified herein
may result in hazardous radiation exposure.
In compliance with Federal Regulations,
following are reproductions of labels on, or
inside the product relating to laser product
This equipment may generate or use radio
frequency energy. Changes or modifications to
this equipment may cause harmful interference
unless the modifications are expressly approved
in the instruction manual. The user could lose
the authority to operate this equipment if an
unauthorized change or modification is made.
This equipment has been tested and found to
comply with the limits for a Class B digital
device, pursuant to Part 15 of the FCC Rules.
These limits are designed to provide reasonable
protection against harmful interference in a
residential installation. This equipment may
cause harmful interference to radio
communications, if it is not installed and used in
accordance with the instructions. However,
there is no guarantee that interference will not
occur in a particular installation. If this
equipment does cause harmful interference to
radio or television reception, which can be
determined by turning the equipment off and on,
the user is encouraged to try to correct the
interference by one or more of the following
Reorient or relocate the receiving antenna.
Increase the separation between the
Connect the equipment into an outlet on a
circuit different from that to which the receiver
Consult the dealer or an experienced radio/TV
This Class B digital apparatus complies with
Cet appareil numérique de la classe B est
conforme à la morme NMB-003 du Canada.
KENWOOD CORP. CERTIFIES THIS EQUIPMENT
CONFORMS TO DHHS REGULATIONS N0.21 CFR
1040. 10, CHAPTER I, SUBCHAPTER J.
---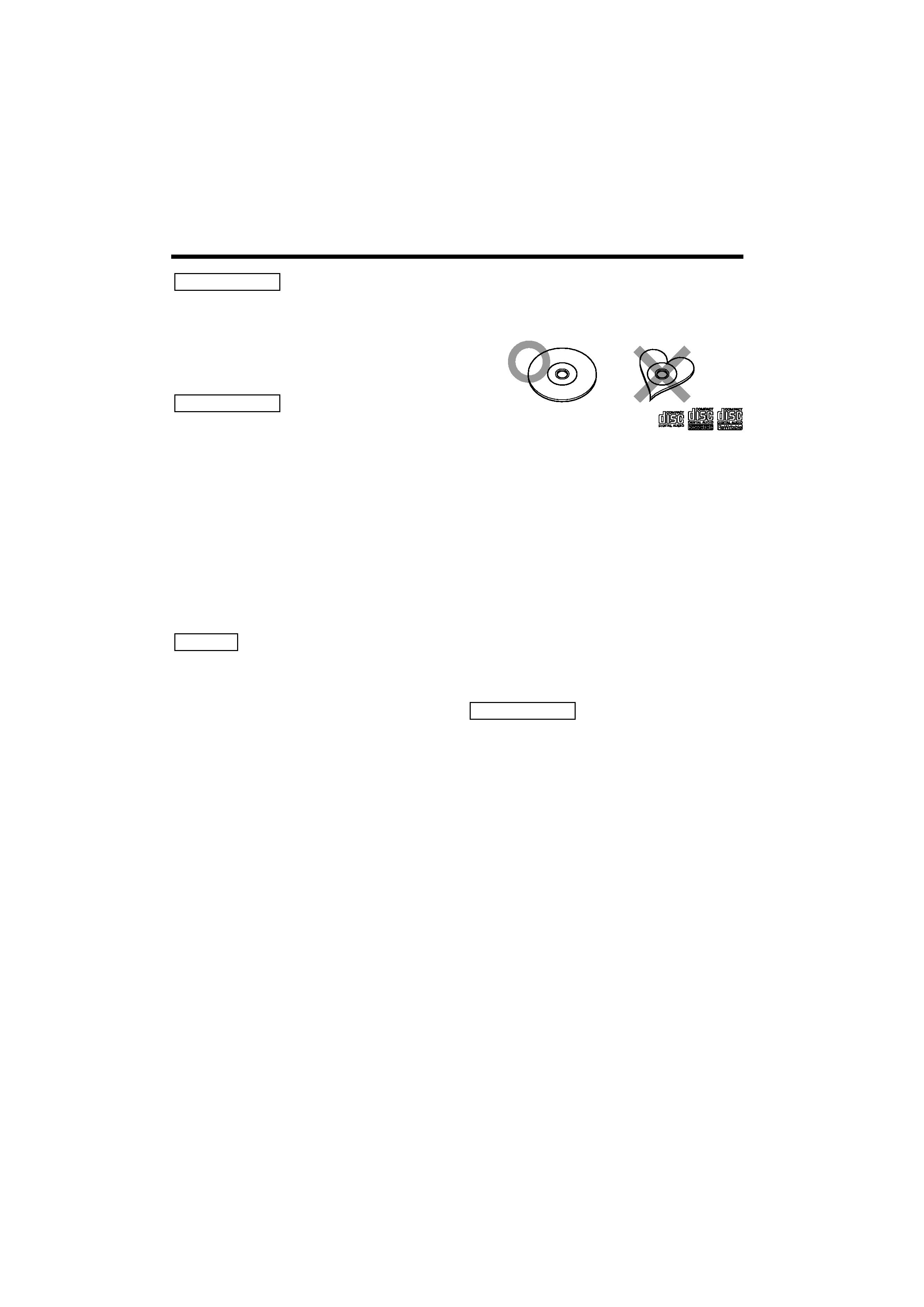 Take the following precautions to prevent fire and
· Check that no metal objects (coins, tools, etc.) are
left inside the unit to avoid short circuits.
· If you smell or see smoke, turn the power off
immediately and consult your Kenwood dealer.
Take the following precautions to keep the unit in
· Do not open the top or bottom cover.
· Do not install the unit in places it is exposed to
direct sunlight, high heat or humidity, water may
splash over it, or dust exists.
· Do not install the unit at a dusty place. If the unit is
installed at a dusty place, dust accumulates inside
the unit and unit may be damaged.
· When drilling a hole in the car to fix the brackets,
make sure not to damage the fuel tank, brake tube,
wiring harnesses, etc. on the other side.
· If the unit is installed near speakers, the speakers
vibration may causes a sound skip. Install the unit
as far away as possible from the speakers.
·If you have difficulty in installing this unit in your
vehicle, contact your Kenwood dealer.
· If it doesn't seem to be working properly, first press
the Reset button. If the malfunction persists,
consult your Kenwood dealer.
Note that any control units released in 1997 or earlier
cannot be connected to this unit.
Unsupported connection may result in damage.
FAILURE TO FOLLOW THESE INSTRUCTIONS MAY
RESULT IN DAMAGE TO THIS UNIT AND
The disc name preset function can register names of
up to 100 discs using up to 12 characters for each
The availability of this function as well as the number
of discs which can be registered using this function
and the number of usable characters may be variable
depending on the control unit in use.
The disc name preset feature can store the names of
up to 50 discs in memory. This feature may
sometimes unable to be controlled from the control
Do Not Use Special Shape CDs
· Be sure to use round shape CDs only for this unit
and do not use any special shape CDs. Use of
special shape CDs may cause the unit to
· Be sure to use CDs with disc mark
· CD-Rs and CD-RWs which have not undergone
finalization processing cannot be played. (For more
information on finalization processing, refer to the
manual for your CD-R/CD-RW writing software or
CD-R/CD-RW recorder.) Additionally, depending on
the recording status, it may prove impossible to play
certain CDs recorded on CD-R or CD-RW.
Do Not Use CDs with Sticker on the
Do not use the CD with the label sticker stuck on it.
Using such a CD may cause the CD to be deformed
and the sticker to peel off, resulting in malfunction of
If the front panel is dirty, wipe it clean with a silicon
cloth or soft dry cloth with the power off.
Do not use hard cloths or paint thinner, alcohol, or
other volatile solvents. These may damage external
surfaces or remove indicator characters.
In cold climates, there may be a period after you turn
on your vehicle's heater when the lens that guides
the laser beam used in your CD player fogs up. If this
happens, you cannot play compact discs. Take out
discs and the fogging will disappear. If it does not
return to normal after several hours, contact your
In warm climates, when vehicles are left standing in
direct sunlight with the windows closed, the
temperature inside can rise above 60°C. The unit's
protection circuits will then display the message
"HOLD" and prevent the player from operating. Just
open the windows or turn on the air conditioning. As
soon as the "HOLD" message disappears, the player
---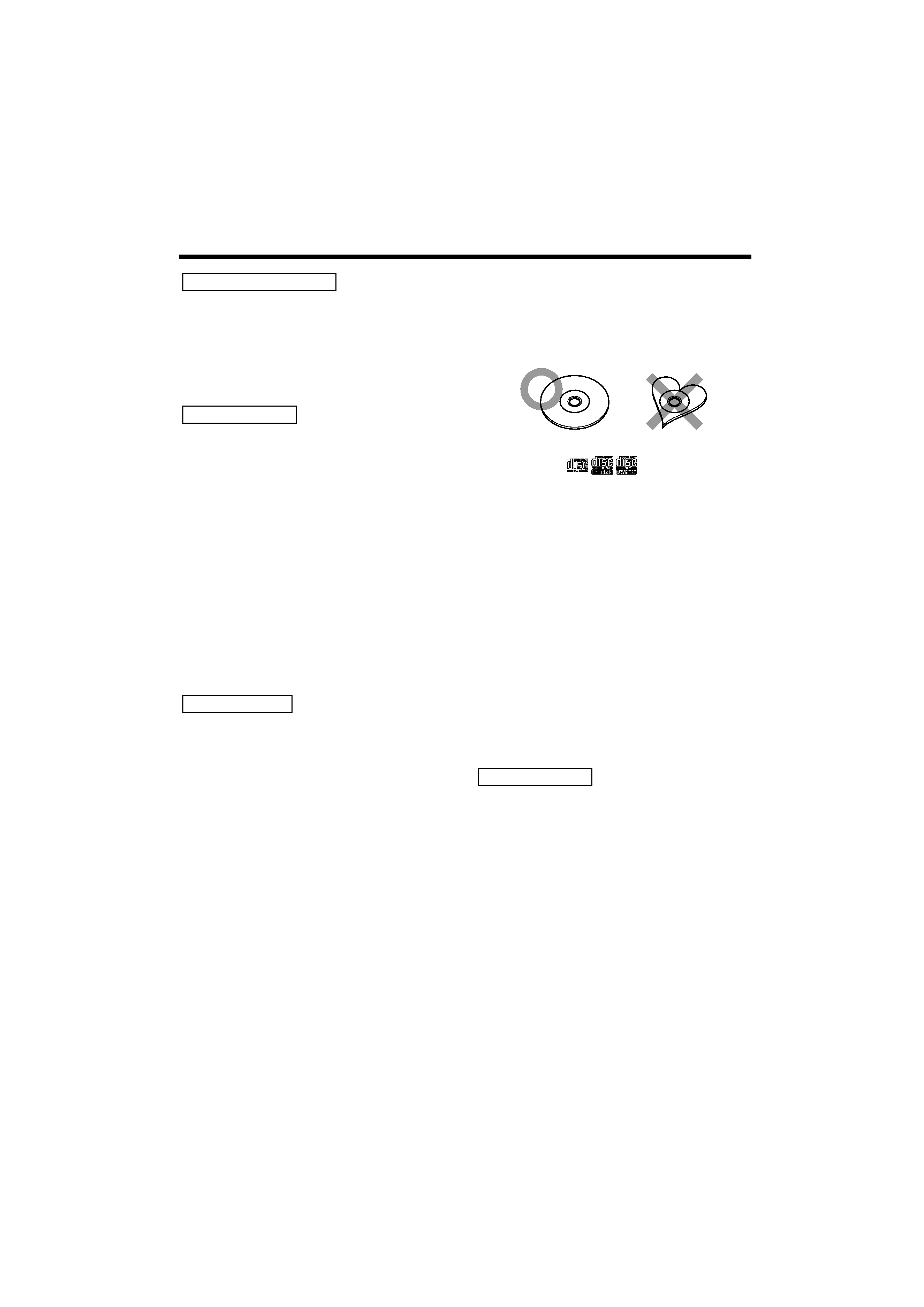 Pour éviter tout risque de feu et de blessures
physiques, observer les précautions suivantes:
· Vérifier que l'on n'a pas laissé d'objets métalliques
(pièces de monnaie, outils, etc.) à l'intérieur de
l'appareil, afin d'éviter les courts-circuits.
· Lors d'un dégagement d'odeur ou de fumée,
éteindre immédiatement l'appareil et consulter son
Pour maintenir l'appareil en parfait état de marche,
observer les précautions suivantes.
· Ne pas ouvrir le couvercle du dessus ni le couvercle
· Ne pas installer l'appareil de façon qu'il soit exposé
en plein soleil, à des chaleurs ou des humidités
intenses, à des éclaboussements d'eau ou à la
· Ne pas installer l'appareil dans un endroit
poussièreux. Si l'appareil est exposé à la pousiière,
celle-ci s'accumule à l'intérieur et risque
d'endommager le mécanisme.
· En perçant les trous de fixation des serrures,
prendre grand soin de ne pas endommager ce qui
peut se trouver sur l'autre face (réservoir de
carburant, flexibles de frein, fils électriques, etc.).
·Si l'appareil est installé trop près d'un haut-parleur,
les vibrations de celui-ci risquent de produire des
ratées de son. Il faut donc installer l'appareil le plus
loin possible des haut-parleurs.
· Si l'on rencontre des difficultés pour installer
l'appareil dans le véhicule, consulter son agent
· Si l'appareil semble ne pas fonctionner correctement,
appuyer tout d'abord sur la touche "Reset"
(réinitialisation). Si l'appareil ne fonctionne toujours pas,
consulter son agent Kenwood.
Veuillez noter que les unités de commande
commercialisées en 1997 ou précédemment ne
peuvent être connectées à cet appareil.
Les connexions non préconisées risquent de causer
FAUTE D'OBSERVER CES INSTRUCTIONS, ON
RISQUE D'ENDOMMAGER CET APPAREIL ET LE
L'appareil dispose d'une mémoire pour
l'enregistrement de 100 titres de disque comportant
La disponibilité de cette fonction, le nombre de titres
qui peuvent être mis en mémoire et le nombre de
caractères qu'il est possible d'employer pour chaque
titre, dépendent de l'unité de commande utilisée.
Le mémoire des noms des disques peut contenir 50
titres. Il faut noter que, parfois, cette mémoire est
inaccessible à partir de l'unité de commande.
Ne pas utiliser de CD de forme spéciale
·Veiller à n'utiliser que des CD ronds pour cet
appareil et n'utiliser jamais de CD de forme
spéciale. Cela nuirait au bon fonctionnement de
·Veiller à n'utiliser sur cet appareil que des CD
· Les disques CD-R et CD-RW qui n'ont pas été mis
au point ne peuvent être joués. (Pour plus
d'information sur la mise au point, référez-vous au
manuel pour le logiciel d'inscription de CD-R / CD-
RW ou pour l'enregistreur de CD-R / CD-RW). En
outre, dépendant du statut d'enregistrement, il peut
s'avérer impossible de faire jouer certains CDs
enregistrés sur les enregistreurs de CD-R ou de CD-
Ne pas utiliser de CD avec une étiquette
collée sur la face portant l'étiquette
Ne pas utiliser le CD si une étiquette a été collée
dessus. L'utilisation d'un tel CD peut occasionner la
déformation du CD et le décollement de l'étiquette,
ce qui résulterait en un mauvais fonctionnement de
Si le panneau avant est sale, l'essuyer avec un chiffon
au silicone ou un chiffon doux et sec après avoir
Ne pas utiliser de chiffons durs ni de diluant pour
peinture, alcool ou autre solvant volatile. Ces produits
risqueraient d'abîmer les surfaces externes ou
d'effacer les inscriptions.
Condensation sur la lentille
Dans les climats froids, quelque temps après avoir
allumé le chauffage de la voiture, il peut arriver que la
lentille qui guide le rayon laser du lecteur CD
s'embue. Dans ce cas, la lecture des disques n'est
plus possible. Sortir les disques et la buée devrait
disparaître. Si la difficulté persiste, consulter son
Protection contre la chaleur
Dans les climats chauds, quand un véhicule reste en
plein soleil pendant longtemps toutes vitres fermées,
la température à l'intérieur du véhicule peut dépasser
60°C. Dans ce cas, les circuits de protection de
l'appareil affichent "HOLD" et le lecteur ne peut plus
fonctionner. Il suffira d'ouvrir les vitres et de mettre la
climatisation en marche. Dès que le message "HOLD"
disparaît, le lecteur pourra fonctionner normalement
---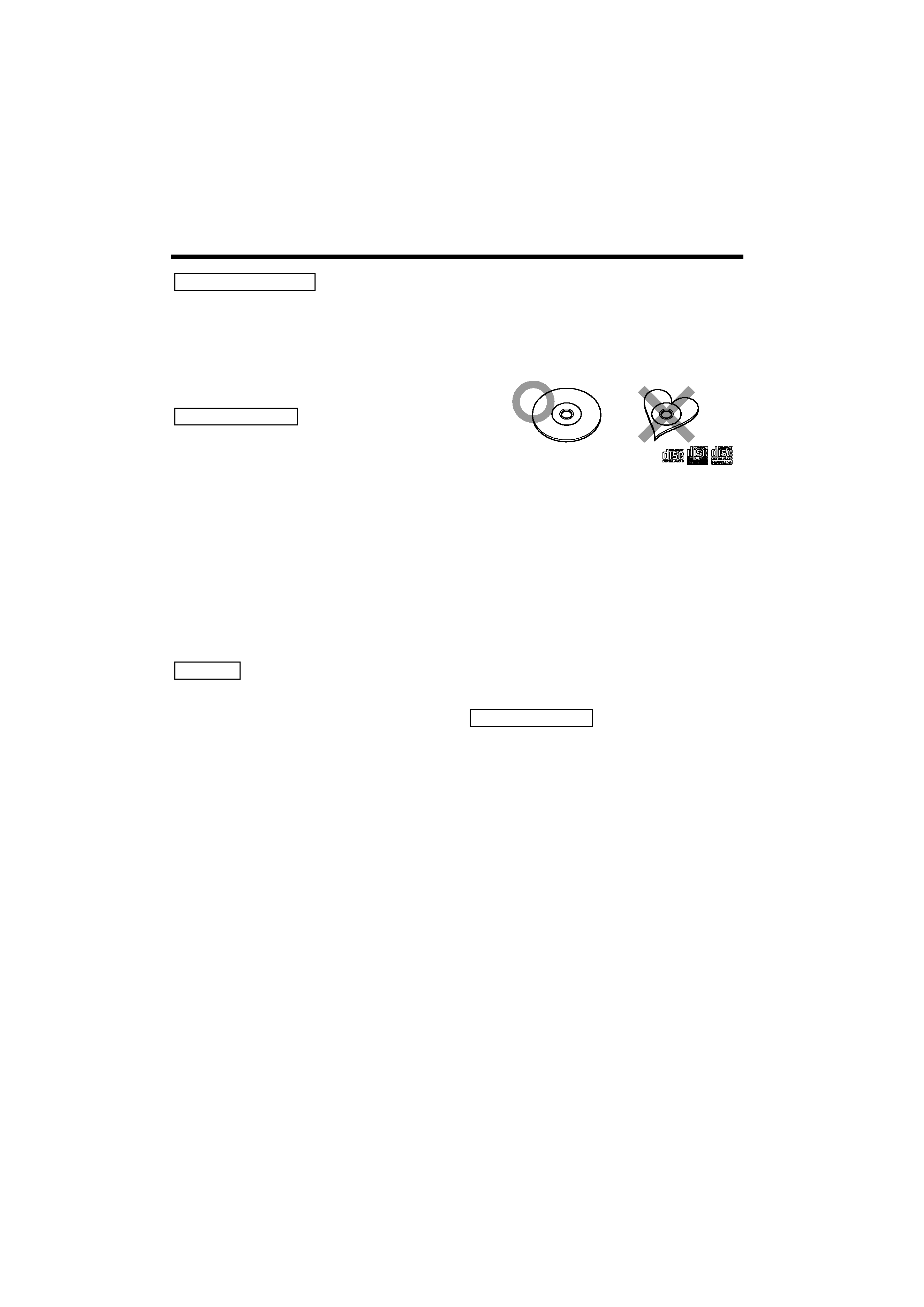 Precauciones de seguridad
Para evitar incendios y daños personales respete las
· Para evitar cortocircuitos, verifique que ningún
objeto metálico (monedas, herramientas, etc.) quede
·Si huele u observa humo, desactive inmediatamente
la unidad y consulte con su concesionario autorizado
Cumpla con las precauciones siguientes para que la
unidad funcione adecuadamente.
· No abra la cubierta inferior o superior.
· No instale la unidad en lugares donde pueda quedar
expuesta a los rayos solares directos, alta
temperatura o humedad, o donde salpique agua o
· No instale la unidad en un lugar polvoriento. Si
instala la unidad en tal lugar se acumulará polvo en
el interior de la unidad y ésta podrá estropearse.
· Cuando taladre un agujero en el automóvil para fijar
los soportes, asegúrese de no estropear el depósito
de combustible, tubos de los frenos, mazos de
cables, etc. del otro lado.
· Si instala la unidad cerca de los altavoces, la
vibración de los altavoces podrá ser la causa de que
salte el sonido. Instale la unidad tan alejada como
sea posible de los altavoces.
· Si tiene dificultades en instalar esta unidad en su
vehículo, comuníquese con su concesionario
·Si la unidad no parece funcionar adecuadamente,
presione firmemente el botón de reset. Si la unidad
sigue sin funcionar bien, consulte con su
Observe que cualquier unidad de control
comercializada en 1997 o antes, no puede conectarse a
Una conexión de productos sin soporte puede
SI NO SIGUE ESTAS INSTRUCCIONES PODRA
ESTROPEAR ESTA UNIDAD Y TAMBIEN LA
La función de preajuste de nombres de discos puede
registrar nombres de hasta 100 discos utilizando un
máximo de 12 caracteres para cada nombre de disco.
La disponibilidad de esta función, así como también el
número de discos que pueden ser registrados
utilizando esta función y el número de caracteres
utilizables, puede cambiar dependiendo de la unidad
de control que se utilice.
La función de preajuste de nombres de discos puede
almacenar los nombres de hasta 50 discos en la
memoria. Esta función tal vez no pueda controlarse a
veces desde la unidad de control.
No utilizar discos CD de tamaño
· Para este equipo exclusivamente discos CD
Asegurarse de utilizar para este equipo
exclusivamente discos CD de tamaño redondo. El
uso de discos CD de tamaño especial puede causar
malfuncionamiento del equipo.
· Asegurarse de utilizar marcados con
· Los discos CD-R y CD-RW que no hayan sido
finalizados no se pueden reproducir. (Para más
información sobre la finalización, remítase al manual
del software de escritura de sus CD-R / CD-RW o
grabador CD-R/CD-RW). Adicionalmente, y según
sea el estado de grabación, puede resultar
imposible reproducir ciertos CD grabados en
No utilice discos compactos que tengan
pegatinas en el lado etiquetado
No utilice el disco compacto con etiqueta pegadas
Esto puede causar una deformación al disco y que la
pegatina se despegue resultando en un
funcionamiento anómalo de la unidad.
Si la carátula está sucia, apague la unidad y limpie con
un paño siliconado suave y seco.
No utilice paños duros ni disolventes de pintura,
alcohol u otros disolventes volátiles. Esto elementos
pueden ocasionar daños a las superficies externas o
quitar los caracteres indicadores.
En climas fríos y tras encender la calefacción de su
vehículo, puede empañarse la lente del láser de su
reproductor de compact discs. Si esto ocurre, no
podrá reproducir los compact discs. Saque los discos
y el empañamiento desaparecerá. Si después de
varias horas no ha vuelto a la normalidad, acuda a su
concesionario autorizado Kenwood.
En climas cálidos, cuando se dejan los vehículos
estacionados bajo los rayos directos del sol con las
ventanillas cerradas, la temperatura en el interior
puede elevarse por encima de 60°C. Los circuitos de
protección de la unidad entonces visualizarán el
mensaje "HOLD" y evitarán que el reproductor opere.
Solamente abra las ventanillas o encienda el sistema
de aire acondicionado. Tan pronto como desaparezca
el mensaje "HOLD", el reproductor podrá funcionar
---