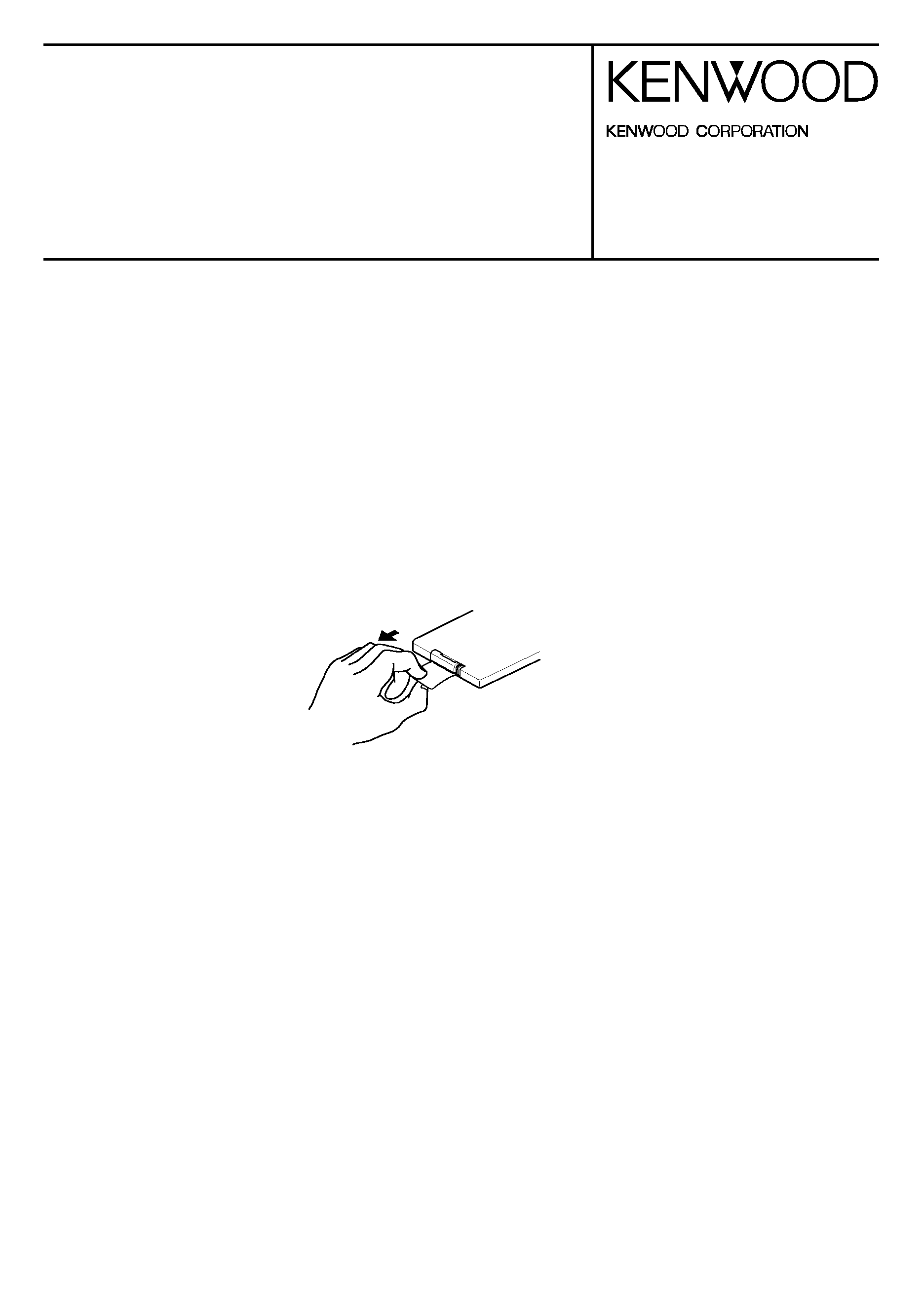 WIRELESS REMOTE CONTROL UNIT
©PRINTED IN JAPAN B64-0966-00(W)
97/12 11 10 9 8 7 6 5 4 3 2 1 96/12 11 10
When you use this model for the first time:
Before using the remote controller for the first time, pull out the film from the battery case.
Quand vous utilisez cet appareil pour la première fois:
Avant de mettre la télécommande en service, tirer sur la pellicule qui sort du logement.
Bei der ersten Verwendung des diesen Geräts:
Entfernen Sie die Folie aus dem Batteriefach, bevor Sie die Fernbedienung zum ersten Mal
Alvorens de afstandsbediening in gebruik te nemen:
Verwijder het beschermvel van het batterijvak alvorens de afstandsbediening in gebruik te
Quando si usa questo modello per la prima volta:
Prima di usare il telecomando per la prima volta, estraete la pellicola del comparto batteria.
Cuando utilice este modelo por primera vez:
Antes de usar el mando a distancia por primera vez, retire la película de la caja de la pila.
Do not leave the unit in a place where the temperature may rise, for example under direct
sunlight or near the air outlet of a heater. Otherwise, the chassis may be deformed and
Rangement de la télécommande:
Ne pas laisser la télécommande à un endroit où elle serait exposée à une forte
température, comme un endroit exposé au soleil ou proche d'une bouche d'air de
chauffage. Cela pourrait déformer le boîtier et entraîner un mauvais fonctionnement.
Aufbewahrung der Fernbedienung:
Die Fernbedienung nicht hohen Temperaturen aussetzen, beispielsweise unter direkter
Sonnenbestrahlung oder nahe einer Heizung, weil es sonst vorkommen kann, daß das
Gehäuse sich verformt oder Fehlfunktionen auftreten.
Bewaar de afstandsbediening niet op plaatsen waar de temperatuur kan oplopen, zoals in
het direkte zonlicht of in de buurt van een verwarmingselement. De behuizing kan namelijk
door hitte vervormen met een onjuist funktioneren tot gevolg.
Conservazione dell'unità:
Non lasciare l'unità in luoghi esposti a temperature elevate come, ad esempio, nella luce
solare diretta o in prossimità di un calorifero. In caso contrario la sua struttura potrebbe
deformarsi causando disfunzioni.
No deje la unidad en un lugar donde la temperatura pueda aumentar excesivamente, por
ejemplo, bajo la luz directa del sol o cerca de salidas de aire de una calefacción. En caso
contrario, el chasis podrá deformarse y podrán producirse averías.
---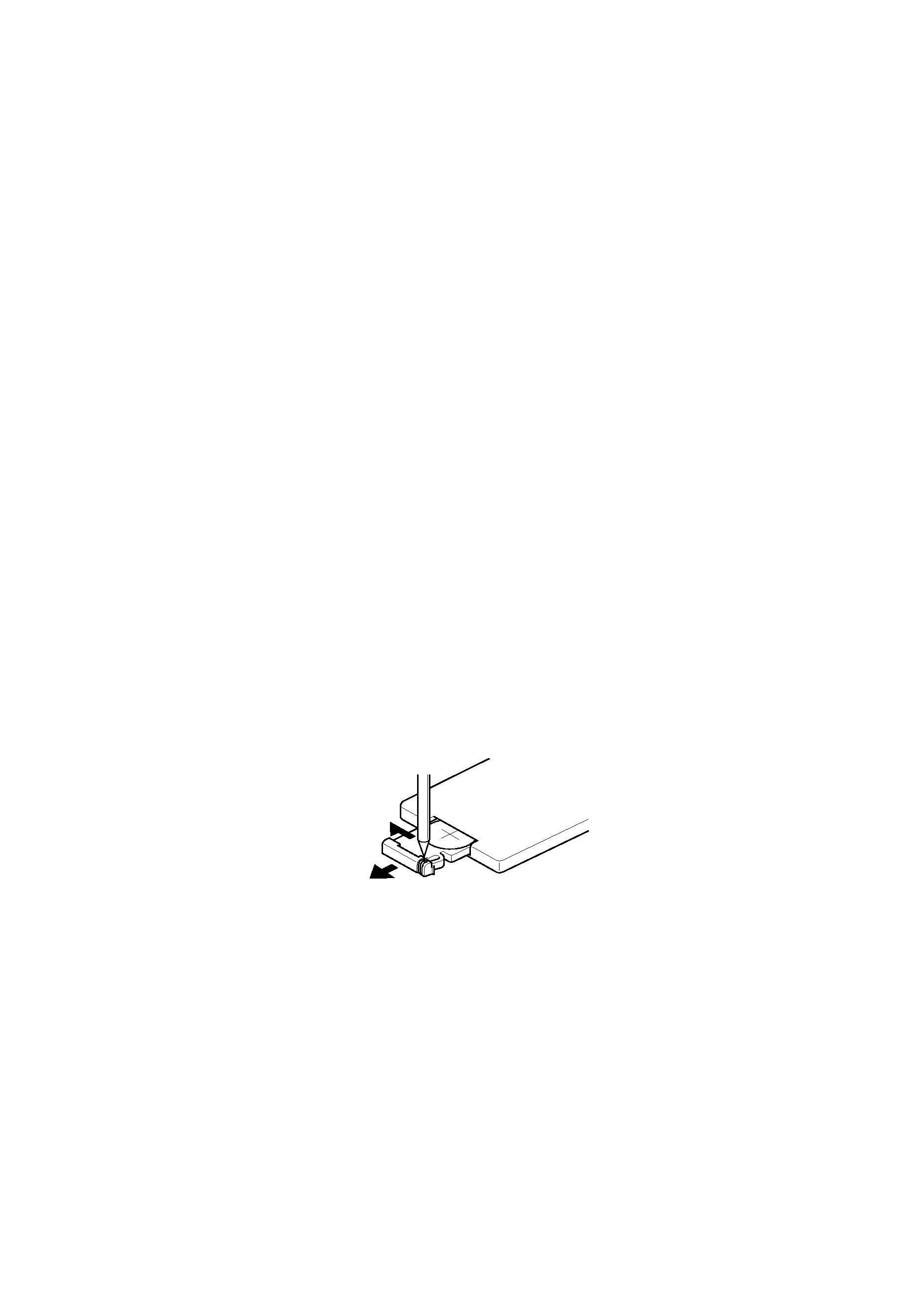 If no operation occurs even when a button is pressed, the battery may be exhausted. Replace with a
Use one lithium battery (CR2025).
Insert the battery according to the illustration inside the battery case, taking care not to reverse the +
Si on obtient aucun effet en appuyant sur les touches de la télécommande, la pile est probablement
épuisée. Remplacer la pile par une neuve.
Utiliser une pile au lithium (CR2025).
Insérer la pile en suivant le schéma à l'intérieur du logement de la pile, et en veillant à ne pas inverser
Auswechseln der Batterie:
Wenn auf Betätigung von Tasten keine Reaktion erfolgt, ist es möglich, daß die Batterie entladen ist.
Dann muß die Batterie gegen eine neue ausgewechselt werden.
Benutzen Sie eine Lithium-Batterie CR 2025.
Legen Sie die Batterie gemäß der Beschriftung im Batteriefach ein. Vertauschen Sie nicht die Polung.
Vervangen van de batterij:
De batterij is mogelijk uitgeput indien de afstandsbediening niet of niet juist funktioneert. Plaats een
Gebruik één lithiumbatterij (CR2025).
Plaats de batterij overeenkomstig de + en - afbeelding in het vak. Let op de polen niet in verkeerde
Se l'unità non funzionasse quando si premono i tasti, la batteria potrebbe essere scarica. Sostituire con
Usate una batteria al litio (CR2025).
Inserite la batteria in conformità con l'illustrazione fornita all'interno del comparto batteria, facendo
attenzione a rispettare le polarità + e ­.
Si no se produce ninguna operación tras pulsar un botón, la batería podrá estar agotada. Reemplace la
Utilice una pila de litio (CR2025).
Inserte la pila de acuerdo con ilustración que hay en el interior de la caja de la caja, tenga cuidado de no
invertir las polaridades positiva (+) y negativa (-).
Store the lithium battery outside the reach of children. In case a person swallows a lithium battery,
immediately call the doctor.
Tenir les piles au lithium hors de portée des enfants. Au cas où une personne aurait avalé une pile au
lithium, il faut immédiatement appeler un docteur.
Die Lithiumbatterie außerhalb der Reichweite von Kindern aufbewahren. Falls eine Lithiumbatterie
verschluckt wird, muß sofort ein Arzt konsultiert werden.
Bewaar lithiumbatterijen op een veilige plaats, uit de buurt van kinderen. Raadpleeg onmiddellijk een
arts indien iemand een lithiumbatterij heeft ingeslikt.
Conservare la batteria al litio al di fuori della portata dei bambini. Nel caso che la batteria venisse
accidentalmente inghiottita, chiamare immediatamente un medico.
Guarde la pila de litio fuera del alcance de los niños. En caso de que una persona tragase una pila de
litio, llame inmediatamente a un médico.
---