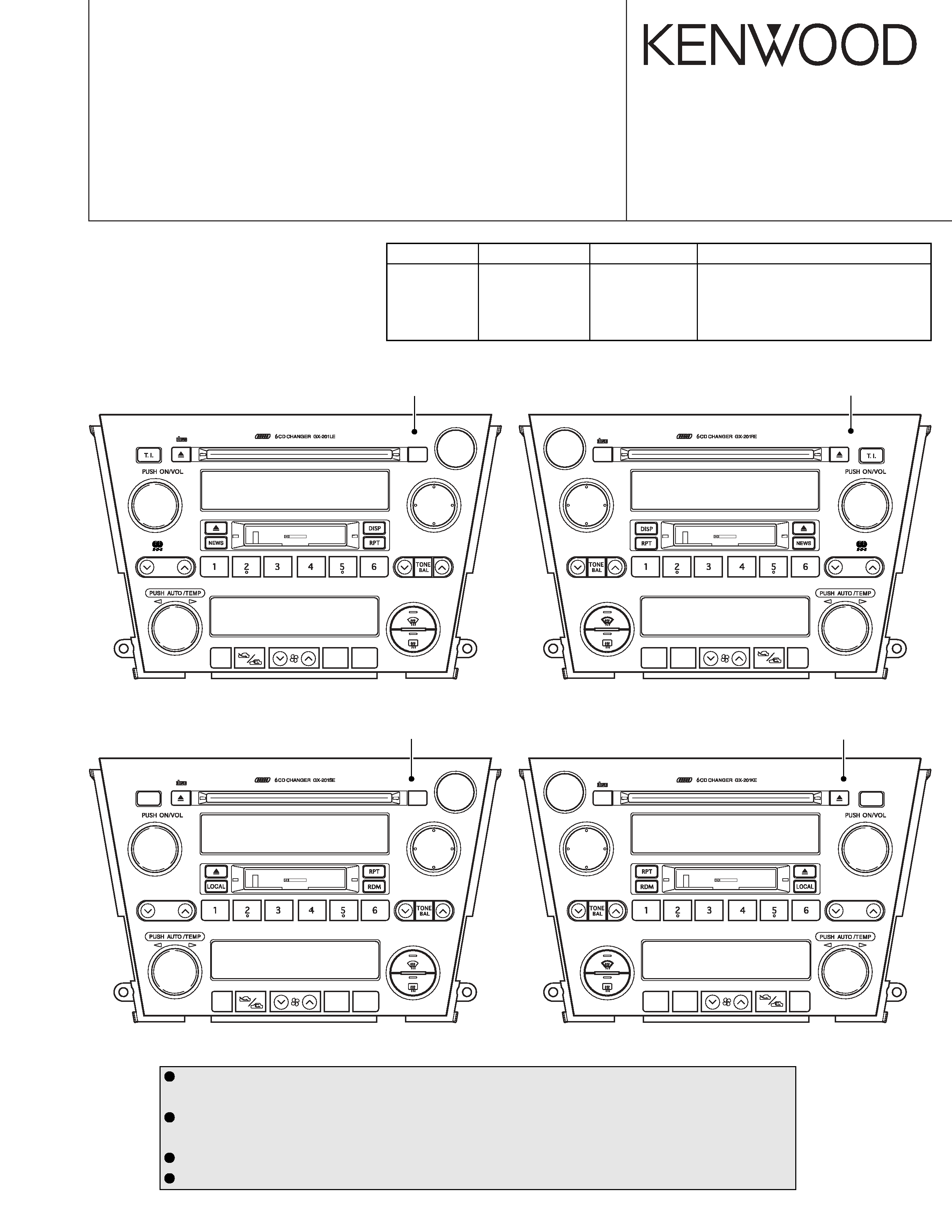 © 2003-8 CREATED IN JAPAN
6CD/CASSETTE & HEATER CONTROL RECEIVER
SERVICE MANUAL (TENTATIVE)
Europe (left-hand-drive cars)
Europe (right-hand-drive cars)
Other Areas (right-hand-drive cars)
Other Areas (left-hand-drive cars)
The knobs with numbers larger than 700 on exploded view are not supplied for service parts because
it is difficult to apply grease. Please change to panel assy (PA1) when you need repair to the knob.
The 6CD mechanism has not supplied repair parts for each part (for Optical Laser pickup, motor etc).
If you need repair to the 6CD mechanism please change to mechanism assy (D40-1170-15).
Antenna connector replacement cord for service : E30-6255-05
* Part number of panel assy is undecided.
---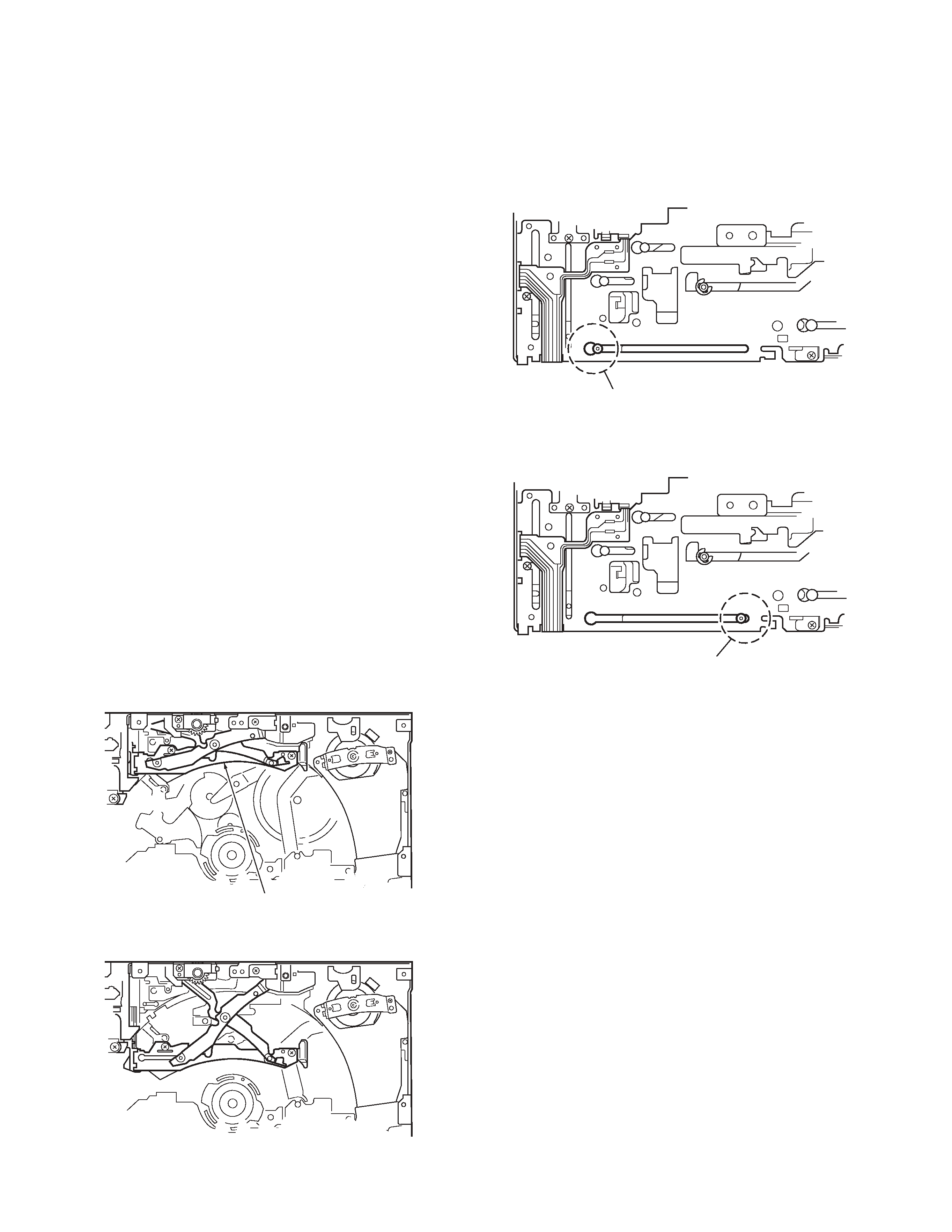 GX-201KEF2/LEF2/REF2/SEF2
When transporting the unit, 6CD-CH mechanism must be
put into the transport mode.
How to Achieve the Transport Mode
In order to achieve the transport mode, there should be no
disk and the mechanism nor should the mechanism be in the
waiting mode for disk loading.*
After displaying [NO DISC], turned off the ACC power source.
Keep the BU power source on.
* Non-waiting mode for disk loading
·Non-waiting mode for disk loading means the state where
the mechanism is displaying [NO DISC] and where the
mechanism shutter is closed.
·In other words, [NO DISC] is displayed 15 seconds after
the disk is taken out or when the shutter of the mechanism
is closed and [LOAD] key is pressed. (Pressing the [LOAD]
key causes the mechanism to enter the waiting and non-
waiting mode alternatively.)
· Pressing other source keys after taking all the disks out,
the mechanism shutter closes and it goes into non waiting
mode for disk loading. (At this point the display will indicate
the source selected and does not display [NO DISC].)
1. Rear Arm condition (This can be confirmed in the condition
where the mechanism cover is in place.)
2. Center Screw condition (By the external view of the mecha-
nism, it is possible to make judgment on this by the PLATE-
The Reason to Put the Mechanism in theTransport Mode
1. Protection of Rear Arm
Putting the mechanism into the transport mode is a protec-
tion against the Rear Arm to get deformed from the vibra-
tion during transport or sudden fall. Deformity in the Rear
Arm may result in loss of strength for holding the disk in
2. Protection against error at the time of initial search
Putting the mechanism into the transport mode is also a
protection against an error or mechanism lock when the
power is put on again. When the back up is turned off, plate-
rack pin could move from the vibration during transport or
This would cause the system to go into an error detection
of the center screw is not in connection although, in fact, it
is in connected condition.
Waiting mode for disk loading
Up/Down center screw connection condition
---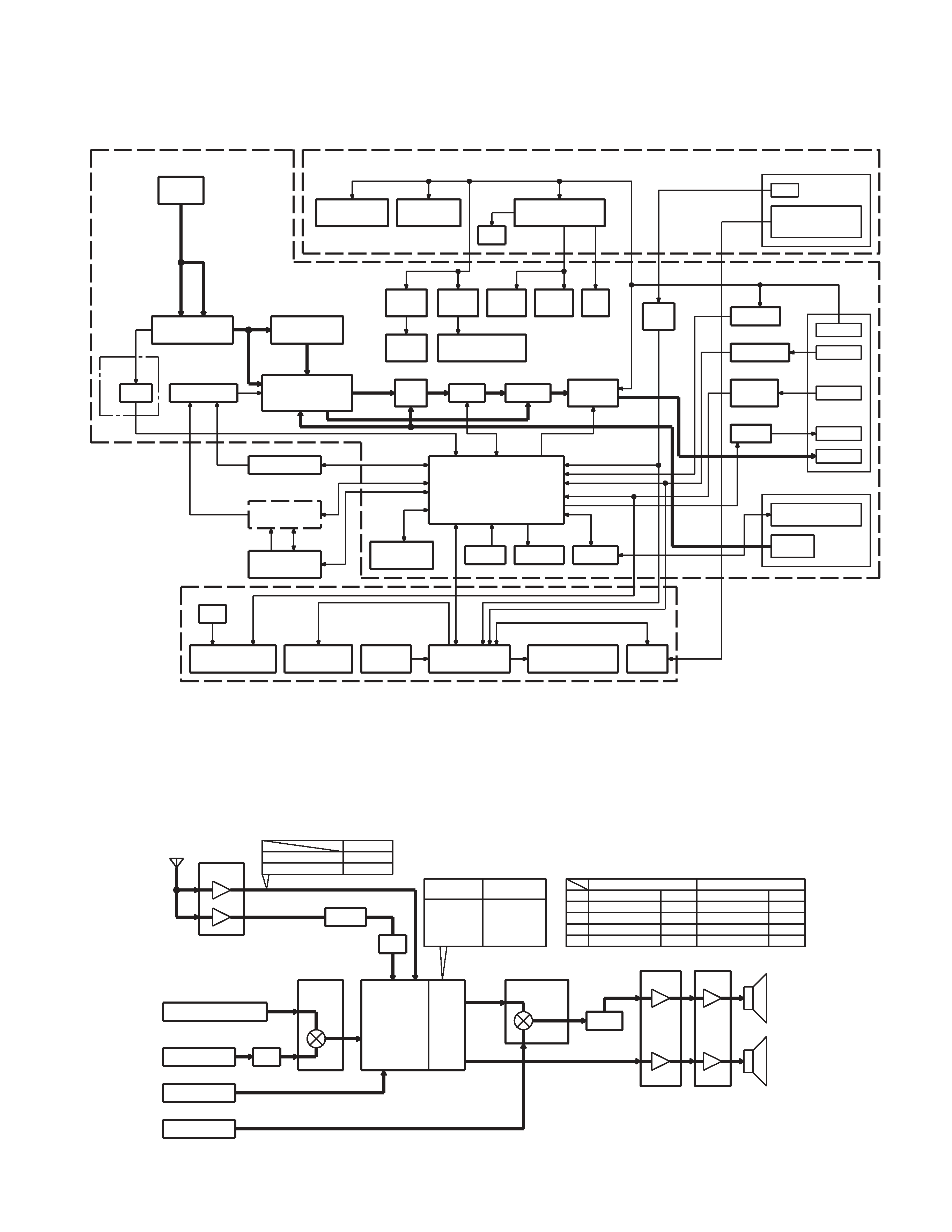 GX-201KEF2/LEF2/REF2/SEF2
CS : DOLBY LEVEL300mV-rms
LEVEL DIFFERENCE OF EACH SAUCE
---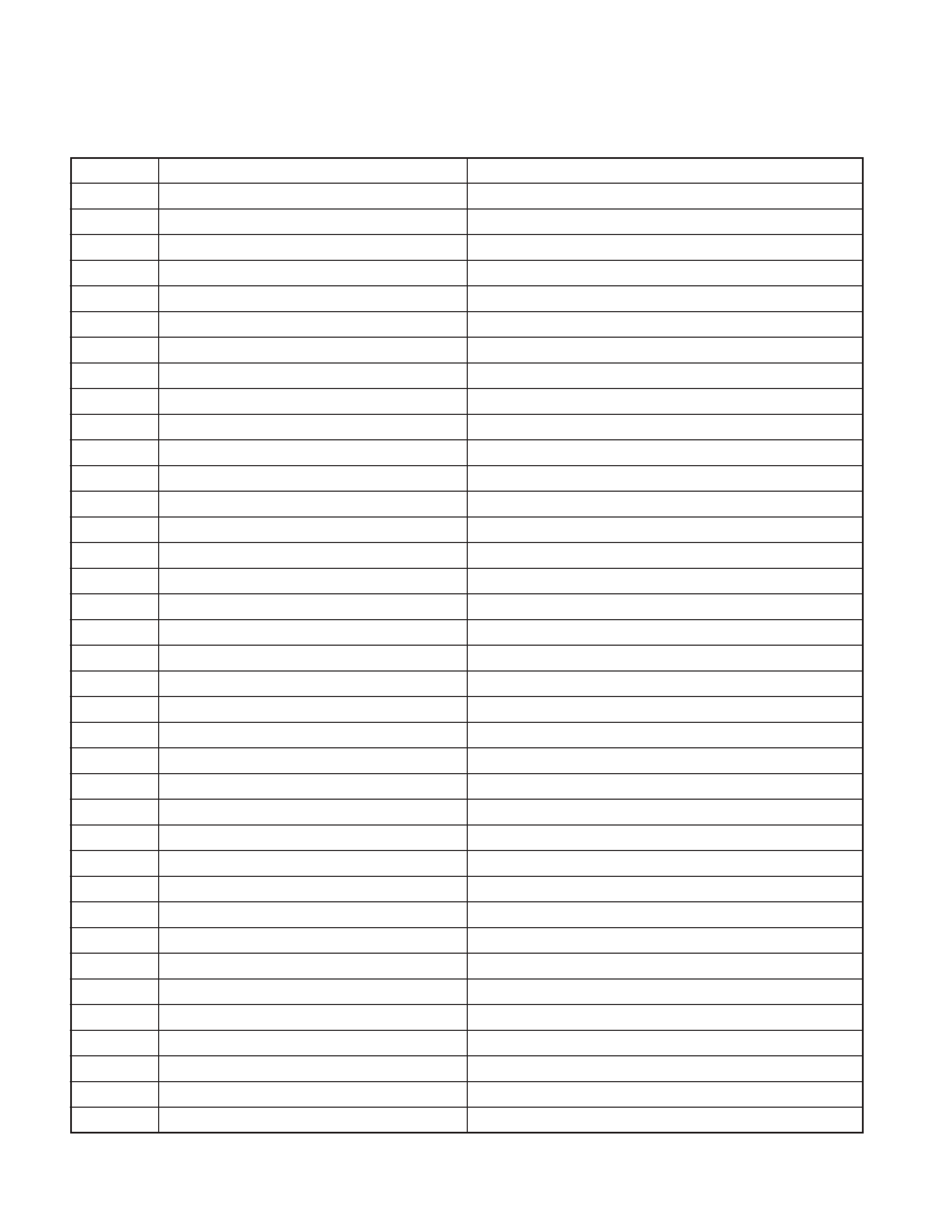 GX-201KEF2/LEF2/REF2/SEF2
SYNTHESIZER UNIT (X14-694x-xx)
Operation / Condition / Compatibility
Cassette mechanism sub-motor IC
Cassette sub-motor power supply
FM diversity switching (Only for GX-201KEF2)
RDS noise amp (Only for GX-201LEF2/REF2)
RDS demodulation (Only for GX-201LEF2/REF2)
BASS/MID/TRE, MPX, Mute, Electronic volume
Cassette mechanism main motor power supply switch
For cassette mechanism main motor
When turned ON, turns diversity OFF (Only for GX-201KEF2)
When detecting IF count, Lo output
RDS data buffer output (Only for GX-201LEF2/REF2)
Noise detection constant switching (Only for GX-201LEF2/REF2)
Noise detection output buffer (Only for GX-201LEF2/REF2)
For muting within electronic volume
For NAVI muting at interruption
For SVR discharging at over voltage
Audio DC/DC power supply switch
Heater DC/DC power supply switch
For switching internal frequency
Audio DC/DC power supply switch
Heater DC/DC power supply switch
---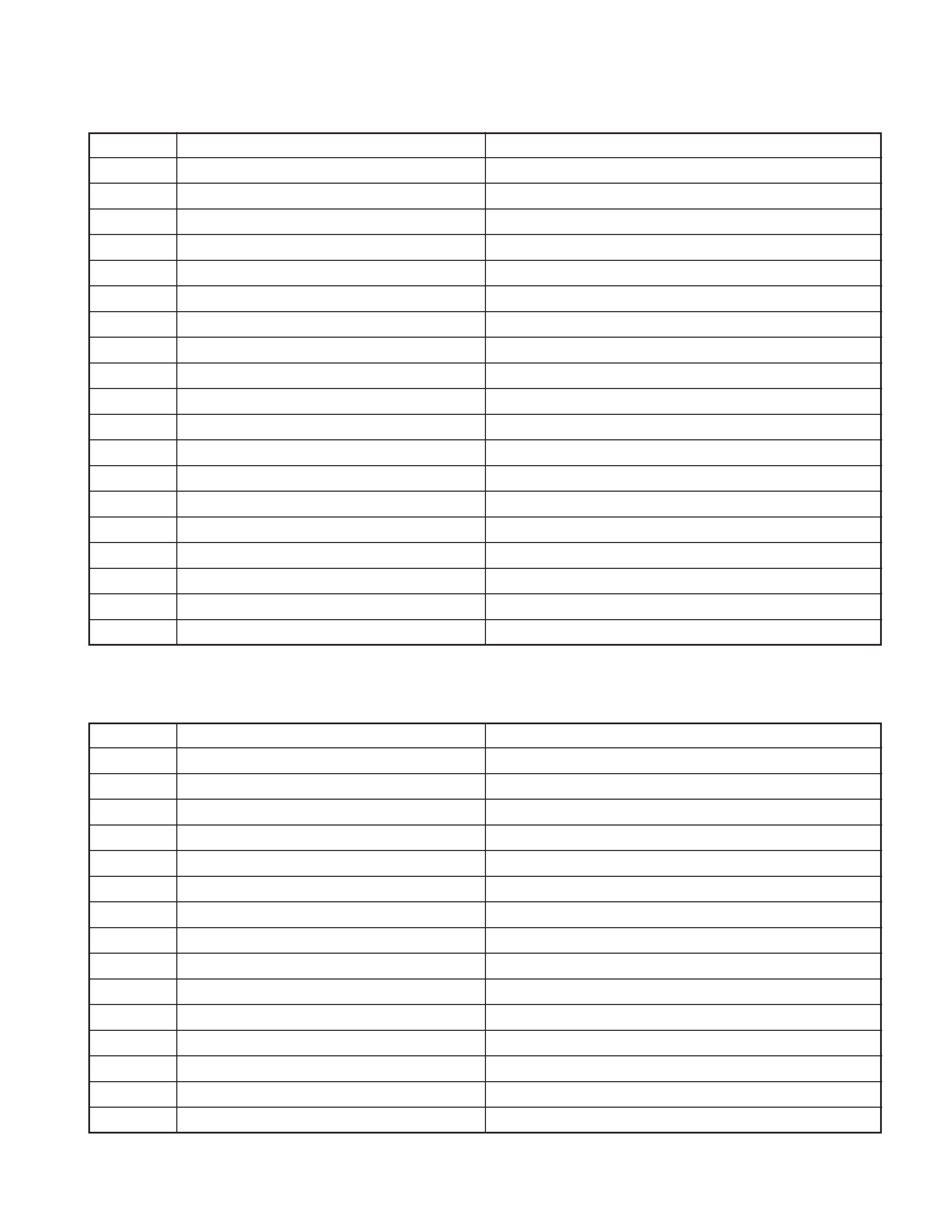 GX-201KEF2/LEF2/REF2/SEF2
Operation / Condition / Compatibility
For illumination + detection
Reset output switch for F-BUS
When resetting F-BUS, Hi output
When muting NAVI, Hi output
When detecting IF count, Lo output
P-ANT circuit control switch
When tuner, GND electric potential output
When ACC ON detection, Lo output
When IGN ON detection, Lo output
When SYS_ON Hi, Lo output
When HARD_RESET ON, Lo output
When F-BUS system OFF, Hi output
P-ON5V power supply switch
P-ANT circuit control switch
When tuner, BU electric potential output
P-ANT short circuit protection
When F-BUS system ON, Hi input
When F-BUS system ON, Hi output
Illumination - detection switch
When detecting illumination -, Hi output
Illumination - detection switch
When detecting illumination -, Lo output
SWITCH UNIT (X25-929x-xx)
Operation / Condition / Compatibility
When audio VFD ON, 5V output
When audio DC/DC ON, Lo output
When heater VFD ON, 5V output
When heater DC/DC ON, Lo output
F differential indicator power supply switch
When F-differential indicator ON, 5V output
R differential indicator power supply switch
When R-differential indicator ON, 5V output
Multiple-push reset circuit detection
When detecting REP/RDM, DWN_SEEK, Hi output
Multiple-push reset circuit detection
When resetting by multiple push, Lo output
Multiple-push reset circuit detection
When TONE (BAL/FAD) detected, Lo output
Heater UART communication control
Heater UART communication control (TX)
Heater UART communication control
Heater UART communication control (RX)
Panel illumination switch
When panel illumination ON, 10V output
---