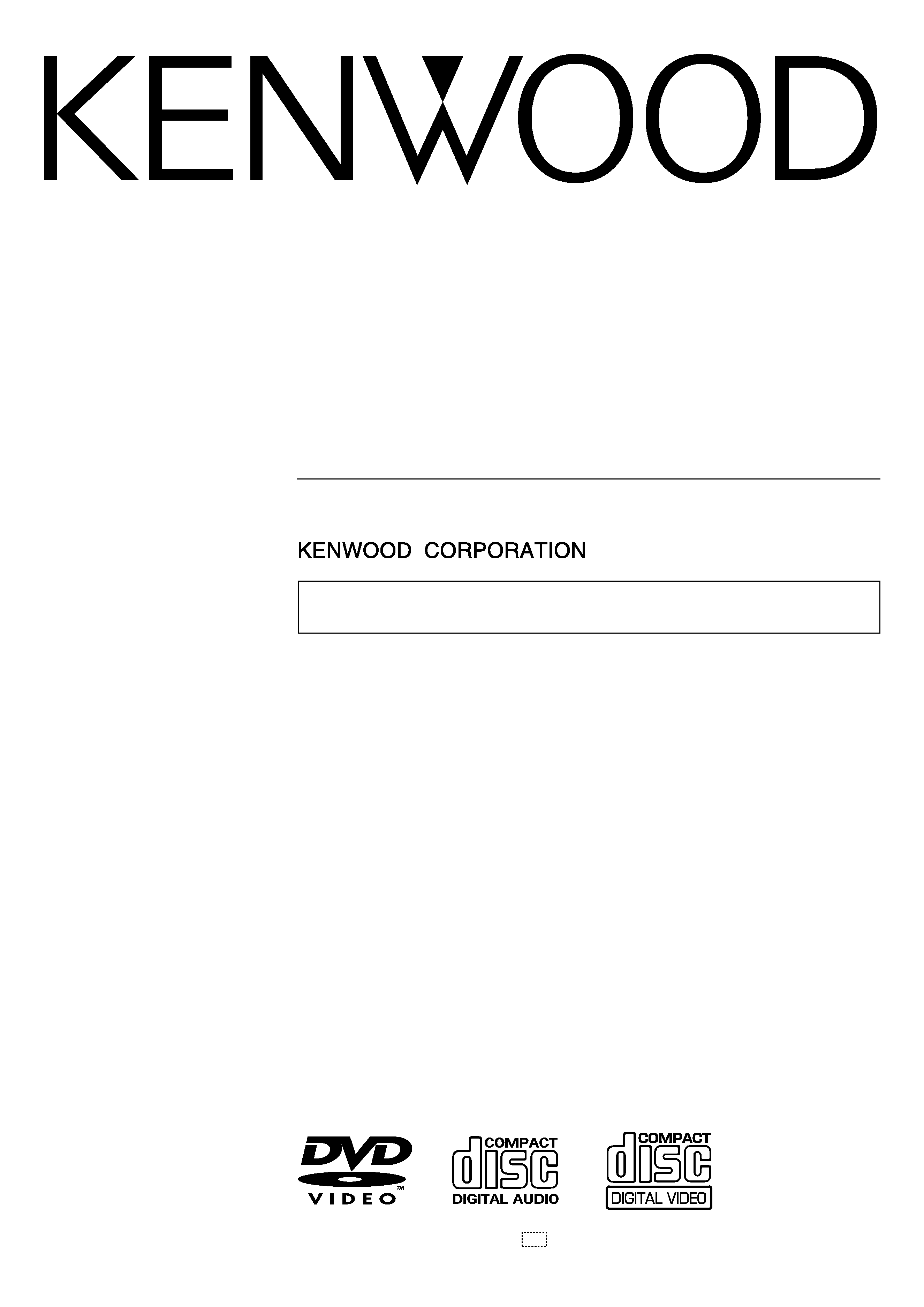 B60-5233-08 00 (K/P/E/T/M/X/Y)
This instruction manual is for some models. Model availability and features
(functions) may differ depending on the country and sales area.
---

DV-603/DVF-3060/DVF-3060K (EN/K,P,E,T,M,X,Y)
CAUTION: TO REDUCE THE RISK OF ELECTRIC SHOCK, DO NOT REMOVE
COVER (OR BACK). NO USER-SERVICEABLE PARTS INSIDE. REFER SERVIC-
ING TO QUALIFIED SERVICE PERSONNEL.
THE LIGHTNING FLASH WITH ARROWHEAD SYMBOL, WITHIN AN EQUILATERAL TRIANGLE,
IS INTENDED TO ALERT THE USER TO THE PRESENCE OF UNINSULATED "DANGEROUS
VOLTAGE" WITHIN THE PRODUCT'S ENCLOSURE THAT MAY BE OF SUFFICIENT MAGNITUDE
TO CONSTITUTE A RISK OF ELECTRIC SHOCK TO PERSONS.
THE EXCLAMATION POINT WITHIN AN EQUILATERAL TRIANGLE IS INTENDED TO ALERT THE
USER TO THE PRESENCE OF IMPORTANT OPERATING AND MAINTENANCE (SERVICING) IN-
STRUCTIONS IN THE LITERATURE ACCOMPANYING THE APPLIANCE.
Units are designed for operation as follows.
Factory fitted moulded mains plug
1. The mains plug contains a fuse. For replacement, use
only a 13-Amp ASTA-approved (BS1362) fuse.
2. The fuse cover must be refitted when replacing the
fuse in the moulded plug.
3. Do not cut off the mains plug from this equipment. If the
plugfittedisnotsuitableforthepowerpointsinyourhome
or the cable is too short to reach a power point, then ob-
tain an appropriate safety approved extension lead or
adapter, or consult your dealer.
If nonetheless the mains plug is cut off, remove the fuse
and dispose of the plug immediately, to avoid a possible
shock hazard by inadvertent connection to the mains
The wires in the mains lead are coloured in accordance
Do not connect those leads to the earth terminal of a three-
WARNING : TO PREVENT FIRE OR ELECTRIC SHOCK, DO NOT EXPOSE
THIS APPLIANCE TO RAIN OR MOISTURE.
U.S.A. and Canada ......................................................... AC 120V only
Caution : Read this page carefully to ensure safe operation.
The marking of products using lasers
(For countries other than U.S.A., U.S.-Military and Canada)
The marking this product has been classified as Class 1. It
means that there is no danger of hazardous radiation outside
Caution : Read this page carefully to ensure safe operation.
Other countries ........................................................... AC 110
---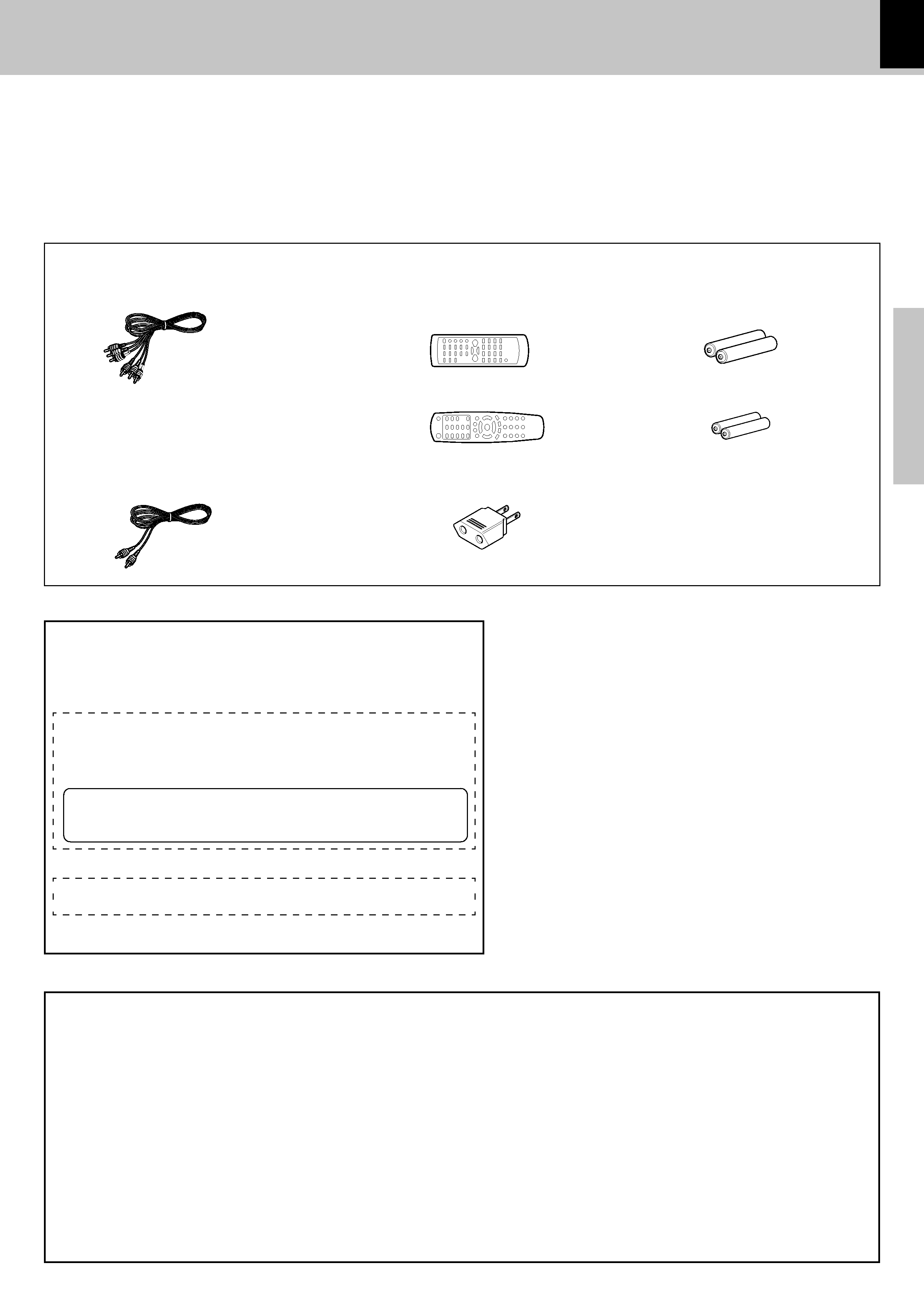 DV-603/DVF-3060/DVF-3060K (EN/K,P,E,T,M,X,Y)
Unpack the unit carefully and make sure that all the accessories are present.
If any accessories are missing, or if the unit is damaged or fails to operate, notify your dealer immediately. If the unit
was shipped to you directly, notify your shipper immediately. Kenwood recommends that you retain the original
carton and packing materials in case you need to move or ship the unit in the future.
Keep this manual handy for future reference.
Please confirm that the following accessories are present.
Audio video cord (Red, White, Yellow) ...(1)
* Use to adapt the plug on the power cord to the
shape of the wall outlet.
(Accessory only for regions where use is nec-
This equipment may generate or use radio frequency energy. Changes or modifications to this equipment may cause harmful interference unless the
modifications are expressly approved in the instruction manual. The user could lose the authority to operate this equipment if an unauthorized change
This equipment has been tested and found to comply with the limits for a Class B digital device, pursuant to Part 15 of the FCC Rules. These limits
are designed to provide reasonable protection against harmful interference in a residential installation. This equipment may cause harmful inter-
ference to radio communications, if it is not installed and used in accordance with the instructions. However, there is no guarantee that interfer-
ence will not occur in a particular installation. If this equipment does cause harmful interference to radio or television reception, which can be
determined by turning the equipment off and on, the user is encouraged to try to correct the interference by one or more of the following mea-
­ ­ Reorient or relocate the receiving antenna.
­ ­ Increase the separation between the equipment and receiver.
­ ­ Connect the equipment into an outlet on a circuit different from that to which the receiver is connected.
­ ­ Consult the dealer or an experienced radio / TV technician for help.
Use of controls or adjustments or performance of procedures other than
those specified herein may result in hazardous radiation exposure.
In compliance with Federal Regulations, the following are reproductions
of labels on, or inside the product relating to laser product safety.
KENWOOD CORP. CERTIFIES THIS EQUIPMENT
CONFORMS TO DHHS REGULATIONS NO. 21 CFR
1040.10, CHAPTER 1, SUBCHAPTER J.
LASER RADIATION WHEN OPEN.
Location: Laser Pick-up Unit Cover inside this product
Remote control unit ...(1)
---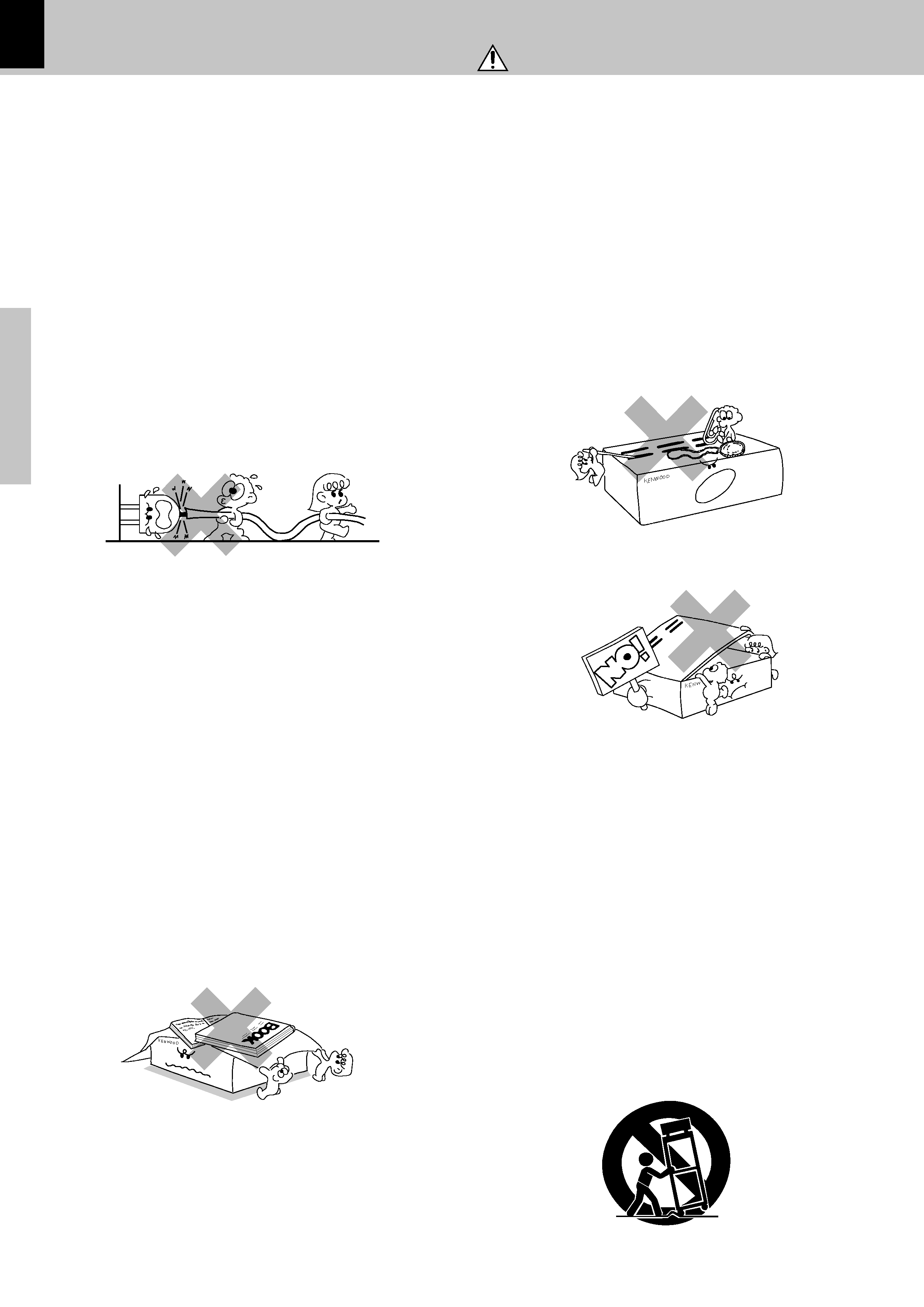 DV-603/DVF-3060/DVF-3060K (EN/K,P,E,T,M,X,Y)
6. Temperature ­ The appliance may not function properly if
used at extremely low, or freezing temperatures. The ideal
ambient temperature is above +5°C (41°F).
7. Heat ­ The appliance should be situated away from heat
sources such as radiators, heat registers, stoves, or other
appliances (including amplifiers) that produce heat. Do not
place a flaming object, such as a candle or lantern, on or
8. Electric shock ­ Care should be taken so that objects do
not fall and liquid is not spilled into the enclosure through
openings. If a metal objects, such as a hair pin or a needle,
comes into contact with the inside of this appliance, a
dangerous electric shock may result. For families with
children, never permit children to put anything, especially
metal, inside this appliance.
9. Enclosure removal ­ Never remove the enclosure. If the
internal parts are touched accidentally, a serious electric
10.Magnetic fields ­ Keep the appliance away from sources
of magnetic fields such as TV sets, speaker systems,
radios, motorized toys or magnetized objects.
11.Cleaning ­ Unplug this appliance from the wall outlet
before cleaning. Do not use volatile solvents such as
alcohol, paint thinner, gasoline, or benzine, etc. to clean the
cabinet. Use a clean dry cloth.
12.Accessories ­ Do not place this appliance on an unstable
cart, stand, tripod, bracket, or table. The appliance may fall,
causing serious injury to a child or adult, and serious
damage to the appliance. Use only with a cart, stand,
tripod, bracket, or table recommended by the manufacturer,
or sold with the appliance. Any mounting of the appliance
should follow the manufacturer's instructions, and should
use a mounting accessory recommended by the
manufacturer. An appliance and cart combination should
be moved with care. Quick stops, excessive force, and
uneven surfaces may cause the appliance and cart
Please read all of the safety and operating instructions before
operating this appliance. Adhere to all warnings on the appliance
and in the instruction manual. Follow all the safety and operating
instructions. These safety and operating instructions should
be retained for future reference.
1. Power sources ­ The appliance should be connected to a
power supply only of the type described in the instruction
manual or as marked on the appliance. If you are not sure
of the type of power supply to your home, consult your
appliance dealer or local power company. For appliances
intended to operate from battery power, or other sources,
refer to the instruction manual.
2. Power-cord protection ­ Power-supply cords should be
routed so that they are not likely to be walked on or
pinched by items placed upon or against them, pay
particular attention to cords at plugs, convenience
receptacles, and the point where they exit from the
CAUTION
­ Polarization ­ This appliance may be
equipped with a polarized alternating-current line plug (a
plug having one blade wider than the other). This plug will
fit into the power outlet only one way. This is a safety
feature. If you are unable to insert the plug fully into the
outlet, try reversing the plug. If the plug should still fail to
fit, contact your electrician to replace your obsolete outlet.
Do not defeat the safety purpose of the polarized plug.
4. Ventilation ­ Slots and openings in the cabinet are provided
for ventilation and to ensure reliable operation of the
appliance and to protect it from overheating, and these
openings must not be blocked or covered. The appliance
should be situated so that its location or position does not
interfere with its proper ventilation.
To maintain good ventilation, do not put records or a table-
cloth on the appliance. Place the appliance at least 10 cm
Do not use the appliance on a bed, sofa, rug or similar
surface that may block the ventilation openings.
appliance should not be placed in a built-in installation such
as a bookcase or rack unless proper ventilation is provided
or the manufacturer's instructions have been adhered to.
5. Water and moisture ­ The appliance shall not be exposed to
dripping and splashing - for example, near a bathtub, washbowl,
kitchen sink, laundry tub, in a wet basement, or near a
swimming pool, etc. Do not place an object containing liquid,
such as a flower vase, on the appliance.
Caution : Read this page carefully to ensure safe operation.
---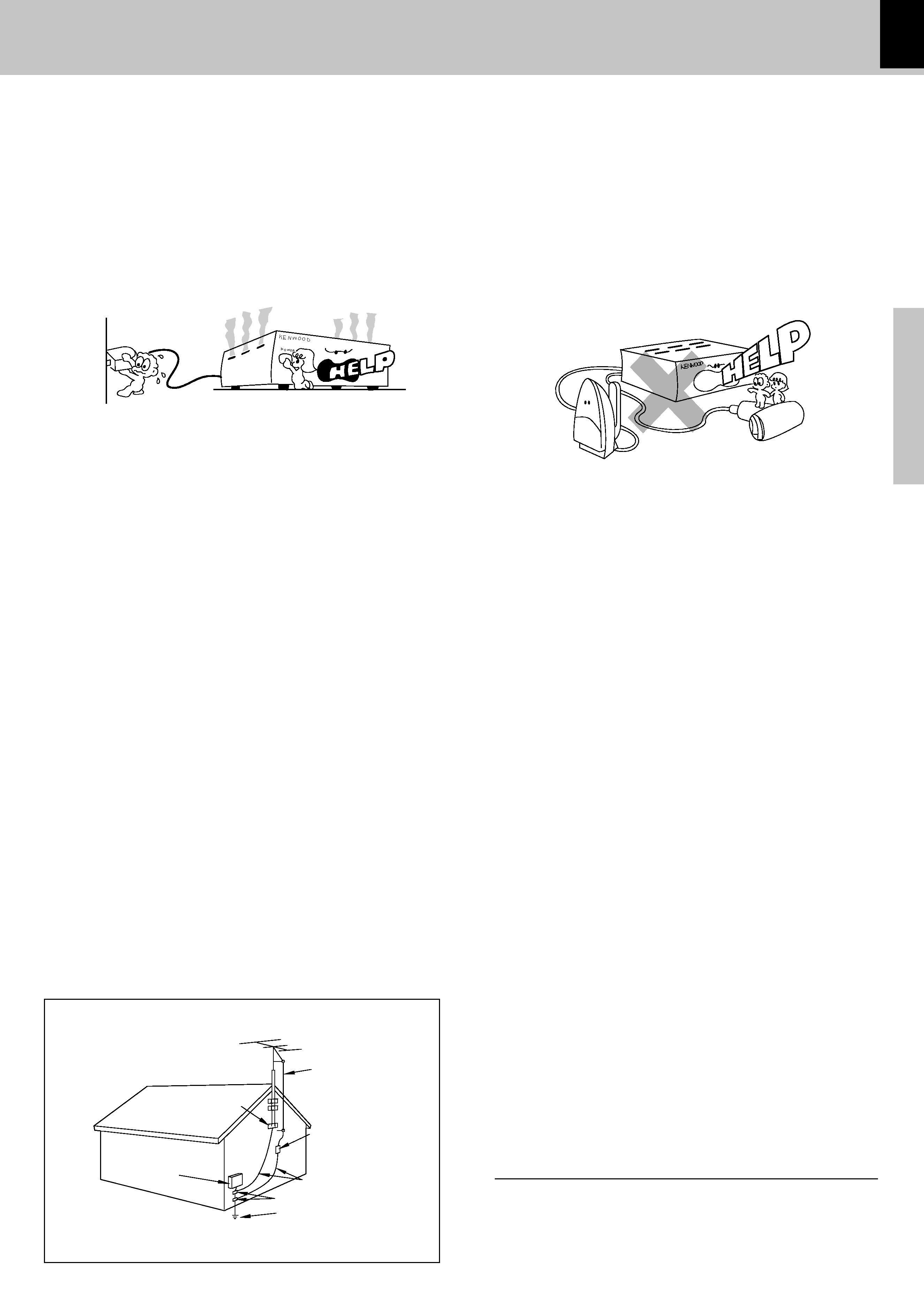 DV-603/DVF-3060/DVF-3060K (EN/K,P,E,T,M,X,Y)
13.Lightning
­
For added protection for this appliance during
a lightning storm, or when it is left unattended and unused
for long periods of time, unplug it from the wall outlet and
disconnect the antenna or cable system. This will prevent
damage to the appliance due to lightning and power-line
14.Abnormal smell ­ If an abnormal smell or smoke is
detected, immediately turn the power OFF and unplug the
appliance from the wall outlet. Contact your dealer or
15.Damage requiring service ­ The appliance should be
serviced by qualified service personnel when:
A. The power-supply cord or the plug has been damaged.
B. Objects have fallen, or liquid has been spilled into the
C. The appliance has been exposed to rain or water.
D. The appliance does not appear to operate normally by
following the instruction manual. Adjust only those controls
that are covered by the instruction manual as an improper
adjustment of other controls may result in damage and will
often require extensive work by a qualified technician to
restore the appliance to its normal operation.
E. The appliance has been dropped, or the enclosure
F. The appliance exhibits a marked change in performance.
16.Servicing ­ The user should not attempt to service the
appliance beyond that described in the instruction manual.
All other servicing should be referred to qualified service
17.Outdoor antenna grounding­ If an outside antenna is
connected to the appliance, be sure the antenna system is
grounded so as to provide some protection against voltage
surges and built up static charges. Article 810 of the
information with respect to proper grounding of the mast
and supporting structure, grounding of the lead-in wire to
an antenna discharge unit, size of grounding conductors,
location of antenna discharge unit, connection to grounding
electrodes, and requirements for the grounding electrode.
18.Power lines ­ An outside antenna system should not be
located in the vicinity of overhead power lines or other
electric light or power circuits, or where it can fall into such
power lines or circuits. When installing an outside antenna
system, extreme care should be taken to keep from
touching such power lines or circuits as contact with them
19. AC outlets ­ Do not connect other audio equipment with
a power consumption larger than that specified to the AC
outlet on the rear panel. Never connect other electrical
appliances, such as an iron or toaster, to it to prevent fire
20. Overloading ­ Do not overload wall outlets, extension
cords, or integral convenience receptacles as this can
result in a risk of fire or electric shock.
21. Attachment ­ Do not use attachments not recommended
by the appliance manufacturer as they may cause hazards.
22. Replacement parts ­ When replacement parts are required,
be sure the service technician has used replacement parts
specified by the manufacturer or have the same
characteristics as the original parts. Unauthorized
substitutions may result in fire, electric shock, or other
23. Safety check ­ Upon completion of any service or repairs
to this appliance, ask the service technician to perform
safety checks to determine that the appliance is in proper
1. Item 3 is not required except for grounded or polarized equipment.
2. Item 17 and 18 are not required except for units provided with
3. Item 17 complies with UL in the U.S.A.
EXAMPLE OF ANTENNA GROUNDING AS PER NATIONAL
NEC ­ NATIONAL ELECTRICAL CODE
---