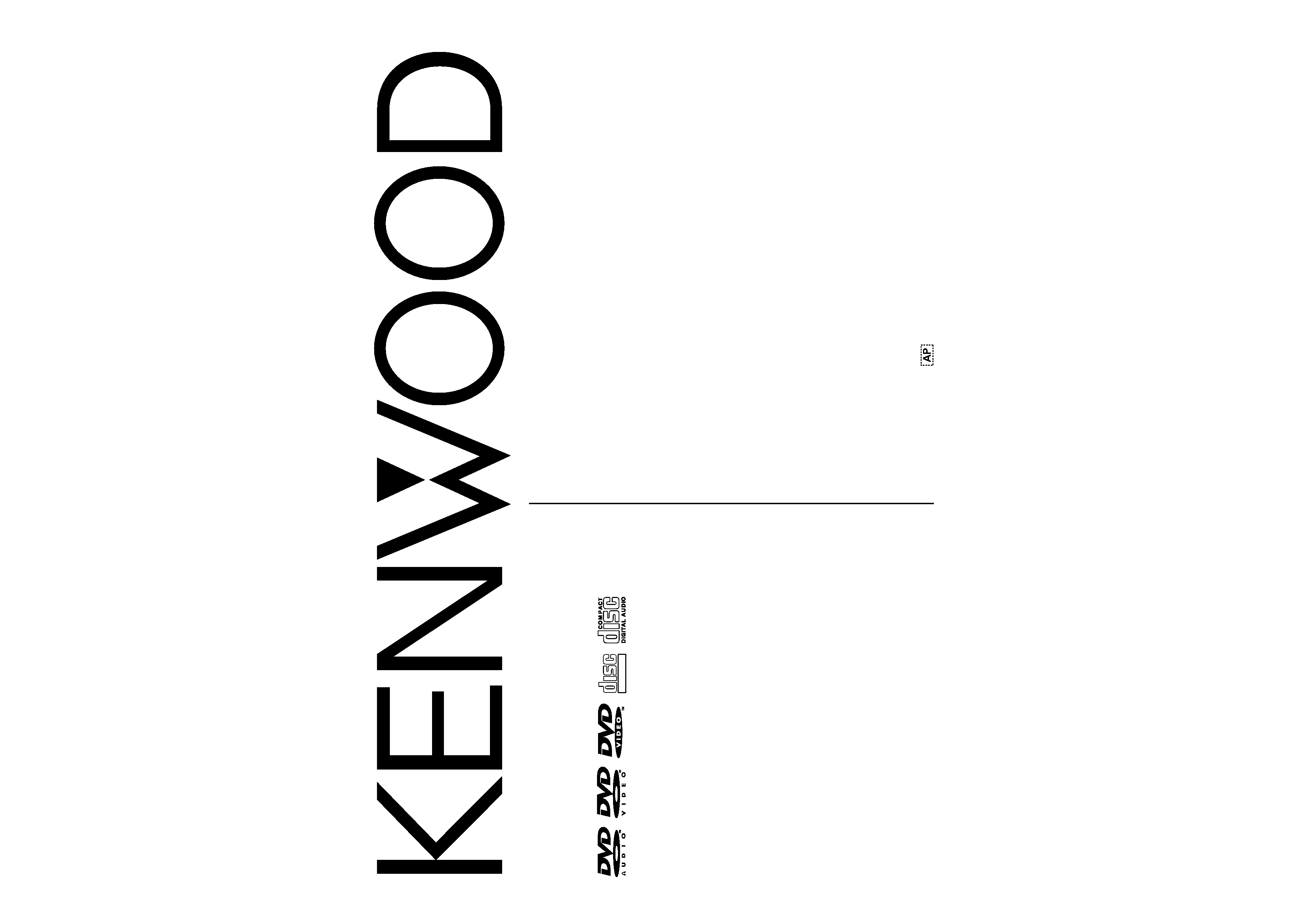 MULTIPLE DVD VCD CD PLAYER
---

Chapter 1: Connection of Equipment
Units are designed for operation as follows.
U.S.A. and Canada ........................ AC 120 V only
The marking of products using lasers
(For countries other than U.S.A., U.S.-
WARNING : TO PREVENT FIRE OR ELECTRIC SHOCK, DO NOT EXPOSE
THIS APPLIANCE TO RAIN OR MOISTURE.
CAUTION: TO REDUCE THE RISK OF ELECTRIC SHOCK,
DO NOT REMOVE COVER (OR BACK). NO USER-
SERVICEABLE PARTS INSIDE. REFER SERVICING TO
QUALIFIED SERVICE PERSONNEL.
THE LIGHTNING FLASH WITH ARROWHEAD SYMBOL, WITHIN AN
EQUILATERAL TRIANGLE, IS INTENDED TO ALERT THE USER TO THE
PRESENCE OF UNINSULATED "DANGEROUS VOLTAGE" WITHIN THE
PRODUCT'S ENCLOSURE THAT MAY BE OF SUFFICIENT MAGNITUDE TO
CONSTITUTE A RISK OF ELECTRIC SHOCK TO PERSONS.
THE EXCLAMATION POINT WITHIN AN EQUILATERAL TRIANGLE IS
INTENDED TO ALERT THE USER TO THE PRESENCE OF IMPORTANT
OPERATING AND MAINTENANCE (SERVICING) INSTRUCTIONS IN THE
LITERATURE ACCOMPANYING THE APPLIANCE.
The marking this product has been classified as Class 1.
It means that there is no danger of hazardous
radiation outside the product.
Caution : Read this page carefully to ensure safe operation.
Inside this laser product, a laser diode classified as
Class 2 laser radiation is contained as alerted by the
internal caution label shown above. Do not stare into
Location: DVD laser pick-up unit cover inside this
---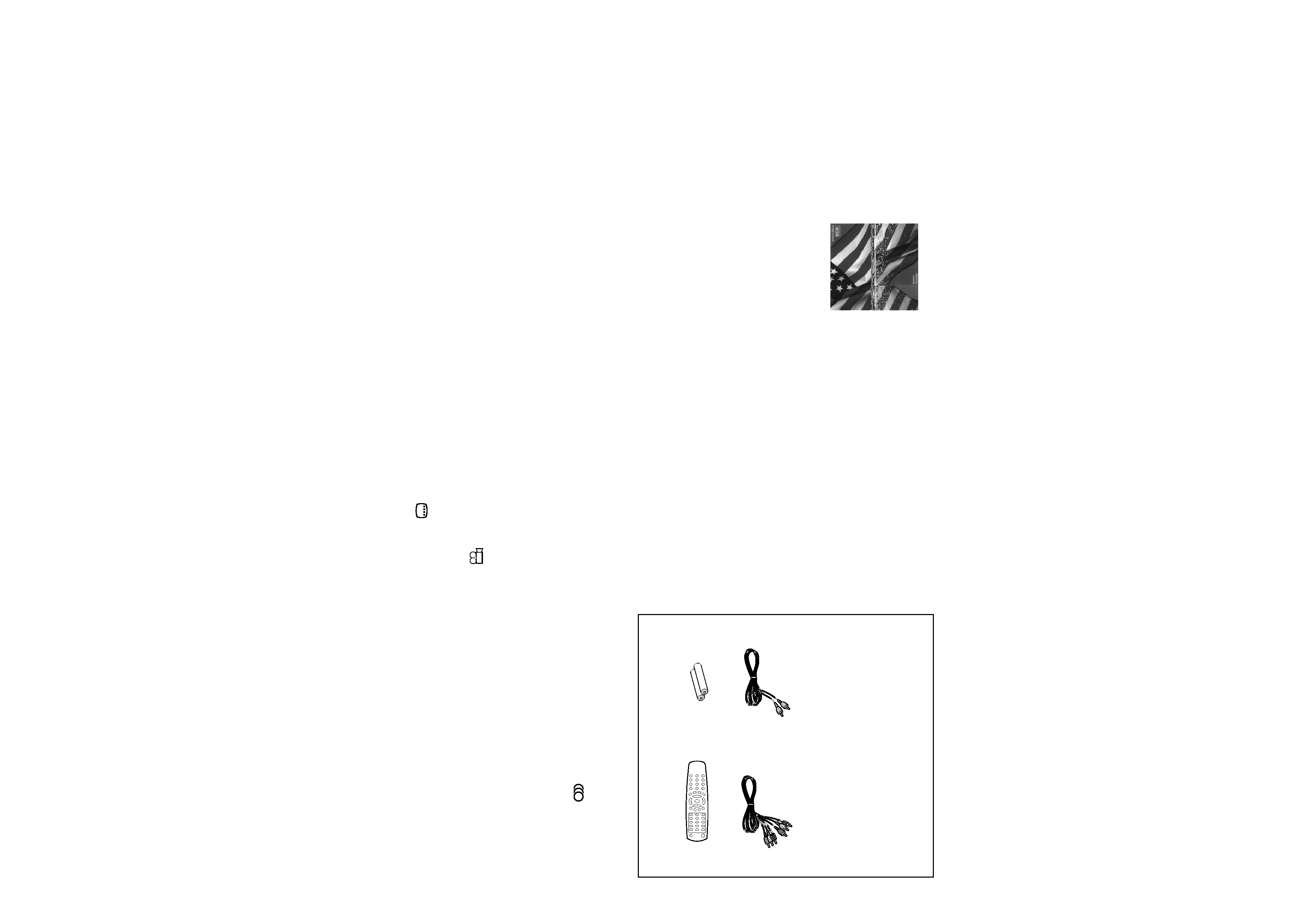 Chapter 1: Connection of Equipment
Compatible with DVD AUDIO, one of the latest
The DVD AUDIO reproduces 2-channel, 192 kHz,
24-bit sampled digital audio or 6-channel, 96 kHz,
24-bit sampled audio. This innovative technology
has made possible audio reproduction in
unprecedented high quality.
Versatile DVD VIDEO Functions
The DVD provides horizontal resolution of 500
lines, which exceeds that of S VHS video (400
lines) or laserdisc (430 lines).
Multi-audio function: With DVD discs marked
icon, the desired language can be
played back by selecting it from up to 8 languages.
(The number of available languages is variable
Multi-subtitle function: With DVD discs marked
icon, the subtitle language can be
selected from up to 32 languages. (The number of
subtitle languages is variable depending on the discs.)
Angle function: With DVD discs marked with the
icon, a single object can be viewed in up to 9
angles by switching. (The number of available
angles is variable depending on the discs.)
Compatibility with Wide Range of Digital
The unit incorporates Dolby Digital decoder, DTS
decoder, MPEG multi-channel decoder and Packed
PCM decoder so that the users can enjoy the sound
of real cinemas. The unit can also be connected to
the user's existing TV set.
6-Channel Output Terminals
These output terminals can be connected to an
amplifier with 6-channel input compatibility to enjoy
high-bit, high-sampling rate multi-channel sound.
5-Disc Carousel Disc Changer
The disc tray can accommodate up to 5 discs and the
disc can be changed while another disc is being played.
DVD player with CD-R and CD-RW disc*
This DVD player can play back tracks recorded in CD-
R (Compact Disc Recordable) and CD-RW (Compact
Disc Rewritable) as well as those in music CD.
* Only finalized discs can be played back. However,
certain discs may still be unplayable on this player.
MP3 playback capabilities
This player can also play back the MP3 files which
are the latest formats for storage of music data.
However, certain MP3 files may still be unplayable
The video display format can be switched between
"Interlaced" and "Progressive" scanning.
Unpack the unit carefully and make sure that all the
If any accessories are missing, or if the unit is damaged
or fails to operate, notify your dealer immediately. If
the unit was shipped to you directly, notify your
shipper immediately. Kenwood recommends that you
retain the original carton and packing materials in case
you need to move or ship the unit in the future.
Keep this manual handy for future reference.
DV-6050 advanced video technology
The DV-6050 changer includes two different video
processing circuits from Faroudja® that deliver a
superb DVD picture that is close to a high
definition broadcast image when viewed on an
¶ A Faroudja DCDITM (Directional Correlation Deinterlacing)
progressive scan processor produces the highest-quality
progressive video output in the industry, providing
superior performance where many progressive scan DVD
players have great difficulty. DCDi's Motion Adaptive
De-Correlation processes motion information separate
from still information, reducing video artifacts and
distortion such as jagged edges which are very apparent
with motion and diagonal lines. Cross-Color Separation
reduces bleed across colors, and Film and Animation
Detection processes film and animation information
separately, reducing artifacts and distortion in both.
The DV-6050 allows you to use the on-screen menu to
compare the DCDi-processed picture with the
unprocessed picture. See page 38 of the instruction
¶ Faroudja's Digital Video Enhancement increases
resolution by processing both vertical and horizontal
signals to provide maximum detail. Large edges and
small details are processed independently, providing
optimum edge enhancement, and a DVD image that
approaches the quality of a high-definition broadcast
The Enhancer Gain setting allows you to fine-tune the
amount of Faroudja detail enhancement to increase
sharpness without adding noise or making the picture
look too `etched' or artificial. See page 38 of the
instruction manual for details.
Comparison of DCDi deinterlaced (progressive
scan) output (top) with conventional progressive
scan processing (bottom). Proprietary Faroudja
technology identifies moving images at all angles,
and uses exclusive algorithms to process the
moving edges, producing a smooth image that is
far more film-like than is possible with conven-
tional progressive scan processing. DCDi pro-
cessing also eliminates coloration artifacts result-
ing from the deinter-lacing process.
---

Chapter 1: Connection of Equipment
Caution : Read the pages marked
carefully to ensure safe operation.
Before applying power .............................. 2
Safety precautions ..................................... 2
Features ............................................................ 3
Accessories ....................................................... 3
IMPORTANT SAFEGUARDS ............................... 6
Systems and Types of Playable Discs ................ 8
Unplayable Discs .............................................. 8
Icons Inscribed on DVD Discs ......................... 8
Region Codes of This Player
(DVD VIDEO disc only) ............................... 8
Region codes of the DVD VIDEO discs that can be
played with this player .......................................... 9
Video Formats .................................................. 9
Checking the Video Format ......................................... 9
Chapter 1: Connection of Equipment ..... 10
Bofore Start .................................................... 11
Preparation of Remote Control Unit ............. 11
Installing the batteries: ............................................... 11
Remote control range: ................................................ 11
MP3 Files That Can Be Played Back with This
Equipment ................................................. 11
Compressing MP3 files ............................................... 11
Additional information .............................................. 11
Restriction by session .................................................. 11
Connection with a TV or Stereo System ......... 12
To Connect a TV ......................................................... 13
To Connect a Stereo System ...................................... 13
To Set Up of the Player .............................................. 13
Connection with an AV Amplifier ................... 14
To Connect an AV Amplifier ..................................... 15
To Set Up of the Player .............................................. 15
Chapter 2: Controls and indicators ....... 16
Front Panel ..................................................... 17
Display ........................................................... 18
Switching the Display Brightness ............................. 18
Remote Control Unit ...................................... 19
Chapter 3: Basic Operation ................... 20
Configuration of Discs ................................... 21
Turning Power on ........................................... 21
STANDBY mode: ......................................................... 21
Inserting discs ................................................ 22
On Basic Operation ........................................ 22
Opetaion restriction according to the disc or player
status .................................................................... 22
Playing discs ............................................................... 22
Playing discs by changing them ................................ 22
Playing from the selected disc ................................... 22
Playing discs by selecting the group, track, title,
chapter or file ....................................................... 23
Skipping a track, chapter or file ................................ 23
Stopping playback ...................................................... 23
Still picture display and playback pause .................. 23
Frame-by-frame advance ........................................... 23
Forward search and reverse search ............................ 24
Slow playback and reverse slow playback ................ 24
Menu playback of DVD ............................................. 25
Menu playback of P.B.C.-compatible VCD .............. 25
Skipping indexes in DVD AUDIO ............................ 26
Switching still pictures of DVD AUDIO ................... 26
Switching the sequential play mode ........................ 26
Switching the time display ........................................ 27
Repeat playback .......................................................... 27
Switching the audio language ................................... 28
---

Chapter 1: Connection of Equipment
Chapter 4: OSD Operation .................... 29
Basic OSD Operation ..................................... 30
"MAIN" OSD Operation .................................. 31
Selecting the disc to be played ................................... 31
Selecting a group, track, title, chapter, folder or file .... 31
Time display switching and time search .................. 32
Memory playback ....................................................... 33
Repeat playback .......................................................... 33
A-B repeat playback ................................................... 34
"SOUND" OSD Operation .............................. 35
Switching the audio language ................................... 35
Virtual Surround function ......................................... 35
Cinema Voice function .............................................. 36
Down Mix function ................................................... 36
"VISUAL" OSD Operation ............................... 36
Switching the subtitle language ................................ 37
ID3-TAG infomation .................................................. 37
Switching the viewing angle ...................................... 37
Adjusting the Noise Reduction ................................. 37
Adjusting the picture quality ..................................... 38
Chapter 5: Applied Operations .............. 39
Switching the Play Modes ............................... 40
Program Playback .......................................... 40
Registering and playing the program ....................... 40
Clearing the program .................................................. 41
Stopping program playback ....................................... 41
Disc Random Playback ................................... 41
Stopping disc random playback ................................ 41
All Random Playback ...................................... 41
Stopping all random playback ................................... 41
MP3 disc Operation ........................................ 42
Bonus Group .................................................. 42
Chapter 6: Various Setups ..................... 43
Basic Operations in Setup Screen .................. 44
"MAIN" Setting ............................................... 45
When "MAIN" is selected in "SET UP MENU": ....... 45
"Rating" Setting .......................................................... 47
Input of Password ...................................................... 47
"SOUND" Setting ............................................ 48
When "SOUND" is selected in "SET UP MENU": ... 48
"Speaker Setting" ........................................................ 50
Distance Setting .......................................................... 53
"VISUAL" Setting ............................................ 54
When "VISUAL" is selected in "SET UP MENU": .... 54
Disc Language Code Table .............................. 57
Chapter 7: Other Information ............... 58
To Be Noted .................................................... 59
Symptoms and Treatment .............................. 61
Glossary .......................................................... 63
Specifications ................................................. 65
---