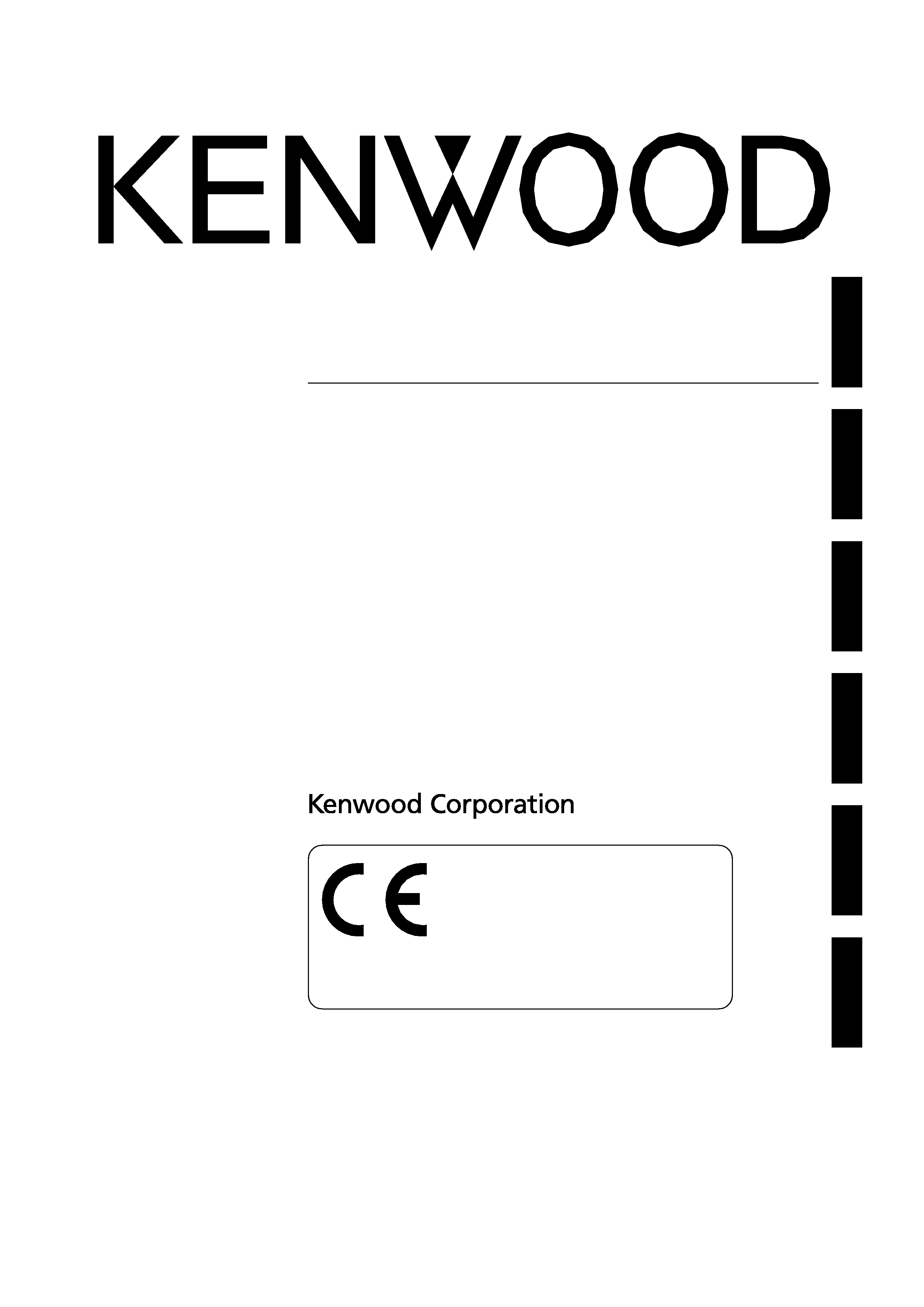 B61-1263-00 00 (E) KW 0504
LA DICHIARAZIONE DI CONFORMITA'
PRODOTTO E' DEPOSITATA PRESSO:
KENWOOD ELECTRONICS EUROPE B.V.
---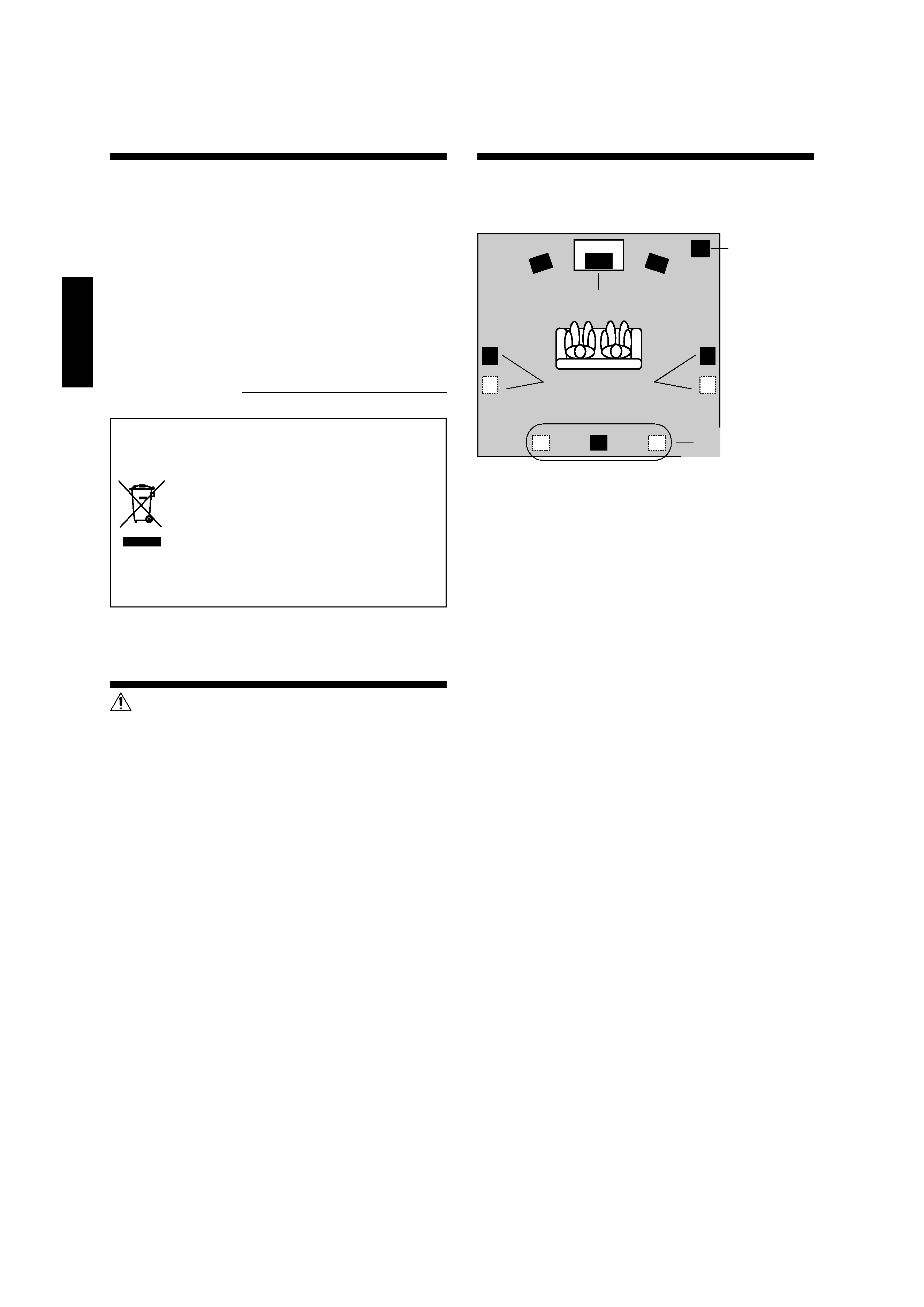 Thank you for selecting our speakers as part of your high-fidelity
system. We at KENWOOD are confident that your choice will bring
you years of rich listening pleasure. Please take the time to read
through this booklet carefully. It will help you to obtain the peak
performance for which the speakers were designed.
Record the serial number, found on the back of the unit, in the
spaces designated on the warranty card, and in the space pro-
Refer to these model and serial numbers whenever you call upon
your KENWOOD dealer for information or service on this product.
Caution: Read this item carefully to keep your
Suffocation ­ After taking the unit out of the polyethylene
bag, be sure to dispose of the polyethylene bag out of the
reach of children. Otherwise, they may play with the bag,
which could cause hazard of suffocation.
Water and moisture ­ The appliance should not be used
near water - for example, near a bathtub, washbowl, kitchen
sink, laundry tub, in a wet basement, or near a swimming
Heat ­ Do not install the unit near a source of heat, such
as radiators, or under direct sunlight.
Modification ­ Do not attempt to open or modify the unit,
for this could cause fire hazard or malfunction.
Cleaning ­ Do not use volatile solvents such as alcohol,
paint thinner, gasoline, or benzine, etc. to clean the cabi-
net. Use a clean dry cloth.
Abnormal smell ­ If an abnormal smell or smoke is de-
tected, immediately turn the power OFF and unplug the
appliance from the wall outlet. Contact your dealer or near-
Information on Disposal of Old Electrical and Electronic
Equipment (applicable for EU countries that have
adopted separate waste collection systems)
Products with the symbol (crossed-out wheeled bin)
cannot be disposed as household waste. Old elec-
trical and electronic equipment should be recycled
at a facility capable of handling these items and their
waste byproducts. Contact your local authority for
details in locating a recycle facility nearest to you.
Proper recycling and waste disposal will help con-
serve resources whilst preventing detrimental ef-
fects on our health and the environment.
Positioning For Optimal Surround Sound
Use this speaker system as the center speaker. Other speak-
ers are to be purchased separately.
Place the left and right speakers at each side of your TV.
Angle the speakers towards the listening area to enhance
Place the center speaker on the center between the front
left and right speakers. Tilt the speaker upward or down-
ward so that it is directly facing the listening area.
The subwoofer's deep-bass reproduction characteristics are
richest when the subwoofer is installed in a corner or near
Place the surround speakers straight to or diagonally be-
hind the left and right of the listening position.
Place the surround back speaker behind the listining posi-
tion, at the same height as the left and right surround speak-
About Using Speaker Near a TV
This center speaker include magnetic shielding and can there-
fore be installed close to a TV set. Note, however, that placing
the speaker too close to a CRT type TV may in some cases
produce distortion in the color reception. In such case, turn on
the TV and check that color reproduction is normal. If color is
distorted, turn the TV off for 15 to 30 minutes, then turn it back
on and check again. (This allows the TV's degaussing circuitry
to correct for the magnetic field from the speaker.) If distortion
is still present, move the speaker further from the TV.
---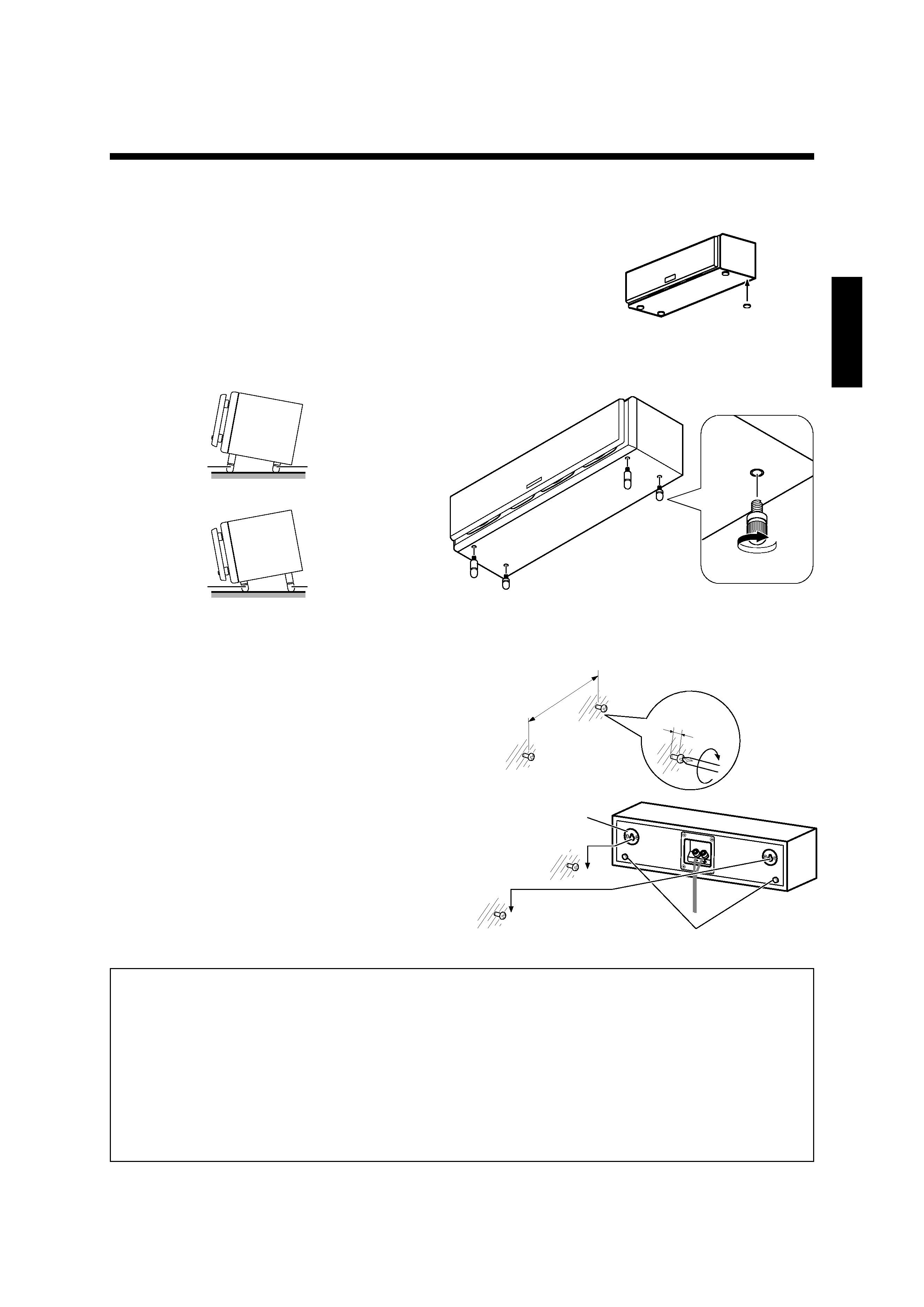 This speaker system can be installed at an upward or downward angle of about 10 degrees. This can be done by attaching the two
couples of feet with different lengths, provided with this speaker system, to the screw holes on the bottom.
This speaker include mount hole for wall mounting. You need to set two screws into the wall at the appropriate distance so that you
can hang the speaker from both mount holes. Proceed as follows.
Please observe the following precautions when mounting speaker onto the wall.
Be sure that the wall you are using is strong enough to support the full weight of the speaker (approx. 3.7 kg [8.2 lb] ).
Wall screws must be purchased separately.
Be sure to use screws that are appropriate for the wall you are using, and that are long enough to provide sufficient
If you are uncertain about the wall's support strength, the type of screw to use, or any other points regarding this
type of installation, please consult a contractor or other qualified person before proceeding.
Be sure to follow the procedure given here when carrying out installation. Kenwood can assume no liability for injury
or damage that may occur if a speaker setup falls from the wall as a result of incorrect installation or insufficient
Place the speaker on the floor or on a shelf or other horizontal stable surface. Keep in mind that speaker is not fixed into place, so
be careful to avoid knocking it over.
1 Screw two screws into the walls 270 mm (10-5/8
inches) apart, making sure that screws are horizontally
level. Screw each screw only part way in, so that the
screw projects 9 to 11 mm (3/8 to 7/16 inches) out-
ward from the wall surface.
Wall screws must be purchased separately.
2 Hang the speaker by fitting the two mount holes (at
the rear of the speaker) over the extending part of the
screw. Confirm that the speaker is held firmly and se-
Attach each couple of provided cushions to make two
sets of two-cushion piles, and attach them to the two
positions shown on the rear of the speaker. These piles
will protect the speaker body from damage and pre-
vent the vibrations of the speaker body from being trans-
Installing at an upward angle
Installing at a downward angle
7 Horizontal installation
· Attach four cushions to the base of the speaker, one at each corner. The cushions
prevent the speaker from sliding, and dampen its vibrations.
---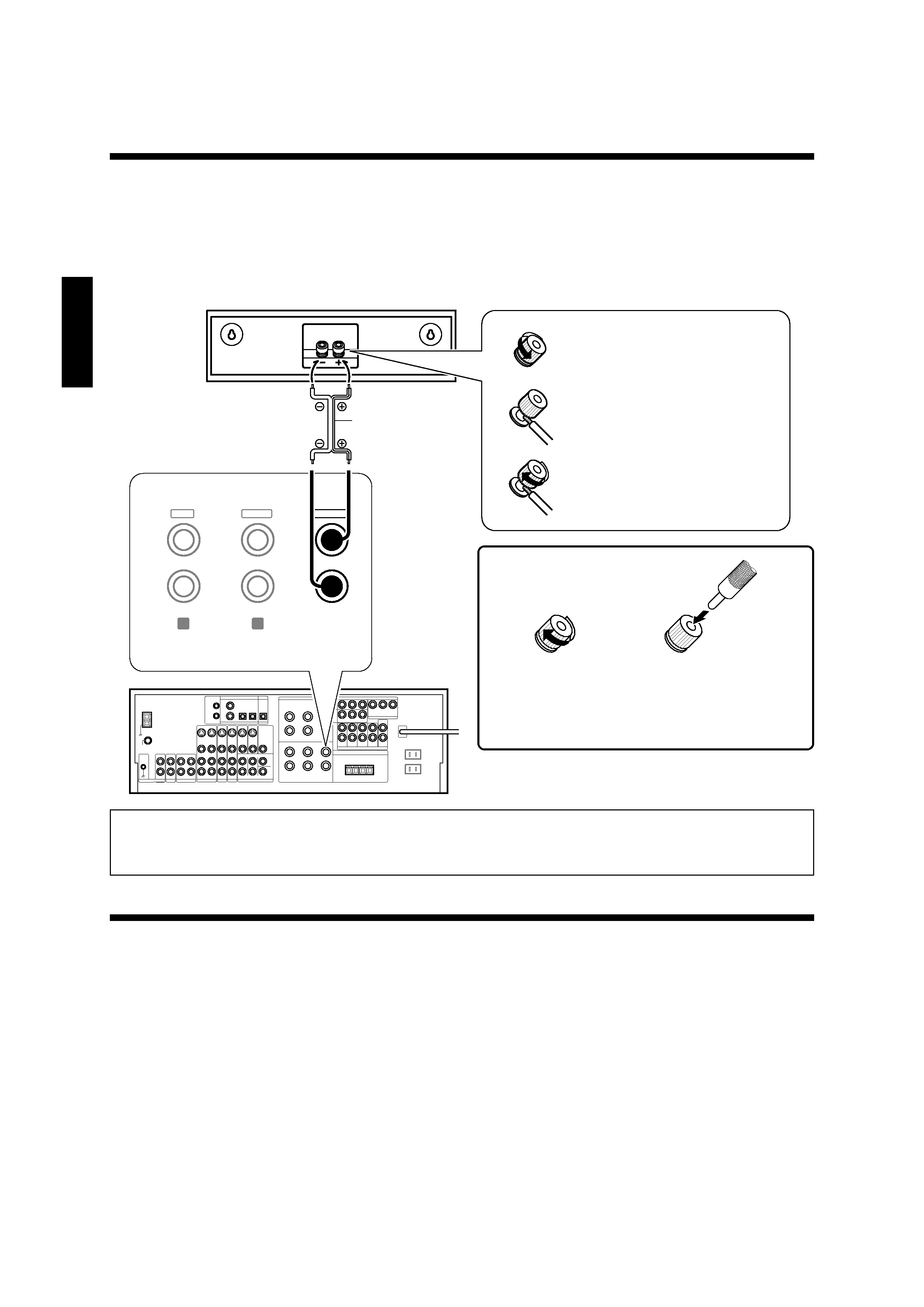 The speaker system's peak input power is indicated in the specifications. To avoid speaker damage, never run the
speaker at power levels exceeding this limit.
Be sure to turn off your amplifier before connecting or disconnecting speaker.
This speaker system has a nominal impedance of 8 ohms. To ensure safe and reliable operation, be sure that your
amplifier or receiver (audio video control center) is able to work with 8-ohm speaker.
Never short the (+) and (­) speaker wire's conductors together.
Do not reverse (+) and (­) connections. Reversal of polarities may result in unnatural sound.
System ................. 4 way 4 speakers (Magnetically shielded)
Enclosure ....................................... Acoustic Air Suspension
Woofer .................................... 80 mm (3") Cone type × 2
Midrange ...................................... 80 mm (3") Cone type
Tweeter ...................................... 19 mm(3/4") Dome type
Nominal Impedance ....................................................... 8
Peak Input Power ........................................................... 130 W
Sensitivity .................................................. 80 dB / W at 1 m
Frequency Response .................................... 60 Hz~100 kHz
KENWOOD follows a policy of continuous advancements in development. For this reason specifications may be changed without
Width .................................................. 420 mm (16-9/16")
Height (Speaker body only) ........................... 102 mm (4")
Height (Including the feet) ...................... 134 mm (5-1/4")
Depth ...................................................... 136 mm (5-3/8")
Net Weight ............................................ 3.7 kg (8.2 lb) /piece
Speaker wire (4 m (13 ft)) ............................................... 1
Cushion ........................................................... 4 (1 sheet)
Foot (long) ...................................................................... 2
Foot (short) .................................................................... 2
(Amplifier or Audio Video control center)
The speaker wire can also be connected to the speaker by
using banana plugs which are commercially available in
To use the banana plug connection, tighten the screws on
the speaker terminals before inserting the banana plug.
---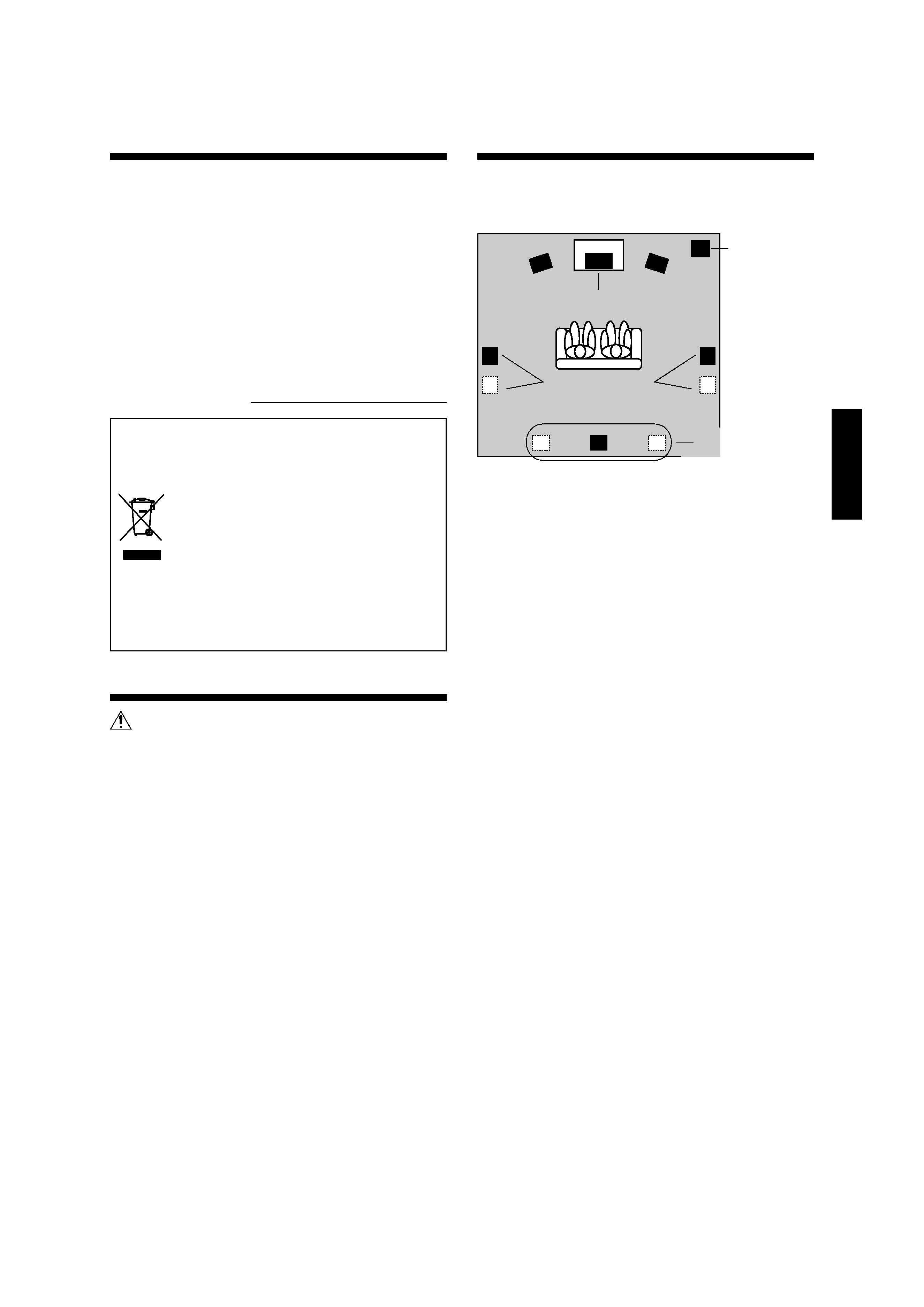 Information sur l'élimination des anciens équipements
électriques et électroniques (applicable dans les pays
de l'Union Européenne qui ont adopté des systèmes
Les produits sur lesquels le pictogramme (poubelle
barrée) est apposé ne peuvent pas être éliminés
comme ordures ménagères. Les anciens
équipements électriques et électroniques doivent
être recyclés sur des sites capables de traiter ces
produits et leurs déchets. Contactez vos autorités
locales pour conna"tre le site de recyclage le plus
proche. Un recyclage adapté et l'élimination des
déchets aideront à conserver les ressources et à
nous préserver des leurs effets nocifs sur notre
santé et sur l'environnement.
Nous vous remercions d'avoir bien voulu intégrer nos enceintes à
votre chaîne. KENWOOD a la certitude que ce choix vous réserve
des années de plaisir musical. Prenez le temps de lire attentive-
ment ce livret. Il vous permettra d'obtenir le meilleur de ces
Inscrivez le numéro de série, que vous trouverez à l'arrière de
l'appareil, dans les espaces prévus de la carte de garantie et
dans l'espace prévu ci-dessous. Indiquez les numéros de
modèle et de série au cas où vous devriez faire appel à votre
concessionnaire pour des renseignements ou réparations de
Attention: Lire attentivement ce qui suit pour
Etouffement ­ Après avoir retiré l'appareil du sac de poly-
éthylène, bien placer ce dernier hors de la portée des en-
fants. S'ils jouent avec ce sac, un risque d'étouffement
Eau et humidité ­ Ne pas poser un récipient contenant
de l'eau (vase, cuvette, etc.) sur cet appareil. Eviter égale-
ment d'installer l'appareil dans un endroit exposé à l'humi-
Chaleur ­ Ne pas installer cet appareil à proximité d'une
source de chaleur comme un appareil de chauffage ou à
un endroit directement exposé au soleil.
Modificatiòn ­ Ne pas tenter d'ouvrir l'appareil, ni de le
modifier car cela pourrait être à l'origine d'un incendie ou
d'une anomalie de fonctionnement.
Nettoyage ­ Ne pas utiliser de solvants volatiles tels que
de l'alcool, du diluant à peinture, de l'essence ou de la
benzine, etc., pour nettoyer le coffret. Utiliser un chiffon
Odeur anormale ­ Si une odeur anormale ou une fumée
sort de l'appareil, couper immédiatement l'alimentation et
débrancher le cordon d'alimentation. Contacter votre con-
cessionnaire ou une centre de service le plus proche.
Emplacements pour l'installation
Positionnement pour obtenir un son surround optimal
Utilisez ce système d'enceinte comme enceinte centrale.
Vous devrez acheter les autres enceintes séparément.
· Placer les enceintes gauche et droite des côtés opposés de
votre téléviseur. Diriger les enceintes vers la zone d'écoute
pour augmenter l'effet stéréo.
· Placez l'enceinte centrale sur le centre entre les enceintes
gauches et droits d'avant. Incliner l'enceinte vers le haut ou
vers le bas afin de la tourner directement vers la zone
· Les caractéristiques de restitution du grave profond du
subwoofer seront plus riches si vous installez le subwoofer
dans un coin ou près d'un mur.
· Placez les enceintes surround tout droit ou en diagonal
derrière la gauche et la droite de la position d'écoute.
· Placez l'enceinte arrière surround derrière la position
d'écoute, à la même hauteur que les enceintes surround
Utilisation l'enceinte à proximité d'un téléviseur
Cette enceinte centrale possède un blindage magnétique et
vous pouvez donc l'installer près d'un téléviseur. Notez toutefois
que le fait de placer l'enceinte trop près d'un téléviseur à tube
cathodique risque de provoquer une distorsion dans la réception
des couleurs. Dans ce cas, allumez le téléviseur et vérifiez s'il
y a des perturbations dans les couleurs de l'écran. S'il y a des
perturbations, éteignez le téléviseur pendant 15 à 30 minutes,
puis rallumez-le et revérifiez. (Ceci permet au circuit de
démagnétisation du téléviseur de corriger le champ magnétique
de l'enceinte.) Si les couleurs sont toujours perturbées, éloignez
davantage l'enceinte du téléviseur.
---