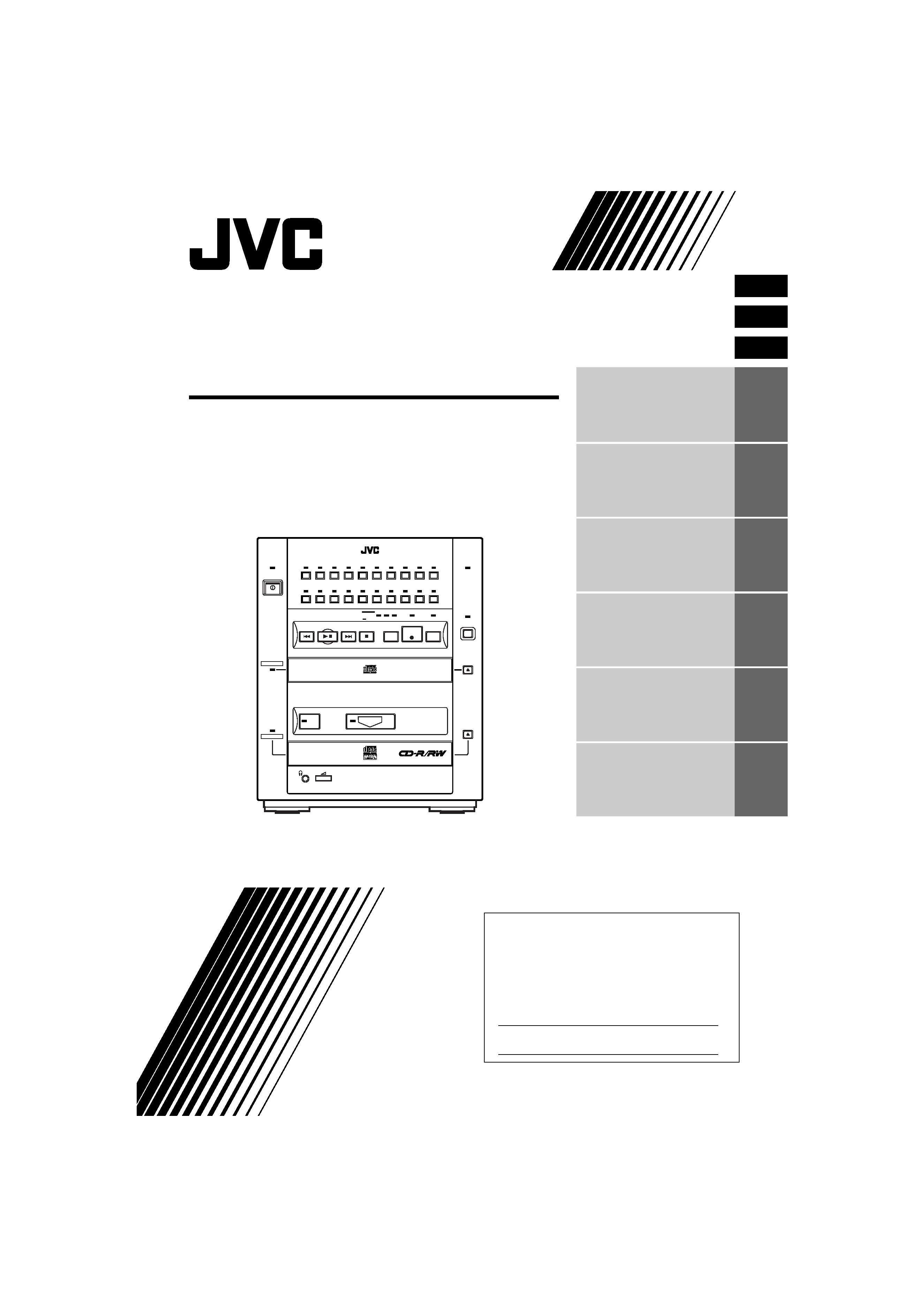 Multiple Compact Disc Recorder
Enregistreur CD polyvalent
Enter below the Model No. and Serial No.
which are located on the rear, bottom or
side of the cabinet. Retain this informa-
tion for future reference.
Préparatifs avant le lancement
Opérations d'enregistrement
Utilisation comme lecteur
Zusätzliche Informationen
---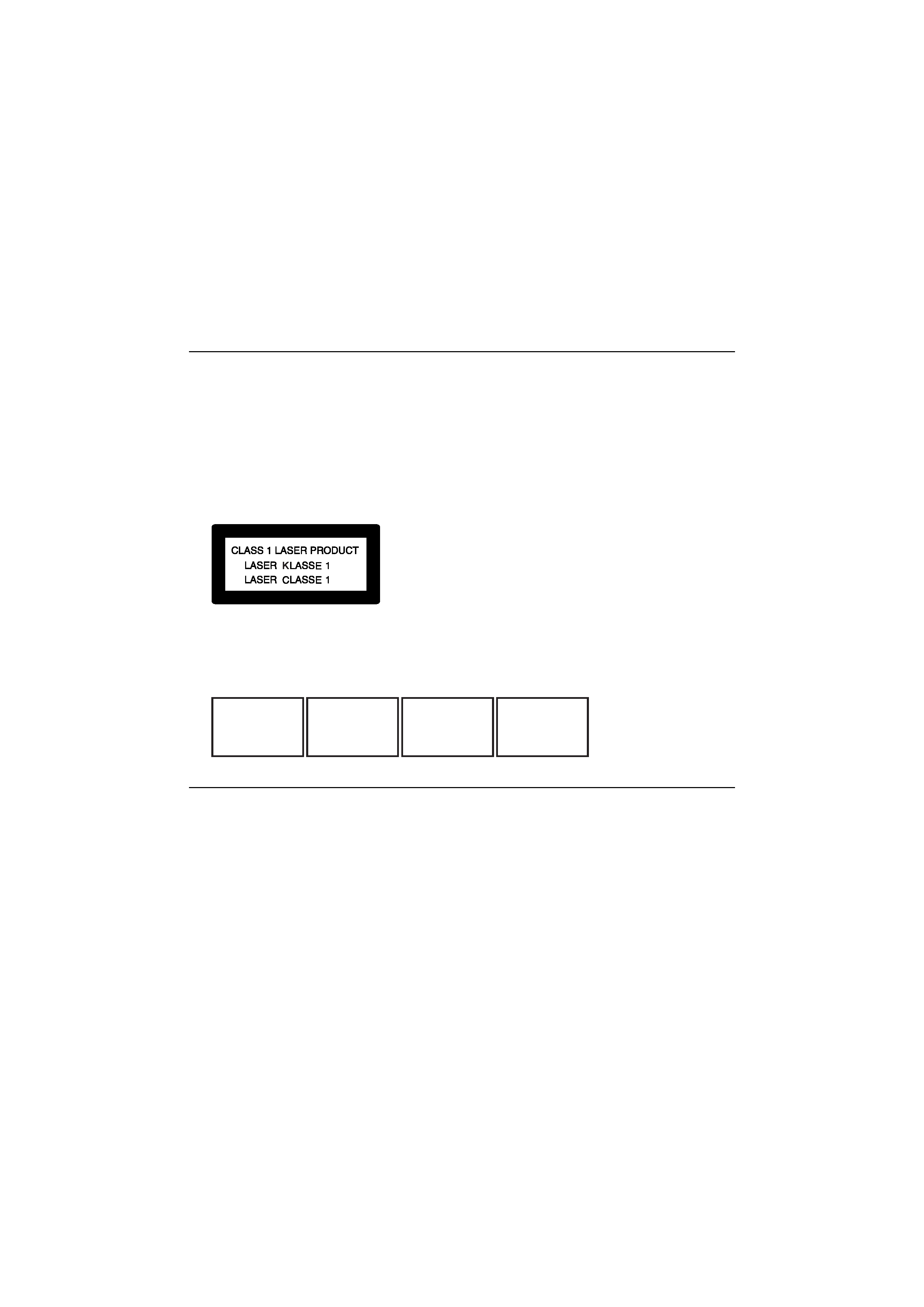 DANGER: Visible laser radiation when open and interlock failed or defeated. Avoid direct exposure
CAUTION: Do not open the top cover. There are no user serviceable parts inside the Unit; leave
all servicing to qualified service personnel.
LASER-PRODUKT DER KLASSE 1
GEFAHR: Sichtbare Laserstrahlung bei Öffnung und fehlerhafter oder beschädigter Spre.
Direkten Kontakt mit dem Strahl vermeiden!
ACHTUNG: Das Gehäuse nicht öffnen. Das Gerät enthält keinerlei Teile, die vom Benutzer
gewartet werden können. Überlassen Sie Wartungsarbeiten bitte qualifizierten Kundendienst-
ATTENTION: Radiation laser visible quand l'appareil est ouvert ou que le verrouillage est en
panne ou désactivé. Eviter une exposition directe au rayon.
ATTENTION: Ne pas ouvrir le couvercle du dessus. Il n'y a aucune pièce utilisable à l'intérieur.
Laisser à un personnel qualifié le soin de réparer votre appareil.
1 CLASSIFICATION LABEL, PLACED ON EXTERIOR SURFACE
(Except for U.S.A. and Canada)
1 KLASSIFIZIERUNGSHINWEIS BEFINDET SICH AUF DER AUSSENSIETE
(Außer U.S.A. und Kanada)
1 ÉTIQUETTE DE CLASSIFICATION, PLACÉE SUR LA SURFACE EXTÉRIEURE
(Sauf Etats-Unis et le Canada)
2 WARNING LABEL, PLACED INSIDE THE UNIT
2 WARNETIKETTE IM GERÄTEINNEREN
2 ETIQUETTE D'AVERTISSEMENT PLACÉE À L'INTERIEUR DE L'APPAREIL
IMPORTANT FOR LASER PRODUCTS / WICHTIGER HINWEIS FÜR LASER-PRODUKTE / IMPORTANT
REPRODUCTION OF LABELS / ANBRINGUNGSORTE FÜR LASER-PRODUKTE / REPRODUCTION
Warnings, Cautions and Others
Warnungen, vorsichtsmaßnahmen und Hinweise
Mises en garde, précautions et indications diverses
interlock failed or defeated.
sikkerhedsafbrydere er ude
jalukitus ohitettaessa olet
lasersäteilylle. Älä katso
---

Disconnect the mains plug to shut the power off
completely. The POWER switch in any position
does not disconnect the mains line.
Achtung ­­ POWER-Schalter!
Den Netzstecker aus der Steckdose ziehen, um
unterbrechen. Der Schalter POWER unterbrichet
in keiner Stellung die Stromversorgung
Attention ­­ Commutateur POWER!
Déconnecter la fiche de secteur pour couper
complètement le courant. Le commutateur
POWER ne coupe jamais complètement la ligne
de secteur, quelle que soit sa position.
To reduce the risk of electrical shocks, fire, etc.:
1. Do not remove screws, covers or cabinet.
2. Do not expose this appliance to rain or moisture.
Afin d'éviter tout risque d'électrocution, d'incendie,
1. Ne pas enlever les vis ni les panneaux et ne pas
ouvrir le coffret de l'appareil.
2. Ne pas exposer l'appareil à la pluie ni à l'humidité.
Zur Verhinderung von elektrischen Schlägen,
1. Keine Schrauben lösen oder Abdeckungen
enlfernen und das Gehäuse nicht öffnen.
2. Dieses Gerät weder Regen noch Feuchtigkeit
Caution: Proper Ventilation
To avoide risk of electric shock and fire and to
Locate the apparatus as follows:
No obstructions open spacing.
No obstructions in 3 cm from the
No obstructions in 5 cm from the
No obstructions in 15 cm from the
No obstructions, place on the
Achtung: Angemessene Ventilation
Stellen Sie das Gerät zur Verhütung von
elektrischem Schlag und Feuer und zum Schutz
gegen Beschädigung wie folgt auf:
Vorderseite: Offener Platz ohne Hindernisse.
Keine Hindernisse innerhalb 3
Keine Hindernisse innerhalb 5
Keine Hindernisse innerhalb 15
Keine Hindernisse. Auf eine
ebene Oberfläche stellen.
Attention: Ventilation Correcte
Pour éviter les chocs électriques, l'incendie et
tout autre dégât. Disposer l'appareil en tenant
compte des impératifs suivants
Laisser 3 cm de dégagement
Laisser 5 cm de dégagement
Laisser 15 cm de dégagement
Rien ne doit obstruer par
dessous; poser l'appareil sur une
---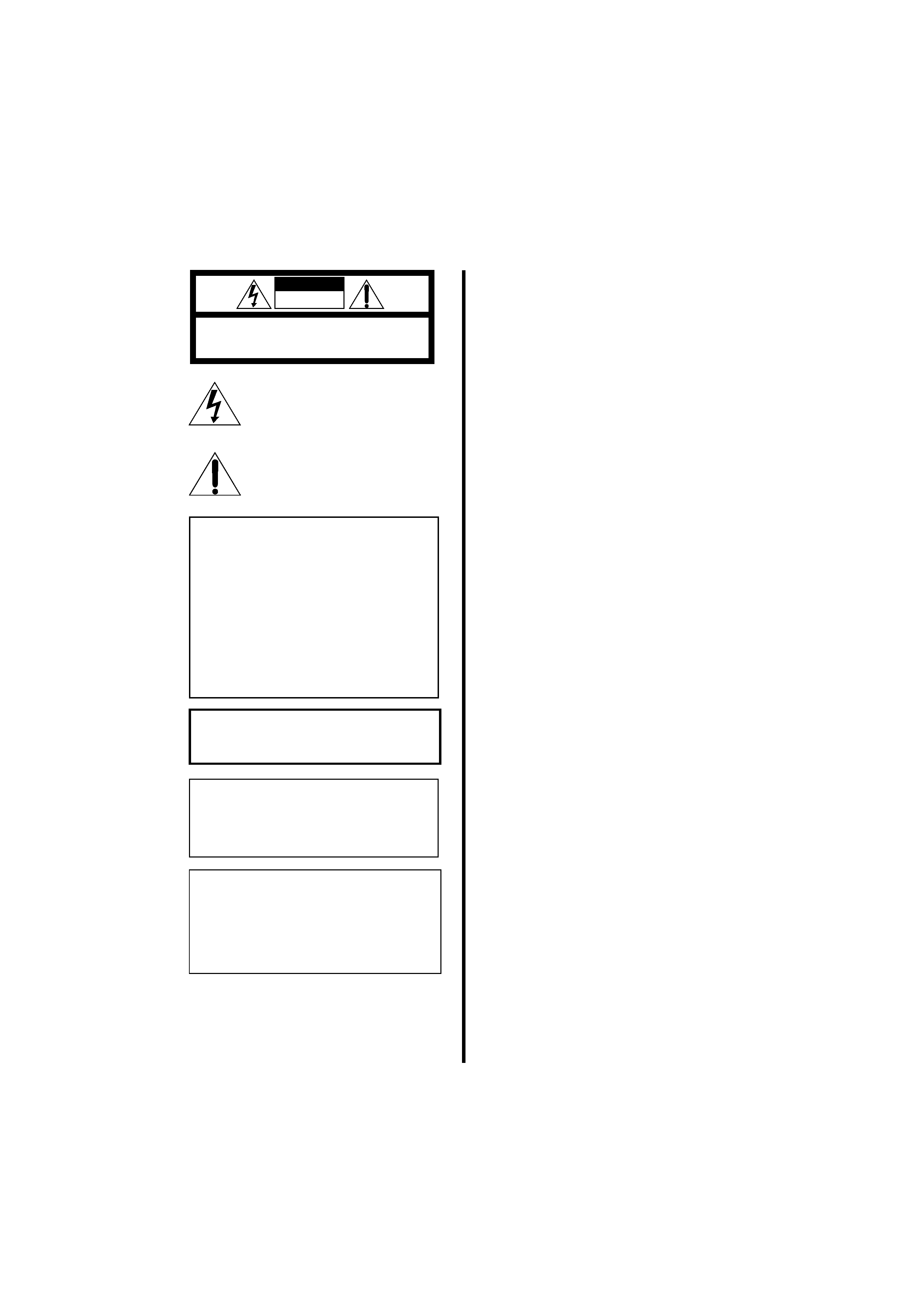 TO REDUCE THE RISK OF ELECTRIC SHOCK.
DO NOT REMOVE COVER (OR BACK)
NO USER SERVICEABLE PARTS INSIDE.
REFER SERVICING TO QUALIFIED SERVICE PERSONNEL.
The lightning flash with arrowhead symbol,
within an equilateral triangle is intended to
alert the user to the presence of uninsulated
"dangerous voltage" within the product's
magnitude to constitute a risk of electric
The exclamation point within an equilateral
triangle is intended to alert the user to the
maintenance (servicing) instructions in the
literature accompanying the appliance.
This equipment has been tested and found to comply with the limits
for a Class B digital device, pursuant to part 15 of the FCC Rules.
These limits are designed to provide reasonable protection against
harmful interference in a residential installation.
This equipment generates, uses and can radiate radio frequency
energy and, if not installed and used in accordance with the
communications. However, there is no guarantee that interference
will not occur in a particular installation. If this equipment does cause
harmful interference to radio or television reception, which can be
determined by turning the equipment off and on, the user is
encouraged to try to correct the interference by one or more of the
Reorient or relocate the receiving antenna.
Increase the separation between the equipment and receiver.
Connect the equipment into an outlet on a circuit different from that
to which the receiver is connected.
Consult the dealer or an experienced radio/TV technician for help.
For Canada/pour le Canada
CAUTION: TO PREVENT ELECTRIC SHOCK, MATCH WIDE
BLADE OF PLUG TO WIDE SLOT, FULLY INSERT
ATTENTION: POUR EVITER LES CHOCS ELECTRIQUES,
INTRODUIRE LA LAME LA PLUS LARGE DE LA FICHE DANS LA
BORNE CORRESPONDANTE DE LA PRISE ET POUSSER
WARNING: TO REDUCE THE RISK OF FIRE
OR ELECTRIC SHOCK, DO NOT EXPOSE
THIS APPLIANCE TO RAIN OR MOISTURE.
For Canada/pour le Canada
THIS DIGITAL APPARATUS DOES NOT EXCEED THE CLASS B
NOISE EMISSIONS FROM DIGITAL
APPARATUS AS SET OUT IN THE INTERFERENCE-CAUSING
EQUIPMENT STANDARD ENTITLED "DIGITAL APPARATUS",
ICES-003 OF THE DEPARTMENT OF COMMUNICATIONS.
CET APPAREIL NUMERIQUE RESPECTE LES LIMITES DE
BRUITS RADIOELECTRIQUES APPLICABLES AUX APPAREILS
NUMERIQUES DE CLASSE B PRESCRITES DANS LA NORME
SUR LE MATERIEL BROUILLEUR: "APPAREILS NUMERIQUES",
NMB-003 EDICTEE PAR LE MINISTRE DES COMMUNICATIONS.
JVC DISCLAIMS WARRANTIES, EXPRESS OR IM-
PLIED, IN RESPECT TO THE PRODUCTS DELIV-
ERED, INCLUDING BUT NOT LIMITED TO IMPLIED
WARRANTIES OF MERCHANTABILITY OR FIT-
NESS FOR A PARTICULAR PURPOSE. IN NO
EVENT SHALL JVC BE LIABLE TO PURCHASER
FOR ANY LOST PROFITS OR FOR SPECIAL, INCI-
DENTAL, INDIRECT OR CONSEQUENTIAL DAM-
AGES, OR FOR LOSS OR DAMAGE OF DATA.
Haftungsausschlusserklärung
JVC dementiert ausgedrückte und implizierte
Garantien in Bezug auf das gelieferte Erzeugnis,
einschließlich implizierter Gewährleistung der
Durchschnittsqualität oder der Tauglichkeit für einen
bestimmten Zweck, aber nicht begrenzt hierauf. In
keinem Fall soll JVC dem Käufer für verlorenen Profit
oder besondere, zufällige, indirekte oder mittelbare
Schäden oder für Verlust oder Beschädigung von
Renonciation de responsabilité
JVC rejette toute responsabilité pour les garanties,
expresses ou tacites, relatives aux produits délivrés,
y compris, mais sans s'y limiter, les garanties tacites
de commerciabilité et d'adéquation à un usage
particulier. En aucun cas JVC ne saurait être
responsable vis-à-vis de l'acheteur pour toute perte
de profit ou pour tout dommage spécial, connexe,
indirect ou consécutif, ou pour toute perte ou dommage
---

Features
............................................ 2
Supplied accessories
.................... 2
Notes on handling
......................... 3
Preliminary knowledge about
discs
.................................................. 4
Names of parts and controls
Front panel ........................................ 6
Rear panel .......................................... 8
Connections
.................................... 9
To turn on the unit .......................... 10
To insert a disc ................................ 11
To remove a disc ............................. 11
To play a CD ..................................... 12
To adjust the volume level ............. 12
To stop playback completely or
temporarily ...................................... 13
To advance or reverse play rapidly
while playing ................................... 13
To locate the beginning of a track ... 13
To locate a track directly ................ 13
Playing repeatedly [REPEAT]
To play the current track
repeatedly ........................................ 14
To play an entire disc repeatedly ..... 14
Playing tracks in the desired
To create a program ....................... 15
Before operations
........................ 17
[AUTO REC]
................................... 18
[PROGRAM REC]
.......................... 20
[FINALIZE]
...................................... 22
Erasing the recorded data
[ERASE]
.......................................... 23
System configuration ..................... 24
Connecting ...................................... 24
About the SCSI daisy chain ........... 25
To use the unit as a CD-R/RW
drive ................................................. 26
Care and handling of discs
....... 27
Troubleshooting
........................... 28
Error messages
............................ 30
Specifications
............................... 31
---