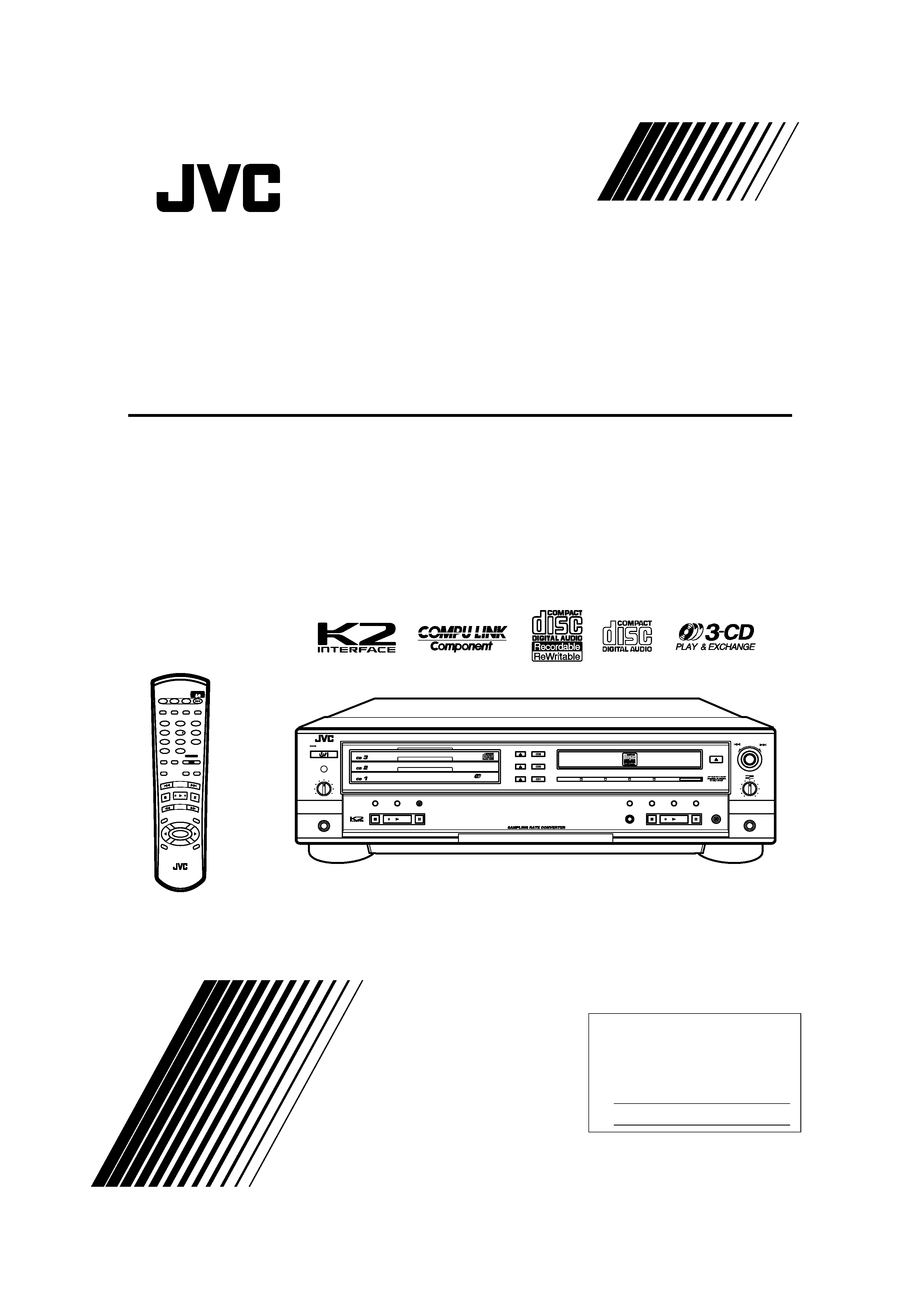 Enter below the Model No. and Serial No.
which are located on the rear, bottom or
side of the cabinet. Retain this information
RM­SXLR5010A REMOTECONTROL
CD/CDR MULTIPLE COMPACT DISC RECORDER
CD/CDR MULTIPLE COMPACT DISC RECORDER
COMBINE ENREGISTREUR CHANGEUR DE CD/CDR
XL-R5010BK.book Page 1 Monday, June 4, 2001 11:40 AM
---

Warnings, Cautions and Others /
Mises en garde, précautions et indications diverses
The lightning flash with arrowhead symbol,
within an equilateral triangle is intended to
alert the user to the presence of uninsulated
"dangerous voltage" within the product's
enclosure that may be of sufficient magni-
tude to constitute a risk of electric shock to
The exclamation point within an equilateral
triangle is intended to alert the user to the
presence of important operating and mainte-
nance (servicing) instructions in the literature
accompanying the appliance.
CAUTION: TO REDUCE THE RISK OF ELECTRIC SHOCK
DO NOT REMOVE COVER (OR BACK)
NO USER SERVICEABLE PARTS INSIDE
REFER SERVICING TO QUALIFIED SERVICE PERSONNEL.
WARNING: TO REDUCE THE RISK OF FIRE
OR ELECTRIC SHOCK, DO NOT EXPOSE
THIS APPLIANCE TO RAIN OR MOISTURE.
This equipment has been tested and found to com-
ply with the limits for a Class B digital device, pursu-
ant to Part 15 of the FCC Rules. These limits are
designed to provide reasonable protection against
harmful interference in a residential installation. This
equipment generates, uses, and can radiate radio
frequency energy and, if not installed and used in
accordance with the instructions, may cause harmful
interference to radio communications. However,
there is no guarantee that interference will not occur
in a particular installation. If this equipment does
cause harmful interference to radio or television
reception, which can be determined by turning the
equipment off and on, the user is encouraged to try
to correct the interference by one or more of the fol-
­ Reorient or relocate the receiving antenna.
­ Increase the separation between the equipment
­ Connect the equipment into an outlet on a circuit
different from that to which the receiver is con-
­ Consult the dealer or an experienced radio/TV
XL-R5010BK.book Page 1 Monday, June 4, 2001 11:40 AM
---

2. DANGER: Invisible laser radiation when open and
interlock failed or defeated. Avoid direct exposure to
3. CAUTION: Do not open the top cover. There are no
user serviceable parts inside the unit; leave all ser-
vicing to qualitied service personnel.
1. PRODUIT LASER CLASSE 1
l'appareil est ouvert ou que le verrouillage est en
panne ou désactivé. Eviter une exposition directe
3. ATTENTION: Ne pas ouvrir le couvercle du dessus.
Iln'y a aucune pièce utilisable à l'intérier. Laisser à
un personnel qualifié le soin de réparer votre appar-
To reduce the risk of electrical shocks, fire, etc.:
1. Do not remove screws, covers or cabinet.
2. Do not expose this appliance to rain or moisture.
Afin d'èviter tout risque d'électrocution, d'lncendie. etc.:
1. Ne pas enlever les vis ni les panneaux et ne pas
ouvrir le coffret de l'appareil.
2. Ne pas exposer l'appareil à la pluie ni à l'humidité.
Disconnect the mains plug to shut the power off com-
does not disconnect the mains line. The power can be
Attention -- Commutateur STANDBY/ON
Déconnecter la fiche de secteur pour couper complète-
ment le courant. Le commutateur STANDBY/ON
coupe jamais complètement la ligne de secteur, quelle
que soit sa position. Le courant peut être télécom-
For Canada/pour le Canada
CAUTION: TO PREVENT ELECTRIC SHOCK,
MATCH WIDE BLADE OF PLUG TO WIDE SLOT,
PRECAUTION: POUR EVITER LES CHOCS
ELECTRIQUES, INTRODUIRE LA LAME LA
PLUS LARGE DE LA FICHE DANS LA BORNE
For Canada/pour le Canada
THIS DIGITAL APPARATUS DOES NOT EXCEED THE CLASS B
LIMITS FOR RADIO NOISE EMISSIONS FROM DIGITAL APPA-
RATUS AS SET OUT IN THE INTERFERENCE-CAUSING EQUIP-
MENT STANDARD ENTITLED "DIGITAL APPARATUS," ICES-003
OF THE DEPARTMENT OF COMMUNICATIONS.
CET APPAREIL NUMERIQUE RESPECTE LES LIMITES DE
BRUITS RADIOELECTRIQUES APPLICABLES AUX APPAREILS
NUMERIQUES DE CLASSE B PRESCRITES DANS LA NORME
SUR LE MATERIEL BROUILLEUR: "APPAREILS NUMERIQUES",
NMB-003 EDICTEE PAR LE MINISTRE DES COMMUNICATIONS.
XL-R5010BK.book Page 2 Monday, June 4, 2001 11:40 AM
---

Caution: Proper Ventilation
To avoide risk of electric shock and fire and to protect from damage,
position the main unit as follows:
Open space with no obstructions.
At least 3cm of space on each side.
At least 5cm of space between the top of the unit and the
At least 15cm of space between the back panel and the
Place the unit on a flat, level surface with no obstructions.
In addition, maintain the best possible air circulation as illustrated.
Attention: Ventilation Correcte
Pour éviter les chocs électriques, l'incendie et tout autre dégât.
Disposer l'appareil en tenant compte des impératifs suivants
Rien ne doit gêner le dégagement
Laisser 3 cm de dégagement latéral
Laisser 5 cm de dégagement supérieur
Laisser 15 cm de dégagement arrière
Rien ne doit obstruer par dessous; poser l'appareil sur
Veiller également à ce que l'air circule le mieux possible comme
Dégagement de 15 cm ou plus
Stand height 15 cm or more
Hauteur du socle: 15 cm ou plus
XL-R5010BK.book Page 3 Monday, June 4, 2001 11:40 AM
---

Introduction ....................................................... 1
Precautions ......................................................... 2
Features .............................................................. 2
Connections ........................................................ 3
Analog Connections ....................................................................3
Digital Connections.....................................................................4
Components........................................................ 5
Main Unit ....................................................................................5
Display Window..........................................................................7
Using the Remote Control................................. 8
Remote Control ...........................................................................8
Inserting the Batteries .................................................................9
Using the Remote Control...........................................................9
Power STANDBY/ON Operations ................. 10
Turning the Power On and Standby Mode................................10
Listening to CDs............................................... 11
3-CD Changer Continuous Playback ........................................11
CDR Playback Operations ........................................................12
Using the Remote Control to Control Playback........................13
Direct Playback of a Specific Track..........................................14
Forward and Reverse Search.....................................................14
Skipping Tracks ........................................................................15
Repeat Playback ........................................................................15
Random Playback......................................................................16
CD Playback Pitch Control .......................................................16
Disc Lock Function ...................................................................16
Programming Playback Using Main Unit Controls ..................17
Programming Playback Using the Remote Control ..................18
Recording onto CD-R/RW Discs .................... 20
Add Finalize Feature .................................................................20
Manual Recording .....................................................................21
Synchronized Recording of 3-CD Changer Playback...............23
1 Disc Dubbing .........................................................................25
Listening Edit Recording ..........................................................26
Program Edit Recording............................................................27
3-CD Changer to CDR Recording Options...............................28
Setting the Unit for High-speed Recording...............................29
Setting the Auto Track Spacing Function .................................29
Synchronized Recording from External Sources ......................30
Mixed Input Recording .............................................................31
Special Recording Edit Operations ............... 33
Skipping a Recorded Track on a CD-R or CD-RW
(Track Skip)...........................................................................33
Erasing a Track or Tracks (Erase Function)..............................33
Erasing All Tracks (Disc Erase Function).................................34
Finalizing a Disc........................................................................35
Making Recording of a Finalized CD-RW Disc Possible
(Unfinalize Function) ............................................................35
Bypassing the FS Converter (Sampling Frequency Converter*)
for More Efficient Digital Recording ....................................36
Setting Up Synchronized Start Recording for External Digital
Source (CD, MD, and DAT only) .........................................37
Resetting the Unit to the Factory Default Settings....................37
Setting the Clock .............................................. 38
Setting the Present Time ...........................................................38
Timer Operations............................................. 40
Timer Play (wake-up play)........................................................40
Timer Recording (Unattended Recording from a Broadcast
Receiver or Other Source) .....................................................42
COMPU LINK Function................................. 43
CD and CDR Messages.................................... 44
SCMS (Serial Copy Management System) ...............................46
Troubleshooting ............................................... 47
Main Specifications.......................................... 48
XL-R5010BK.book Page 1 Monday, June 4, 2001 11:40 AM
---