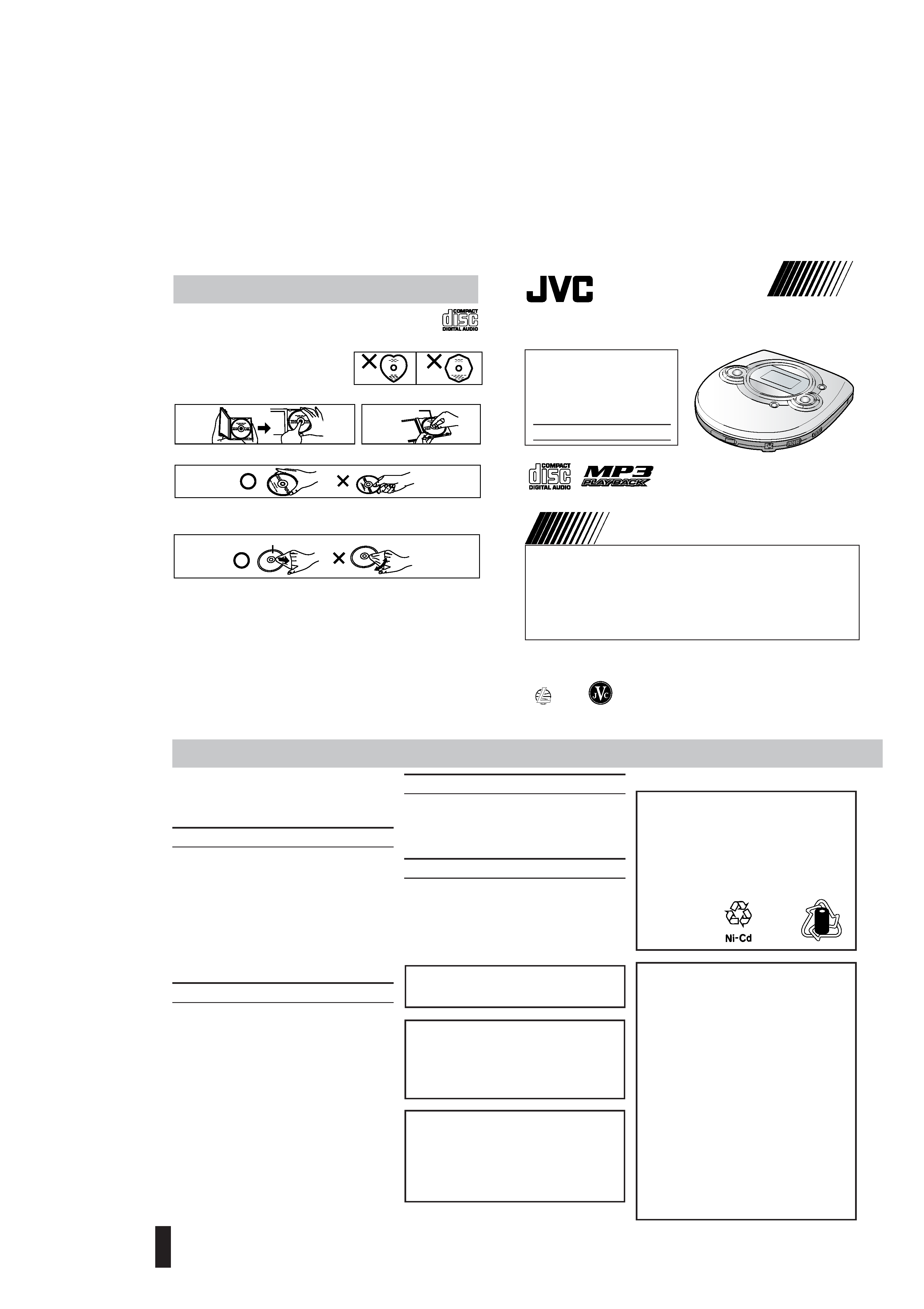 XL-PM25BK / LVT0997-001A / J, C
Use numbers in parentheses when asking for replacement parts.
AC adaptor (AA-R4513) ................................................................................................................. 1 pc.
Stereo headphones .......................................................................................................................... 1 pc.
Remote control ................................................................................................................................. 1 pc.
Rechargeable batteries (BN-R1211J) .......................................................................................... 2 pcs.
Check the packing carton for these accessories.
Before using this unit, be sure to read the applicable items of the
operating instructions and these safety-suggestions carefully.
Afterwards keep them handy for future reference. Take special
care to follow the warnings indicated on the unit itself as well as
in the operating instructions.
- The cord of the AC adaptor should be
routed so that they are not likely to be walked on or pinched by
items placed upon or against them. Never take hold of the AC
adaptor if your hand is wet, and always grasp the plug when
connecting or disconnecting it.
2. Disconnect when not in use
- When not in use, be sure to
disconnect the AC adaptor from the AC power outlet.
- If the set is not used for a long period of time or is
used only from an AC power source, remove all the batteries to
prevent potential damage due to battery leakage. Do not mix
(old and new ) batteries or different types of batteries.
- Moisture may form on the lens in the follow-
· immediately after a heater has been turned on.
· in a steamy or very humid room.
· when the unit is suddenly moved from a cold environment
to a warm one. If moisture forms inside this unit, it may not
operate properly. To correct this problem wait about one
hour for the moisture to evaporate.
- Care should be taken so that objects do not
fall into and liquids are not spilled into the unit. Do not subject
this unit to excessive smoke, dust, mechanical vibration, or
- The unit should be situated away from equip-
ment or devices that generate strong magnetic fields.
- Do not place any objects on top of the unit.
(See page 3 for details.)
Clean the cabinet, panel and controls with a soft cloth lightly
moistened with mild detergent solution.
Do not use any type of abrasive pad, scouring powder or solvent
such as alcohol or benzine.
1. Damage Requiring Service
- The unit should be serviced by
qualified service personnel when:
(a) The AC adaptor is damaged; or
(b) Objects have fallen or liquid has been spilled into the unit; or
(c) The unit has been exposed to rain; or
(d) The unit does not appear to operate normally or exhibits a
marked change in performance; or
(e) The unit has been dropped, or the enclosure damaged.
THIS PRODUCT UTILIZES A LASER.
USE OF CONTROLS OR ADJUSTMENTS OR PERFORMANCE
OF PROCEDURES OTHER THAN THOSE SPECIFIED HEREIN
MAY RESULT IN HAZARDOUS RADIATION EXPOSURE.
DO NOT OPEN COVERS AND DO NOT REPAIR YOURSELF.
REFER SERVICING TO QUALIFIED PERSONNEL.
This equipment has been tested and found to comply with
the limits for a Class B digital device, pursuant to Part 15 of
These limits are designed to provide reasonable protection
against harmful interference in a residential installation.
This equipment generates, uses and can radiate radio fre-
quency energy and, if not installed and used in accordance
with the instructions, may cause harmful interference to ra-
dio communications. However, there is no guarantee that
interference will not occur in a particular installation. If this
equipment does cause harmful interference to radio or tele-
vision reception, which can be determined by turning the
equipment off and on, the user is encouraged to try to cor-
rect the interference by one of the following measures:
· Reorient or relocate the receiving antenna.
· Increase the separation between the equipment and re-
· Connect the equipment into an outlet on a circuit different
from that to which the receiver is connected.
· Consult the dealer or an experienced radio/TV technician
Any unauthorized changes or modifications to this equip-
ment would void the user's authority to operate this device.
2. DANGER: Invisible laser radiation when open
and interlock failed or defeated. Avoid direct ex-
3. CAUTION: Do not open the top cover. There are
no user serviceable parts inside the unit; leave all
servicing to qualitied service personnel.
POWERED BY NICKEL-CADMIUM BATTERY.
MUST BE RECYCLED OR DISPOSED OF PROPERLY.
The product that you have purchased is powered by a re-
chargeable battery. The battery is recyclable. At the end of
it's useful life, under various state and local laws, it may be
illegal to dispose of this battery into the municipal waste
Check with your local solid waste officials for details in
your area for recycling options or proper disposal.
PORTABLE CD PLAYER XL-PM25BK
Thank you for purchasing this JVC product. Please read these instructions carefully before starting
operation to be sure to obtain optimum performance and a longer service life from the unit.
Only compact discs bearing this mark can be used with this unit.
However, continued use of irregular shape CDs (heart-shape, octagonal, etc.) can damage
If moisture has formed on a disc
When moisture has formed because the
disc was brought suddenly into a warm
room from a cold environment, wipe off
the moisture using a soft dry cloth.
Avoid locations which are
· Exposed to direct sunlight.
· Susceptible to high levels of humidity or
· Directly exposed to heat from a heating
· On top of a car dashboard or near the
· On the label side (the side with writing)
Do not write anything using a pencil,
ball-point pen, etc. Do not use adhesive
· On the disc (shiny) side
Handle this side carefully to keep it free
from fingerprints or scratches. Do not
use record cleaners, solvents, etc.
· Do not attach labels or stickers to CDs.
Do not use CDs with exposed adhesive
from tape or left over peeled off stickers.
· Do not use scratch-proof protectors or
covers other than those specified for use
How to store the disc in its case
How to remove a disc from its case
Play surface (shiny surface)
Enter below the Model No. and Serial
No. which are located either on the rear,
bottom or side of the player. Retain this
information for future reference.
TO REDUCE THE RISK OF FIRE OR ELECTRIC SHOCK, DO
NOT EXPOSE THIS APPLIANCE TO RAIN OR MOISTURE.
CD-R and CD-RW discs recorded with the audio
CD format can be played back, though some may
not be played back because of the disc characteris-
tics or recording condition.
If the disc surface is dirty
Wipe it with a damp cloth and then wipe dry.
Wipe from the center toward the outer edge.
THE FOLLOWING NOTICES ARE APPLIED ONLY FOR THE U.S.A.:
---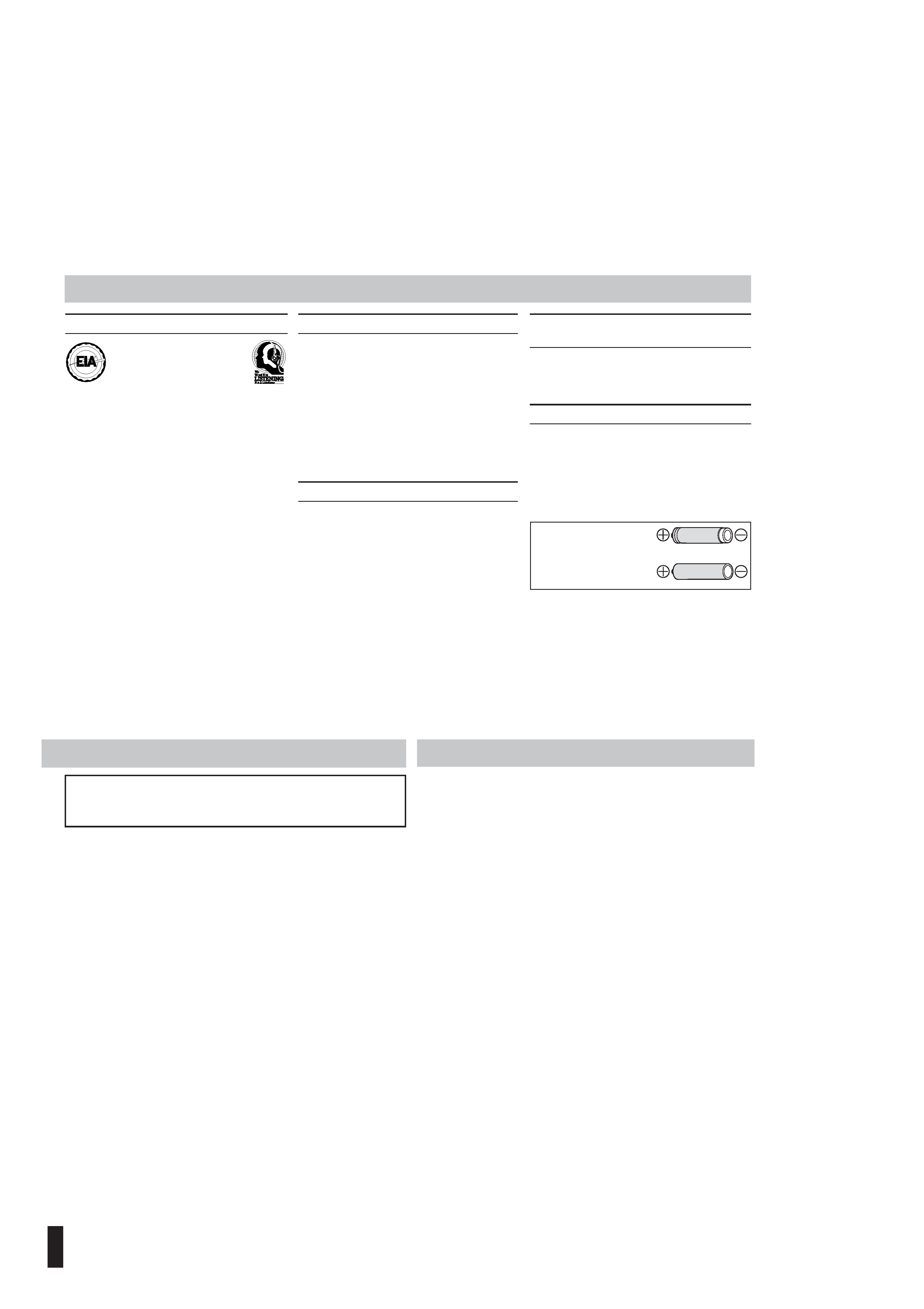 XL-PM25BK / LVT0997-001A / J, C
Power Supply Preparations
This digital apparatus does not exceed the Class B limits for radio noise emissions from digital
apparatus as set out in the interference-causing equipment standard entitled "Digital Apparatus",
ICES-003 of the Department of Communications.
Special rechargeable batteries
Ordinary dry cell batteries/
Do not play your headphones or earphones at a high volume.
Hearing experts advise against continuous extended play.
If you experience a ringing in your ears, reduce volume or discontinue use.
Do not use while operating a motorized vehicle. It may create a
traffic hazard and is illegal in many areas.
You should use extreme caution or temporarily discontinue use
in potentially hazardous situations.
Even if your headphones or earphones are an open-air type de-
signed to let you hear outside sounds, don't turn up the volume
so high that you can't hear what's around you.
Sound can be deceiving. Over time your hearing "comfort level"
adapts to higher volumes of sound. So what sounds "normal" can
actually be loud and harmful to your hearing.
Guard against this by setting your equipment at a safe level BE-
FORE your hearing adapts.
To establish a safe level:
· Start your volume control at a low setting.
· Slowly increase the sound until you can hear it comfortably and
clearly, and without distortion.
Once you have established a comfortable sound level:
· Set the dial and leave it there.
· Only the BN-R1211J battery can be recharged.
· If the power delivered by the batteries lasts for a very short
time after recharging, it means that the batteries' service life is
over. Do not use them any more.
· Recharging already charged batteries will shorten their service life.
· When recharging batteries for the first time or when they have
not been used for a long period of time, the play time may be
shorter than usual. In a case like this, repeatedly recharge and dis-
charge the batteries. This will restore them to their regular state.
· Do not allow any metal objects to touch the terminals of rechargeable
batteries since this may cause short-circuiting which is dangerous.
· Do not peel off the plastic covering on the rechargeable batter-
ies. Short-circuiting may occur which is dangerous.
Dry cell batteries / rechargeable batteries
To prevent damage to the batteries and electrolyte leakage, heed
ª and · polarities properly when inserting the bat-
· Do not mix different types or makers of batteries or old and
· Remove the batteries if you do not plan to use the unit for a
· Do not throw batteries into a fire, and do not short-circuit, dis-
assemble or subject them to excessive heat.
· Do not attempt to recharge dry cell batteries.
Carrying dry cell batteries /
rechargeable batteries around
When putting dry cell or rechargeable batteries in a pocket or
bag, ensure that no other metal objects such as a necklace are
placed together with them. Contact with metal may cause short-
circuiting which, in turn, may cause a fire.
When purchasing rechargeable batteries
As a safety precaution, the portable CD players made by JVC
have a construction designed to make it impossible to recharge
To use rechargeable batteries, be absolutely sure to purchase the
rechargeable Ni-Cd batteries designed especially for this unit.
Special rechargeable Ni-Cd batteries:
For details, check with your dealer.
Signal detection system : Non-contact optical pickup (semiconductor laser)
: Headphones (3.5 mm dia. stereo
matching impedance (16 to 1 k)
LINE OUT (3.5 mm dia. stereo
: Approx. 3 hours when using two rechargeable batteries
(BN-R1211J) charged for 10 hours,
Approx. 20 hours when using two alkaline batteries (LR6)
: DC 3 V ("AA" size battery
DC 2.4 V (rechargeable battery
×H×D) : 134.0 mm ×26.5 mm ×140.0 mm (5-
5
/
16
"× 1-
1
/
16
"× 5-
9
/
16
")
(Excluding buttons and controls)
: Approx. 270 g (0.6 lbs)
Design and specifications are subject to change without notice.
---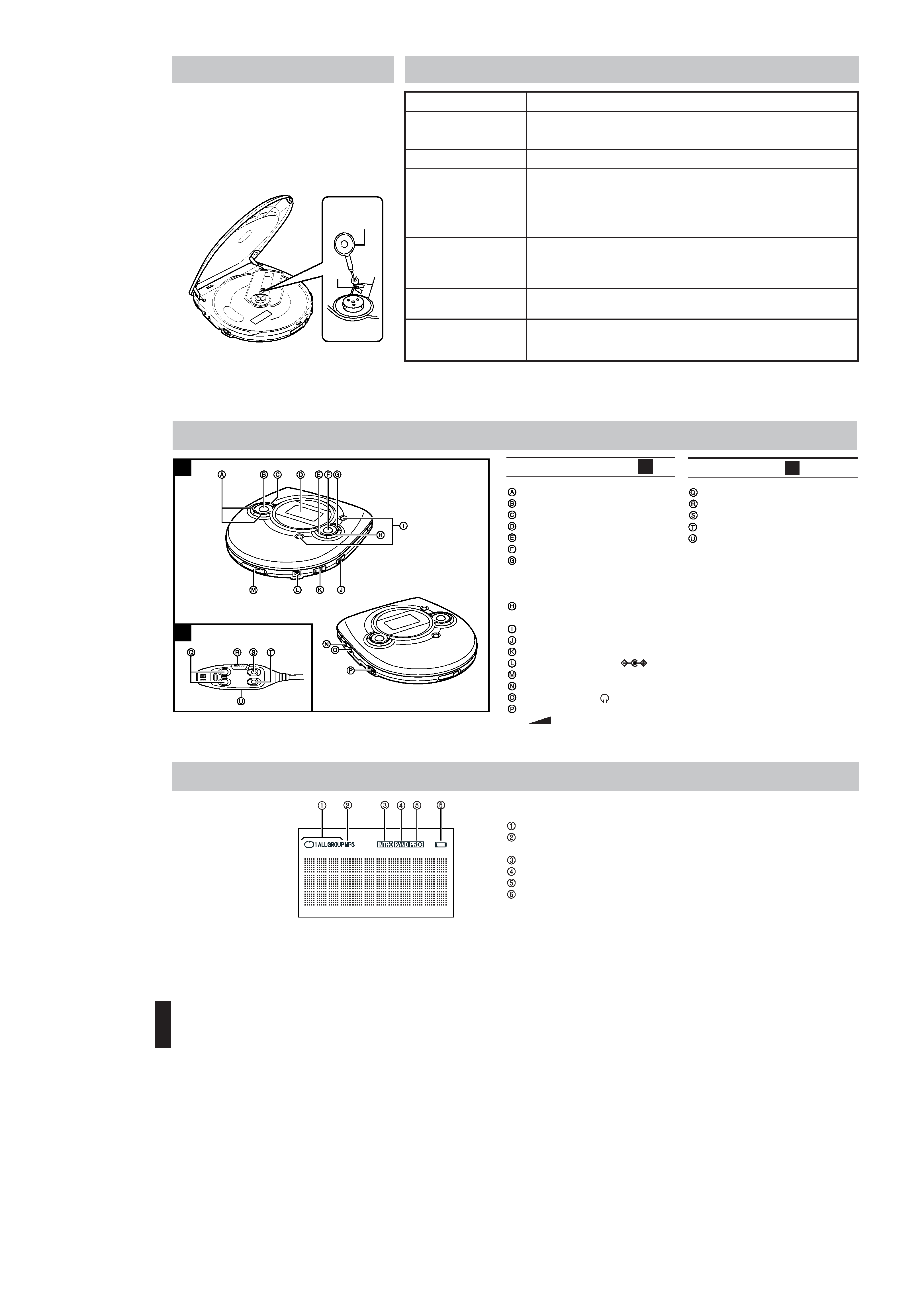 XL-PM25BK / LVT0997-001A / J, C
· Are the batteries charged?
· Is the AC adaptor securely connected?
· Is the HOLD switch set to OFF position?
Is the disc properly secured in place?
· Is the disc properly secured in place?
· Is there moisture condensation on the lens?
(Wait for about an hour and then try again.)
· Are MP3 files recorded on the disc?
· Do MP3 files have the extension code--.mp3?
· Are MP3 files recorded in the format compliant with ISO 9660?
· Is the headphone correctly connected?
· Is the plug dirty? (Wipe away dirt on the plug.)
· Are you playing a compatible disc? While playing a non-MP3 file, you will hear a noise. (Note it
may not be an MP3 file although it has the extension code--.mp3.)
Are you using the unit too near a TV or tuner? (If the TV or tuner is connected to a simple
indoor antenna, connect it to an outdoor antenna.)
· Is the disc playable on this player?
· Has the disc been inserted upside down?
Radio reception is noisy.
displayed when a disc is in
If the remedies indicated in the chart do not solve the problem, refer to the directory of Authorized Service Centers (enclosed with this
unit) to locate a convenient service center, or consult your dealer.
Wipe the unit with a soft cloth. Remove stubborn dirt using a
cloth which has been dipped in water or soapy water and wrung
· If you intend to use a chemically treated cleaning cloth, read its
· Do not use alcohol or paint thinners.
Stop / power off button (
In addition to sound effect selec-
tion, you can turn on/off HBS
A.S.P. (Anti-Shock Protection) /
T.SEARCH (Title Search) button
Headphones volume control
Skip / search buttons (+, ­)
Repeat indicator (See page 7)
Lights when a MP3 disc is used.
INTRO indicator (See page 7)
RAND (Random) indicator (See page 7)
PROG (Program) indicator (See page 7)
Battery indicator (See page 4)
---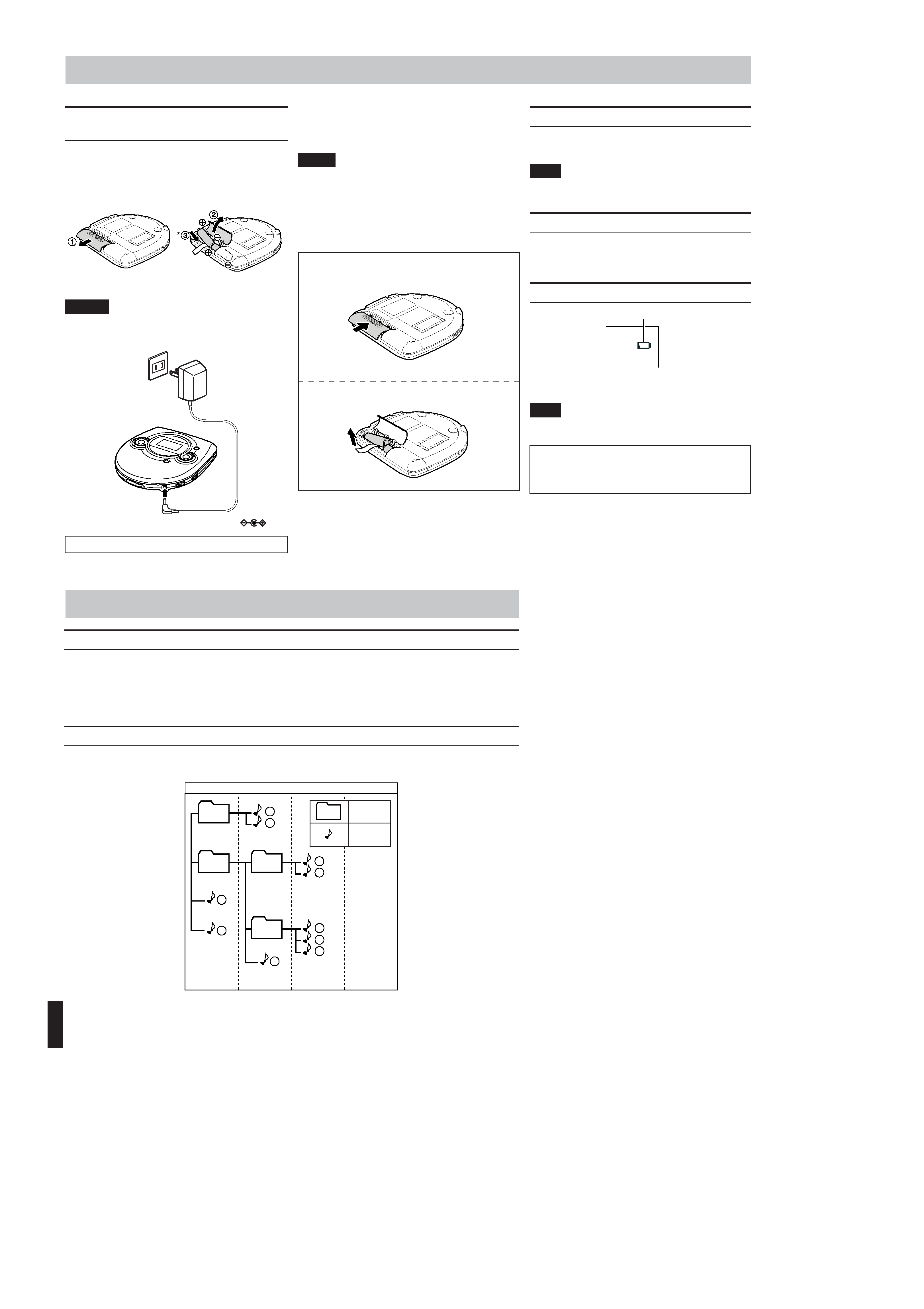 XL-PM25BK / LVT0997-001A / J, C
Power Supply Preparations
Using rechargeable batteries
Be sure to recharge the rechargeable batteries before using them.
1
Insert the rechargeable batteries.
* Insert the battery as you push it in the indicated direction.
Do not forcibly open the battery lid too wide.
2
Connect the AC adaptor (supplied).
Recharging will be completed after 10 hours.
Using the AC adaptor (supplied)
Refer to "Using rechargeable batteries" for connection instructions.
Even if the unit is turned off, small power is consumed as long as
the AC adaptor is connected to the AC power outlet.
Using dry-cell batteries (not supplied)
After disconnecting the AC adaptor, insert two "AA" (LR6) alka-
The procedure for inserting and removing dry-cell batteries is
identical to that rechargeable batteries.
This indicator lights when the batteries are almost out of power.
Power will be shut off a short while later.
Turning off the Anti-Shock Protection (see page 6) will save the
battery power more or less. (Available for an Audio CD only)
If the unit malfunctions or freezes during use,
disconnect the AC adaptor and batteries. Then,
connect the AC adaptor and batteries, and oper-
3
When recharging is complete, unplug the
AC adaptor from the AC power outlet and
· Rechargeable batteries have a service life of approximately
300 charge-discharge cycles. If the operating time on one full
charge becomes noticeably shorter than it used to be, the batteries
have reached the end of their service life and should be replaced.
· You can recharge the batteries only when the unit is turned off.
· The AC adaptor and rechargeable batteries may become warm
while recharging is in progress. This is normal and is not a
· This player can read MP3 files that are recorded in the format that is compliant with ISO 9660.
· The player can read or play an MP3 file with the extension code --".mp3".
· Group/track title can be displayed.
· ID3* tags can be shown on the display.
* An MP3 file can contain file information called "ID3 Tag" where its album name, artist, title, etc. are recorded.
This player can handle only one-byte characters. Any other characters cannot be correctly displayed.
Playing order of MP3 files
The illustration below shows the normal playing order of the MP3 files. You will see that the MP3 files are played back in the order from the
higher hierarchy to the lower one.
If the battery lid compartment comes loose
Slide the lid back into place horizontally.
---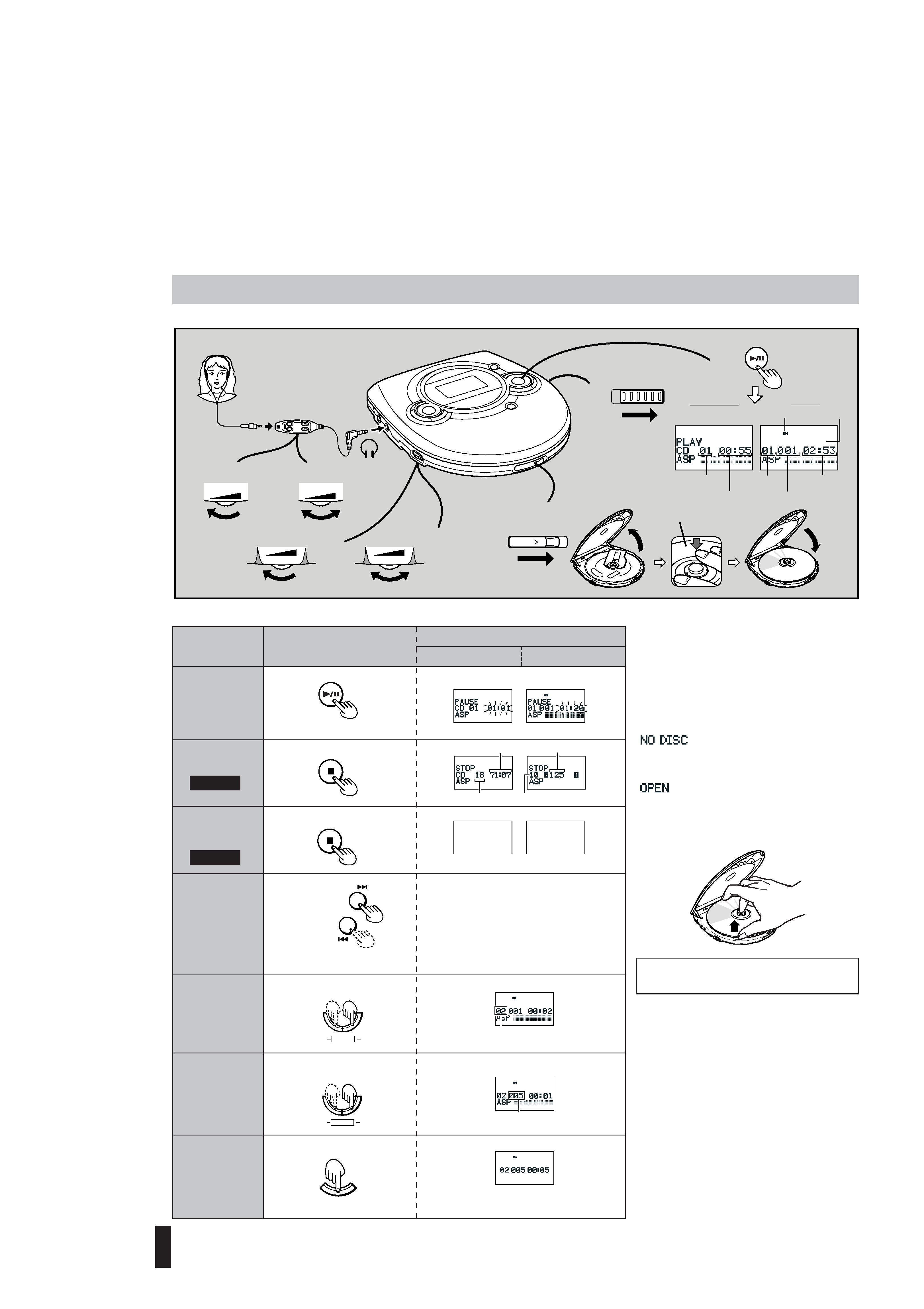 XL-PM25BK / LVT0997-001A / J, C
This CD player can play back Audio CDs and MP3 files (tracks).
Elapsed playing time of each track
File name and ID3 tag display (MP3 only):
During playback, the file name and ID3 tag scroll on the display
] ID3 tag (Title ] Artist ] Album) ] ID3 tag
] Artist ] Album) ] .....
· The file name scrolls at first only. Then, the ID3 tag repeatedly
· For the ID3 tag, the Title, Artist and Album scroll in that order.
This indication appears if
3/8 is pressed when no disc is loaded in
the unit or if the disc is not properly seated.
This indication appears when the lid is open.
Turn off the unit and, after the disc has stopped rotating, remove
If the unit is left in stop mode for 30 seconds, the unit turns
itself off automatically to save power.
· To skip back to the previous track, quickly press
· During Program play, the button is used to fast for-
ward or back through the programmed sequence of
· During Random play, the skip button cannot be used
to skip back to tracks that were played previously in
Press again to restart play.
During play (except Random play) or in
During play (except Random play)
or in stop mode, keep depressing.
During play, keep depressing.
Track number quickly changes over the groups.
To cancel it, keep MODE depressing again.
Keep depressing during play.
Follow the steps in the numerical order.
---