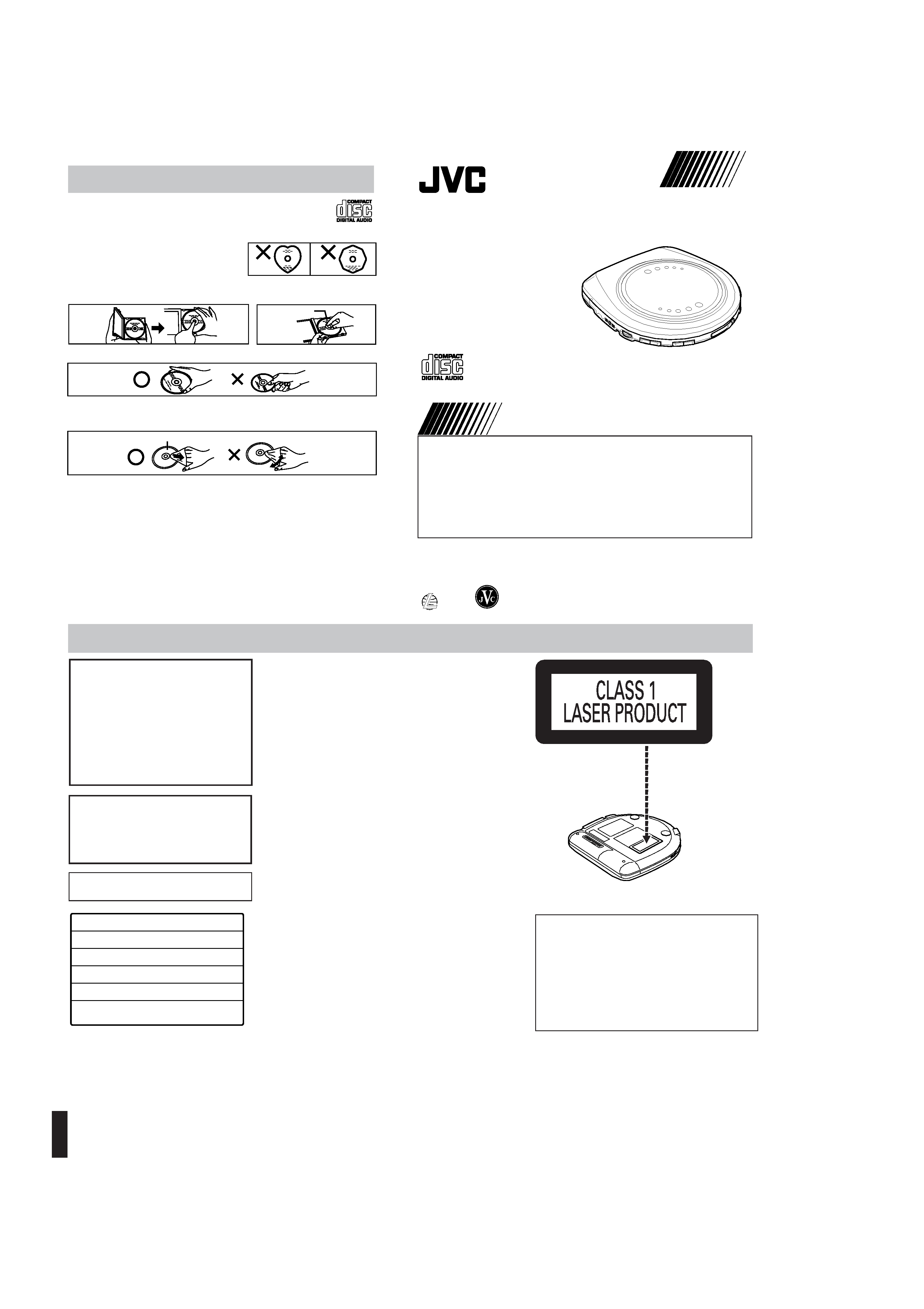 XL-PG59SL / LVT0979-004A / B
Use numbers in parentheses when asking for replacement parts.
Stereo headphones .......................................................................................................................... 1 pc.
AC adaptor (AA-R4515) ................................................................................................................. 1 pc.
Remote control ................................................................................................................................. 1 pc.
Rechargeable Ni-Cd batteries (BN-R1211) ............................................................................... 2 pcs.
Check the packing carton for these accessories.
©2003 VICTOR COMPANY OF JAPAN, LIMITED
PORTABLE CD PLAYER XL-PG59SL
Thank you for purchasing this JVC product. Please read these instructions carefully before starting
operation to be sure to obtain optimum performance and a longer service life from the unit.
Only compact discs bearing this mark can be used with this unit.
However, continued use of irregular shape CDs (heart-shape, octagonal, etc.) can damage
If moisture has formed on a disc
When moisture has formed because the
disc was brought suddenly into a warm
room from a cold environment, wipe off
the moisture using a soft dry cloth.
Avoid locations which are
· Exposed to direct sunlight.
· Susceptible to high levels of humidity or
· Directly exposed to heat from a heating
· On top of a car dashboard or near the
· On the label side (the side with writing)
Do not write anything using a pencil,
ball-point pen, etc. Do not use adhesive
· On the disc (shiny) side
Handle this side carefully to keep it free
from fingerprints or scratches. Do not
use record cleaners, solvents, etc.
· Do not attach labels or stickers to CDs.
Do not use CDs with exposed adhesive
from tape or left over peeled off stickers.
· Do not use scratch-proof protectors or
covers other than those specified for use
If the disc surface is dirty
Wipe it with a damp cloth and then wipe dry.
Wipe from the center toward the outer edge.
How to remove a disc from its case
CD-R and CD-RW discs recorded with the audio
CD format can be played back, though some may
not be played back because of the disc characteris-
tics or recording condition.
Play surface (shiny surface)
Marking sign is located on bottom of
THIS PRODUCT UTILIZES A LASER.
USE OF CONTROLS OR ADJUST-
MENTS OR PERFORMANCE OF PRO-
SPECIFIED HEREIN MAY RESULT IN
HAZARDOUS RADIATION EXPOSURE.
DO NOT OPEN COVERS AND DO NOT
REPAIR YOURSELF. REFER SERVIC-
ING TO QUALIFIED PERSONNEL.
TO REDUCE THE RISK OF FIRE OR
ELECTRIC SHOCK, DO NOT EXPOSE
THIS APPLIANCE TO RAIN OR MOIS-
2. DANGER: Invisible laser radiation when open and interlock
failed or defeated. Avoid direct exposure to beam.
3. CAUTION: Do not open the top cover. There are no user
serviceable parts inside the Unit; leave all servicing to qualified
· Do not block the ventilation opening or holes. (If the ventilation
openings of holes are blocked by a newspaper or cloth, etc., the
heat may not be able to get out.)
· Do not place any naked flame sources, such as lighted candles, on
· When discarding batteries, environmental problems must be con-
sidered and local rules or laws governing the disposal of these
batteries must be followed strictly.
· Do not expose this apparatus to rain, moisture, dripping or splashing
and that no objects filled with liquids, such as vases, shall be placed
INVISIBLE LASER RADIATION WHEN OPEN AND INTERLOCK DEFEATED.
AVOID DIRECT EXPOSURE TO BEAM.
USYNLIG LASERSTRÅLING VED ÅBNING, NÅR SIKKERHEDSAFBRYDERE
ER UDE AF FUNKTION. UNDGÅ UDSÆTTELSE FOR STRÅLING.
AVATTAESSA JA SUOJALUKITUS OHITETTAESSA OLET ALTTIINA
NÄKYMÄTÖNTÄ LASERSÄTEILYLLE. ÄLÄ KATSO SÄTEESEEN.
OSYNLIG LASERSTRÅLNING NÄR DENNA DEL ÄR ÖPPNAD OCH
SPÄRREN ÄR URKOPPLAD. BETRAKTA EJ STRÅLEN.
USYNLIG LASERSTRÅLING NÅR DEKSEL ÅPNES OG SIKKERHEDSLÅS
BRYTES. UNNGÅ EKSPONERING FOR STRÅLEN.
UNSICHTBARE LASERSTRAHLUNG, WENN ABDECKUNG GEÖFFNET
UND SICHERHEITSVERRIEGELUNG ÜBERBRÜCKT.
NICHT DEM STRAHL AUSSETZEN.
---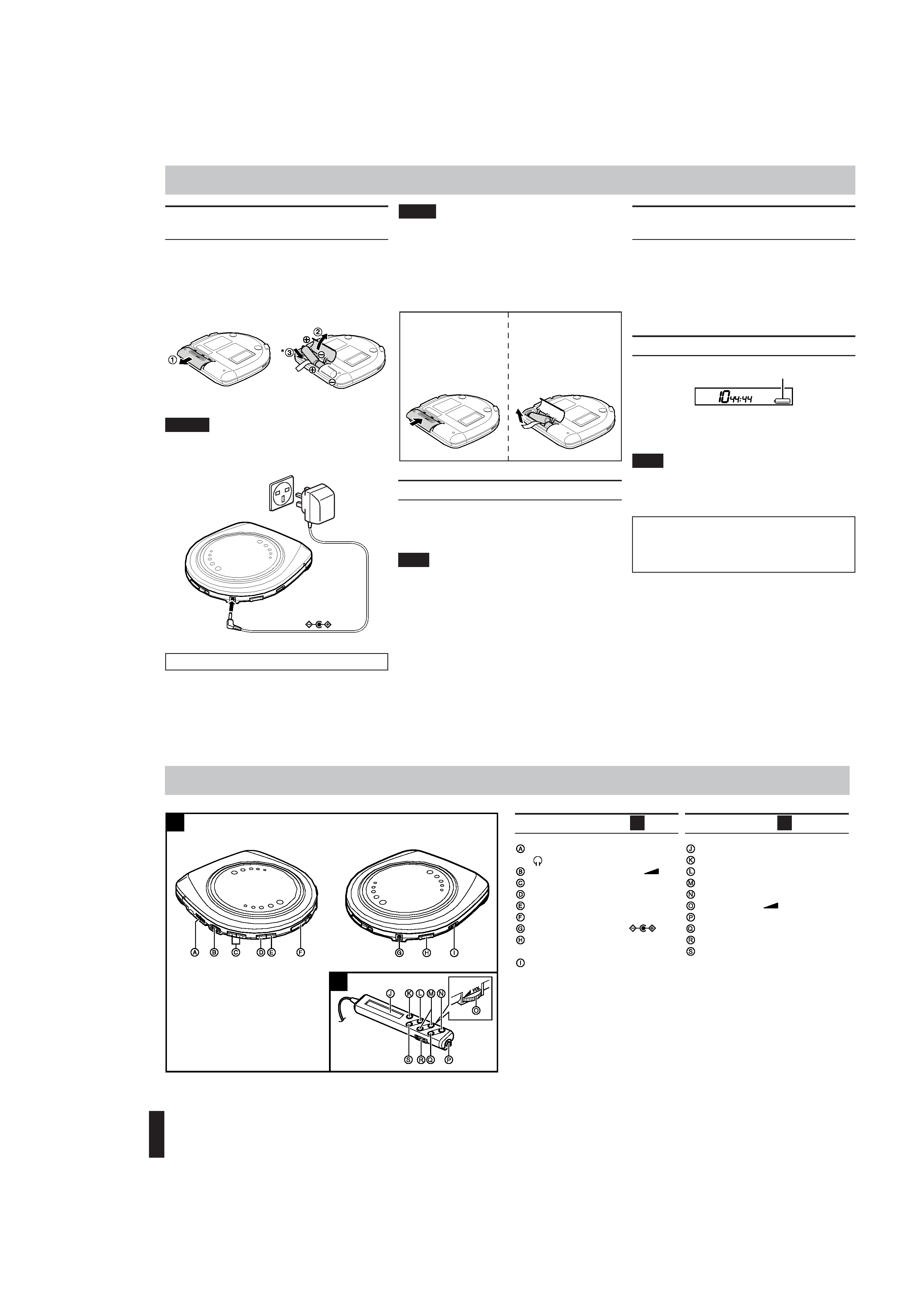 XL-PG59SL / LVT0979-004A / B
Power Supply Preparations
Using rechargeable batteries
Be sure to recharge the rechargeable batteries before using them.
1
Insert the rechargeable batteries.
* Insert the battery as you push it in the indicated direction.
Do not forcibly open the battery lid too wide.
2
Connect the AC adaptor (supplied).
Recharging will be completed after 10 hours.
3
When recharging is complete, unplug the
AC adaptor from the AC power outlet and
Using the AC adaptor (supplied)
Refer to "Using rechargeable batteries" for connection instruc-
Even if the unit is turned off, small power is consumed as long as
the AC adaptor is connected to the AC power outlet.
After disconnecting the AC adaptor, insert two "AA" (LR6) alka-
The procedure for inserting and removing dry-cell
batteries is identical to that for rechargeable bat-
This indicator flashes on and off when the batteries are almost out
of power. Power will be cut off a short while later.
Turning off the Anti-Shock Protection EX will save the battery
power more or less. For details, see "Anti-shock Protection EX"
If the unit malfunctions or freezes during use,
disconnect the power source (the AC adaptor
and batteries) once. Then, re-connect the power
source and continue operation.
· Rechargeable batteries have a service life of approximately
300 charge-discharge cycles. If the operating time on one full
charge becomes noticeably shorter than it used to be, the batteries
have reached the end of their service life and should be replaced.
· You can recharge the batteries only when the unit is turned off.
· The AC adaptor and rechargeable batteries may become warm
while recharging is in progress. This is normal and is not a mal-
Headphones / remote control jack
Stop / power off button (
ASP (Anti-Shock Protection EX)
Hyper-Bass Sound button (H.B.S)
Stop / power off button (
---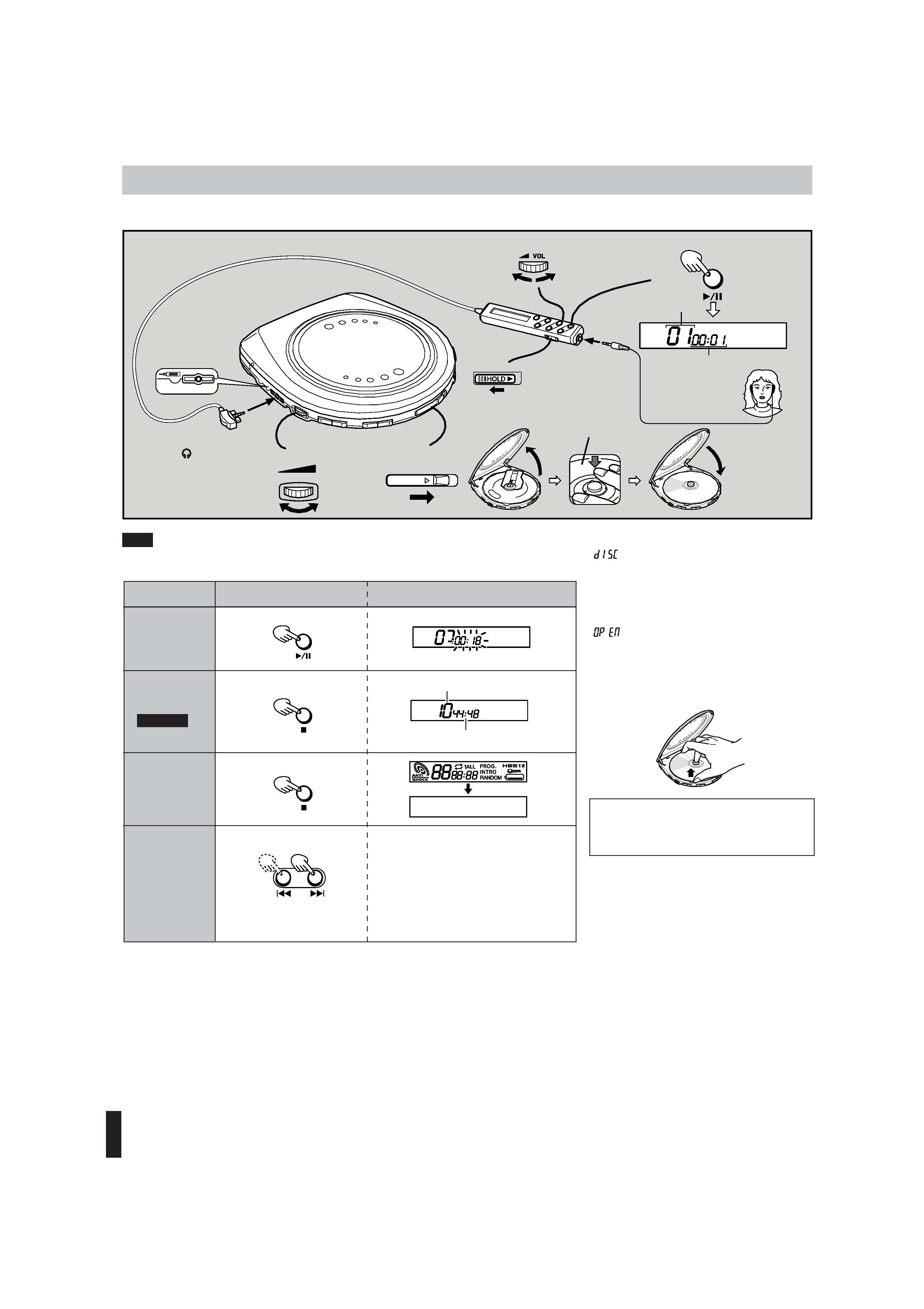 XL-PG59SL / LVT0979-004A / B
Keep depressed during play.
· Play stops automatically
This indication appears if
3/8 is pressed when no disc is loaded
in the unit or if the disc is not properly seated.
· Preparation period before playing the track
Flashes for several seconds after pressing
This indication appears when the lid is open.
Turn off the unit and, after the disc has stopped rotating, remove
If the unit is left in stop mode for 30 seconds, the unit turns
itself off automatically to prevent the batteries from running
· To skip back to the previous track, quickly press
· During Program play, the button is used to fast for-
ward or back through the programmed sequence of
· During Random play, the skip button cannot be used
to skip back to tracks that were played previously in
Press again to resume play.
Unless otherwise noted, the remote control unit's buttons are used in the following explanation.
Note that the unit's button with the same mark works equally to the remote control's button.
Follow the steps in the numerical order.
In step 1, firmly connect the plug into the jack.
Otherwise, the display may not show the correct contents.
---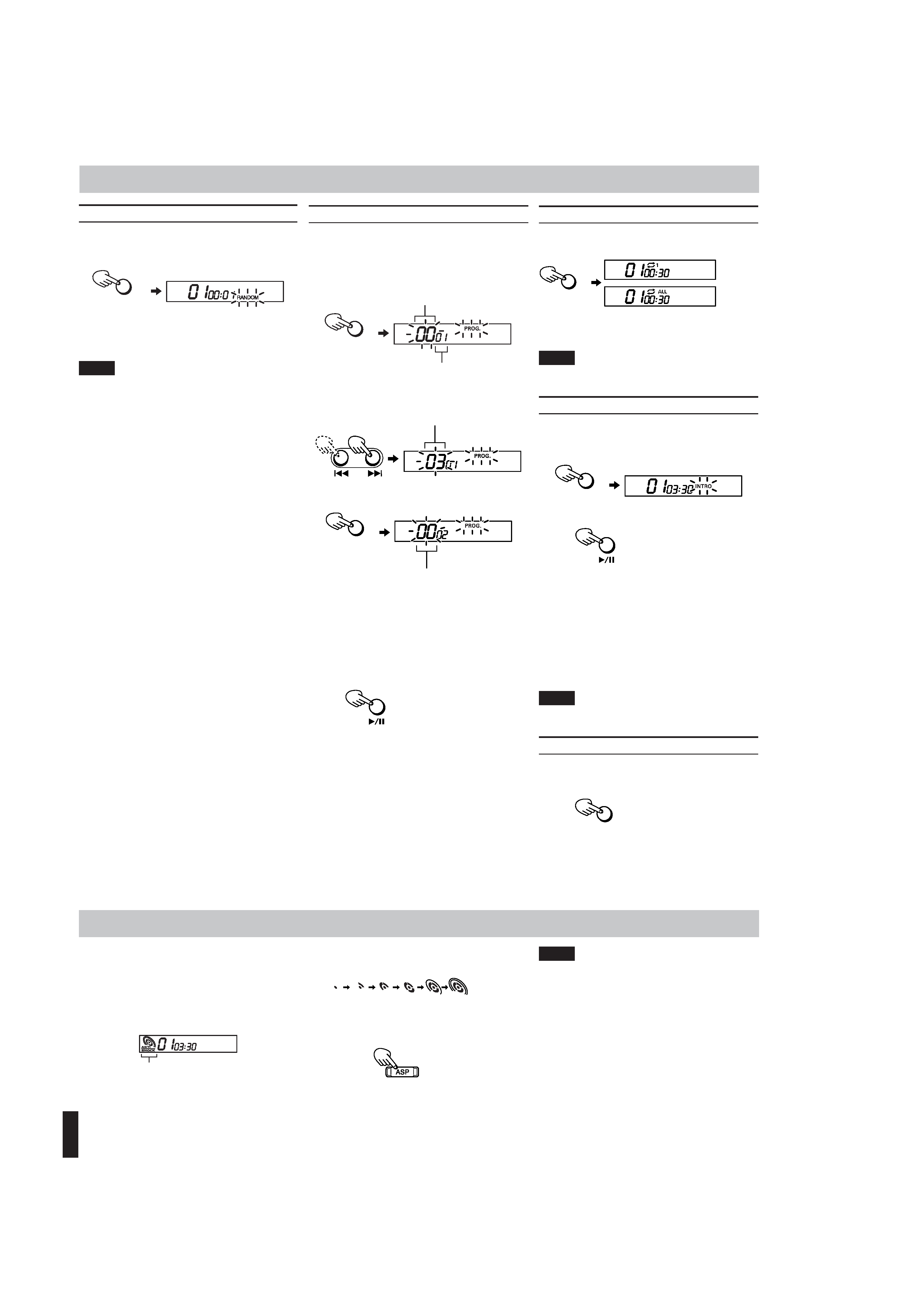 XL-PG59SL / LVT0979-004A / B
This function has been developed to achieve excellent performance
against sound interruption caused by vibrations. You will be able
to enjoy listening to music during jogging (not vigorous jogging).
This function is achieved by utilizing the high-performance
servo circuit and audio data that has been stored in the memory
ahead of time (up to 45 seconds worth).
Normally, the "ANTI SHOCK" indicator lights up on the display
and the Anti-Shock Protection EX is in effect.
When the disc is played, as the audio data gradually stored in
the memory, the "ANTI SHOCK" indicator changes as follows:
The "ANTI SHOCK" indicator goes out on the display.
You can play all tracks in a random order. After playing all tracks,
Press MODE until "RANDOM" goes out, or press
· You can also select Random play in stop mode.
· During Program play, you can not select Random play.
You can program up to 20 tracks in any desired order including
1
During playback or in stop mode,
2
Select the desired track.
4
Repeat steps 2 and 3 to program other
When you program exceeding 20 tracks, the program se-
quence number returns to "01" and will overwrite the previ-
The tracks are played in the programmed order.
In stop mode, press PROGRAM repeatedly. The programmed
track number will successively appear together with the pro-
gram sequence number. At this time, you can change the pro-
If the programmed tracks are less than 20, track number "00"
appears for the youngest programmable sequence number, en-
abling further programming.
· To delete the entire program
Turn off the unit, or set the track number to 00 for the first pro-
gram sequencer number, "01".
Track number to be programmed
You can repeat one track or all tracks.
Press MODE repeatedly until the repeat indicator goes out.
· You can also select Repeat play in stop mode.
· You can also select Repeat play during Program play.
You can successively play the first 10 seconds of every track.
Intro play stops after playing the last track.
Intro play will start from the first track.
¢ instead of 3/8 will start Intro play from the
4 will start Intro play from the cur-
rent track. When no button is pressed, Intro play will start
from the next track after the current track has finished.
Press MODE repeatedly until "INTRO" goes out.
To normally play the track being played
· You can also select Intro play in stop mode.
· You can also select Intro play during Program play.
You can enjoy powerful bass sound.
To get or cancel the Hyper-Bass Sound effect
The display changes as follows.
HBS 2 provides more effect.
· During Anti-Shock Protection EX operation, the disc rotates at
a higher rate than usual in order to collect extra audio data.
This may cause the batteries to run out faster and could result
in a slight increase in disc rotation noise.
· The Anti-Shock Protection EX function can be switched ON
and OFF during playback. However, this may cause a slight
interruption in the sound because the disc's rotational speed
---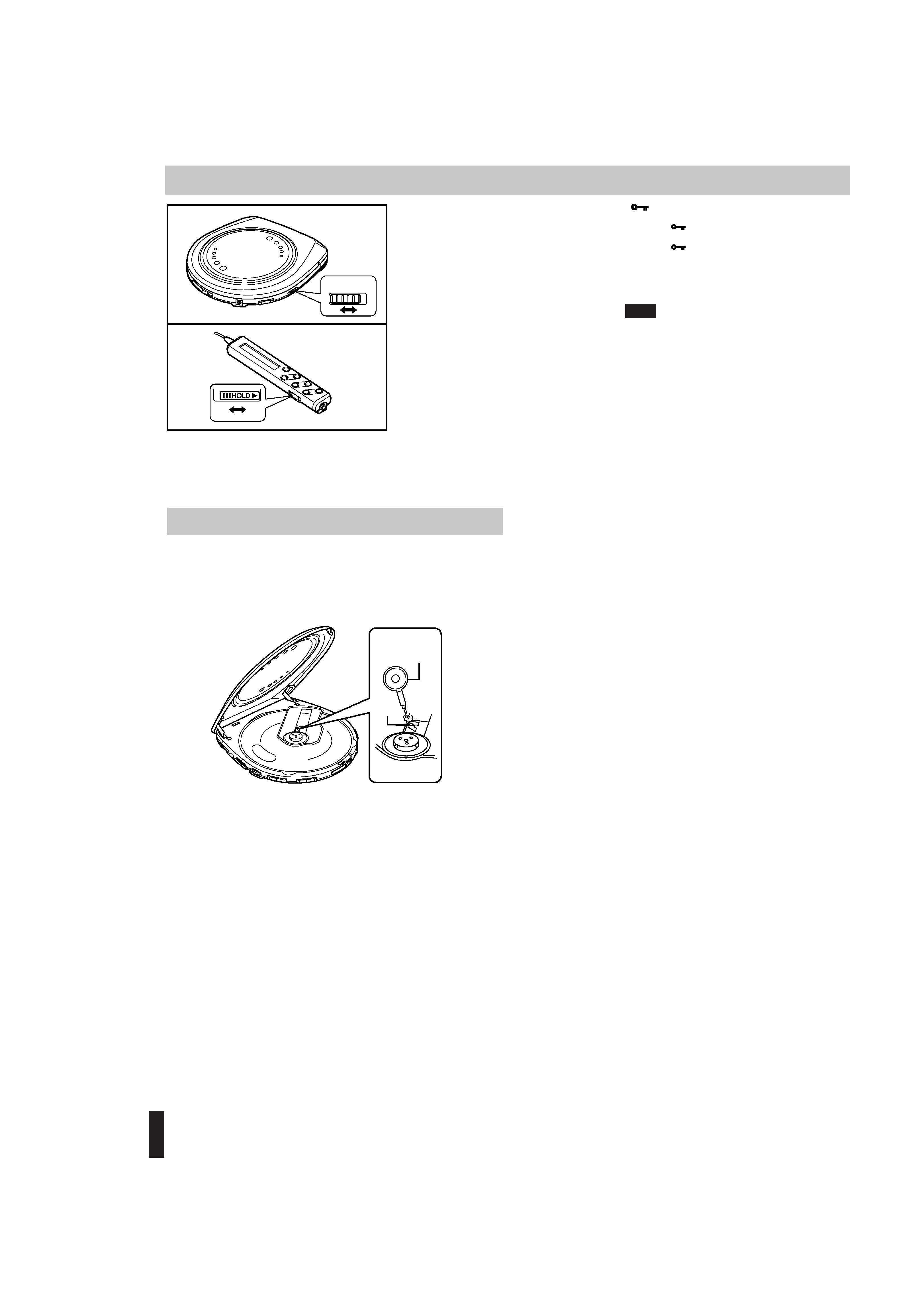 XL-PG59SL / LVT0979-004A / B
Wipe the unit with a soft cloth. Remove stubborn dirt using a cloth which has been dipped in water
or soapy water and wrung out, and then wipe dry.
· If you intend to use a chemically treated cleaning cloth, read its directions first.
· Do not use alcohol or paint thinners.
Preventing Accidental Operation (Hold mode)
This function causes the unit to ignore accidental button presses.
Hold mode prevents the following:
· Powering on the unit accidentally (which can cause the batter-
· Play being cut off unexpectedly.
The HOLD switch on the unit sets the unit in Hold mode.
The HOLD switch on the remote control sets the remote control
· To prevent the unit from powering on accidentally, set the
HOLD switch to the ON position.
· To prevent the unit from unexpected operation during play,
set the HOLD switch to the ON position after you starts play-
" stays lit when the remote control is set in Hold
" lights up for a few seconds when
Set the HOLD switch to OFF position.
When the HOLD switch on the unit is set to the ON position,
you cannot turn on the unit with the
other hand, when the HOLD switch on the remote control is set
to the ON position, you cannot turn on the unit with the
---