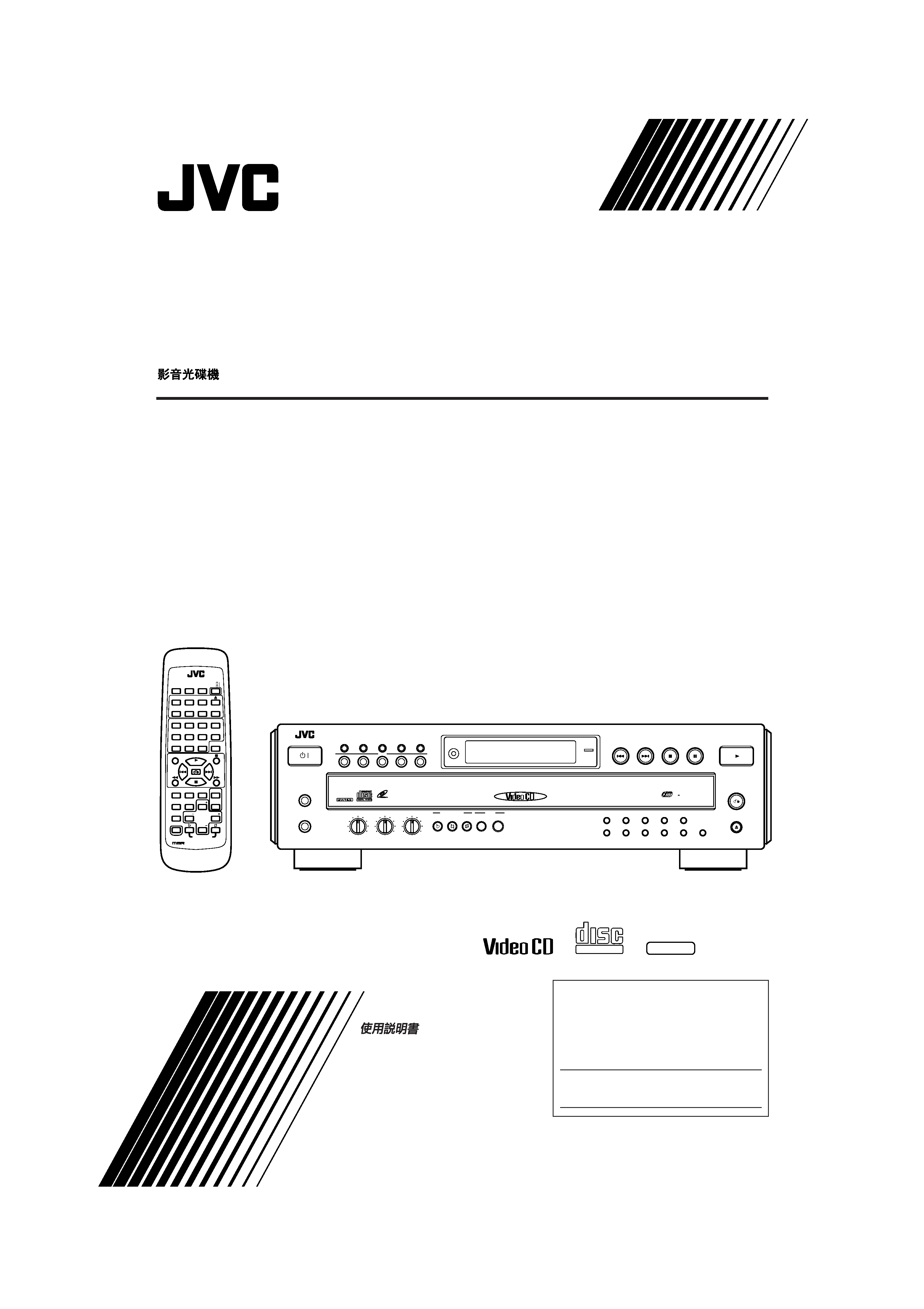 Enter below the Model No. and Serial No.
which are located either on the rear, bottom or
side of the cabinet. Retain this information for
MULTI BRAND REMOTE CONTROL
---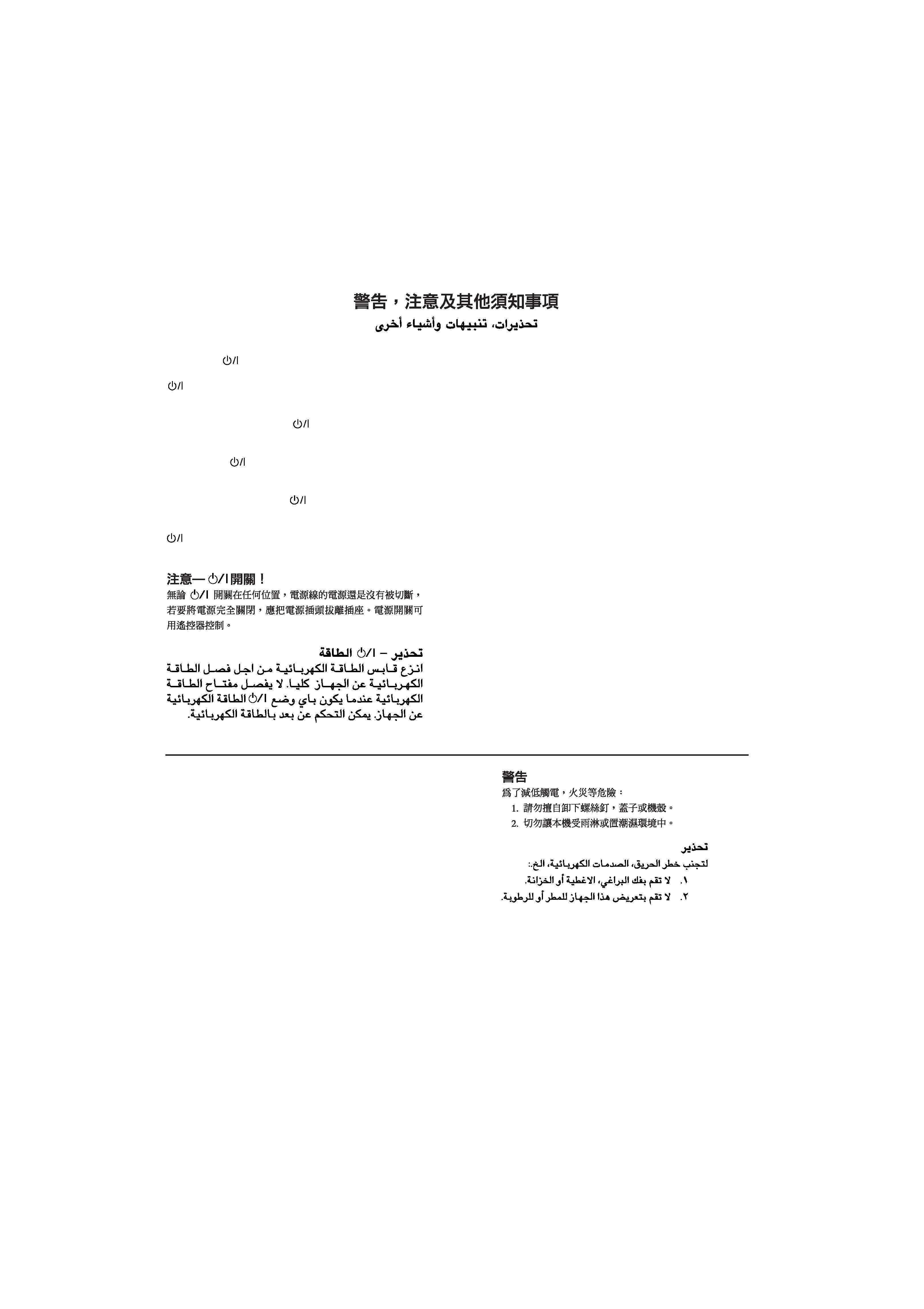 Warnings, Cautions and Others
Avisos, precauciones y otras notas
Advertências, precauções e outras notas
To reduce the risk of electrical shocks, fire, etc.:
Do not remove screws, covers or cabinet.
Do not expose this appliance to rain or moisture.
Para reducir riesgos de choques eléctricos, incendio, etc.:
No extraiga los tornillos, los cubiertas ni la caja.
No exponga este aparato a la lluvia o a la humedad.
Para reduzir riscos de choques elétricos, incêndio, etc.:
Não remova parafusos e tampas ou desmonte a
Não exponha este aparelho à chuva nem à umidade.
Disconnect the mains plug to shut the power off completely. The
switch in any position does not disconnect the mains line. The
power can be remote controlled.
Precaución ­­ Interruptor
Desconectar el cable de alimentación para desactivar la
alimentación totalmente. Cualquier que sea la posición de ajuste
, la alimentación no es cortada completamente.
La alimentación puede ser controlada remotamente.
Desconectar o cabo de alimentação para desligar a alimentação
por completo. Qualquer que seja a posição de ajuste do interruptor
, a alimentação não é completamente cortada. A alimentação
pode ser controlada remotamente.
---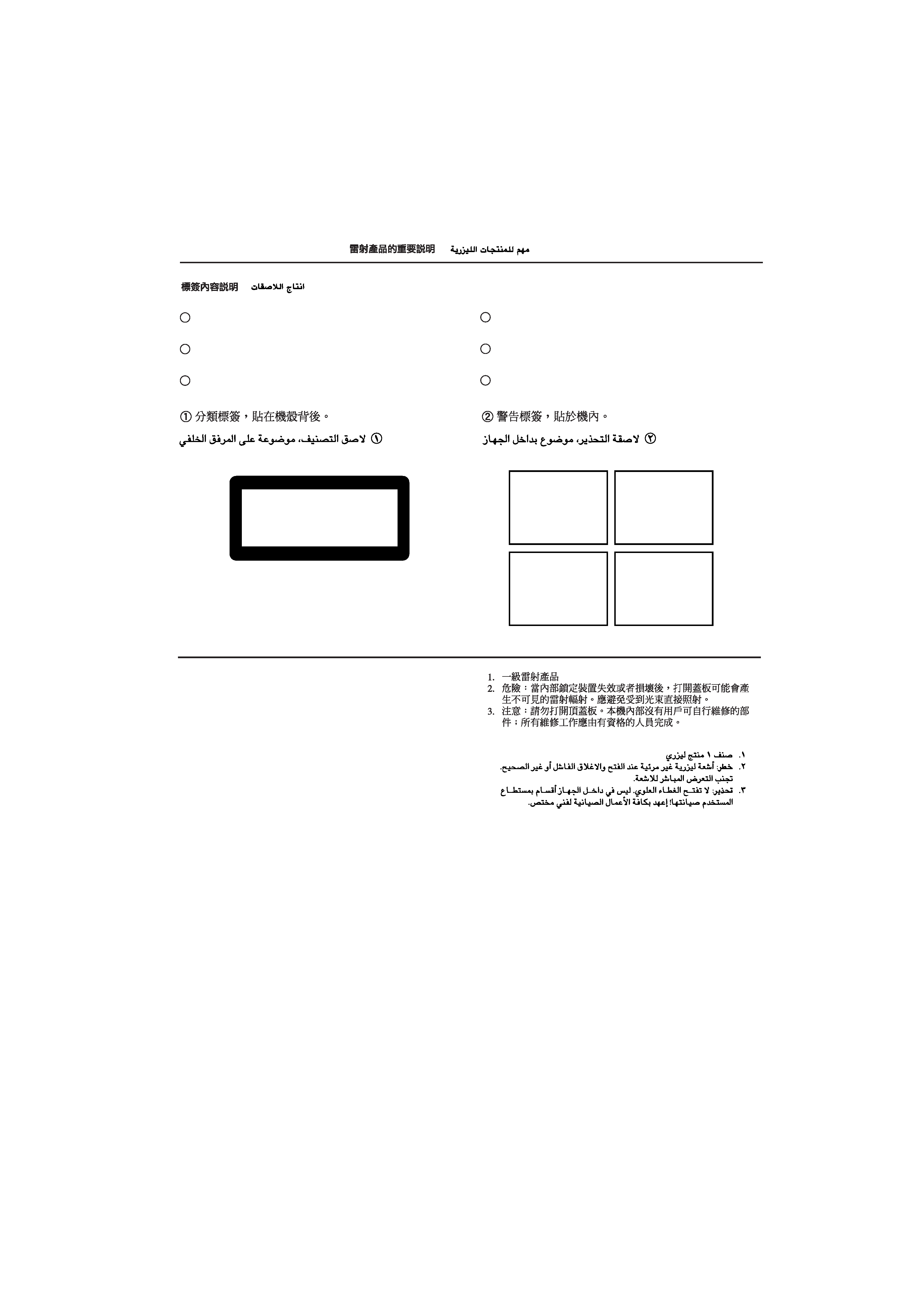 REPRODUCTION OF LABELS / REPRODUCCIÓN DE ETIQUETAS / REPRODUÇÃO DE ETIQUETAS
IMPORTANT FOR LASER PRODUCTS / IMPORTANTE PARA PRODUCTOS LÁSER / IMPOTANTE
CLASSIFICATION LABEL, PLACED ON REAR ENCLO-
ETIQUETA DE CLASIFICACIÓN, PEGADA EN LA PARTE
ETIQUETA DE CLASSIFICAÇÃO LOCALIZADA NA PARTE
POSTERIOR DA CAIXA DO APARELHO.
WARNING LABEL, PLACED INSIDE THE UNIT
ETIQUETA DE ADVERTENCIA, PEGADA EN EL INTE-
ETIQUETA DE ADVERTÊNCIA LOCALIZADA NA PARTE
DANGER: Invisible laser radiation when open and interlock
failed or defeated. Avoid direct exposure to beam.
CAUTION: Do not open the top cover. There are no user
serviceable parts inside the Unit; leave all servicing to quali-
PELIGRO: En el interior hay radiación láser invisible. Evite el
contacto directo con el haz.
PRECAUCIÓN: No abra la tapa superior. En el interior de la
unidad no existen piezas reparables por el usuario; deje todo
servicio técnico en manos de personal calificado.
PERIGO: O laser emite uma rediação invisível que é perigosa,
caso o aparelho esteja aberto e a trava inoperante ou
danificada. Evite exposição direta ao feixe dos raios.
CUIDADO: Não abra a caixa do aparelho. Não existem
peças reparáveis pelo usuário na parte interna da unidade.
Solicite assistência técnica somente a pessoal técnico
interlock failed or defeated.
sikkerhedsafbrydere er ude
af funktion. Undgå udsæt-
strålning när denna del är
jalukitus ohitettaessa olet
lasersäteilylle. Älä katso
---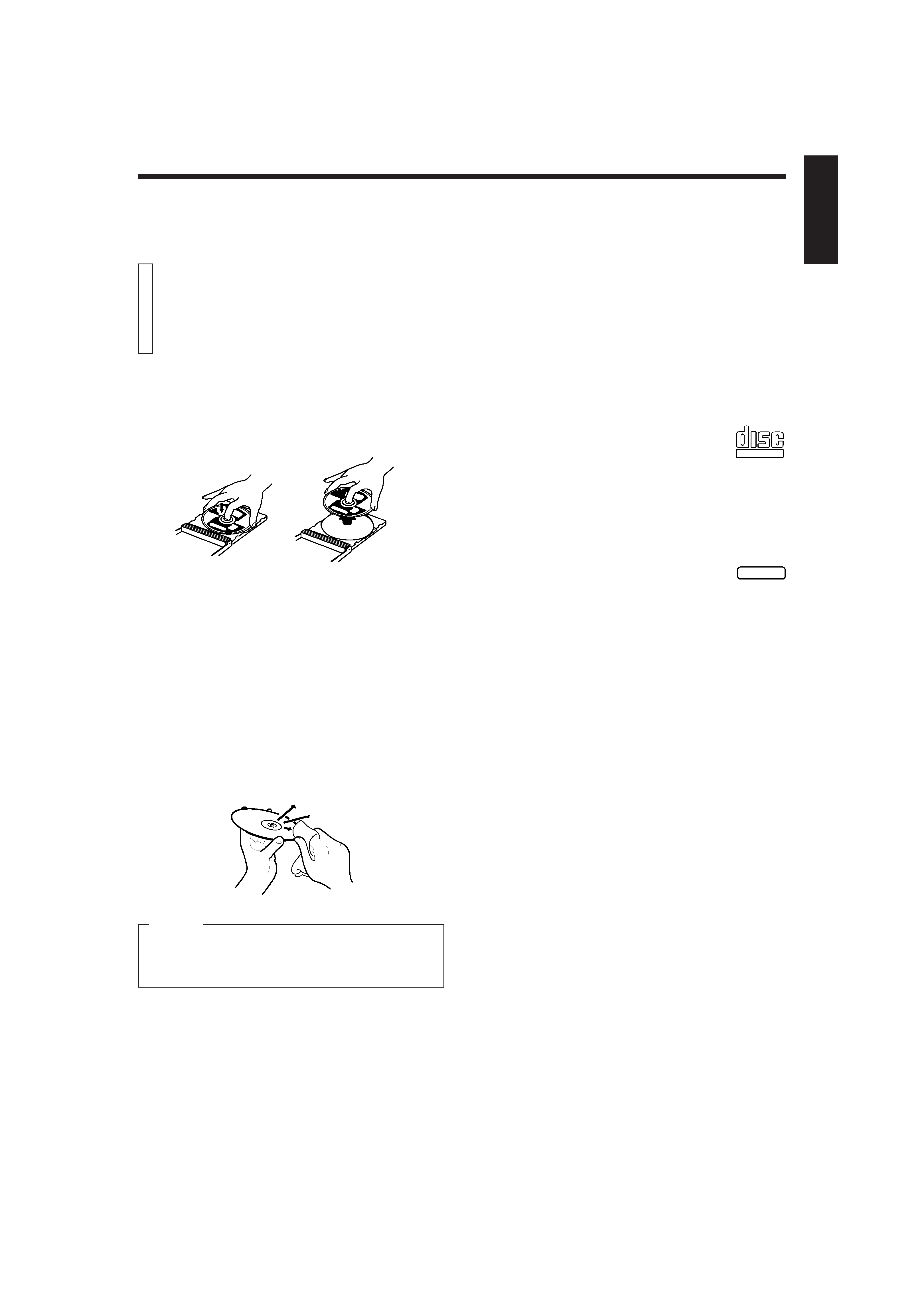 When handling a compact disc, do not touch the surface of the disc
(reflective silver side ­­ the side without the label).
Since compact discs are made of plastic, they are easily damaged. If
a disc gets dirty, dusty, scratched or warped, the sound will not be
picked up correctly and, in addition, such a disc may cause the CD
Which compact discs can be used?
Many types of compact discs are sold for a variety of uses. The Video
CD Player can play the following compact discs:
for audio and video (moving picture) reproduction,
including multiplex sound.
Video CD with Playback Control function
featuring menu-type operation and super-fine still
pictures for audio and video (moving picture) re-
production, including multiplex sound.
for audio and video (still picture) reproduction,
including multiplex sound.
Do not play back CD-ROMs, DVDs, or CD-Is on this equipment. Doing
so may generate a noise which can damage your speakers.
The remote control is ready to use when its batteries are installed
To use it, point its infrared light-emitting window toward the display
window of the player and press a button. The operating range of the
remote control is up to about seven meters in front of the player and
within about 30 degrees to each side ­­ with nothing between the
remote control and the player interrupting the beam path.
If pressing a button on the remote control does not produce any
response, check to make sure it is pointed correctly and try again. If it
still does not function, check the batteries.
Do not damage the label side, stick paper or use any adhesive on its
Make sure that discs are kept in their cases. If discs are piled one on
top of another without their protective cases, they can be damaged. Do
not put discs in a location where they may be exposed to direct sunlight,
or in a place where the humidity or temperature is high. Avoid leaving
If there are fingerprints or dirt adhering to a disc, wipe it with a soft dry
cloth, moving from the center outwards.
If a disc is difficult to clean, wipe with a cloth moistened with water.
Never use record cleaners, petrol, alcohol or any anti-static agents.
Sometimes during play noise or images may be garbled. This is
sometimes due to the disc. (It may not be up to industry standards.)
These symptom are caused by the discs, not by the malfunction of
---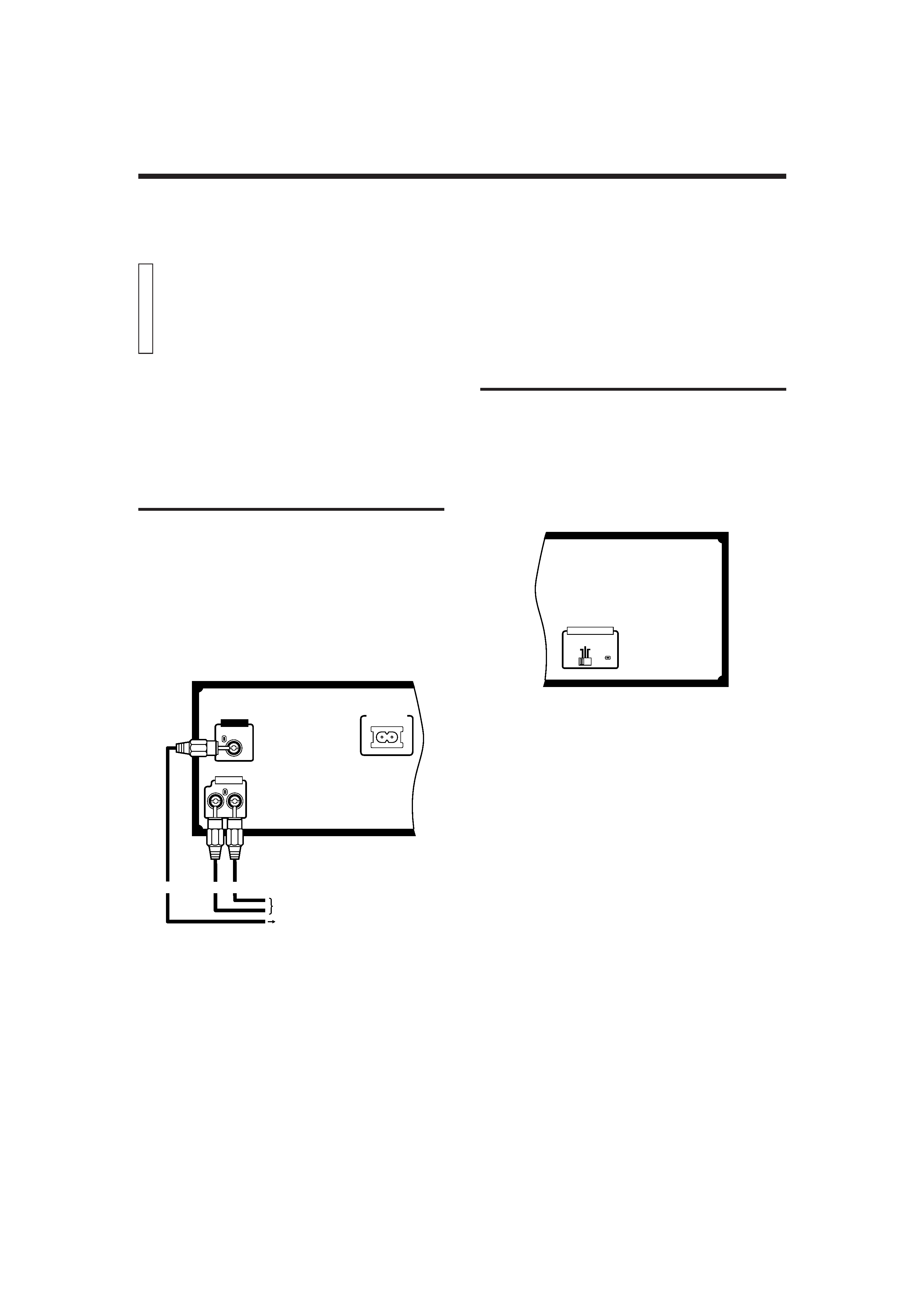 The Video CD Player must be connected directly to a television set or
an amplifier that is connected to a television or monitor. The television
set or the amplifier must have audio input jacks for right and left
channels and a video input jack.
Select a level, dry location free of dust and vibration, having a
temperature maintained between 5 and 35
Connecting the player to a TV or amplifier
using the Audio Video cord
First connect the Audio Video cord -- before connecting the AC power
Firmly insert the yellow pin plug of the Audio Video cord in the yellow
VIDEO OUT jack on the rear panel of the player; the red pin plug in the
red AUDIO OUT (RIGHT) jack; and the white pin plug in the white
AUDIO OUT (LEFT) jack. (The RIGHT and LEFT output jacks are for
the right and left audio channels.)
Then make sure that the television, amplifier or receiver is turned off,
disconnect the AC power cord, and firmly insert the pin plugs at the
other end of the Audio Video cord into the matching video and audio
BEFORE USING FOR THE FIRST TIME
When you play an NTSC disc in PAL AUTO mode on a PAL
exclusive TV, the image may be distorted.
If the signal doesn't synchronize, change the mode to "PAL".
Select the mode before you play the disc. If you change the mode
during play, images may get distorted. In this situation stop the
player and reset the mode.
When you play an NTSC disc in PAL AUTO mode on a Multi system
TV, the image may blink for a moment. This symptom is caused by
the Player detecting the formula of the disc, not by a malfunction of
Set the VIDEO OUT SELECT switch on the rear panel to NTSC, PAL,
or PAL AUTO mode according to your television system.
NTSC .................... for NTSC exclusive TV
PAL ....................... for PAL exclusive TV
PAL AUTO ............ for Multisystem TV
PAL AUTO detects the formula of the disc (NTSC/
PAL) automatically and plays the image on the
the television/amplifier/
Audio Video cord (supplied)
the television/amplifier/
---