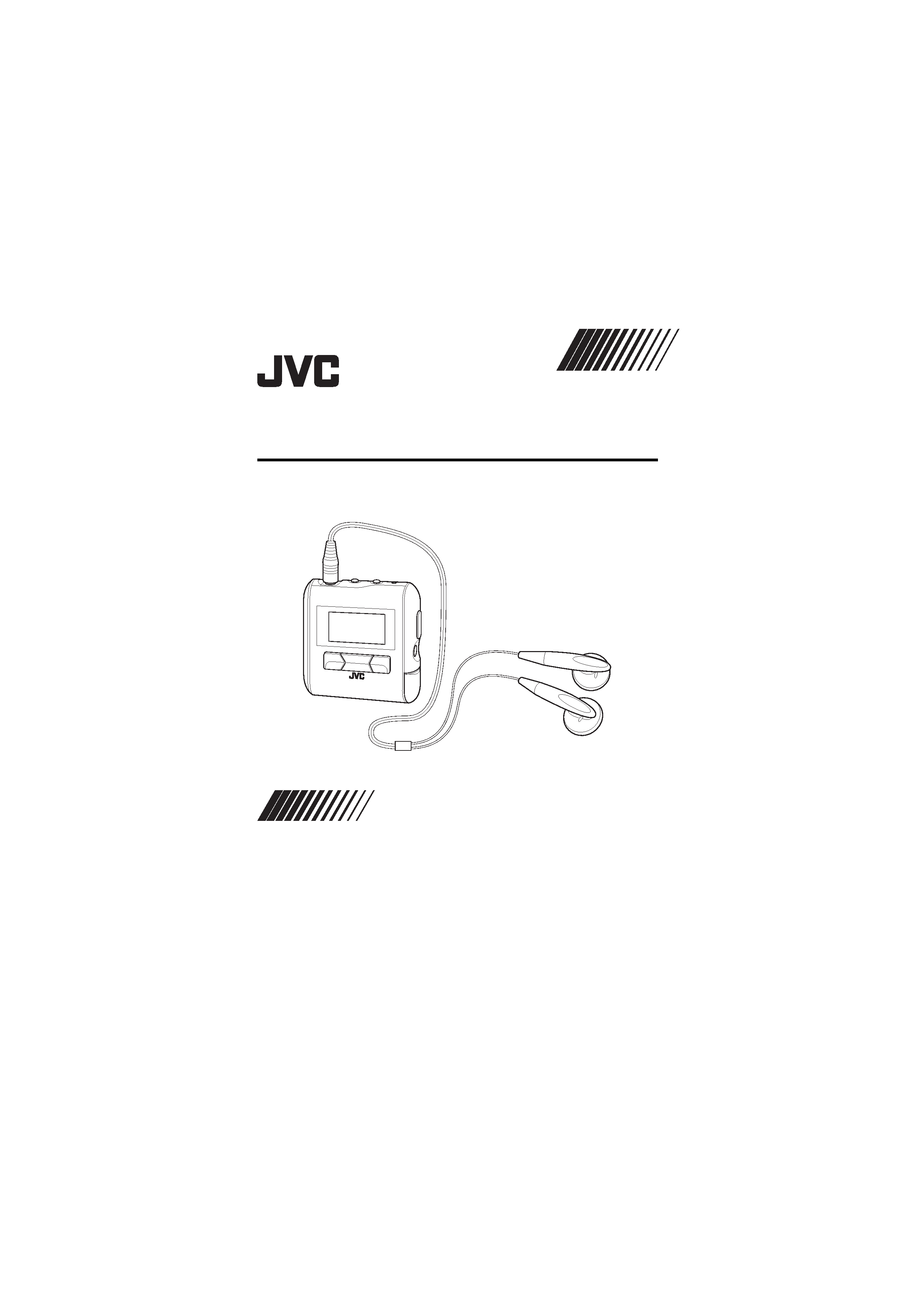 Thank you for purchasing this JVC product.
Please read these instructions carefully before starting operation to be
sure to obtain optimum performance and a longer service life from the unit.
LVT1431-002B [J, C, B, US]
XA-MP101B(E).book Page 1 Thursday, July 14, 2005 5:11 PM
---

· Do not play your Headphones at a high volume.
· Hearing experts advise against continuous extended play.
· If you experience a ringing in your ears, reduce volume or discontinue
· Do not use while operating a motorized vehicle. It may create traffic
hazard and is illegal in many areas.
· You should use extreme caution or temporarily discontinue use in
potentially hazardous situations.
· Even if your Headphones are an open-air type designed to let you
hear outside sounds, do not turn up the volume so high that you
cannot hear what is around you.
· Once you have established a comfortable sound level, leave the level
To prevent damage to the batteries and electrolyte leakage, heed the
» and á polarities properly when inserting the battery.
· Remove the battery if you do not plan to use the player for a long
· Do not throw batteries into a fire, and do not short-circuit, disassemble
or subject them to excessive heat.
· Do not attempt to recharge dry cell batteries.
This equipment has been tested and found to comply with the limits for a Class B digital device,
pursuant to part 15 of the FCC Rules.
These limits are designed to provide reasonable protection against hamful interference in a
residential installation.
This equipment generates, uses and can radiate radio frequency energy and, if not installed and
used in accordance with the instructions, may cause harmful interference to radio
communications. However, there is no guarantee that interference will not occur in a particular
installation. If this equipment does cause harmful interference to radio or television reception,
which can be determined by turning the equipment off and on, the user is encouraged to try to
correct the interference by one or more of the following measures:
Reorient or relocate the receving antenna.
Increase the separation between the equipment and receiver.
Connect the equipment into an outlet on a circuit different from that to which the receiver is
Consult the dealer or an experienced radio/TV technician for help.
XA-MP101B(E).book Page 1 Thursday, July 14, 2005 5:11 PM
---

Carrying dry cell batteries around
When putting dry cell batteries in a pocket or bag, ensure that no other
metal objects such as a necklace are placed together with them. Contact
with any metal may cause short-circuiting which may cause a fire.
· No altering or remodeling
This can cause malfunctioning.
· No dropping or strong impacts
This may damage the player.
· Locations to be avoided
Avoid using the player in the following locations since they can cause
1. Bathrooms and other moisture-prone places
2. Warehouses and other dusty places
3. Very hot places near heating appliances, etc.
Declaration of Conformity
This device complies with Part 15 of FCC Rules. Operation is subject to the following two
conditions: (1) This device may not cause harmful interference, and (2) this device must accept
any interference received, including interference that may cause undesired operation.
XA-MP101B(E).book Page 2 Thursday, July 14, 2005 5:11 PM
---

Do not leave the player exposed to direct sunlight for long periods of
This may deform or discolor the player and may also cause
· Do not place any naked flame sources, such as lighted candles, on
· When discarding batteries, environmental problems must be
considered and local rules or laws governing the disposal of these
batteries must be followed strictly.
· Do not expose this apparatus to rain, moisture, dripping or splashing.
This Class B digital apparatus complies with Canadian ICES-003.
Cet appareil numérique de la classe B est conforme à la norme
This digital apparatus does not exceed the Class B limits for radio noise
emissions from digital apparatus as set out in the interference-causing
equipment standard entitled "Digital Apparatus", ICES-003 of the
Department of Communications.
· We have no responsibility for any improper recording or
playback incurred by equipment malfunction.
· It is recommended to store backup copy of your important data
XA-MP101B(E).book Page 3 Thursday, July 14, 2005 5:11 PM
---

CAUTIONS .............................................................................................. 1
TABLE OF CONTENTS .......................................................................... 4
GETTING STARTED............................................................................... 5
INSTALLING BATTERY ...................................................................... 5
INSTALLING USB DRIVER (FOR WINDOWS 98SE ONLY) .............. 6
CONNECTING TO PC......................................................................... 7
CONNECTING EXTERNAL AUDIO EQUIPMENT .............................. 8
PARTS OF THE DIGITAL AUDIO PLAYER ........................................ 9
TURNING POWER ON/OFF ............................................................. 10
DISPLAY OVERVIEW ....................................................................... 11
BASIC OPERATIONS........................................................................... 12
USING THE MAIN MENU.................................................................. 12
PLAYING MUSIC .............................................................................. 13
RECORDING VOICE MESSAGES.................................................... 14
PLAYING MESSAGES ...................................................................... 15
LISTENING TO FM BROADCASTS .................................................. 16
RECORDING FM BROADCASTS ..................................................... 18
DELETING FILES .............................................................................. 19
ADVANCED FEATURES ...................................................................... 20
SET MENU ITEMS ............................................................................ 20
EQUALIZER .................................................................................... 21
PLAYMODE .................................................................................... 23
SLEEP TIMER................................................................................. 24
AUTO POWER OFF........................................................................ 25
BACKLIGHT .................................................................................... 26
CONTRAST..................................................................................... 27
MENU LANGUAGES ...................................................................... 28
FONTS ............................................................................................ 29
ABOUT .............................................................................................. 30
RESETTING THE UNIT .................................................................... 31
NAVIGATE ........................................................................................ 32
LOCKING BUTTONS (HOLD) ........................................................... 34
TROUBLESHOOTING .......................................................................... 35
SPECIFICATIONS................................................................................. 36
ACCESSORIES ................................................................................. 37
XA-MP101B(E).book Page 4 Thursday, July 14, 2005 5:11 PM
---