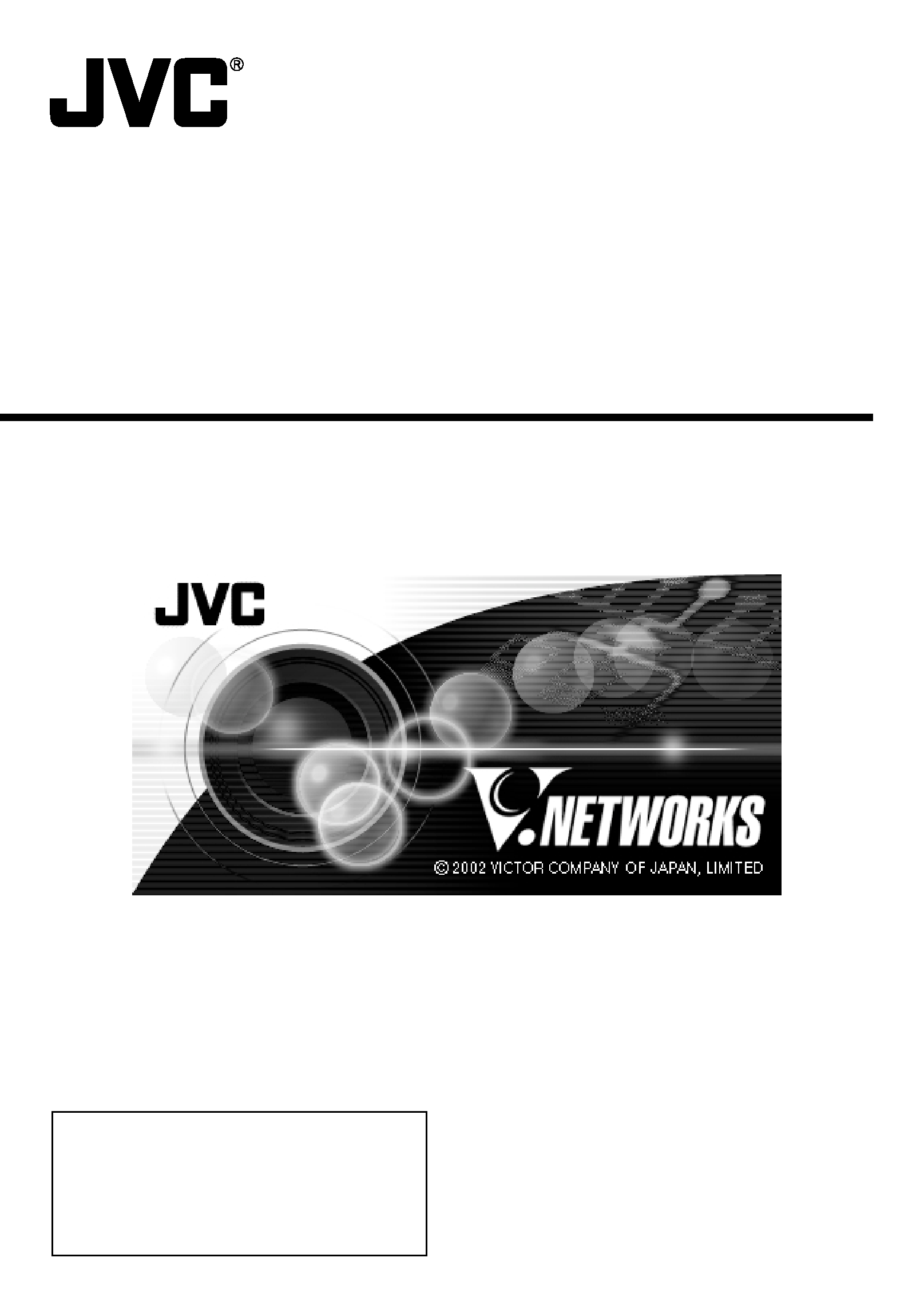 Thank you for purchasing the JVC VN-A1U.
To gain maximum benefit from this product, read this
instruction manual carefully before use and retain it for future
The serial number is very important for maintaining quality of
your product. At the time of purchase, check to see that the
serial number is correctly printed on the bottom of the unit
and that the serial numbers on the unit and warranty match.
---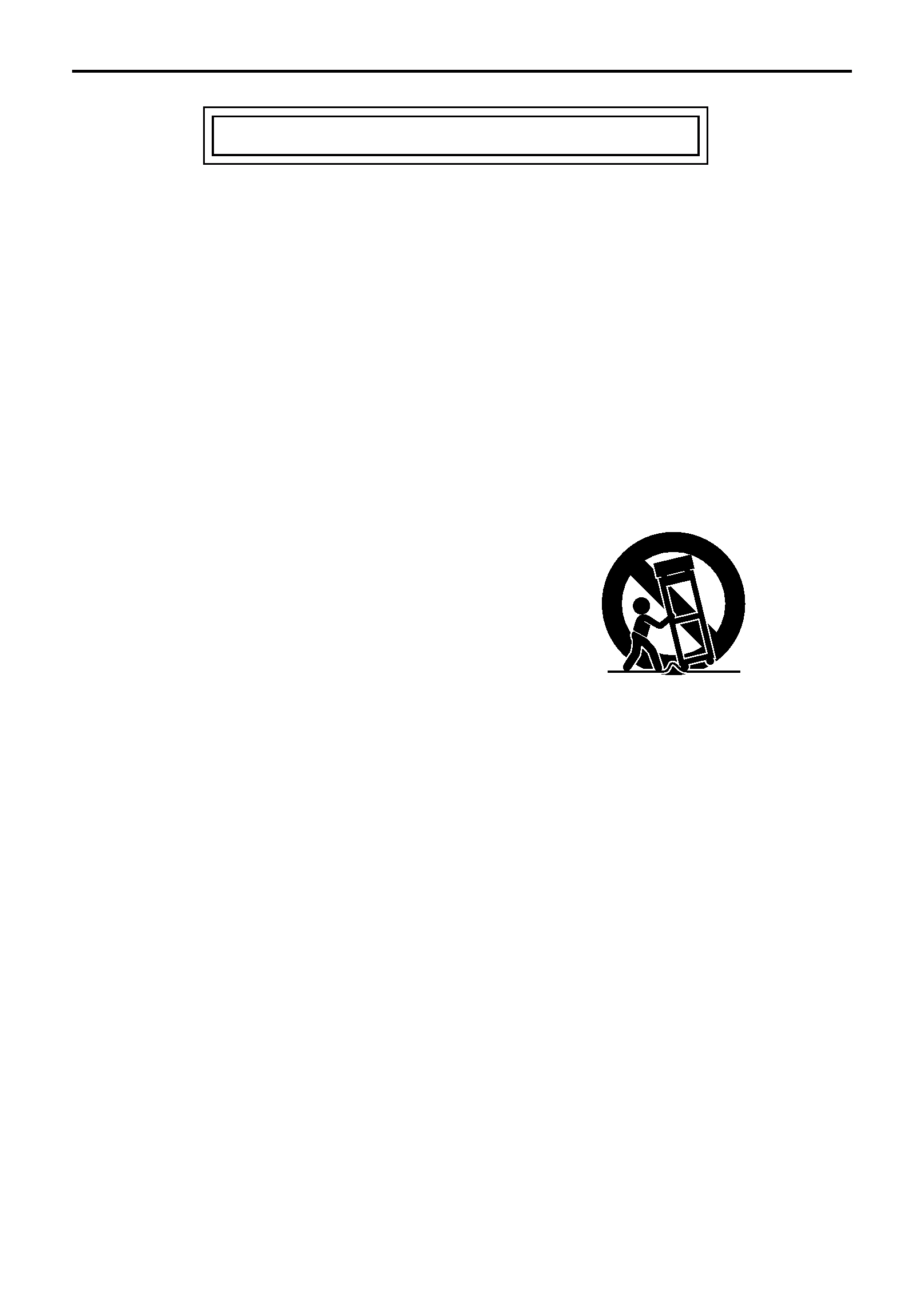 1. Read all of these instructions.
2. Save these instructions for later use.
3. All warnings on the product and in the operating instructions should
4. Unplug this appliance system from the wall outlet before cleaning.
Do not use liquid cleaners or aerosol cleaners. Use a damp cloth
5. Do not use attachments not recommended by the appliance manu-
facturer as they may cause hazards.
6. Do not use this appliance near water ­ for example, near a bath-
tub, washbowl, kitchen sink, or laundry tub, in a wet basement, or
near a swimming pool, etc.
7. Do not place this appliance on an unstable
cart, stand, or table. The appliance may fall,
causing serious injury to a child or adult, and
serious damage to the appliance.
Use only with a cart or stand recommended
by the manufacturer, or sold with the appli-
ance. Wall or shelf mounting should follow
the manufacturer's instructions, and should
use a mounting kit approved by the manu-
An appliance and cart combination should be moved with care.
Quick stops, excessive force, and uneven surfaces may cause the
appliance and cart combination to overturn.
8. Slots and openings in the cabinet and the back or bottom are pro-
vided for ventilation, and to insure reliable operation of the appli-
ance and to protect it from overheating, these openings must not
be blocked or covered. The openings should never be blocked by
placing the appliance on a bed, sofa, rug, or other similar surface.
This appliance should never be placed near or over a radiator or
heat register. This appliance should not be placed in a built-in in-
stallation such as a bookcase unless proper ventilation is provided.
9. This appliance should be operated only from the type of power
source indicated on the marking label. If you are not sure of the
type of power supplied to your home, consult your dealer or local
power company. For appliance designed to operate from battery
power, refer to the operating instructions.
10. This appliance system is equipped with a 3-wire grounding type
plug (a plug having a third (grounding) pin). This plug will only fit
into a grounding-type power outlet. This is a safety feature. If you
are unable to insert the plug into the outlet, contact your electri-
cian to replace your obsolete outlet. Do not defeat the safety pur-
pose of the grounding plug.
(symbol provided by RETAC)
---

11. For added protection for this product during a lightning storm, or
when it is left unattended and unused for long periods of time,
unplug it form the wall outlet and disconnect the antenna or cable
system. This will prevent damage to the product due to lightning
12. Do not allow anything to rest on the power cord. Do not locate this
appliance where the cord will be abused by persons walking on it.
13. Follow all warnings and instructions marked on the appliance.
14. Do not overload wall outlets and extension cords as this can result
in fire or electric shock.
15. Never push objects of any kind into this appliance through cabinet
slots as they may touch dangerous voltage points or short out parts
that could result in a fire or electric shock. Never spill liquid of any
16. Do not attempt to service this appliance yourself as opening or
removing covers may expose you to dangerous voltage or other
hazards. Refer all servicing to qualified service personnel.
17. Unplug this appliance from the wall outlet and refer servicing to
qualified service personnel under the following conditions:
a. When the power cord or plug is damaged or frayed.
b. If liquid has been spilled into the appliance.
c. If the appliance has been exposed to rain or water.
d. If the appliance does not operate normally by following the op-
erating instructions. Adjust only those controls that are covered
by the operating instructions as improper adjustment of other
controls may result in damage and will often require extensive
work by a qualified technician to restore the appliance to nor-
e. If the appliance has been dropped or the cabinet has been dam-
f. When the appliance exhibits a distinct change in performance ­
this indicates a need for service.
18. When replacement parts are required, be sure the service techni-
cian has used replacement parts specified by the manufacturer that
have the same characteristics as the original part. Unauthorized
substitutions may result in fire, electric shock, or other hazards.
19. Upon completion of any service or repairs to this appliance, ask
the service technician to perform routine safety checks to deter-
mine that the appliance is in safe operating condition.
---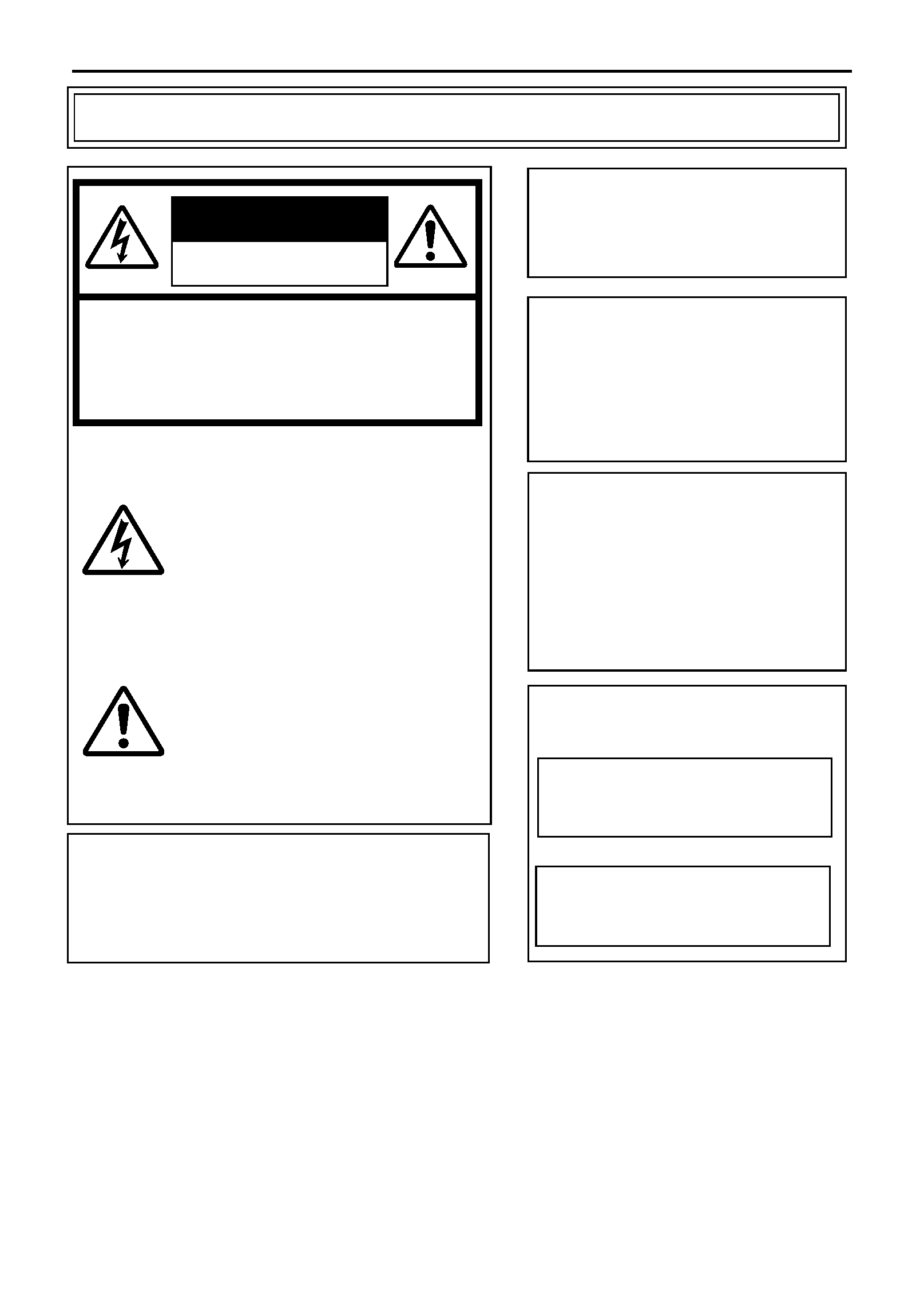 CAUTION:TO REDUCE THE RISK OF ELECTRIC
SHOCK. DO NOT REMOVE COVER (OR
BACK). NO USER-SERVICEABLE PARTS
INSIDE.REFER SERVICING TO QUALIFIED
The lightning flash with arrowhead
symbol, within an equilateral triangle
is intended to alert the user to the
presence of uninsulated "dangerous
voltage" within the product's enclo-
sure that may be of sufficient magni-
tude to constitute a risk of electric
The exclamation point within an equi-
lateral triangle is intended to alert the
user to the presence of important op-
erating and maintenance (servicing)
instructions in the literature accom-
This device complies with part 15 of the FCC
Rules. Changes or modifications not approved by
JVC could void the user's authority to operate the
Due to design modifications, data
given in this instruction book are
subject to possib le c hang e
L'APPAREIL A L'HUMIDITE OU A
RENSEIGNEMENT (POUR CANADA)
This Class A digital apparatus
complies with Canadian ICES-
Cet appareil numérique de la
Class A est conforme à la
---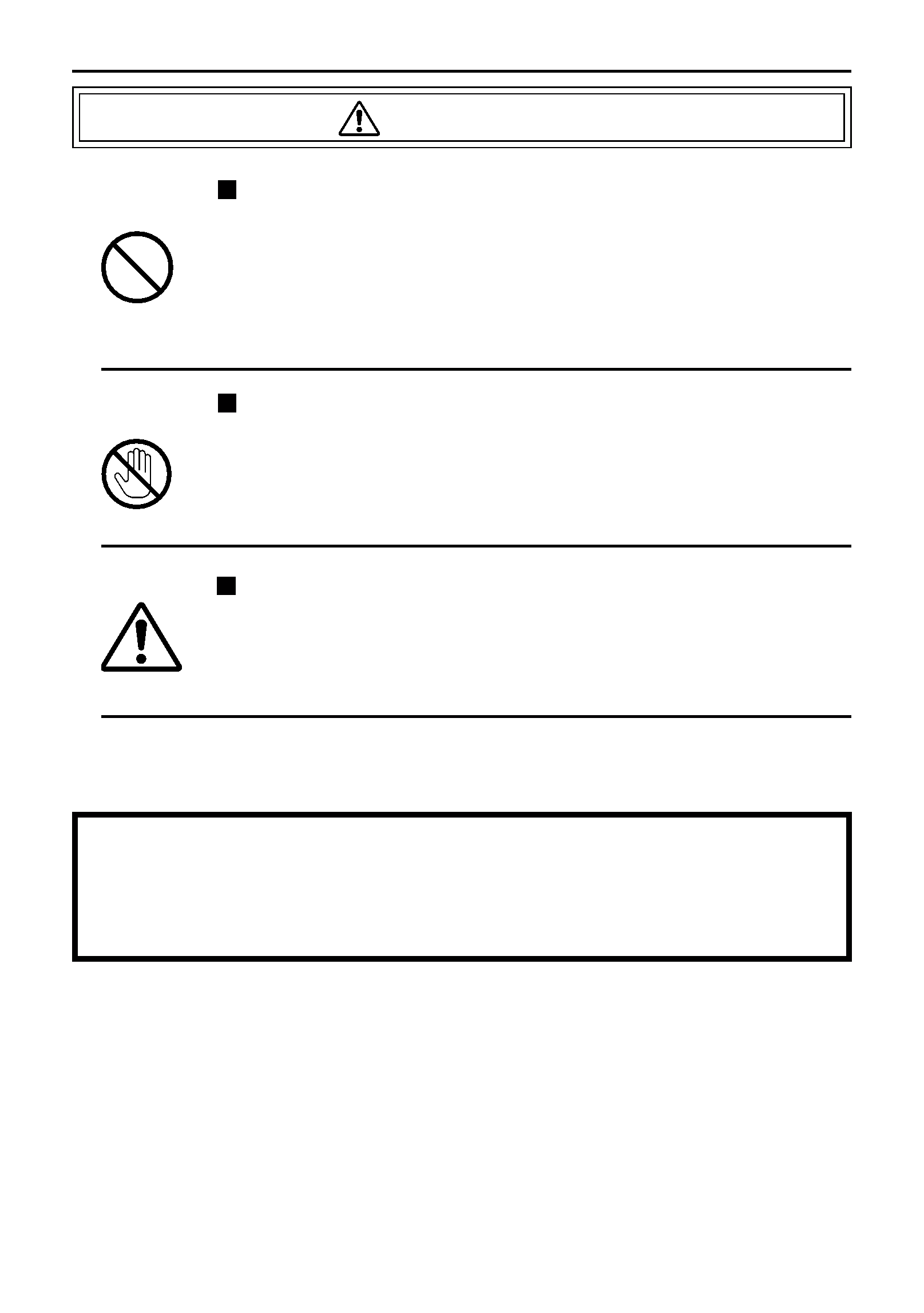 Fire or electrical shock can result from the presence of mois-
Spillage can occur from objects containing water (flower
vases, flower pots, cups, cosmetics, pharmaceuticals, etc.)
and should not be placed on top of this device.
Do not touch lines (antenna wires, phone lines, etc.) con-
nected to this device or power plugs during a thunder storm
because this can result in electrical shock.
When installing this device, maintain a space of 10cm or
more between this device and the wall. Also keep other de-
vices at a distance to ensure good radiation. Internal heat
This is a class A product. In a domestic environment this product may
cause radio interference in which case the user may be required to
---