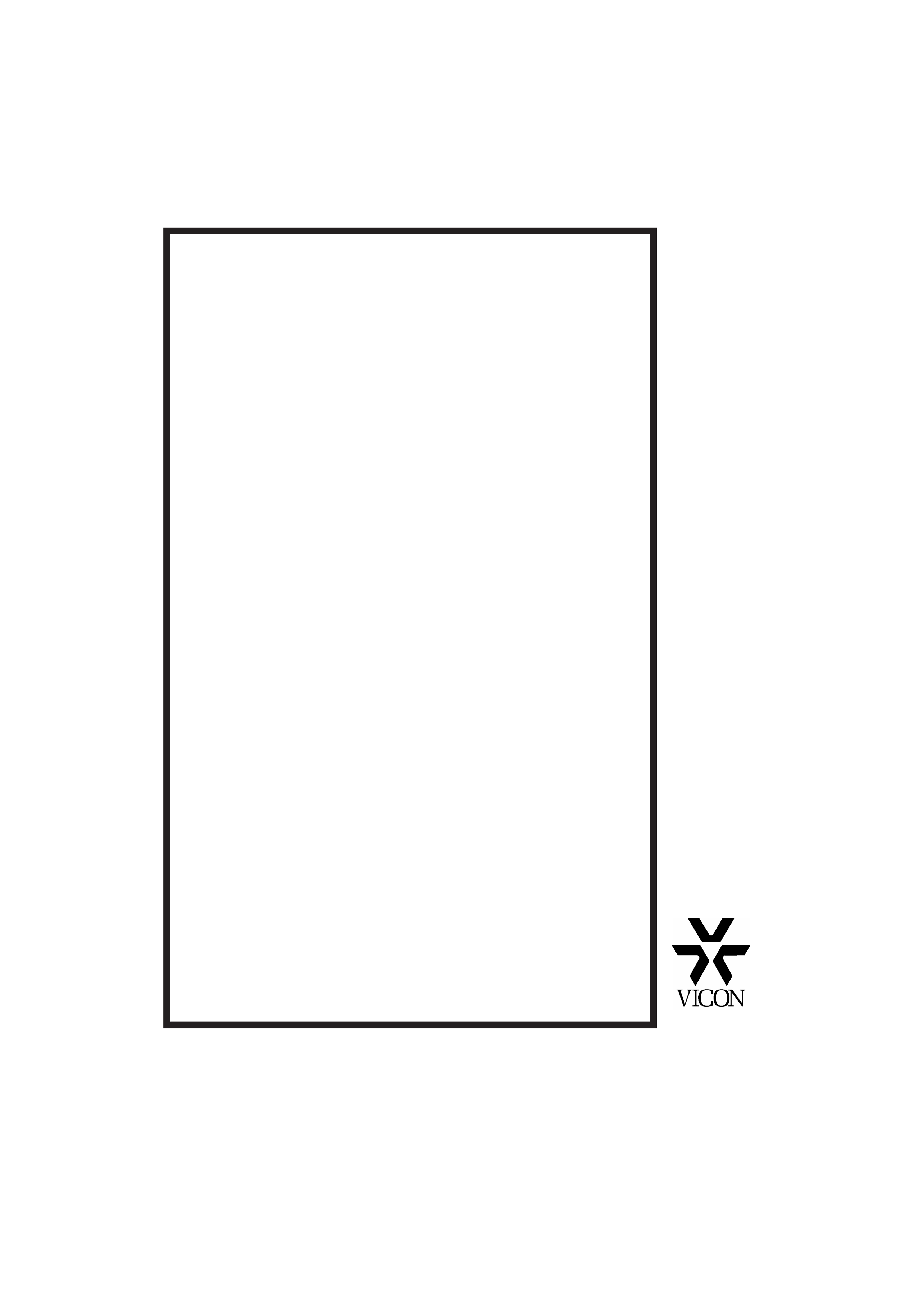 Copyright © 2002 Vicon Industries Inc. All rights reserved.
Product specifications subject to change without notice.
Vicon and its logo are registered trademarks of Vicon Industries Inc.
VICON INDUSTRIES INC., 89 ARKAY DRIVE, HAUPPAUGE, NEW YORK 11788
TEL: 631-952-CCTV (2288) FAX: 631-951-CCTV (2288) TOLL FREE: 800-645-9116
24-Hour Technical Support: 800-34-VICON (800-348-4266)
UK: 44/(0) 1489-566300 INFOFAX: 800-287-1207 WEB: www.vicon-cctv.com
Vicon part number 8009-8111-00-00
---

---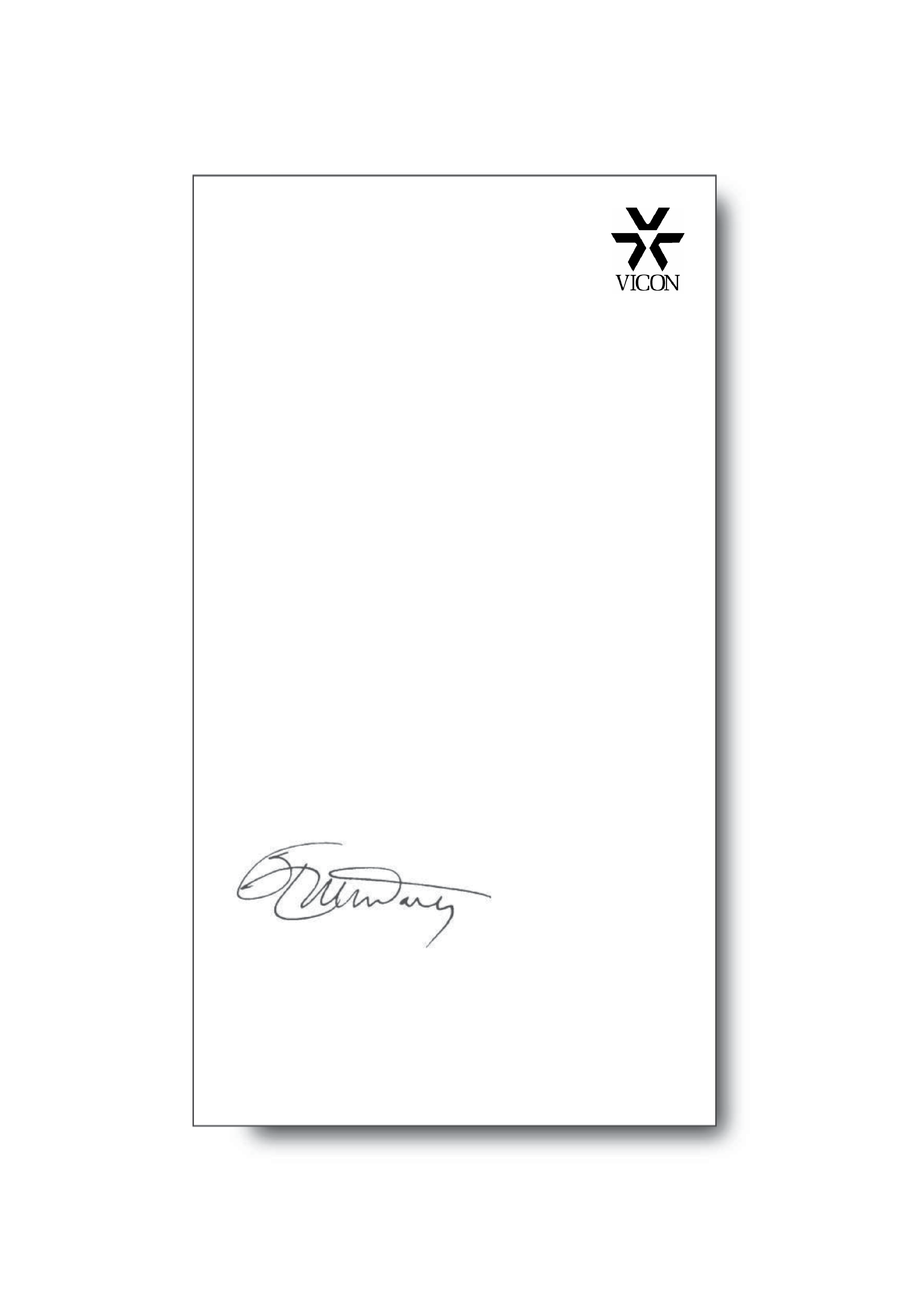 Thank you for selecting Vicon systems and
products for your video needs.
Since Vicon's beginning in 1967, our only
business has been the design, engineering, and
production of the highest quality video systems
and equipment for use in a wide variety of
security, safety, control, surveillance, and
communication applications.
We stand behind the quality and dependability of
every product with an industry leading Beneficial
If you are not satisfied with a Vicon product or
service, I would like to know. Your complete
satisfaction is the mission of every Vicon
---

In order to prevent any fatal accidents caused by misoperation
or mishandling the monitor, be fully aware of all the following
To prevent fire or shock hazard, do not expose this
monitor to rain or moisture. Dangerous high voltages
are present inside the unit. Do not remove the back
cover of the cabinet. When servicing the monitor,
consult qualified service personnel. Never try to service
WARNING : THIS APPARATUS MUST
Use only the power source specified on the unit.
(120 VAC/230 VAC, 50 Hz/60 Hz)
When not using this unit for a long period of time, or when
cleaning it, be sure to disconnect the power plug from the
Do not allow anything to rest on the power cord. And do not
place this unit where people will tread on the cord. Do not
overload wall outlets or power cords as this can result in a
Avoid using this unit under the following conditions:
­ in extremely hot, cold or humid places,
­ near appliances generating strong magnetic fields,
­ in places subject to direct sunlight,
­ in badly ventilated places,
­ in automobiles with doors closed.
Do not cover the ventilation slots while in operation as this
could obstruct the required ventilation flow.
When dust accumulates on the screen surface, clean it with
Unplug this unit from the AC outlet and refer servicing to
qualified service personnel under the following conditions:
­ when the power cord is frayed or the plug is damaged,
­ if liquid has been spilled into the unit,
­ if the unit has been dropped or the cabinet has been
­ when the unit exhibits a distinct change in performance.
Do not attempt to service this unit yourself, as opening or
removing covers may expose you to dangerous voltage or
other hazards. Always refer servicing to qualified service
When replacement parts are required, have the service
personnel verify in writing that the replacement parts he/she
uses have the same safety characteristics as the original
parts. Use of manufacturer's specified replacement parts
can prevent fire, shock, or other hazards.
Upon completion of any servicing or repair work to this unit,
please ask the service personnel to perform the safety
check described in the manufacturer's service literature.
When this unit reaches the end of its useful life, improper
disposal could result in a picture tube implosion.
Ask qualified service personnel to dispose of this unit.
This monitor is equipped with a 3-blade grounding-type
plug to satisfy FCC rule. If you are unable to insert the
plug into the outlet, contact your electrician.
Machine Noise Information Ordinance 3. GSGV,
January 18, 1991: The sound pressure level at the
operator position is equal or less than 70 dB(A)
Improper operations, in particular alternation of high
voltage or changing the type of tube, may result in x-ray
emission of considerable dose. A unit altered in such a
way no longer meets the standards of certification, and
must therefore no longer be operated.
FCC INFORMATION (U.S.A. only)
CAUTION: Changes or modification not approved by
VICON could void the user's authority to operate the
NOTE: This equipment has been tested and found to
comply with the limits for a Class B digital device,
pursuant to Part 15 of the FCC Rules. These limits are
designed to provide reasonable protection against
harmful interference in a residential installation. This
equipment generates, uses and can radiate radio
frequency energy and, if not installed and used in
accordance with the instructions, may cause harmful
interference to radio communications. However, there is
no guarantee that interference will not occur in a
particular installation. If this equipment does cause
harmful interference to radio or television reception,
which can be determined by turning the equipment off
and on, the user is encouraged to try to correct the
interference by one or more of the following measures:
­ Reorient or relocate the receiving antenna.
­ Increase the separation between the equipment and
­ Connect the equipment into an outlet on a circuit
different from that to which the receiver is connected.
­ Consult the dealer or an experienced radio/TV
This product utilizes both a Cathode Ray Tube (CRT) and
other components that contain lead. Disposal of these
materials may be regulated in your community due to
environmental considerations. For disposal or recycling
information please contact your local authorities, or the
Electronics Industries Alliance: <http://www.eiae.org.>
---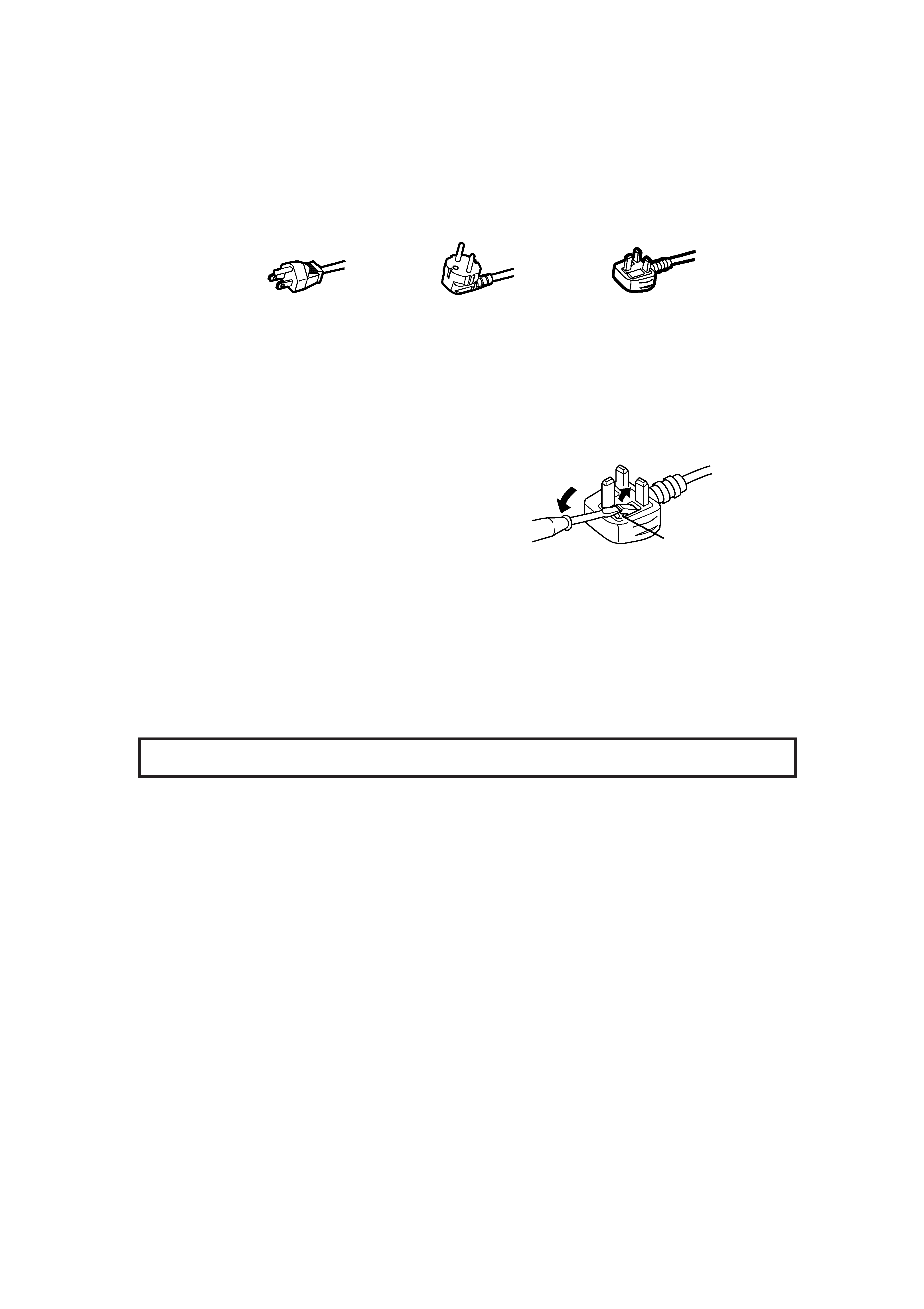 SAFETY PRECAUTIONS ................................................................................. 2
CONTROLS AND FEATURES ......................................................................... 4
HOW TO HANDLE BASIC OPERATIONS ....................................................... 7
HOW TO USE THE MENU FUNCTIONS.......................................................... 8
HOW TO INITIALIZE THE SETTING ...............................................................11
BASIC CONNECTION EXAMPLE .................................................................. 12
TROUBLESHOOTING .................................................................................... 13
SPECIFICATIONS .......................................................................................... 14
It is not recommended to keep a certain still image displayed on screen for a long time, as well as displaying extremely bright
images on screen. This may cause a burning (sticking) phenomenon on the screen of cathode-ray tube. This problem does
not occur as far as displaying normal video playback motion images.
The power supply voltage rating of this product is AC 120 V (for U.S.A. and Canada only) and AC 230 V (for European countries
or United Kingdom), the power cord attached conforms to the following power supply voltage and countries. Use only the power
cord designated to ensure Safety and EMC regulations of each countries.
Power supply voltage : AC 120 V
Do not use the same Power Cord for AC 120 V as for AC 230 V. Doing so may cause malfunction, electric shock
Note for the United Kingdom power cord only
The plug on the United Kingdom power cord has a built-in fuse. When replacing the fuse, be sure to use only a correctly rated
approved type, re-fit the fuse cover.
(Consult your dealer or qualified service personnel.)
Open the fuse compartment with the blade screw driver and
(* An example is shown in the illustration.)
---