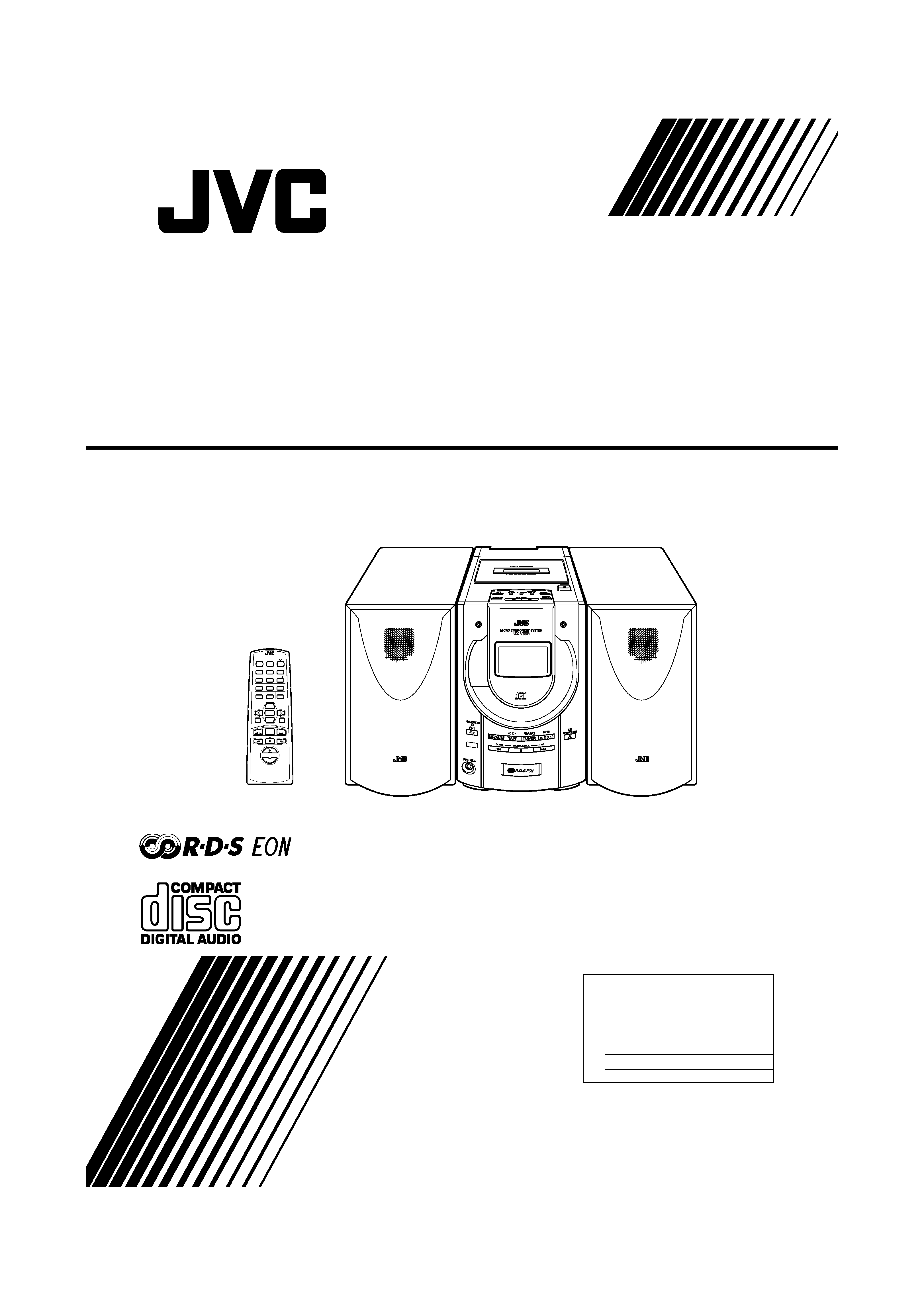 Enter below the Model No. and Serial No.
which are located either on the rear, bot-
tom or side of the cabinet. Retain this
information for future reference.
SYSTEME DE MICROCOMPOSANTS
SISTEMAS DE MICROCOMPONENTES
SISTEMA A MICROCOMPONENTI
1 UX-V55R(E)-Cover.fm Page 1 Friday, June 11, 1999 11:35 AM
---

Warnings, Cautions and Others / Warnung, Achtung und sonstige Hinweise /Mises en
garde, précautions et indications diverses /Waarschuwingen, voorzorgen en andere med-
edelingen/Avisos, precauciones y otras notas / Avvertenze e precauzioni da osservare /
Varningar, att observera och övrigt
Disconnect the mains plug to shut the power off completely. The
switch in any position does not disconnect the mains line. The power
can be remote controlled.
Den Netzstecker aus der Steckdose ziehen, um die Stromversorgung
vollkommen zu unterbrechen. Der Schalter
Stellung die Stromversorgung vollkommen.
kann mit der Fernbedienung ein- und ausgeschaltet werden.
Déconnecter la fiche de secteur pour couper compltement le courant.
ne coupe jamais compltement la ligne de secteur,
quelle que soit sa position. Le courant peut tre télécommandé.
Om de stroomtoevoer geheel uit te schakelen, trekt u de stekker uit het
stopkontakt. Anders zal er altijd een geringe hoeveelheid stroom naar
het apparaat lopen, ongeacht de stand van de
het apparaat ook met de afstandsbediening aan- en uitschakelen.
Precaución ­­ Interruptor
Desconectar el cable de alimentación para desactivar la alimentación
totalmente. Cualquier que sea la posición de ajuste del interruptor
la alimentación no es cortada completamente. La alimentación puede
ser controlada remotamente.
Attenzione ­­ L'interruttore
Disinserire la spina del cavo di alimentazione dalla presa della rete
elettrica per staccare completamente l'alimentazione. L'interruttore
in nessuna posizione stacca la linea di alimentazione elettrica princi-
pale. È possibile il controllo remoto dell'alimentazione.
Drag ut nätströmssladden för att stänga av strömmen helt. Ström-
kopplar ej bort nätströmmen. Nätströmmen kan styras
"Si dichiara che il questo prodotto di marca JVC è conforme alle
prescrizioni del Decreto Ministeriale n.548 del 28/08/95 pubbli-
cato sulla Gazzetta Ufficiale della Repubblica Italiana n.301 del
To reduce the risk of electrical shocks, fire, etc.:
Do not remove screws, covers or cabinet.
Do not expose this appliance to rain or moisture.
Zur Verhinderung von elektrischen Schlägen, Brandgefahr, usw:
Keine Schrauben lösen oder Abdeckungen enlfernen und das
Dieses Gerät weder Regen noch Feuchtigkeit aussetzen.
Afin d'éviter tout risque d'électrocution, d'incendie, etc.:
Ne pas enlever les vis ni les panneaux et ne pas ouvrir le cof-
Ne pas exposer l'appareil à la pluie ni à l'humidité.
Ter vermindering van gevaar voor brand, elektrische schokken, enz.:
Verwijder geen schroeven, panelen of de behuizing.
Stel het toestel niet bloot aan regen of vocht.
Para reducir riesgos de choques eléctricos, incendio, etc.:
No extraiga los tornillos, los cubiertas ni la caja.
No exponga este aparato a la lluvia o a la humedad.
Per ridurre il rischio di shock elettrici, incendi, ecc...
Non togliete viti, coperchi o la scatola.
Non esponete l'apparecchio alla piogggia e all'umidità.
För att minska riskerna för elektriska stötar, brand, etc.:
Lossa into på skruvar, lock eller hölje.
Utsätt inte enheten för regn eller fukt.
2 UX-V55R(E)-Warning.fm Page 1 Friday, June 11, 1999 11:33 AM
---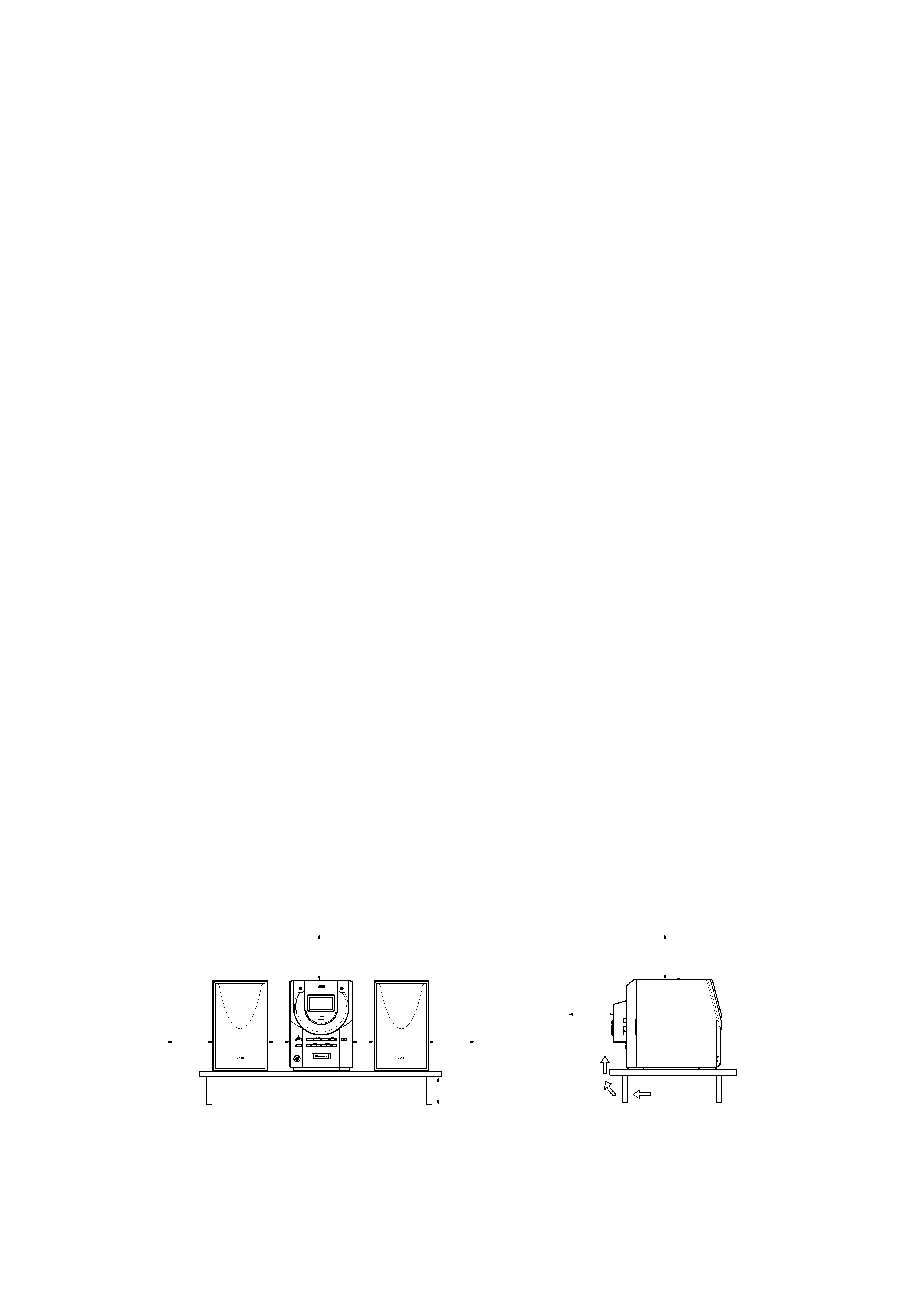 Caution: Proper Ventilation
To avoid risk of electric shock and fire, and to prevent damage, locate
the apparatus as follows:
No obstructions and open spacing.
No obstructions should be placed in the areas shown by the
Place on the level surface. Maintain an adequate air path for venti-
lation by placing on a stand with a height of 10 cm or more.
Vorsicht: Ausreichende Belüftung
Zur Vermeidung von elektrischen Schlägen, Feuer und sonstigen
Schäden sollte das Gerät unter folgenden Bedingungen aufgestellt
Hindernisfrei und gut zugänglich.
Hindernisfrei in allen gegebenen Abständen (s. Abbildung).
Die Stellfläche muß absolut eben sein. Sorgen Sie für ausre-
ichende Luftzufuhr durch Aufstellung auf einem Stand mit mindes-
Attention: Aération correcte
Pour prévenir tout risque de décharge électrique ou d'incendie et
éviter toute détérioration, installez l'appareil de la manière suivante:
Bien dégagé de tout objet.
Assurez-vous que rien ne bloque les espaces indiqués sur le
Posez l'appareil sur une surface plane et horizontale. Veillez à ce
que sa ventilation correcte puisse se faire en le plaçant sur un sup-
port d'au moins dix centimètres de hauteur.
Voorzichtig: Goede ventilatie vereist
Om brand, elektrische schokken en beschadiging te voorkomen, moet
u het toestel als volgt opstellen:
Geen belemmeringen en voldoende ruimte.
2 Zijkanten/boven-/onderkant:
Geen belemmeringen plaatsen in de hieronder aangegeven
Op vlakke ondergrond plaatsen. Voldoende ventilatieruimte voorz-
ien door het toestel op een onderstel met een hoogte van 10 cm of
Precaucion: ventilación correcta
Para evitar el riesgo de descargas eléctricas e incendio y prevenir
posibles daños, instale el equipo en un lugar que cumpla los sigu-
Sin obstrucciones, espacio abierto.
2 Lados/parte superior/parte posterior:
No debe haber ninguna obstrucción en las áreas mostradas por
las dimensiones de la siguiente figura.
Sitúe el equipo sobre una superficie nivelada. Mantenga un espa-
cio adecuado para permitir el paso del aire y una correcta venti-
lación, situando el equipo sobre un soporte de 10 o más cm de
Attenzione: Per una corretta ventilazione
Per prevenire il rischio di scosse elettriche e di incendio ed evitare pos-
sibili danni, collocare le apparecchiature nel modo seguente:
Nessun ostacolo e spazio libero.
2 Lati/Parte superiore/Retro:
Lasciare libere le zone indicate dalle dimensioni di seguito.
Collocare su una superficie piana. Consentire un'adeguata venti-
lazione dell'impianto appoggiandolo su un tavolinetto alto almeno
Viktigt: Korrekt ventilering
För att undvika risker för elektriska stötar, brand och skador måste
utrustningen placeras på följande sätt:
Inga hinder och fritt utrymme
2 Sidor /Översida/Baksida:
Inga hinder får finnas inom de områden som dimensionerna
Placera apparaten på en plan yta. Se till att tillräckligt ventilering
finns för utrymme genom att placera apparaten på ett bord minst
2 UX-V55R(E)-Warning.fm Page 2 Friday, June 11, 1999 11:33 AM
---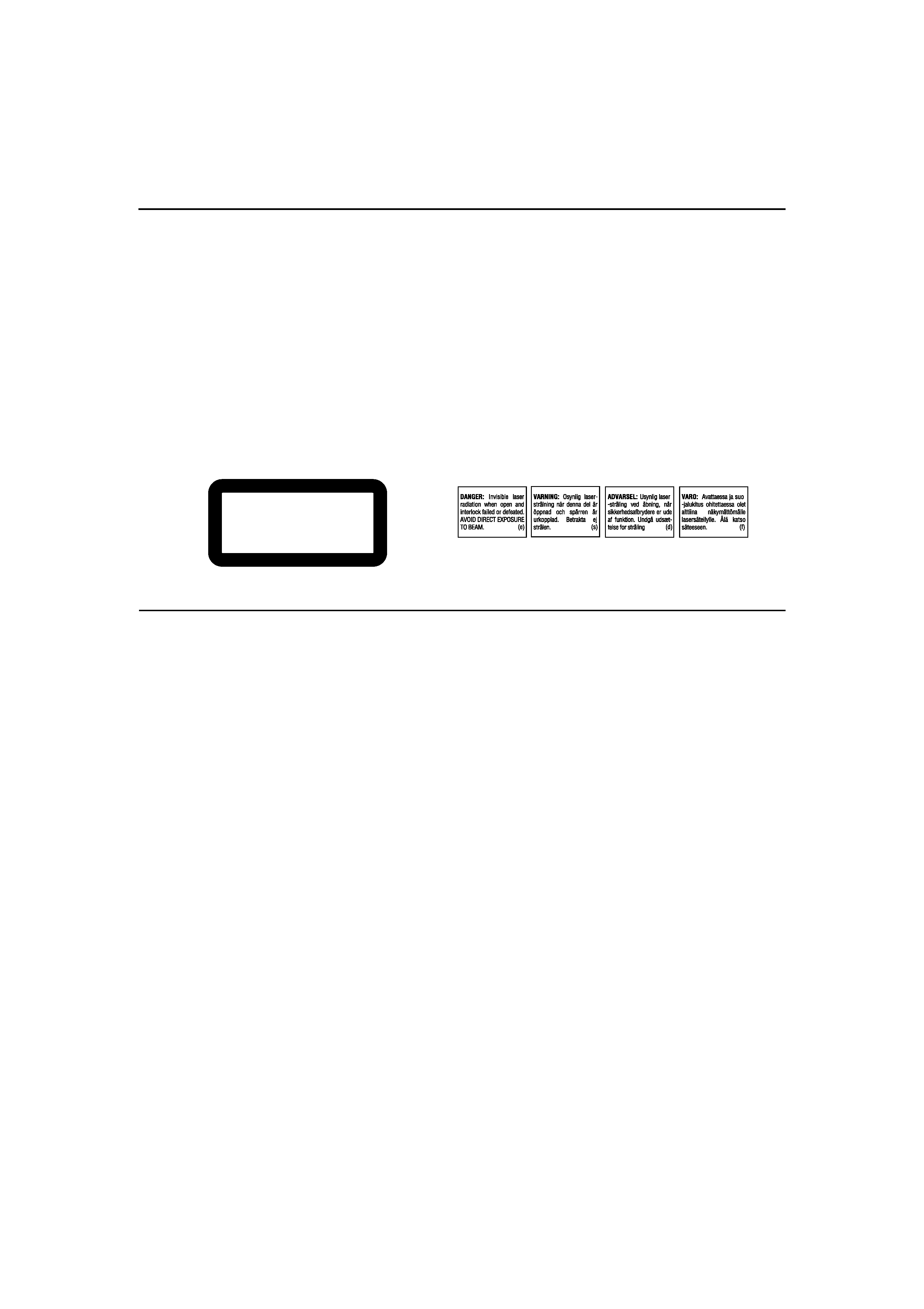 IMPORTANT FOR LASER PRODUCTS/ WICHTIGER HINWEIS FÜR LASER-PRODUKTE / IMPORTANT POUR LES PRODUITS LASER /
BELANGRIJKE INFORMATIE VOOR LASERPRODUKTEN / IMPORTANTE PARA LOS PRODUCTOS LÁSER / IMPORTANTE PER I PRO-
DOTTI LASER / VIKTIGT BETRÄFFANDE LASERPRODUKTER
REPRODUCTION OF LABELS/ANBRINGUNGSORTE FÜR LASER-PRODUKTE/REPRODUCTION DES ETIQUETTES/VERKLARING VAN
DE LABELS/REPRODUCCIÓN DE ETIQUETAS/RIPRODUZIONE DELLE ETICHETTE / PLACERING AV ETIKETTER
1 CLASSIFICATION LABEL, PLACED ON EXTERIOR SURFACE
1 KLASSIFIZIERUNGSHINWEIS BEFINDET SICH AUF DER AUS-
1 ÉTIQUETTE DE CLASSIFICATION, PLACÉE SUR LA SURFACE
1 CLASSIFICATIE-ETIKET AAN DE BUITENKANT VAN HET APPA-
1 ETIQUETA DE CLASIFICACION, PROVISTA SOBRE LA SUPER-
1 ETICHETTA DI CLASSIFICAZIONE POSTA ALL'ESTERNO
1 KLASSIFICERINGSETIKETT PÅ DEN BAKRE YTAN
2 WARNING LABEL, PLACED INSIDE THE UNIT
2 WARNETIKETTE IM GERÄTEINNEREN
2 ETIQUETTE D'AVERTISSEMENT PLACÉE À L'INTERIEUR DE
2 WAARSCHUWINGSLABEL, IN HET APPARAAT
2 ETIQUETA DE ADVERTENCIA, PEGADA EN EL INTERIOR DE
2 ETICHETTA DI AVVERTENZA, SITUATA ALL'INTERNO
2 VARNINGSSKYLT, INUTI APPARATEN
DANGER: Invisible laser radiation when open and interlock failed
or defeated. Avoid direct exposure to beam.
CAUTION: Do not open the top cover. There are no user service-
able parts inside the Unit; leave all servicing to qualified service
LASER-PRODUKT DER KLASSE 1
GEFAHR: Unsichtbare Laserstrahlung bei Öffnung und fehler-
hafter oder beschädigter Spre. Direkten Kontakt mit dem Strahl
ACHTUNG: Das Gehäuse nicht öffnen. Das Gerät enthält keiner-
lei Teile, die vom Benutzer gewartet werden können. Überlassen
Sie Wartungsarbeiten bitte qualifizierten Kundendienst-Fachleu-
ATTENTION: Radiation laser invisible quand l'appareil est ouvert
ou que le verrouillage est en panne ou désactivé. Eviter une expo-
ATTENTION: Ne pas ouvrir le couvercle du dessus. Il n'y a
aucune pièce utilisable à l'intérieur. Laisser à un personnel qualifié
le soin de réparer votre appareil.
GEVAARLIJK: Onzichtbare laserstraling wanneer open en de
beveiliging faalt of uitgeschakeld is. Voorkom het direkt blootstaan
VOORZICHTIG: De bovenkap niet openen. Binnenin het toestel
bevinden zich geen door de gebruiker te repareren onderdelen:
laat onderhoud over aan bekwaam vakpersoneel.
PELIGRO: En el interior hay radiación láser invisible. Evite el con-
tacto directo con el haz.
PRECAUCIÓN: No abra la tapa superior. En el interior de la
unidad no existen piezas reparables por el usuario; deje todo ser-
vicio técnico en manos de personal calificado.
PERICOLO: Radiazione laser invisibile quando l'apparecchio è
aperto ed il dispositivo di sicurezza è guasto o disattivato. Evitare
l'esposizione diretta ai raggi.
ATTENZIONE: Non aprire il coperchio superiore. Non vi sono parti
adoperabili dall'utente all'interno di questo apparecchio; lasciare
tutti i controlli a personale qualificato.
FARA: Osynlig lasertrålning när denna del ä öppen och spärren
urkopplad. Utsätt dig ej för strålen.
VIKTIGT: Öppna inte höljet. Die finns ingening du kan åtgärda
inne i enheten. Överlåt all service till kvalificerad servicepersonal.
2 UX-V55R(E)-Warning.fm Page 3 Friday, June 11, 1999 11:33 AM
---

Thank you for purchasing the JVC Micro Component System.
We hope it will be a valued addition to your home, giving you years of enjoyment.
Be sure to read this instruction manual carefully before operating your new stereo system.
In it you will find all the information you need to set up and use the system.
If you have a query that is not answered by the manual, please contact your dealer.
Here are some of the things that make your System both powerful and simple to use.
s
The controls and operations have been redesigned to make them very easy to use, freeing you to just enjoy the music.
With JVC's COMPU PLAY you can turn on the System and automatically start the Radio, Cassette deck or CD
Player with a single touch.
s
The System incorporates Active Hyper Bass PRO circuitry to faithfully reproduce low frequency sounds.
s
A 45-station preset capability (30 FM and 15 AM (MW/LW)) in addition to auto-seek and manual tuning.
s
Versatile CD options include repeat, random and program play.
s
Timer functions; Daily Timer and Sleep Timer.
s
Auto-reverse tape function.
s
The System is compatible with RDS (Radio Data System) broadcasting.
The EON data enables you to standby for desired information.
The PTY Search function searches for programmes in the category you wish.
In addition, Radio Text can be displayed using data sent by station.
s
You can connect various external units, such as an MD recorder.
Basic information that is the same for many different functions - e.g. setting the volume - is given in the section `Common Operations',
and not repeated under each function.
The names of buttons/controls and display messages are written in all capital letters: e.g. TUNER BAND, "NO DISC".
System functions are written with an initial capital letter only: e.g. Normal Play.
Use the table of contents to look up specific information you require.
We've enjoyed making this manual for you, and hope it serves you in enjoying the many features built into your System.
1. Installation of the System
Select a place which is level, dry and neither too hot nor too cold. (Between 5°C and 35°C or 41°F and 95°F.)
Leave sufficient distance between the System and a TV.
Do not use the System in a place subject to vibrations.
Do not handle the power cord with wet hands!
Some power is always consumed as long as the power cord is connected to the wall outlet.
When unplugging the System from the wall outlet, always pull the plug, not the power cord.
There are no user serviceable parts inside. In case of system failure, unplug the power cord and consult your dealer.
Do not insert any metallic object into the System.
How This Manual Is Organized
Features ............................................................................... 1
How This Manual Is Organized .......................................... 1
IMPORTANT CAUTIONS ................................................ 1
Getting Started .........................................................2
Common Operations ................................................6
Using the Tuner ........................................................8
Using the CD Player ...............................................12
Using the Cassette Deck (Listening to a Tape) ....14
Using the Cassette Deck (Recording) ................. 15
Using External Equipment..................................... 17
Using the Timers ................................................... 18
Care And Maintenance ......................................... 20
Troubleshooting .................................................... 21
Specifications ........................................................ 22
01 UX-V55R(E)-eng.fm Page 1 Friday, June 11, 1999 11:33 AM
---