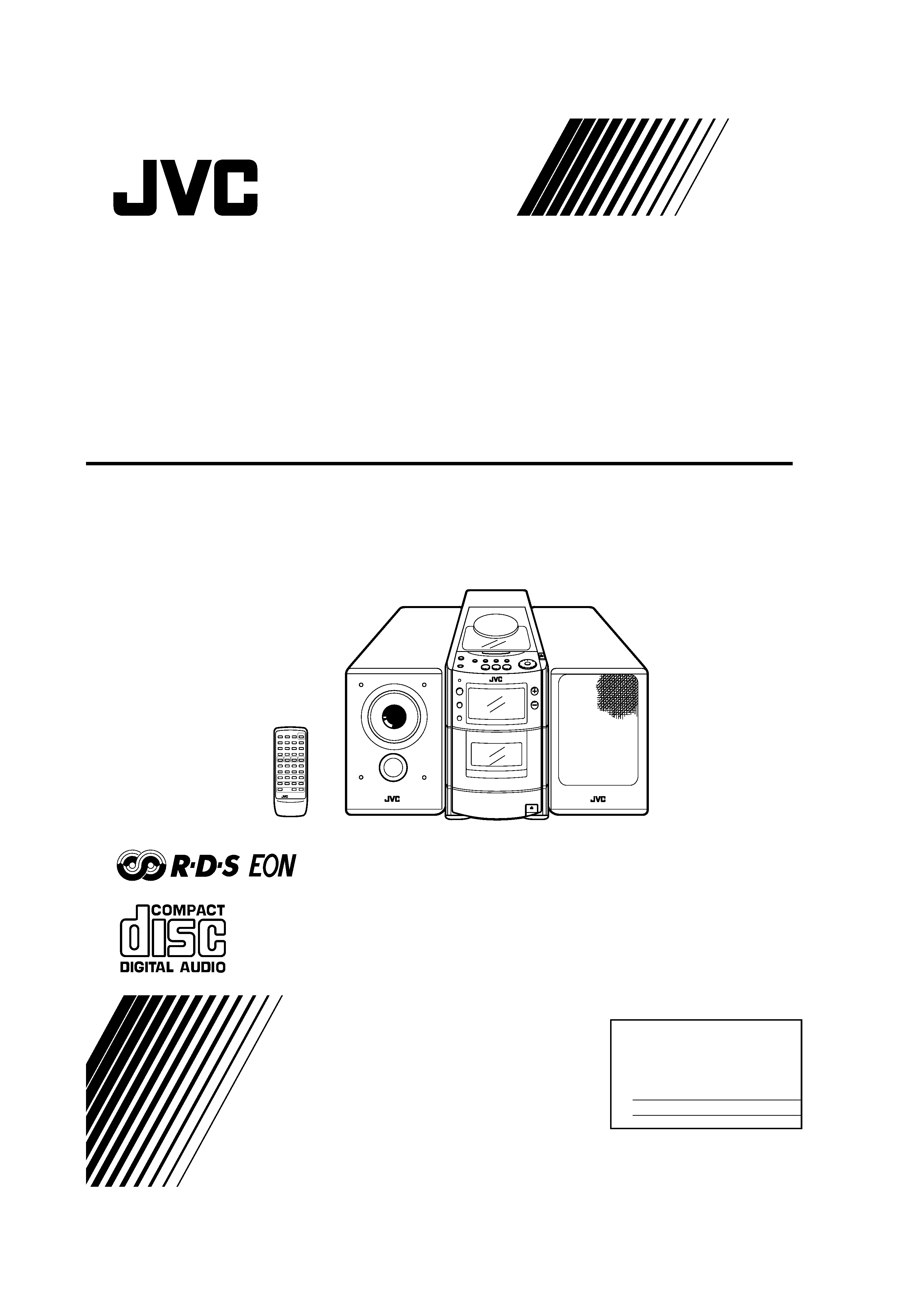 SISTEMAS DE MICROCOMPONENTES
SISTEMA A MICROCOMPONENTI
Enter below the Model No. and Serial No.
which are located either on the rear, bot-
tom or side of the cabinet. Retain this
information for future reference.
---

Thank you for purchasing this JVC product.
Please read these instructions carefully before
starting operation to be sure to obtain optimum
performance and a longer service life from the
Le agradecemos la adquisición de este producto
de JVC. Por favor lea detenidamente las
instrucciones antes de comenzar la operación
para obtener de esta unidad un rendimiento
óptimo y una vida de servicio más larga.
Grazie per avere acquistato questo prodotto
JVC. Si prega di leggere queste istruzioni con
attenzione prima dell'uso per essere certi di
ottenere prestazioni ottimali ed una lunga durata
Features ......................................... 3
Safety precautions .......................... 3
Handling precautions ...................... 5
Connections ................................... 6
Power supply .................................. 9
functions ....................................... 10
Remote control unit ...................... 12
Switching the power on/off ........... 14
Volume, tone and other controls ... 15
Handling CDs. .............................. 16
Playing CDs .................................. 17
Handling cassette tapes. .............. 21
Cassette playback ........................ 22
Radio reception ............................ 23
Recording ..................................... 29
Clock adjustment .......................... 32
Timer operations .......................... 33
Maintenance ................................. 38
Troubleshooting ............................ 39
Specifications ............................... 39
Características ............................... 3
Precauciones de seguridad ........... 3
Precauciones de manipulación ...... 5
Conexiones .................................... 6
Alimentación ................................... 9
Nombres de las partes y sus
funciones ...................................... 10
Unidad de control remoto ............ 12
Conexión/desconexión de la
alimentación ................................. 14
Volumen, tono y otros controles ... 15
Manipulación de CD .................... 16
Reproducción de CD ................... 17
Manipulación de cassettes de
cinta ............................................. 21
Reproducción de cassettes ......... 22
Radiorrecepción ........................... 23
Grabación .................................... 29
Ajuste del reloj .............................. 32
Operaciones por temporizador .... 33
Mantenimiento .............................. 38
Detección de problemas .............. 39
Especificaciones .......................... 39
Caratteristiche ................................ 3
Precauzioni per la sicurezza ........... 3
Precauzioni per l'uso ...................... 5
Collegamenti .................................. 6
Alimentazione ................................. 9
Nomi e funzioni delle parti ............ 10
Unità di telecomando .................... 12
Accensione e spegnimento .......... 14
Volume, toni ed altri comandi ....... 15
Maneggio dei CD .......................... 16
Riproduzione di CD ...................... 17
Maneggio dei nastri a cassetta ..... 21
Riproduzione di cassette .............. 22
Ricezione con la radio .................. 23
Registrazione ............................... 29
Regolazione orologio .................... 32
Funzionamento col timer .............. 33
Manutenzione ............................... 38
Diagnostica .................................. 39
Dati tecnici .................................... 39
TO REDUCE THE RISK OF FIRE OR
ELECTRIC SHOCK, DO NOT EXPOSE
2.DANGER: Invisible laser radiation when open
and interlock failed or defeated. Avoid direct
3.CAUTION: Do not open the rear cover. There
are no user serviceable parts inside the unit;
4.CAUTION: The CD player uses invisible laser
radiation and is equipped with safety switches
which prevent the emission of radiation when
the CD holder or CD tray is open.
dangerous to defeat the safety switches.
5.CAUTION: Use of controls for adjustments
and the performance of procedures other than
those specified herein may result in exposure
IMPORTANTE PARA PRODUCTOS
2.PELIGRO: Radiación láser invisible cuando
se abre, falla o se desactiva el enclavamiento.
Evite la exposición directa al rayo.
3.PRECAUCION: No abra la cubierta trasera.
Dentro de la unidad no hay componentes que
el usuario pueda reparar; deje toda
reparación al personal de servicio cualificado.
4.PRECAUCION: El reproductor de CD utiliza
radiación láser invisible y está equipado con
interruptores de seguridad que evitar la
emisión de radiación cuando se abre el
portadisco de CD o compartimiento del CD.
Es peligroso desactivar los interruptores de
5.PRECAUCION: La utilización de los controles
de ajuste y de procedimientos que no estén
especificados aquí, puede resultar en
exposición a radiación peligrosa.
IMPORTANTI PRECAUZIONI PER
PRODOTTO LASER DI CLASSE 1
Quando l'apparecchio è aperto
ed i dispositivi di sicurezza non funzionano o
sono stati disattivati, vengono prodotte invisibili
radiazioni laser. Evitare l'esposizione diretta
posteriore. All'interno dell'unità non vi sono
parti che possono interessare l'utente; fare
eseguire qualsiasi intervento a personale di
Il lettore CD utilizza radiazioni
laser invisibili ed è fornito di interruttori di
sicurezza per evitare l'emissione di tali
radiazioni quando il piatto del CD è aperto.
Non escludere tali interruttori di sicurezza in
L'uso di comandi e procedure
diversi da quanto specificato possono risultare
nell'esposizione a radiazioni pericolose.
NON ESPORRE L'APPARECCHIO A
PIOGGIA O UMIDITA' ONDE RIDURRE I
"Si dichiara che il questo prodotto di marca
JVC è conforme alle prescrizioni del Decreto
Ministeriale n.548 del 28/08/95 pubblicato
sulla Gazzetta Ufficiale della Repubblica
Italiana n.301 del 28/12/95."
INCENDIO O DE CHOQUES ELECTRICOS,
NO EXPONGA ESTE APARATO A LA
TO REDUCE THE RISK OF ELECTRIC SHOCK.
DO NOT REMOVE COVER (OR BACK).
NO USER-SERVICEABLE PARTS INSIDE.
REFER SERVICING TO QUALIFIED SERVICE PERSONNEL.
The lightning flash with arrowhead symbol, within an
equilateral triangle, is intended to alert the user to the
presence of uninsulated "dangerous voltage" within the
product's enclosure that may be of sufficient magnitude
to constitute a risk of electric shock to persons.
The exclamation point within an equilateral triangle is
intended to alert the user to the presence of important
operating and maintenance (servicing) instructions in
the literature accompanying the appliance.
---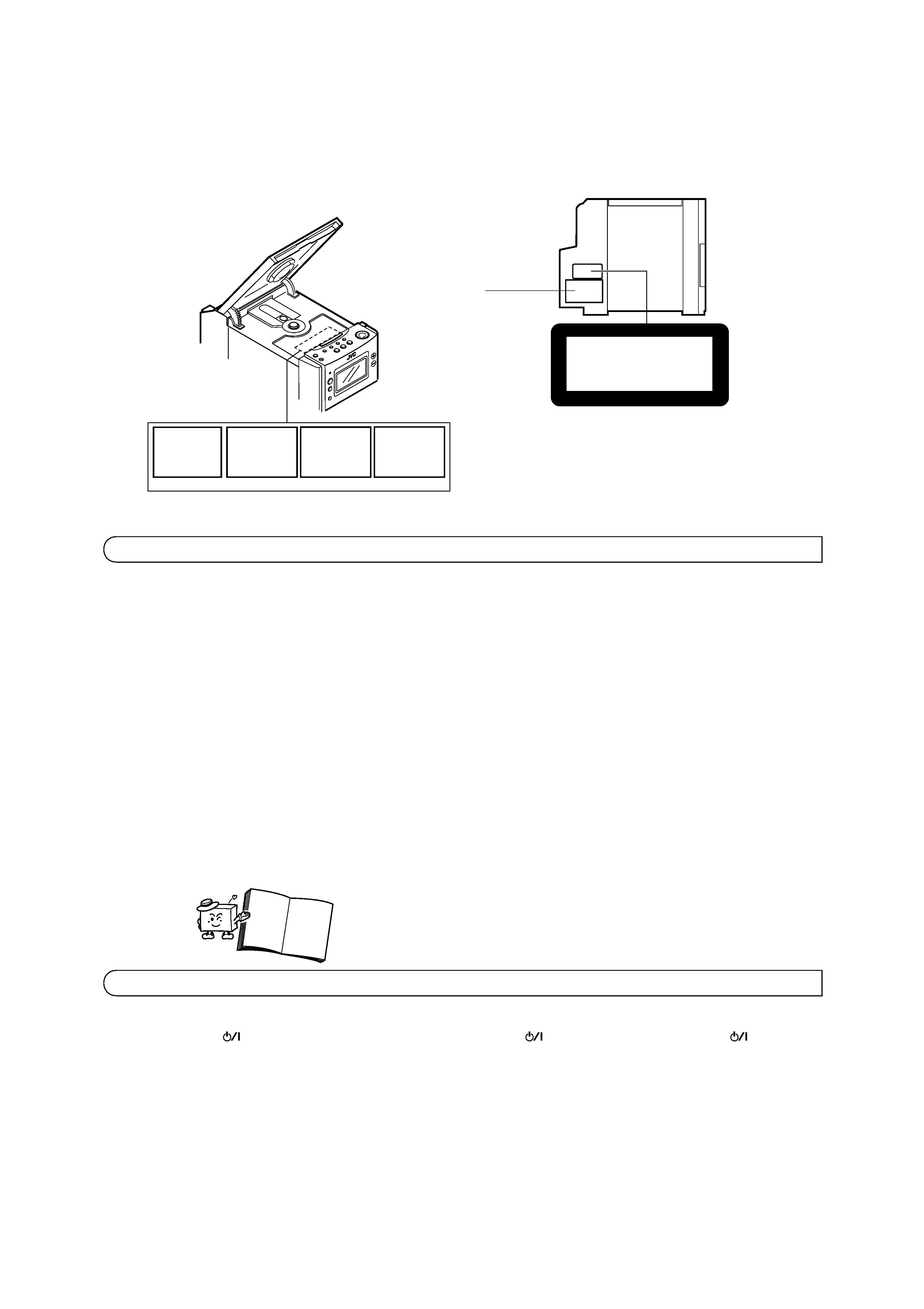 This production contains a laser component of higher
laser class than Class 1.
Questo prodotto contiene un laser di classe
Este producto contiene un componente láster de
clase superior a la Clase 1.
interlock failedordefeated.
jalukitus ohitettaessa olet
lasersäteilylle. Älä katso
REPRODUCCION DE ETIQUETAS
ETICHETTE E LORO POSIZIONE
PRECAUCIONES DE SEGURIDAD
PRECAUZIONI PER LA SICUREZZA
Prevenzione di scosse elettriche, fiamme e
1. Anche quando l'interruttore
posizione STANDBY, una piccola quantità di
corrente continua a fluire. Per risparmiare
energia e per ragioni di sicurezza, scollegare il
cavo dell'alimentazione dalla presa di corrente
CA quando si prevede di non utilizzare l'unità
per un periodo prolungato.
2. Non maneggiare il cavo di alimentazione con
Prevención de choques eléctricos, peligro
1. Aunque el botón de alimentación
colocado en espera STANDBY, fluye una
pequeñísima corriente eléctrica. Para
ahorrar energía y por seguridad cuando no
utiliza esta unidad durante un largo período,
desconecte el cordón eléctrico del
2. No manipule el cordón eléctrico con las
Prevention of Electric Shocks, Fire Hazards
STANDBY, a very small current will flow. To
save power and for safety when not using
the unit for an extended period of time,
disconnect the power cord from the
2. Do not handle the power cord with wet hands.
Placa de nombre/especificaciones
Piastrina nome/caratteristiche
Sistema de microcomponentes del tamaño
de un CD, consistente de 3 unidades
Sistema de datos por radio (RDS)
Circuito Active Hyper-Bass PRO para
reproducción sonidos de baja frecuencia
Operación de un solo toque (COMPU PLAY)
Unidad de control remoto con 35 teclas para
operación del CD, platina de cassette y
funciones del sintonizador
Reproductor de CD con funciones múltiples
Reproducción programada hasta 20 pistas
Repetición de reproducción
Mecanismo de lógica completa inversión
Mecanismo de selección automática de cinta
Para obtener una calidad de tono superior
es posible utilizar cintas de metal (tipo IV) y
Capacidad para grabación de cintas de CrO
2
Sintonizador sintetizador digital de 2 bandas
con capacidad para presintonización de 45
estaciones (30 de FM y 15 de AM (OM/OL))
Sintonización búsqueda/manual
Sintonización programada automática
Función de temporizador/reloj
Activación/desactivación del temporizador
con función de volumen preajustado
El temporizador despertador puede ser
programado hasta un máximo de 120 minutos
Sistema a microcomponenti formato CD
Circuito Active Hyper-Bass PRO di nuova
concezione per la riproduzione delle basse
Funzionamento ad un tocco (COMPU PLAY)
L'unità di telecomando da 35 tasti controlla
tutte le funzioni del lettore CD, del registratore
a cassette e del sintonizzatore
Riproduzione programmata di fino a 20 brani
Meccanismo U-Turn di inversione automatica
Meccanismo per la selezione automatica del
Possono essere riprodotti nastri Metal (tipo
IV) e CrO
2
(tipo II) che forniscono una migliore
Capacità di registrazione su nastri CrO
2
(tipo II)
Sintonizzatore a sintetizzazione digitale a 2
bande con capacità di preselezione di fino a
45 stazioni (30 FM e 15 AM (MW/LW))
Sintonizzazione con ricerca/manuale
Sintonizzazione con preselezione automatica
Funzione di attivazione e disattivazione via
timer con preimpostazione del volume
Il timer per lo spegnimento automatico può
essere impostato per fino a 120 minuti
CD-size micro component system consisting
Active Hyper-Bass PRO circuit for low-
frequency sound reproduction
One-touch operation (COMPU PLAY)
35-key remote control unit operates all CD,
cassette deck and tuner functions
Programmed play of up to 20 tracks
U-Turn auto-reverse full-logic mechanism
Auto tape select mechanism
Metal (type IV) and CrO
2
(type II) tape can be
played back for superior tone quality
CrO
2
(type II) tape recording capability
2-band digital synthesizer tuner with 45-station
(30 FM and 15 AM (MW/LW)) preset capability
Timer on/off with preset volume function
Sleep timer can be set for up to 120 minutes
---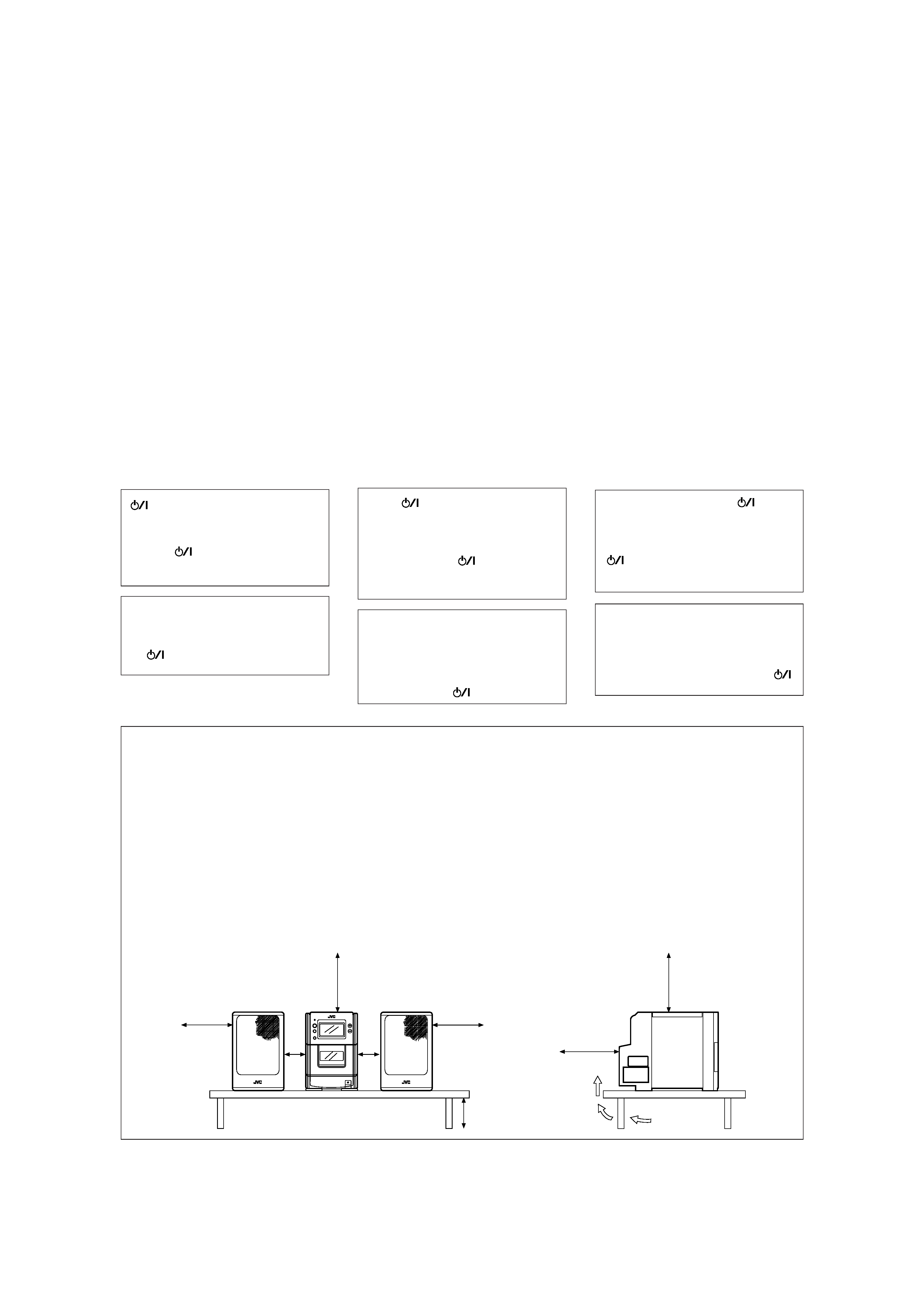 3. When unplugging from the wall outlet, always
grasp and pull the plug, not the power cord.
4. Consult your nearest dealer when damage,
disconnection, or contact failure affects the
5. Do not bend the cord severely, or pull or twist
6. Do not modify the power cord in any manner.
7. To avoid accidents, do not remove screws
to disassemble the unit and do not touch
anything inside the unit.
8. Do not insert any metallic objects into the
9. Unplug the power cord when there is a
possibility of lightning.
10.If water gets inside the unit, unplug the power
cord from the outlet and consult your dealer.
11. Do not block the unit's ventilation holes that
Do not install the unit in a badly ventilated
3. Cuando lo desenchufa del tomacorriente de
la pared, sujételo siempre por el enchufe,
4. En caso de que el cordón sea afectado por
daños, desconexión, o falso contacto,
consulte a su agente más cercano.
5. No doble en ángulo agudo el cordón, no jale
del mismo ni lo retuerza.
6. No modifique el cordón eléctrico de ninguna
7. Para evitar accidentes, no extraiga los
tornillos para desarmar la unidad y no toque
8. No inserte ningún objeto metálico dentro de
9. Desenchufe el cordón eléctrico cuando
haya posibilidad de caída de rayos.
10.Si se introduce agua dentro de la unidad,
desenchufe el cordón eléctrico del
tomacorriente y consulte a su agente.
11.No bloquee los orificios de ventilación de la
unidad que permiten el escape de calor.
No instale la unidad en un lugar mal
3. Per scollegarsi dalla presa di rete, afferrare
4. Consultare il rivenditore più vicino quando il
cavo è danneggiato, scollegato o con contatti
5. Non piegare eccessivamente il cavo, non
6. Non modificare il cavo di alimentazione in
7. Per evitare incidenti, non rimuovere viti per
smontare l'unità e non toccare alcun
8. Non inserire alcun oggetto metallico nell'unità.
9. Scollegare il cavo di alimentazione durante
10.Se dell'acqua dovesse penetrare all'interno
dell'unità, scollegare il cavo dell'alimentazione
dalla presa di rete e consultare il proprio
11.Non bloccare i fori per la ventilazione dell'unità
che permettono la dissipazione del calore.
Non installare l'unità in un luogo con
When this unit is plugged into an AC outlet,
it consumes a small current to operate the
remote control and timer, or to back up the
memory of the microprocessor, even when
button is set to STANDBY.
When the power cord is connected to a
household AC outlet, the power indicator
lights in red indicating the STANDBY mode.
button is pressed, the power
indicator goes out and the display window
Cuando se conecta el cordón eléctrico al
tomacorriente de CA, el indicador de
alimentación se enciende en rojo
indicando el modo STANDBY. Cuando
alimentación se apaga y se enciende la
ventanilla de indicación.
Esta unidad consume una pequeña
corriente cuando se la conecta a un
tomacorriente de CA, para hacer funcionar
el controlador remoto y el temporizador, o
microprocesador, aún cuando se haya
Interruttore di accensione (
Quando il cavo di alimentazione è collegato
con una presa di rete CA, l'indicatore
dell'alimentazione si illumina in rosso per
indicare il modo STANDBY. Quando il tasto
dell'alimentazione si spegne ed il display
Quando questa unità è collegata ad una
presa di corrente CA, essa consuma una
piccola quantità di corrente per il
funzionamento del telecomando e del timer
o per il mantenimento della memoria del
microprocessore anche quando il tasto
Para evitar el riesgo de descargas eléctricas e
incendio y prevenir posibles daños, instale el
equipo en un lugar que cumpla los siguientes
Sin obstrucciones, espacio abierto.
2. Lados/Parte superior/Parte posterior:
No debe haver ninguna obstrucción en las
áreas mostradas por las dimensiones de la
Sitúe el equipo sobre una superficie
nivelada. Mantenga un espacio adecuado
para permitir el paso del aire y una correcta
ventilación, situando el equipo sobre una
mesa de 10 o más cm de altura.
To avoid risk of electric shock and fire, and to
prevent damage, locate the apparatus as
No obstructions and open spacing.
No obstructions should be placed in the
areas shown by the dimensions below.
Place on a level surface. Maintain an
adequate air path for ventilation by placing
on a table with a height of 10 cm or more.
Per evitare rischi di scosse elettriche e fiamme,
installare l'apparecchio come indicato di seguito:
Nessun ostacolo e spazio aperto.
2. Lati sinistro e destro/superiore/posteriore:
Nessun ostacolo deve essere posto nell'area
indicata dalle dimensioni riportate in basso.
Posizionare su di una superficie a livello.
Mantenere un percorso adeguato per la
ventilazione utilizzando una tavola con
un'altezza di 10 cm o più.
---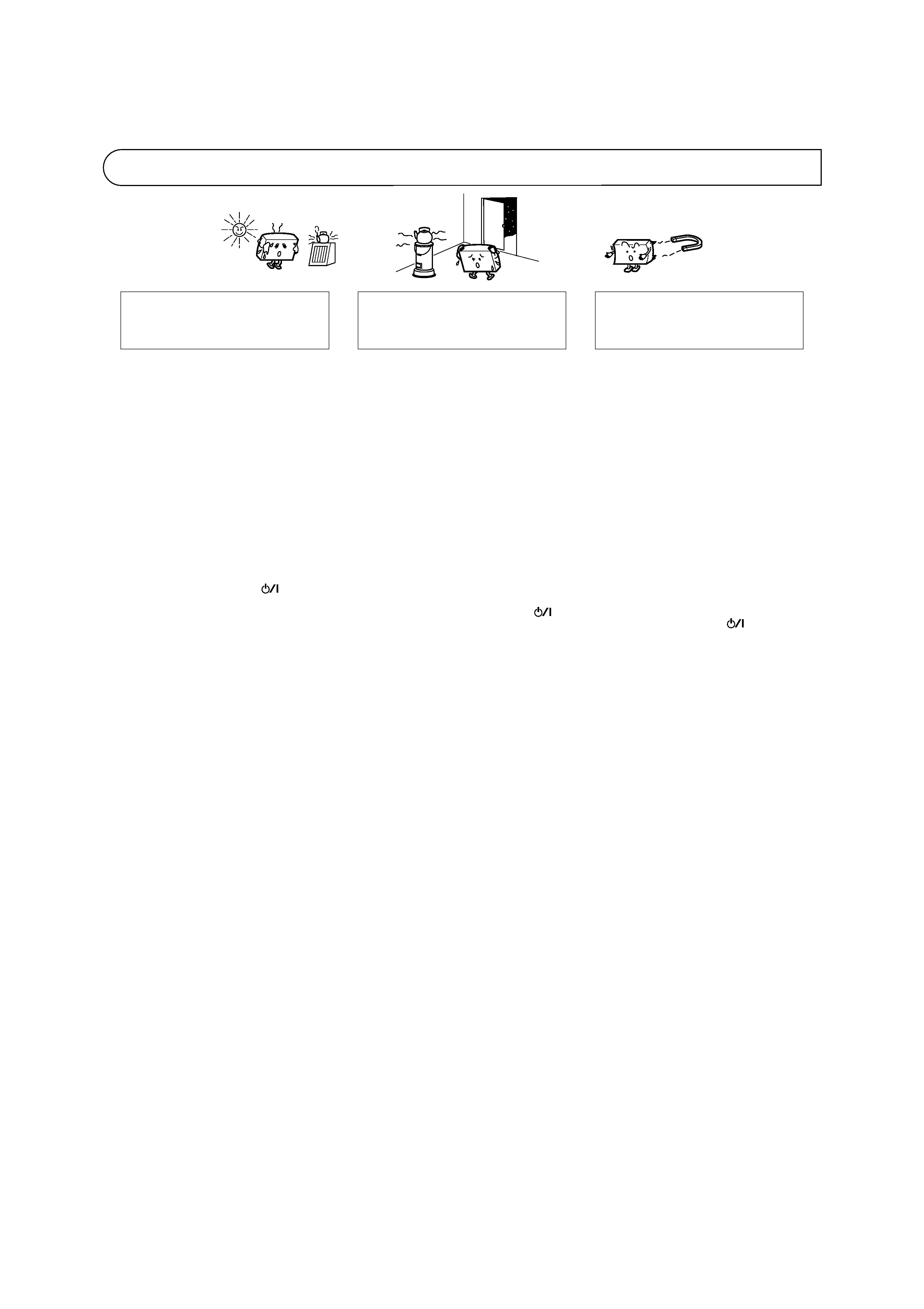 Non utilizzare questa unità in luoghi esposti
alla luce solare diretta dove la temperatura
No utilice esta unidad bajo la luz directa
del sol donde podría quedar expuesta a
temperaturas superiores a 40°C.
Do not use this unit in direct sunlight where
it would be exposed to high temperatures
1. Avoid installing in the following places
Where it could be subject to vibrations.
Where it is excessively humid, such as in
Where it could be magnetized by a magnet
Be sure to close the CD holder or CD tray so
that dust does not collect on the lens.
In the following cases, condensation may
occur in the unit, in which case the unit may
In a room where a heater has just been
In a place where there is smoke or high
When the unit is moved directly from a cold
STANDBY and wait 1 or 2 hours before use.
CDs produce very little noise compared with
analog sources. If the volume level is
adjusted for these sources, the speakers
may be damaged by the sudden increase of
output level. Therefore, lower the volume
before operation and adjust it as required
This unit incorporates a safety interlock
mechanism which switches the laser beam
on and off, so that when the CD holder or
CD tray is open, the laser beam stops
6. Do not place cassette tapes, etc. near the
Since there are magnets in the speakers, do
not place tapes or magnetic cards on them
as recorded data could be erased.
7. Keep this unit away from your TV
When this unit is used near a TV, the TV
picture could be distorted. If this happens,
move this unit away from the TV. If this does
not correct the situation, avoid using this unit
when the TV is turned on.
If the cabinet gets dirty, wipe it with a soft,
dry cloth. Never use benzine or thinner as
these could damage the surface finish.
9. When listening with headphones
Do not listen at high volumes as this could
For safety, do not drive while listening to
1. Evite instalarla en los siguientes lugares
Donde pueda ser sujeta a vibraciones.
Donde haya humedad excesiva, tal como
Donde pueda ser magnetizada por un
2. Preste atención al polvo
Asegúrese de cerrar el portadisco o
compartimiento de CD para que el polvo no
se deposite sobre la lente. No toque la lente.
En los siguientes casos, puede producirse
condensación dentro de la unidad y en
consecuencia la unidad no funcionará
En una sala donde haya un calentador
En un lugar donde haya humo o gran
Cuando se traslada rápidamente la
unidad de una sala fría a una templada.
En estos casos, coloque el botón
STANDBY (conectado) y espere 1 o 2 horas
Los productos de CD producen muy poco
ruido comparados con las fuentes
analógicas. Si ajusta el nivel de volumen
para estas fuentes, es posible que los
altavoces sean dañados por el incremento
brusco del nivel de salida. Por ello, reduzca
el volumen antes de la operación y ajústelo
como desee durante la reproducción.
5. Mecanismo de seguridad
Esta unidad posee un mecanismo de
enclavamiento de seguridad que apaga y
enciende el rayo láser de tal manera que
compartimiento de CD, el rayo láser se
6. No coloque cassettes de cinta, etc.,
Como hay imanes en los altavoces, no
coloque cintas o tarjetas magnéticas sobre
los mismos, ya que los datos grabados
7. Mantenga esta unidad lejos de su TV
Cuando se usa esta unidad próxima a un
TV, la imagen de éste puede ser
distorsionada. Si ello ocurre, mueva esta
unidad lejos del TV. Si esto no corrige el
problema, evite usar esta unidad cuando el
Si el gabinete se ensucia límpielo con un
paño suave y seco. Nunca utilice bencina o
solventes ya que estos pueden dañar la
terminación de la superficie.
9. Cuando escuche con auriculares
No escuche con el volumen muy alto
porque podrían dañarse sus oídos.
Por seguridad, no conduzca cuando esté
1. Evitare l'installazione nei luoghi seguenti
In luoghi dove l'unità può essere soggetta
In luoghi eccessivamente umidi come una
In luoghi dove l'unità può essere
magnetizzata da un magnete o da un
2. Fare attenzione alla polvere
Accertarsi di chiudere il piatto o caricatore di
CD in modo che la polvere non si raccolga
sulla lente del pickup. Non toccare la lente
Nei casi seguenti della condensa si potrebbe
funzionamento corretto dell'unità stessa.
In una stanza in cui il riscaldamento è
In un luogo fumoso o con elevata umidità.
Quando l'unità viene spostata direttamente
da una stanza fredda ad una calda.
In questi casi, portare il tasto
ed attendere 1 o 2 ore prima di utilizzare l'unità.
4. Impostazione del volume
I CD producono un rumore estremamente
basso se confrontati con fonti analogiche. Se
il livello del volume fosse impostato per tali
fonti, i diffusori potrebbero venire danneggiati
dall'improvviso aumento del livello in uscita.
Abbassare perciò il volume prima dell'uso e
regolarlo quindi durante la riproduzione.
5. Meccanismo di sicurezza
Questa unitá incorpora un meccanismo di
sicurezza che attiva e disattiva il raggio laser
in modo che quando il piatto del CD é aperto
6. Non posare nastri a cassetta, ecc., in
Dato che i diffusori incorporano dei magneti,
non posare nastri registrati o schede
magnetiche su di essi in quanto i materiali
registrati potrebbero venire cancellati.
7. Tenere l'unità lontana dal televisore
Quando questa unità viene utilizzata in
prossimità di un televisore, l'immagine TV
potrebbe venire distorta. Se ciò dovesse
accadere, allontanare l'unità dal televisore. Se
ciò non fosse sufficiente ad eliminare le
interferenze, evitare di utilizzare questa unità
quando il televisore è acceso.
8. Pulizia dell'esterno dell'unità
Se l'esterno dell'unità fosse sporco, strofinare
con un panno morbido ed asciutto.
Non usare mai benzina o diluente in quanto
essi possono danneggiare la finitura delle
Non ascoltare ad alto il volume in modo
da danneggiare le orecchie.
Per motivi di sicurezza, non guidare mentre
---