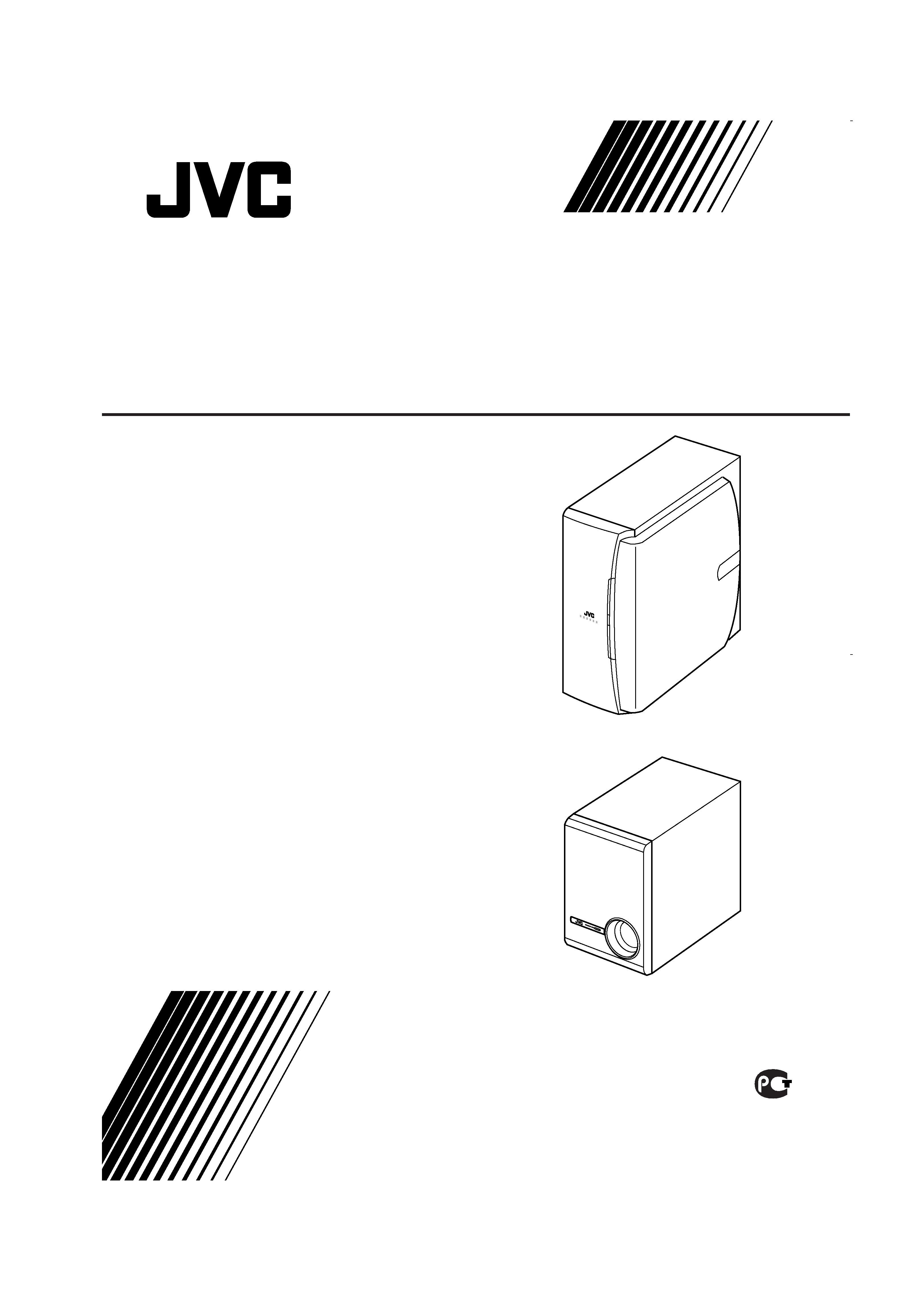 NAGYTELJESÍTMÉNYÙ MÉLYNYOMÓ
AKTYWNY G¸OSNIK NISKOTONOWY
NAPÁJEN¯ BASOV¯ REPRODUKTOR
---

DO NOT cut off the mains plug from this equipment. If the plug fitted
is not suitable for the power points in your home or the cable is too
short to reach a power point, then obtain an appropriate safety
approved extension lead or consult your dealer.
BE SURE to replace the fuse only with an identical approved type,
If nonetheless the mains plug is cut off ensure to remove the fuse
and dispose of the plug immediately, to avoid a possible shock hazard
by inadvertent connection to the mains supply.
If this product is not supplied fitted with a mains plug then follow the
instructions given below:
DO NOT make any connection to the terminal which is marked with
the letter E or by the safety earth symbol or coloured green or green-
The wires in the mains lead on this product are coloured in accordance
As these colours may not correspond with the coloured markings
identifying the terminals in your plug proceed as follows:
The wire which is coloured blue must be connected to the terminal
which is marked with the letter N or coloured black.
The wire which is coloured brown must be connected to the terminal
which is marked with the letter L or coloured red.
IF IN DOUBT - CONSULT A COMPETENT ELECTRICIAN.
-- SAFETY INSTRUCTIONS --
"SOME DOS AND DON'TS ON THE SAFE USE OF EQUIPMENT"
This equipment has been designed and manufactured to meet
international safety standards but, like any electrical equipment, care
must be taken if you are to obtain the best results and safety is to be
Do read the operating instructions before you attempt to use the
Do ensure that all electrical connections (including the mains plug,
extension leads and interconnections between pieces of equipment) are
properly made and in accordance with the manufacturer's instructions.
Switch off and withdraw the mains plug when making or changing
Do consult your dealer if you are ever in doubt about the installation,
operation or safety of your equipment.
Do be careful with glass panels or doors on equipment.
DON'T continue to operate the equipment if you are in any doubt about
it working normally, or if it is damaged in any way--switch off, withdraw
the mains plug and consult your dealer.
DON'T remove any fixed cover as this may expose dangerous voltages.
DON'T leave equipment switched on when it is unattended unless it is
specifically stated that it is designed for unattended operation or has a
Switch off using the switch on the equipment and make sure that your
family know how to do this.
Special arrangements may need to be made for infirm of handicapped
DON'T use equipment such as personal stereos or radios so that you
are distracted from the requirements of traffic safety. It is illegal to watch
television whilst driving.
DON'T listen to headphones at high volume as such use can permanently
DON'T obstruct the ventilation of the equipment, for example with curtains
Overheating will cause damage and shorten the life of the equipment.
DON'T use makeshift stands and NEVER fix legs with wood screws--to
ensure complete safety always fit the manufacturer's approved stand or
legs with the fixings provided according to the instructions.
DON'T allow electrical equipment to be exposed to rain or moisture.
­ NEVER let anyone, especially children, push anything into holes, slots
or any other opening in the case--this could result in a fatal electrical
­ NEVER guess or take chances with electrical equipment of any kind--
it is better to be safe than sorry!
---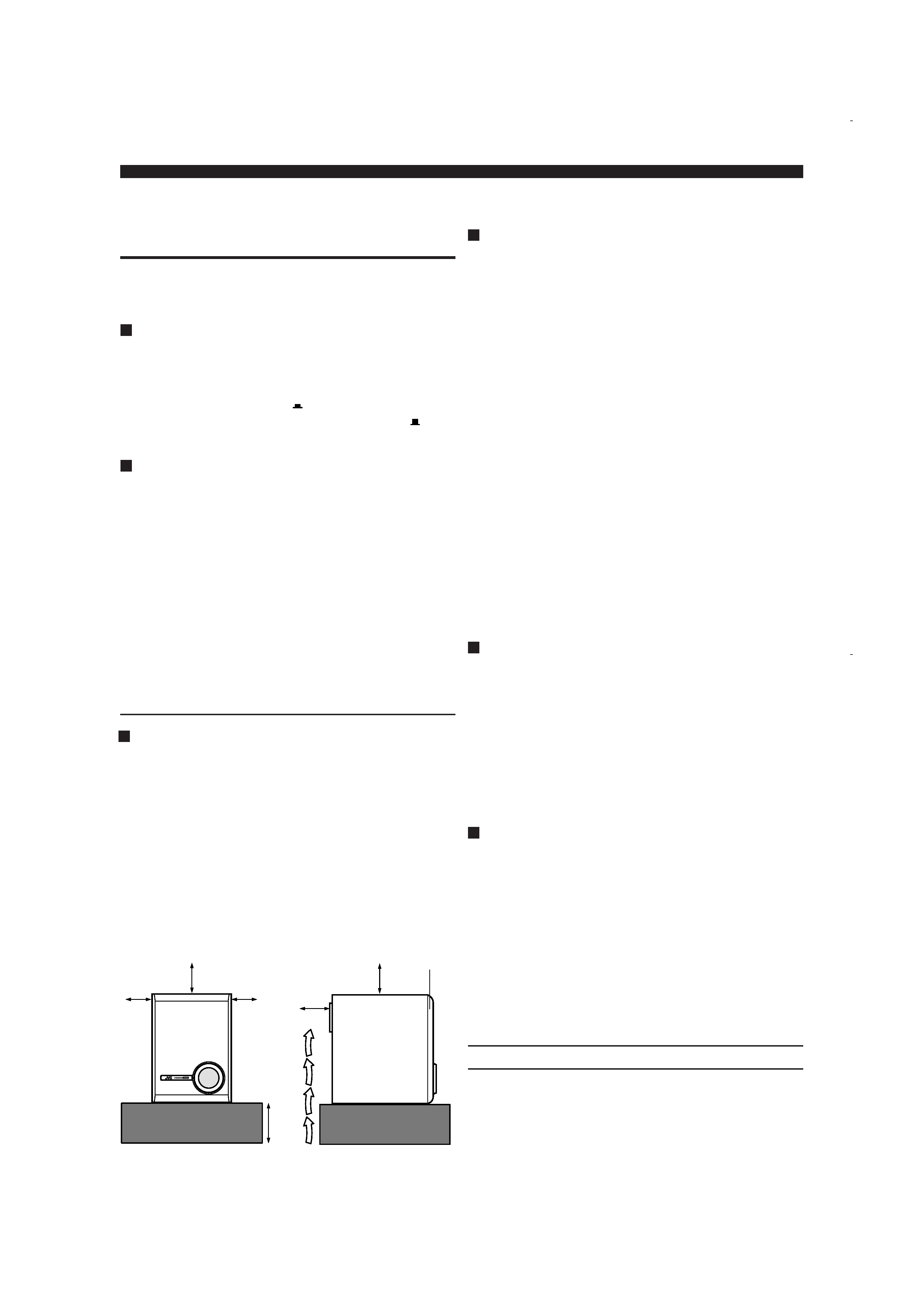 Precautions for installation
·To prevent deformation or discoloration of the cabinet, do not
install the unit where it is exposed to direct sunlight or high
humidity, and avoid installation near air conditioning outlets.
· Speaker vibrations may cause howling. Place the unit as far
away from the player as possible.
·Take the occurrence of earthquakes or other physical shocks
into consideration when selecting the installation place, and
secure the unit thoroughly.
·Tuner reception may become noisy or hissing if this unit is
installed nearby the tuner. In this case, leave a more distance
between the tuner and this unit or use an outdoor antenna for
better tuner reception without interference from this unit.
· This unit is magnetically shielded to avoid color distortions on
TVs. However, if not installed properly, it may cause color
distortions. So, pay attention to the following when installing the
­ When placing this unit near a TV set, turn off the TV's main
power switch or unplug it before installing this unit.
Then wait at least 30 minutes before turning on the TV's main
Some TVs may still be affected even though you have followed
the above. If this happens, move this unit away from the TV.
· When the TV screen shakes, move this unit away from the TV
to find a position where the screen doesn't shake and then set
Precautions for Daily Use
·To maintain the appearance of the unit
Wipe with a dry, soft cloth if the cabinet or control panel should
If very dirty, apply a small amount of water or neutral detergent
to the cloth and wipe clean. Then wipe with a dry cloth.
·To improve the sound field
If the speakers are facing a solid wall or glass
door, etc., it is recommended to furnish the wall
with materials that absorb sounds, for example by
hanging up thick curtains, to prevent reflections
Checking the Supplied Accessories
Check to be sure you have the following supplied accessories.
The number in parenthesis indicates the quantity of the piece
· Monaural audio cord (1)
If the item mentioned above is missing, contact your dealer
Warnings, Cautions and Others .................................. 3
Connections .................................................................. 8
Operations ..................................................................... 8
Additional Information .................................................. 9
Thank you for purchasing a JVC speaker.
Before you begin using it, please read the instructions carefully to be sure you get the best possible performance. If you have any
questions, consult your JVC dealer.
To reduce the risk of electrical shocks, fire, etc.:
1. Do not remove screws, covers or cabinet.
2. Do not expose this appliance to rain or moisture.
This apparatus is provided with the POWER switch to minimize
power consumption for safe use. Therefore,
1. Before doing initial settings, complete all the connections
required, connect the mains plug into the wall outlet, then set
2. When not in use, set the POWER switch to OFF [
This disconnects the mains line.
· Do not block the ventilation openings or holes.
(If the ventilation openings or holes are blocked by a
newspaper or cloth, etc., the heat may not be able to get out.)
· Do not place any naked flame sources, such as lighted candles,
· When discarding batteries, environmental problems must be
considered and local rules or laws governing the disposal of
these batteries must be followed strictly.
· Do not expose this apparatus to rain, moisture, dripping or
splashing and that no objects filled with liquids, such as vases,
shall be placed on the apparatus.
Warnings, Cautions and Others
Caution--Proper Ventilation
To avoid risk of electric shock and fire, and to prevent damage,
locate the apparatus as follows:
No obstructions and open spacing.
No obstructions should be placed in the areas shown by the
Place on the level surface. Maintain an adequate air path for
ventilation by placing on a stand with a height of 10 cm or
---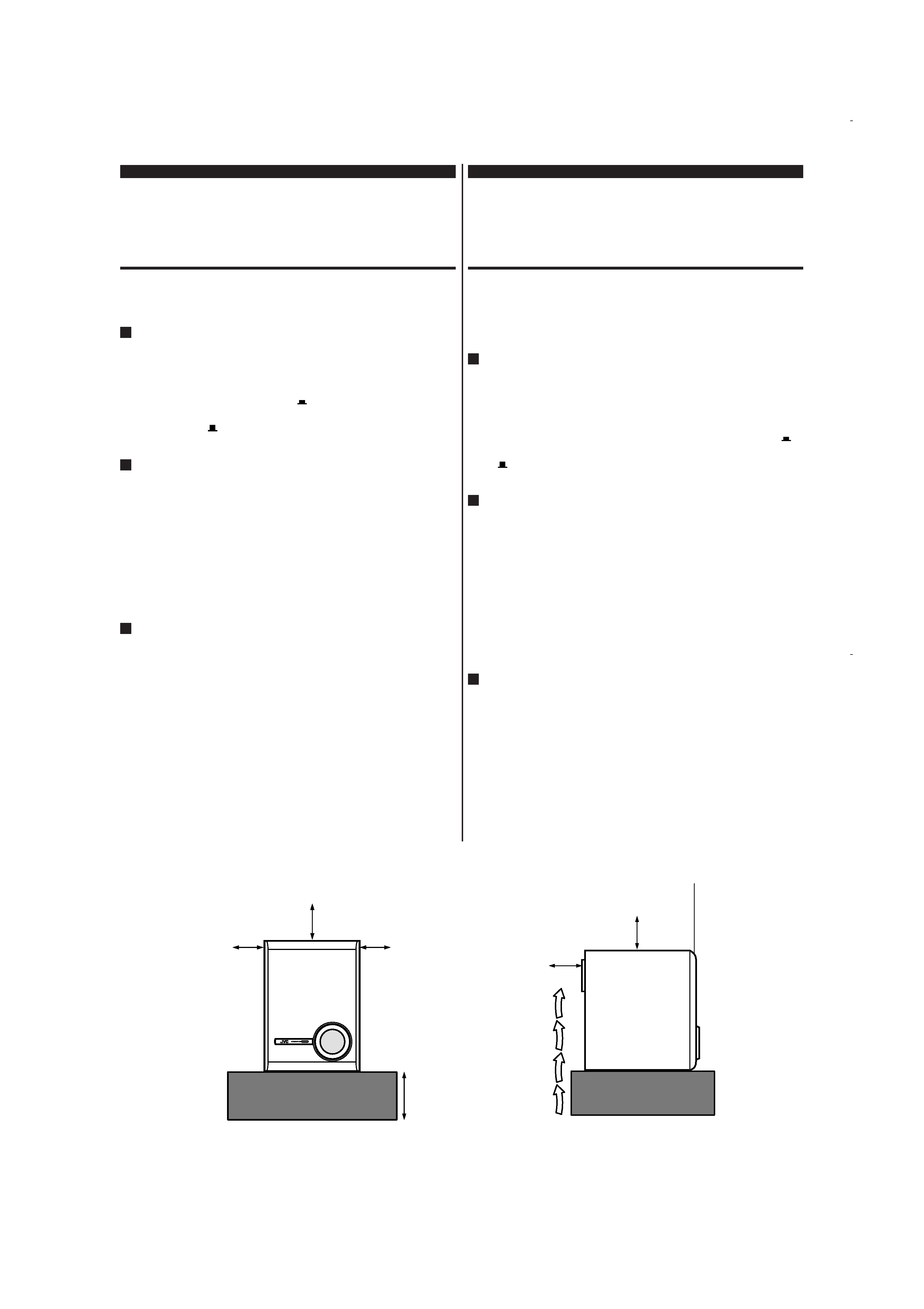 Dzikujemy Pastwu za zakup glonika firmy JVC.
Przed jego zastosowaniem prosimy o szczególowe przeczytanie niniejszej
instrukcji celem jak najlepszego wykorzystania wietnych wlaciwoci tego
W przypadku jakichkolwiek zapyta prosimy si zwróci do najbliszego
punktu sprzeday firmy JVC.
Ostrzeenia, zwrócenie uwagi itp.
W celu ograniczenia ryzyka urazu w wyniku dzialania prdu elektrycznego,
1. Nie naley wyjmowa rub, zdejmowa oslon lub obudowy
2. Urzdzenia nie naley poddawa dzialaniu deszczu lub wilgoci.
Ostrzeenie--Wyàcznik sieciowy POWER switch
Urzdzenie to wyposaone jest w wylcznik sieciowy, który zapewnia
minimalne zuycie energii podczas jego bezpiecznej eksploatacji. Dlatego
1. Przed pocztkowym ustawieniem wykona kompletnie wszystkie
wymagane podlczenia, glówn wtyczk podlczy do gniazdka
w cianie, potem ustawi przelcznik POWER na ON [
2. Gdy nie jest uywany, ustawi przelcznik POWER na OFF [
]. W ten sposób odlczycie glówny doplyw energii.
· Nie naley zakrywa otworów wentylacyjnych. (Jeli otwory
wentylacyjne s zakryte np. gazet lub materialem tekstylnym
cieplo powstajce wewntrz urzdzenia nie moe by
· Na urzdzeniu nie naley stawia ródla otwartego ognia jakim
·W przypadku likwidacji baterii naley uwzgldnia warunki
ekologiczne oraz przestrzega miejscowe przepisy lub
zarzdzenia dotyczce likwidacji tych baterii.
· Urzdzenia nie naley poddawa dzialaniu deszczu, wilgoci,
kapicej lub pryskajcej wody oraz nie stawia na nim adnych
przedmiotów napelnionych plynem jakimi s np. wazony.
Ostrzeenie--Dostateczna wentylacja
Celem uniemoliwienia powstania obrae spowodowanych prdem
elektrycznym oraz uniknicia poaru urzdzenie naley umieci w
Brak przeszkód i zapewniony wolny dostp.
2 Boki / górna cz / tyl urzdzenia:
W odleglociach podanych na rysunku dalej nie mog si
znajdowa adne przeszkody.
Urzdzenie naley postawi na równej powierzchni.
W celu zapewnienia dostatecznej przestrzeni dla przeplywu
powietrza urzdzenie naley umieci na podstawce o wysokoci
Dkujeme vám, ze jste zakoupili reproduktor JVC.
Ped jeho pouzíváním si pecliv proctte tento návod k pouzití, abyste mohli
co nejlépe vyuzívat vynikající vlastnosti tohoto výrobku.
Budete-li mít jakékoli dotazy, obrate se na svého obchodního zástupce JVC.
Vstrahy, upozornûní a pod.
Pro omezení rizika úrazu elektrickým proudem, pozáru a pod.:
1. Nevyjímejte srouby, nesnímejte kryty nebo skí pístroje.
2. Nevystavujte tento pístroj desti nebo vlhkosti
Upozornûní--SíÈov vypínaã POWER switch
Tento pístroj je vybaven síovým vypínacem, který zajisuje minimální
spotebu energie pi jeho bezpecném provozu. Proto:
1. Ped prvním nastavováním provete vsechna pozadovaná
zapojení, zastrcte napájecí kabel do zásuvky a pepnte spínac
2. Kdyz pístroj nepouzíváte, pepnte spínac POWER do polohy
]. Dojde tak k odpojení napájení.
· Nezakrývejte vtrací otvory. (Jsou-li vtrací otvory zakryty nap.
novinami nebo textilním materiálem, nemze zevnit odcházet
· Nestavte zádný zdroj oteveného plamene, jako jsou nap.
zapálené svícky, na tento pístroj.
·Pi likvidaci baterií musí být pihlédnuto k ekologickým hlediskm
a musí být písn dodrzeny místní pedpisy nebo zákony pro
·Nevystavujte tento pístroj desti, vlhkosti, kapající nebo stíkající
vod a nestavte zádné pedmty naplnné kapalinou, jako jsou
nap. vázy, na tento pístroj.
Upozornûní--Dostateãná ventilace
Pro vyloucení úrazu elektrickým proudem a zamezení nebezpecí pozáru
umístte tento pístroj následujícím zpsobem:
zádné pekázky a volný pístup
2 Boky / vrchní strana / zadní strana:
ve vzdálenostech uvedených v obr. dále nesmjí být zádné
PPístroj postavte na rovný povrch. Pro zajistní dostatecného
prostoru pro proudní vzduchu postavte tento pístroj na podstavec
---

Pokyny pro denní pouÏívání
Znecistnou skí nebo ovládací panel pístroje otírejte suchým
Pi vtsím znecistní otete pístroj hadíkem zvlhceným malým
mnozstvím vody nebo neutrálním mycím pípravkem a potom
pístroj otete suchým hadíkem.
· Zlepsení akustických vlastností
Jsou-li reproduktory nasmrovány proti pevné stn nebo
sklenným dveím a pod., doporucuje se opatit tuto stnu
materiály pohlcujícími zvuk, nap. tzkými závsy, aby se zabránilo
odrazm a stojatým vlnám (standing waves).
Kontrola dodaného pfiísluenství
Zkontrolujte, zda máte následující dodávané píslusenství.Císla v závorkách
uvádjí pocet dodávaných kus.
Jestlize tato soucást chybí, obrate se ihned na svého dodavatele.
Wskazówki dotyczàce codziennego uytku
Zanieczyszczon obudow lub panel sterowniczy urzdzenia
naley wyciera such mikk ciereczk.
W przypadku wikszego zanieczyszczenia urzdzenie naley
wyciera ciereczk nawilon mal iloci wody lub
neutralnego rodka czyszczcego a nastpnie wytrze je such
·Polepszenie wlaciwoci akustycznych
Jeli gloniki skierowane s w stron ciany lub przeszklonych
drzwi zalecane jest umieszczenie na cianie materialów
pochlaniajcych dwik, np. cikie zaslony, w ten sposób
uniemoliwimy powstawanie odbi i fal stojcych (standing waves).
Kontrola dostarczonego wyposaenia
Naley skontrolowa, czy zostalo dostarczone niej wymienione wyposaenie.
Numery w nawiasach oznaczaj liczb dostarczanych sztuk.
· Mono przewód dówikowy (1)
W przypadku braku tego elementu naley natychmiast zwróci
Výstrahy, upozornní a pod ........................................................ 4
Zapojení ................................................................................... 10
Doplkové informace ............................................................ 10
Funkce pístroje ..................................................................... 11
Ostrzeenia, zwrócenie uwagi itp ............................................... 4
Podlczenie .............................................................................. 10
Informacje uzupelniajce .......................................................... 10
Dzialanie urzdzenia ................................................................ 11
·Aby se zabránilo deformaci nebo zmn barvy skín, neinstalujte
tento pístroj na místa vystavená pímému slunecnímu záení nebo
vysoké vlhkosti a neumisujte jej v blízkosti výstup z klimatizacních
· Vibrace reproduktoru mohou vyvolávat hucení (howling).
Reproduktory umístte co nejdále od pehrávacího zaízení.
·Pi volb umístní tohoto pístroje zvazte i moznost výskytu
zemtesení nebo jiných fyzikálních otes a tento pístroj dkladn
· Signál tuneru mze v blízkosti tohoto reproduktoru sumt. V tomto
pípad umístte tento reproduktor dále od tuneru nebo pouzijte
venkovní anténu pro zlepsení signálu tuneru a pro zamezení
interferencí vyvolaných reproduktorem.
·Tento pístroj je vybaven magnetickým stínním, aby se zabránilo
zkreslení barev na TV pijímacích. Pi nevhodné instalaci mze
pesto ke zkreslení barev docházet. Proto pi instalaci tohoto
pístroje vnujte pozornost následujícím pokynm:
­Pi umístní tohoto pístroje do blízkosti TV pijímace
vypnte síový vypínac televizoru nebo jej ped instalací
tohoto pístroje odpojte ze síové zásuvky. Potom vyckejte
alespo 30 minut a televizor opt zapnte.
Nkteré televizory mohou být negativn ovlivnny i pi dodrzení
uvedených pokyn. V tomto pípad umístte tento reproduktor
· Dochází-li ke chvní TV obrazu, oddalte reproduktor od televizoru
a najdte pro nj místo, kde ke chvní docházet nebude.
Zalecenia dotyczàce instalacji
·W celu uniemoliwienia deformacji lub zmiany koloru obudowy,
urzdzenia nie naley umieszcza w miejscach bezporedniego
dzialania promieni slonecznych lub wysokiej wilgotnoci oraz w
pobliu wylotu z urzdze wentylacyjnych.
· Wibracje glonika mog powodowa dudnienie (howling). Gloniki
naley umieci jak najdalej od urzdze odtwarzajcych.
· Przy wyborze umieszczenia opisywanego urzdzenia naley take
bra pod uwag moliwo wystpowania trzsienia ziemi lub
innych wstrzsów fizycznych i dlatego urzdzenie naley
· Sygnal tunera moe w pobliu tego glonika szumie. W takim
wypadku glonik naley umieci w wikszej odlegloci od tunera
lub zastosowa anten zewntrzn celem polepszenia sygnalu
tunera i ograniczenia interferencji spowodowanych przez glonik.
· Urzdzenie wyposaone jest w ekran magnetyczny w celu
uniemoliwienia powstawania znieksztalce kolorów w
odbiornikach TV. Jednak w przypadku nieodpowiedniego
umieszczenia tego urzdzenia moe dochodzi do znieksztalcenia
kolorów. Dlatego przy instalowaniu urzdzenia naley kierowa
si nastpujcymi wskazówkami:
­W przypadku umieszczenia tego urzdzenia w pobliu
odbiornika TV naley wylczy wylcznik sieciowy
telewizora lub przed zainstalowaniem opisywanego
urzdzenia sznur zasilajcy telewizora wylczy z gniazda
sieciowego. Nastpnie poczeka co najmniej 30 minut i
telewizor ponownie wlczy.
W niektórych typach telewizorów powysze negatywne zmiany
mog si pojawi nawet w przypadku przestrzegania opisywanych
zasad. W takim wypadku glonik naley umieci w wikszej
· Jeli ekran TV miga, odsun urzdzenie od TV, znale miejsce,
gdzie ekran nie miga i potem ponownie ustawi urzdzenie.
---