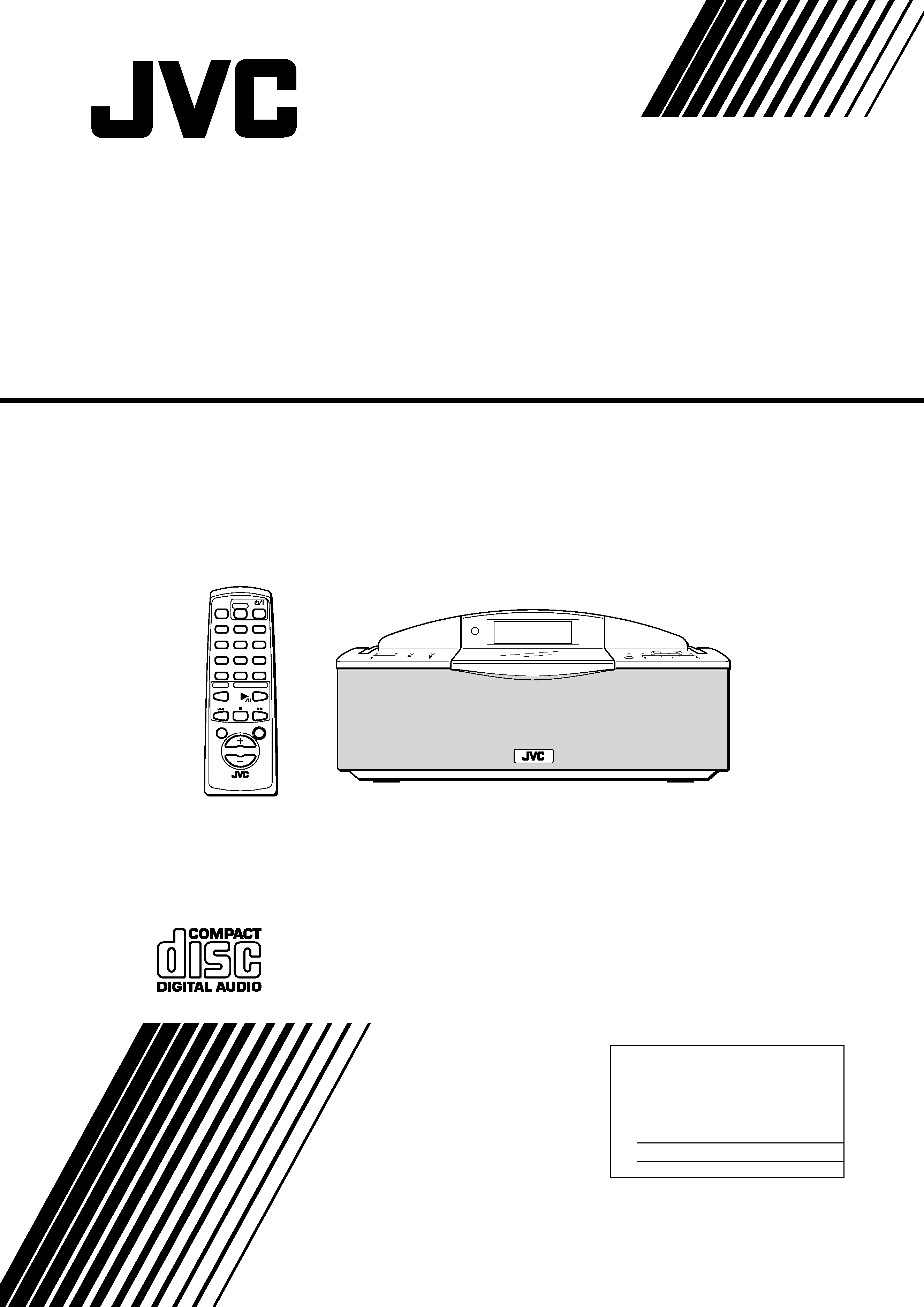 Enter below the Model No. and Serial No.
which are located either on the rear, bot-
tom or side of the cabinet. Retain this
information for future reference.
---

Warnings, Cautions and Others /
Mises en garde, précautions et indications diverses
The lightning flash with arrowhead symbol,
within an equilateral triangle is intended to
alert the user to the presence of uninsulated
"dangerous voltage" within the product's
enclosure that may be of sufficient magni-
tude to constitute a risk of electric shock to
The exclamation point within an equilateral
triangle is intended to alert the user to the
presence of important operating and mainte-
nance (servicing) instructions in the literature
accompanying the appliance.
CAUTION: TO REDUCE THE RISK OF ELECTRIC SHOCK
DO NOT REMOVE COVER (OR BACK)
NO USER SERVICEABLE PARTS INSIDE
REFER SERVICING TO QUALIFIED SERVICE PERSONNEL.
WARNING: TO REDUCE THE RISK OF FIRE
OR ELECTRIC SHOCK, DO NOT EXPOSE
THIS APPLIANCE TO RAIN OR MOISTURE.
This equipment has been tested and found to com-
ply with the limits for a Class B digital device, pursu-
ant to Part 15 of the FCC Rules. These limits are
designed to provide reasonable protection against
harmful interference in a residential installation. This
equipment generates, uses, and can radiate radio
frequency energy and, if not installed and used in
accordance with the instructions, may cause harmful
interference to radio communications. However,
there is no guarantee that interference will not occur
in a particular installation. If this equipment does
cause harmful interference to radio or television
reception, which can be determined by turning the
equipment off and on, the user is encouraged to try
to correct the interference by one or more of the fol-
­ Reorient or relocate the receiving antenna.
­ Increase the separation between the equipment
­ Connect the equipment into an outlet on a circuit
different from that to which the receiver is con-
­ Consult the dealer or an experienced radio/TV
---

2. DANGER: Invisible laser radiation when open and
interlock failed or defeated. Avoid direct exposure to
3. CAUTION: Do not open the top cover. There are no
user serviceable parts inside the unit; leave all ser-
vicing to qualitied service personnel.
1. PRODUIT LASER CLASSE 1
l'appareil est ouvert ou que le verrouillage est en
panne ou désactivé. Eviter une exposition directe
3. ATTENTION: Ne pas ouvrir le couvercle du dessus.
Iln'y a aucune pièce utilisable à l'intérier. Laisser à
un personnel qualifié le soin de réparer votre appar-
To reduce the risk of electrical shocks, fire, etc.:
1. Do not remove screws, covers or cabinet.
2. Do not expose this appliance to rain or moisture.
Afin d'èviter tout risque d'électrocution, d'lncendie. etc.:
1. Ne pas enlever les vis ni les panneaux et ne pas
ouvrir le coffret de l'appareil.
2. Ne pas exposer l'appareil à la pluie ni à l'humidité.
Disconnect the mains plug to shut the power off com-
pletely. The POWER switch in any position does not
disconnect the mains line. The power can be remote
1. Do not block the ventilation openings or holes.
(If the ventilation openings or holes are blocked by a
newspaper or cloth, etc., the heat may not be able
2. Do not place any naked flame sources, such as
lighted candles, on the apparatus.
3. When discarding batteries, environmental prob-
lems must be considered and local rules or laws
governing the disposal of these batteries must be
4. Do not use this apparatus in a bathroom or places
with water. Also do not place any containers filled
with water or liquids (such as cosmetics or medi-
cines, flower vases, potted plants, cups, etc.) on top
Attention -- Commutateur POWER!
Déconnecter la fiche de secteur poru couper complète-
ment le courant. Le commutateur POWER ne coupe
jamais complètement la ligne de secteur, quelle que
soit sa position. Le courant peut être télécommandé.
1. Ne bloquez pas les orifices ou les trous de ventilation.
(Si les orifices ou les trous de ventilation sont bloqués
par un journal ou un tissu, etc., la chaleur pent ne pas
être évacuée correctement de l'appareil.)
2. Ne placez aucune source de flamme nue, telle
qu'une bougie, sur l'appareil.
3. Lors de la mise au rebut des piles, veuillez prendre
en considération les problèmes de l'environnement
et suivre strictement les règles et, les lois locales
sur la mise au rebut des piles.
4. N'utilisez pas cet appareil dans une salle de bain ou
un autre endroit avec de l'eau. Ne placez aucun
récipient contenant de l'eau (tel que des cosmé-
tiques ou des médicaments, un vase de fleurs, un
pot de fleurs, une tasse, etc.) sur cet appareil.
For Canada/pour le Canada
CAUTION: TO PREVENT ELECTRIC SHOCK,
MATCH WIDE BLADE OF PLUG TO WIDE SLOT,
PRECAUTION: POUR EVITER LES CHOCS
ELECTRIQUES, INTRODUIRE LA LAME LA
PLUS LARGE DE LA FICHE DANS LA BORNE
For Canada/pour le Canada
THIS DIGITAL APPARATUS DOES NOT EXCEED THE CLASS B
LIMITS FOR RADIO NOISE EMISSIONS FROM DIGITAL APPA-
RATUS AS SET OUT IN THE INTERFERENCE-CAUSING EQUIP-
MENT STANDARD ENTITLED "DIGITAL APPARATUS," ICES-003
OF THE DEPARTMENT OF COMMUNICATIONS.
CET APPAREIL NUMERIQUE RESPECTE LES LIMITES DE
BRUITS RADIOELECTRIQUES APPLICABLES AUX APPAREILS
NUMERIQUES DE CLASSE B PRESCRITES DANS LA NORME
SUR LE MATERIEL BROUILLEUR: "APPAREILS NUMERIQUES",
NMB-003 EDICTEE PAR LE MINISTRE DES COMMUNICATIONS.
---

Thank you for purchasing the JVC CD Portable System.
We hope it will be a valued addition to your home as well as to your outdoor life, giving you years of enjoyment.
Be sure to read this instruction manual carefully before operating your new stereo system.
In it you will find all the information you need to set up and use the system.
If you have a query that is not answered by the manual, please contact your dealer.
Here are some of the things that make your System both powerful and simple to use.
I
The controls and operations have been redesigned to make them very easy to use, freeing you to just enjoy the music.
With JVC's COMPU PLAY you can turn on the System and automatically start the Radio, or CD Player with
a single touch. (When power is supplied from AC)
I
The System incorporates AHB (Active Hyper Bass) PRO circuitry to faithfully reproduce low frequency
I
A 45-station preset capability 30 FM and 15 AM in addition to auto-seek and manual tuning.
I
A user-friendly timer lets you wake or fall asleep to music.
I
The CD Player can play back a CD-R and CD-RW.
Basic information that is the same for many different functions - e.g. setting the volume - is given in the section `Common Operations',
and not repeated under each function.
The names of buttons/controls are written in all capital letters: e.g. TUNER BAND.
If the button names on the Unit and the Remote Control are the same, the description on which the button is used will be omitted.
System functions are written with an initial capital letter only: e.g. Normal Play.
Use the table of contents to look up specific information you require.
We've enjoyed making this manual for you, and hope it serves you in enjoying the many features built into your System.
I
1.Where to place the Unit
Select a place which is level, dry and neither too hot nor too cold (between 5°C and 35°C).
Leave sufficient distance between the Unit and a TV.
Do not use the Unit in a place subject to vibrations.
Do not handle the power cord with wet hands!
Some power is always consumed as long as the power cord is connected to the wall outlet.
When unplugging the Unit from the wall outlet, always pull the plug, not the power cord.
There are no user serviceable parts inside. In case of system failure, unplug the power cord and consult your dealer.
Do not insert any metallic object into the System.
I
Carefully read "CAUTION" on page G-1.
How This Manual Is Organized
Features ............................................................................... 1
How This Manual Is Organized .......................................... 1
IMPORTANT CAUTIONS ................................................ 1
Getting Started.......................................................... 2
Common Operations ................................................ 3
Using the Tuner ........................................................ 5
Using the CD Player ................................................. 7
Using the Timers ...................................................... 9
Care And Maintenance ........................................... 11
Troubleshooting ..................................................... 12
Specifications ......................................................... 12
---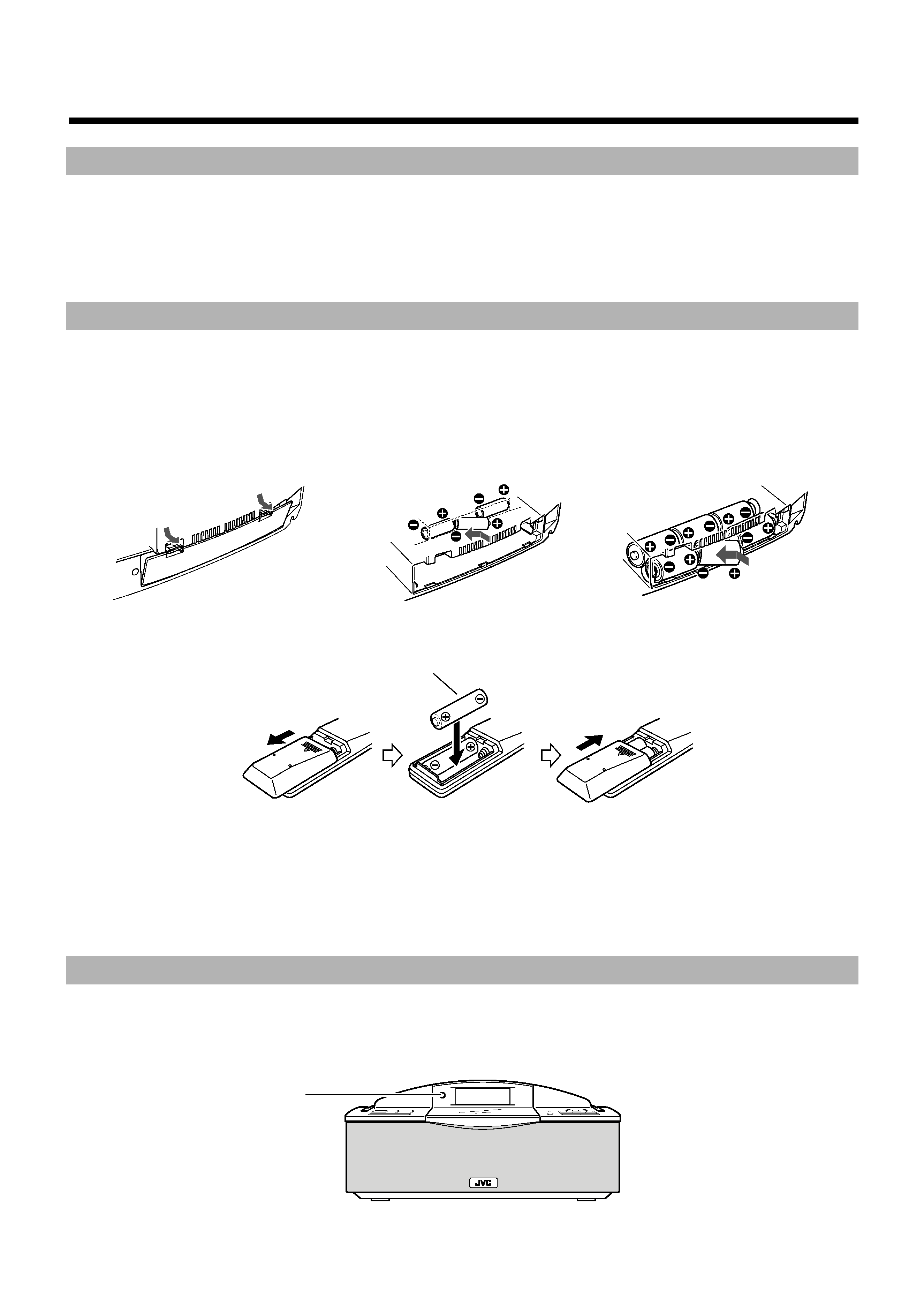 Check that you have all of the following items, which are supplied with the System.
Remote Control (1) [RD-T70BU Only]
If any of these items are missing, contact your dealer immediately.
How To Put Batteries In the Unit
Open the battery cover on the back of the Unit by pulling it toward you while pressing the tabs as shown by the arrows.
Put 3 memory backup batteries R6P(SUM-3)/AA(15F) (not supplied) in the battery compartment in the order of "1" to "3".
Put 6 batteries R20/D (13F) (not supplied) in the battery compartment in the order of "1" to "6" as shown.
Securely close the battery cover.
Note: When you operate your Unit on mains (AC) power, the power source switches automatically from batteries to AC. However, you should
remove the batteries when operating on AC power.
How To Put Batteries In the Remote Control [RD-T70BU Only]
Match the polarity (+ and ­) on the batteries with the + and ­ markings in the battery compartment.
CAUTION: Handle batteries properly.
To avoid battery leakage or explosion:
Remove batteries when the Unit or the Remote Control will not be used for a long time.
When you need to replace the batteries, replace batteries at the same time with new ones.
Do not use an old battery with new ones.
Do not use different types of batteries together.
Do not try to recharge non-rechargeable batteries.
Dispose of batteries in the proper manner, according to federal, state, and local regulations.
The Remote Control makes it easy to use many of the functions of the Unit from a distance of up to 7m (23 feet) away.
You need to point the Remote Control at the remote sensor on the Unit's front panel.
Note: If you point the Remote Control from the slant direction, the above distance will be shortened.
Using the Remote Control [RD-T70BU Only]
"R20/D (13F)" size batteries
"R6P (SUM-3) / AA (15F)" size batteries
---