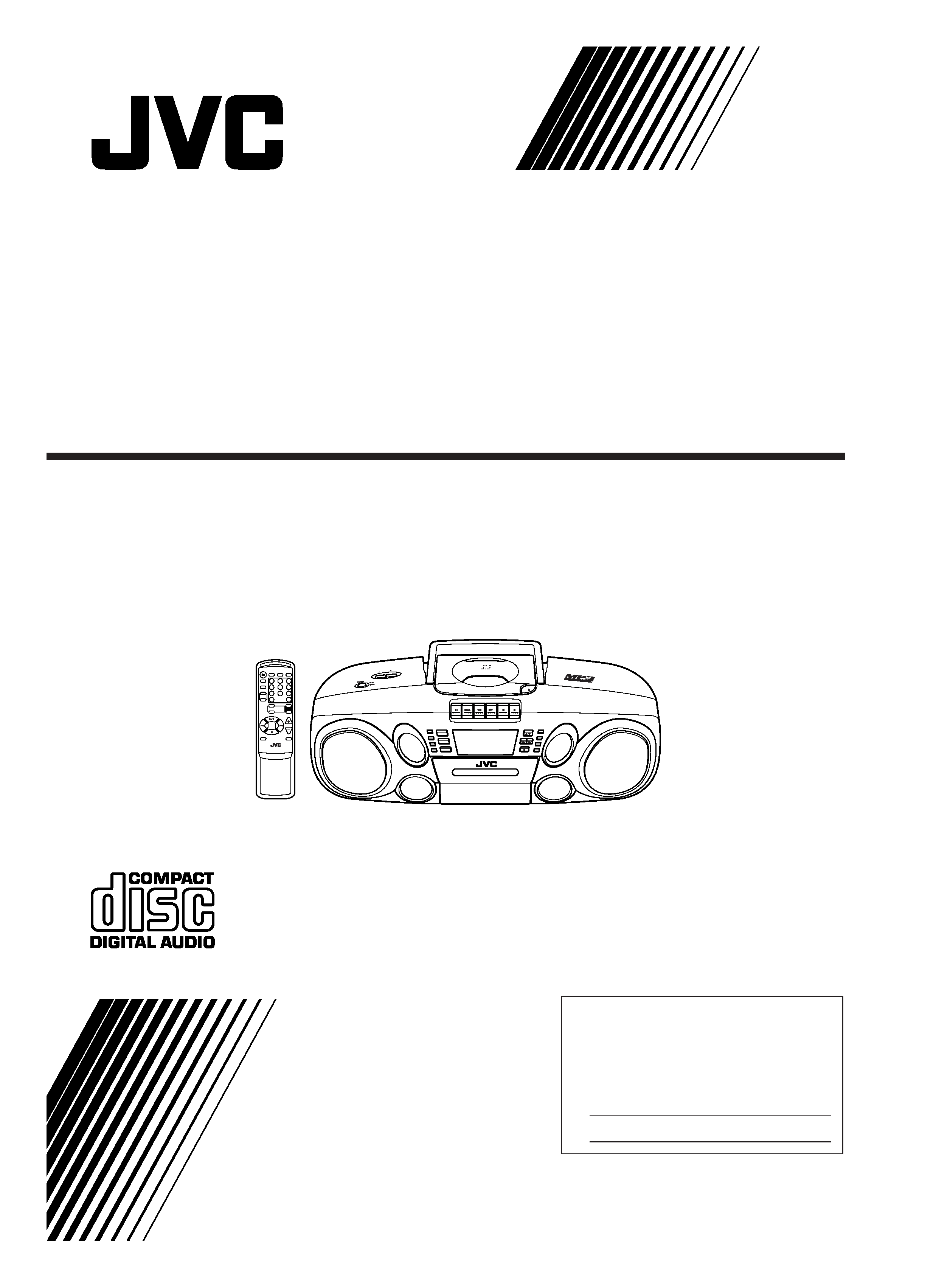 RM-SRCBM5J REMOTE CONTROL
Enter below the Model No. and Serial No.
which are located on the rear of the
Retain this information for future reference.
---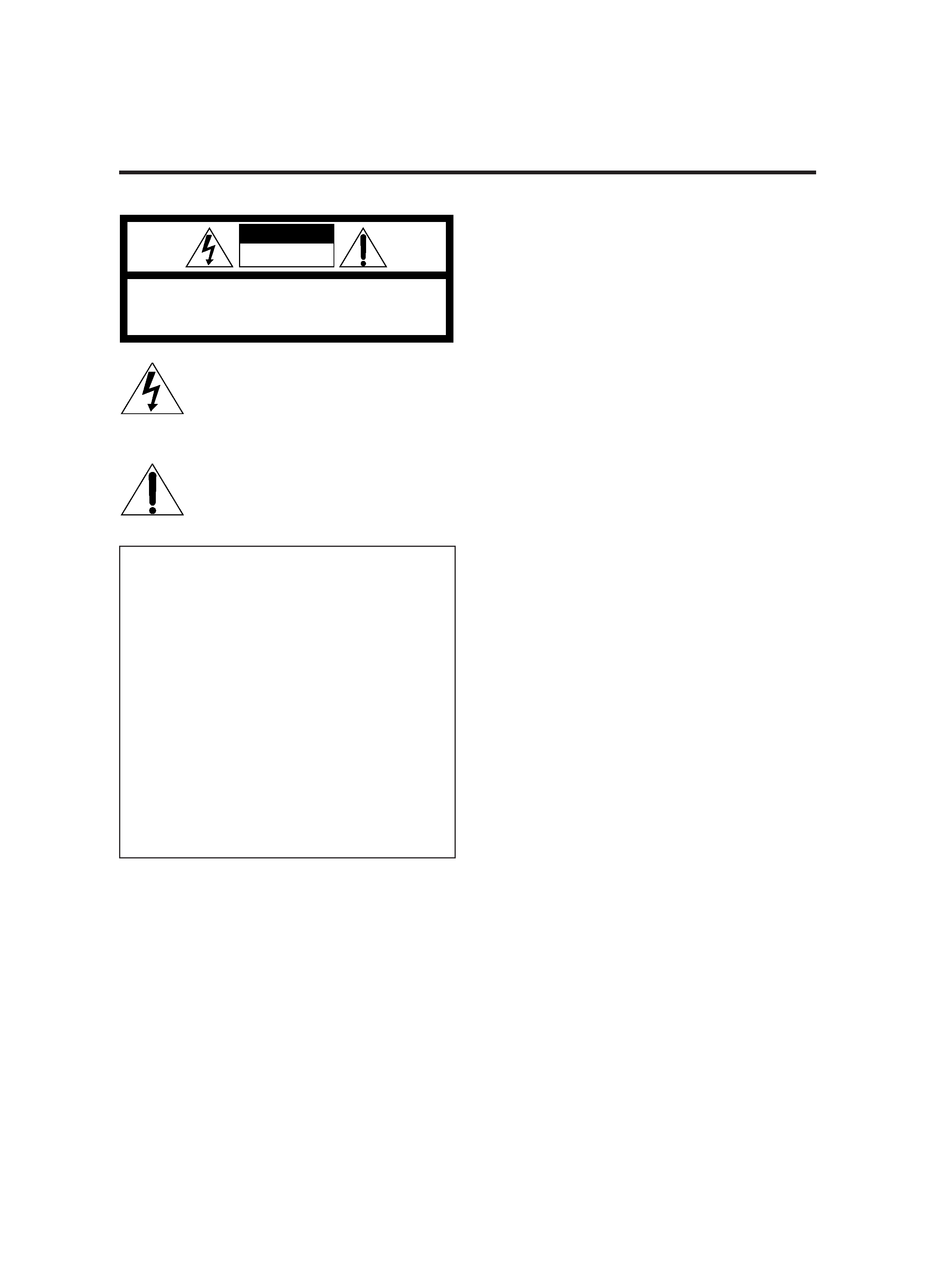 Warnings, Cautions and Others
Mises en garde, précautions et indications diverses
TO REDUCE THE RISK OF ELECTRIC SHOCK,
DO NOT REMOVE COVER (OR BACK).
NO USER SERVICEABLE PARTS INSIDE.
REFER SERVICING TO QUALIFIED SERVICE PERSONNEL.
The lightning flash with arrowhead symbol, within
an equilateral triangle is intended to alert the user
to the presence of uninsulated "dangerous voltage"
within the product's enclosure that may be of
sufficient magnitude to constitute a risk of electric
The exclamation point within an equilateral triangle
is intended to alert the user to the presence of
important operating and maintenance (servicing)
instructions in the literature accompanying the
This equipment has been tested and found to comply with the
limits for a Class B digital device, pursuant to part 15 of the FCC
These limits are designed to provide reasonable protection against
harmful interference in a residential installation.
This equipment generates, uses and can radiate radio frequency
energy and, if not installed and used in accordance with the
instructions, may cause harmful interference to radio
communications. However, there is no guarantee that interference
will not occur in a particular installation. If this equipment does
cause harmful interference to radio or television reception, which
can be determined by turning the equipment off and on, the user
is encouraged to try to correct the interference by one or more of
Reorient or relocate the receiving antenna.
Increase the separation between the equipment and receiver.
Connect the equipment into an outlet on a circuit different from
that to which the receiver is connected.
Consult the dealer or an experienced radio/TV technician for help.
---

To reduce the risk of electrical shocks, fire, etc.:
1. Do not remove screws, covers or cabinet.
2. Do not expose this appliance to rain or moisture.
Afin d'éviter tout risque d'électrocution, d'incendie, etc.:
1. Ne pas enlever les vis ni les panneaux et ne pas ouvrir le coffret
2. Ne pas exposer l'appareil à la pluie ni à l'humidité.
2. DANGER: Invisible laser radiation when open and interlock failed or
defeated. Avoid direct exposure to beam.
3. CAUTION: Do not open the top cover. There are no user serviceable
parts inside the Unit; leave all servicing to qualified service personnel.
1. PRODUIT LASER CLASSE 1
2. ATTENTION: Radiation laser invisible quand l'appareil est ouvert
ou que le verrouillage est en panne ou désactivé. Eviter une
exposition directe au rayon.
3. ATTENTION: Ne pas ouvrir le couvercle du dessus. Il n'y a aucune
pièce utilisable à l'intérieur. Laisser à un personnel qualifié le soin
de réparer votre appareil.
For Canada/pour le Canada
THIS DIGITAL APPARATUS DOES NOT EXCEED THE CLASS
B LIMITS FOR RADIO NOISE EMISSIONS FROM DIGITAL
APPARATUS AS SET OUT IN THE INTERFERENCE-CAUSING
EQUIPMENT STANDARD ENTITLED "DIGITAL APPARATUS,"
ICES-003 OF THE DEPARTMENT OF COMMUNICATIONS.
CET APPAREIL NUMERIQUE RESPECTE LES LIMITES DE
APPAREILS NUMERIQUES DE CLASSE B PRESCRITES DANS
LA NORME SUR LE MATERIEL BROUILLEUR: "APPAREILS
NUMERIQUES", NMB-003 EDICTEE PAR LE MINISTRE DES
Caution -- POWER ON/OFF button!
Disconnect the mains plug to shut the power off completely. The
POWER ON/OFF button in any position does not disconnect the
Attention -- Commutateur POWER ON/OFF!
Déconnecter la fiche de secteur pour couper complètement le
courant. Le commutateur POWER ON/OFF ne coupe jamais
complètement la ligne de secteur, quelle que soit sa position.
WARNING: TO REDUCE THE RISK OF FIRE
OR ELECTRIC SHOCK, DO NOT EXPOSE
THIS APPLIANCE TO RAIN OR MOISTURE.
For Canada/pour le Canada
CAUTION: TO PREVENT ELECTRIC SHOCK, MATCH WIDE
BLADE OF PLUG TO WIDE SLOT, FULLY INSERT.
ATTENTION: POUR EVITER LES CHOCS ELECTRIQUES,
INTRODUIRE LA LAME LA PLUS LARGE DE LA FICHE DANS
LA BORNE CORRESPONDANTE DE LA PRISE ET POUSSER
---

Prevention of Electric Shocks, Fire Hazards
· Even when the POWER ON/OFF button is set to OFF,
a very small current will flow. To save power and for
safety when not using the unit for an extended period
of time, disconnect the power cord from the household
· Do not handle the power cord with wet hands.
· When unplugging from the wall outlet, always grasp
and pull the plug, not the power cord.
· Consult your nearest dealer when damage,
disconnection, or contact failure is found with the cord.
· Do not bend the cord sharply, or pull or twist it.
· Do not modify the power cord in any manner.
· Do not remove screws to disassemble the unit and do
not touch anything inside the unit to avoid accidents.
· Do not insert any metallic objects into the unit.
· Unplug the power cord when there is a possibility of
· If water gets inside the unit, unplug the power cord
from the outlet and consult your dealer.
· Do not block the ventilation holes of the unit so that
· Do not install the unit in a badly ventilated place.
1 Portable system incorporating CD player
· CD functions can be operated with the remote
control unit as well as on the main unit.
· 8-cm (3-3/16") CD playback capability
2 Digital LCD (Liquid Crystal Display) indicates
3 Synchronized recording with CD playback
4 MP3 playback capability
5 Hyper-Bass Sound effect
FEATURES ................................................................. 1
SAFETY PRECAUTIONS ......................................... 1
HANDLING PRECAUTIONS ................................... 2
POWER SUPPLY ....................................................... 3
NAMES OF PARTS AND CONTROLS .................... 4
REMOTE CONTROL UNIT ...................................... 5
TURNING THE UNIT ON/OFF ................................. 6
ADJUSTING THE SOUND ........................................ 7
PLAYING COMPACT DISCS ................................... 8
RADIO RECEPTION ............................................... 14
CASSETTE PLAYBACK ......................................... 16
RECORDING ............................................................ 18
MAINTENANCE ...................................................... 20
TROUBLESHOOTING ............................................ 21
SPECIFICATIONS ................................................... 22
---

Do not use this unit in direct sunlight or leave the unit
in a closed automobile (or yacht, etc.) where it would
be exposed to high temperatures above 40°C (104°F).
1 Avoid using the unit in the following places:
· Where the temperature may become excessively
high or low; the recommended temperature range
is 5°C (41°F) and 35°C (95°F).
· Where it could be subject to vibrations.
· Where it is excessively humid, such as in a
· Where it could be magnetized by a magnet or
Be sure to close the disc holder so that the lens is not
contaminated by dust. Do not touch the lens.
Condensation may occur in the following cases, in
which the unit may not operate correctly:
· The unit is in a room where a heater has just been
· The unit is in a place where there is smoke or high
· The unit has just moved from a cold place to a
In these cases, set the POWER ON/OFF button to
ON and wait one or two hours before use.
Compact discs produce very little noise compared
with analog records. If you adjust the volume by
listening to the noise as you do with analog records,
the speakers could be damaged by a sudden blast of
sound when playback starts. Therefore, turn down
the volume before starting and adjust it as required
The unit incorporates a safety interlock mechanism
which switches off the laser beam when the disc
6 Do not place magnetic objects such as
cassette tapes near the speakers.
Since the speakers contain magnets inside, do not
place cassette tapes or magnetic cards nearby as
recorded data could be erased.
7 Keep the unit away from the TV.
When the unit is used near a TV, the TV picture could
be distorted. If this happens, move the unit away from
the TV. If this does not correct the situation, avoid
using the unit when the TV is turned on.
If the cabinet gets dirty, wipe it with a soft, dry cloth.
Never use benzine or thinner as these could damage
9 When listening with headphones
· Do not listen at high volumes as it could damage
· For safety, do not drive while listening with
Do not raise or lower the carrying handle with the
telescopic antenna extended, to avoid damaging the
antenna. Position the carrying handle so that it does
not interfere with operation.
---