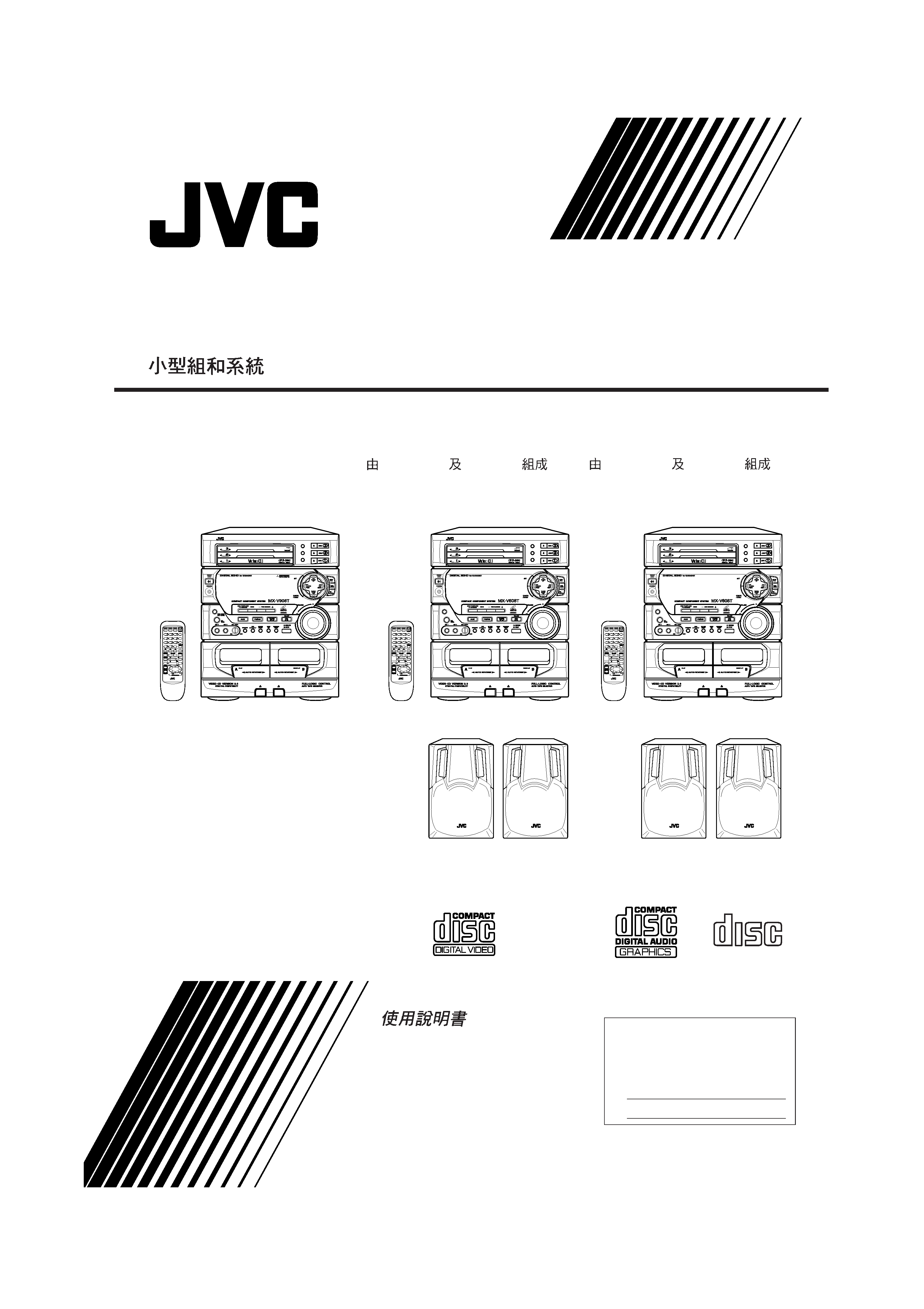 Enter below the Model No. and Serial
No. which are located either on the rear,
bottom or side of the cabinet. Retain this
information for future reference.
CA-V908T/MX-V608T/MX-V688T
Consists of CA-V608T and SP-V608
Consists of CA-V688T and SP-V688
---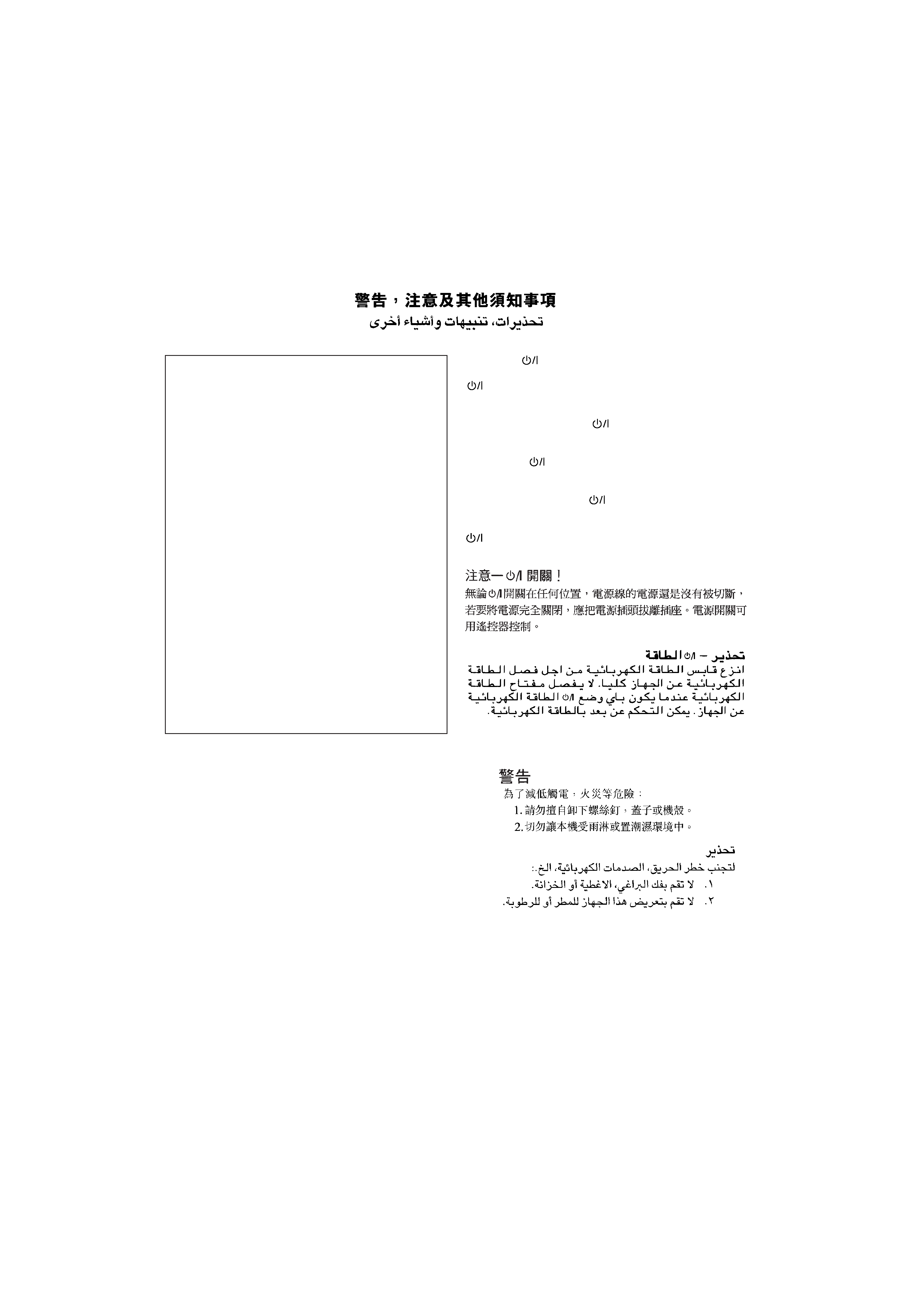 Warnings, Cautions and Others
Avisos, precauciones y otras notas
Advertências, precauções e outras notas
To reduce the risk of electrical shocks, fire, etc.:
Do not remove screws, covers or cabinet.
Do not expose this appliance to rain or moisture.
Para reducir riesgos de choques eléctricos, incendio, etc.:
No extraiga los tornillos, los cubiertas ni la caja.
No exponga este aparato a la lluvia o a la humedad.
Para reduzir riscos de choques elétricos, incêndio, etc.:
Não remova parafusos e tampas ou desmonte a
Não exponha este aparelho à chuva nem à umidade.
DO NOT cut off the mains plug from this equipment. If the
plug fitted is not suitable for the power points in your home
or the cable is too short to reach a power point, then obtain
an appropriate safety approved extension lead or consult
BE SURE to replace the fuse only with an identical approved
type, as originally fitted.
If nontheless the mains plug is cut off ensure to remove the
fuse and dispose of the plug immediately, to avoid a possible
shock hazard by inadvertent connection to the mains supply.
If this product is not supplied fitted with a mains plug then
follow the instructions given below:
DO NOT make any connection to the terminal which is
marked with the letter E or by the safety earth symbol or
coloured green or green-and-yellow.
The wires in the mains lead on this product are coloured in
accordance with the following code:
As these colours may not correspond with the coloured
markings identifying the terminals in your plug proceed as
The wire which is coloured blue must be connected to the
terminal which is marked with the letter N or coloured black.
The wire which is coloured brown must be connected to the
terminal which is marked with the letter L or coloured red.
IF IN DOUBT - CONSULT A COMPETENT ELECTRICIAN.
Disconnect the mains plug to shut the power off completely. The
switch in any position does not disconnect the mains line. The
power can be remote controlled.
Precaución ­­ Interruptor
Desconectar el cable de alimentación para desactivar la
alimentación totalmente. Cualquier que sea la posición de ajuste
, la alimentación no es cortada completamente.
La alimentación puede ser controlada remotamente.
Desconectar o cabo de alimentação para desligar a alimentação
por completo. Qualquer que seja a posição de ajuste do interruptor
, a alimentação não é completamente cortada. A alimentação
pode ser controlada remotamente.
---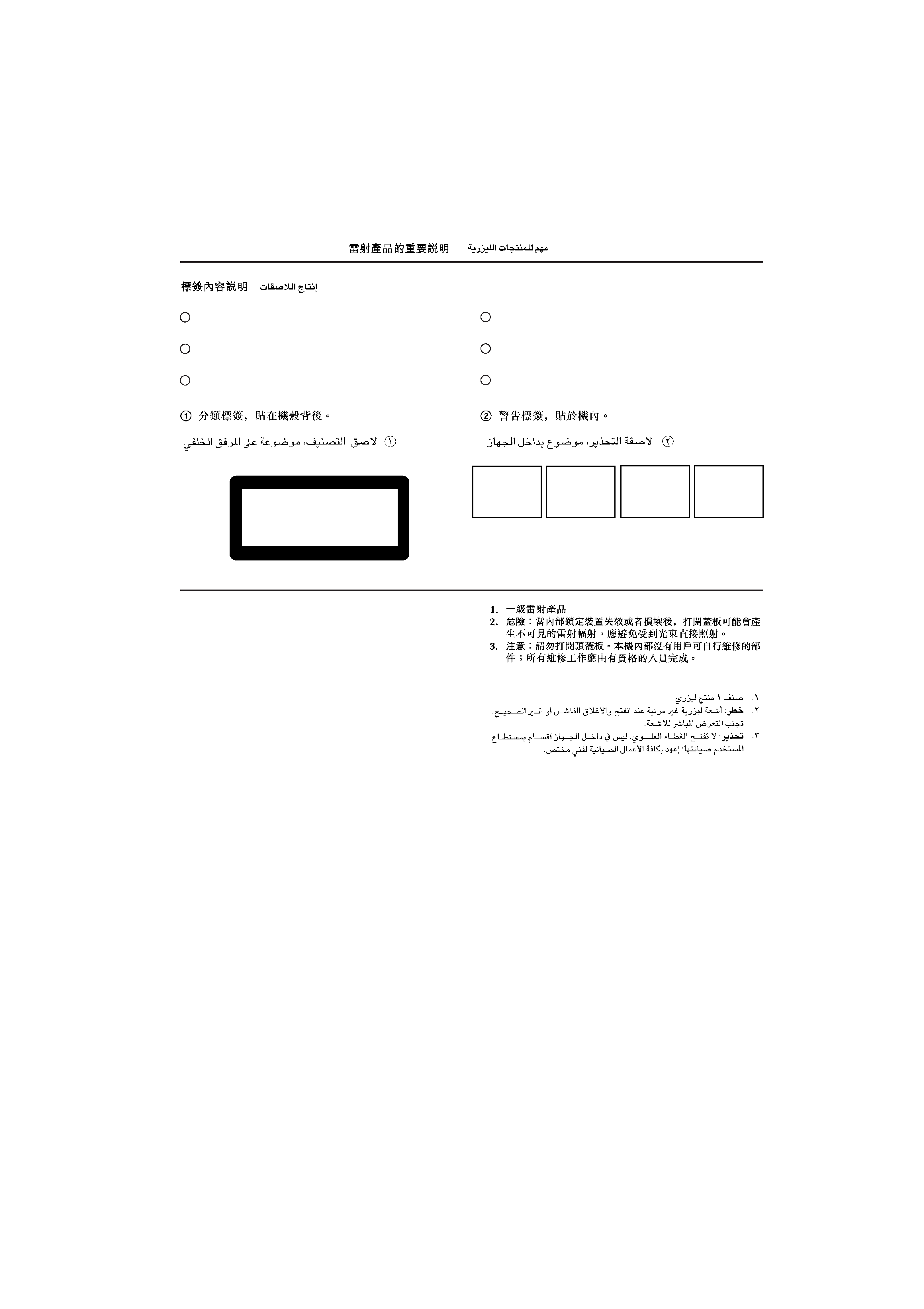 IMPORTANT FOR LASER PRODUCTS / IMPORTANTE PARA PRODUCTOS LÁSER / IMPOTANTE
REPRODUCTION OF LABELS / REPRODUCCIÓN DE ETIQUETAS / REPRODUÇÃO DE ETIQUETAS
CLASSIFICATION LABEL, PLACED ON REAR ENCLO-
ETIQUETA DE CLASIFICACIÓN, PEGADA EN LA PARTE
ETIQUETA DE CLASSIFICAÇÃO LOCALIZADA NA PARTE
POSTERIOR DA CAIXA DO APARELHO.
WARNING LABEL, PLACED INSIDE THE UNIT
ETIQUETA DE ADVERTENCIA, PEGADA EN EL INTE-
ETIQUETA DE ADVERTÊNCIA LOCALIZADA NA PARTE
2. DANGER: Invisible laser radiation when open and interlock
failed or defeated. Avoid direct exposure to beam.
3. CAUTION: Do not open the top cover. There are no user
serviceable parts inside the Unit; leave all servicing to quali-
1. PRODUCTO LÁSER CLASE 1
2. PELIGRO: En el interior hay radiación láser invisible. Evite el
contacto directo con el haz.
3. PRECAUCIÓN: No abra la tapa superior. En el interior de la
unidad no existen piezas reparables por el usuario; deje todo
servicio técnico en manos de personal calificado.
1. PRODUTO LASER CLASSE 1
2. PERIGO: O laser emite uma rediação invisível que é perigosa,
caso o aparelho esteja aberto e a trava inoperante ou
danificada. Evite exposição direta ao feixe dos raios.
3. CUIDADO: Não abra a caixa do aparelho. Não existem
peças reparáveis pelo usuário na parte interna da unidade.
Solicite assistência técnica somente a pessoal técnico
interlock failed or defeated.
sikkerhedsafbrydere er ude
af funktion. Undgå udsæt-
strålning när denna del är
jalukitus ohitettaessa olet
lasersäteilylle. Älä katso
---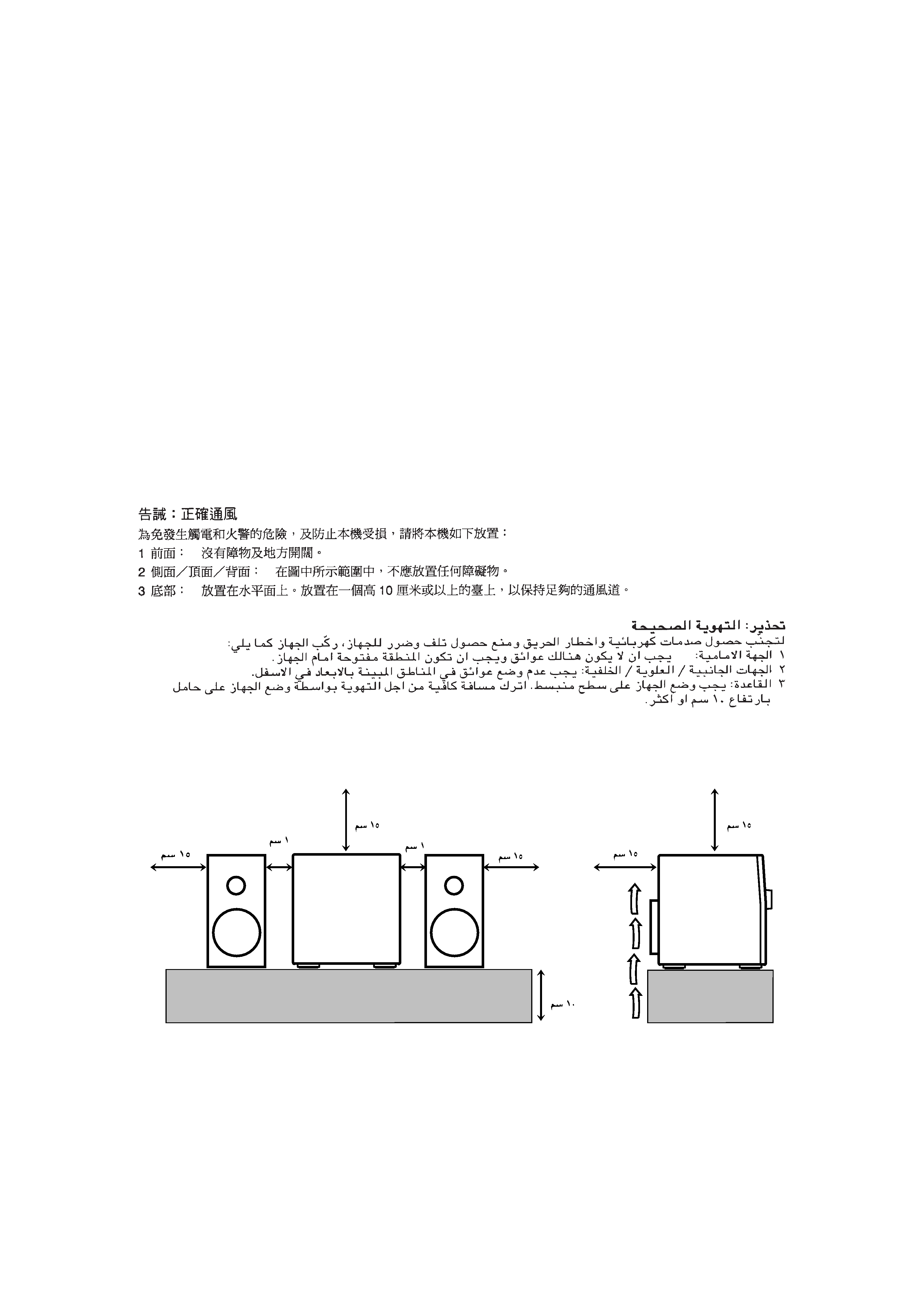 Caution: Proper Ventilation
To avoid risk of electric shock and fire, and to prevent damage, locate the apparatus as follows:
No obstructions and open spacing.
2 Sides/ Top/ Back: No obstructions should be placed in the areas shown by the dimensions below.
Place on the level surface. Maintain an adequate air path for ventilation by placing on a stand with a height of
Precaución: el aparato debe estar bien ventilado
Para evitar posibles riesgos de descargas eléctricas e incendios y prevenir cualquier posible daño, coloque el aparato del modo
No ponga nada delante, deje el espacio libre.
2 Laterales/ parte superior/ parte trasera: No se debería colocar nada en las áreas y las distancias que se detallan a
Coloque el aparato sobre una superficie recta. Debe haber buena circulación de aire; para ello, coloque el
aparato sobre una base a una altura mínima de 10 cm.
Precaução: Ventilação adequada
Para evitar riscos de choques elétricos e incêndios, e prevenir avarias, instale o aparelho como segue:
Sem obstruções e espaços abertos.
2 Partes laterais/Tampa/Posterior: Nenhuma obstrução deverá ser colocada entre as áreas cujas dimensões são
Instale-o sobre uma superfície plana. Deverá ser mantido espaço suficiente para a ventilação
se este for instalado numa posição que tenha uma altura de 10 cm ou mais.
---

Thank you for purchasing the JVC Compact Component System.
We are proud to serve you and we hope this valued addition to your home will give you years of enjoyment.
Please read this instruction manual carefully before operating your new stereo system.
For questions that are not answered in the manual, kindly refer to your dealer.
How This Manual Is Organized
In this manual we have incorporated some special features :
· Basic information that is the same for many different functions is grouped in one place, and not repeated
in each procedure. For instance, in the section on playing a CD, we do not repeat the information about
setting the volume and the sound conditions, which are discussed in the Common Operations section.
· Name of the buttons and controls are written in all capital letters like this: SOUND MODE.
· Illustrations used in this manual are of CA-V908T unless mentioned otherwise.
The manual has a table of contents to help you quickly look up what you want to know. We've enjoyed
making this manual for you, and hope you will use it to enjoy the sound and many features built into your
1. Installation of the Unit
Select a place which is level, dry and neither too hot nor too cold. (Between 5°C and 35°C or
Leave sufficient distance between the Unit and a TV.
Do not use the Unit in a place subject to vibrations.
Do not handle the power cord with wet hands!
Some power (12 watts -- CA-V908T, 10 watts -- MX-V608T/MX-V688T) is always consumed
as long as the power cord is connected to the wall outlet.
When unplugging the Unit from the wall outlet, always pull the plug, not the power cord.
There are no user-serviceable parts inside. If anything goes wrong, unplug the power cord and
Do not insert any metallic object into the Unit.
Difference between each model
---