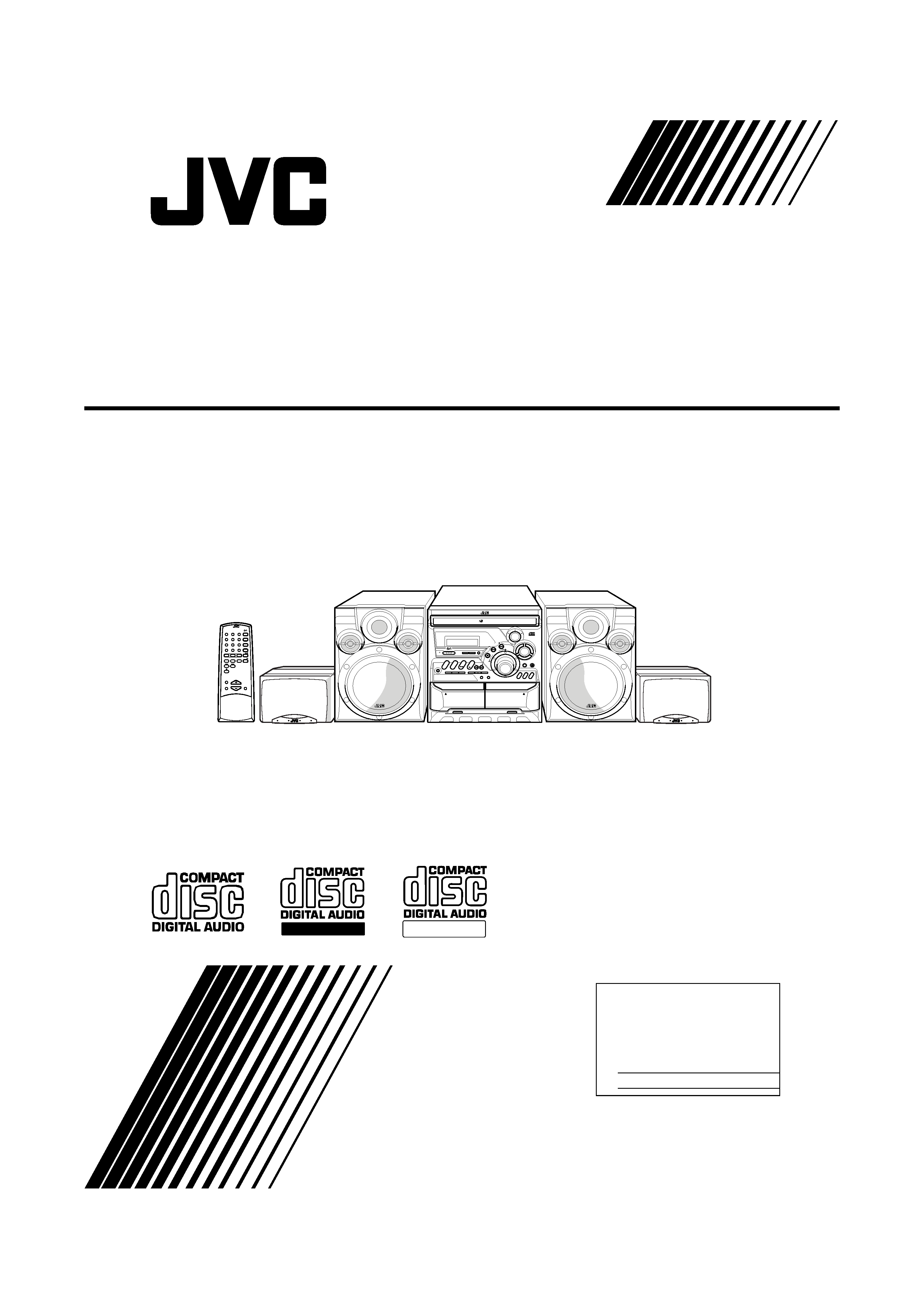 Enter below the Model No. and Serial
No. which are located either on the
rear, bottom or side of the cabinet.
Retain this information for future refer-
LVT0688-001A / MX-K7(J) / Cover
Consists of CA-MXK7, SP-MXK7 and SP-DSK7
Consists of CA-MXK7, SP-MXK7 and SP-DSK7
Consists of CA-MXK7, SP-MXK7 and SP-DSK7
Consists of CA-MXK7, SP-MXK7 and SP-DSK7
Cover.fm Page 1 Thursday, April 12, 2001 10:34 AM
---

LVT0688-001A / MX-K7(J) / Warning
Warnings, Cautions and Others
This equipment has been tested and
found to comply with the limits for a Class
B digital device, pursuant to Part 15 of the
FCC Rules. These limits are designed to
harmful interference in a residential instal-
lation. This equipment generates, uses,
and can radiate radio frequency energy
and, if not installed and used in accord-
ance with the instructions, may cause
harmful interference to radio communica-
tions. However, there is no guarantee that
interference will not occur in a particular
installation. If this equipment does cause
harmful interference to radio or television
reception, which can be determined by
turning the equipment off and on, the user
is encouraged to try to correct the interfer-
ence by one or more of the following
­ Increase the separation between the
­ Connect the equipment into an outlet on
a circuit different from that to which the
­ Consult the dealer or an experienced
radio/TV technician for help.
The lightning flash with arrowhead symbol, within
an equilateral triangle is intended to alert the user
to the presence of uninsulated "dangerous voltage"
within the product's enclosure that may be of suffi-
cient magnitude to constitute a risk of electric shock
The exclamation point within an equilateral triangle
is intended to alert the user to the presence of
important operating and maintenance (servicing)
instructions in the literature accompanying the
CAUTION: TO REDUCE THE RISK OF ELECTRIC SHOCK
DO NOT REMOVE COVER (OR BACK)
NO USER SERVICEABLE PARTS INSIDE
REFER SERVICING TO QUALIFIED SERVICE PERSONNEL.
WARNING: TO REDUCE THE RISK OF FIRE OR
ELECTRIC SHOCK, DO NOT EXPOSE THIS
APPLIANCE TO RAIN OR MOISTURE.
Warning.fm Page 1 Thursday, April 12, 2001 10:37 AM
---
LVT0688-001A / MX-K7(J) / Warning
2. DANGER: Invisible laser radiation when open and inter-
lock failed or defeated. Avoid direct exposure to beam.
3. CAUTION: Do not open the top cover. There are no user
serviceable parts inside the unit; leave all servicing to
qualitied service personnel.
To reduce the risk of electrical shocks, fire, etc.:
1. Do not remove screws, covers or cabinet.
2. Do not expose this appliance to rain or moisture.
1. Do not block the ventilation openings or holes.
(If the ventilation openings or holes are blocked by a
newspaper or cloth, etc., the heat may not be able to get
2. Do not place any naked flame sources, such as lighted
candles, on the apparatus.
3. When discarding batteries, environmental problems must
be considered and local rules or laws governing the dis-
posal of these batteries must be followed strictly.
4. Do not use this apparatus in a bathroom or places with
water. Also do not place any containers filled with water
or liquids (such as cosmetics or medicines, flower vases,
potted plants, cups, etc.) on top of this apparatus.
Disconnect the mains plug to shut the power off
completely. The POWER switch in any position
does not disconnect the mains line. The power can
Warning.fm Page 2 Thursday, April 12, 2001 10:37 AM
---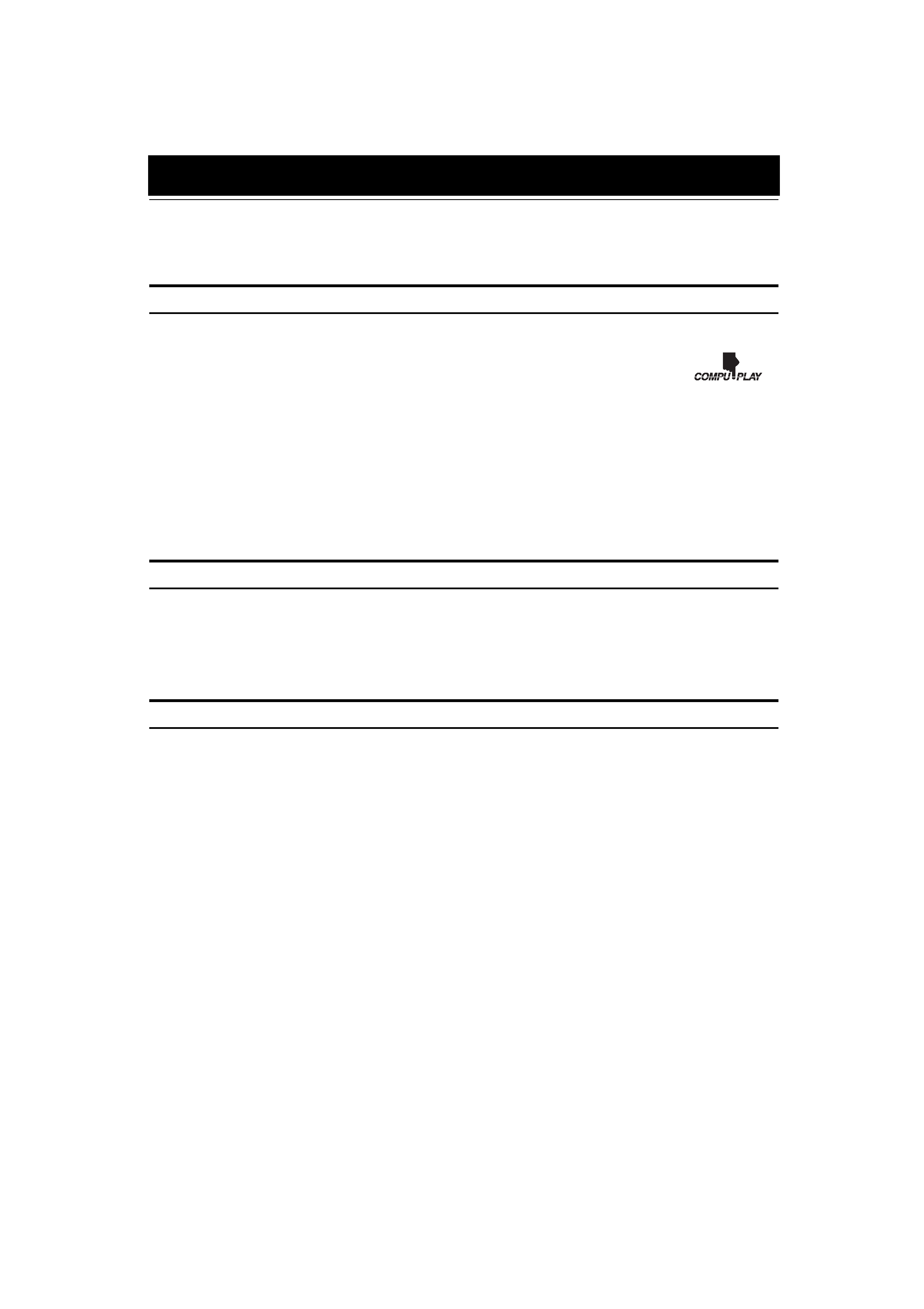 LVT0688-001A / MX-K7(J) / English
Thank you for purchasing the JVC Compact Component System.
We hope it will be a valued addition to your home, giving you years of enjoyment.
Be sure to read this instruction manual carefully before operating your new stereo system.
In it you will find all the information you need to set up and use the system.
If you have a query that is not answered by the manual, please contact your dealer.
Here are some of the things that make your System both powerful and simple to use.
t The controls and operations have been redesigned to make them very easy to use, freeing you to just enjoy the
· With JVC's COMPU PLAY you can turn on the System and automatically start the Radio, Cassette Deck, or
CD Player with a single touch.
t The great SEA (Sound Effect Amplifier) effects Rock, Pop and Classics are provided.
t The Active Bass EX. (Extension) circuitry faithfully reproduces low frequency sounds.
t A 45-station preset capability (30 FM and 15 AM) in addition to auto-seek and manual tuning.
t CD changer function can operate 3 discs.
· Discs can be changed during play using the Carrousel tray (rotational tray).
· Continuous, random or program play of 3 discs.
t Two Decks enabling tape dubbing.
t Timer functions; Daily Timer, REC (Recording) Timer, and Sleep Timer.
t You can connect various external units, such as an MD recorder.
t The CD Player can play back a CD-R and CD-RW.
How This Manual Is Organized
· Basic information that is the same for many different functions - e.g. setting the volume - is given in the section "Basic Operations",
and not repeated under each function.
· The names of buttons/controls and display messages are written in all capital letters: e.g. FM/AM, "NO DISC".
· If the button names on the Unit and the Remote Control are the same, the description on where the button is used will be omitted.
· System functions are written with an initial capital letter only: e.g. Normal Play.
Use the table of contents to look up specific information you require.
We have enjoyed making this manual for you, and hope it serves you in enjoying the many features built into your System.
1
Installation of the System
· Select a place which is level, dry and neither too hot nor too cold. (Between 5°C and 35°C or 41°F and 95°F.)
· Leave sufficient distance between the System and a TV.
· Do not use the System in a place subject to vibrations.
· Do not handle the power cord with wet hands!
· Some power is always consumed as long as the power cord is connected to the wall outlet.
· When unplugging the System from the wall outlet, always pull the plug, not the power cord.
· There are no user serviceable parts inside. In case of system failure, unplug the power cord and consult your dealer.
· Do not insert any metallic object into the System.
MX-K7(J).book Page 1 Thursday, April 12, 2001 10:30 AM
---

LVT0688-001A / MX-K7(J) / English
Introduction ...................................................................................................................1
Features.................................................................................................................................................... 1
How This Manual Is Organized............................................................................................................... 1
IMPORTANT CAUTIONS..................................................................................................................... 1
Table of Contents ..........................................................................................................2
Getting Started ..............................................................................................................3
Accessories .............................................................................................................................................. 3
How To Put Batteries In the Remote Control.......................................................................................... 3
Using the Remote Control ....................................................................................................................... 3
Connecting the FM Antenna.................................................................................................................... 4
Connecting the AM Antenna ................................................................................................................... 5
Connecting the Speakers ......................................................................................................................... 5
Connecting External Equipment.............................................................................................................. 6
Connecting to the Wall Outlet ................................................................................................................. 6
DEMO Mode ........................................................................................................................................... 6
COMPU Play ........................................................................................................................................... 6
Basic Operations ...........................................................................................................7
Turning the Power On and Off ................................................................................................................ 7
Adjusting the Volume.............................................................................................................................. 7
Fade-out Muting (FADE MUTING) ....................................................................................................... 8
Reinforcing the Bass Sound (ACTIVE BASS EX.)................................................................................ 8
Selecting the Sound Mode (SOUND MODE)......................................................................................... 8
Entering the Number with the Remote Control (Numeric Keys) ............................................................ 8
Using the Tuner .............................................................................................................9
Tuning In a Station .................................................................................................................................. 9
Presetting Stations ................................................................................................................................. 10
To Change the FM Reception Mode ..................................................................................................... 10
Using the CD Player ....................................................................................................11
To Load CDs ......................................................................................................................................... 12
To Unload CDs ...................................................................................................................................... 12
Basics of Using the CD Player-Normal Play......................................................................................... 13
Programming the Playing Order of the Tracks...................................................................................... 14
Random Play.......................................................................................................................................... 15
Repeating Tracks ................................................................................................................................... 15
Tray Lock Function ............................................................................................................................... 15
Using the Cassette Deck (Listening to a Tape) ........................................................16
Playing a Tape ....................................................................................................................................... 16
Using the Cassette Deck (Recording) ......................................................................17
Standard Recording ............................................................................................................................... 18
CD Synchro Recording.......................................................................................................................... 18
Tape to Tape Recording (DUBBING)................................................................................................... 18
Using an External Equipment ....................................................................................19
Listening to the External Equipment ..................................................................................................... 19
Using the Timers .........................................................................................................20
Setting the Clock ................................................................................................................................... 20
Setting the Daily Timer ......................................................................................................................... 21
Setting the REC (Recording) Timer ...................................................................................................... 22
Setting the SLEEP Timer ........................................................................................................ .............. 24
Timer Priority ................................................................................................................. ....................... 24
Care And Maintenance................................................................................................25
Troubleshooting ..........................................................................................................26
Specifications ...............................................................................................Back cover
MX-K7(J).book Page 2 Thursday, April 12, 2001 10:30 AM
---