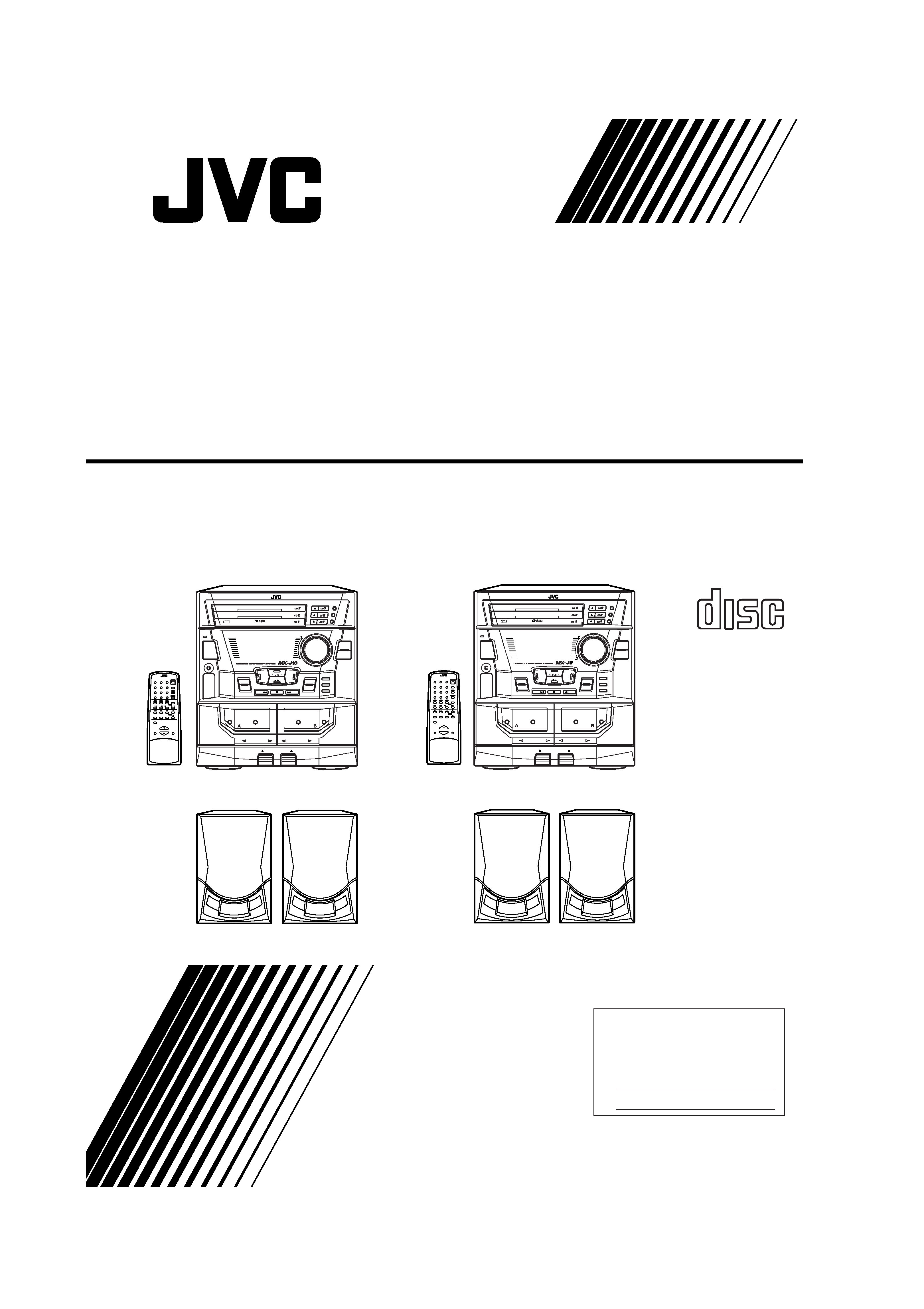 Enter below the Model No. and Serial
No. which are located either on the rear,
bottom or side of the cabinet. Retain this
information for future reference.
SYSTEME DE COMPOSANTS COMPACT
Consists of CA-MXJ10 and SP-MXJ10
Consists of CA-MXJ9 and SP-MXJ9
Modéles CA-MXJ10 et SP-MXJ10
Modéles CA-MXJ9 et SP-MXJ9
RM-SMXJ10J REMOTE CONTROL
---

Warnings, Cautions and Others
Mises en garde, précautions et indications diverses
To reduce the risk of electrical shocks, fire, etc.:
Do not remove screws, covers or cabinet.
Do not expose this appliance to rain or moisture.
Afin d'éviter tout risque d'électrocution, d'incendie, etc.:
Ne pas enlever les vis ni les panneaux et ne pas
ouvrir le coffret de l'appareil.
Ne pas exposer l'appareil à la pluie ni à l'humidité.
2. DANGER: Invisible laser radiation when open and
interlock failed or defeated. Avoid direct exposure to
3. CAUTION: Do not open the top cover. There are no user
serviceable parts inside the Unit; leave all servicing to
qualified service personnel.
1. PRODUIT LASER CLASSE 1
2. ATTENTION: Radiation laser invisible quand l'appareil
est ouvert ou que le verrouillage est en panne ou
désactivé. Eviter une exposition directe au rayon.
3. ATTENTION: Ne pas ouvrir le couvercle du dessus. Il n'y
a aucune pièce utilisable à l'intérieur. Laisser à un
personnel qualifié le soin de réparer votre appareil.
Disconnect the mains plug to shut the power off completely.
The POWER switch in any position does not disconnect the
mains line. The power can be remote controlled.
Attention ­­ Commutateur POWER!
Déconnecter la fiche de secteur pour couper complètement
le courant. Le commutateur POWER ne coupe jamais
complètement la ligne de secteur, quelle que soit sa position.
Le courant peut être télécommandé.
TO REDUCE THE RISK OF ELECTRIC SHOCK,
DO NOT REMOVE COVER (OR BACK).
NO USER SERVICEABLE PARTS INSIDE.
REFER SERVICING TO QUALIFIED SERVICE PERSONNEL.
The lightning flash with arrowhead symbol,
within an equilateral triangle is intended to
alert the user to the presence of uninsulated
"dangerous voltage" within the product's
magnitude to constitute a risk of electric
The exclamation point within an equilateral
triangle is intended to alert the user to the
maintenance (servicing) instructions in the
literature accompanying the appliance.
This equipment has been tested and found to comply with the limits
for a Class B digital device, pursuant to part 15 of the FCC Rules.
These limits are designed to provide reasonable protection against
harmful interference in a residential installation.
This equipment generates, uses and can radiate radio frequency
energy and, if not installed and used in accordance with the
communications. However, there is no guarantee that interference
will not occur in a particular installation. If this equipment does cause
harmful interference to radio or television reception, which can be
determined by turning the equipment off and on, the user is
encouraged to try to correct the interference by one or more of the
Reorient or relocate the receiving antenna.
Increase the separation between the equipment and receiver.
Connect the equipment into an outlet on a circuit different from that
to which the receiver is connected.
Consult the dealer or an experienced radio/TV technician for help.
WARNING: TO REDUCE THE RISK OF FIRE
OR ELECTRIC SHOCK, DO NOT EXPOSE
THIS APPLIANCE TO RAIN OR MOISTURE.
---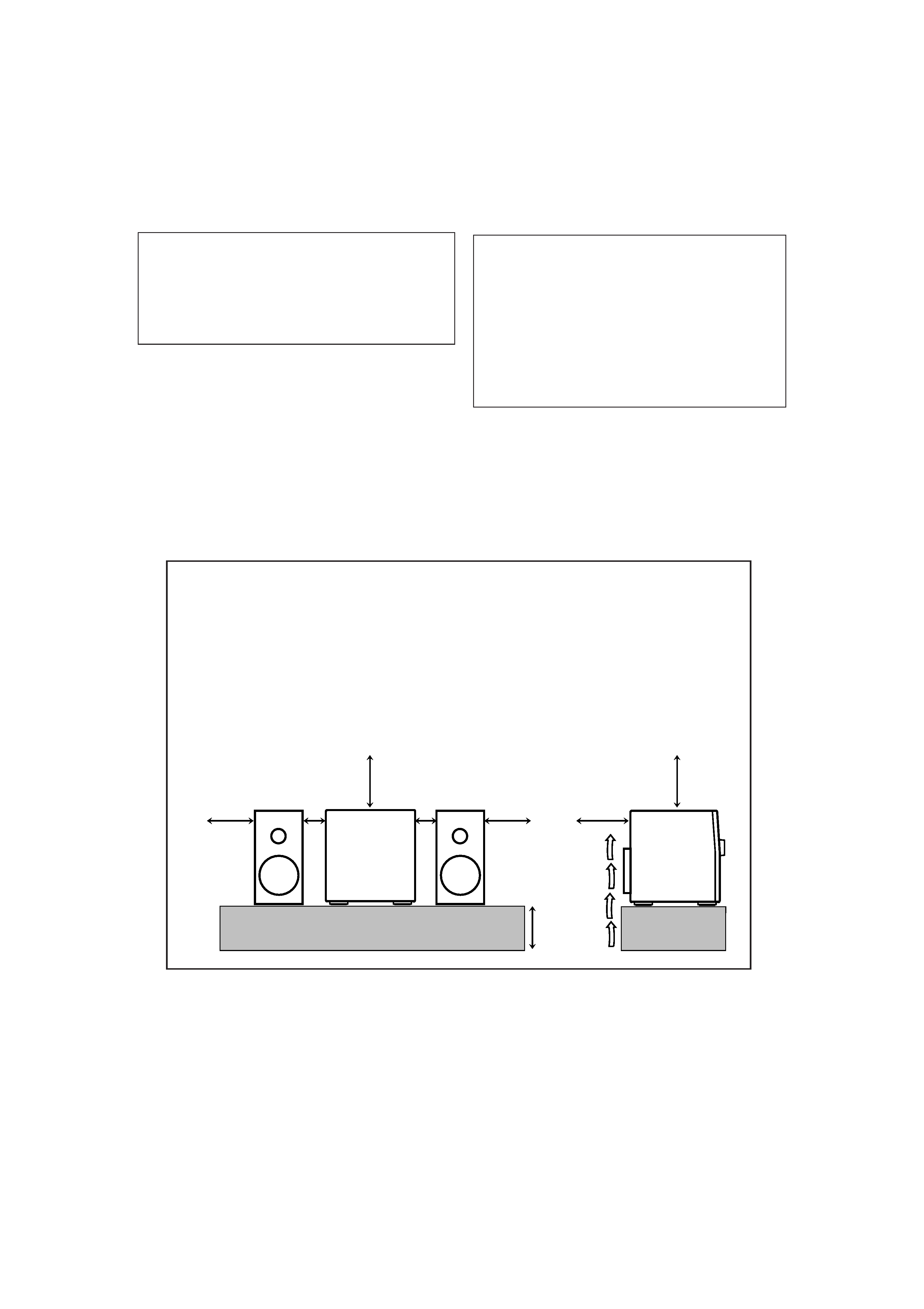 Caution: Proper Ventilation
To avoid risk of electric shock and fire, and to prevent
damage, locate the apparatus as follows:
No obstructions and open spacing.
No obstructions should be placed in the areas shown by
Place on the level surface. Maintain an adequate air
path for ventilation by placing on a stand with a height of
10 cm (3
15
/
16
in.) or more.
For Canada/pour le Canada
CAUTION: TO PREVENT ELECTRIC SHOCK, MATCH WIDE
BLADE OF PLUG TO WIDE SLOT, FULLY INSERT.
ATTENTION: POUR EVITER LES CHOCS ELECTRIQUES,
INTRODUIRE LA LAME LA PLUS LARGE DE LA FICHE DANS
LA BORNE CORRESPONDANTE DE LA PRISE ET POUSSER
For Canada/pour le Canada
THIS DIGITALAPPARATUS DOES NOT EXCEED THE CLASS
B LIMITS FOR RADIO NOISE EMISSIONS FROM DIGITAL
APPARATUS AS SET OUT IN THE INTERFERENCE-CAUSING
EQUIPMENT STANDARD ENTITLED "DIGITALAPPARATUS,"
ICES-003 OF THE DEPARTMENT OF COMMUNICATIONS.
CET APPAREIL NUMERIQUE RESPECTE LES LIMITES DE
RADIOELECTRIQUES APPLICABLES AUX
APPAREILS NUMIRIQUES DE CLASSE B PRESCRITES DANS
LA NORME SUR LE MATERIEL BROUILLEUR: "APPAREILS
NUMERIQUES", NMB-003 EDICTEE PAR LE MINISTRE DES
Attention: Aération correcte
Pour prévenir tout risque de décharge électrique ou d'incendie
et éviter toute détérioration, installez l'appareil de la manière
Bien dégagé de tout objet.
Assurez-vous que rien ne bloque les espaces indiqués
sur le schéma ci-dessous.
Posez l'appareil sur une surface plane et horizontale.
Veillez à ce que sa ventilation correcte puisse se faire en
le plaçant sur un support d'au moins dix centimètres
(3
15
/
16
po.) de hauteur.
---

Thank you for purchasing the JVC Compact Component System.
We hope it will be a valued addition to your home, giving you years of enjoyment.
Be sure to read this instruction manual carefully before operating your new stereo system.
Here you will find all the information you need to set up and use the system.
For questions that are not be answered in the manual, please contact your dealer.
Here are some of the things that make your System powerful and easy to use.
The controls and operations have been redesigned to make them very easy to use, so you can spend
your time listening to music.
With the One Touch Operation feature of JVC's COMPU PLAY you can turn on the System and
start the radio, the Cassette Deck, or the CD Player with a single touch.
To get such great sound from such a compact package the System has:
Programmed sound mode includes live surround effects D. CLUB, HALL, and STADIUM. It
also includes S.E.A (Sound Effect Amplifier) effects ROCK, CLASSIC, and POP.
CD changer function can operate 3 discs.
Discs can be changed during play using the TRIPLE TRAY.
Continuous, random or program play of 3 discs.
Includes a timer for recording broadcasts while you are out, and an easy-to-use Sleep timer.
How This Manual Is Organized
In this manual we have incorporated some special features:
Basic information that is the same for many different functions is grouped in one place, and not
repeated in each procedure. For instance, in the section on playing a CD, we do not repeat the
information about setting the volume and the sound conditions, which are discussed in the Common
Names of buttons and controls are written in all capital letters like this: SOUND MODE.
When we are talking about the Function, rather than the BUTTON or DISPLAY, only the first letter is
The manual has a table of contents to help you quickly look up what you want to know.
We've enjoyed making this manual for you, and hope you will use it to enjoy the sound and many
features built into your System.
1. Installation of the Unit
Select a place which is level, dry and neither too hot nor too cold. (Between 5°C and 35°C or
Leave sufficient distance between the Unit and a TV.
Do not use the Unit in a place subject to vibrations.
Do not handle the power cord with wet hands!
Some power (9 watts) is always consumed as long as the power cord is connected to the wall
When unplugging the Unit from the wall outlet, always pull the plug, not the power cord.
There are no user serviceable parts inside. If anything goes wrong, unplug the power cord and
Do not insert any metallic object into the Unit.
---

(Listening to a Tape)................................. 18
One Touch Play .................................................. 18
Regular Play ............................................................ 18
Fast Left and Fast Right ..................................... 19
Music Scan .............................................................. 19
Finding the Beginning of the Current Selection .... 19
Finding the Beginning of the Next Selection ........ 19
Reverse Mode .......................................................... 19
Using the Cassette Deck (Recording) ......... 20
Things to Know Before You Start Recording ..... 20
Standard Recording ................................................. 21
Recording Any Sound Source to Tape................ 21
CD Direct Recording ............................................... 22
Tape to Tape Recording (Dubbing) ......................... 22
How to Use the DUBBING Button .................... 22
Using the Timer ............................................. 23
Setting the Clock ..................................................... 23
Setting the Timer ..................................................... 24
Setting the Sleep Timer ........................................... 25
Care And Maintenance ................................. 26
Troubleshooting ............................................ 27
Specifications ................................................ 28
Getting Started ................................................ 3
Accessories ................................................................ 3
How to Put Batteries in the Remote Control ............. 3
Using the Remote Control ......................................... 3
Connecting the FM Antenna ...................................... 4
Connecting the AM Antenna ..................................... 4
Connecting the Speakers ........................................... 5
Connecting Auxiliary Equipment .............................. 5
COMPU PLAY .......................................................... 6
Common Operations....................................... 7
Turning the Power On and Off .................................. 7
Turning the System On ......................................... 7
Turning the System Off ........................................ 7
Adjusting the Volume ................................................ 8
Reinforcing the Bass Sound ...................................... 8
Sound Modes ............................................................. 8
Listening to Auxiliary Equipment ............................. 9
Using the Tuner ............................................. 10
One Touch Radio ................................................ 10
Tuning in a Station ................................................... 10
Switching between Frequency Bands ................. 10
Three ways to select a station ............................. 11
Presetting Stations ................................................... 11
Changing the FM Reception Mode ......................... 11
Using the CD Player ...................................... 12
The Quickest Way to Start a CD Is with the
One Touch Operation ..................................... 13
Inserting Discs ......................................................... 13
Basics of Using the CD Player -- Normal Play ...... 14
Playing a Disc ..................................................... 14
Selecting a Disc, Track or Passage
Within a Track ................................................ 14
Locating a Track with the Remote Control
Directly ........................................................... 14
Changing Discs While Playing ........................... 14
Continuous Play....................................................... 15
Programming the Playing Order of the Tracks ........ 15
Random Play ........................................................... 16
Repeating a Selection or the Discs .......................... 17
Tray Lock Function ................................................. 17
Locking the Electronic Lock .............................. 17
Unlocking the Electronic Lock ........................... 17
---