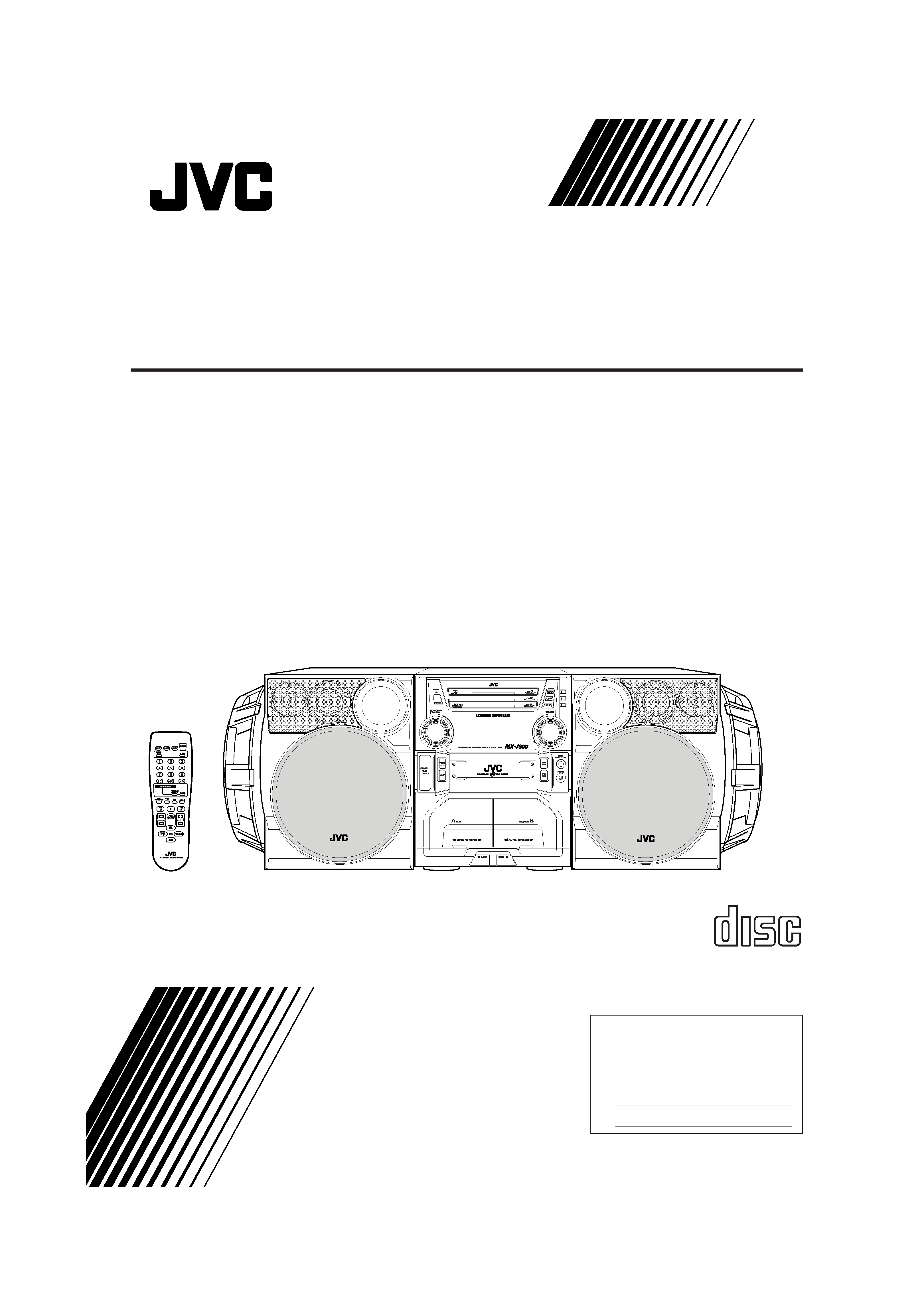 Enter below the Model No. and Serial
No. which are located either on the rear,
bottom or side of the cabinet. Retain this
information for future reference.
SYSTEME DE COMPOSANTS COMPACT
Consists of CA-MXJ900 and SP-MXJ900.
Composé du CA-MXJ900 et SP-MXJ900.
---

Warnings, Cautions and Others
Mises en garde, précautions et indications diverses
To reduce the risk of electrical shocks, fire, etc.:
Do not remove screws, covers or cabinet.
Do not expose this appliance to rain or moisture.
Afin d'éviter tout risque d'électrocution, d'incendie, etc.:
Ne pas enlever les vis ni les panneaux et ne pas
ouvrir le coffret de l'appareil.
Ne pas exposer l'appareil à la pluie ni à l'humidité.
DANGER: Invisible laser radiation when open and
interlock failed or defeated. Avoid direct exposure to
CAUTION: Do not open the top cover. There are no user
serviceable parts inside the Unit; leave all servicing to
qualified service personnel.
ATTENTION: Radiation laser invisible quand l'appareil
est ouvert ou que le verrouillage est en panne ou
désactivé. Eviter une exposition directe au rayon.
ATTENTION: Ne pas ouvrir le couvercle du dessus. Il n'y
a aucune pièce utilisable à l'intérieur. Laisser à un
personnel qualifié le soin de réparer votre appareil.
Disconnect the mains plug to shut the power off completely.
The POWER switch in any position does not disconnect the
mains line. The power can be remote controlled.
Attention ­­ Commutateur POWER!
Déconnecter la fiche de secteur pour couper complètement
le courant. Le commutateur POWER ne coupe jamais
complètement la ligne de secteur, quelle que soit sa position.
Le courant peut être télécommandé.
---

For Canada/pour le Canada
CAUTION: TO PREVENT ELECTRIC SHOCK, MATCH WIDE
BLADE OF PLUG TO WIDE SLOT, FULLY INSERT.
ATTENTION: POUR EVITER LES CHOCS ELECTRIQUES,
INTRODUIRE LA LAME LA PLUS LARGE DE LA FICHE DANS
LA BORNE CORRESPONDANTE DE LA PRISE ET POUSSER
For Canada/pour le Canada
THIS DIGITAL APPARATUS DOES NOT EXCEED THE CLASS
B LIMITS FOR RADIO NOISE EMISSIONS FROM DIGITAL
APPARATUS AS SET OUT IN THE INTERFERENCE-CAUSING
EQUIPMENT STANDARD ENTITLED "DIGITAL APPARATUS,"
ICES-003 OF THE DEPARTMENT OF COMMUNICATIONS.
CET APPAREIL NUMERIQUE RESPECTE LES LIMITES DE
RADIOELECTRIQUES APPLICABLES AUX
APPAREILS NUMIRIQUES DE CLASSE B PRESCRITES DANS
LA NORME SUR LE MATERIEL BROUILLEUR: "APPAREILS
NUMERIQUES", NMB-003 EDICTEE PAR LE MINISTRE DES
---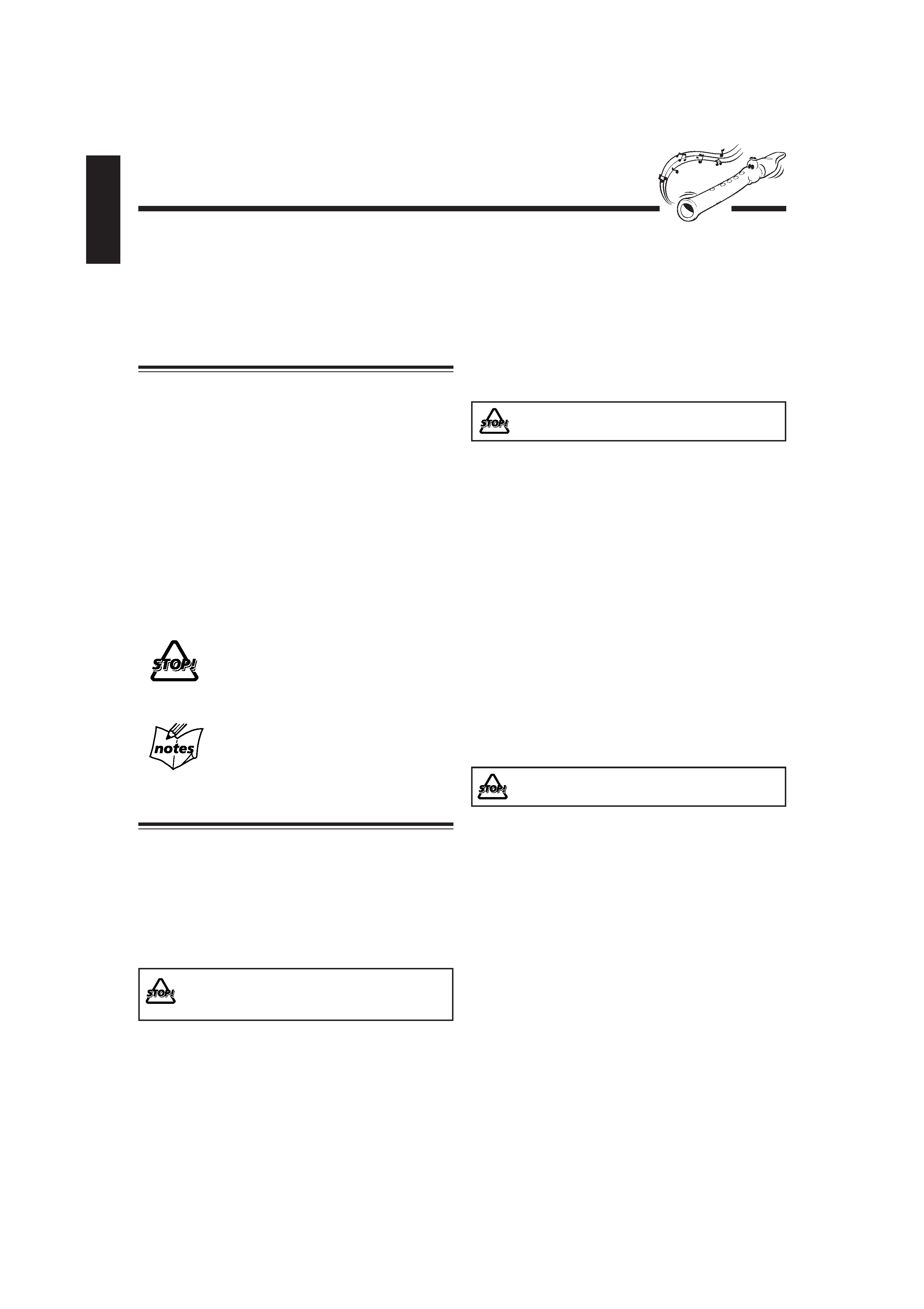 This manual is organized as follows:
· The manual mainly explains operations using the
buttons and controls on the unit. You can also use the
buttons on the remote control if they have the same or
similar names (or marks) as those on the unit.
If operation using the remote control is different from
that using the unit, it is then explained.
· Basic and common information that is the same for many
functions is grouped in one place, and is not repeated in
each procedure. For instance, we do not repeat the
information about turning on/off the unit, setting the
volume, changing the sound effects, and others, which are
explained in the section "Common Operations" on pages 9
· The following marks are used in this manual:
Gives you warnings and cautions to prevent
damage or risk of fire/electric shock.
Also gives you information which is not good
for obtaining the best possible performance
Gives you information and hints you had better
· Install in a place which is level, dry and neither too hot nor
too cold -- between 5°C (41°F) and 35°C (95°F).
· Install the unit in a location with adequate ventilation to
prevent internal heat built-up in the unit.
· Leave sufficient distance between the unit and the TV.
· Keep the speakers away from the TV to avoid interference
DO NOT install the unit in a location near heat
sources, or in a place subject to direct sunlight,
excessive dust or vibration.
We would like to thank you for purchasing one of our JVC products.
Before operating this unit, read this manual carefully and thoroughly to
obtain the best possible performance from your unit, and retain this manual
· When unplugging from the wall outlet, always pull the
plug, not the AC power cord.
DO NOT handle the AC power cord with wet
Moisture may condense on the lens inside the unit in the
· After starting heating in the room
· If the unit is brought directly from a cold to a warm place
Should this occur, the unit may malfunction. In this case,
leave the unit turned on for a few hours until the moisture
evaporates, unplug the AC power cord, and then plug it in
· Should any metallic object or liquid fall into the unit,
unplug the unit and consult your dealer before operating
· If you are not going to operate the unit for an extended
period of time, unplug the AC power cord from the wall
DO NOT disassemble the unit since there are no
user serviceable parts inside.
If anything goes wrong, unplug the AC power cord and
---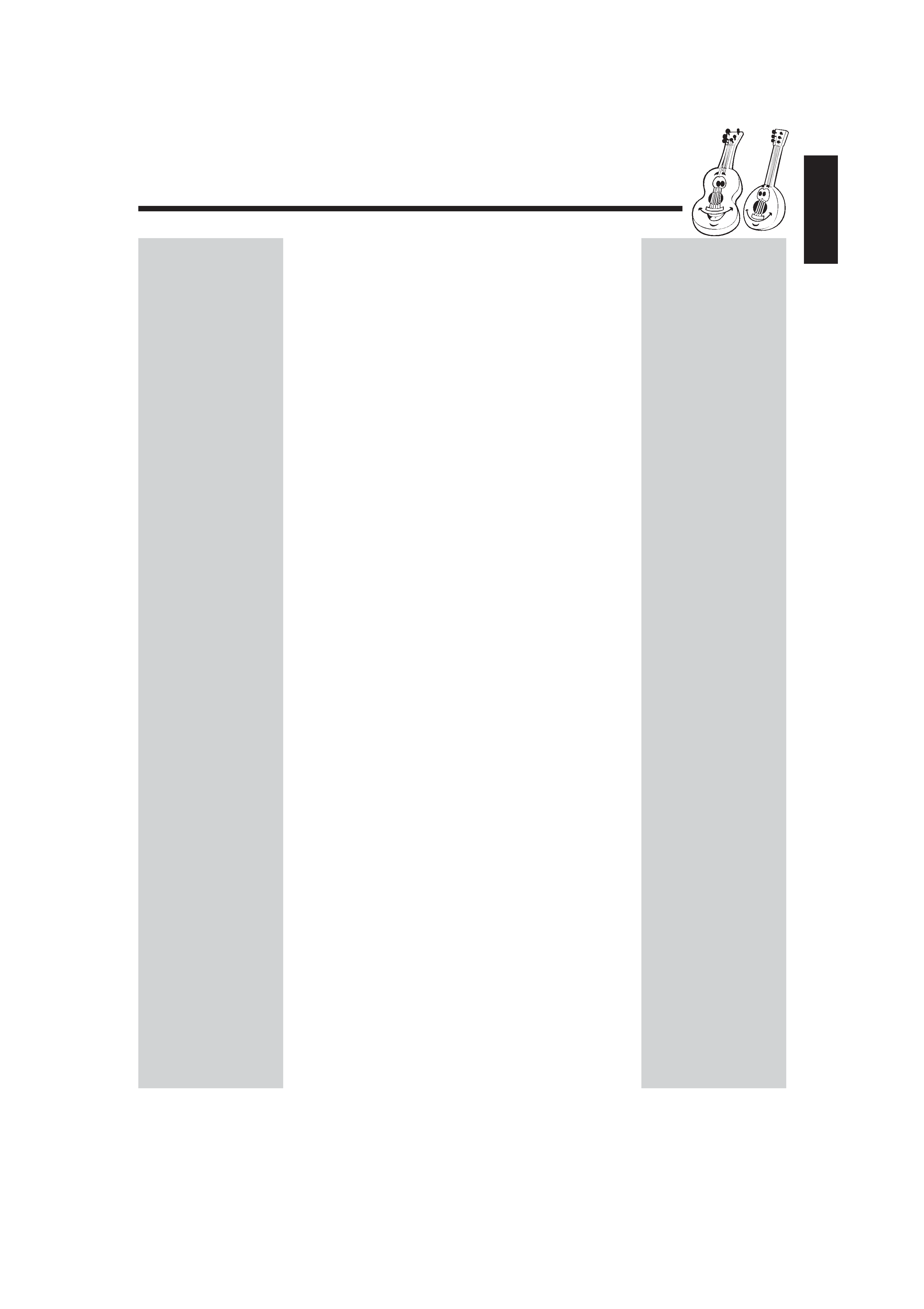 Location of the Buttons and Controls ....................... 3
Front Panel ................................................................. 3
Remote Control .......................................................... 5
Getting Started ............................................................ 6
Unpacking .................................................................. 6
Putting the Batteries into the Remote Control ........... 6
Connecting Antennas ................................................. 6
Connecting Speakers .................................................. 7
Connecting Other Equipment ..................................... 8
Common Operations .................................................. 9
Turning On or Off the Power ....................................... 9
Setting the Clock ........................................................ 9
Selecting the Sources ................................................... 9
Adjusting the Volume ............................................... 10
Reinforcing the Bass Sound ..................................... 10
Selecting the Sound Modes ...................................... 10
Creating Your Own Sound Mode
-- Manual Mode ................................................. 11
Listening to FM and AM Broadcasts ...................... 12
Tuning in a Station ................................................... 12
Presetting Stations .................................................... 12
Tuning in a Preset Station ........................................ 12
Playing Back CDs ..................................................... 13
Loading CDs ............................................................ 13
Playing Back the Entire Discs
-- Continuous Play ............................................. 13
Basic CD Operations ................................................ 13
Programming the Playing Order of the Tracks
-- Program Play ................................................. 14
Playing at Random -- Random Play ....................... 15
Repeating Tracks or CDs -- Repeat Play ................ 15
Prohibiting Disc Ejection -- Tray Lock ................... 15
Playing Back Tapes ................................................... 16
Playing Back a Tape ................................................. 16
Locating the Beginning of a Song -- Music Scan ... 16
Recording .................................................................. 17
Recording a Tape on Deck B .................................... 17
Dubbing Tapes .......................................................... 18
CD Direct Recording ................................................. 18
Auto Edit Recording .................................................. 19
Using the Timers ....................................................... 20
Using Daily Timer .................................................... 20
Using Recording Timer ............................................ 21
Using Sleep Timer .................................................... 22
Timer Priority ........................................................... 22
Maintenance .............................................................. 23
Troubleshooting ........................................................ 23
Specifications ............................................................. 24
---