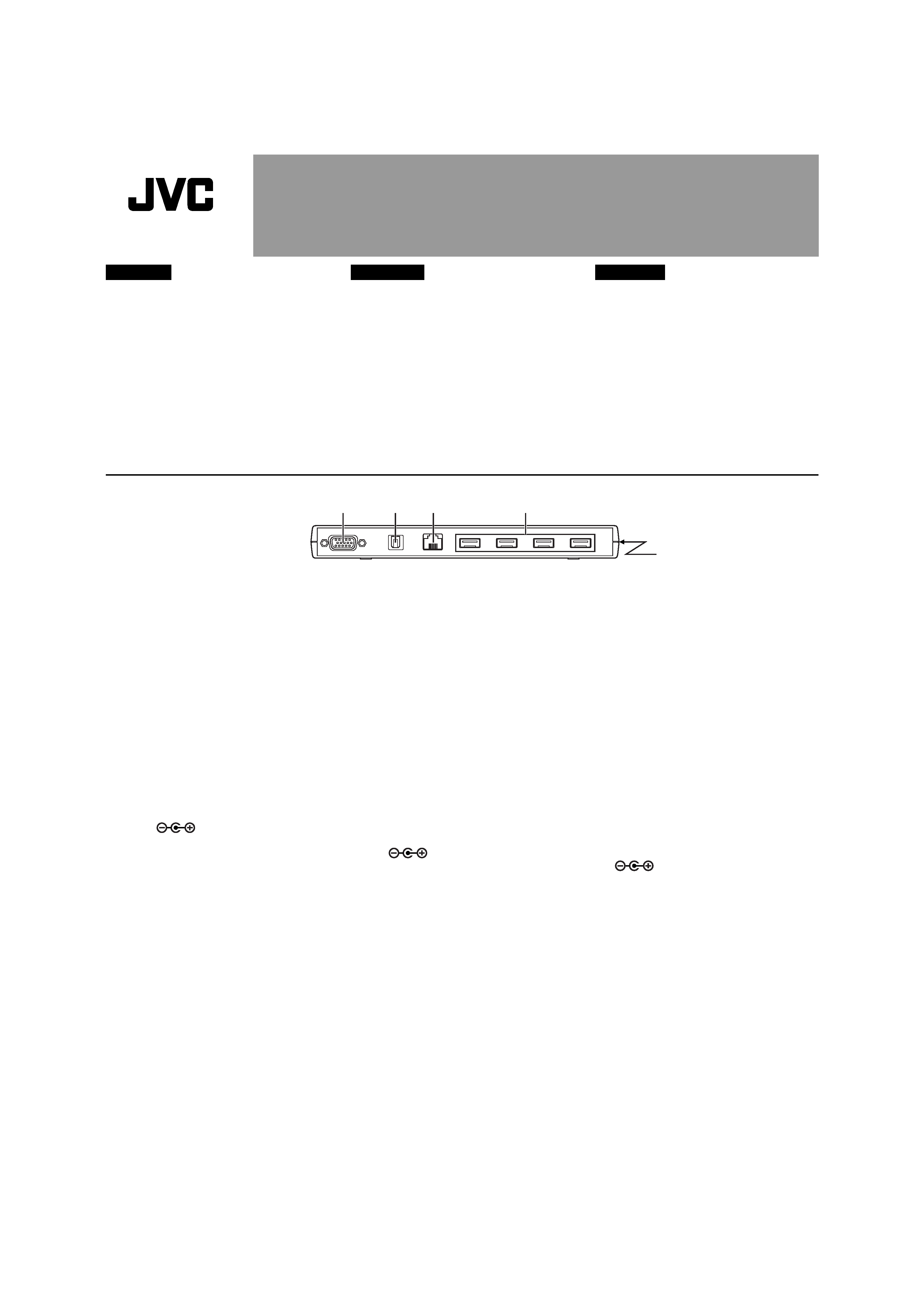 Thank you for purchasing this port replicator.
· This port replicator is equipped with an RGB
connector for connecting an external display to
the Mobile Mini Note PC (model MP-XV841/MP-
XV941) as well as four USB ports and other con-
nection facilities. When connecting a multiple
number of peripherals to the PC, by connecting
those peripherals via the port replicator enables
you to conveniently disconnect the PC from all
the peripherals with a single action and take it
Vielen Dank für den Kauf des Port Replicators.
·Dieser Por t Replicator besitzt einen RGB-
Anschluss zum Anschließen eines externen
Bildschirms an den Mobile Mini Note PC (Modell
MP-XV841/MP-XV941) sowie vier USB-
Anschlüsse und weitere Anschlussmöglichkeiten.
Wenn Sie mehrere Peripheriegeräte über den Port
Replicator an das Notebook anschließen, können
Sie alle Geräte bequem mit einem Handgriff
abtrennen und das Notebook mitnehmen, um es
an einem anderen Ort zu nutzen.
Nous vous remercions pour votre achat de ce
· Ce réplicateur de ports est doté d'un connecteur
RVB permettant de relier un écran externe au
Mobile Mini Note PC (modèle MP-XV841/MP-
XV941), ainsi que quatre ports USB et d'autres
dispositifs de connexion. Lorsque vous connectez
plusieurs périphériques au PC, l'utilisation du
réplicateur de ports vous permet de déconnecter
le PC de tous les périphériques en un seul geste
pour l'emporter avec vous.
Parts and their functions
Teile und deren Funktionen
1 External monitor output connector (RGB type,
Use this to connect an external monitor.
2 Optical digital output connector (S/PDIF output)
Use this to connect an audio unit equipped with
an optical digital input connector. Optical cable
is used to output the signals to the audio unit.
Use this for connecting to a 10/100 Mbps
network that meets the IEEE 802.3/IEEE 802.3u
4 USB2.0 connectors × 4 (type A)
Use these to connect USB2.0 units.
5 DC Input connector (DC IN)
Only the AC adapter provided with the Mobile
Mini Note PC can be used.
When the dedicated AC adapter is connected
to the port replicator for use, the DC Input con-
) on the Mobile Mini Note PC
Connect the LAN cable to the connector provided
on either the port replicator or Mobile Mini Note
PC. Connecting it to both connectors may give an
adverse effect on the network or damage the port
1 Connecteur de sortie vers écran externe (type
Utilisez-le pour connecter un écran externe.
2 Connecteur de sortie numérique optique (sortie
Utilisez-le pour connecter une unité audio dotée
d'un connecteur d'entrée numérique optique. Le
câble optique est utilisé pour transmettre les
3 Connecteur réseau local (RJ-45)
Utilisez-le pour vous connecter à un réseau 10/
100 Mbps conforme à la norme IEEE 802.3/
4 Connecteurs USB 2.0 × 4 (type A)
Utilisez-les pour connecter des unités USB 2.0.
5 Connecteur d'entrée CC (DC IN)
Seul l'adaptateur secteur fourni avec le Mobile
Mini Note PC peut être utilisé.
Lorsque l'adaptateur secteur dédié est connecté
au réplicateur de ports, le connecteur d'entrée
) du Mobile Mini Note PC n'est
Connectez le câble de réseau local au connecteur
présent sur le réplicateur de ports ou sur le Mobile
Mini Note PC. Une connexion simultanée sur les
deux connecteurs peut avoir un impact négatif sur
le réseau ou même détériorer le réplicateur de
1 Anschluss für externen Bildschirm (RGB-Typ,
Hier können Sie einen zusätzlichen Bildschirm
2 Optischer Digitalausgang (S/PDIF-Ausgang)
Hier können Sie ein Audiogerät anschließen,
das mit einem optischen Digitaleingang
ausgerüstet ist. Um die Signale zu dem
Audiogerät zu übertragen, wird ein optisches
Hier können Sie ein 10/100-MBit/s-Netzwerk
anschließen, das dem IEEE 802.3/IEEE 802.3u-
4 Vier USB-2.0-Anschlüsse (Typ A)
Hier können Sie USB-2.0-Geräte anschließen.
5 Gleichstromeingang (DC IN)
Nur das mit dem Mobile Mini Note PC
mitgelieferte Netzgerät darf verwendet werden.
Wenn das Netzgerät am Por t Replicator
angeschlossen ist, wird der Netzanschluss
) am Mobile Mini Note PC nicht
Schließen Sie das LAN-Kabel entweder am Port
Replikator oder am Mobile Mini Note PC an. Wenn
Sie beide Anschlüsse verwenden, kann das
Netzwerk beeinträchtigt oder der Port Replicator
Port Replicator Instructions
Instructions du réplicateur de ports
Port Replicator - Bedienungsanleitung
---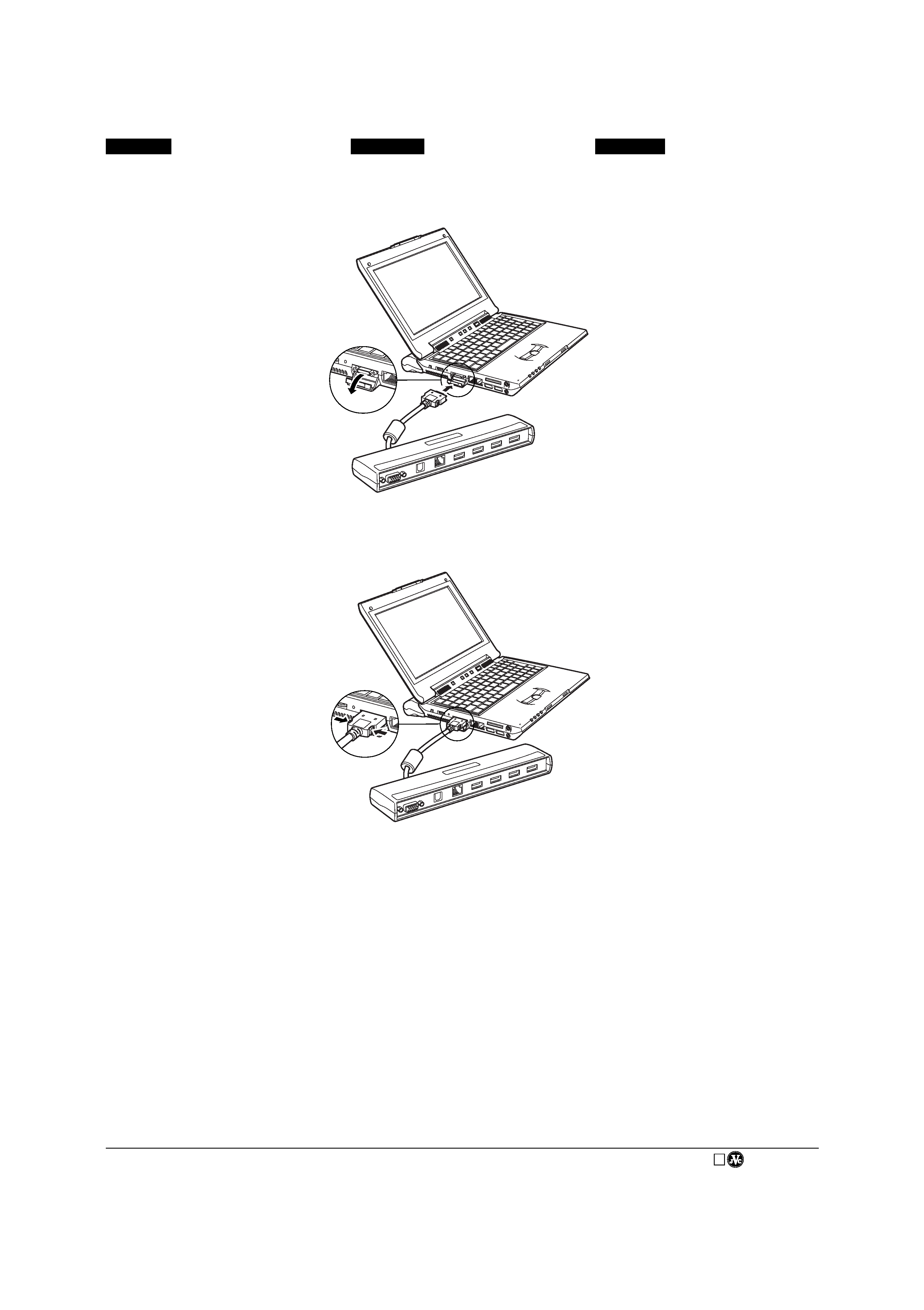 Open the cover, plug it in by
aligning the connector with the
Ouvrez le couvercle, branchez-le
en alignant le connecteur avec les
Öffnen Sie die Abdeckung, richten
Kontaktstiften aus, und stecken Sie
While pressing the area marked
"PUSH" on both sides of the
connector, pull the connector out.
Tout en appuyant sur la zone
"PUSH" sur les deux côtés du
connecteur, tirez sur celui-ci.
Drücken Sie auf die "PUSH"-
Markierung an beiden Seiten des
Steckers, und ziehen Sie den
Connecting the port replicator
Connect the port replicator as shown in the figure
below. Plug the connector in securely until it clicks
Connexion du réplicateur de ports
Connectez le réplicateur de ports comme l'indique
la figure ci-dessous. Branchez le connecteur
jusqu'à ce qu'il soit en place.
Anschließen des Port Replicators
Schließen Sie den Port Replikator entsprechend
der folgenden Abbildung an. Stecken Sie den
Stecker fest ein, bis er sicher einrastet.
Disconnecting the port replicator
Press the both sides of the port replicator's
connector marked "PUSH" while pulling out the
Déconnexion du réplicateur de ports
Appuyez sur les deux côtés du connecteur "PUSH"
Abtrennen des Port Replicators
Drücken Sie an beiden Seiten des Port Replikator-
Steckers auf die "PUSH"-Markierung, und ziehen
Sie dabei den Stecker heraus.
Connected to docking port on the Mobile Mini
External monitor output connector × 1: RGB type,
Optical digital output connector × 1: S/PDIF output
10/100 Base-TX LAN connector × 1: RJ-45, 8P8C
USB2.0 connectors x 4: Type A supported
210 mm (W) × 22.5 mm (H) × 47.0 mm (D)
Ambient relative humidity
Caractéristiques principales
Câble de réplicateur de ports
Connecté au port d'amarrage du Mobile Mini Note
Connecteur de sortie d'écran externe × 1 : Type
Connecteur de sortie numérique optique × 1 :
Sortie S/PDIF (PCM/stream)
Connecteur réseau local 10/100 Base-TX × 1 :
Connecteurs USB 2.0 × 4 : Type A pris en charge
210 mm (L) × 22,5 mm (H) × 47,0 mm (P)
Humidité relative ambiante
Wird am Dockinganschluss des Mobile Mini Note
Ausgang für externen Bildschirm (1×): RGB-Typ,
Optischer Digitalausgang (1×): S/PDIF-Ausgang
10/100 Base-TX LAN-Anschluss (1×): RJ-45,
USB-2.0-Anschlüsse (4×): Typ A unterstützt
210 mm (B) × 22,5 mm (H) × 47,0 mm (T)
Relative Luftfeuchtigkeit
COPYRIGHT© 2004 Victor Company of Japan, Limited
---