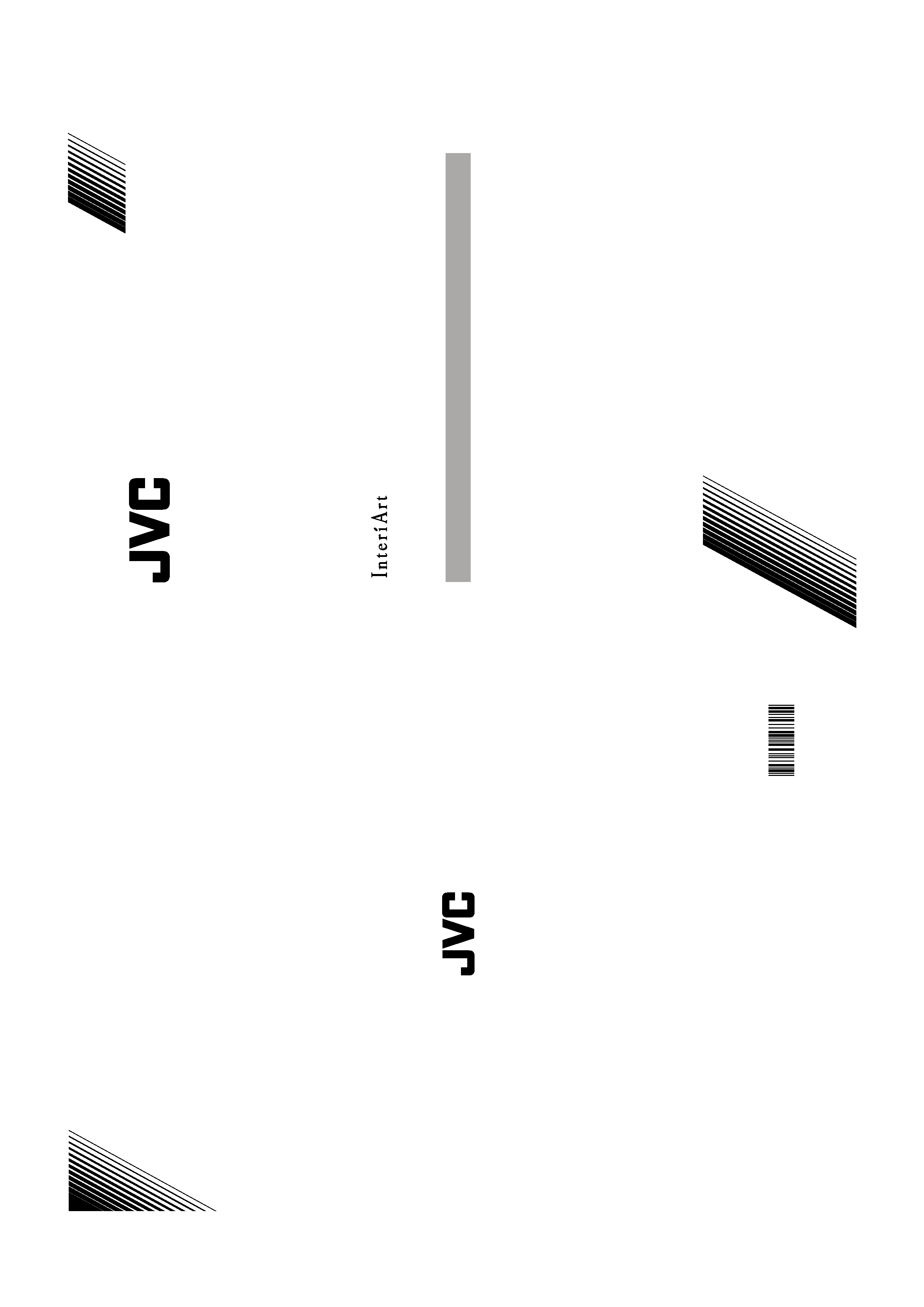 ©2004 VICTOR COMPANY OF JAPAN, LIMITED
D:\Aldus Page Maker Onemli\IB-NEW\JVC\Ak-45\2835 (16-9)\3D-(AV28-GT20U)\COVER PAGE-2835-AK45-1512UK-16-9-(AV-28GT20U)-50053856.cdr
---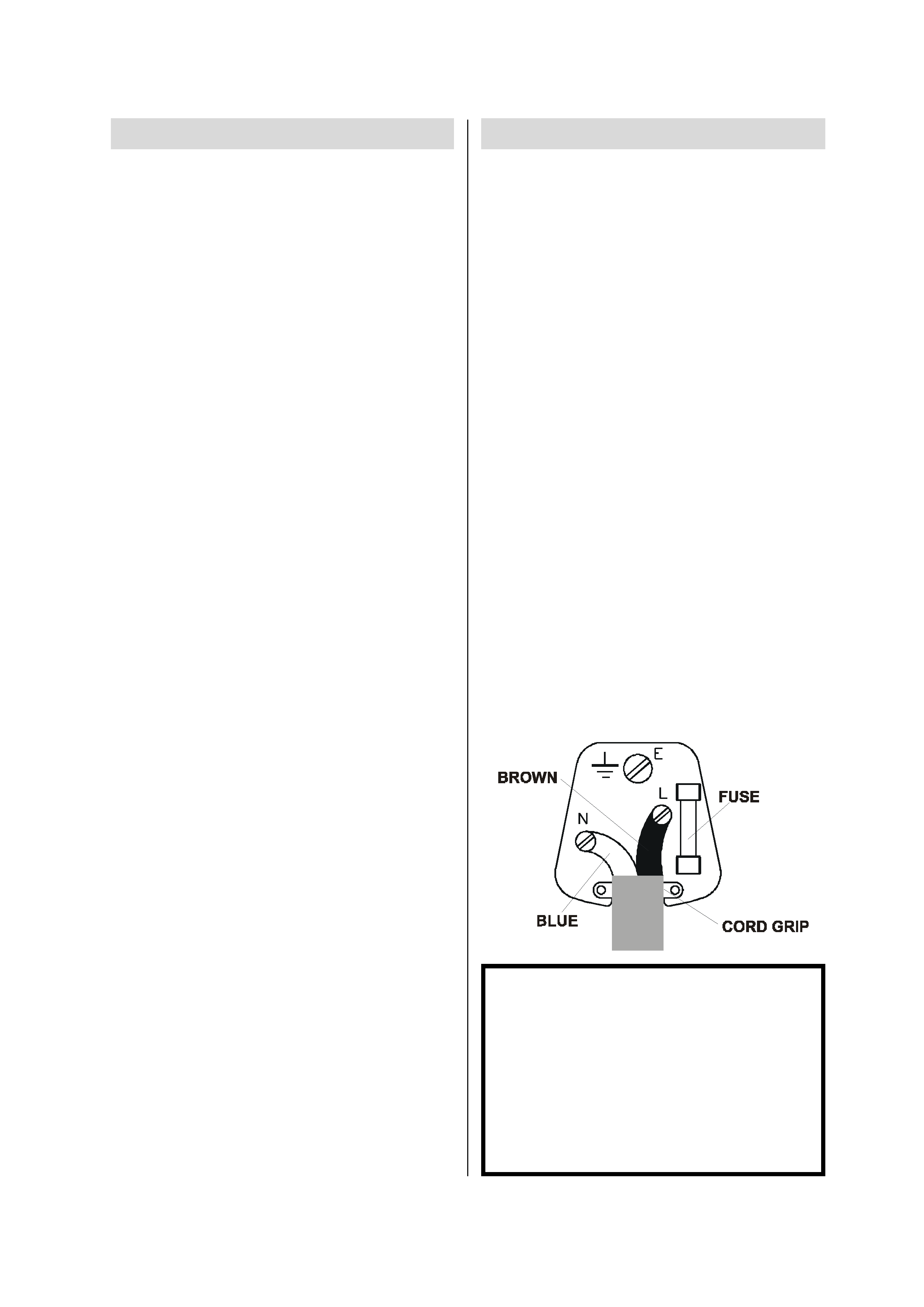 Important Instruction .............................. 1
For your safety ......................................... 2
Important Information ............................. 5
Remote Control Buttons .......................... 6
Control Panel Buttons ............................. 7
Using the stand ........................................ 8
How to remove the stand ........................ 8
Installing TV on the wall .......................... 9
Preparation ............................................ 10
Before Switching on your TV ................ 10
Switching the TV ON/OFF .......................11
Initial Settings ........................................ 12
Operating the TV .................................... 13
Menu System ......................................... 14
Other Features ....................................... 20
PC Mode ................................................. 22
Teletext ................................................... 24
Peripheral Equipment Connections ..... 25
Peripheral Equipment Connections ..... 27
Antenna Connections ............................ 28
Peripheral Equipment Connections ..... 28
PC Input Typical Display Modes ......... 29
Tips ......................................................... 30
Specifications ........................................ 31
TO PREVENT ELECTRIC SHOCK DISCONNECT
FROM THE MAINS BEFORE REMOVING COVER.
NO USER SERVICEABLE PARTS INSIDE. REFER
SERVICING TO QUALIFIED SERVICE PERSONNEL.
THIS EQUIPMENT MUST BE DISCONNECTED FROM
THE MAINS WHEN NOT IN USE. DO NOT ALLOW
THIS UNIT TO BE EXPOSED TO RAIN OR MOISTURE.
For your own safety read following instruction
carefully before attempting to connect this unit
The wires in this mains lead are coloured in
accordance with the following code :
As the colours of the wires in the mains lead
of this appliance may not correspond with the
coloured markings identifying the terminals
in your plug, proceed as follows:
The wire which is coloured blue must be
connected to the terminal which is marked
with the letter N or coloured black.
The wire which is coloured brown must be
connected to the terminal which is marked
with the letter L or coloured red.
No connection is to be made to the earth
If a 13 Amp (BS 1363) Plug is used a 5 Amp
Fuse must be fitted, or if any other type of Plug
is used a 5 Amp Fuse must be fitted, either in
the Plug of Adaptor, or on the Distribution
01-ENG-2008-17MB08P-1860UK-(LT-20E50SJ)-50060725.p65
---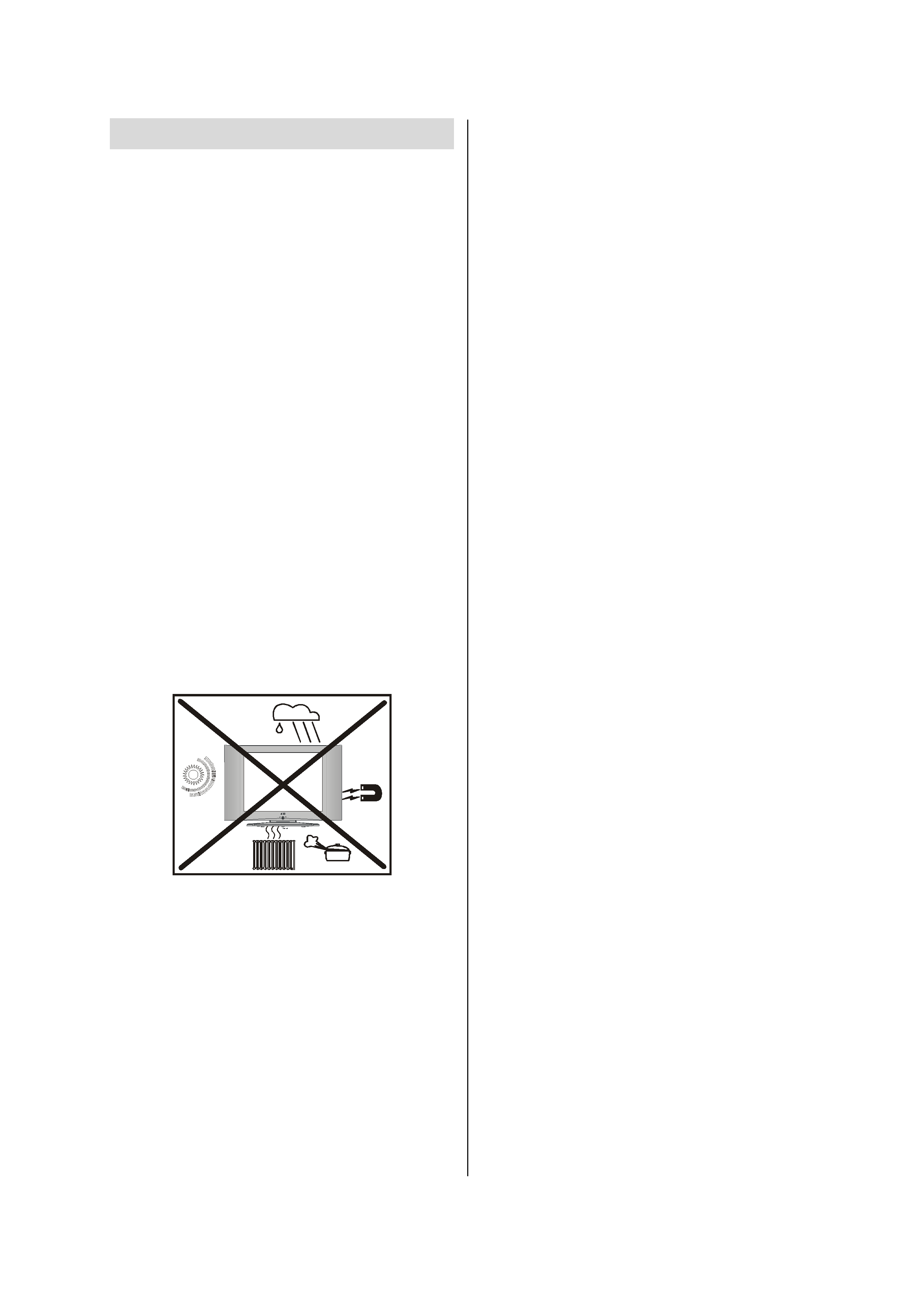 This equipment has been designed and
manufactured to meet international safety stan-
dards but, like any electrical equipment, care
must be taken if you are to obtain the best
results and safety is to be assured. So, please
read the points below for your own safety. They
are of a general nature, intended to help you
with all your electronic consumer products and
some points may not apply to the goods you
Some DOs and DONTs for you
Leave at least 10cm clearance around the tele-
vision to allow adequate ventilation. This will
prevent the TV from overheating and conse-
quential possible damage to the TV. Dusty
places should also be avoided.
Damage may occur if you leave the TV in di-
rect sunlight or near a heater. Avoid places
subject to extremely high temperatures or hu-
midity, or locations where the temperature is
likely to fall below 5ºC (41ºF).
The mains supply required for this equipment
is 100-240 V AC, 50/60 Hz. Never connect to a
DC supply or any other power source. DO en-
sure that the TV is not standing on the mains
lead. DO NOT cut off the mains plug from this
equipment, this incorporates a special Radio
Interference Filter, the removal of which will
Hot / Moderate Climate Conditions
This device is suitable for working in hot and
moderate climate conditions.
IF IN DOUBT PLEASE CONSULT A COMPE-
DO read the operating instructions before you
attempt to use the equipment.
DO ensure that all electrical connections (in-
cluding the mains plug, extension leads and
inter-connections between pieces of equip-
ment) are properly made and in accordance
with the manufacturers instructions.
Switch off and withdraw the mains plug be-
fore making or changing connections.
DO consult your dealer if you are ever in doubt
about the installation, operation or safety of
DO be careful with glass panels or doors on
DONT remove any fixed cover as this may
expose dangerous voltages.
DONT obstruct the ventilation openings of the
equipment with items such as newspapers,
curtains etc. Overheating will cause damage
and shorten the life of the equipment.
DONT allow electrical equipment to be ex-
posed to dripping or splashing or objects filled
with liquids, such as vases, to be placed on
DONT place hot objects or naked flame
sources, such as lighted candles or night-
lights on, or close to the equipment. High tem-
peratures can melt plastic and lead to fires.
DONT use makeshift stands and NEVER fix
legs with wood screws. To ensure complete
safety, always fit the manufacturers approved
stand or legs with the fixings provided accord-
DONT listen to headphones at high volume,
as such use can permanently damage your
DONT leave equipment switched on when it
is unattended, unless it is specifically stated
that it is designed for unattended operation or
has a standby mode. Switch the equipment
off and make sure your family know how to do
01-ENG-2008-17MB08P-1860UK-(LT-20E50SJ)-50060725.p65
---

this. Special arrangements may need to be
made for infirm or handicapped people.
DONT continue to operate the equipment if
you are in any doubt about it working normally,
or it is damaged in any way switch off, with-
draw the mains plug and consult your dealer.
DONT put the empty batteries into garbage
instead of recycle bin to reduce harmfull ef-
fects to the environment.
ABOVE ALL NEVER let anyone, especially
children, push anything into holes, slots or
any other openings in the case this could
result in a fatal electric shock.
NEVER guess or take chances with electrical
equipment of any kind it is better to be safe
To fully disconnect the TV, switch off the
mains socket and remove the Power plug.
Safety Precautions for Power adapter
Be careful! May become hot.
For indoor and dry location use only.
Shock hazard, do not open.
Keep all power adapters away from any other
Always use power adapter(s) well-ventilated
** Cold cathode fluoresant lamp in LCD PANEL
contains a small amount of mercury, please
follow local ordinates or regulations for dis-
"The LCD panel is very high technology prod-
uct with about a million thin film transistors,
giving you fine picture details. Occasionally,
a few non-active pixels may appear on the
screen as a fixed point of blue, green or red.
Please note that this does not affect the per-
formance of your product." Please note that
certain light guns used with games consoles
may not work on this product.
This is a Class A product. In a domestic envi-
ronment this product may cause radio inter-
ference in which case the user may be re-
quired to take adequate measures.
01-ENG-2008-17MB08P-1860UK-(LT-20E50SJ)-50060725.p65
---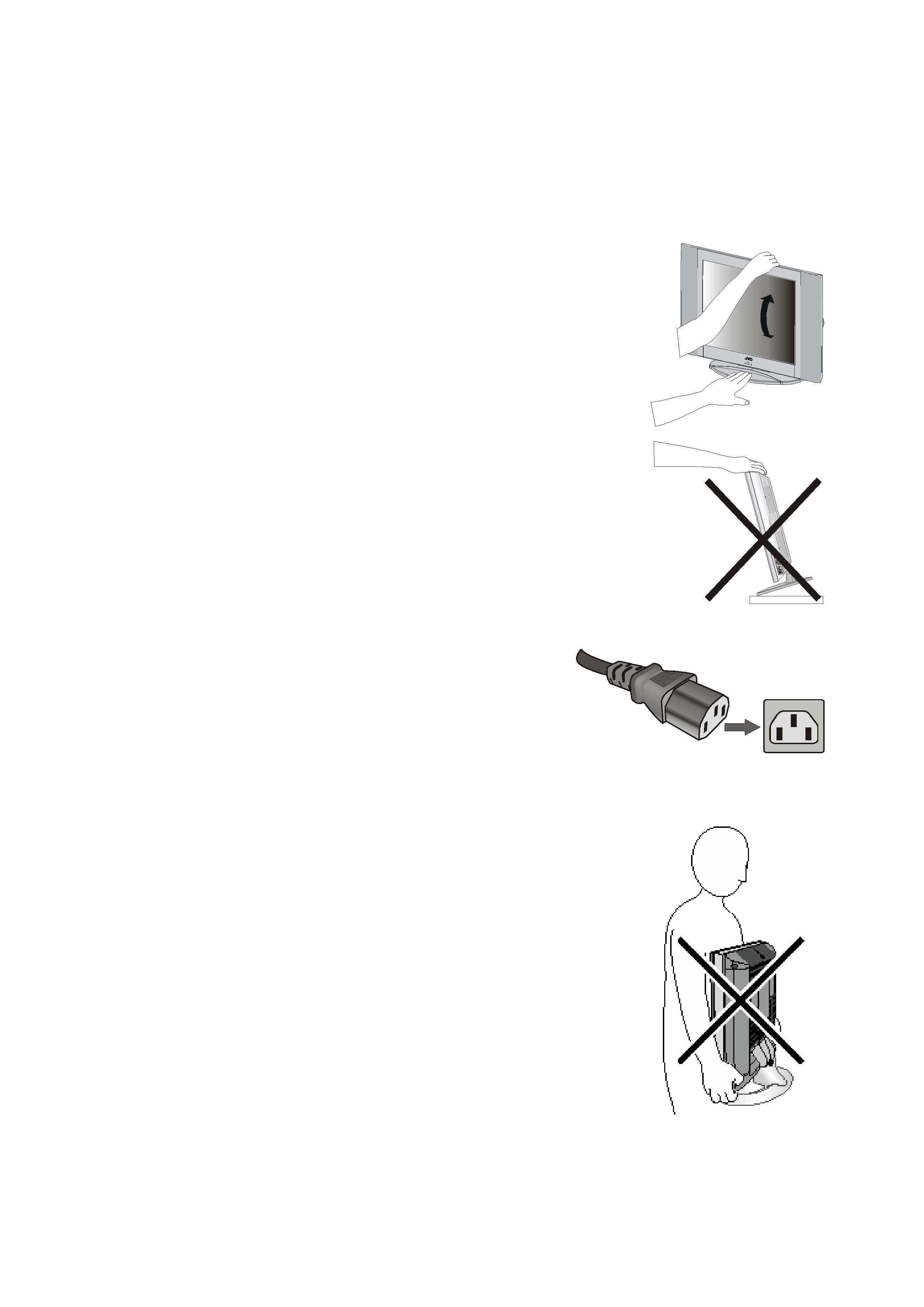 Fingers may be trapped under the TV causing injuries.
Hold the TV at the bottom in the middle, and do not allow
The TV may fall causing injuries. Hold the bottom of the
stand with your hand and tilt the TV up and down.
Do not allow children to hang from the TV, place their
elbows on the TV or lean against the TV. Doing so may
cause the TV to fall over and lead to injuries.
To avoid electric shock or damage to the unit, first firmly
insert the small end of the power cord into the AC Adapter
unit it is no longer wobbly, and then plug the larger end
of power cord into an AC outlet.
The TV screen may be damaged if the TV is carried as
shown in the diagram below.
The TV should always be carried by two people
WARNING : TO PREVENT FIRE OR SHOCK HAZARD, DO NOT EXPOSE THISAPPLIANCE TO
01-ENG-2008-17MB08P-1860UK-(LT-20E50SJ)-50060725.p65
---