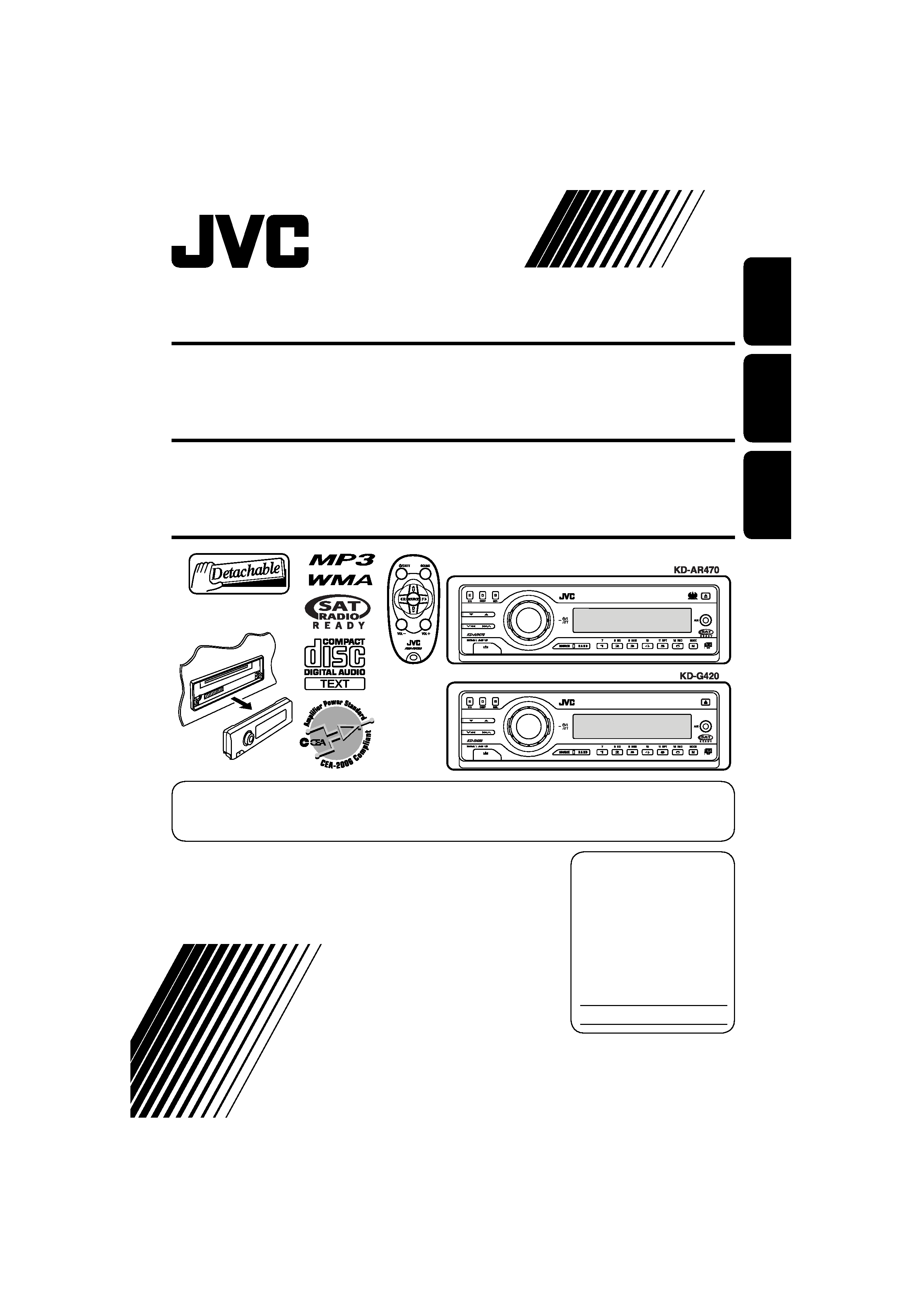 For canceling the display demonstration, see page 7.
Para cancelar la demostración en pantalla, consulte la página 7.
Pour annuler la démonstration des affichages, référez-vous à la page 7.
For installation and connections, refer to the separate manual.
Para la instalación y las conexiones, refiérase al manual separado.
Pour l'installation et les raccordements, se référer au manuel séparé.
are located on the top or
Cover_KD-AR470_420[J]f.indd 2
Cover_KD-AR470_420[J]f.indd 2
---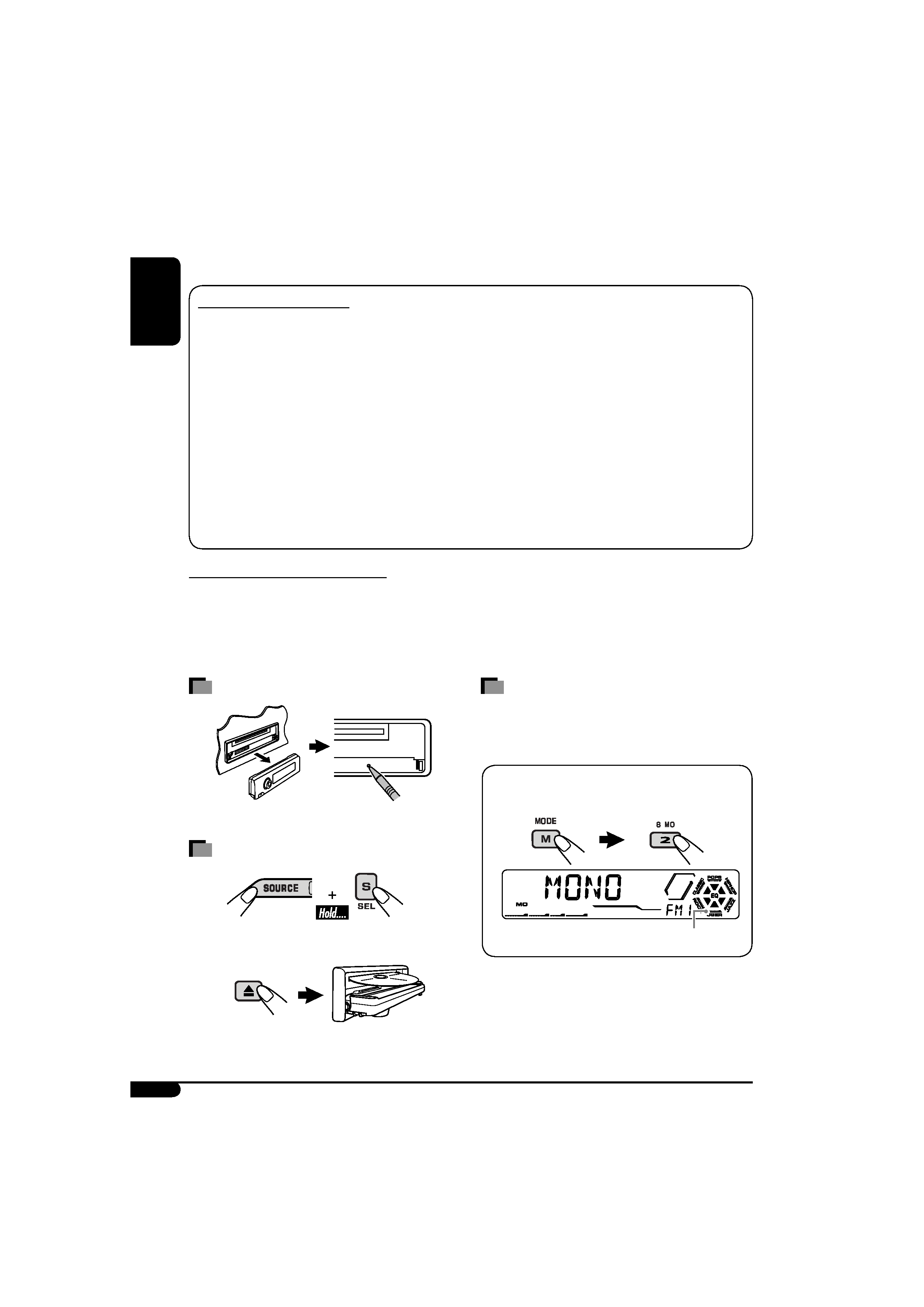 How to use the M MODE button
If you press M MODE, the unit goes into
functions mode, then the number buttons and
5/ buttons work as different function buttons.
Ex.: When number button 2 works as
To use these buttons for their original
functions again after pressing M MODE, wait
for 5 seconds without pressing any of these
buttons until the functions mode is cleared or
Thank you for purchasing a JVC product.
Please read all instructions carefully before operation, to ensure your complete understanding and to
obtain the best possible performance from the unit.
This equipment has been tested and found to comply with the limits for a Class B digital device,
pursuant to Part 15 of the FCC Rules. These limits are designed to provide reasonable protection
against harmful interference in a residential installation. This equipment generates, uses, and can
radiate radio frequency energy and, if not installed and used in accordance with the instructions,
may cause harmful interference to radio communications. However, there is no guarantee that
interference will not occur in a particular installation. If this equipment does cause harmful
interference to radio or television reception, which can be determined by turning the equipment
off and on, the user is encouraged to try to correct the interference by one or more of the
­ Reorient or relocate the receiving antenna.
­ Increase the separation between the equipment and receiver.
­ Connect the equipment into an outlet on a circuit different from that to which the receiver is
­ Consult the dealer or an experienced radio/TV technician for help.
IMPORTANT FOR LASER PRODUCTS
2. CAUTION: Do not open the top cover. There are no user serviceable parts inside the unit; leave
all servicing to qualified service personnel.
3. CAUTION: Visible and invisible laser radiation when open and interlock failed or defeated.
Avoid direct exposure to beam.
Your preset adjustments will also be erased.
How to forcibly eject a disc
"PLEASE" and "EJECT" appear alternately on
· If this does not work, reset your unit.
· Be careful not to drop the disc when it ejects.
EN02-05KD-AR470_420[J]f.indd 2
EN02-05KD-AR470_420[J]f.indd 2
---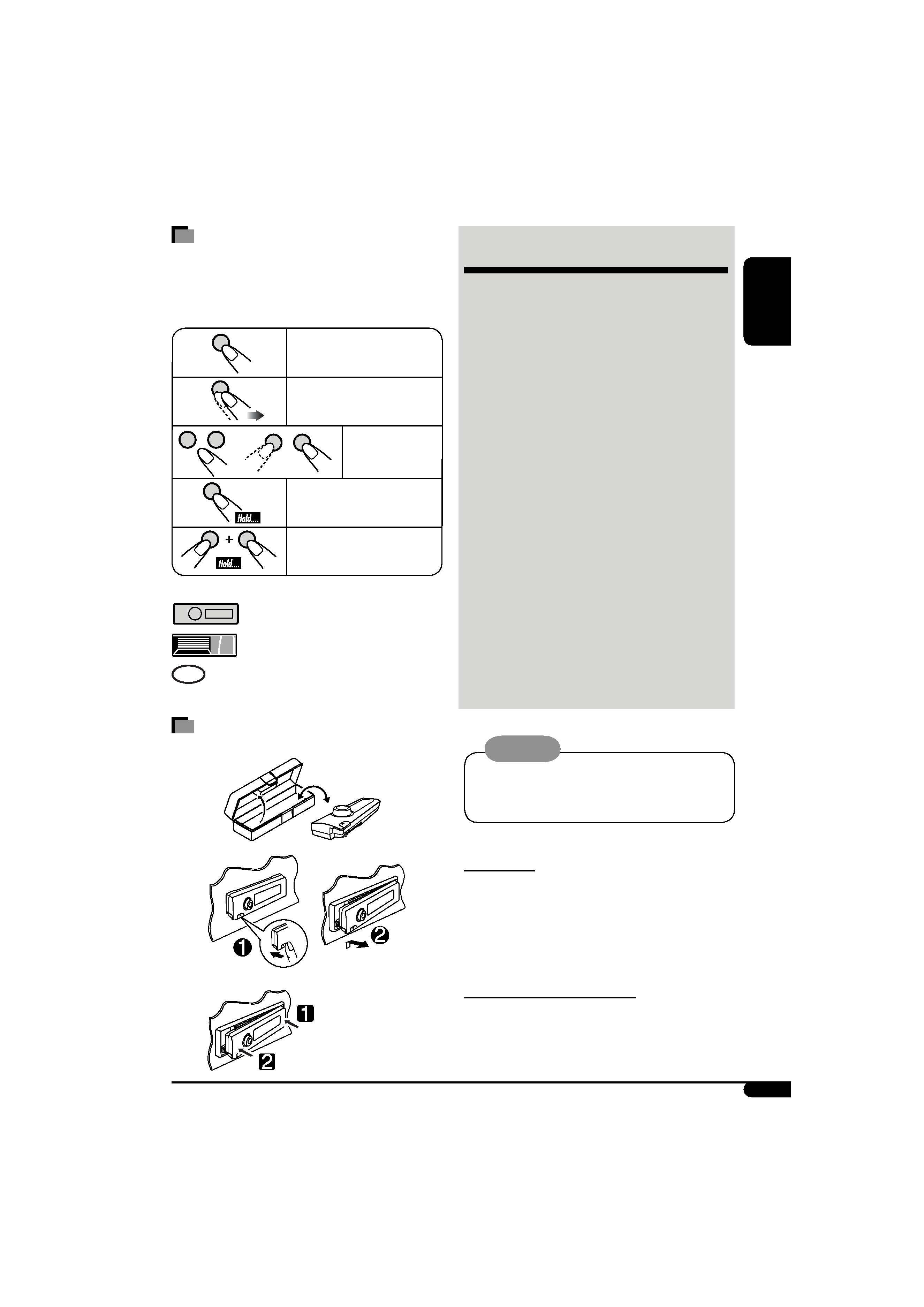 · Button operations are mainly explained with
the illustrations in the table below.
· Some related tips and notes are explained in
"More about this unit" (see pages 20 ­ 22).
Press and hold until your
buttons at the same time.
The following marks are used to indicate...
: Built-in CD player operations.
: External CD changer operations.
: Indicator displayed for the
How to detach/attach the control
Control panel --
KD-AR470 and KD-G420
....... 4
Remote controller --
RM-RK50
.............. 5
Getting started................................. 6
Basic operations....................................................
Radio operations .............................. 7
Disc operations................................. 8
Playing a disc in the unit ......................................
Playing discs in the CD changer ............................
Sound adjustments........................... 11
General settings -- PSM ................... 12
Title assignment .............................. 15
External component operations ............. 16
Satellite radio operations.................. 17
More about this unit ......................... 20
Maintenance .................................... 22
Troubleshooting............................... 23
Specifications................................... 25
If you need to operate the unit while driving,
be sure to look ahead carefully or you may be
involved in a traffic accident.
· Do not raise the volume level too much, as
this will block outside sounds, making driving
· Stop the car before performing any
Temperature inside the car...
If you have parked the car for a long time in hot
or cold weather, wait until the temperature in
the car becomes normal before operating the
EN02-05KD-AR470_420[J]f.indd 3
EN02-05KD-AR470_420[J]f.indd 3
---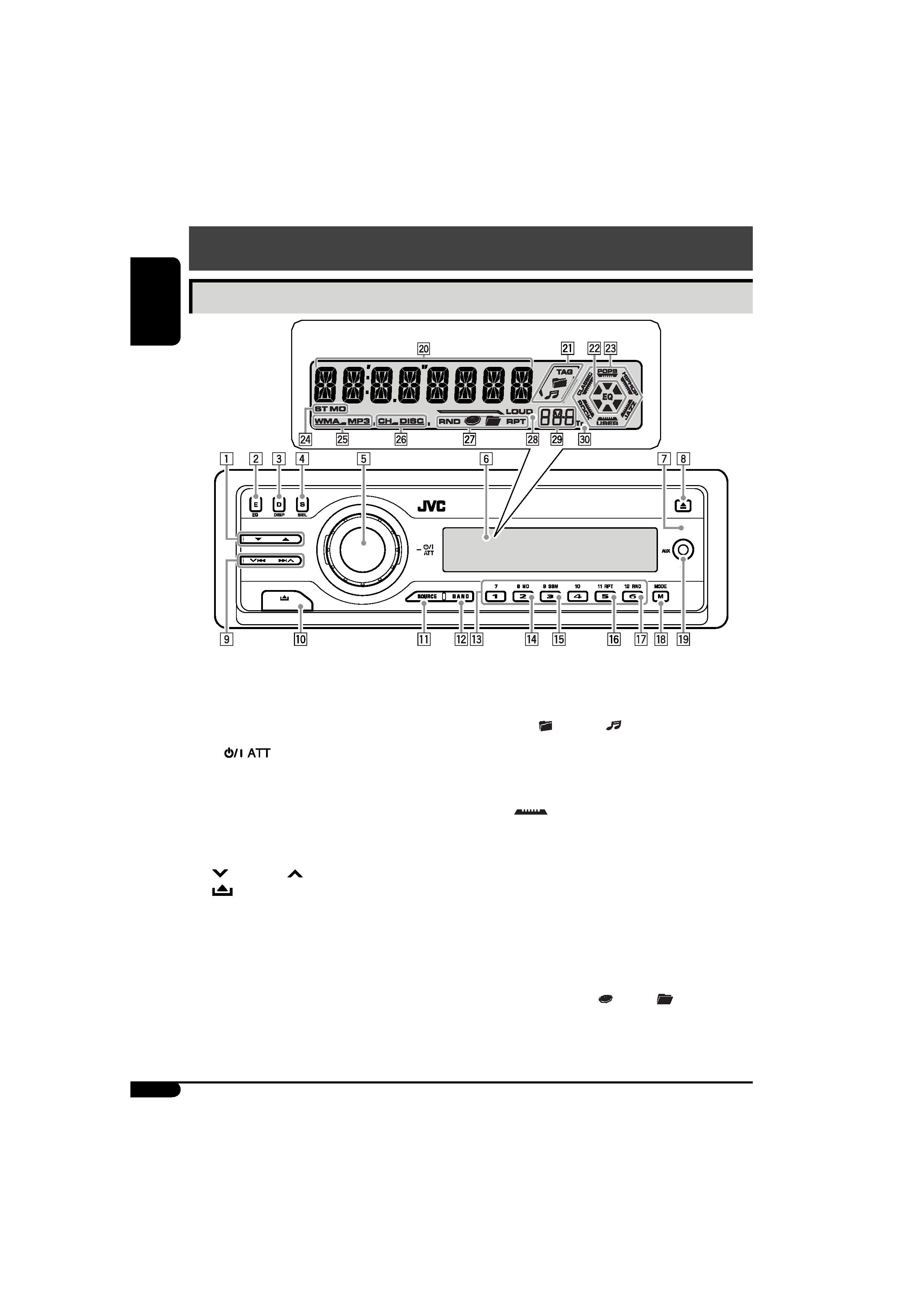 Control panel --
KD-G612/KD-G611/KD-G511
2 E EQ (equalizer) button
3 D DISP (display) button
(standby/on attenuator) button
· DO NOT expose the remote sensor to
strong light (direct sunlight or artificial
(control panel release) button
t SSM (Strong-station Sequential Memory)
o AUX (auxiliary) input jack
a Disc information indicators--TAG (ID3
s EQ (equalizer) indicator
d Sound mode (C-EQ: custom equalizer)
indicators--ROCK, CLASSIC, POPS,
also works as the time countdown
indicator and level meter during play (see
f Tuner reception indicators--ST (stereo),
g Disc type indicators--WMA, MP3
h Playback source indicators--
CH: Lights up only when CD-CH is selected
DISC: Lights up for the built-in CD player.
j Playback mode / item indicators--
k LOUD (loudness) indicator
l Source display / Volume level indicator
Control panel --
KD-AR470andKD-G420
EN02-05KD-AR470_420[J]f.indd 4
EN02-05KD-AR470_420[J]f.indd 4
---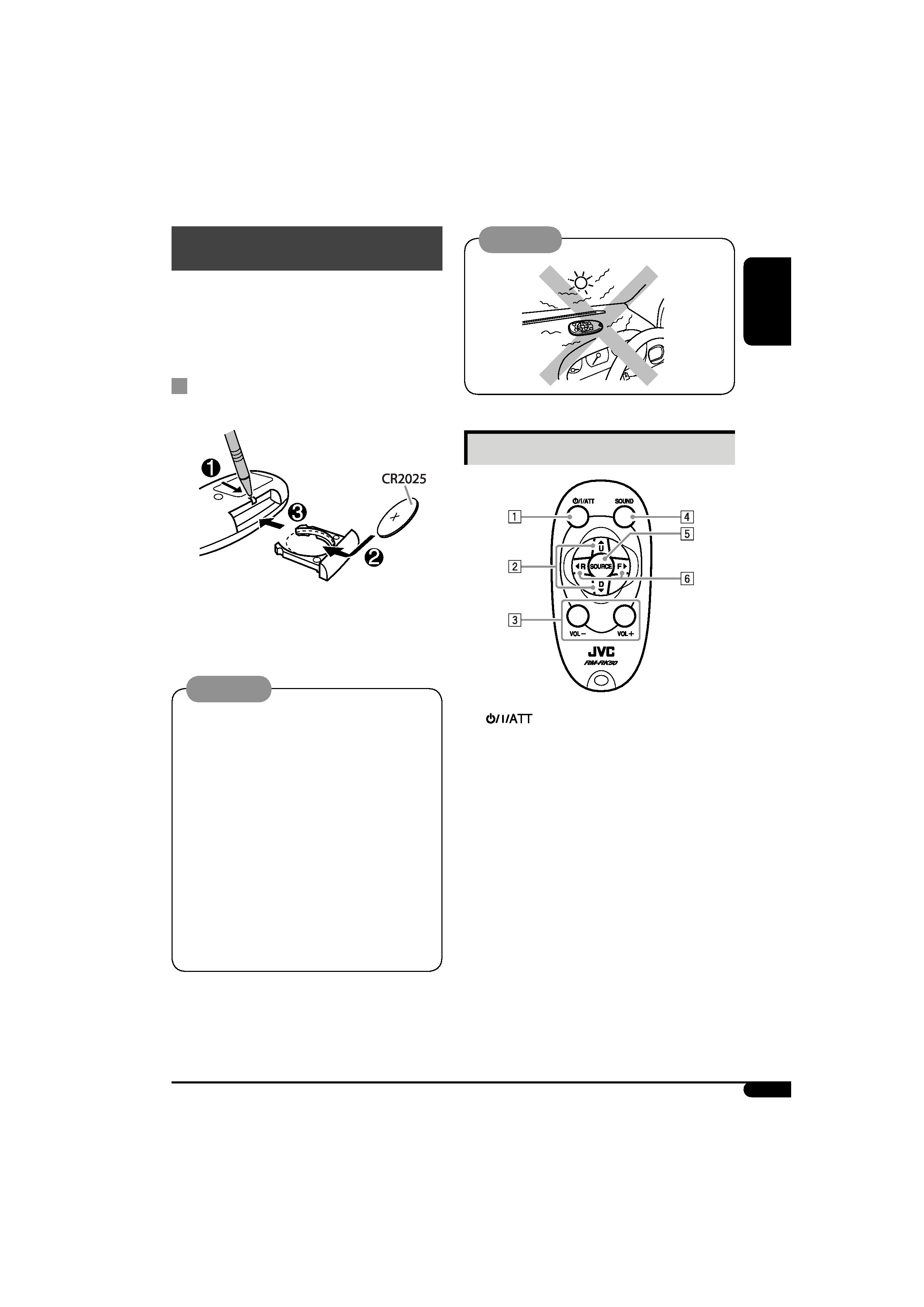 Main elements and features
(standby/on/attenuator) button
· Turns the power on if pressed briefly or
attenuates the sound when power is on.
· Turns the power off if pressed and held.
5 U (up) / D (down) buttons
· Changes the FM/AM bands with
· Changes the preset stations with D
· Changes the folder of the MP3/WMA
· While playing an MP3 disc on an
MP3-compatible CD changer:
­ Changes the disc if pressed briefly.
­ Changes the folder if pressed and held.
· While listening to the satellite (SIRIUS or
­ Changes the categories.
Remote controller --
RM-RK50
RM-RK50 is supplied for KD-AR470.
KD-G420 can be remotely controlled as
instructed here (with an optionally purchased
remote controller). We recommend you to use
RM-RK50 or RM-RK60 with your unit.
Installing the lithium coin battery
Aim the remote controller directly at the
remote sensor on the unit. Make sure there is
· Do not install any battery other than
CR2025 or its equivalent; otherwise, it may
· Store the battery in a place where children
cannot reach to avoid risk of accident.
· To prevent the battery from over-heating,
cracking, or starting a fire:
­ Do not recharge, short, disassemble,
heat the battery, or dispose of it in a fire.
­ Do not leave the battery with other
­ Do not poke the battery with tweezers or
­ Wrap the battery with tape and insulate
when throwing away or saving it.
EN02-05KD-AR470_420[J]f.indd 5
EN02-05KD-AR470_420[J]f.indd 5
---