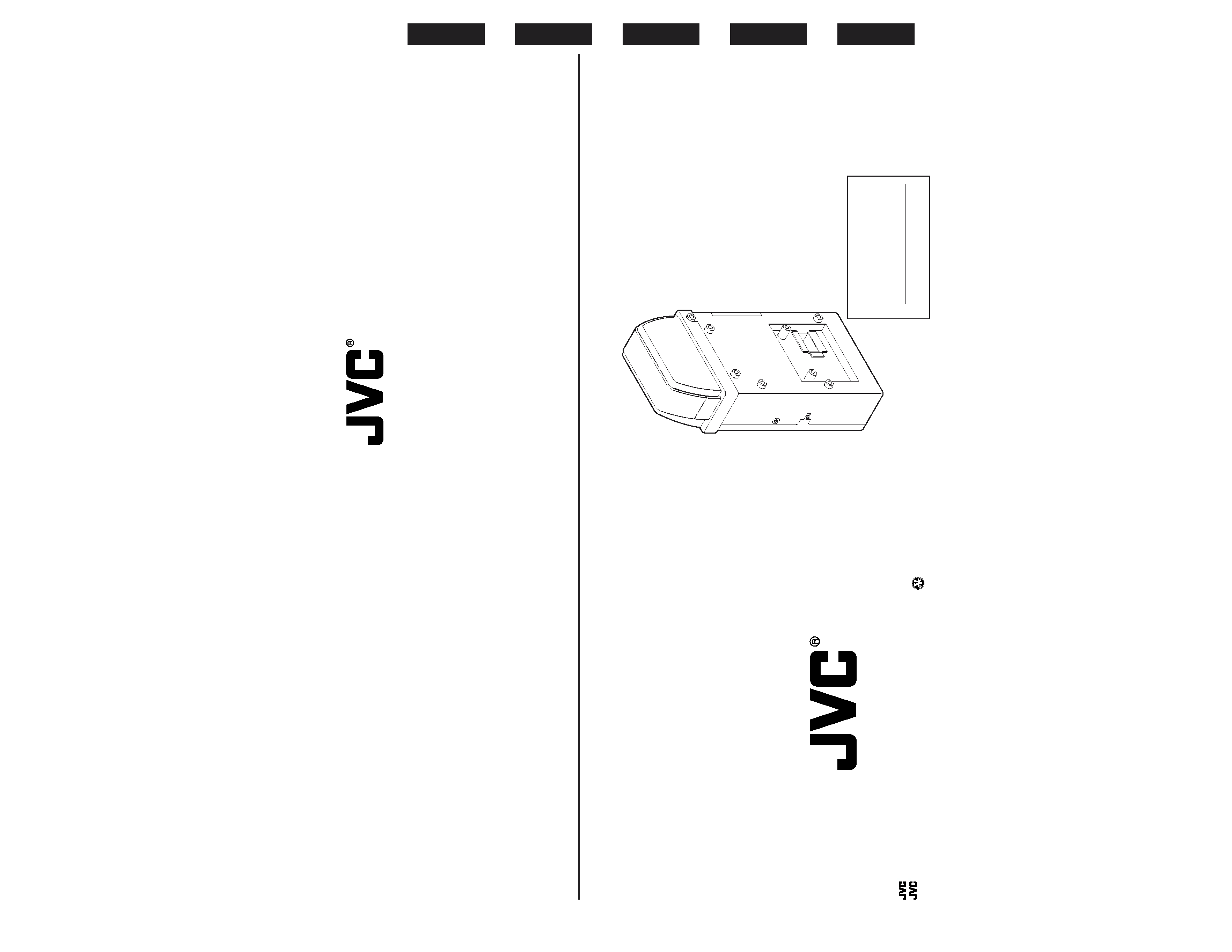 NETWORK PACK STARTUP GUIDE
NETZWERKPACK BEDIENUNGSLEITFADEN
BACK DE RESEAU GUIDE DE DEMARRAGE
GUÍA DE INICIO DEL ADAPTADOR DE RED
Enter below the Serial No. which is
located on the body. Retain this
information for future reference.
This instruction book is made from
GUIDA RAPIDA AL CORREDO DI RETE
is a registered trademark owned by VICTOR COMPANY OF JAPAN, LTD.
is a registered trademark in Japan, the U.S.A., the U.K. and many other countries.
© 2002 VICTOR COMPANY OF JAPAN, LIMITED
VICTOR COMPANY OF JAPAN, LIMITED
---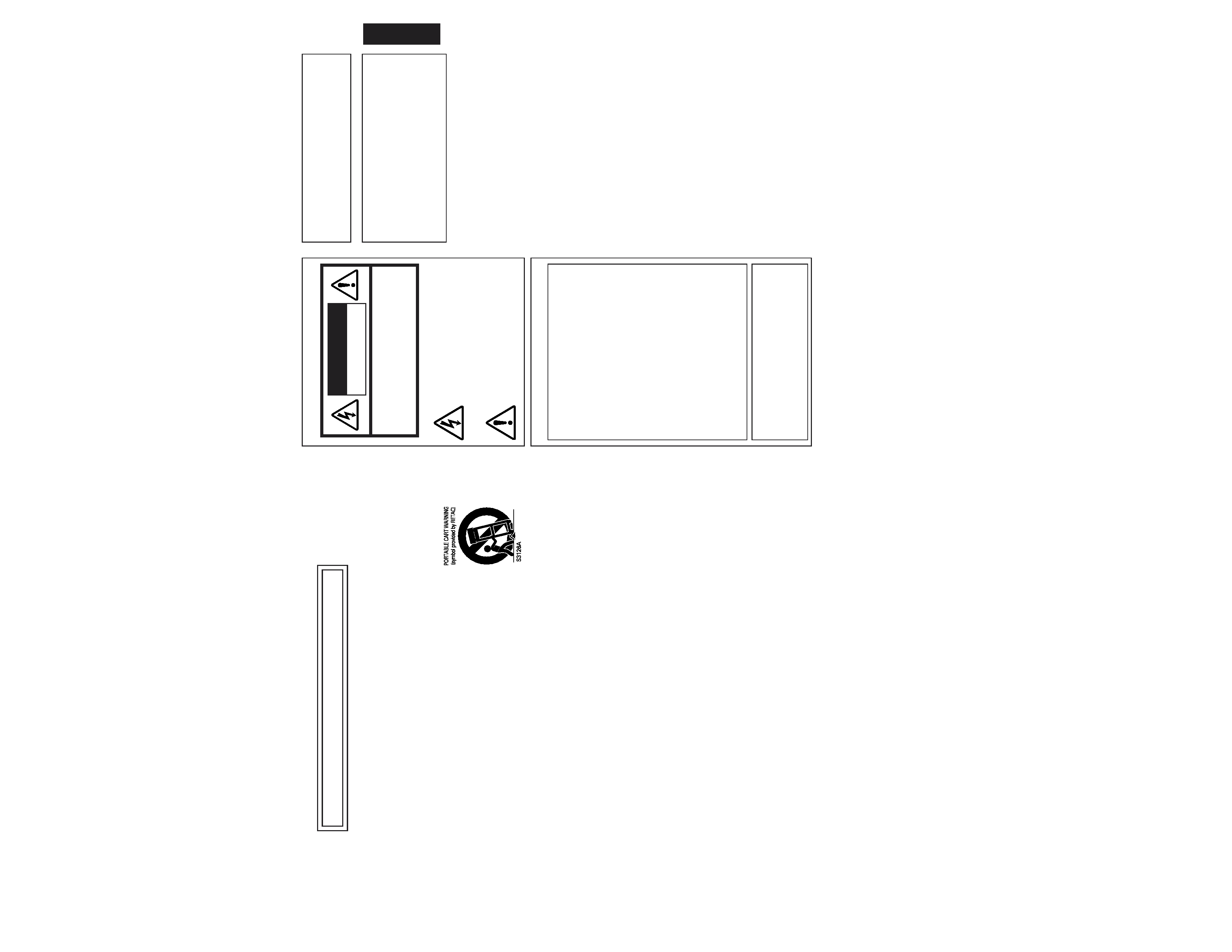 1. Read all of these instructions.
2. Save these instructions for later use.
3. All warnings on the product and in the operating instructions should be adhered to.
4. Unplug this appliance system from the wall outlet before cleaning. Do not use liquid cleaners or aerosol cleaners.
Use a damp cloth for cleaning.
5. Do not use attachments not recommended by the appliance manufacturer as they may cause hazards.
6. Do not use this appliance near water ­ for example, near a bathtub, washbowl, kitchen sink, or laundry tub, in a wet
basement, or near a swimming pool, etc.
7. Do not place this appliance on an unstable cart, stand, or table.The appliance may fall, causing
serious injury to a child or adult, and serious damage to the appliance.
Use only with a cart or stand recommended by the manufacturer, or sold with the appliance.
Wall or shelf mounting should follow the manufacturer's instructions, and should use a mounting
kit approved by the manufacturer.
An appliance and cart combination should be moved with care. Quick stops, excessive force,
and uneven surfaces may cause the appliance and cart combination to overturn.
8. Slots and openings in the cabinet and the back or bottom are provided for ventilation, and to
insure reliable operation of the appliance and to protect it from overheating, these openings
must not be blocked or covered. The openings should never be blocked by placing the appliance on a bed, sofa, rug,
or other similar surface. This appliance should never be placed near or over a radiator or heat register. This appliance
should not be placed in a built-in installation such as a bookcase unless proper ventilation is provided.
9. This appliance should be operated only from the type of power source indicated on the marking label. If you are not
sure of the type of power supplied to your home, consult your dealer or local power company. For appliance designed
to operate from battery power, refer to the operating instructions.
10. This appliance system is equipped with a 3-wire grounding type plug (a plug having a third (grounding) pin). This plug
will only fit into a grounding-type power outlet. This is a safety feature. If you are unable to insert the plug into the
outlet, contact your electrician to replace your obsolete outlet. Do not defeat the safety purpose of the grounding
11. For added protection for this product during a lightning storm, or when it is left unattended and unused for long
periods of time, unplug it from the wall outlet and disconnect the antenna or cable system. This will prevent damage
to the product due to lightning and power-line surges.
12. Do not allow anything to rest on the power cord. Do not locate this appliance where the cord will be abused by
13. Follow all warnings and instructions marked on the appliance.
14. Do not overload wall outlets and extension cords as this can result in fire or electric shock.
15. Never push objects of any kind into this appliance through cabinet slots as they may touch dangerous voltage points
or short out parts that could result in a fire or electric shock. Never spill liquid of any kind on the appliance.
16. Do not attempt to service this appliance yourself as opening or removing covers may expose you to dangerous
voltage or other hazards. Refer all servicing to qualified service personnel.
17. Unplug this appliance from the wall outlet and refer servicing to qualified service personnel under the following
a. When the power cord or plug is damaged or frayed.
b. If liquid has been spilled into the appliance.
c. If the appliance has been exposed to rain or water.
d. If the appliance does not operate normally by following the operating instructions. Adjust only those controls that
are covered by the operating instructions as improper adjustment of other controls may result in damage and will
often require extensive work by a qualified technician to restore the appliance to normal operation.
e. If the appliance has been dropped or the cabinet has been damaged.
When the appliance exhibits a distinct change in performance ­ this indicates a need for service.
18. When replacement parts are required, be sure the service technician has used replacement parts specified by the
manufacturer that have the same characteristics as the original part. Unauthorized substitutions may result in fire,
electric shock, or other hazards.
19. Upon completion of any service or repairs to this appliance, ask the service technician to perform routine safety
checks to determine that the appliance is in safe operating condition.
The lightning flash wish arrowhead symbol,
within an equilateral triangle is intended to
alert the user to the presence of uninsulated
"dangerous voltage" within the product's
enclosure that may be of sufficient
magnitude to constitute a risk of electric
The exclamation point within an equilateral
triangle is intended to alert the user to the
presence of impor tant operating and
maintenance (servicing) instructions in the
literature accompanying the appliance.
This device complies with part 15 of the FCC Rules.
Changes or modifications not approved by JVC could
void the user's authority to operate the equipment.
This Class B digital apparatus complies with
RENSEIGNEMENT (POUR CANADA)
Cet appareil numérique de la Class B est conforme
á la norme NMB-003 du Canada.
CAUTION:TO REDUCE THE RISK OF ELECTRIC
SHOCK. DO NOT REMOVE COVER (OR
BACK). NO USER-SERVICEABLE PARTS
QUALIFIED SERVICE PERSONNEL.
This equipment has been tested and found to comply
with the limits for a Class B digital device, pursuant to
Part 15 of the FCC Rules.
These limits are designed to provide reasonable
protection against harmful interference in a residential
installation. This equipment generates, uses, and can
radiate radio frequency energy and, if not installed and
used in accordance with the instructions, may cause
harmfull interfrence to radio communications. However,
there is no guarantee that interference will not occur in a
particular installation. If this equipment does cause
harmful interference to radio or television reception, which
can be determined by turning the equipment off and on,
the user is encouraged to try to correct the interference
by one or more of the following measures:
· Reorient or relocate the receiving antenna.
· Increase the separation between the equipment and
· Connect the equipment into an outlet on a circuit
different from that to which the receiver is connected.
· Consult the dealer or an experienced radio/TV
CHANGES OR MODIFICATIONS NOT APPROVED BY
JVC COULD VOID USER'S AUTHORITY TO OPERATE
THIS DEVICE COMPLIES WITH PART 15 OF THE FCC
RULES. OPERATION IS SUBJECT TO THE FOLLOWING
TWO CONDITIONS : (1) THIS DEVICE MAY NOT CAUSE
HARMFUL INTERFERENCE, AND (2) THIS DEVICE
MUST ACCEPT ANY INTERFERENCE RECEIVED,
INCLUDING INTERFERENCE THAT MAY CAUSE
---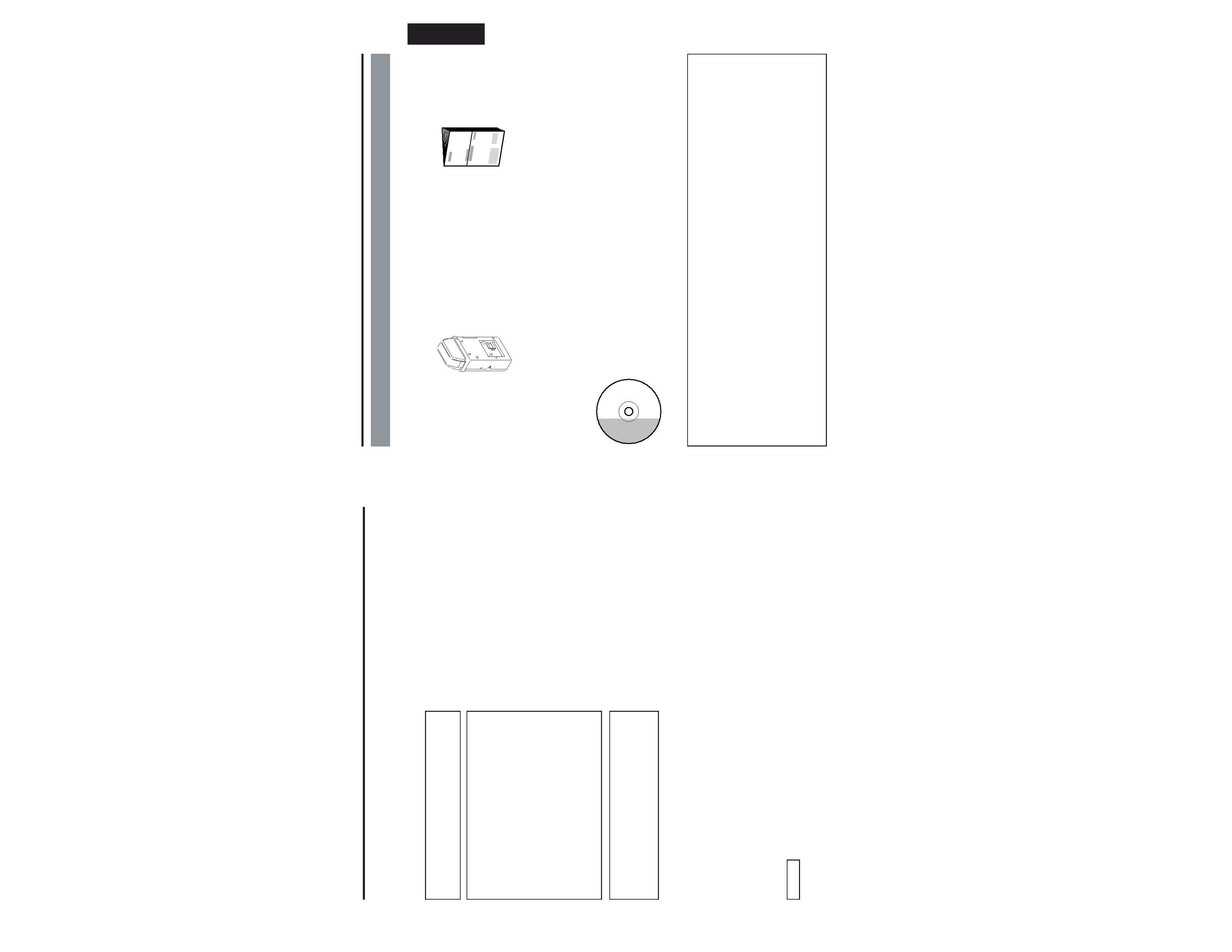 Thank you for purchasing this product.
(These instrustions are for KA-DV5000U)
Before beginning to operate this unit, please read the instruction manual carefully in order
to make sure that the best possible performance is obtained.
TO REDUCE THE RISK OF FIRE OR
ELECTRIC SHOCK, DO NOT EXPOSE
THIS APPLIANCE TO RAIN OR
D'INCENDIE OU D'ELECTRO-CUTION,
NE PAS EXPOSER L'APPAREIL A
L'HUMIDITE OU A LA PLUIE.
Due to design modifications, data given in this
instruction book are subject to possible change
Connection of POWER supply
The power for the network pack is supplied through
the camera that is connected to the network pack.
This equipment is in conformity with the provisions and protection requirements of the correspond-
ing European Directives. This equipment is designed for professional video appliances and can be
used in the following environments:
· residential area (in houses) or rural area
· commercial and light industry; e.g. offices or theatres
In order to keep the best performance and furthermore for electromagnetic compatibility. Use the
PC Card which acquired a CE mark.
Where there are strong electromagnetic waves or magnetism, for example near a radio or TV
transmitter, transformer, motor, etc., the picture may be disturbed. In such case, please keep the
apparatus away from the sources of the disturbance.
Adapter for encoding/decoding video/audio
data by connecting to GY-DV5000.
Setting of the KA-DV5000 is performed on the menu screen of the GY-DV5000 camcorder.
For details on the setting methods, please see the Network Pack User's Guide (pdf) included
CD-ROM\ENU\Network Pack User's Guide (pdf)
When the Streamproducer program included on the provided CD-ROM is installed, the Net-
work Pack User's Guide (pdf) is automatically installed on the PC and added to the Start
[Start/Programs/KA-DV5000U/User's Guide]
The Adobe Acrobat Reader is required to view PDF files.
Network Pack Startup Guide
This document describes the basic matters
for use of the Network Pack.
The following software and these Instructions are included on the provided
· Streamproducer Software
Software used for distributing movies on a network.
· Network Pack User's Guide (pdf)
Reference guide for the Network Pack.
· User's Guide (pdf) to "Streamproducer" ­ the software for network distri-
Software for live broadcasting and distribution on networks.
---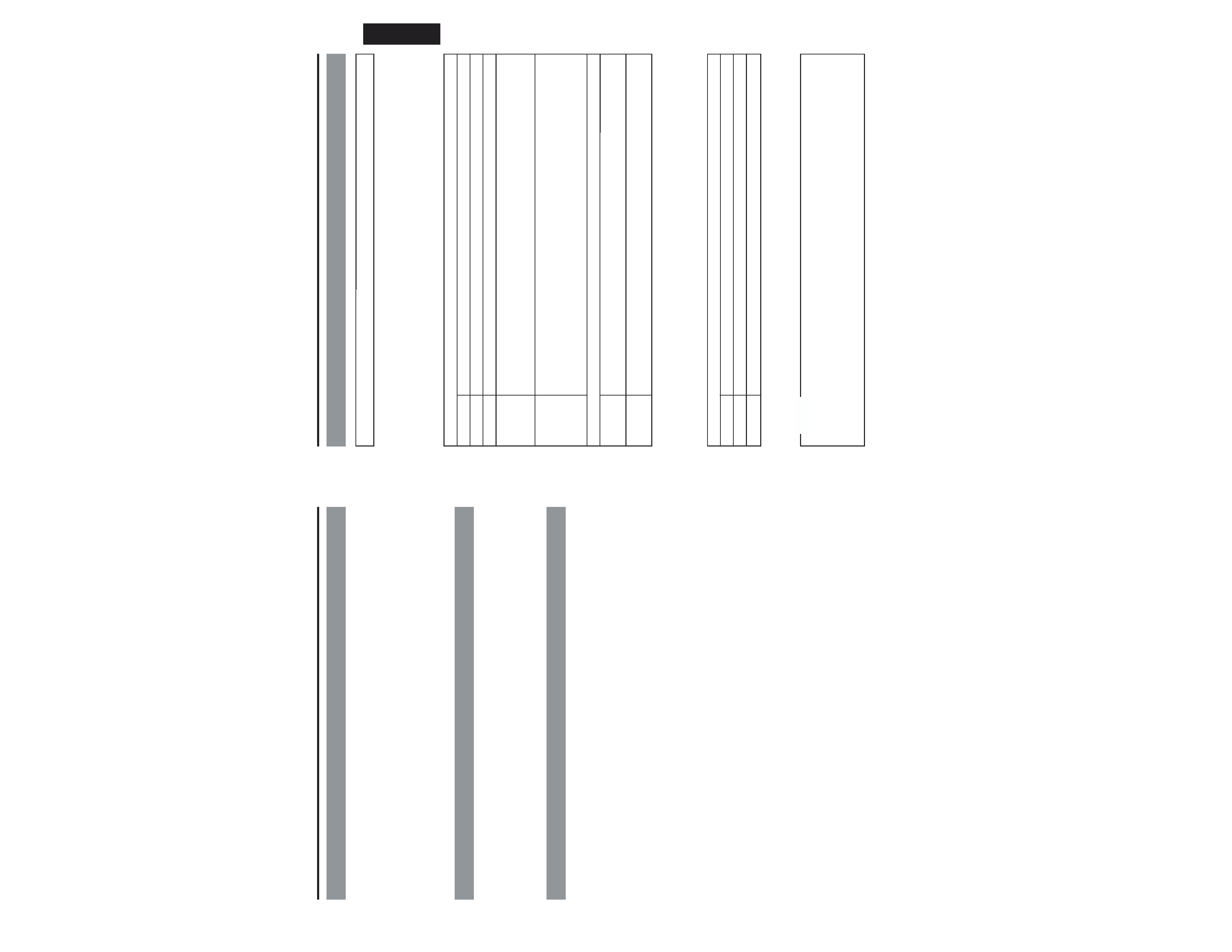 Features ................................................................................................................................................. 4
Precautions ............................................................................................................................................ 4
What the KA-DV5000 can be used for ................................................................................................... 6
Controls, Connectors and Indicators ...................................................................................................... 8
How to Attach ......................................................................................................................................... 9
Confirming correct attachment ............................................................................................................. 10
Installing Streamproducer .................................................................................................................... 11
Specifications ....................................................................................................................................... 12
By connecting the unit to GY-DV5000, video/audio of camera or tape playback can be encoded/
decoded in realtime. Video data is converted to MPEG-4 and audio data is converted to G726.
Installing a LAN-card in the PC card slot enables real-time streaming.
Installing a Compact Flash card in the PC card slot enables real-time capturing.
Network distribution of the video/audio file created by the KA-DV5000 is possible when the
"Streamproducer" program included on the provided CD-ROM is installed on the PC.
Be sure to turn the camcorder's power supply OFF before the KA-DV5000 is attached to the
Be sure to turn the camcorder's power supply OFF before inserting or removing CF (Compact
Flash) cards, etc., into and from the camcorder. Inserting or removing cards while the camcorder's
power supply is turned ON can result in corruption of the recorded sections of the card or damage
The KA-DV5000 accepts the following cards for which operation has been confirmed: (As of August
EA2900-117 (Revision C) (Name of manufacturer: Socket Communications, Inc)
*1
Europe: EA2903-162 (Revision C) (Name of manufacturer: Socket Communications, Inc)
*1
EA2906-194 (Revision C) (Name of manufacturer: Socket Communications, Inc)
*1
(The Revision designation is indicated in the upper right of the serial number label affixed to the
TEW-201PC,TEW-202CF (Name of manufacturer: TRENDware)
WCF11 (Name of manufacturer: LINKSYS)
*2
· CF (Compact Flash) card
SDCFB-16 ~ SDCFB-256 (Name of manufacturer: SanDisk)
*1
Do not use other cards that those for which operation has been confirmed. Improper installation
may cause damage to the KA-DV5000.
For the latest operational check card, visit the website below or contact your JVC dealer.
http://www.jvc-victor.co.jp/english/pro/prodv/stream/
* The names of actual companies and products mentioned in this document may be the trademarks or
registered trademarks of their respective owners.
In this document, symbols like TM, ®, ©, etc. have been omitted.
Streamproducer Operating Environment
Under the following conditions, the Streamproducer can be used in the required operating environment.
· When using 1 camera or 1 file.
· When recording of the camera image is not performed.
· When switched distribution is not performed.
Required operating environment
* 1 hour viewing time requires empty hard disk space equivalent to 25 MB (high
compression) to 200 MB (low compression).
* 1 LAN system for connecting the network pack
* Internet connection to download codec program for playback of moving pictures
* Other network environment for distribution if distribution is to be performed in other
environment than that described above
Windows 2000 Professional (English), Windows XP Home Edition, Windows XP
An environment in which Windows Media Player 7.1 or later is already installed is
necessary for installation of Streamproducer
When using multiple cameras or files, the following operating environment is recommended in order to
make full use of the application's functions.
Recommended Operation Environment
SXGA (1280 X 1024) or more
Other operating environment demands are the same as the required operating environment demands.
The described required operating environment and recommend operating environment are both
meant as guidelines to ensure optimal use of the application but are not meant as guarantee of
operation. Also, even if you use a computer that complies with the operating environment, optimal
use of the application may not be obtainable due to the configuration of your system.
---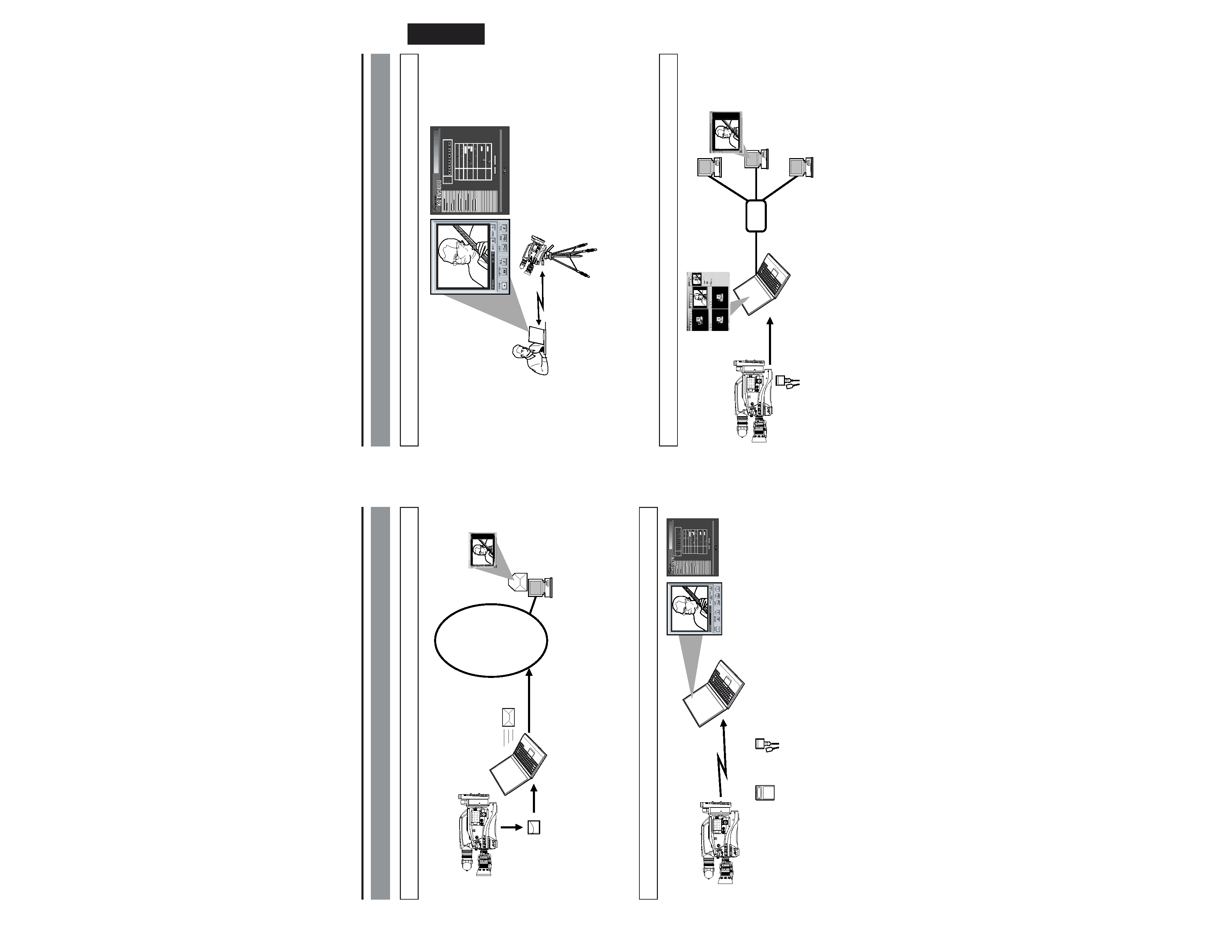 (c) copyright 2002 VICTOR COMPANY OF JAPAN, LIMITED. All rights reserved
What the KA-DV5000 can be used for
Sending camera video/audio by email using CF (Compact Flash) card
Viewing and filing camera images on your PC using "Streamcapture"
See Network Pack User's Guide (pdf) "CF card recording"
1. Using the KA-DV5000 for recording
the camera image on a CF card.
2. Sending an image file stored on a
CF card as an e-mail attachment
2. Using Streamcapture for
viewing and/or filing the
· See "LAN card", "Streamcapture" in the Network Pack User's Guide (pdf)
· See the User's Guide to the "Streamproducer" software for network distribution.
· Windows 2000, Windows XP Home Edition, Windows XP Professional
· Internet Explorer 5.01, 5.5 or 6.0
Connecting a notebook computer for remote control with monitor
Distributing camera images on an intranet
2. Using Streamproducer to
redistribute the camera images
· Internet Explorer 5.01, 5.5 or 6.0
3. Using Windows Media Player
to view the distributed camera
· Windows 98 (SE), Me, 2000,
Camera settings and VTR control can be performed using a notebook computer.
What the KA-DV5000 can be used for (cont'd)
See "Streamcodec" in the Network Pack User's Guide.
· See the User's Guide to the "Streamproducer" software for network distribution.
· See "Network settings", "LAN card" in the Network Pack User's Guide (pdf)
(c) copyright 2002 VICTOR COMPANY OF JAPAN, LIMITED. All rights reserved
---