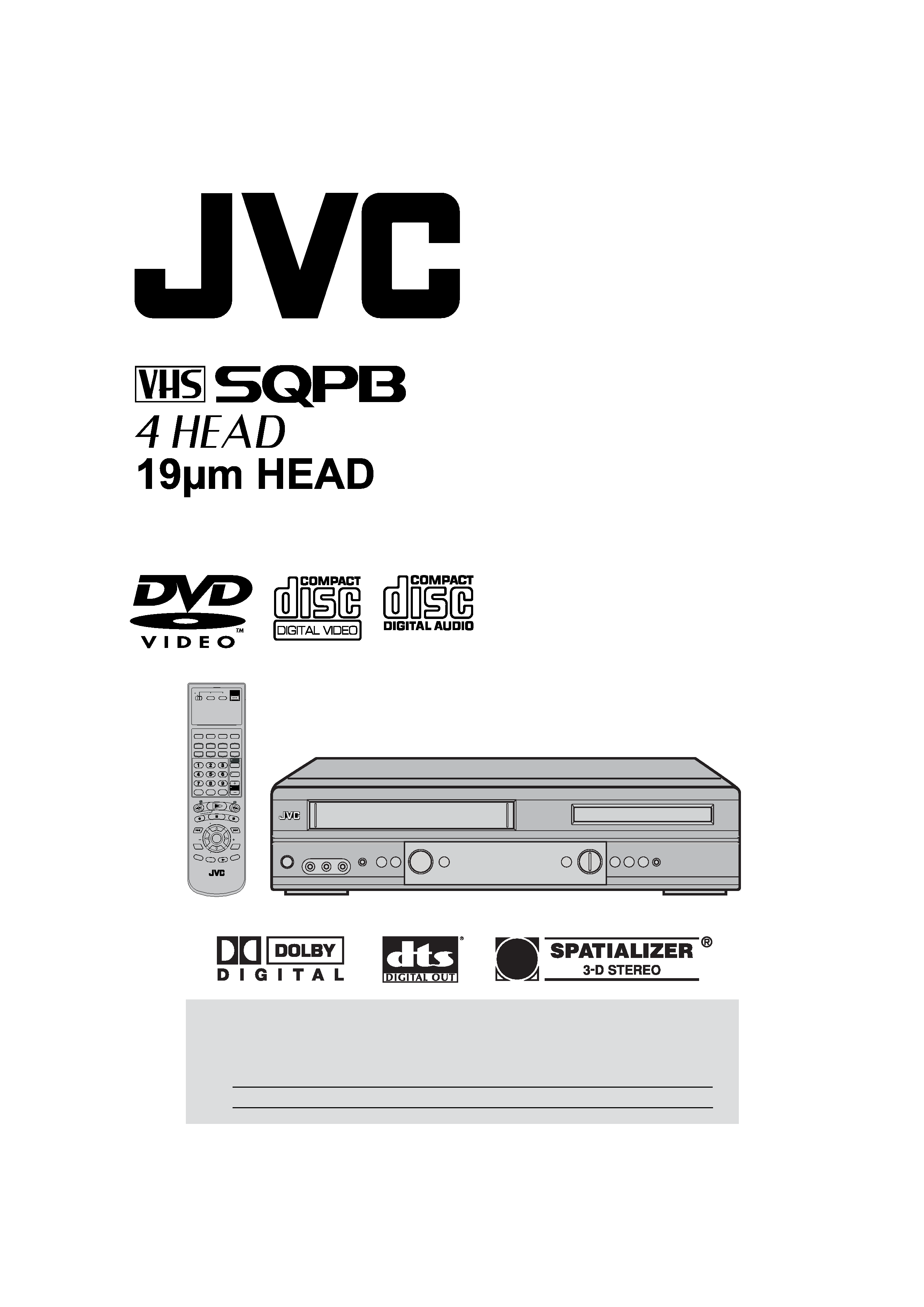 Enter below the Model No. and Serial No. which are located on the rear of cabinet.
Retain this information for future reference.
---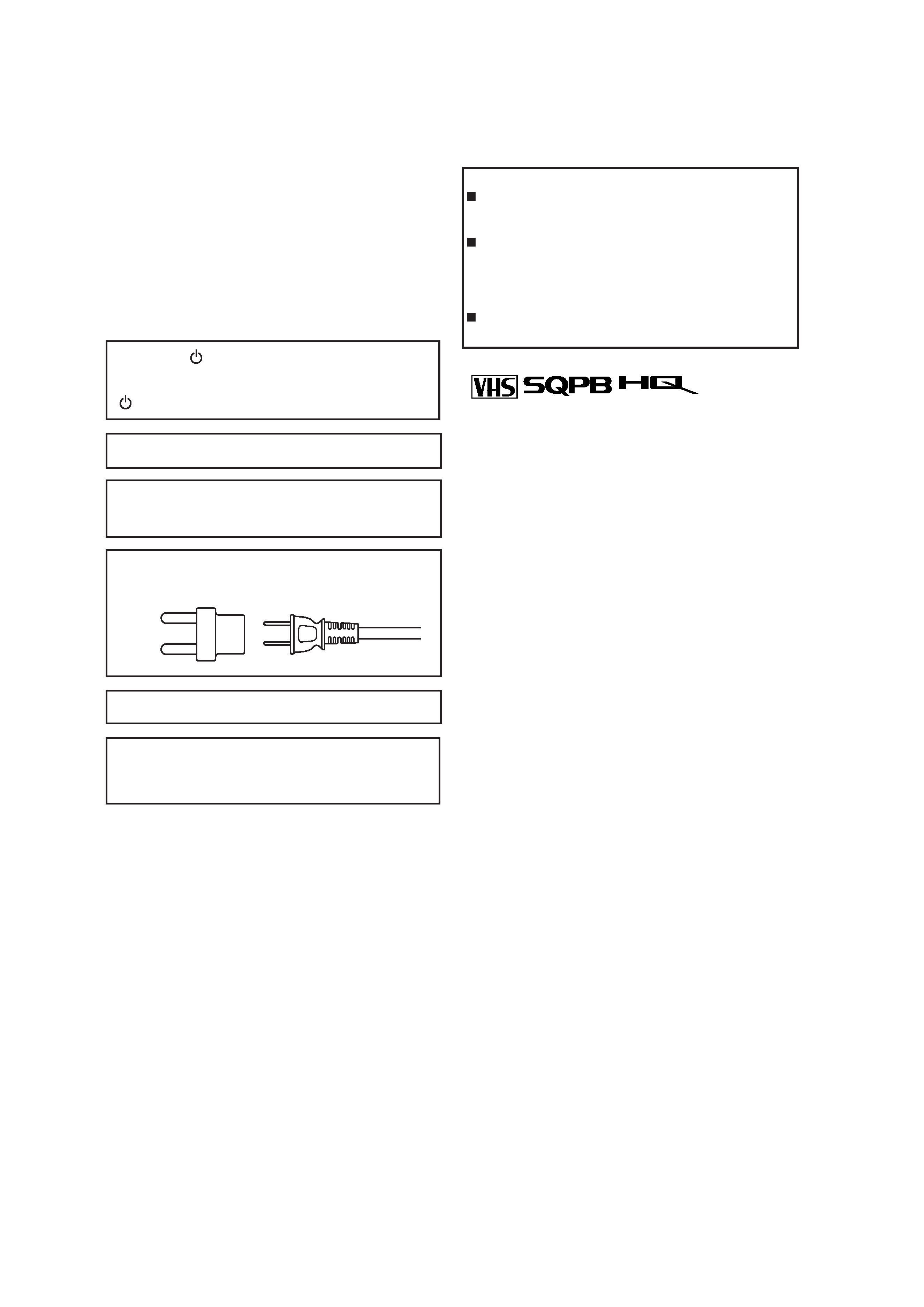 Thank you for purchasing the JVC DVD player video
cassette recorder. Before use, please read the safety
information and precautions to ensure safe use of your new
WARNING: DANGEROUS VOLTAGE INSIDE
WARNING: TO PREVENT FIRE OR SHOCK HAZARD,
DO NOT EXPOSE THIS UNIT TO RAIN OR
/l button does not completely shut off
mains power from the unit, but switches operating current
" shows electrical power standby and " l " shows ON.
This unit is produced to comply with Standard IEC 60065.
Use the conversion plug (provided) depending on the type
The rating plate and safety caution are on the rear of the unit.
It may be unlawful to record or play back copyrighted
material without the consent of the copyright owner.
This set operates on voltage of AC 110 ­ 220V~, 50/60 Hz
with automatic switching.
· Cassettes marked "VHS" (or "S-VHS") can be used with
this DVD/VCR. However, S-VHS recording is not possible
· This model is equipped with SQPB (S-VHS QUASI
PLAYBACK) that makes it possible to play back S-VHS
recordings with regular VHS resolution.
· HQ VHS is compatible with existing VHS equipment.
· When you are not using the DVD/VCR for a long period
of time, it is recommended that you disconnect the power
· Dangerous voltage inside. Refer internal servicing to
qualified service personnel. To prevent electric shock or
fire hazard, remove the power cord from the AC outlet
prior to connecting or disconnecting any signal lead or
· Changes or modifications not approved by JVC could
void user's authority to operate the equipment.
---

When the equipment is installed in a cabinet or a shelf, make
sure that it has sufficient space on all sides to allow for
ventilation (10 cm or more on both sides, on top and at the
When discarding batteries, environmental problems must be
considered and the local rules or laws governing the
disposal of these batteries must be followed strictly.
Failure to heed the following precautions may result in
damage to the DVD/VCR, Remote or video cassette.
1. DO NOT place the DVD/VCR ...
... in an environment prone to extreme temperatures or humidity.
... in a dusty environment.
... in an environment where strong magnetic fields are generated.
... on a surface that is unstable or subject to vibration.
2. DO NOT block the DVD/VCR's ventilation openings or
(If the ventilation openings or holes are blocked by a
newspaper or cloth, etc., the heat may not be able to get out.)
3. DO NOT place heavy objects on the DVD/VCR or Remote.
4. DO NOT place anything which might spill on top of the
(If water or liquid is allowed to enter this equipment, fire or
electric shock may be caused.)
5. DO NOT expose the apparatus to dripping or splashing.
6. DO NOT use this equipment in a bathroom or places with
water. Also DO NOT place any containers filled with water
or liquids (such as cosmetics or medicines, flower vases,
potted plants, cups, etc.) on top of this unit.
7. DO NOT place any naked flame sources, such as lighted
candles, on the apparatus.
8. AVOID violent shocks to the DVD/VCR during transport.
Moisture in the air will condense on the DVD/VCR when you
move it from a cold place to a warm place, or under
extremely humid conditions--just as water droplets form on
the surface of a glass filled with cold liquid. Moisture
condensation on the head drum will cause damage to the
tape. In conditions where condensation may occur, keep the
DVD/VCR's power turned on for a few hours to let the
Before use, insert two AAA size batteries into the Remote
) matched correctly as indicated
on the battery compartment or on the lid.
Point the Remote toward the remote sensor on the target
The maximum operating distance of the remote control is
If the Remote does not work properly, remove its batteries,
wait for a few seconds, replace the batteries and then try
The heads get dirty in the following cases:
in an environment prone to extreme temperature or humidity.
flaw, dirt or mold on video tapes
continuous usage for a long time
Use a dry cleaning cassette -- TCL-2 -- when:
Rough, poor picture appears while a tape is played back.
The picture is unclear or no picture appears.
A DVD/VCR IS A CLASS 1 LASER PRODUCT. HOWEVER THIS DVD/VCR USES A VISIBLE LASER
BEAM WHICH COULD CAUSE HAZARDOUS RADIATION EXPOSURE IF DIRECTED. BE SURE TO
OPERATE THE PLAYER CORRECTLY AS INSTRUCTED.
THE FOLLOWING CAUTION LABEL IS LOCATED ON THE REAR PANEL OF THE DVD/VCR.
WHEN THIS DVD/VCR IS PLUGGED INTO THE WALL OUTLET, DO NOT PLACE YOUR EYES CLOSE TO
THE OPENING OF THE DISC TRAY AND OTHER OPENINGS TO LOOK INTO THE INSIDE OF THIS
USE OF CONTROLS OR ADJUSTMENTS OR PERFORMANCE OF PROCEDURES OTHER THAN
THOSE SPECIFIED HEREIN MAY RESULT IN HAZARDOUS RADIATION EXPOSURE.
DO NOT OPEN COVERS AND DO NOT REPAIR YOURSELF. REFER SERVICING TO QUALIFIED
---

THIS DIGITAL VIDEO PLAYER EMPLOYS A LASER SYSTEM.
TO ENSURE PROPER USE OF THIS PRODUCT, PLEASE READ THIS USER'S GUIDE CAREFULLY AND
RETAIN FOR FUTURE REFERENCE. SHOULD THE UNIT REQUIRE MAINTENANCE, CONTACT A JVC
AUTHORIZED SERVICE CENTER.
USE OF CONTROLS, ADJUSTMENTS OR THE PERFORMANCE OF PROCEDURES OTHER THAN THOSE
SPECIFIED HEREIN MAY RESULT IN HAZARDOUS RADIATION EXPOSURE.
TO PREVENT DIRECT EXPOSURE TO LASER BEAM, DO NOT TRY TO OPEN THE ENCLOSURE. VISIBLE
LASER RADIATION MAY BE PRESENT WHEN THE ENCLOSURE IS OPENED. DO NOT STARE INTO
---

This product incorporates copyright protection technology that is protected by
method claims of certain U.S. patents and other intellectual property rights owned
by Macrovision Corporation and other rights owners. Use of this copyright
protection technology must be authorized by Macrovision Corporation or other
rights owners and is intended for home and other limited viewing uses only unless
otherwise authorized by Macrovision Corporation or other rights owners. Reverse
engineering or disassembly is prohibited.
Manufactured under license from Dolby Laboratories. "Dolby" and the double-D
symbol are trademarks of Dolby Laboratories. Confidential unpublished works. ©
1992-1997 Dolby Laboratories, Inc. All rights reserved.
"DTS" and "DTS Digital Out" are trademarks of Digital Theater Systems, Inc.
Certain audio features of this product manufactured under license from Desper
Products,Inc. Spatializer and the circle - in - square device are trademarks owned
Unauthorized recording of copyrighted television programs, films, video cassettes
and other materials may infringe the rights of copyright owners and be contrary
---