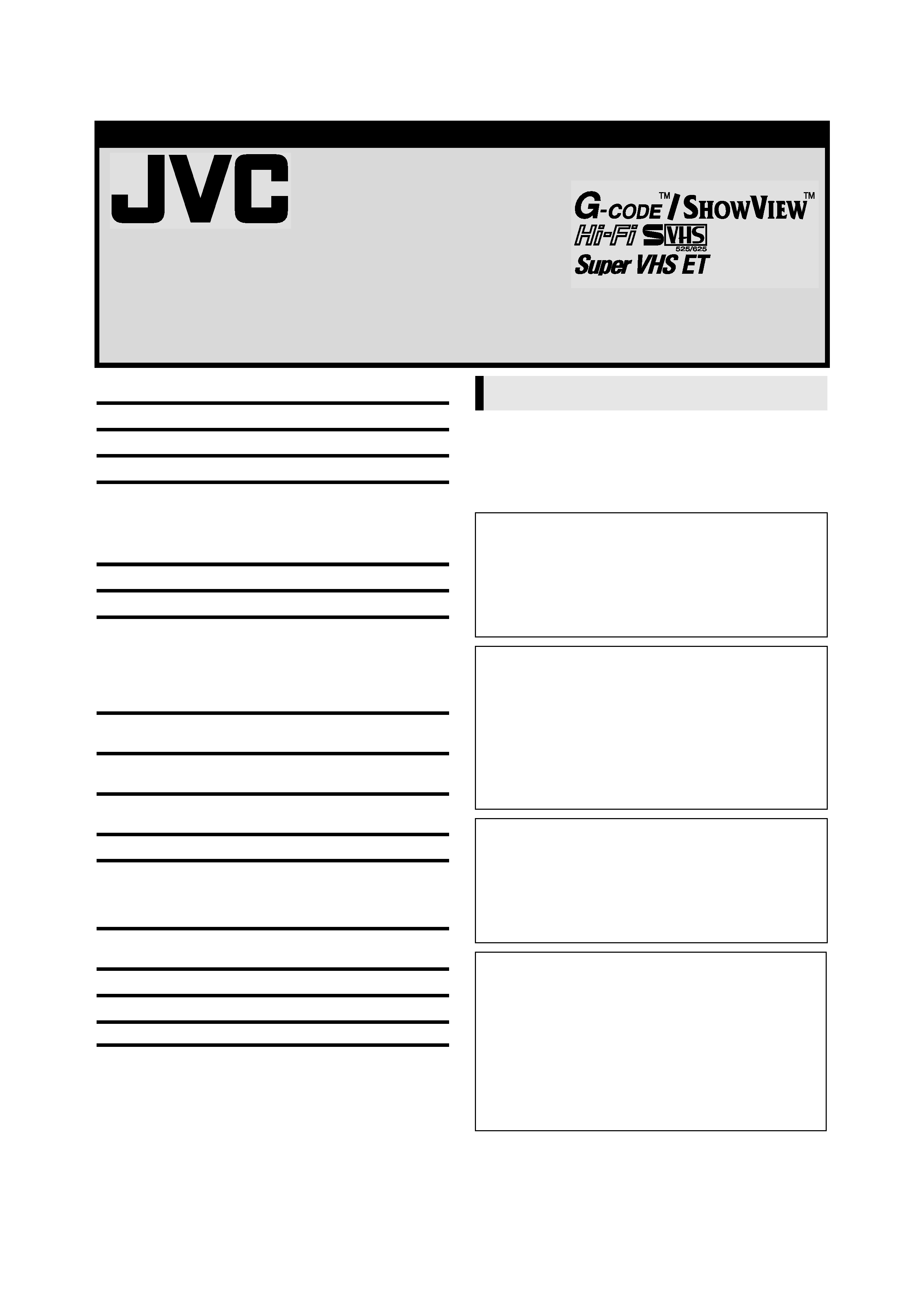 SAFETY FIRST ............................................................................... 1
Buttons, Connectors and Indicators ................................................ 3
Basic Connections.......................................................................... 4
Initial Settings .............................................................................. 5
Video Channel Set.................................................................. 5
Auto Set Up............................................................................ 5
Language Setting .................................................................... 6
Clock setting........................................................................... 6
Playback ...................................................................................... 6
Recording..................................................................................... 8
Timer Recording.......................................................................... 10
G-
CODE
TM
/S
HOW
V
IEW
TM
System Setup ................................... 10
G-
CODE
TM
/S
HOW
V
IEW
TM
Timer Programming ......................... 10
Express Timer Programming.................................................. 11
24H Express Timer Programming.......................................... 12
Automatic Satellite Program Recording................................. 13
Program Navigation.................................................................... 14
Navigation............................................................................ 14
Other functions........................................................................... 15
Function Settings .................................................................. 15
Special Features.......................................................................... 16
Remote Control Functions .................................................... 16
Tuner Setting .............................................................................. 18
Editing ....................................................................................... 19
Editing from a camcorder ..................................................... 19
Edit to or from Another Video Recorder................................ 20
Audio Dubbing..................................................................... 20
System Connections .................................................................... 21
Connecting/Using a Stereo System ....................................... 21
Specifications.............................................................................. 22
Information on Multi-System Compatibility................................... 23
Troubleshooting .......................................................................... 25
The rating plate and the safety caution are on the rear of the unit.
WARNING: DANGEROUS VOLTAGE INSIDE
WARNING: TO PREVENT FIRE OR SHOCK HAZARD, DO NOT
EXPOSE THIS UNIT TO RAIN OR MOISTURE.
When you are not using the recorder for a long period of
time, it is recommended that you disconnect the power cord
Dangerous voltage inside. Refer internal servicing to qualified
service personnel. To prevent electric shock or fire hazard,
remove the power cord from the mains outlet prior to
connecting or disconnecting any signal lead or aerial.
1. This recorder can also receive SECAM colour television
signals for recording and playback.
2. Recordings made of SECAM television signals produce
monochrome pictures if played back on another video
recorder of SECAM standard, or do not produce normal
colour pictures if played back on another video recorder of
3. SECAM prerecorded cassettes or recordings made with a
SECAM video recorder produce monochrome pictures when
played back with this recorder.
Please read the various precautions on this page before
installing or operating the recorder.
It should be noted that it may be unlawful to re-record pre-
recorded tapes, records, or discs without the consent of the
owner of copyright in the sound or video recording, broadcast
or cable programme and in any literary, dramatic, musical, or
artistic work embodied therein.
Caution on Replaceable lithium battery
The battery used in this device may present a fire or chemical
burn hazard if mistreated. Do not recharge, disassemble, heat
above 100°C or incinerate.
Replace battery with Panasonic (Matsushita Electric), Sanyo,
Danger of explosion or Risk of fire if the battery is incorrectly
Dispose of used battery promptly.
Do not disassemble and do not dispose of in fire.
HR-S5980AH.5980AJ_EN001B.fm Page 1 Monday, June 9, 2003 8:21 AM
---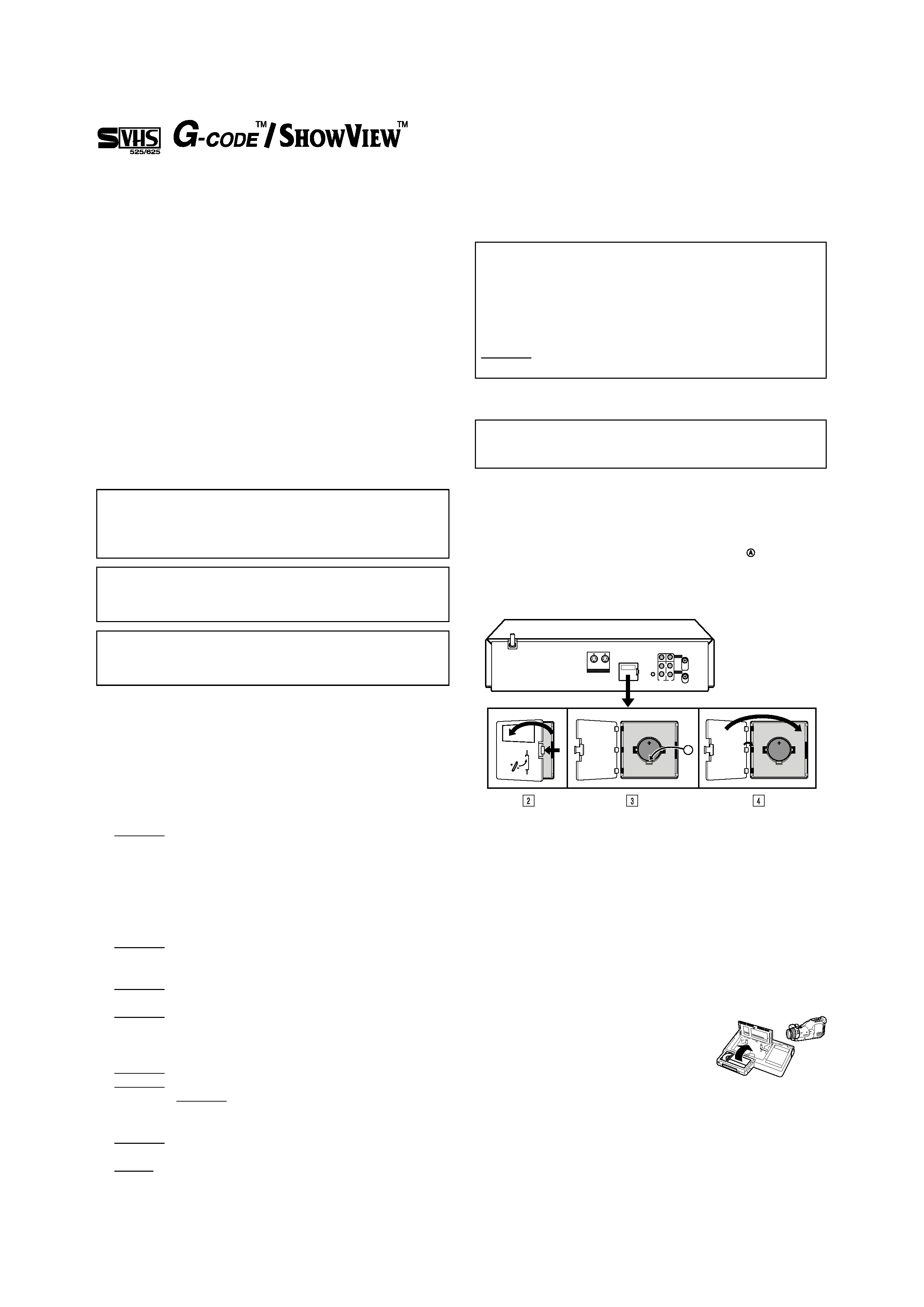 Cassettes marked "S-VHS" and "VHS" can be used with this
video cassette recorder. However, S-VHS recordings are
possible only with cassettes marked "S-VHS".
By using the S-VHS ET function, it is possible to record and play
back with S-VHS picture quality on VHS cassettes with this
HQ VHS is compatible with existing VHS equipment.
G-
CODE
is a trademark of Gemstar Development Corporation
and is registered in the following countries and areas: Australia,
China, Hong Kong, Japan, South Korea, New Zealand, and
Taiwan. S
HOW
V
IEW
is a trademark of Gemstar Development
Corporation and is registered in the following countries: Austria,
Belgium, Czech Republic, Denmark, Finland, France, Germany,
Greece, Hungary, Iceland, Italy, Luxembourg, Netherlands,
Norway, Poland, Portugal, Russia, Slovakia, South Africa, Spain,
Sweden and Switzerland. The G-
CODE
/S
HOW
V
IEW
system is
manufactured under license from Gemstar Development
G-
CODE
and S
HOW
V
IEW
are different trademarks used to
represent the same easy recording feature. However, for
simplicity, only the term G-
CODE
will be used in the instructions.
If you use S
HOW
V
IEW
system, follow the same steps listed for the
When the equipment is installed in a cabinet or a shelf, make sure
that it has sufficient space on all sides to allow for ventilation
(10 cm or more on both sides, on top and at the rear).
When discarding batteries, environmental problems must be
considered and the local rules or laws governing the disposal of
these batteries must be followed strictly.
Failure to heed the following precautions may result in damage to
the recorder, remote control or video cassette.
1. DO NOT place the recorder ...
... in an environment prone to extreme temperatures or
... in a dusty environment.
... in an environment where strong magnetic fields are
... on a surface that is unstable or subject to vibration.
2. DO NOT block the recorder's ventilation openings or holes.
(If the ventilation openings or holes are blocked by a
newspaper or cloth, etc., the heat may not be able to get out.)
3. DO NOT place heavy objects on the recorder or remote
4. DO NOT place anything which might spill on top of the
recorder or remote control.
(If water or liquid is allowed to enter this equipment, fire or
electric shock may be caused.)
5. DO NOT expose the apparatus to dripping or splashing.
6. DO NOT use this equipment in a bathroom or places with
water. Also DO NOT place any containers filled with water or
liquids (such as cosmetics or medicines, flower vases, potted
plants, cups, etc.) on top of this unit.
7. DO NOT place any naked flame sources, such as lighted
candles, on the apparatus.
8. AVOID violent shocks to the recorder during transport.
Moisture in the air will condense on the recorder when you move
it from a cold place to a warm place, or under extremely humid
conditions--just as water droplets form on the surface of a glass
filled with cold liquid. Moisture condensation on the head drum
will cause damage to the tape. In conditions where condensation
may occur, keep the recorder turned on for a few hours to let the
Installing/removing the lithium battery
A Make sure that the power plug is connected to an AC outlet
and turn off the recorder power.
B Open the battery cover while pressing the release tab as
C Insert a lithium battery with the plus (+) side up and push it in.
To remove the lithium battery, press the latch downward
using a pointed non-metallic object, then pull out the lithium
D Close the battery cover until it clicks in place.
The heads get dirty in the following cases:
in an environment prone to extreme temperature or humidity
flaw, dirt or mold on video tapes
continuous usage for a long time
Use a dry cleaning cassette -- TCL-2 -- when:
Rough, poor picture appears while a tape is played back.
The picture is unclear or no picture appears.
"USE CLEANING CASSETTE" appears on the screen (only with
Compact VHS camcorder recordings can
be played on this video recorder. Simply
place the recorded cassette into a VHS
Cassette Adapter and it can be used just
like any full-sized VHS cassette.
This video recorder can record on regular VHS and Super VHS
cassettes. While only VHS signals can be recorded on regular
VHS cassettes*, both VHS and Super VHS signals can be
recorded and played back using Super VHS cassettes.
* By using the S-VHS ET function, it is possible to record and play back
with S-VHS picture quality on VHS cassettes with this recorder (
This set operates on voltage of AC110 V ­ 240 Vd (Rating),
AC90 V ­ 260 Vd (Operating), 50 Hz/60 Hz with automatic
The STANDBY/ON 1 button does not completely shut off
mains power from the unit, but switches operating current on
and off. "`" shows electrical power standby and "!" shows ON.
Video tapes recorded with this video recorder in the LP (Long
Play) or EP (Extended Play) mode cannot be played back on a
single-speed video recorder.
Using a mobile phone in the vicinity of the recorder may cause
picture vibration on the TV screen or change the screen to a
Some TVs or other appliances generate strong magnetic fields.
DO NOT place such appliance on top of the recorder as it may
cause picture disturbance.
Be sure to connect the power plug to an AC outlet first before
installing the lithium battery; otherwise, the battery's service life
will be drastically shortened.
HR-S5980AH.5980AJ_EN001B.fm Page 2 Thursday, June 12, 2003 5:25 PM
---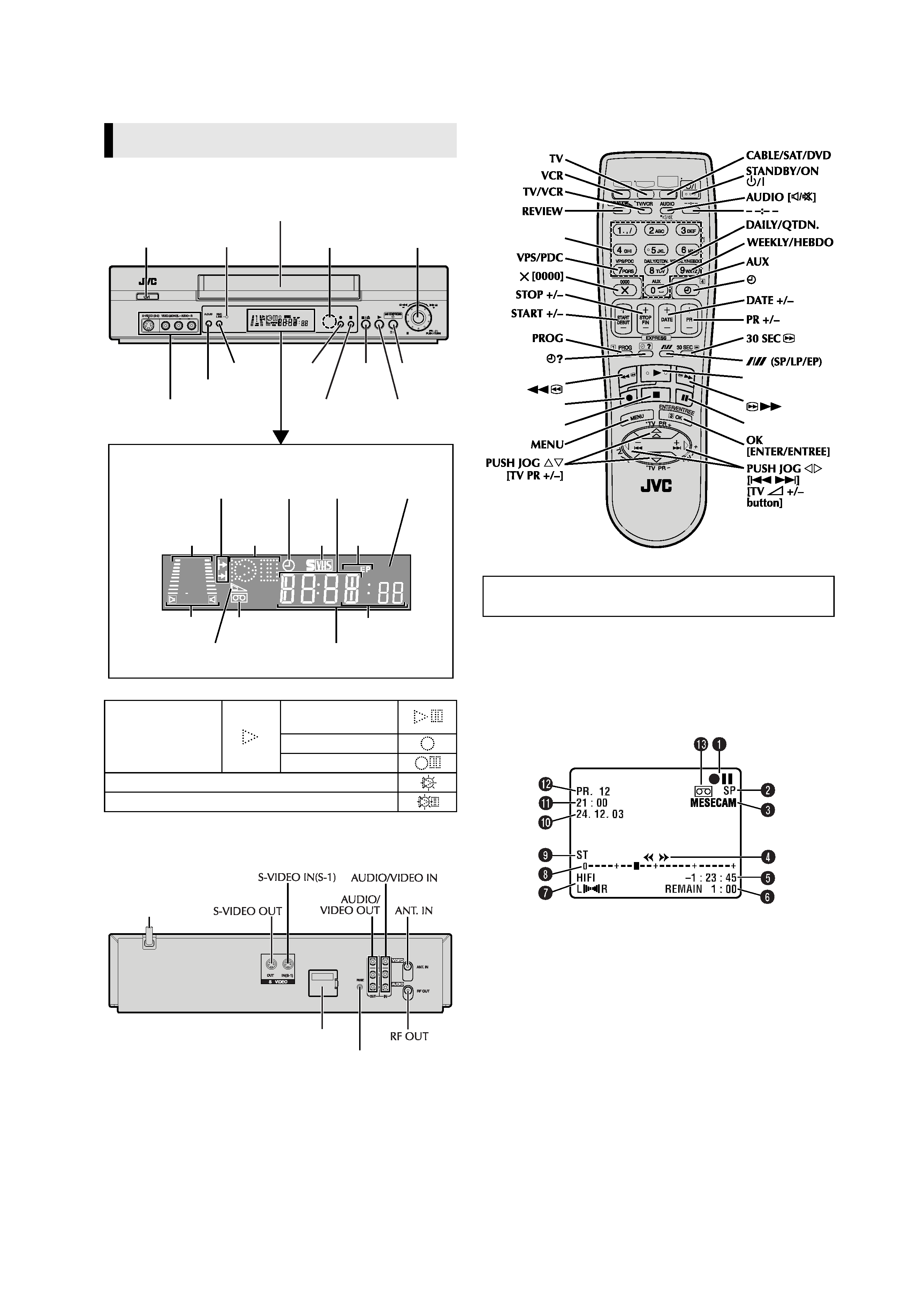 If you press ENTER (OK ) on the remote control when "O.S.D." is
15), you can see the current recorder status on the
screen. To clear the on-screen display, press ENTER (OK ) again.
The indications are not recorded even if the recorder is in the
A Operation mode indicators
C Colour system indicator (
F Tape remaining time indicator
H Tape position indicator (
L Channel position number/Aux. indicator (L-1, F-1, S-1 or S-2)
Buttons, Connectors and Indicators
Lithium battery compartment
Buttons with a small dot on the left side of the name can also be
used to operate your TV (
HR-S5980AH.5980AJ_EN001B.fm Page 3 Friday, June 6, 2003 4:31 PM
---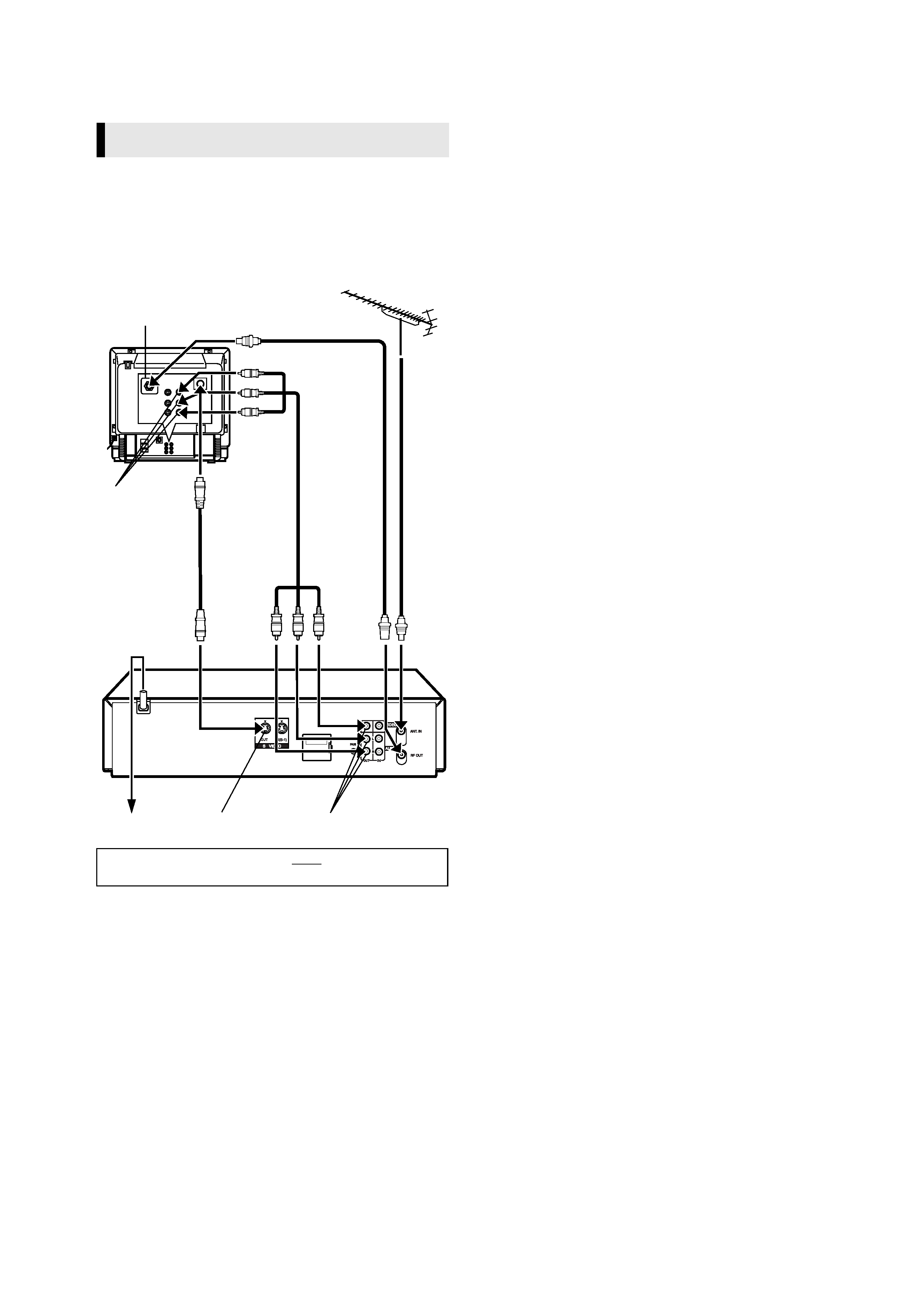 Make sure the package contains all of the accessories listed in
Place the recorder on a stable, horizontal surface.
A Disconnect the TV aerial cable from the TV.
B Connect the TV aerial cable to the ANT. IN connector on the
C Connect the provided RF cable between the RF OUT
connector on the rear of the recorder and the TV's aerial
If your TV is equipped with a AV Input Terminals connector,
perform AV connection to improve picture quality during tape
A Connect the aerial, recorder and TV as shown in the
B Connect an optional AV cable between the AUDIO OUT/
VIDEO OUT connector on the rear of the recorder and the
(allows you to make the most of the S-VHS picture performance.)
If your TV is equipped with a S-video input connector
A Perform "RF Connection" previously described.
B Connect the supplied S-video cable between the S-VIDEO
OUT connector on the rear of the recorder and the S-video
input connector on the TV.
C Connect an audio cable between the AUDIO OUT connectors
on the rear of the recorder and the audio input connectors on
Even if you are using audio/video cables to connect your
recorder to your TV, you must also connect it using the RF cable.
This will ensure that you can record one show while watching
D
Connect recorder to mains
Plug the mains power cord into a mains outlet.
Connect the power plug to an AC outlet before installing the lithium
HR-S5980AH.5980AJ_EN001B.fm Page 4 Friday, June 6, 2003 4:31 PM
---