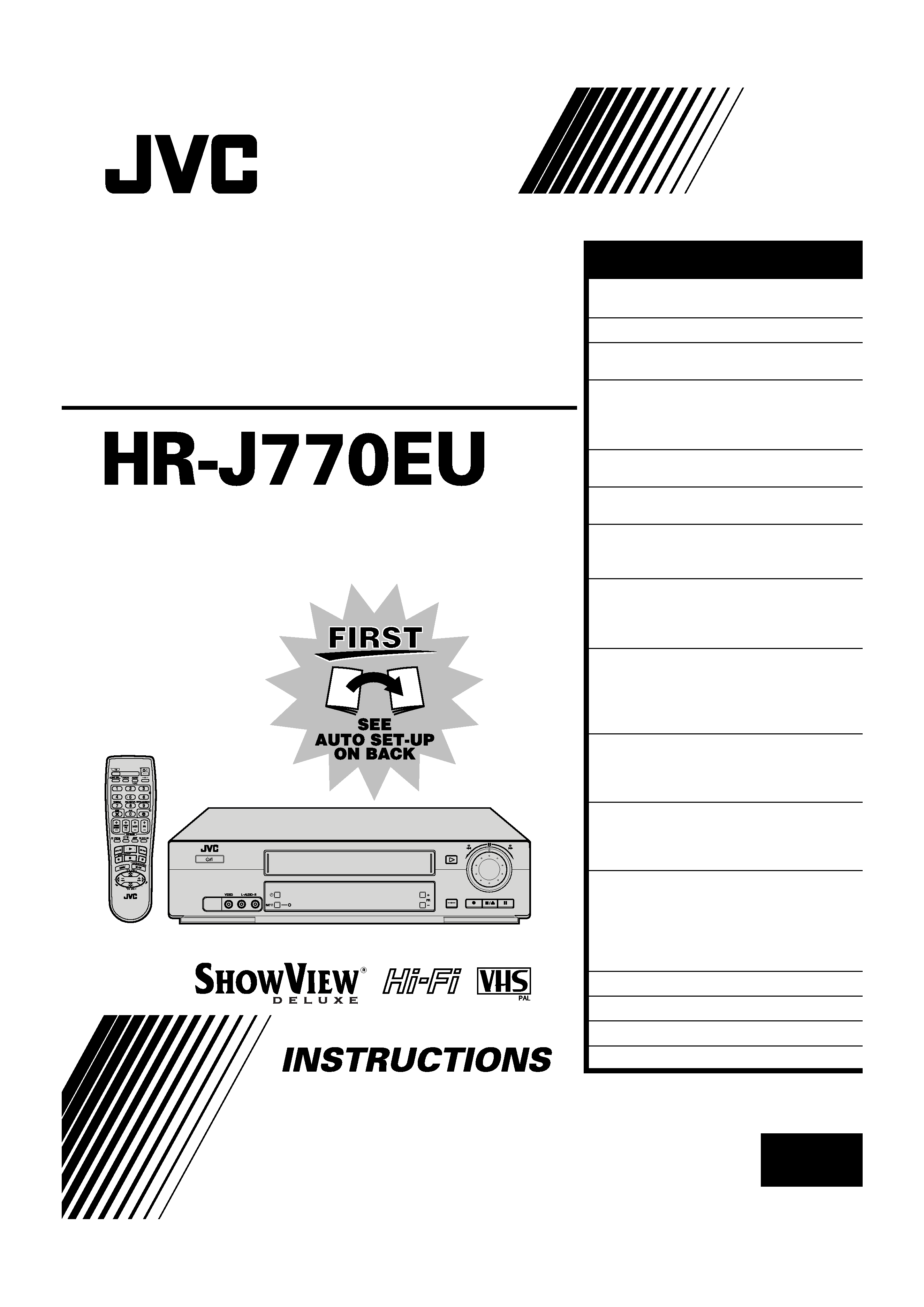 Safety Precautions .................................2
INSTALLING YOUR NEW RECORDER
Basic Connections ................................7
Auto Set Up ..........................................8
Preset Download ................................10
Language ............................................12
Satellite Receiver Control Setting ........13
T-V Link Functions ..............................15
Basic Playback ....................................16
Playback Features ...............................17
Basic Recording ..................................20
Recording Features .............................21
B.E.S.T. Picture System .......................23
S
HOW
V
IEW®
Timer Programming ........24
Express Timer Programming ................26
Automatic Satellite Programme
Recording ...........................................30
Edit From A Camcorder ......................31
Edit To Or From Another Video
Recorder .............................................32
Connecting To A Satellite Receiver .....33
Connecting/Using A Decoder .............34
Connecting/Using A Stereo System .....35
Mode Set ............................................36
Tuner Set ............................................40
Video Channel Set ..............................46
S
HOW
V
IEW®
Setup ..............................47
Clock Set ............................................48
Cov1.fm Page 1 Thursday, January 13, 2000 2:24 PM
---

The rating plate and the safety caution are on the rear of the unit.
WARNING: DANGEROUS VOLTAGE INSIDE
WARNING: TO PREVENT FIRE OR SHOCK HAZARD, DO NOT EXPOSE THIS UNIT
8
When you are not using the recorder for a long period of time, it is recommended that you disconnect
the power cord from the mains outlet.
8
Dangerous voltage inside. Refer internal servicing to qualified service personnel. To prevent electric
shock or fire hazard, remove the power cord from the mains outlet prior to connecting or
disconnecting any signal lead or aerial.
There are two different types of SECAM colour systems: SECAM-L, used in FRANCE (also called SECAM-
West), and SECAM-B, used in Eastern European countries (also called SECAM-East).
1. This recorder can also receive SECAM-B colour television signals for recording and playback.
2. Recordings made of SECAM-B television signals produce monochrome pictures if played back on a
video recorder of SECAM-L standard, or do not produce normal colour pictures if played back on a
PAL video recorder with SECAM-B system incorporated (even if the TV set is SECAM-compatible).
3. SECAM-L prerecorded cassettes or recordings made with a SECAM-L video recorder produce
monochrome pictures when played back with this recorder.
4. This recorder cannot be used for the SECAM-L standard. Use a SECAM-L recorder to record SECAM-L
8
Please read the various precautions on page 2 and 3 before installing or operating the recorder.
8
It should be noted that it may be unlawful to re-record pre-recorded tapes, records, or discs without
the consent of the owner of copyright in the sound or video recording, broadcast or cable programme
and in any literary, dramatic, musical, or artistic work embodied therein.
Cassettes marked "VHS" (or "S-VHS") can be used with this video cassette recorder, however, only VHS signals can be played back
HQ VHS is compatible with existing VHS equipment.
S
HOW
V
IEW
is a registered trademark of Gemstar Development Corporation. The S
HOW
V
IEW
system is manufactured under licence
from Gemstar Development Corporation.
HRJ670EU1.fm Page 2 Thursday, January 13, 2000 2:24 PM
---

Failure to heed the following precautions may result in damage to the recorder, remote control or video
1. DO NOT place the recorder . . .
...in an environment prone to extreme temperatures or humidity.
...in a dusty environment.
...in an environment where strong magnetic fields are generated.
...on a surface that is unstable or subject to vibration.
2. DO NOT block the recorder's ventilation openings.
3. DO NOT place heavy objects on the recorder or remote control.
4. DO NOT place anything which might spill on top of the recorder or remote control.
5. AVOID violent shocks to the recorder during transport.
Moisture in the air will condense on the recorder when you move it from a cold place to a warm place, or
under extremely humid conditions-just as water droplets form in the surface of a glass filled with cold
liquid. Moisture condensation on the head drum will cause damage to the tape. In conditions where
condensation may occur, keep the recorder turned on for a few hours to let the moisture dry.
"It is declared that this product, brand JVC, conforms to the Ministry Decree n. 548 of 28 Aug.'95
published in the Official Gazette of the Italian Republic n. 301 of 28 Dec.'95"
1
button does not completely shut off mains power from the unit, but switches
operating current on and off. "
`
" shows electrical power standby and "
!
" shows ON.
Video tapes recorded with this video recorder in the LP (Long Play) mode cannot be played back on a
single-speed video recorder.
HRJ670EU1.fm Page 3 Thursday, January 13, 2000 2:24 PM
---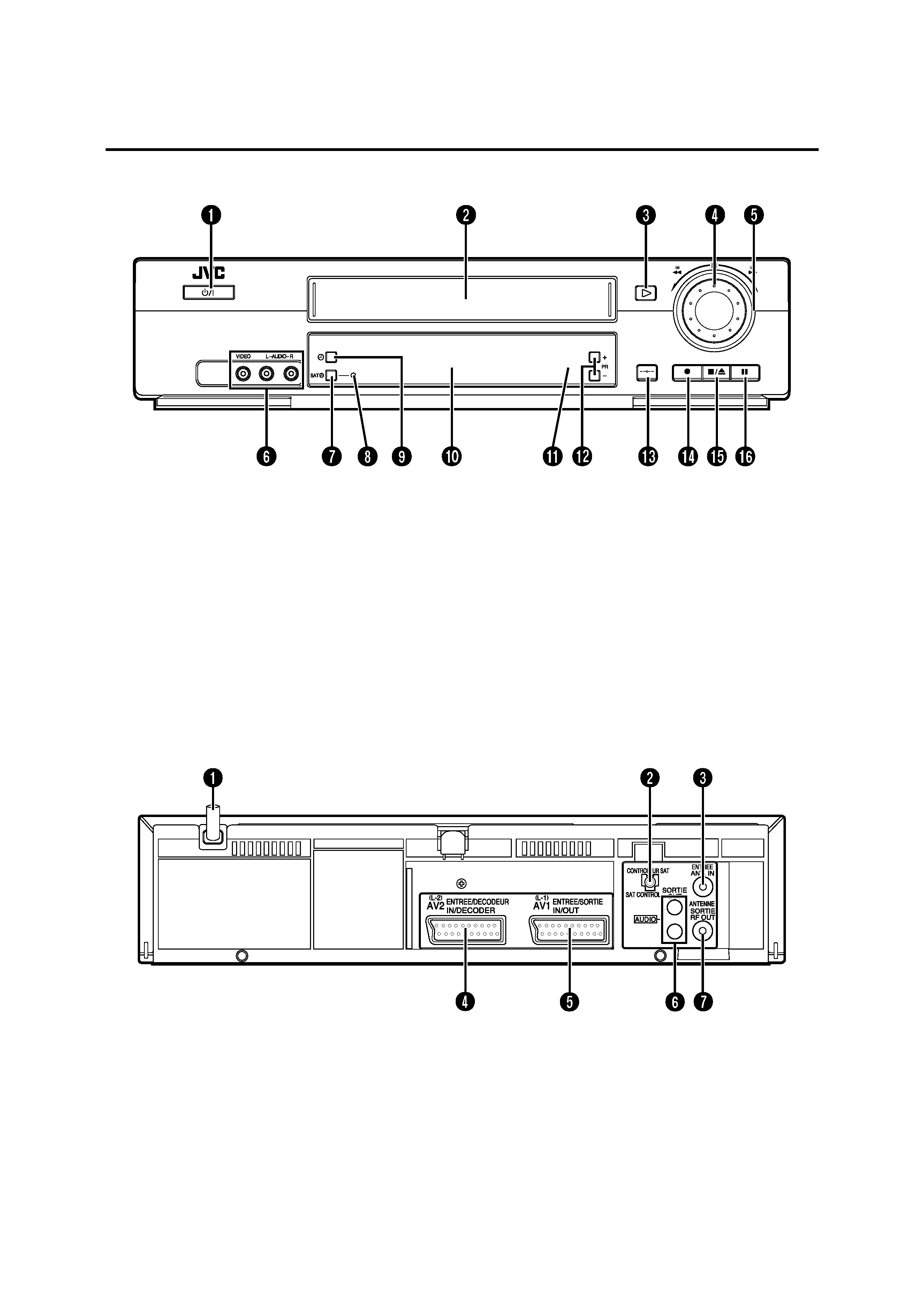 F
VIDEO/AUDIO Input Connectors
K
Infrared Beam Receiving Window
M
Display ­ ­ : ­ ­ Button
D
AV2 (L-2) IN/DECODER Connector
E
AV1 (L-1) IN/OUT Connector
F
AUDIO OUT (L/R) Connectors
HRJ670EU1.fm Page 4 Thursday, January 13, 2000 2:24 PM
---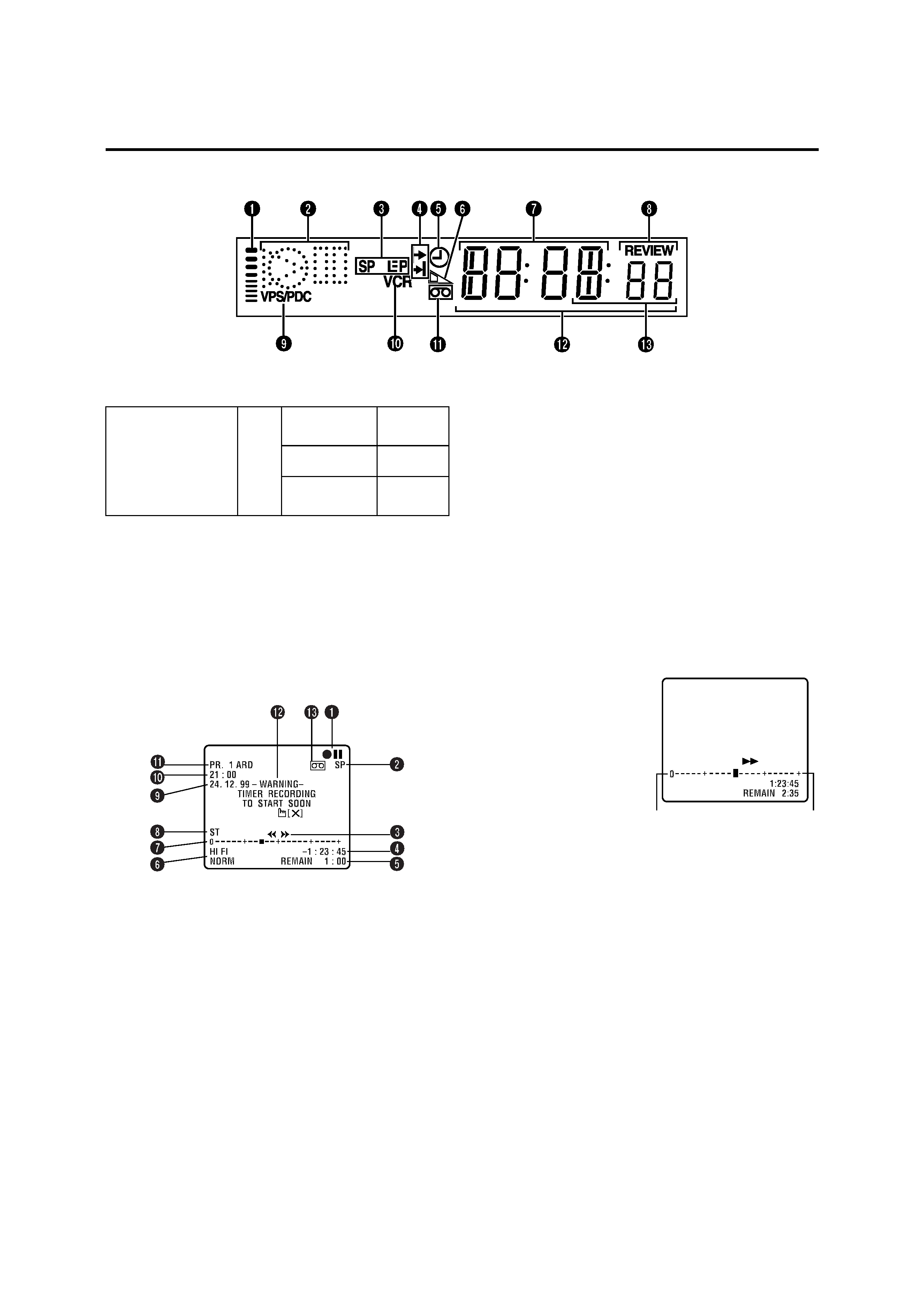 A
B.E.S.T. Picture System Display
B
Symbolic Mode Indicators
* EP is for NTSC playback only.
D
Programme Time Indicators
F
Tape Remaining Time Indicator
H
Instant REVIEW Indicator
M
Mode Display (L-1, L-2, F-1 or SAT*)
* When "L-2 SELECT" is set to "SAT" (
When "O.S.D." is set to "ON" (
operational indicators appear on the TV screen.
A
Operation mode indicators
* EP is for NTSC playback only.
E
Tape remaining time indicator
G
Tape position indicator
The tape position indicator
or perform an Index Search
Depending on the type of tape used, the tape position
indicator may not appear correctly.
K
Channel position number and station name/
Auxiliary input indicator (L-1, L-2, F-1 or SAT*)
* When "L-2 SELECT" is set to "SAT" (
A warning appears on the TV screen to tell you that the timer-
recording is to start in 5 minutes if you're not in the Timer
mode at that time.The warning blinks for the entire 5 minutes
leading up to the start of timer recording. To clear the display,
HRJ670EU1.fm Page 5 Thursday, January 13, 2000 2:24 PM
---