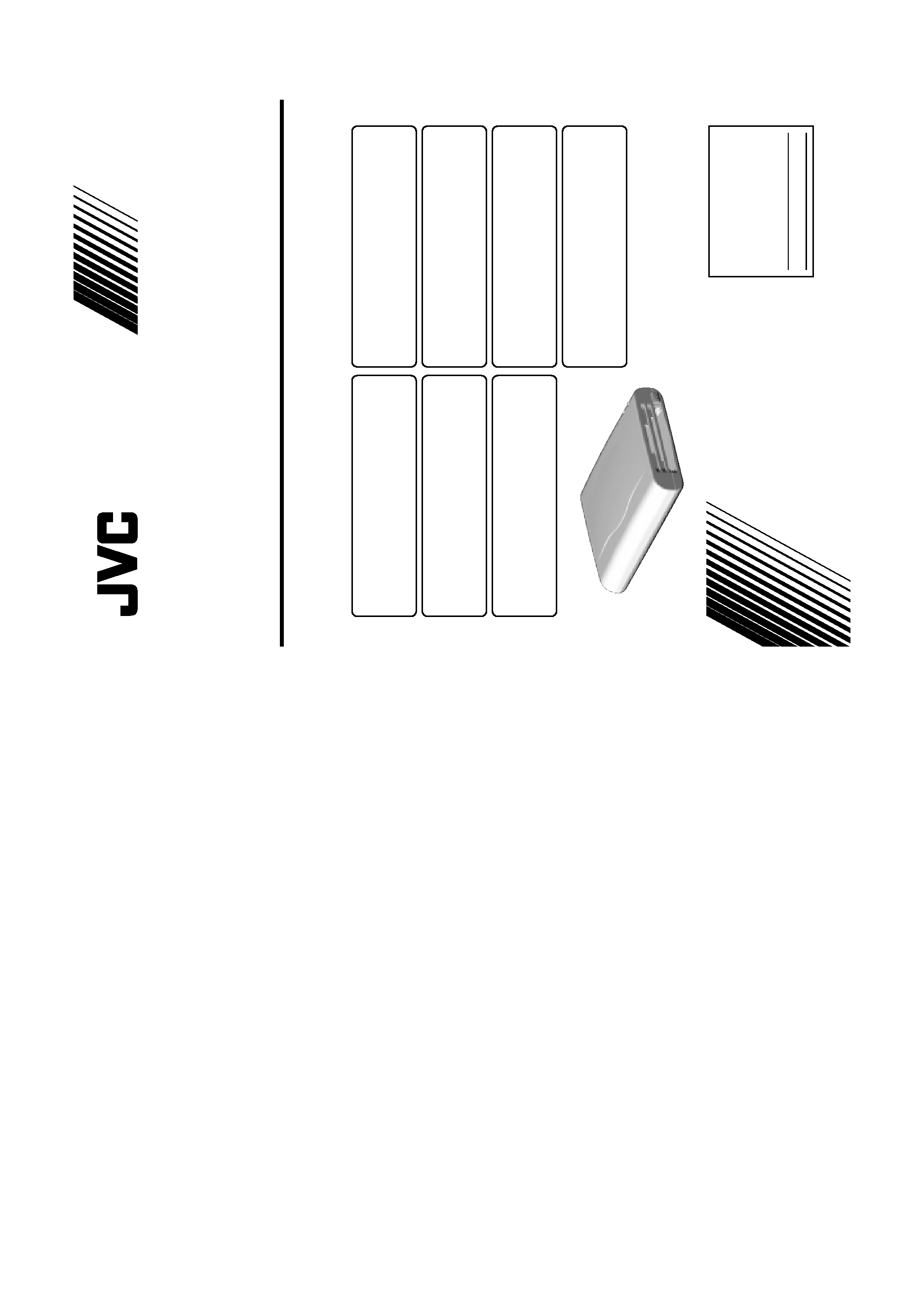 © 2001 VICTOR COMPANY OF JAPAN, LTD.
LECTEUR/GRAVEUR DE CARTES
LECTOR/GRABADOR DE TARJETAS
LETTORE/SCRITTORE DI SCHEDE
VICTOR COMPANY OF JAPAN, LIMITED
Models with either preinstalled Windows
®
98/98SE/
ME/2000, preinstalled MAC OS 8.6 or later and having
a USB interface. Operation may not be possible on
Enter below the Model No. and
Serial No. which is located on
the bottom of cabinet. Retain this
information for future reference.
Modèles avec Windows
®
98/98SE/Me/2000, MAC OS
8.6 ou ultérieurs installés d'origine et possédant une
interface USB. Certains modèles peuvent ne pas
Modelos con Windows
®
98/98SE/ME/2000 o
MAC OS 8.6 o versión posterior ya instalado, y que
dispongan de una interfaz USB. El funcionamiento
podrá no ser posible en algunos modelos.
Modelle, bei denen entweder Windows
®
98/98SE/Me/2000, MAC
OS 8.6 oder neuere Version installiert ist, und die mit einer USB-
Schnittstelle ausgestattet sind. Mit einigen Geräten kann dieser
Kartenleser/Schreiber möglicherweise nicht betrieben werden.
I modelli con Windows
®
98/98SE/ME/2000
preinstallato oppure MAC OS 8.6 o superiore
preinstallato, dotati d'interfaccia USB. Il funzionamento
potrebbe risultare impossibile con certi modelli.
Modellen met voorgeïnstalleerde Windows
®
98/98SE/
ME/2000 of voorgeïnstalleerde MAC OS 8.6 of
recenter en met een USB-interface. Het is mogelijk dat
de HC-CW1F op bepaalde modellen niet werkt.
Modeller med antingen förinstallerat Windows
®
98/
98SE/ME/2000, förinstallerat MAC OS 8.6 eller senare
och med USB-gränssnitt. Det kan hända att drift inte
är möjlig på vissa modeller.
---

This device complies with Part 15 of the FCC Rules. Operation is subject to the
following two conditions:
(1) This device may not cause harmful interference.
(2) This device must accept any interference received, including interference that
may cause undesired operation.
Note: This equipment has been tested and found to comply with the limits for a
Class B digital device, pursuant to Part 15 of the FCC rules. These limits
are designed to provide reasonable protection against harmful interference
in a residential installation. This equipment generates, uses and can radiate
radio frequency energy and, if not installed and used in accordance with the
instructions, it may cause harmful interference to radio communications.
However, there is no guarantee that interference will not occur in a
particular installation. If this equipment does cause harmful interference to
radio or television reception, which can be determined by turning the
equipment off and on, the user is encouraged to try to correct the
interference by one or more of the following measures:
Reorient or relocate the receiving antenna.
Increase the separation between the equipment and receiver.
Connect the equipment into an outlet on a circuit different from that to which the
Consult the dealer or an experienced radio/TV technician for help.
CAUTION ­­­ Changes or modifications not approved by JVC could void user's
authority to operate the equipment.
1700 Valley Road Wayne, N.J. 07470
---

TO REDUCE THE RISK OF FIRE OR ELECTRIC SHOCK, DO
NOT EXPOSE THIS APPLIANCE TO RAIN OR MOISTURE.
POUR RÉDUIRE LES RISQUES D'INCENDIE OU DE CHOC
ÉLECTRIQUE, NE PAS EXPOSER CET APPAREIL À LA
This Class B digital apparatus meets all requirements of the Canadian
Interference-causing Equipment Regulations.
RENSEIGNEMENT (pour CANADA)
Cet appareil numérique de la classe B respecte toutes les exigences du
Réglement sur le matériel brouilleur du Canada.
---

"SOME DO'S AND DON'TS ON THE SAFE USE OF EQUIPMENT"
This equipment has been designed and manufactured to meet international safety
standards but, like any electrical apparatus, care must be taken if you are to obtain the
best results and safety is to be assured.
Do read the operating instructions before you attempt to use the equipment.
Do ensure that all electrical connections (including the plug, extension cord and inter-
connections between pieces of equipment) are properly made and in accordance
with the manufacturer's instructions. Switch off and withdraw the plug when
making or changing connections.
Do consult your dealer if you are ever in doubt about the installation or operation or
safety of your equipment.
Do be careful with glass panels or doors on equipment.
continue to operate the equipment if you are in any doubt about it working
normally, or if it is damaged in any way--switch off--withdraw the plug and
remove any fixed cover as this may expose dangerous voltages.
leave equipment switched on when it is unattended unless it is specifically
stated that it is designed for unattended operation or has a standby mode.
Switch off using the switch on the equipment and make sure that your family
Special arrangements may need to be made for infirm or handicapped
use equipment such as personal stereos or radios so that you are distracted
from the requirements of road safety. It is illegal to watch television when
listen to headphones at high volume as such use can permanently damage
obstruct the ventilation of the equipment, for example with curtains or on soft
Overheating will cause damage and shorten the life of the equipment.
use makeshift stands and NEVER fix legs with wood screws. To ensure
complete safety always fit the manufacturer's approved stand or legs with the
fixing screws supplied according to the instructions.
allow electrical equipment to be exposed to rain or moisture.
NEVER let anyone especially children push anything into holes, slots or any
other opening in the case. This could result in a fatal electrical shock.
NEVER guess or make changes with electrical equipment of any kind. It is
better to be safe than sorry!
---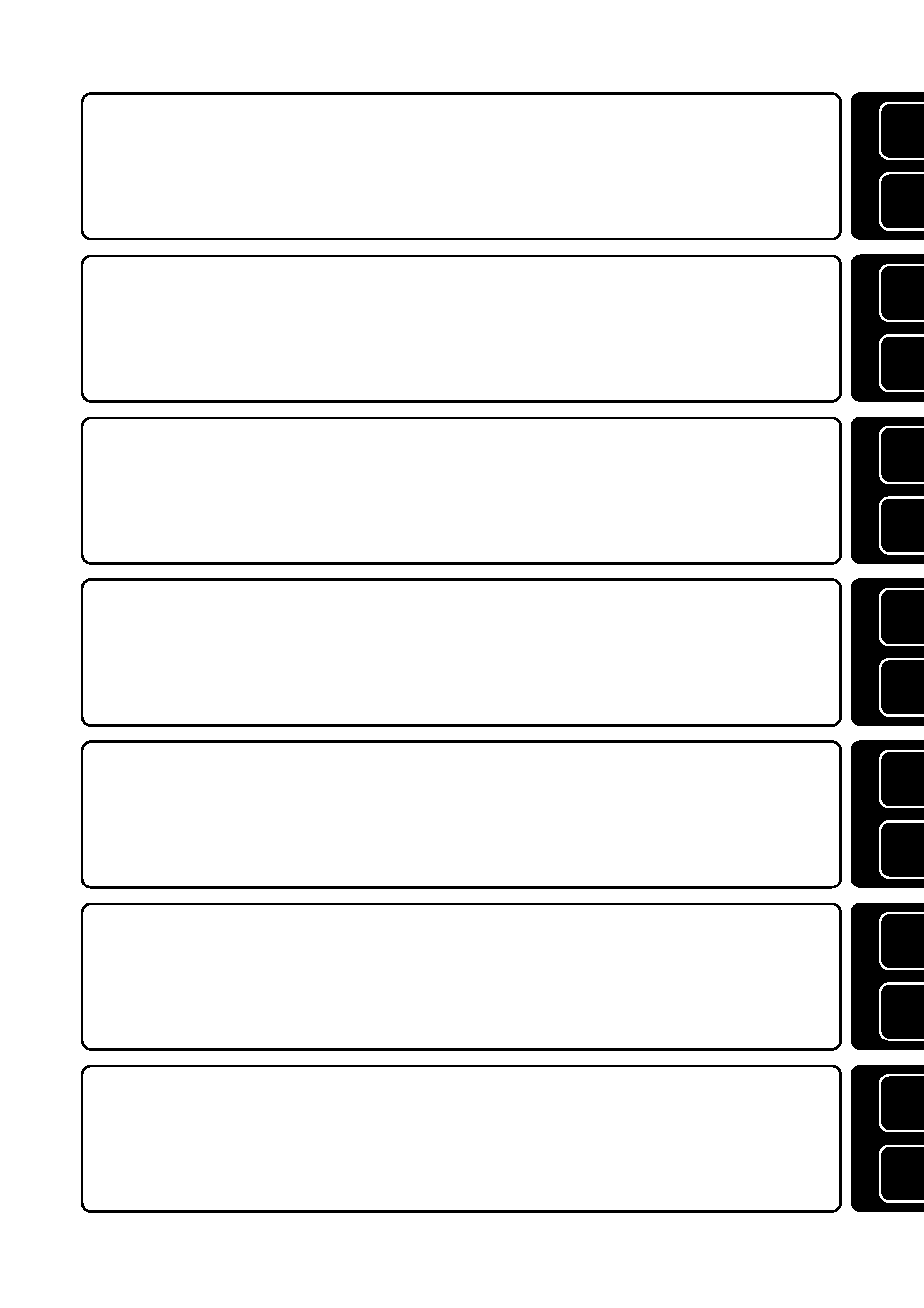 Thank you for purchasing this JVC product.
Before you begin operating this unit, please read the instructions carefully to be
sure you get the best possible performance.
If you have any questions, consult your JVC dealer.
ENGLISH INSTRUCTIONS .................................................. Page 6 ­ 21
Nous vous félicitons d'avoir acquis ce produit JVC.
Avant de vous en servir, lisez attentivement le mode d'emploi pour en obtenir les
Si vous avez d'autres questions, interrogez votre revendeur JVC.
INSTRUCTIONS EN FRANÇAIS ....................................... Page 22 ­ 37
Gracias por adquirir este producto JVC.
Antes de utilizar la unidad, lea cuidadosamente estas instrucciones para obtener el
Si tiene cualquier duda, póngase en contacto con su distribuidor de productos JVC.
INSTRUCCIONES EN ESPAÑOL ................................... Página 38 ­ 53
Mit dem Kauf dieses JVC Produkts haben Sie eine gute Wahl getroffen.
Um lhr Gerät optimal nutzen zu können, sollten Sie die vorliegende Anleitung vor
lnbetriebnahme sorgfältig durchlesen.
Falls Fragen offen bleiben, wenden Sie sich bitte an lhren JVC-Händler.
DEUTSCHE BEDIENUNGSANLEITUNG .......................... Seite 54 ­ 69
Grazie per aver acquistato un prodotto JVC.
Prima di cominciare a utilizzare questo prodotto, vi preghiamo di leggere
attentamente le istruzioni per impiegarlo nel miglior modo possibile.
Per eventuali domande, rivolgetevi al rivenditore JVC.
ISTRUZIONI IN ITALIANO .............................................. Pagine 70 ­ 85
Dank u voor uw aankoop van dit JVC-produkt.
Voor u met dit systeem begint te werken, verzoeken wij u de instructies zorgvuldig
door te lezen om zeker te zijn dat u de best mogelijke prestaties bekomt.
Mocht u nog vragen hebben, raadpleeg dan uw JVC-dealer.
NEDERLANDSE GEBRUIKSAANWIJZING ...................... Biz. 86 ­ 101
Tack för att du köpt denna JVC-produkt.
För att få bästa möjliga ljudkvalitet, bör du läsa bruksanvisningen noggrant, innan
du börjar använda enheten.
Kontakta din JVC-försäljare om du har några frågor.
SVENSK BRUKSANVISNING .................................. Sidorna 102 ­ 116
---