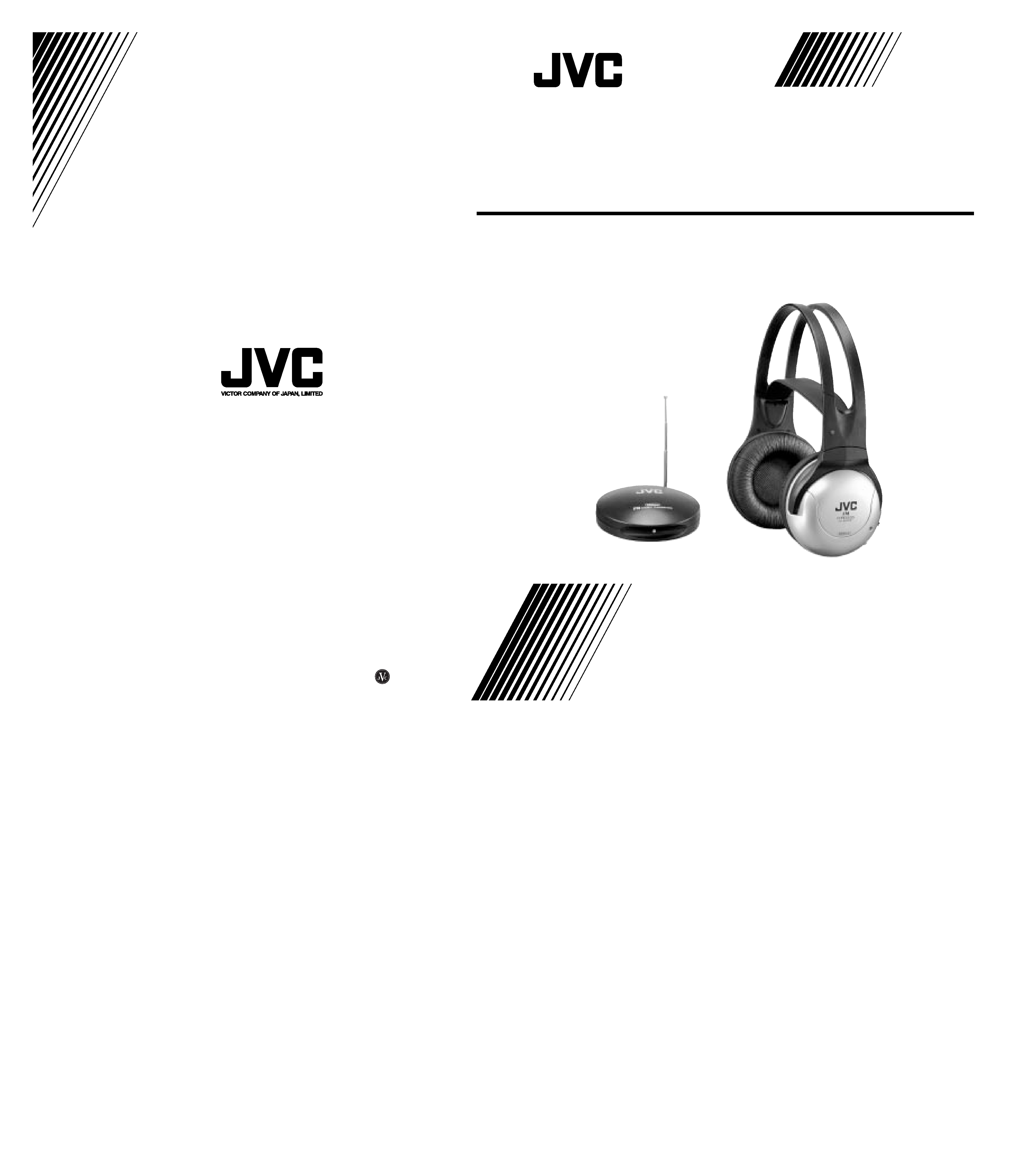 CORDLESS FM STEREO HEADPHONES
© 2002 VICTOR COMPANY OF JAPAN, LIMITED
---

"SOME DO'S AND DON'TS ON THE SAFE USE OF EQUIPMENT"
This equipment has been designed and manufactured to meet international safety standards
but, like any electrical apparatus, care must be taken if you are to obtain the best results and
········································
read the operating instructions before you attempt to use the equipment.
ensure that all electrical connections (including the plug, extension cord and inter-
connections between pieces of equipment) are properly made and in accordance with the
manufacturer's instructions. Switch off and withdraw the plug when making or changing
consult your dealer if you are ever in doubt about the installation or operation or safety of
be careful with glass panels or doors on equipment.
········································
continue to operate the equipment if you are in any doubt about it working normally,
or if it is damaged in any way--switch off--withdraw the plug and consult your
remove any fixed cover as this may expose dangerous voltages.
leave equipment switched on when it is unattended unless it is specifically stated that
it is designed for unattended operation or has a standby mode.
Switch off using the switch on the equipment and make sure that your family know
Special arrangements may need to be made for infirm or handicapped people.
use equipment such as personal stereos or radios so that you are distracted from the
requirements of road safety. It is illegal to watch television when driving.
listen to headphones at high volume as such use can permanently damage your
obstruct the ventilation of the equipment, for example with curtains or on soft
Overheating will cause damage and shorten the life of the equipment.
use makeshift stands and NEVER fix legs with wood screws. To ensure complete
safety always fit the manufacturer's approved stand or legs with the fixing screws
supplied according to the instructions.
allow electrical equipment to be exposed to rain or moisture.
NEVER let anyone especially children push anything into holes, slots or any other
opening in the case. This could result in a fatal electrical shock.
NEVER guess or make changes with electrical equipment of any kind. It is better to
CHARGE ONLY WITH PROVIDED NICKEL-CADMIUM TYPE
BATTERIES. OTHER TYPES OF BATTERIES MAY BURST
CAUSING PERSONAL INJURY AND DAMAGE.
OPERATING AT 863 MHz TO 865 MHz
CORDLESS FM STEREO HEADPHONES
ACCORDING TO THE USED FREQUENCY BAND THIS DEVICE IS INTENDED TO
USE IN GERMANY, THE UK, FRANCE, AUSTRIA, THE NETHERLANDS, SWEDEN,
NORWAY, DENMARK, FINLAND, BELGIUM
Hereby, JVC, declares that this HA-W500RF is in compliance with the
essential requirements and other relevant provisions of Directive 1999/5/EC.
JVC vakuuttaa täten että HA-W500RF tyyppinen laite on direktiivin 1999/5/EY
oleellisten vaatimusten ja sitä koskevien direktiivin muiden ehtojen mukainen.
Hierbij verklaart JVC dat het toestel HA-W500RF in overeenstemming is met
de essentiële eisen en de andere relevante bepalingen van richtlijn 1999/5/EG
Bij deze verklaart JVC dat deze HA-W500RF voldoet aan de essentiële eisen
en aan de overige relevante bepalingen van Richtlijn 1999/5/EC.
Par la présente JVC déclare que l'appareil HA-W500RF est conforme aux
exigences essentielles et aux autres dispositions pertinentes de la directive
Par la présente, JVC déclare que ce HA-W500RF est conforme aux
exigences essentielles et aux autres dispositions de la directive 1999/5/CE qui
Härmed intygar JVC att denna HA-W500RF står i överensstämmelse med de
väsentliga egenskapskrav och övriga relevanta bestämmelser som framgår av
Undertegnede JVC erklærer herved, at følgende udstyr HA-W500RF
overholder de væsentlige krav og øvrige relevante krav i direktiv 1999/5/EF
Hiermit erklärt JVC, dass sich dieser/diese/dieses HA-W500RF in
Übereinstimmung mit den grundlegenden Anforderungen und den anderen
relevanten Vorschriften der Richtlinie 1999/5/EG befindet". (BMWi)
Hiermit erklärt JVC die Übereinstimmung des Gerätes HA-W500RF mit den
grundlegenden Anforderungen und den anderen relevanten Festlegungen der
Richtlinie 1999/5/EG. (Wien)
Con la presente JVC dichiara che questo HA-W500RF e conforme ai requisiti
essenziali ed alle altre disposizioni pertinenti stabilite dalla direttiva
Por medio de la presente JVC declara que el HA-W500RF cumple con los
requisitos esenciales y cualesquiera otras disposiciones aplicables o exigibles
de la Directive 1999/5/CE
JVC declara que este HA-W500RF está conforme com os requisitos
essenciais e outras disposiçôes da Directiva 1999/5/CE.
---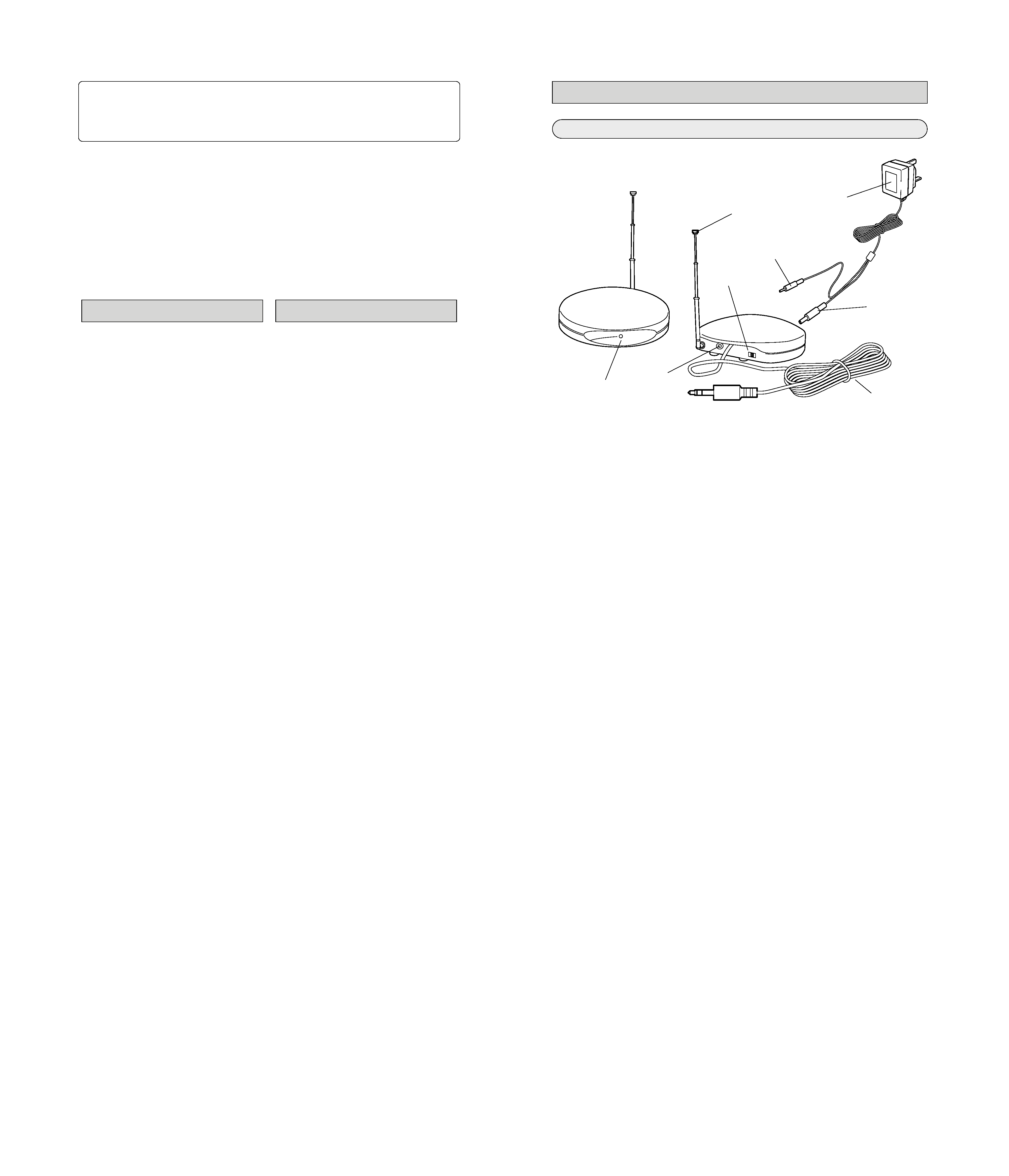 Thank you for purchasing this JVC product.
Before you begin operating this unit, please read the instructions carefully to be
sure you get the best possible performance.
If you have any questions, consult your JVC dealer.
To reduce the risk of electrical shocks, fire, etc.:
1. Do not remove screws, cover or cabinet.
2. Do not expose this appliance to rain or moisture.
Select a place which is level, dry
and neither too hot nor too cold
(between 0°C and 35°C /32°F and
Keep away from direct sunlight.
Do not put it too close to a heater.
Do not handle the power cord with
Do not bend the power cord
There are no serviceable parts
inside. If anything goes wrong,
unplug the power cord and consult
Do not insert any metallic object.
Do not allow water to get inside.
Frequency modulation system which
allows headphones to be used even
in areas where the transmitter cannot
Reception range (up to 100 m (328 ft):
using JVC measurement system)
Rechargeable system with built-in
Large 40 mm dia. drivers for high-
Automatic Power On/Off transmitter
Auto-level control circuit that auto-
matically adjusts signals to the
appropriate modulation level
Single volume control adjusts the
volume level of the left and right
Adaptable to any audio/visual equip-
NAMES OF PARTS AND THEIR FUNCTIONS
When an audio signal is input: The
power automatically turns on and the
indicator lights in green.
Adjusts the transmission frequency.
For use, pull out and stand it
4 Audio input cord and plug
1.5 m cord and 3.5 mm dia. stereo
Connect plug 7 (DC Out for
Transmitter) on the AC adaptor.
6 AC adaptor (J47127-001)
Connects to a household AC outlet
The provided AC adaptor is exclusively
Do not connect to any other equipment.
7 DC Out (for Transmitter)
8 DC Out (for Receiver Charging)
---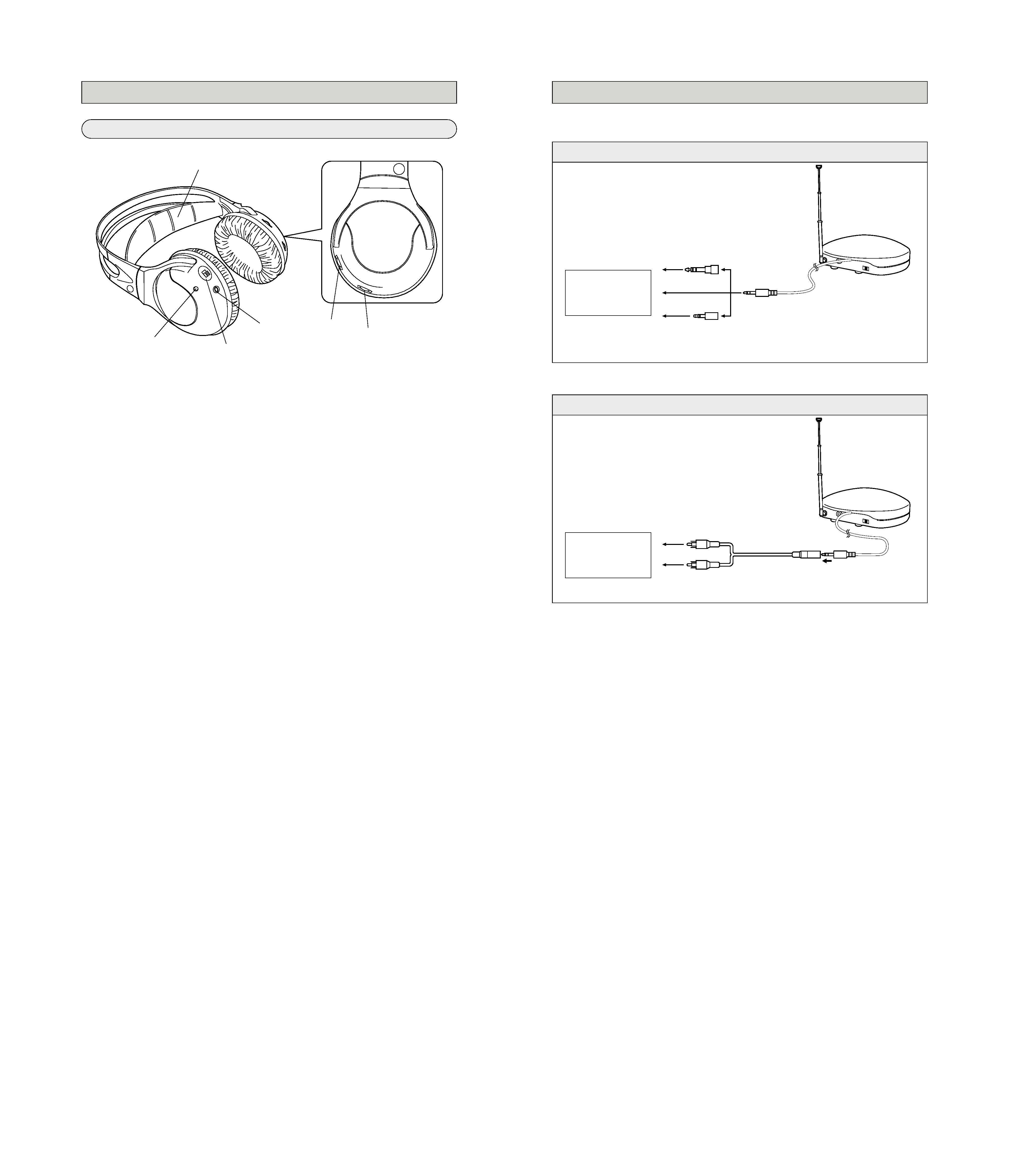 When connecting to a standard stereo phone jack
-- Use the provided plug adaptor
(Converts a stereo miniplug to a standard stereo
When connecting to a monaural minijack
-- Use an optional plug adaptor
(Converts a stereo miniplug to a monaural miniplug)
NAMES OF PARTS AND THEIR FUNCTIONS
Receiver (Cordless Headphones)
The indicator lights in red when the
Also, the indicator lights in green
3 CHARGE (Charging input terminal)
Adjusts the volume level of the left
and right channels simultaneously.
5 TUNING (Tuning control)
Adjusts the reception frequency.
6 Soft Comfort-Fit Headband
s How to connect to AV equipment
Connection to HEADPHONES jack
Connection to LINE OUT or REC OUT terminals
For replacement ear pads, please consult with the dealer where
you purchased the headphones.
---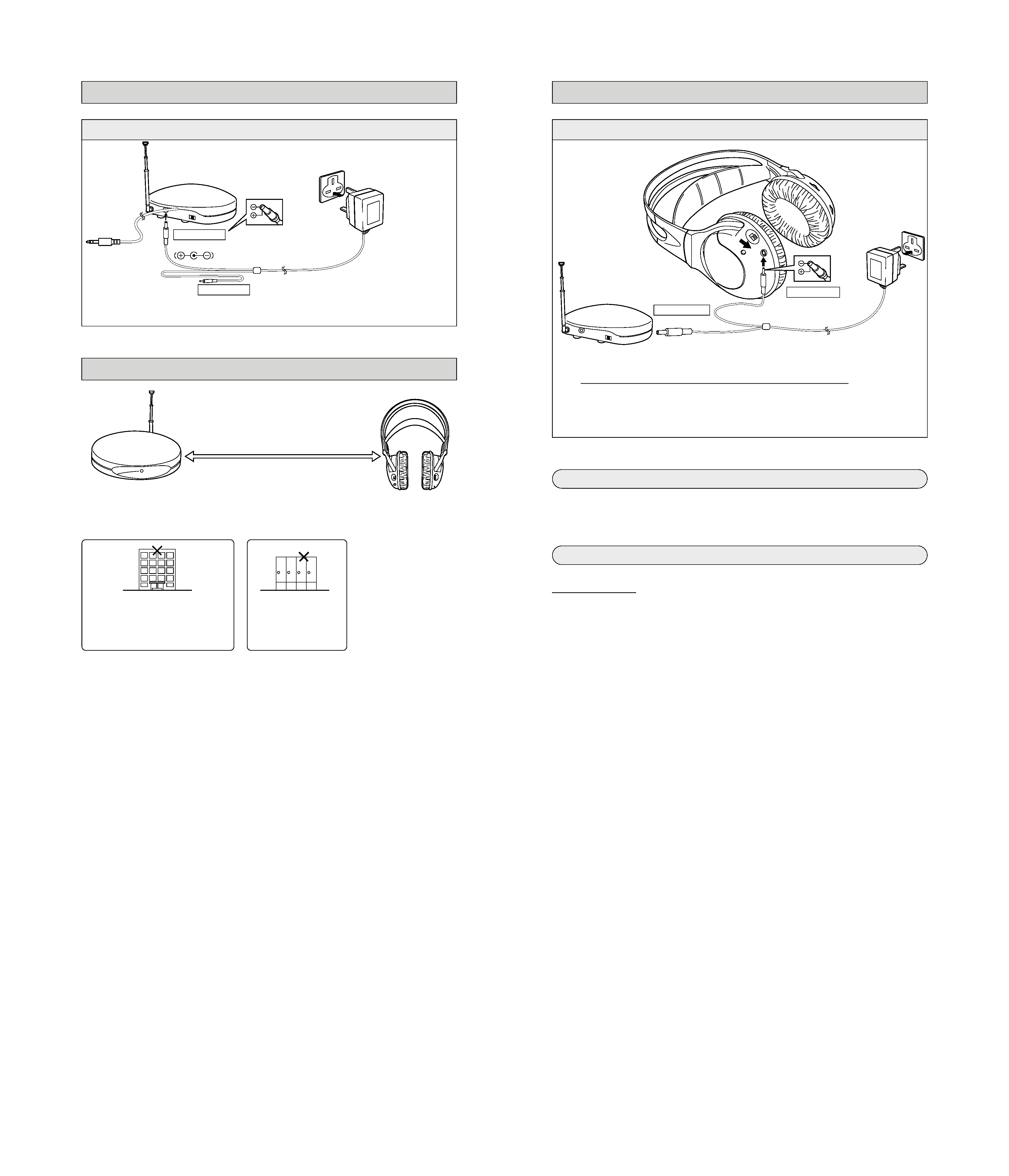 Be sure to use the provided exclusive AC adaptor (J47127-001) for connection. Use of any
other AC adaptor may cause a malfunction.
ø2.5 mm plug To receiver CHARGE jack
Connection to power supply
POWER REQUIREMENTS OF HEADPHONES
Charging rechargeable Ni-Cd batteries
1 Set the POWER switch on the headphones to OFF.
The batteries cannot be charged when the switch is set to ON.
2 Connect the DC out (for Receiver Charging) from the AC adaptor to the headphones.
3 Plug the AC adaptor into an AC outlet. The charger starts charging the batteries
The usable area may differ depending on building structure, etc.
The range becomes shorter in the following cases:
In places such as inside an apartment
with reinforced concrete walls, or when
the transmitter and headphones are
separated by obstacles such as steel-
Be sure to keep this unit
The battery can be fully charged in approx. 24 hours.
During recharge the indicator lights in green, which turns off at completion.
When done, unplug the DC plug from the battery.
After charging is complete, you can use them continuously for approx. 20 hours.
Be sure to charge the batteries within the temperature range of 10°C ~ 35°C
Charging batteries that are not completely exhausted will cause efficiency to decline.
Be sure to charge them after they have been completely exhausted.
The usable area between the transmitter and the
headphones is within a radius of max 100 m (based
on measurements taken when placed in direct view
in a straight line and no interference situation).
Max: 100 m (Under controlled ambient conditions)
---