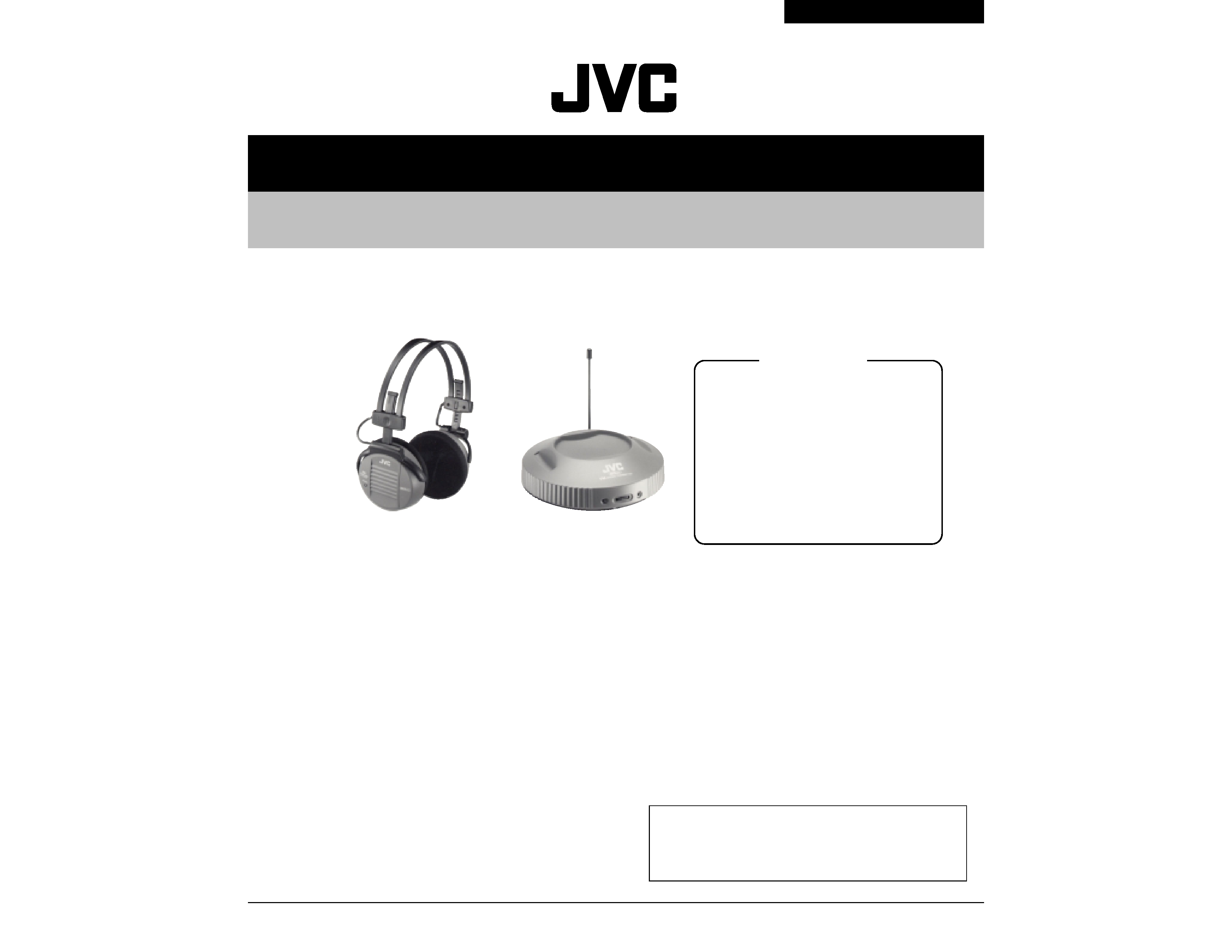 CORDLESS FM STEREO HEADPHONES
C 2000 VICTOR COMPANY OF JAPAN,LTD.
* Design and specifications subject to change without notice.
: DC 12 V (with the exclusive AC
adaptor J46857-001(EG Model)
: 3.5 mm dia. stereo mini plug
Reference input level : 300 mV
: 137(W) x 147(D) x 123(H) mm
(5-7/16" x 5-13/16" x 4-7/8")
(Without connection cord and AC
Connection cord x 1 (3.5 mm dia. stereo mini jack-
RCA pin plug x 2 : 0.1 m (0.3 ft))
x 1 (converts 3.5 mm dia. stereo
mini plug to a 6.3 mm dia. standard
Exclusive rechargeable Ni-Cd battery x 2
: Radio Frequency (UHF stereo)
: Approx. 100m (328 ft) : using
Frequency response : 28 Hz-14 000 Hz
: Less than 4 % (at 1 kHz)
Specifications..................................... Front cover
1. Operating Manual........................................
2. Disassembly................................................
3. Schematic Diagram.....................................
4. Print Circuit Board......................................
5. Measurement Condition..............................
6. Wiring Diagram...........................................
7. Block View Inside IC...................................
8. Block Diagram.............................................
9. Electric Parts List........................................
10. Exploded view.............................................
11. Mechanical Parts List.................................
12. Packing Method..........................................
13. Packing Materials.......................................
14. Accessories List.........................................
Power requirements : Rechargeable
Ni-Cd battery (1.2 V) x 2
Battery running time : 6 hours
(When charged for 24 hours)
(With provided rechargeable
This product has Auto-tuning function.
On noisy frequency part, the receiver in headphone starts searching the
transmitted frequency and stop tuning on the frequency.
In the condition of disturbing frequencies and / or in the place at a distance
from transmitter, auto-tuning function could start searching by potential
noise and it causes sound breaks.
---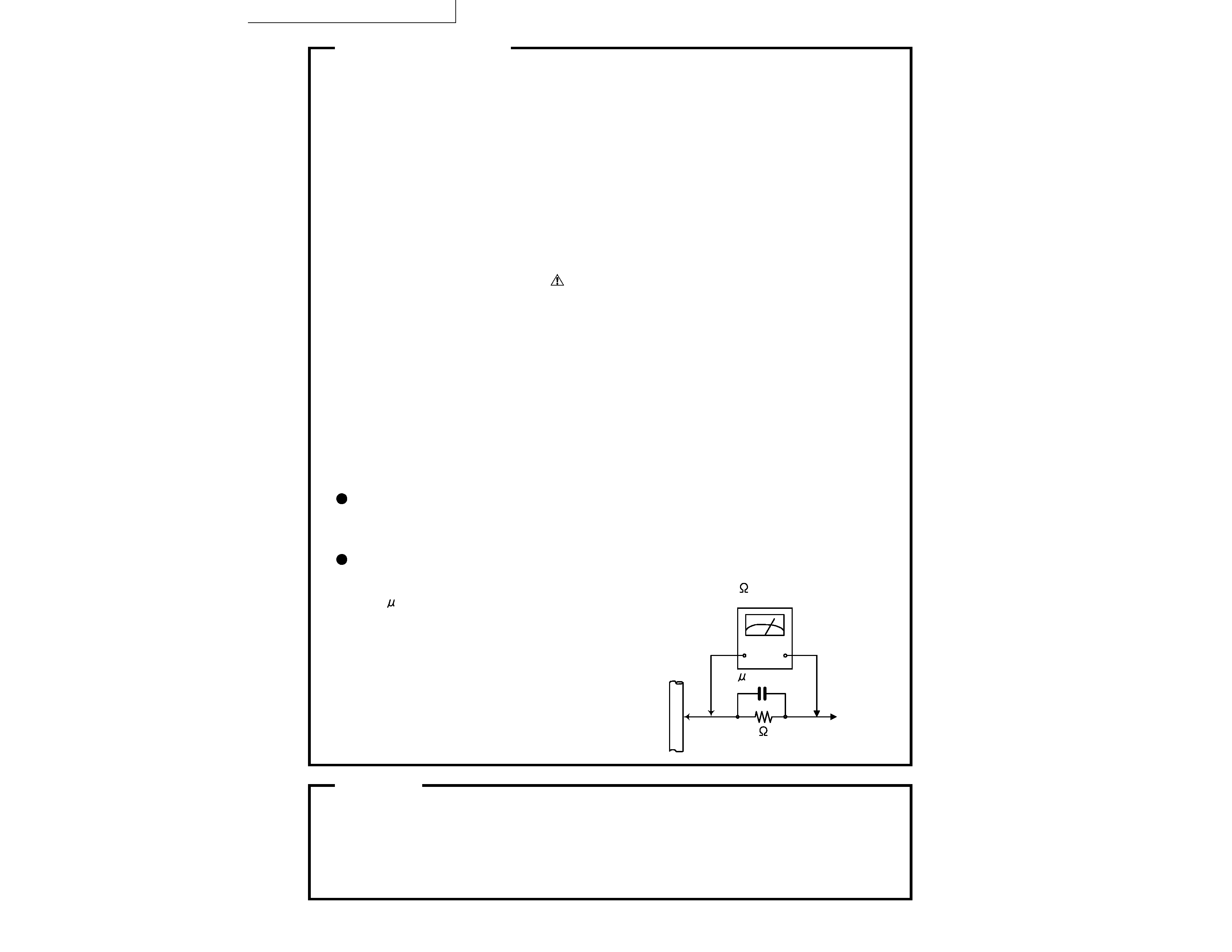 1. This design of this product contains special hardware and many circuits and components specially
For continued protection, no changes should be made to the original design
unless authorized in writing by the manufacturer.
Replacement parts must be identical to those
used in the original circuits.
Services should be performed by qualified personnel only.
2. Alterations of the design or circuitry of the product should not be made.
Any design alterations of
the product should not be made.
Any design alterations or additions will
warranty and will further relieve the manufacture of responsibility for personal injury or property
damage resulting therefrom.
3. Many electrical and mechanical parts in the products have special safety-related characteristics.
These characteristics are often not evident from visual inspection nor can the protection afforded
by them necessarily be obtained by using replacement components rated for higher voltage,
Replacement parts which have these special safety characteristics are identified in
the Parts List of Service Manual.
Electrical components having such features are identified by
shading on the schematics and by (
) on the Parts List in the Service Manual.
substitute replacement which does not have the same safety characteristics as the recommended
replacement parts shown in the Parts List of Service Manual may create shock, fire, or other
4. The leads in the products are routed and dressed with ties, clamps, tubings, barriers and the
like to be separated from live parts, high temperature parts, moving parts and/or sharp edges
for the prevention of electric shock and fire hazard.
When service is required, the original lead
routing and dress should be observed, and it should be confirmed that they have been returned
to normal, after re-assembling.
5. Leakage currnet check (Electrical shock hazard testing)
After re-assembling the product, always perform an isolation check on the exposed metal parts
of the product (antenna terminals, knobs, metal cabinet, screw heads, headphone jack, control
shafts, etc.) to be sure the product is safe to operate without danger of electrical shock.
Do not use a line isolation transformer during this check.
Plug the AC line cord directly into the AC outlet.
Using a "Leakage Current Tester", measure
current from each exposed metal parts of the cabinet , particularly any exposed
metal part having a return path to the chassis, to a known good earth ground. Any leakage
current must not exceed 0.5mA AC (r.m.s.)
Plug the AC line cord directly into the AC outlet.
Use an AC voltmeter having, 1,000 ohms
per volt or more sensitivity in the following manner. Connect a 1,500
10W resistor paralleled by
a 0.15 F AC-type capacitor between an exposed
metal part and a known good earth ground.
Measure the AC voltage across the resistor with the
Move the resistor connection to eachexposed metal
part, particularly any exposed metal part having a
return path to the chassis, and meausre the AC
voltage across the resistor. Now, reverse the plug in
the AC outlet and repeat each measurement. voltage
measured Any must not exceed 0.75 V AC (r.m.s.).
This corresponds to 0.5 mA AC (r.m.s.).
1. This equipment has been designed and manufactured to meet international safety standards.
2. It is the legal responsibility of the repairer to ensure that these safety standards are maintained.
3. Repairs must be made in accordance with the relevant safety standards.
4. It is essential that safety critical components are replaced by approved parts.
5. If mains voltage selector is provided, check setting for local voltage.
---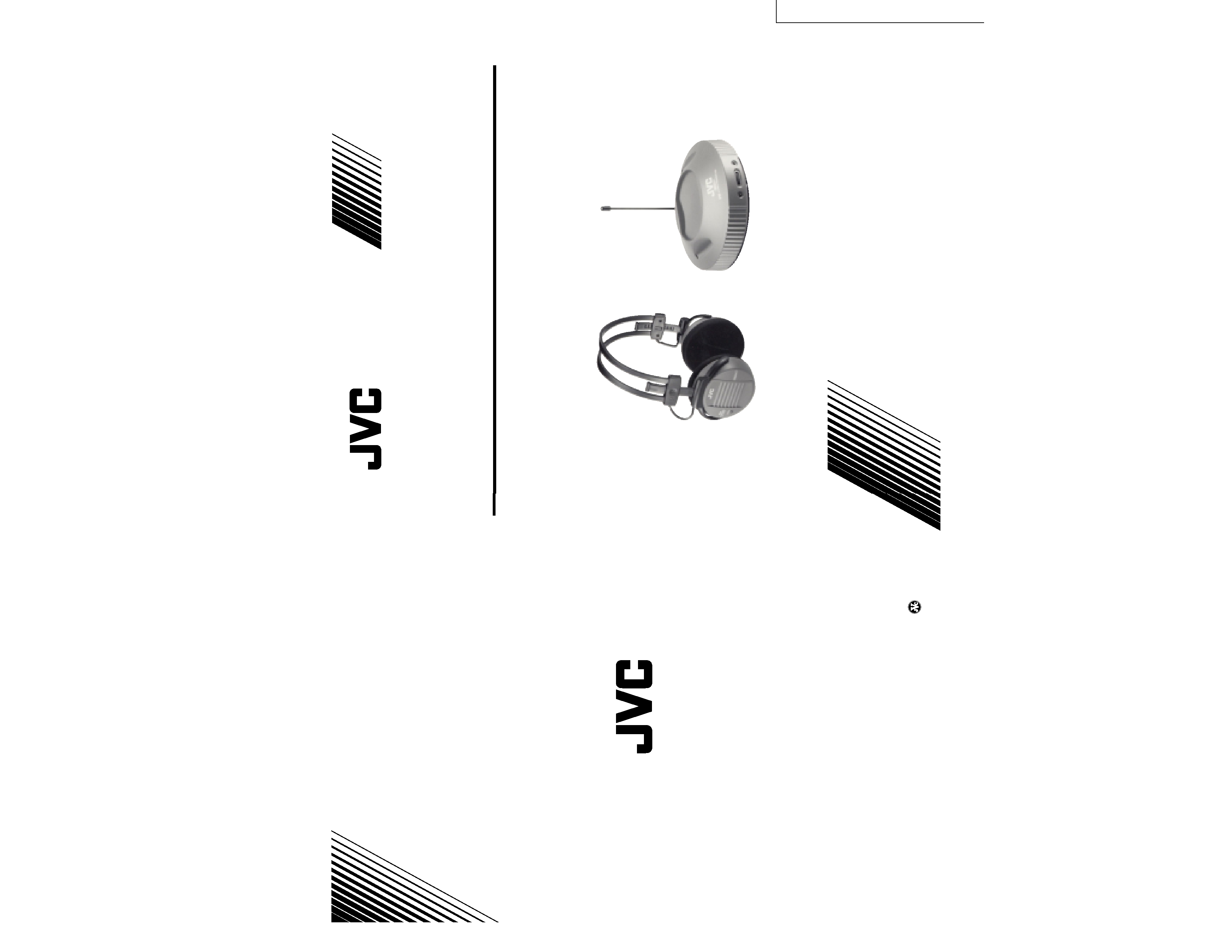 © 2000 VICTOR COMPANY OF JAPAN, LIMITED
VICTOR COMPANY OF JAPAN, LIMITED
CORDLESS FM STEREO HEADPHONES
---

"SOME DO'S AND DON'TS ON THE SAFE USE OF EQUIPMENT"
This equipment has been designed and manufactured to meet international safety
standards but, like any electrical apparatus, care must be taken if you are to obtain
the best results and safety is to be assured.
Do read the operating instructions before you attempt to use the equipment.
Do ensure that all electrical connections (including the plug, extension cord and
inter-connections between pieces of equipment) are properly made and in
accordance with the manufacturer's instructions. Switch off and withdraw the
plug when making or changing connections.
Do consult your dealer if you are ever in doubt about the installation or operation or
safety of your equipment.
Do be careful with glass panels or doors on equipment.
continue to operate the equipment if you are in any doubt about it working
normally, or if it is damaged in any way--switch off--withdraw the plug and
remove any fixed cover as this may expose dangerous voltages.
leave equipment switched on when it is unattended unless it is specifically
stated that it is designed for unattended operation or has a standby mode.
Switch off using the switch on the equipment and make sure that your family
Special arrangements may need to be made for infirm or handicapped
use equipment such as personal stereos or radios so that you are distracted
from the requirements of road safety. It is illegal to watch television when
listen to headphones at high volume as such use can permanently damage
obstruct the ventilation of the equipment, for example with curtains or on
Overheating will cause damage and shorten the life of the equipment.
use makeshift stands and NEVER fix legs with wood screws. To ensure
complete safety always fit the manufacturer's approved stand or legs with
the fixing screws supplied according to the instructions.
allow electrical equipment to be exposed to rain or moisture.
NEVER let anyone especially children push anything into holes, slots or any
other opening in the case. This could result in a fatal electrical shock.
NEVER guess or make changes with electrical equipment of any kind. It is
better to be safe than sorry!
DECLARATION OF CONFORMITY
Victor Company of Japan, Ltd.
YOKOHAMA (kanagawa) 221-8528, Japan
declare on our sole responsibility, that the product
HA-W400RF (JVC Brand) Stereo Wireless Headphone System
to which this declaration relates is in conformity with the following standard(s) or other
EN 301 357 V1.1.1 (July 1999)
EN 300 220-1 (November 1997)
TCF reference:RFI/TCFB1/RP40782(Notified Body No. used:889)
EN 60950 (1992) with amendments A1 (1993), A2 (1993), A3 (1995), A4
following the provisions of the Radio Equipment and Telecommunications Terminal
Equipment Directive 1999/5/EC, using the conformity assessment procedures from
the EMC Directive 89/336/EEC and the LVD 73/23/EC for EMC (Article 3.1b) and
Safety (Article 3.1a) respectively.
Manufacturer/Authorized representative
CORDLESS FM STEREO HEADPHONES
OPERATING AT 863 MHz TO 865 MHz
ACCORDING TO THE USED FREQUENCY BAND THIS DEVICE IS INTENDED TO
USE IN GERMANY, THE UK, FRANCE, AUSTRIA, THE NEDERLANDS, SWEDEN,
---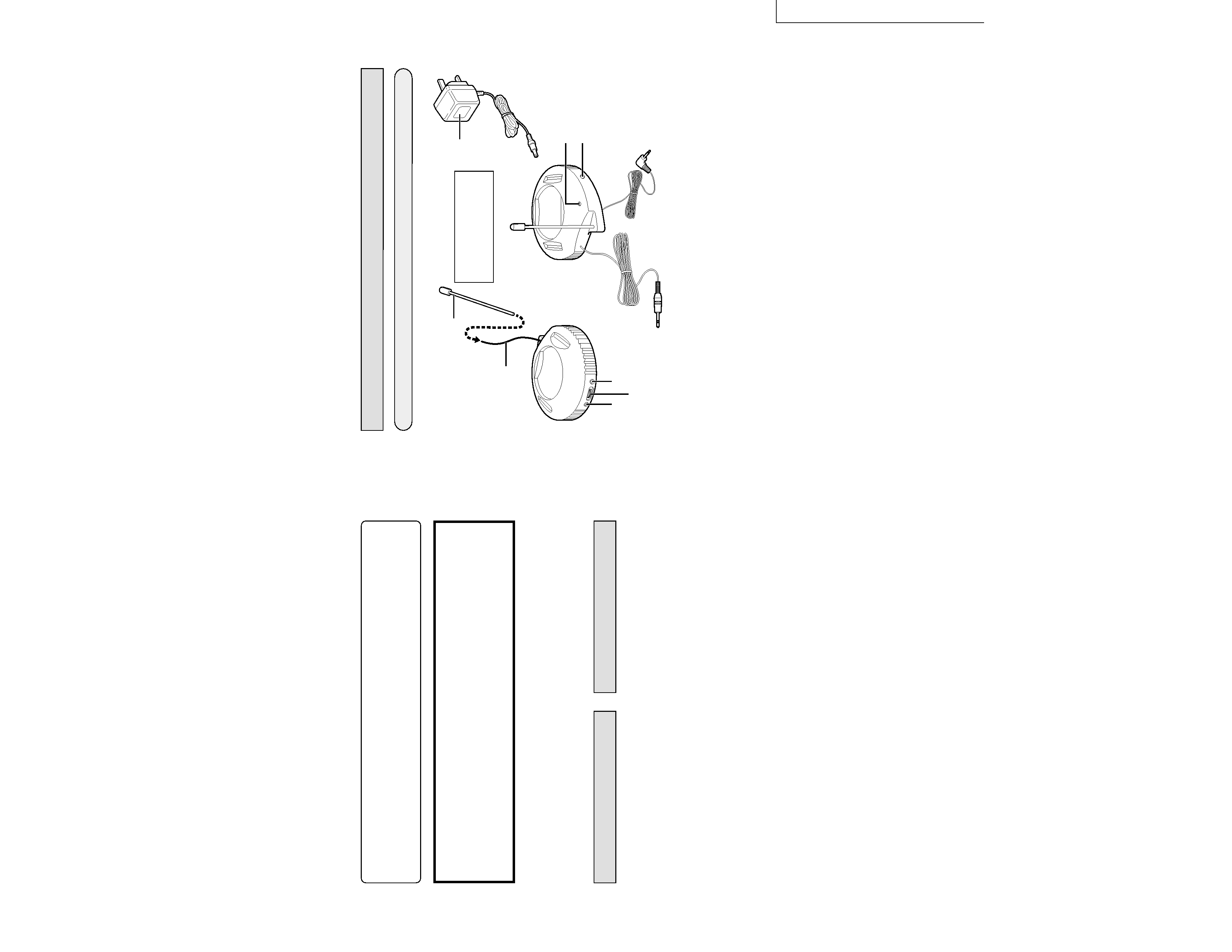 To reduce the risk of electrical shocks, fire, etc.:
1. Do not remove screws, cover or cabinet.
2. Do not expose this appliance to rain or moisture.
Select a place which is level, dry
and neither too hot nor too cold
(between 0°C and 35°C /32°F and
Keep away from direct sunlight.
Do not put it too close to a heater.
Do not handle the power cord with
Do not bend the power cord
There are no serviceable parts
inside. If anything goes wrong,
unplug the power cord and consult
Do not insert any metallic object.
Do not allow water to get inside.
CHARGE ONLY WITH PROVIDED NICKEL-CADMIUM TYPE
BATTERIES. OTHER TYPES OF BATTERIES MAY BURST
CAUSING PERSONAL INJURY AND DAMAGE.
Thank you for purchasing this JVC product.
Before you begin operating this unit, please read the instructions carefully to be
sure you get the best possible performance.
If you have any questions, consult your JVC dealer.
Frequency modulation system which
allows headphones to be used even in
areas where the transmitter cannot be
Reception range (up to 100 m (328 ft):
using JVC measurement system)
Auto Tuning Function: Lock in the
signal at the touch of a button
Foldable and compact design
Easy-to-handle light body
Rechargeable system with Ni-Cd
Large 40 mm dia. drivers for high-
Automatic Power On/Off transmitter
Auto-level control circuit that automati-
cally adjusts signals to the appropriate
Single volume control adjusts the
volume level of the left and right
Adaptable to any audio/visual equip-
NAMES OF PARTS AND THEIR FUNCTIONS
When an audio signal is input : The
power automatically turns on and the
indicator lights in green.
The indicator lights in red while the
battery is being charged.
3
TUNING (Tuning control)
Adjusts the transmission frequency.
Cover the antenna
4
before using
6
Audio input cord and plug
2m cord and 3.5mm dia. stereo
7
Charging output cord and plug
9
AC adaptor (J46858-001)
Connects to a household AC outlet
The provided AC adaptor is exclusively
Do not connect to any other equipment.
While not in use, charging output
cord and plug
7
can be inserted
Insert the antenna
4
into
---