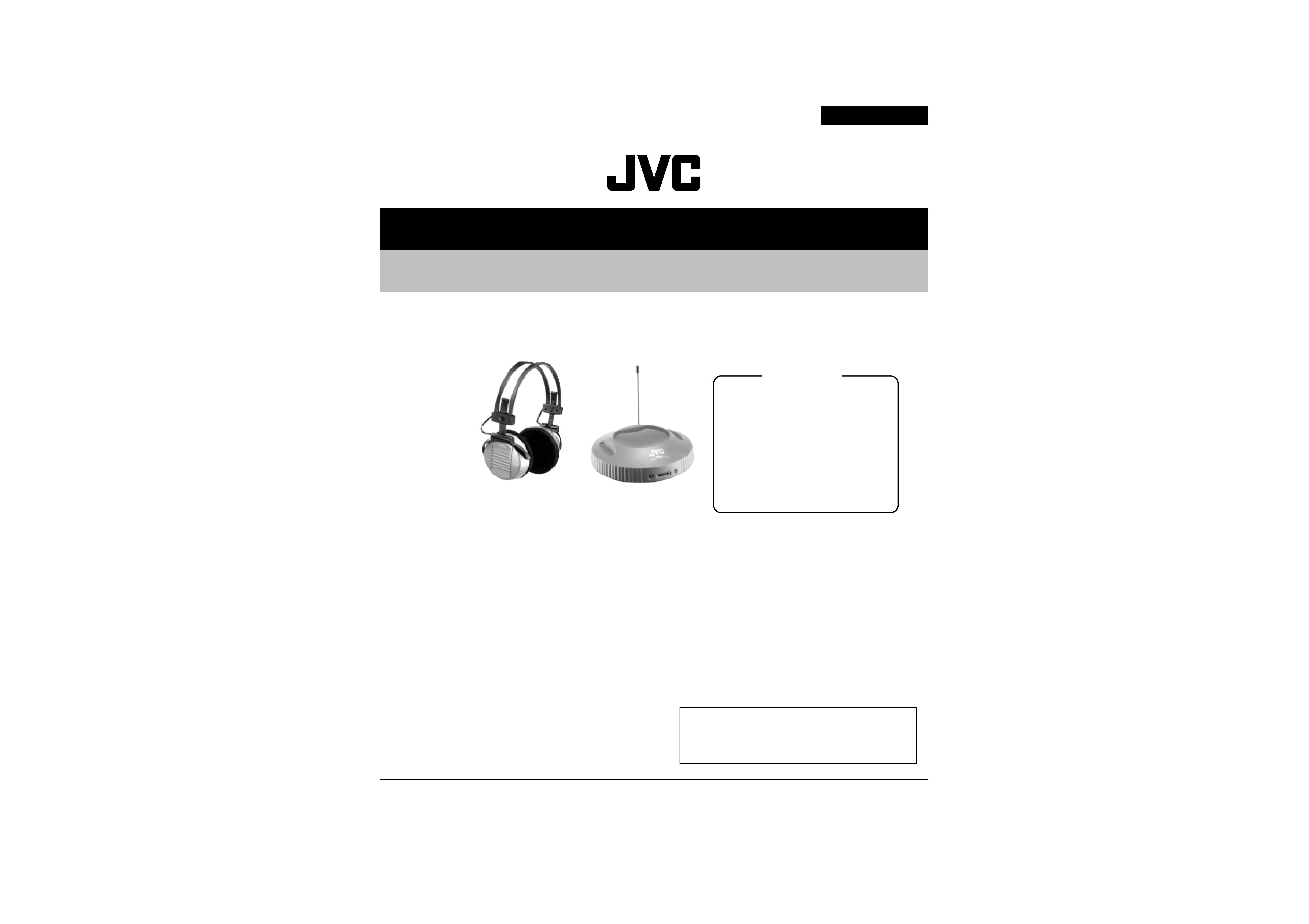 CORDLESS STEREO HEADPHONES
C 2000 VICTOR COMPANY OF JAPAN,LTD.
* Design and specifications subject to change without notice.
: DC 12 V (with the exclusive AC
: 3.5 mm dia. stereo miniplug
Reference input level : 350 mV
: 137(W) x 147(D) x 123(H) mm
(5-7/16" x 5-13/16" x 4-7/8")
(Without connection cord and AC
Connection cord x 1 (3.5 mm dia. stereo minijack-
RCA pin plug x 2 : 0.1 m (0.3 ft))
x 1 (converts 3.5 mm dia. stereo
miniplug to a 6.3 mm dia. standard
Exclusive rechargeable Ni-Cd battery x 2
This product has Auto-tuning function.
On noisy frequency part, the receiver in headphone starts searching the
transmitted frequency and stop tuning on the frequency.
In the condition of disturbing frequencies and / or in the place at a distance
from transmitter, auto-tuning function could start searching by potential
noise and it causes sound breaks.
: Radio Frequency (UHF stereo)
: Approx. 100m (328 ft) : using
Frequency response : 28-17,000 Hz
: Less than 4 % (at 1 kHz)
Specifications..................................... Front cover
1. Operating Manual........................................
2. Disassembly................................................
3. Schematic Diagram.....................................
4. Print Circuit Board......................................
5. Measurement Condition..............................
6. Wiring Diagram...........................................
7. Block View Inside IC...................................
8. Block Diagram.............................................
9. Electric Parts List........................................
10. Exploded view.............................................
11. Mechanical Parts List.................................
12. Packing Method..........................................
13. Packing Materials.......................................
14. Accessories List..........................................
Power requirements : Rechargeable
Ni-Cd battery (1.2 V) x 2
Battery running time : 6 hours
(When charged for 24 hours)
(With provided rechargeable
---

1. This design of this product contains special hardware and many circuits and components specially
For continued protection, no changes should be made to the original design
unless authorized in writing by the manufacturer.
Replacement parts must be identical to those
used in the original circuits.
Services should be performed by qualified personnel only.
2. Alterations of the design or circuitry of the product should not be made.
Any design alterations of
the product should not be made.
Any design alterations or additions will
warranty and will further relieve the manufacture of responsibility for personal injury or property
damage resulting therefrom.
3. Many electrical and mechanical parts in the products have special safety-related characteristics.
These characteristics are often not evident from visual inspection nor can the protection afforded
by them necessarily be obtained by using replacement components rated for higher voltage,
Replacement parts which have these special safety characteristics are identified in
the Parts List of Service Manual.
Electrical components having such features are identified by
shading on the schematics and by (
) on the Parts List in the Service Manual.
substitute replacement which does not have the same safety characteristics as the recommended
replacement parts shown in the Parts List of Service Manual may create shock, fire, or other
4. The leads in the products are routed and dressed with ties, clamps, tubings, barriers and the
like to be separated from live parts, high temperature parts, moving parts and/or sharp edges
for the prevention of electric shock and fire hazard.
When service is required, the original lead
routing and dress should be observed, and it should be confirmed that they have been returned
to normal, after re-assembling.
5. Leakage currnet check (Electrical shock hazard testing)
After re-assembling the product, always perform an isolation check on the exposed metal parts
of the product (antenna terminals, knobs, metal cabinet, screw heads, headphone jack, control
shafts, etc.) to be sure the product is safe to operate without danger of electrical shock.
Do not use a line isolation transformer during this check.
Plug the AC line cord directly into the AC outlet.
Using a "Leakage Current Tester", measure
current from each exposed metal parts of the cabinet , particularly any exposed
metal part having a return path to the chassis, to a known good earth ground. Any leakage
current must not exceed 0.5mA AC (r.m.s.)
Plug the AC line cord directly into the AC outlet.
Use an AC voltmeter having, 1,000 ohms
per volt or more sensitivity in the following manner. Connect a 1,500
10W resistor paralleled by
a 0.15 F AC-type capacitor between an exposed
metal part and a known good earth ground.
Measure the AC voltage across the resistor with the
Move the resistor connection to eachexposed metal
part, particularly any exposed metal part having a
return path to the chassis, and meausre the AC
voltage across the resistor. Now, reverse the plug in
the AC outlet and repeat each measurement. voltage
measured Any must not exceed 0.75 V AC (r.m.s.).
This corresponds to 0.5 mA AC (r.m.s.).
1. This equipment has been designed and manufactured to meet international safety standards.
2. It is the legal responsibility of the repairer to ensure that these safety standards are maintained.
3. Repairs must be made in accordance with the relevant safety standards.
4. It is essential that safety critical components are replaced by approved parts.
5. If mains voltage selector is provided, check setting for local voltage.
---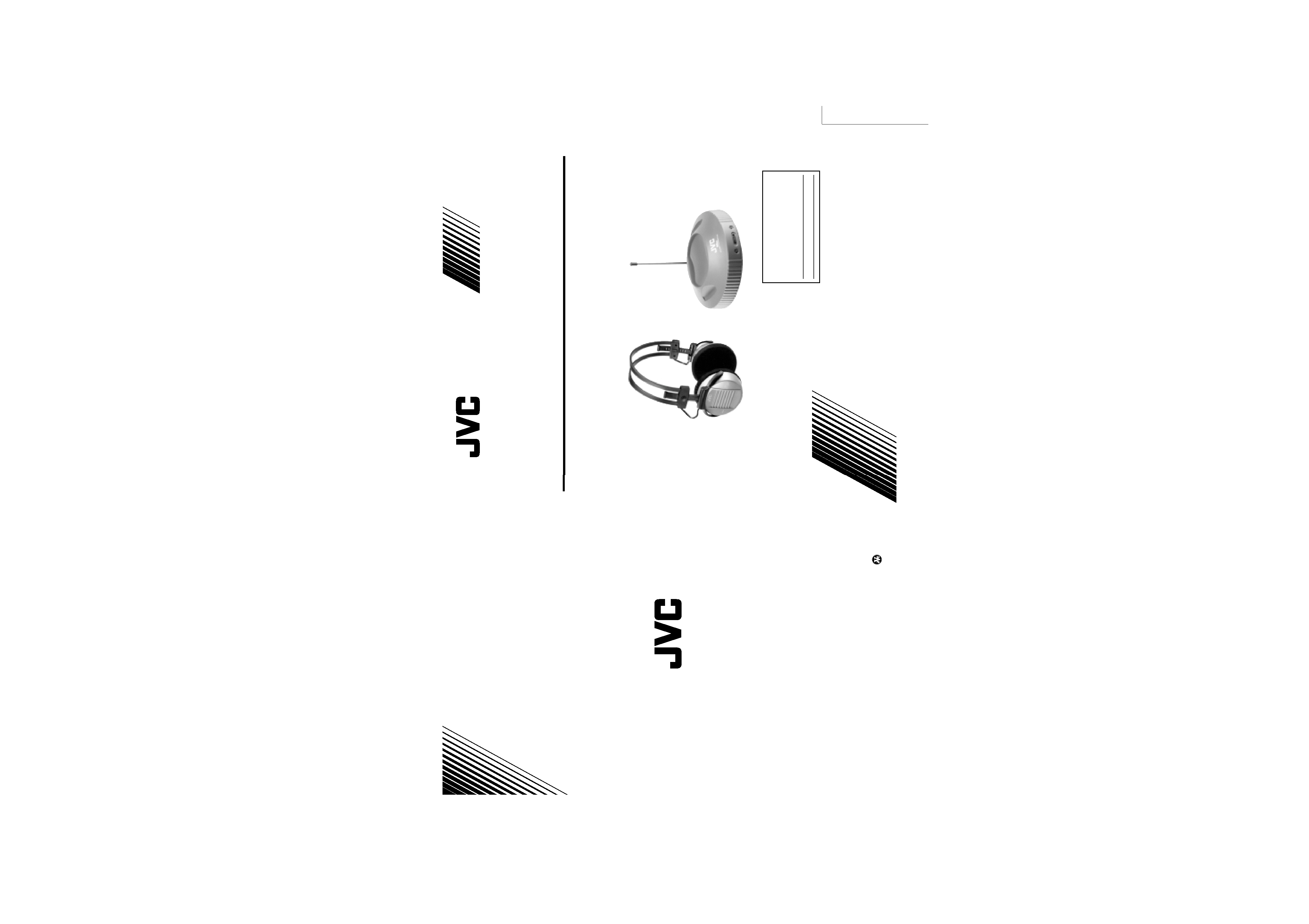 © 2000 VICTOR COMPANY OF JAPAN, LIMITED
VICTOR COMPANY OF JAPAN, LIMITED
CORDLESS STEREO HEADPHONES
AURICULARES ESTEREO INALAMBRICOS
Enter below the Model No. and Serial No.
which is located on the bottom of cabinet.
Retain this information for future reference.
---

Hearing Comfort and Well-Being
Do not play your headphones at a high volume. Hearing experts advise against continu-
If you experience a ringing in your ears, reduce volume or discontinue use.
Do not use while operating a motorized vehicle. It may create a traffic hazard and is
You should use extreme caution or temporarily discontinue use in potentially hazardous
Even though your headphones are of the open-air type designed to let you hear outside
sounds, don't turn up the volume so high that you can't hear what's around you.
This device complies with Part 15 of the FCC Rules. Operation is subject to the following
(1) This device may not cause harmful interference.
(2) This device must accept any interference received, including interference that may
cause undesired operation.
Changes or modifications not approved by JVC could void user's authority
to operate the equipment.
1700 Valley Road Wayne, N.J. 07470
Note: This equipment has been tested and found to comply with the limits for a Class B
digital device, pursuant to Part 15 of the FCC rules. These limits are designed to
provide reasonable protection against harmful interference in a residential installa-
tion. This equipment generates, uses and can radiate radio frequency energy and,
if not installed and used in accordance with the instructions, it may cause harmful
interference to radio communications. However, there is no guarantee that
interference will not occur in a particular installation. If this equipment does cause
harmful interference to radio or television reception, which can be determined by
turning the equipment off and on, the user is encouraged to try to correct the
interference by one or more of the following measures:
Reorient or relocate the receiving antenna.
Increase the separation between the equipment and receiver.
Connect the equipment into an outlet on a circuit different from that to which the receiver
Consult the dealer or an experienced radio/TV technician for help.
TO REDUCE THE RISK OF FIRE OR ELECTRIC SHOCK, DO
NOT EXPOSE THIS APPLIANCE TO RAIN OR MOISTURE.
CHARGE ONLY WITH PROVIDED NICKEL-CADMIUM TYPE
BATTERIES. OTHER TYPES OF BATTERIES MAY BURST CAUSING
PERSONAL INJURY AND DAMAGE.
TO PREVENT ELECTRIC SHOCK DO NOT USE THIS PLUG WITH AN EX-
TENSION CORD, RECEPTACLE OR OTHER OUTLET UNLESS THE BLADES
CAN BE FULLY INSERTED TO PREVENT BLADE EXPOSURE.
POUR PREVENIR LES CHOCS ELECTRIQES NE PAS UTILISER CETTE
FICHE AVEC UN PROLONGATEUR, UNE PRISE DE COURANT OU UNE
AUTRE SORTIE DE COURANT, SAUF SI LES LAMES PEUVENT ETRE
INSEREES A FOND SANS EN LAISSER AUCUNE PARTIE A DECOUVERT.
POUR RÉDUIRE LES RISQUES D'INCENDIE OU DE CHOC
ÉLECTRIQUE, NE PAS EXPOSER CET APPAREIL À LA PLUIE
NE RECHARGER QU'AVEC DES BATTERIES DE TYPE CADMIUM-
NICKEL FOURNI. D'AUTRES TYPES DE BATTERIES POURRAIENT
ÉCLATER CAUSANT DES BLESSURES ET DES DOMMAGES.
(1) This device may not cause interference.
(2) This device must accept any interference, including interference that may
cause undesired operation of the device.
(1) Ce produit ne cause pas d'interférence.
(2) Ce produit doit accepte toute interférence, incluant interférence
qui peut causé opération non désiré.
---

"SOME DO'S AND DON'TS ON THE SAFE USE OF EQUIPMENT"
This equipment has been designed and manufactured to meet international safety
standards but, like any electrical apparatus, care must be taken if you are to obtain
the best results and safety is to be assured.
Do read the operating instructions before you attempt to use the equipment.
Do ensure that all electrical connections (including the plug, extension cord and
inter-connections between pieces of equipment) are properly made and in
accordance with the manufacturer's instructions. Switch off and withdraw the
plug when making or changing connections.
Do consult your dealer if you are ever in doubt about the installation or operation or
safety of your equipment.
Do be careful with glass panels or doors on equipment.
continue to operate the equipment if you are in any doubt about it working
normally, or if it is damaged in any way--switch off--withdraw the plug and
remove any fixed cover as this may expose dangerous voltages.
leave equipment switched on when it is unattended unless it is specifically
stated that it is designed for unattended operation or has a standby mode.
Switch off using the switch on the equipment and make sure that your family
Special arrangements may need to be made for infirm or handicapped
use equipment such as personal stereos or radios so that you are distracted
from the requirements of road safety. It is illegal to watch television when
listen to headphones at high volume as such use can permanently damage
obstruct the ventilation of the equipment, for example with curtains or on
Overheating will cause damage and shorten the life of the equipment.
use makeshift stands and NEVER fix legs with wood screws. To ensure
complete safety always fit the manufacturer's approved stand or legs with
the fixing screws supplied according to the instructions.
allow electrical equipment to be exposed to rain or moisture.
NEVER let anyone especially children push anything into holes, slots or any
other opening in the case. This could result in a fatal electrical shock.
NEVER guess or make changes with electrical equipment of any kind. It is
better to be safe than sorry!
Thank you for purchasing this JVC product.
Before you begin operating this unit, please read the instructions carefully to be
sure you get the best possible performance.
If you have any questions, consult your JVC dealer.
ENGLISH INSTRUCTIONS .................................................. Page 6 ­ 17
Nous vous félicitons d'avoir acquis ce produit JVC.
Avant de vous en servir, lisez attentivement le mode d'emploi pour en obtenir les
Si vous avez d'autres questions, interrogez votre revendeur JVC.
INSTRUCTIONS EN FRANÇAIS ....................................... Page 18 ­ 29
Gracias por adquirir este producto JVC.
Antes de utilizar la unidad, lea cuidadosamente estas instrucciones para obtener el
Si tiene cualquier duda, póngase en contacto con su distribuidor de productos JVC.
INSTRUCCIONES EN ESPAÑOL ................................... Página 30 ­ 41
TO REDUCE THE RISK OF ELECTRIC SHOCK.
DO NOT REMOVE COVER (OR BACK).
NO USER-SERVICEABLE PARTS INSIDE.
REFER SERVICING TO QUALIFIED SERVICE PERSONNEL.
The lightning flash with arrowhead symbol, within an equilateral
triangle, is intended to alert the user to the presence of uninsulated
"dangerous voltage" within the product's enclosure that may be of
sufficient magnitude to constitute a risk of electric shock to
The exclamation point within an equilateral triangle is intended to
alert the user to the presence of important operating and
maintenance (servicing) instructions in the literature accompanying
---