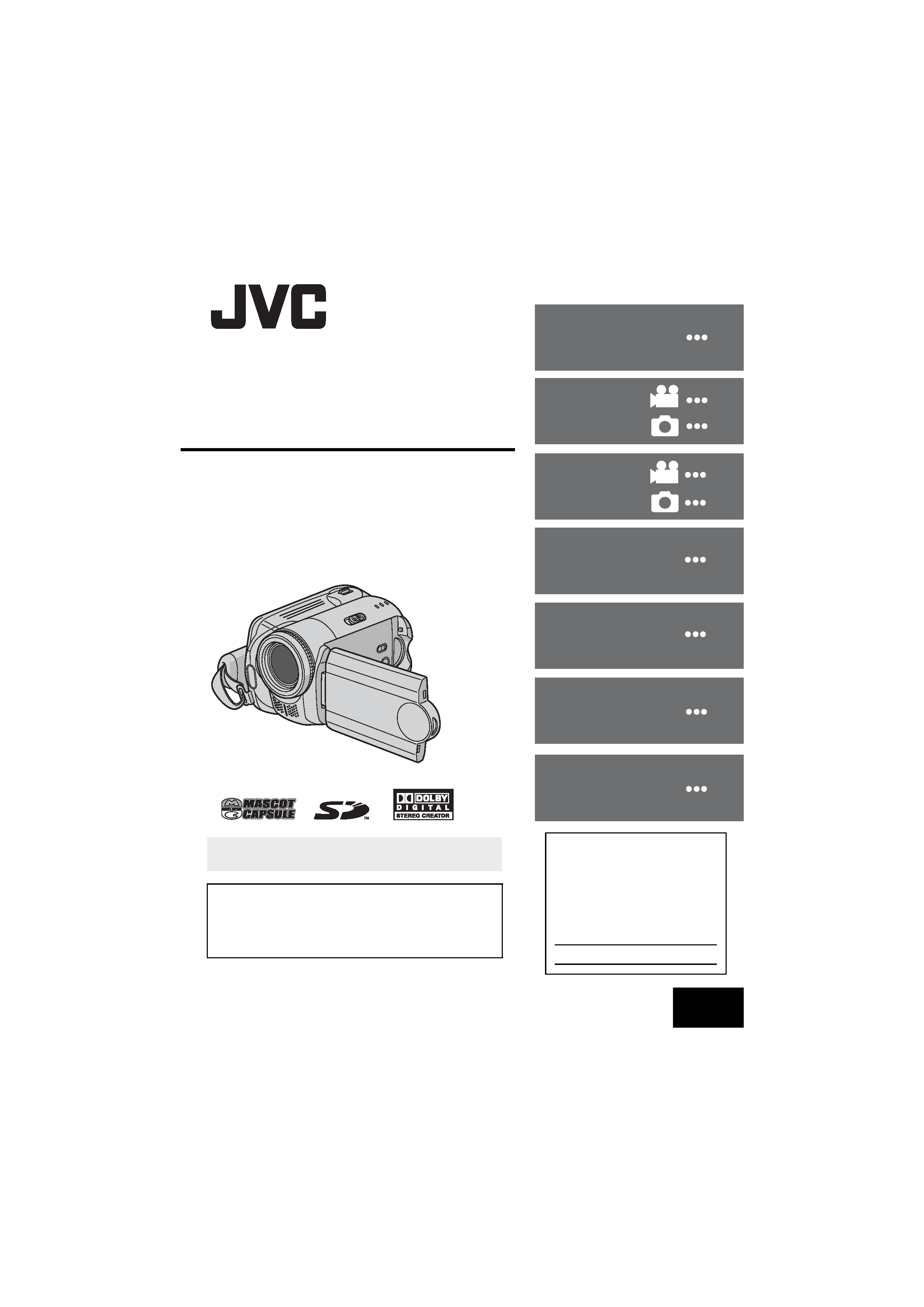 To deactivate the demonstration mode, set "DEMO
Thank you for purchasing this hard disk camera. Before
use, please read the safety information and precautions
contained in pages 4 and 5 to ensure safe use of this
Enter the Model No. (located on
the bottom of the camera) and
Serial No. (located on the battery
pack mount of the camera) below.
Retain this information for future
M6E6US.book Page 1 Tuesday, February 21, 2006 6:38 PM
---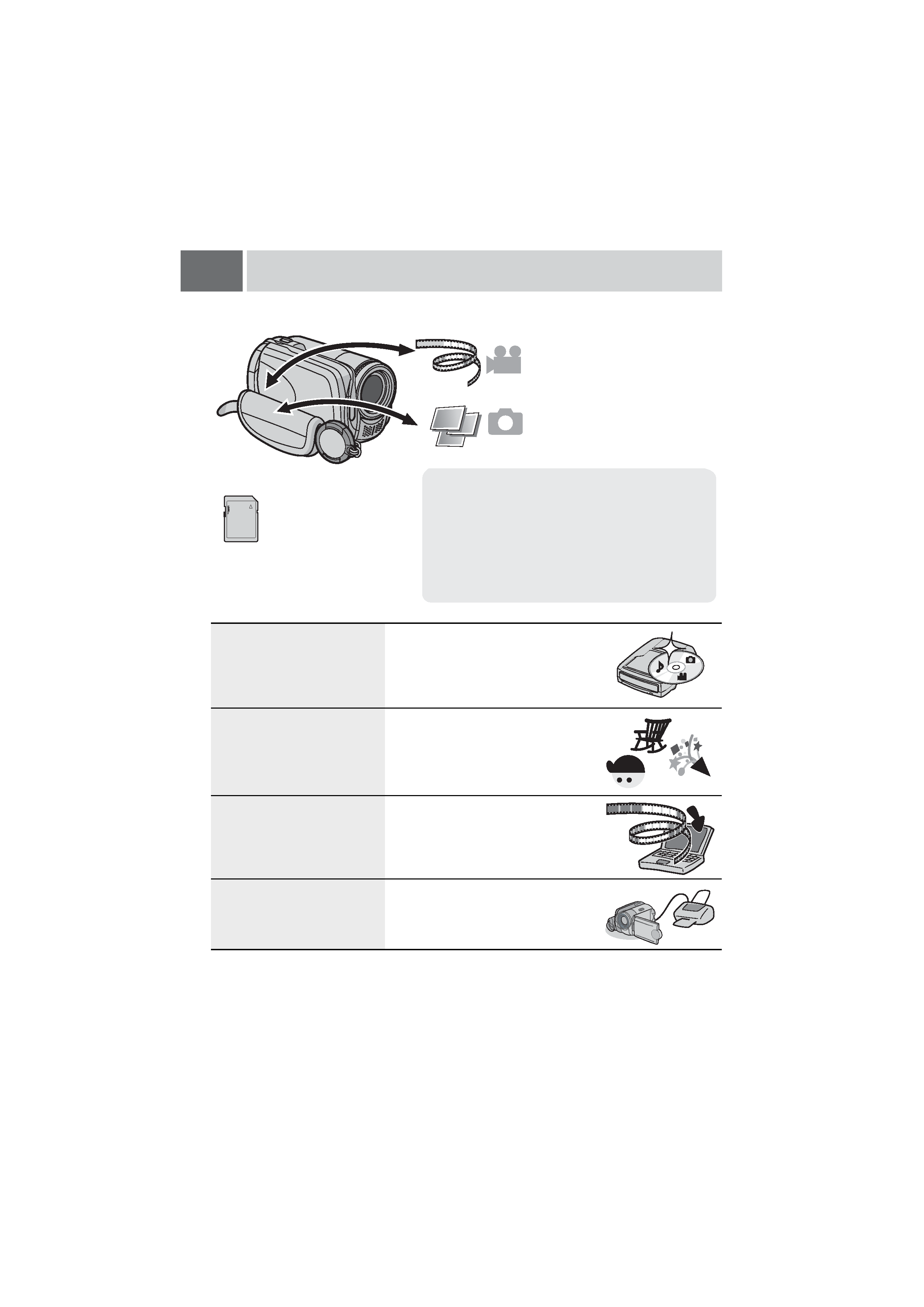 The camera has a built-in high-capacity HDD (hard disk drive) that enables you to record videos and
still images in massive quantities.
You can connect the camera to a DVD
burner (sold separately) with a USB
mini A/B cable to save recorded files
You can register recorded videos to
events according to their content. This
enables you to search and select files by
AND USB CONNECTION GUIDE)
USB 2.0 enables the smooth transfer of
video and still images to a computer.
With the bundled image editing software,
you can easily edit video and create your
If your printer is compatible with
PictBridge, still images can be printed
easily by connecting the camera directly
to the printer with a USB cable.
To record videos ( pg. 18)
To playback videos ( pg. 28)
Auto/Manual Recording Mode
You can record without using any complicated
operations in Auto recording mode.
Manual recording mode, on the other hand, enables
you to use special effects and make manual
adjustments to record videos that are even more vivid.
"To change to manual recording mode" (
To record still images ( pg. 22)
M6E6US.book Page 2 Tuesday, February 21, 2006 6:38 PM
---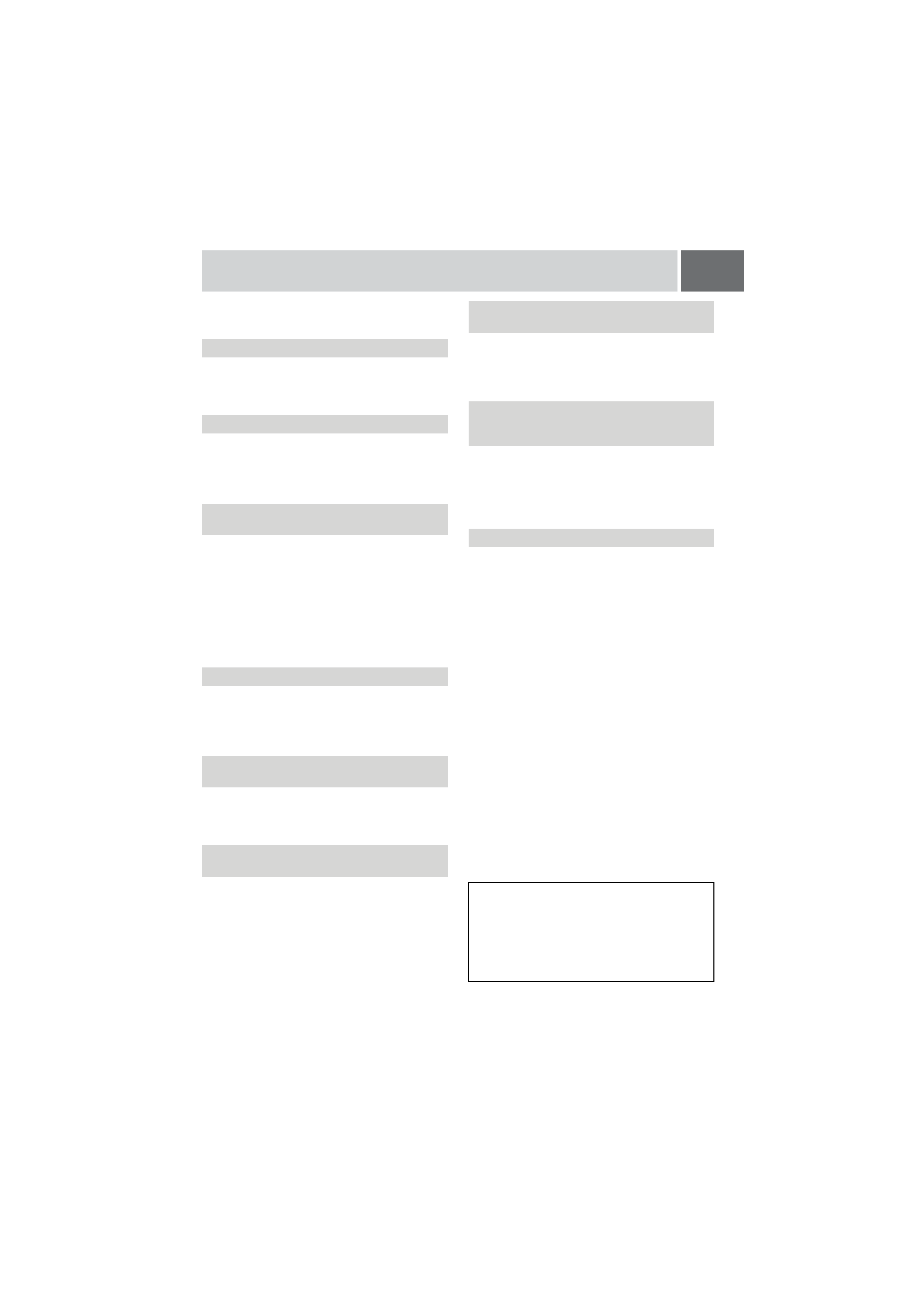 Read This First! ­ How to Handle the Hard Disk Camera
Please read the following instructions before
It is recommended to copy your important recorded
data to a DVD or other recording media for storage.
Before the actual recording of important data,
make a trial recording and play back the recorded
data to check that the video and sound have been
The SD cards that are guaranteed to work with
this camera are those by Panasonic, TOSHIBA,
pqi (still image only) and SanDisk. If other media
are used, they may fail to record data correctly, or
they may lose data that had already been
For video recording, use a high-speed SD card
MultiMediaCards are not supported.
Before using this camera, format the built-in hard
disk or SD cards. This will also ensure stable
speeds and operation when accessing the
Do not cover the area near the lens, stereo
microphone, or camera sensor with your finger or
other object while recording. (
When using the battery, the power will turn off
automatically to conserve power. Use the power
switch to turn on the power again.
When using the AC adapter, the access lamp
lights up, and the LCD turns off (the camera
This camera uses a microcomputer. Factors such
as background noise and interference can prevent
it from operating correctly. If the camera does not
operate correctly, reset the camera. (
When requesting repairs for breakdowns by your
dealer or JVC service center, be sure to bring your
camera together with the SD card. If one of them is
not included, the cause cannot be diagnosed, and
the repair cannot be made properly.
When discarding batteries, environmental
problems must be considered and the local rules
or laws governing the disposal of these batteries
must be strictly followed.
If the camera is subjected to electrostatic
discharge, turn the power off before using it
This product includes patented and other
proprietary technology and will only operate with
a JVC Data Battery. Use the JVC BN-VF707U/
VF714U/VF733U battery packs. Using generic
non-JVC batteries can cause damage to the
internal charging circuitry.
If the battery operation time remains extremely
short even after the battery is fully charged, the
battery is worn out and needs to be replaced.
Please purchase a new one.
Since the AC adapter processes electricity
internally, it becomes warm during use. Be sure
to use it only in well-ventilated areas.
After 5 minutes has elapsed in record-standby
mode, the camera will automatically turn off its
power supplied from the AC adapter. In this case,
battery charge starts if the battery is attached to
Make a backup of important recorded data
Check the compatibility of recording
Format recording medium before use
Make sure you hold the camera correctly
When a certain length of time passes
Reset the camera if it does not operate
If a problem occurs with the SD card, bring
the card together with the camera for
Precautions on handling batteries
Video recording (with sound) that was made
especially for demonstration at shops might be
remaining on the hard disk of the camera that you
To delete this video file, please refer to "Deleting
pg. 38)/"Formatting a Recording
M6E6US.book Page 3 Tuesday, February 21, 2006 6:38 PM
---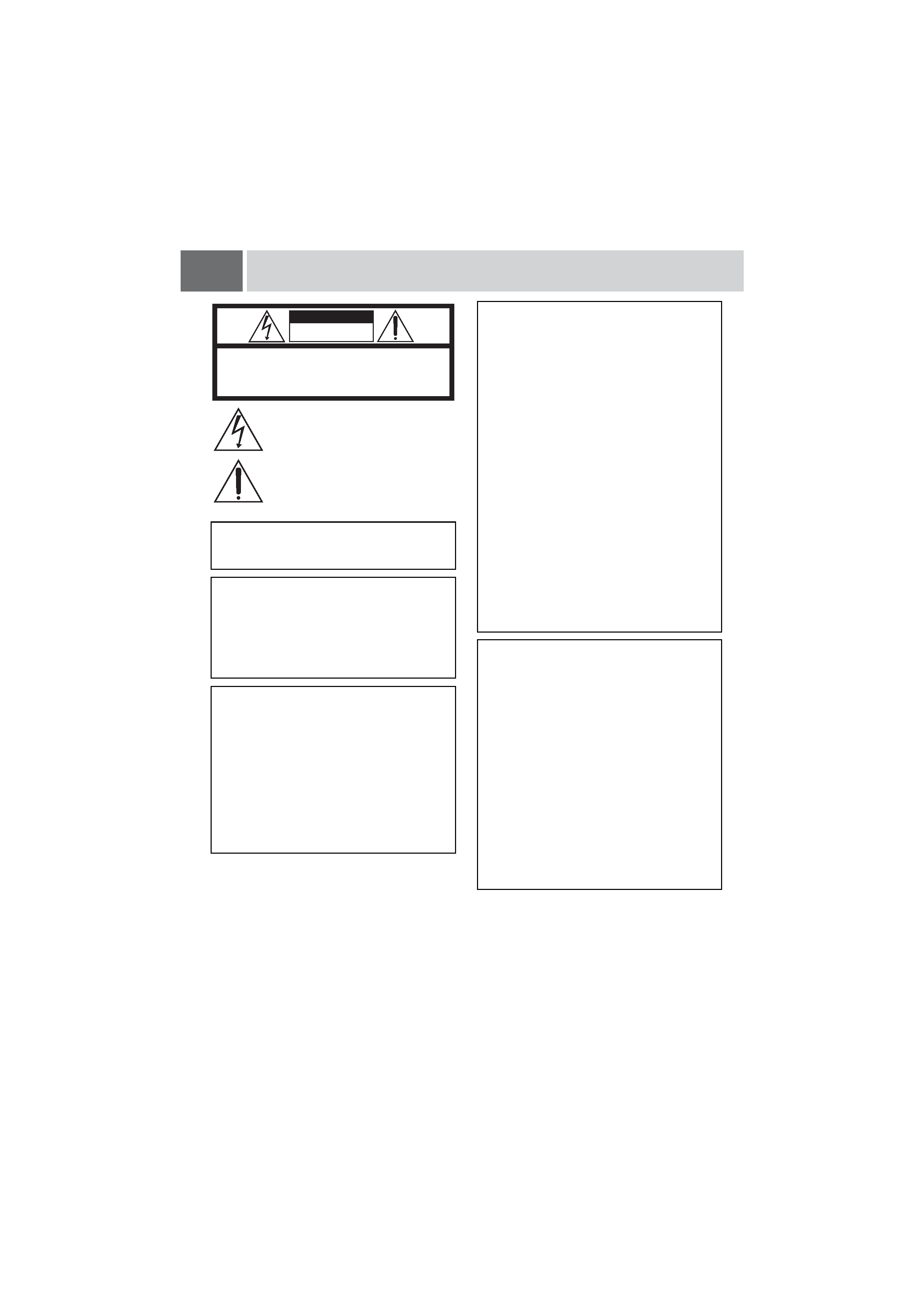 WARNING: TO PREVENT FIRE OR SHOCK
HAZARD, DO NOT EXPOSE THIS UNIT TO
The rating plate and safety caution are on the
bottom and/or the back of the main unit.
The serial number plate is on the battery pack
The rating information and safety caution of the
AC adapter are on its upper and lower sides.
Caution on Replaceable lithium battery
The battery used in this device may present a
fire or chemical burn hazard if mistreated.
Do not recharge, disassemble, heat above
Replace battery with Panasonic (Matsushita
Electric), Sanyo, Sony or Maxell CR2025.
Danger of explosion or Risk of fire if the battery
Dispose of used battery promptly.
Do not disassemble and do not dispose of in
TO REDUCE THE RISK OF ELECTRIC SHOCK,
DO NOT REMOVE COVER (OR BACK).
NO USER-SERVICEABLE PARTS INSIDE.
REFER SERVICING TO QUALIFIED SERVICE PERSONNEL.
The lightning flash with arrowhead symbol, within an
equilateral triangle, is intended to alert the user to the
presence of uninsulated "dangerous voltage" within the
product's enclosure that may be of sufficient magnitude
to constitute a risk of electric shock to persons.
The exclamation point within an equilateral triangle is
intended to alert the user to the presence of important
operating and maintenance (servicing) instructions in
the literature accompanying the appliance.
When the equipment is installed in a cabinet or
on a shelf, make sure that it has sufficient space
on all sides to allow for ventilation (10 cm (3-15/
16") or more on both sides, on top and at the
Do not block the ventilation holes.
(If the ventilation holes are blocked by a
newspaper, or cloth etc. the heat may not be
No naked flame sources, such as lighted
candles, should be placed on the apparatus.
When discarding batteries, environmental
problems must be considered and the local rules
or laws governing the disposal of these batteries
must be followed strictly.
The apparatus shall not be exposed to dripping
Do not use this equipment in a bathroom or
Also do not place any containers filled with water
or liquids (such as cosmetics or medicines,
flower vases, potted plants, cups etc.) on top of
(If water or liquid is allowed to enter this
equipment, fire or electric shock may be
Do not point the lens directly into the sun. This
can cause eye injuries, as well as lead to the
malfunctioning of internal circuitry. There is also
a risk of fire or electric shock.
The following notes concern possible physical
damage to the camera and to the user.
Carrying or holding the camera by the LCD
monitor can result in dropping the unit, or in a
Do not use a tripod on unsteady or unlevel
surfaces. It could tip over, causing serious
Connecting cables (Audio/Video, S-Video, etc.)
to the camera and leaving it on top of the TV is
not recommended, as tripping on the cables will
cause the camera to fall, resulting in damage.
M6E6US.book Page 4 Tuesday, February 21, 2006 6:38 PM
---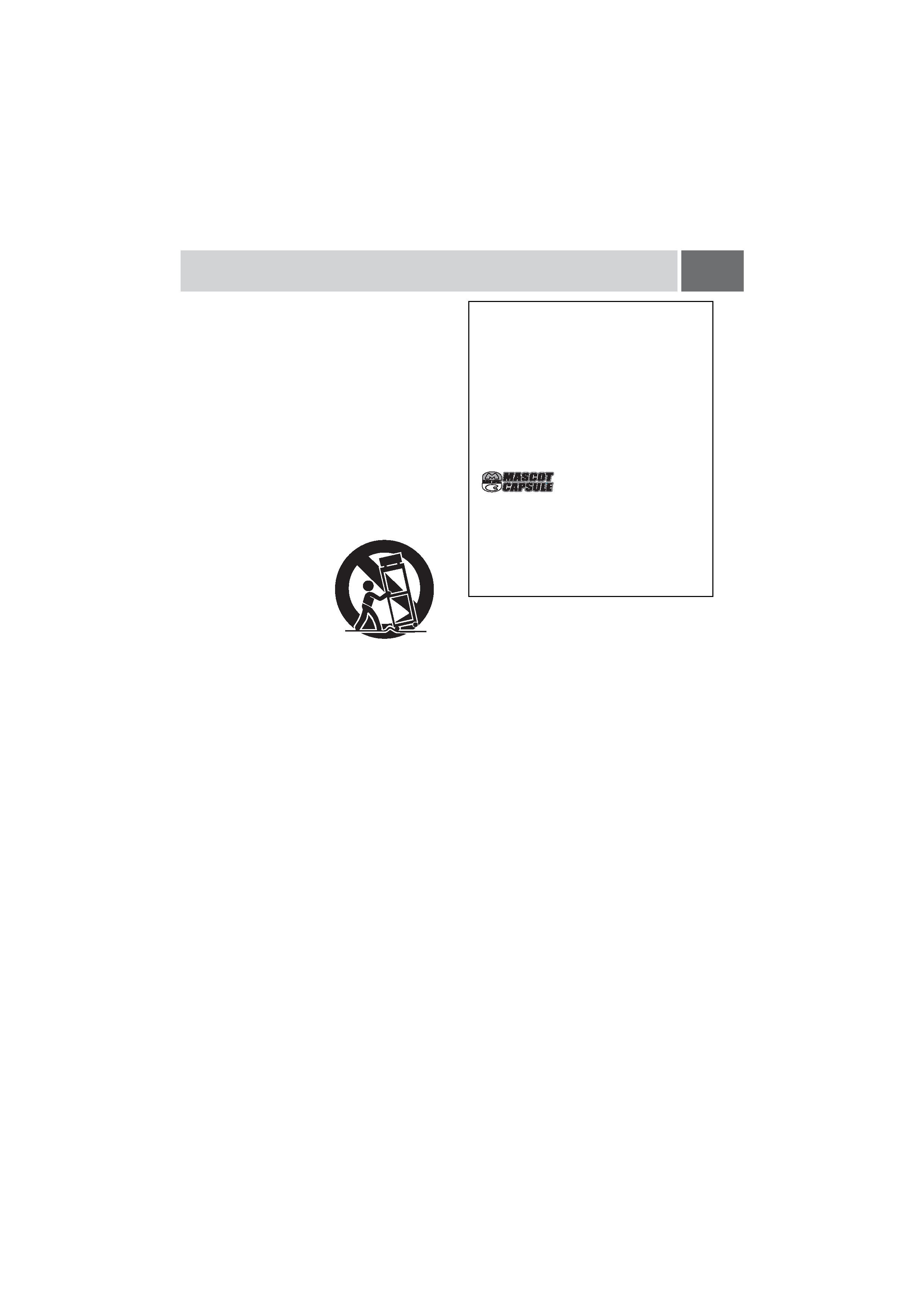 IMPORTANT SAFETY INSTRUCTIONS
1. Read these instructions.
2. Keep these instructions.
4. Follow all instructions.
5. Do not use this apparatus near water.
6. Clean only with dry cloth.
7. Do not block any ventilation openings. Install
in accordance with the manufacturer's
8. Do not install near any heat sources such as
radiators, heat registers, stoves, or other
apparatus (including amplifiers) that
9. Only use attachments/accessories specified
caution when moving the cart/apparatus
combination to avoid injury from tip-over.
11. Unplug this apparatus during lightning
storms or when unused for long periods of
12. Refer all servicing to qualified service
personnel. Servicing is required when the
apparatus has been damaged in any way,
such as power-supply cord or plug is
damaged, liquid has been spilled or objects
have fallen into the apparatus, the
apparatus has been exposed to rain or
moisture, does not operate normally, or has
Remember that this camera is intended for
private consumer use only.
Any commercial use without proper
permission is prohibited. (Even if you record
an event such as a show, performance or
exhibition for personal enjoyment, it is
strongly recommended that you obtain
Manufactured under license from Dolby
Laboratories. "Dolby" and double-D symbol are
trademarks of Dolby Laboratories.
MascotCapsule is a registered trademark of HI
Copyright © 2001 HI CORPORATION. All
Other product and company names included in
this instruction manual are trademarks and/or
registered trademarks of their respective
M6E6US.book Page 5 Tuesday, February 21, 2006 6:38 PM
---