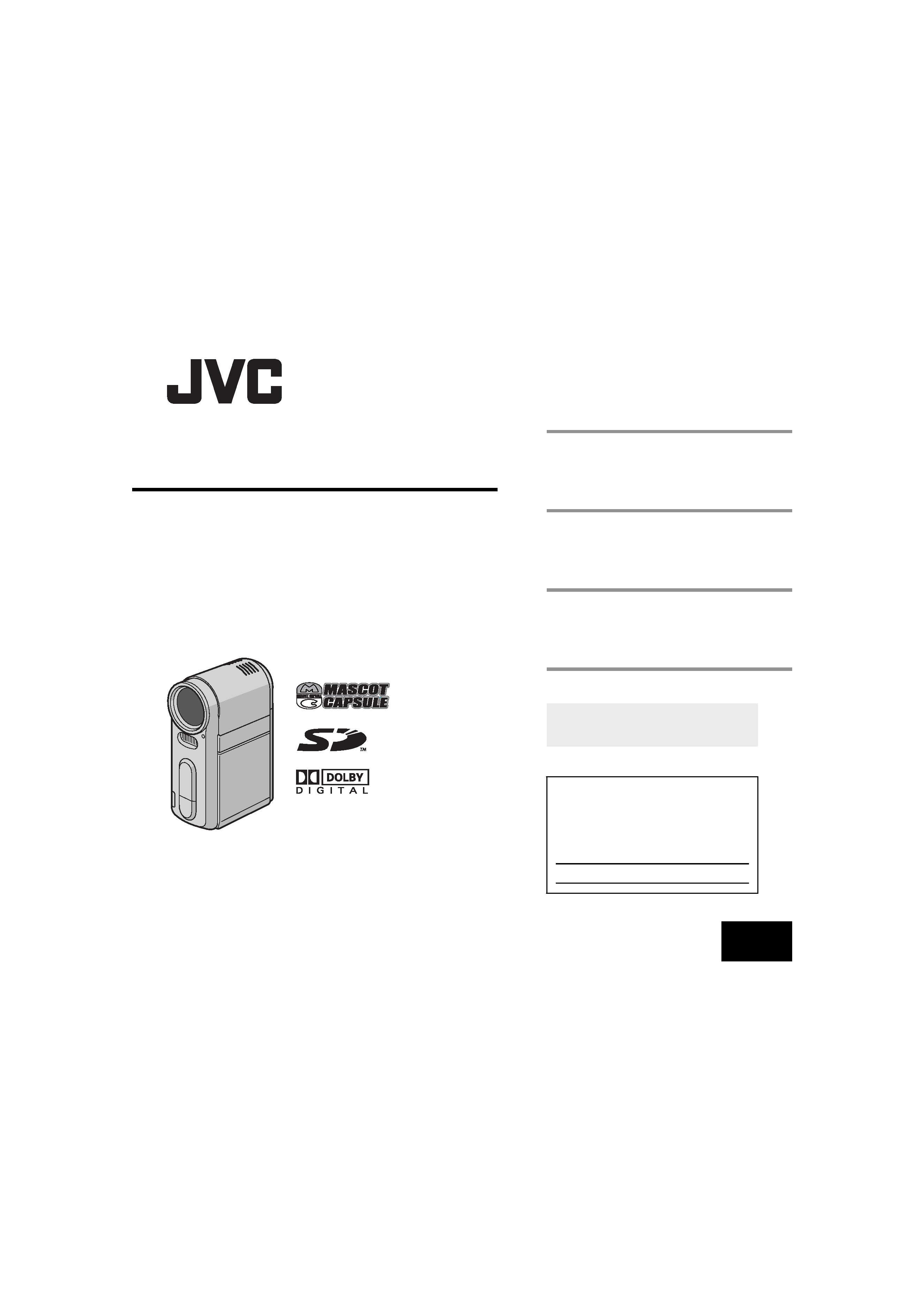 To deactivate the demonstration, set
Enter below the Model No. and Serial
No. which is located on the battery pack
mount of the camera. Retain this
information for future reference.
This instruction manual describes the basic operations of the camera.
For more information, read the advanced operation manual provided
as HTML format in the CD-ROM. See page 32 for details.
GZ-MC100US.book Page 1 Thursday, September 9, 2004 2:51 PM
---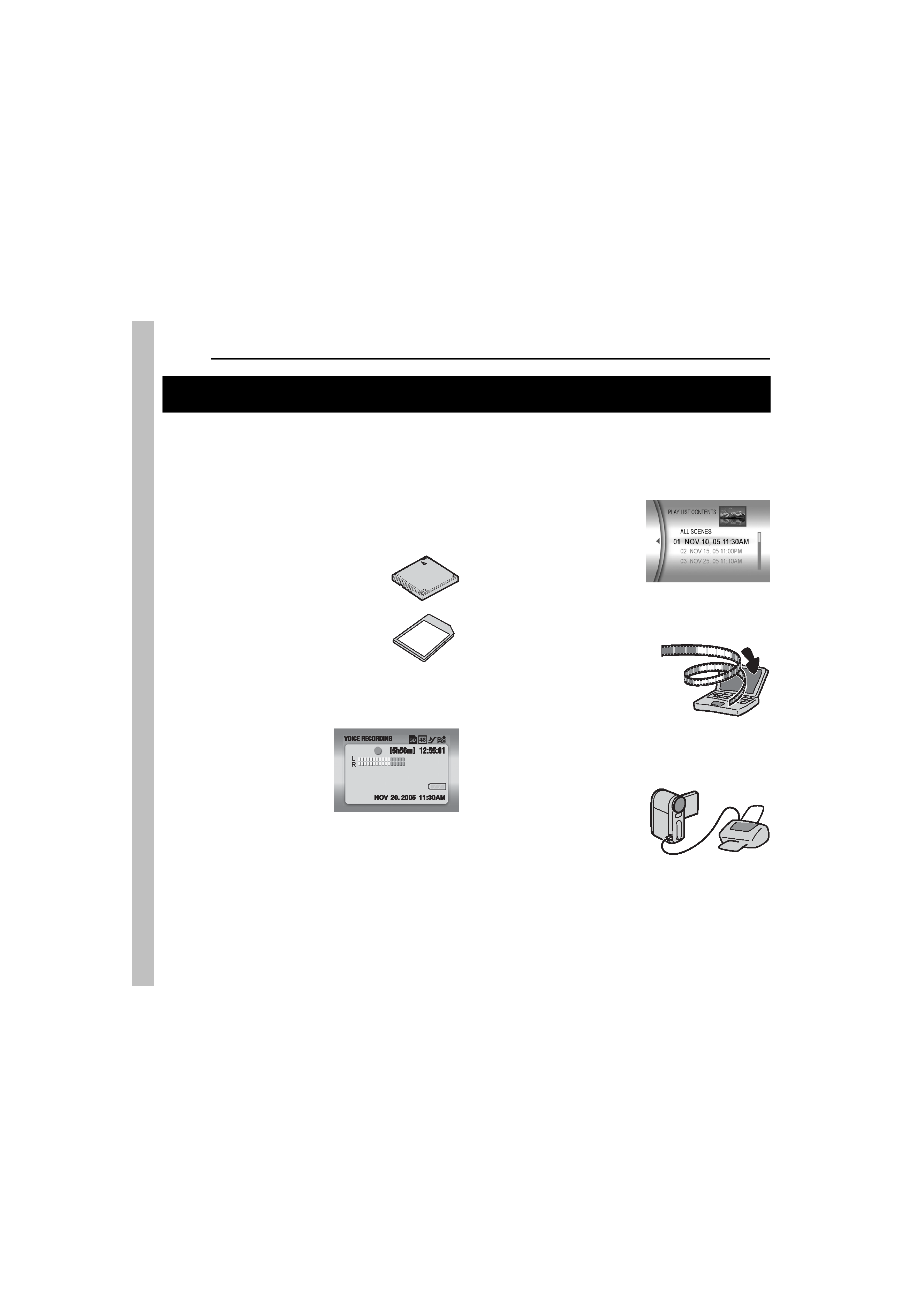 In contrast to conventional digital video cameras that
record to DV tapes, the removable hard disk is a new type
of card media that enables extended hours of high-
resolution, MPEG2 video recording. (
Various Recording Media and Modes
Video and still images can be recorded to
CompactFlash card (CF card) and SD
memory card. The removable hard disk
(provided) or Microdrive is a type of CF
card compliant with CF+ Type II.
You can select the most suitable recording
medium and mode for picture quality,
image size, recording time, and computer
The camera can be used as a
Enjoying Various Playback Features
Unlike tape operation, playback is simple and easy in this
camera since no time is needed for rewinding or fast
Playlist, playback effects, and
available for enjoying many
different types of playback.
operation manual in CD-ROM.
USB 2.0 enables the smooth
transfer of video and still images to
a computer. With the bundled
Cyberlink software, you can easily
edit video and create your own
DVDs. (Refer to "SOFTWARE
INSTALLATION AND USB CONNECTION GUIDE".)
If your printer is compatible with
PictBridge, still images can be
printed easily by connecting the
camera with USB cable directly
to the printer. (Refer to the
advanced operation manual in CD-ROM.
Major Features of this Camera
GZ-MC100US.book Page 2 Thursday, September 9, 2004 2:51 PM
---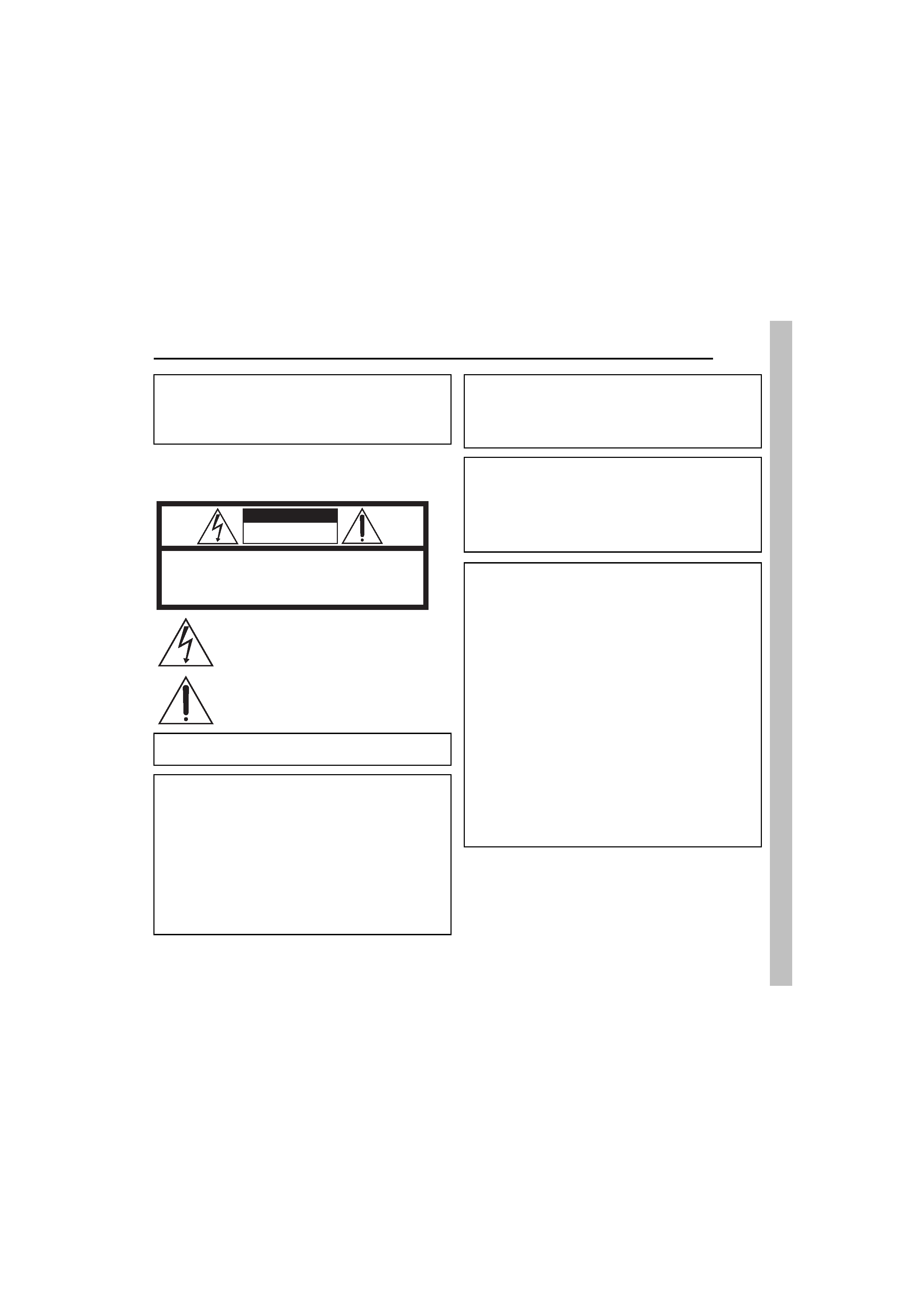 Thank you for purchasing this digital media camera. Before
use, please read the safety information and precautions
contained in the pages 3 ­ 4 to ensure safe use of this
WARNING: TO PREVENT FIRE OR SHOCK HAZARD,
DO NOT EXPOSE THIS UNIT TO RAIN OR MOISTURE.
This camera is designed to be used with NTSC-type
color television signals. It cannot be used for playback
with a television of a different standard. However, live
recording and LCD monitor playback are possible
Use the JVC BN-VM200U battery pack and, to recharge
it or to supply power to the camera from an AC outlet,
use the provided multi-voltage AC adapter. (An
appropriate conversion adapter may be necessary to
accommodate different designs of AC outlets in different
TO REDUCE THE RISK OF ELECTRIC SHOCK,
DO NOT REMOVE COVER (OR BACK).
NO USER-SERVICEABLE PARTS INSIDE.
REFER SERVICING TO QUALIFIED SERVICE PERSONNEL.
The lightning flash with arrowhead symbol, within an
equilateral triangle, is intended to alert the user to the
presence of uninsulated "dangerous voltage" within the
product's enclosure that may be of sufficient magnitude
to constitute a risk of electric shock to persons.
The exclamation point within an equilateral triangle is
intended to alert the user to the presence of important
operating and maintenance (servicing) instructions in
the literature accompanying the appliance.
The rating plate (serial number plate) and safety caution
are on the battery pack mount of the main unit.
The rating information and safety caution of the AC
adapter are on its upper and lower sides.
This product has a fluorescent lamp that contains a small
amount of mercury. Disposal of these materials may be
regulated in your community due to environmental
For disposal or recycling information please contact your
local authorities, or the Electronics Industries Alliance:
When the equipment is installed in a cabinet or on a shelf,
make sure that it has sufficient space on all sides to allow
for ventilation (10 cm (3-15/16") or more on both sides, on
Do not block the ventilation holes.
(If the ventilation holes are blocked by a newspaper, or
cloth etc. the heat may not be able to get out.)
No naked flame sources, such as lighted candles, should
be placed on the apparatus.
When discarding batteries, environmental problems must
be considered and the local rules or laws governing the
disposal of these batteries must be followed strictly.
The apparatus shall not be exposed to dripping or
Do not use this equipment in a bathroom or places with
Also do not place any containers filled with water or liquids
(such as cosmetics or medicines, flower vases, potted
plants, cups etc.) on top of this unit.
(If water or liquid is allowed to enter this equipment, fire or
electric shock may be caused.)
GZ-MC100US.book Page 3 Thursday, September 9, 2004 2:51 PM
---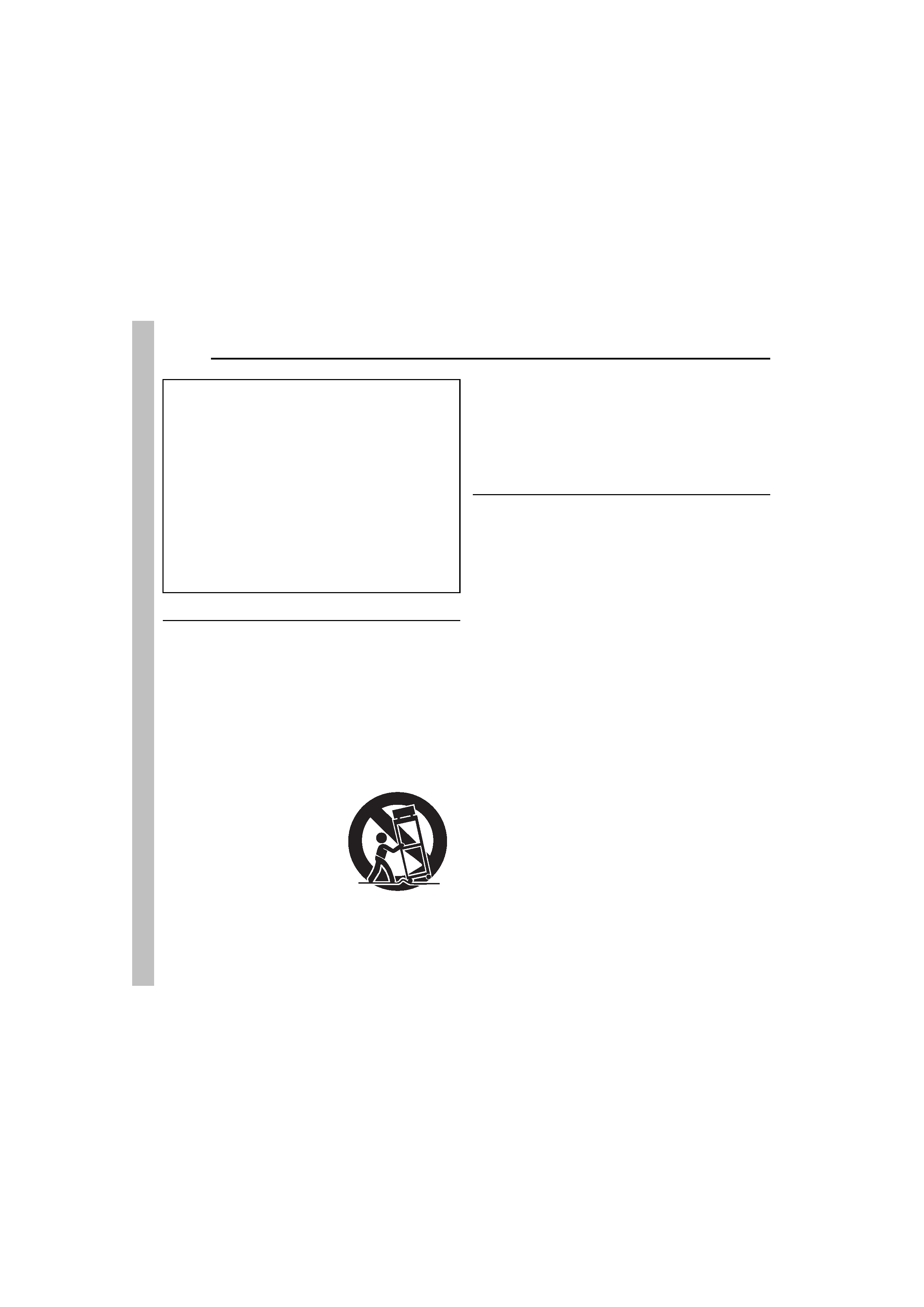 IMPORTANT SAFETY INSTRUCTIONS
1. Read these instructions.
2. Keep these instructions.
4. Follow all instructions.
5. Do not use this apparatus near water.
6. Clean only with dry cloth.
7. Do not block any ventilation openings. Install in
accordance with the manufacturer's instructions.
8. Do not install near any heat sources such as radiators,
heat registers, stoves, or other apparatus (including
amplifiers) that produce heat.
9. Only use attachments/accessories specified by the
10. Use only with the cart, stand,
tripod, bracket, or table
specified by the manufacturer,
or sold with the apparatus.
caution when moving the cart/
avoid injury from tip-over.
11. Unplug this apparatus during
unused for long periods of time.
12. Refer all servicing to qualified service personnel. Servicing
is required when the apparatus has been damaged in any
way, such as power-supply cord or plug is damaged, liquid
has been spilled or objects have fallen into the apparatus,
the apparatus has been exposed to rain or moisture, does
not operate normally, or has been dropped.
This camera is designed exclusively for CompactFlash
Card (CF card) and SD Memory Card.
The removable hard disk (provided) or Microdrive is a
type of CF card compliant with CF+ Type II.
This camera records video in MPEG2 format compliant
Remember that this camera is not compatible with other
Remember that this camera is intended for private
Any commercial use without proper permission is prohibited.
(Even if you record an event such as a show, performance or
exhibition for personal enjoyment, it is strongly recommended
that you obtain permission beforehand.)
Before recording important video, be sure to make a trial
Play back your trial recording to make sure the video and
audio have been recorded properly.
Also read "Cautions" on pages 37 to 39.
Do not point the lens directly into the sun. This can cause
eye injuries, as well as lead to the malfunctioning of internal
circuitry. There is also a risk of fire or electric shock.
The following notes concern possible physical damage to
the camera and to the user.
Carrying or holding the camera by the LCD monitor can
result in dropping the unit, or in a malfunction.
Do not use a tripod on unsteady or unlevel surfaces. It could
tip over, causing serious damage to the camera.
Connecting cables (Audio/Video, S-Video, etc.) to the
camera and leaving it on top of the TV is not recommended,
as tripping on the cables will cause the camera to fall,
GZ-MC100US.book Page 4 Thursday, September 9, 2004 2:51 PM
---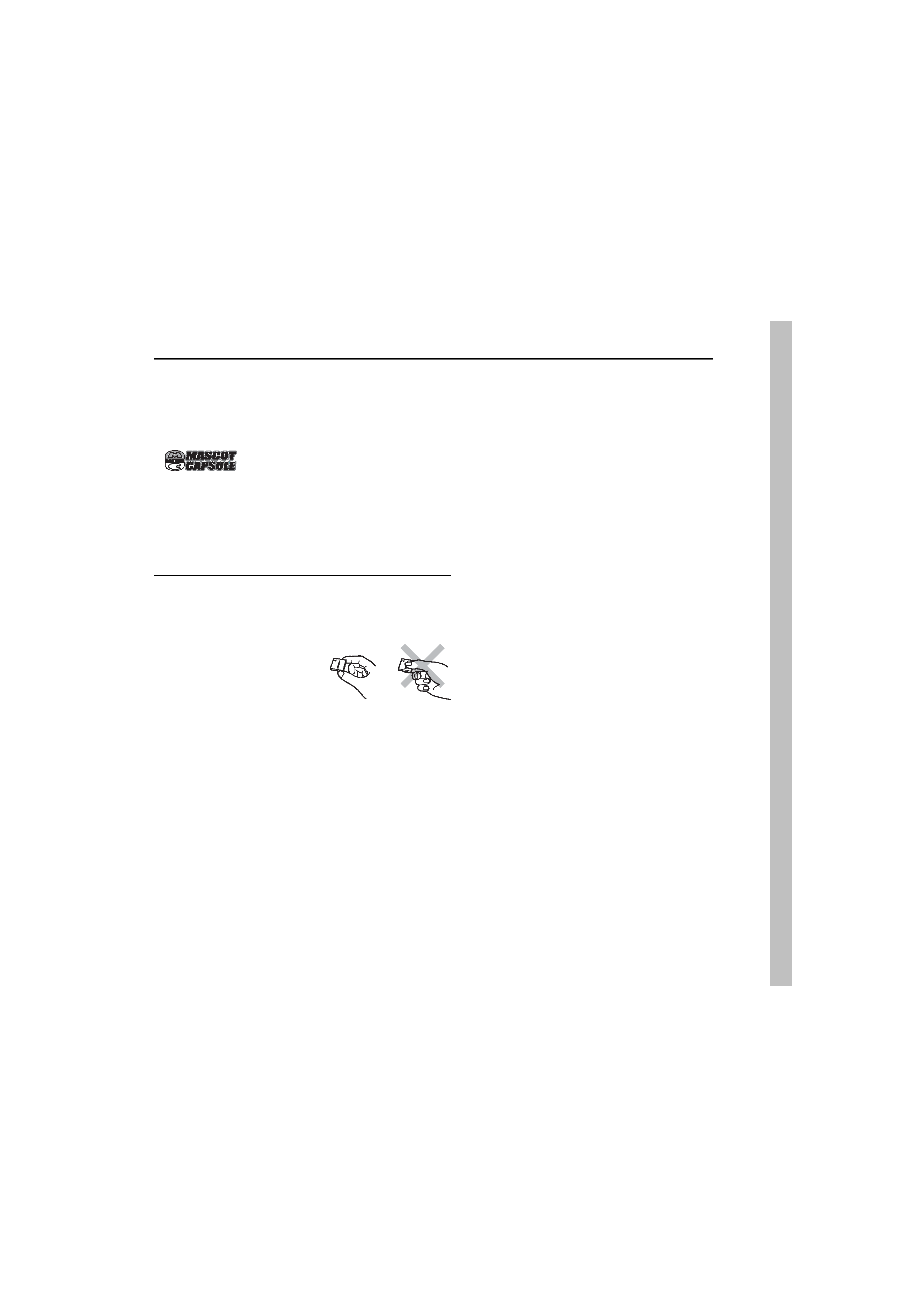 Manufactured under licence from Dolby Laboratories.
"Dolby" and double-D symbol are trademarks of Dolby
Microdrive
®
is a registered trademark of Hitachi Global
Storage Technologies, Inc. in the United States and/or other
MascotCapsule is registered trademark of HI
Copyright © 2001 HI CORPORATION. All rights reserved.
Other product and company names included in this
instruction manual are trademarks and/or registered
trademarks of their respective holders.
The removable hard disk is a precision electronic device.
Be careful when handling it.
Cautions for external jolt or stress
After removing the disk from the camera, store it by
inserting into the supplied protective case.
Do not press on the cover.
Do not subject the disk to
vibrations or sudden jolts. Be
especially careful to avoid
sudden jolts when shooting or
Do not affix stickers or write on the label.
Do not apply strong pressure to the outside of the disk.
Also, do not put it in your pants pocket or other location
where it can be pressed on.
The camera's protection circuit may work for the proper
recording or playback when the camera's internal
temperature rises or during usage in a cold location.
The camera and removable hard disk can heat up when
used for an extended period. However, this is not a
The disk can heat up when used for an extended period.
Therefore, do not remove it immediately from the camera.
Condensation can cause the drive to break down. If water is
splashed on the drive, make sure that it is completely dried
Do not use, replace, or store the disk in locations that are
exposed to strong static electricity or electrical noise.
Do not turn off the camera power or remove the battery or
AC adapter during shooting, playback, or when otherwise
accessing the recording medium.
Do not bring the recording medium near objects that have a
strong magnetic field or that emit strong electromagnetic
Since data must be read and written by the drive correctly,
the camera may be unable to shoot when the camera heats
up, such as during continuous shooting, or when the
camera is cooled down during usage in a cold location. To
fix this problem, follow the messages displayed on the
To maintain high performance, perform check disks (error
checks) using your computer on a regular basis. Use a USB
cable to connect the camera and PC, and then perform the
check disk on the removable hard disk using the same
procedure as a regular local disk (C drive). Refer to the
instruction manual of your PC for check disks.
Clean up the disk regularly to maintain high performance.
Also read "Recording Medium" on page 38.
Be careful to completely delete data when discarding or
giving away the removable hard disk.
When recording data is formatted or deleted on the camera,
this only modifies the file management information, and the
data is not completely erased. When discarding or giving
away the removable hard disk, to prevent problems caused by
the release of sensitive information, it is extremely important
that the customer take responsibility to erase all recorded
data. Some recommended methods of erasing data include
using a commercial data removal program or using a hammer
or strong magnet to physically or magnetically destroy the
data on the hard disk so that it cannot be read. JVC shall not
be responsible for any personal data that is released.
GZ-MC100US_02Safety.fm Page 5 Wednesday, September 15, 2004 12:19 PM
---